WELCOME TO ROCK STAR GARY REFLECTIONS!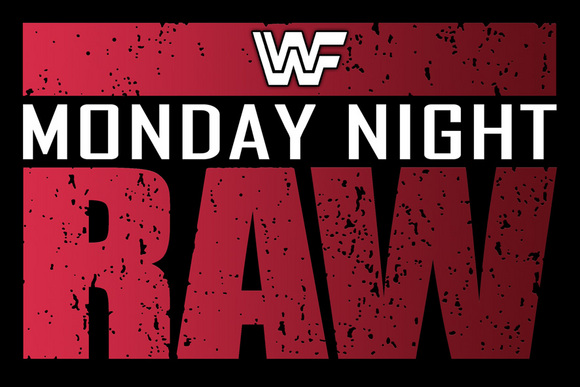 Taped from San Bernardino, CA
Airdate: April 8, 1996 (taped 4/1)
Attendance: 3,663
Hosted by Vince McMahon and Jerry "The King" Lawler Mr. Perfect
Opening montage.
Match 1: Yokozuna (w/ Mr. Fuji) versus Vader (w/ Jim Cornette)
Highlights:
After trading fisticuffs, Yokozuna gave Vader a Samoan drop.
Cornette temporarily distracting Yokozuna enabled Vader to clothesline him.
According to Vince, RAW's start time has been changed from 9pm to 8:57pm ET courtesy of USA. A true response to Nitro's habit of starting early.
After Vader pummeled Yokozuna in the corner, Cornette jabbed the Samoan with his tennis racquet.
Vader missed a right hand, and Yokozuna capitalized with a uranage.
Leg drop by Yokozuna, but Yokozuna was too winded to follow up.
He pummeled Vader until referee Tim White threatened to disqualify him.
So Yokozuna tried an avalanche but missed landing down to the mat.
As Cornette held Yokozuna's ankle on the bottom rope, Vader dropped the Vader bomb on Yokozuna's leg. An audible SNAP was heard. OUCH!
White called for the bell.
Rating: ½*
Summary: This match was supposed to happen at WrestleMania; however, due to health concerns regarding Yokozuna, the match was altered and rightfully so. In the WWF's continuing concerns, this "injury" should explain Yokozuna's absence when, in fact, he will be off TV to lose weight. Hopefully he will return soon.
After the match, Vader sets the broken leg back on the bottom rope and gives it another Vader bomb. Make that 2. An overdubbed Finkel announcement informs us that Vader won. Officials, including Gerry Brisco, try to remove Yokozuna from the ring. As EMTs examine Yokozuna, the extra-large Samoan writhes in pain. After a commercial break, a forklift removes Yokozuna from ringside.
Vince is in the ring and introduces the Ultimate Warrior. While there is some positive crowd reaction, I believe there is also additional audio-sweetening. According to the Warrior, the spirit of the Warrior did not die during the previous 3 1/2 years. As Warrior speaks in tongues, Goldust with Marlena enters the ring. According to Vince, Goldust will face Warrior at IYH on 4/28. When Goldust asks Warrior to be Superman, Warrior beats his chest like Tarzan. He then refers to Goldust as a "freak." Next he tells him "…whatever you're into, I don't give a shit!" Holy cow! He continues with "a full-length…picture…me kicking your ass from beginning to end." He then gives Goldust a clothesline.
Outside the arena, Yokozuna is still on the forklift preparing to load an ambulance when, all of a sudden, Vader nails Yokozuna's leg repeatedly with a chair. Gleefully Cornette celebrates. Vader is truly an unstoppable monster.
Match 2: Hunter Hearst Helmsley versus Duke the "Dumpster" Droese
Highlights:
An unnamed beautiful brunette removed Helmsley's shirt in the ring.
Droese ran down the aisle and gave Helmsley a back drop, clothesline, slam, and another clothesline sending Helmsley over the top rope to the floor.
Droese followed him then rammed him face-first into the steel steps.
A cross-corner whip by Droese resulted in a Helmsley flip in the corner.
Military press slam, and Droese charged at Helmsley.
The Greenwich snob low-bridged Droese sending him to the floor.
Helmsley joined him then whipped Droese into the steel steps.
As Helmsley bowed in the ring, Mero cut a pre-taped promo in split-screen.
After a commercial break, Helmsley attempted the Pedigree.
However, Droese countered with a catapult to the top turnbuckle.
Inverted atomic drop followed by a standard atomic drop by Droese kept him in control.
Spinebuster by Droese was followed by a sweet powerslam.
Helmsley countered a Trash Compactor with the Pedigree.
1-2-3.
Rating: DUD
Summary: Droese's days in the WWF are numbered as Helmsley's push continues.
We see highlights of Mankind's attack of the Undertaker from last week. A star is born!
Finally, Yokozuna is loaded into the ambulance as Perfect makes a Free Willy reference. Sheesh!
Match 3 (arm wrestling): Ahmed Johnson versus the "British Bulldog" Davey Boy Smith (w/ Owen)
Highlights:
Diana Smith was shown sitting at ringside.
Before they lock up, Owen complains about the oil on Johnson's body.
Owen then complains about Johnson's abuse of leverage.
Owen tries to complain once more, and referee Jack Doan tosses him.
Rightfully, the crowd booed as the charisma left the ring.
As Perfect correctly pointed out, Johnson grabbed the edge of the table with his other hand and pulled Smith over.
Johnson won but ate a chair shot from Smith.
After Smith set the table up in a corner, he walloped Johnson with the chair again twice.
Briefly Johnson made a comeback, but Smith reversed a cross-corner whip sending Johnson into the table which didn't break.
Again Smith set up the table and whipped Johnson into it.
Smith then dropped the table on Johnson's back.
The ECW fans chanted "he's hardcore" as Smith jumped on the table twice on Johnson's back.
As officials tried to stop Smith, he dropped the table again on Johnson.
Rating: NONE
Next week on RAW Savio Vega challenges Goldust for the Intercontinental title.
While wearing a Shawn Michaels shirt, Diesel comes to the ring to provide color commentary on the main event. He shuns McMahon's handshake. Was he just being a heel or did he just turn down another WWF contract offer?
RAW is sponsored by Castrol and Burger King.
Match 4 for the WWF title: The "Heartbreak Kid" Shawn Michaels (champion) versus the "King" Jerry Lawler
Highlights:
The exuberance of Vince's joy for Shawn Michaels was overwhelming.
A battle of fisticuffs was won by Michaels definitively.
Back drop by Michaels preceded a "Burger King" chant.
Piledriver by Lawler only got 2.
Lawler then mounted the top turnbuckle but got nailed in the midsection on the way down.
Flying forearm by Michaels followed by a slam.
Michaels mounted the top turnbuckle and hit the big elbow.
As Lawler went for the foreign object, Michaels gave him Sweet Chin Music.
1-2-3.
Rating: ½*
Summary: Lawler's antics are too old school for 1996. This was another "competitive" squash.
After the match, Diesel gets into the ring and trades blows with Michaels. As Perfect distracts Michaels, Diesel gives the champion a big boot. Perfect tosses the WWF title belt to Diesel who then wallops Michaels with it. The champion is laid out as RAW goes off the air.
Conclusion: Hmmm…let's see. No Nitro this week and no WCW PPV in April = build the big angles for the next PPV on RAW. In spite of all the heels prevailing on this show, the build for IYH VII is underway. As far as my recommendation is concerned, since it is a building block, I'd say you should invest your time into this show.
TV Rating: 4.70 (Good Gawd!)
Who won? Nitro was pre-empted for Moses starring Ben Kingsley. Believe it or not, I don't think the parting of the Red Sea beat RAW. The executives at TNT might want to rethink their strategy when pre-empting the ratings juggernaut Nitro. Only the Vega-Goldust match was hyped for next week, so I'm not sure what's in store. I guess you'll just have to wait for my next report. Perhaps, it too will be three minutes early.
In other news during this week in wrestling history, the Road Warriors appear to be finished with WCW. With a tag team tournament at the next PPV taking place, I would hope that would be their last show.
Stay tuned for Monday Night War week 32!
Comments? Suggestions? Send them to me at rsg@rockstargary.com and follow me on Twitter (@rockstargary202).
Custom Search