WELCOME TO ROCK STAR GARY REFLECTIONS!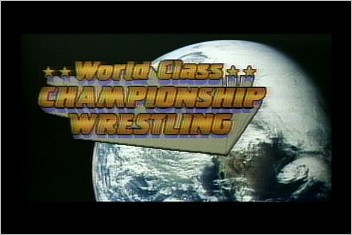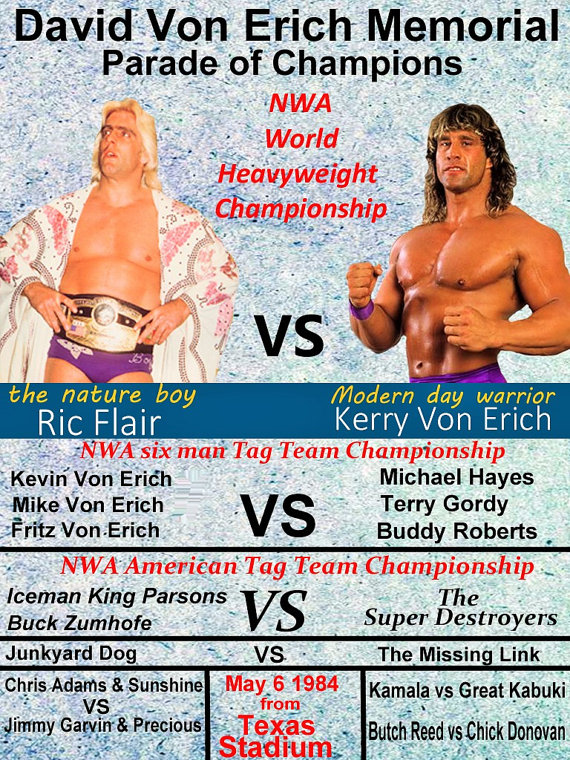 First of all, I would like to take WWE Network to task for not having this show available. While the Vault content doesn't get as much traffic as the current content supershows such as this one (and its successors) along with AWA's Superclash shows would help to promote the vast content of the Network quite well. Second of all, this show was held at Texas Stadium (then-home of the Dallas Cowboys) as a tribute to the recently fallen David Von Erich. Prior to his death David was being groomed for the NWA World title. Some would say he was the best wrestler among the Von Erichs while others would argue that Kerry was the star.
Live from Irving, TX
Airdate: May 6, 1984
Attendance: 32,123
Hosted by Marc Lowrance
Match 1: "Hacksaw" Butch Reed versus Chic Donovan
Highlights:
Reed both incited the crowd and talked trash to Donovan prior to the start.
After a couple of unsuccessful attempts to slam Reed Donovan delivered a dropkick.
Military press by Reed who then dropped Donovan face-first to the mat.
Shoulder block by Reed got the pin.
Rating: DUD
Summary: Reed's days were definitely ahead of him ("The Natural", Doom).
Match 2: The Great Kabuki (w/ Gary Hart) versus Kamala (w/ Skandor Akbar and Friday)
Highlights:
This was an odd heel versus heel match-up.
Standing choke by Kamala followed by some chops.
A pair of thrust kicks by Kabuki put the big Ugandan down.
Bear hug by Kamala but Kabuki chopped to break it.
Another bear hug but Kabuki rang Kamala's bell.
Nerve hold by Kamala actually got a 2 count.
Kabuki broke the hold with a chop and thrust kick.
Outside the ring Hart rammed Friday into the ring post.
Shortly thereafter both Hart and Akbar climbed into the ring causing referee Bronco Lubich to call for the bell.
Rating: ½*
Summary: At least the fans were behind Kabuki in this dreck of a match. Lowrance noted the match result was a double-disqualification.
Afterwards Hart chokes Akbar in the corner until David Manning arrives to break everything up.
Match 3: The Missing Link (w/ Skandor Akbar) versus the Junkyard Dog
Highlights:
Outraged that using his head as a battering ram was unsuccessful against JYD the Link went outside the ring and tossed in a chair.
JYD grabbed it and walloped Link twice.
Link rammed JYD's head into the top turnbuckle to ZERO effect. Methinks the elevator doesn't reach the top floor with this guy.
After finally delivering a successful head butt the Link mounted the second turnbuckle but missed the diving head butt.
Akbar got up on the apron but JYD nailed him.
With JYD distracted by Akbar the Link hammered him from behind.
He then remounted the second turnbuckle and hit the diving head butt.
With JYD's legs draped under the bottom rope Akbar held them allowing Link to get the pin.
Rating: *
Summary: JYD was on his way up north so he was putting over talent.
After the match Lubich comes into the ring and reverses the decision. In protest the Link rams his head against the wooden steps. Gee, therapy back in the mid 80's must have been expensive for this guy.
Match 4 for the NWA American tag team titles: The Super Destroyers (champions w/ Skandar Akbar) versus Iceman King Parsons and Buck "Rock'n'Roll" Zumhofe
Highlights:
Sister Sledge's "We Are Family" brought Parsons and Zumhofe (w/ boom box) to the ring.
For those unfamiliar the Super Destroyers were Will Bill (#1) and Scott Irwin (#2).
Criss-cross led to a Zumhofe hip toss to #1.
Dropkick by Parsons followed by a head butt sent #2 outside the ring.
Sunset flip by Zumhofe to #2 got a 2 count.
Dropkick along with a knee drop by #1 to Zumhofe got a pair of 2 counts.
A second dropkick by #1 missed leading to the hot tag to Parsons.
Stereo (get it?) sunset flips by Zumhofe and Parsons got 2.
The Super Destroyers attempted a double clothesline on Parsons; however, Parsons ducked.
While Zumhofe held onto #2's leg Parsons gave #1 a butt bump.
1-2-3.
WE HAVE NEW CHAMPIONS!
Rating:**
Summary: Not a lot of chemistry between these teams, but the tag formula worked to a certain degree here.
Match 5 for the WCCW World six-man tag team titles: The Fabulous Freebirds (champions) versus Kevin, Mike, and Fritz Von Erich
Highlights:
"Badstreet USA" brought all three members of the Fabulous Freebirds to the ring.
Meanwhile "Stranglehold" by Ted Nugent brought the Von Erichs to the ring.
Similar to Jim Crockett Promotions WCCW gave the six-man champions a tall trophy rather than three belts.
The previously retired Fritz came back for this match against his family's most hated rivals.
The Von Erichs cleared the ring to start the match.
Referee David Manning instructed the combatants there was only one strict rule…no drugs (allegedly)…er, I mean, tag rules applied with only one member of each team in the ring. The alternative would have been a Texas tornado match with all six men in simultaneously.
None of the six men were wearing wrestling gear although Kevin remained shoeless as he preferred to wrestle barefoot.
Chaos erupted early as Hayes interrupted Kevin's attack on Roberts.
After a slam Hayes mounted the second turnbuckle but missed a splash.
Fritz tagged in and the remainder of the roof of Texas Stadium practically blew off.
While Mike held Hayes Fritz yanked off his belt and whipped him.
After giving Gordy a snap mare Kevin attempted the Iron Claw. Gordy blocked it.
Upon delivering a clothesline to Kevin Hayes removed his boot and smashed Kevin in the head with it.
Fritz tagged in and applied the Iron Claw to Hayes. Roberts mounted the top turnbuckle but received the Iron Claw too.
Hayes was

busted open

.
THIS IS MADNESS!
A boot smash by Gordy put a halt to the Von Erich momentum.
With all six men in the ring Kevin mounted the top turnbuckle, hit the flying body press, and pinned Roberts.
WE HAVE NEW CHAMPIONS!
Rating: ***1/2
Summary: White-hot feud that the Texas Stadium crowd ate up with a spoon.
After the match Killer Khan comes into the ring and attacks Kevin. Lowrance's lack of political correctness rears its ugly head by referring to Khan as "a huge, mean Oriental." 1984, folks. Meanwhile Kerry joins his father and brothers in the melee with the Freebirds and Khan until the heels leave to fight another day.
Match 6 for the NWA World title: "Nature Boy" Ric Flair (champion) versus the "Modern Day Warrior" Kerry Von Erich
Highlights:
"Tom Sawyer" by RUSH brought the challenger to the ring briefly until "Texas (When I Die)" by Tanya Tucker completed his entrance. He also wore a blue jacket containing a yellow rose with the words "In Memory of David" on the back.
The time-limit was removed and the disqualification rule had been waived meaning that if Flair got disqualified not only would he lose the match but also the title.
Pair of dropkicks gave Kerry the early advantage.
Gorilla press slam by Kerry had the champion reeling.
After Flair tossed Kerry outside the ring Kerry gave Flair a sunset flip for 2.
Sleeper by Kerry but Flair delivered a belly-to-back suplex to counter.
After a knee drop by Flair he gave Kerry a vertical suplex.
Dropkick by Kerry followed by an abdominal stretch.
Iron Claw by Kerry but Flair put a knee in Kerry's mid-section to break it.
Flair mounted the top turnbuckle but got tossed down to the mat.
Flair flip after a cross-corner whip briefly put Kerry in control.
Flair attempted a figure-four leg lock twice but was blocked.
Kerry reversed a hip toss into a backslide.
1-2-3.
WE HAVE A NEW CHAMPION!
Rating: ***1/2
Summary: While not a technical masterpiece this victory was tremendously symbolic for both the Von Erich family and World Class Championship Wrestling. Due to its significance I awarded the match an additional ½*. More on this later.
As the crowd loses its collective minds the Von Erich clan run into the ring to celebrate with their brother. Also, the babyfaces from the locker room pour into the ring to mob Kerry in celebration. In pure disbelief Flair tells Kerry that "(he'll) be back." With the Texas state flag and a yellow rose Kerry stands tall in the ring.
Match 7 (mixed tag): "Gorgeous" Jimmy Garvin and Precious versus "Gentleman" Chris Adams and Sunshine
Highlights:
Sunset flip by Adams got 2, but Adams was unable to tag out to Sunshine.
Double clothesline put both men down.
Superkick by Adams allowed him to tag in Sunshine.
Precious was hesitant to enter the ring so Sunshine brought her in the hard way.
Catapult by Sunshine sent Precious into the second turnbuckle.
Before it got nasty Precious tagged out.
A worn-down Garvin received a vertical suplex into the ring.
Slam and a leg drop got 2 for Adams.
Garvin retook the advantage with Snake Eyes. Adams was busted open.
Adams reversed a Garvin piledriver and tagged in Sunshine.
Garvin tripped her so Precious took control. How dastardly!
As Garvin tossed Adams outside the ring a CATFIGHT ensued. Joey Styles would be so proud.
Garvin held Sunshine as Precious slapped her four times.
As Sunshine tossed Precious outside the ring Adams pinned Garvin off-camera. Oops.
Rating: **1/2
Summary: The female portion of the huge crowd loved this match.
Afterwards Precious returns to the ring and wallops Sunshine with her purse before fleeing with Garvin. Sunshine bolts from the ring and tackles Precious. A bloody Adams chases Garvin back to the tunnel.
Conclusion: If you've never seen WCCW this show would be a good introduction. As I mentioned earlier David Von Erich was seen in the NWA as a future/potential World Champion; therefore, it was a tip of the cap by the NWA to WCCW giving Kerry a title reign.
Unfortunately due to Kerry's issues his reign was cut short by the NWA eighteen days later in Yokosuka, Japan as he lost the title back to Flair.
Definitely check this show out, but I would hope the WWE Network can supply an unclipped full version unlike the copy I acquired.
See you for Starrcade '84!
Buyrate: NONE
Comments? Suggestions? Send them to me at rsg@rockstargary.com and follow me on Twitter (@rockstargary202).
Custom Search