WELCOME TO ROCK STAR GARY REFLECTIONS!
WWF No Way Out '98
Live from Houston, TX
Airdate: February 15, 1998
Attendance: 16,110
Hosted by Jim Ross & Jerry "The King" Lawler
Can Austin and co. take care of DeGeneration-X and the NAO? Will Vader defeat the undefeated Kane? How will Shamrock and co. deal with the NoD? Will either Jarrett or Michinoku retain his respective title? Let's find out!
I'm NOT a fan of this show especially after the disgusting RAW that precedes it. Although this show is on the PPV calendar, the WWF treats it like a glorified house show. If that's not bad enough, as you may have noticed, WCW sells out a huge block of shows across Texas thrilling audiences at each juncture. Their strategy--affect ticket sales for both the PPV and the next two RAWs. You have been warned.
To top it all off, Texas native and WWF champion Shawn Michaels will NOT appear on this show. Thank goodness, another Texas native—Austin—will be in the main event. Otherwise, refunds would be doled out by the hundreds. In case you don't know, Michaels' back is screwed six ways to Sunday thanks to that casket bump last month. Let's hope he doesn't lose his smile again and no-show WrestleMania XIV.
Therefore, the running storyline throughout the PAY-PER-VIEW is "Who will be the eighth man in the main event?" Money well spent.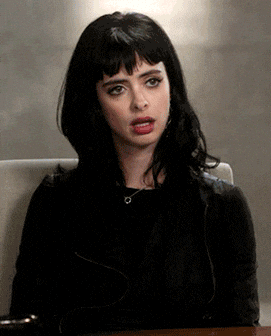 Prior to the first match, we revisit RAW from last Monday when Sable slapped the taste from both Goldust's and Luna's mouths. Next, Mero grabs the microphone and boots Sable from the ring. To say the Houston faithful was TICKED would be an understatement.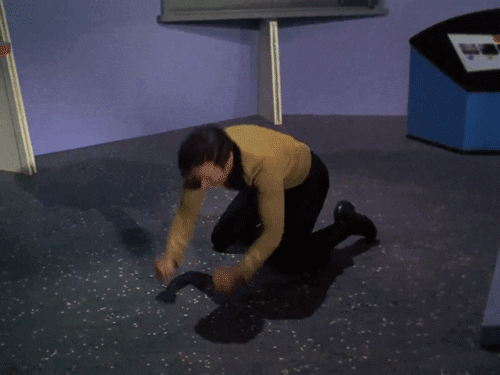 Match 1: "Marvelous" Marc Mero & TAFKA Goldust (w/ Sable & Luna) versus the Headbangers
Highlights:
Similar to the previous two RAWs, Goldust appeared as MarilynDust.
Mero supplied Mosh with a back elbow followed by an elbow drop.
When he gave Mosh a cross corner whip, Mero came up empty on his follow-through.
Mosh then whipped him back into the corner and delivered a jumping back splash.
As he clotheslined Mero over the top rope to the floor, Mosh tagged in Thrasher.
Speaking of Thrasher, he mounted the second turnbuckle and clotheslined Mero.
Marilyndust tagged in, leapfrogged Thrasher, but failed to monkey-flip him.
After Thrasher clotheslined him, Mosh tagged in, mounted the top turnbuckle, and unloaded a double axe handle to MarilynDust.
Thrasher then backdropped and slammed him.
While Thrasher mounted the top turnbuckle, he suplexed Mosh atop MarilynDust for 2.
Mosh and Mero distracted referee Tim White, and Thrasher BELTED MarilynDust on the floor.
When Mosh dropkicked MarilynDust, Thrasher tagged in.
A blind tag by the heels transpired, and they provided Thrasher with a combination of boot to the midsection by MarilynDust followed by a knee lift by Mero.
As Mero hit an elbow drop, he got 2.
The Houston faithful LOUDLY chanted Sable, and MarilynDust low-bridged Thrasher out of the ring.
After Mosh distracted White again, Luna gave Thrasher the business. How dastardly!
MarilynDust then dropped Thrasher face-first into the steps. Heinous!
While Mero joined him on the floor, he rammed Thrasher face-first into the steps.
Thrasher was

BUSTED OPEN

!
When Mero hung Thrasher out to dry on the top rope, MarilynDust tagged in and launched a lariat.
MarilynDust then landed a knee drop for 2.
As Mero tagged in, he put a knee into Thrasher's midsection.
The Houston faithful began to chant "Mero sucks," and their nemesis uncorked an uppercut to Thrasher.
After MarilynDust tagged in, he got 2.
Thrasher rebounded with a cross body block and got 2.
While Mero tagged in, he asked White to check Thrasher's wound. Since he's truly insincere among other nefarious traits, Mero unwrapped his wrist tape and choked Thrasher with it. SNEAKY!
Mero then delivered a sit-out powerbomb to Thrasher for 2.
When Mero attempted a TKO, Thrasher escaped and scored with a DDT.
Hot tag Mosh.
As Moshamania briefly ran wild, the Headbangers double-flapjacked MarilynDust for 2.
Thrasher then mounted the top turnbuckle, but Luna crotched him.
After Mero tagged in, Sable returned to the ring.
Mero then hit a TKO on Mosh, and the heels had to separate Luna and Sable.
While Thrasher illegally switched with Mosh behind White's back, Mero got caught with an inside cradle.
1-2-3.
Headbangers won in 13:53.
Rating: **½
Summary: I'll give them credit for working the tag formula and kudos for Thrasher for a blade job to provide some sympathy, but Sable is responsible for the majority of the heat for this match.
Afterward, Sable invites Luna into the ring for a scrum, but their charges keep them apart. WWF officials arrive to help the men restrain the women. To finish things off, MarilynDust carries Luna over his shoulder backstage while Sable shoves Mero down.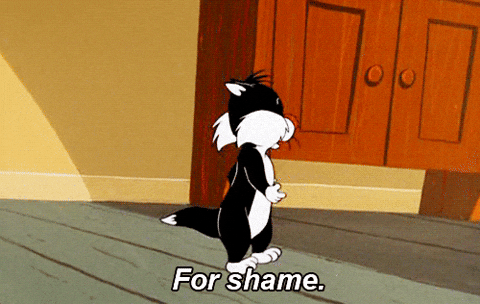 Back in the locker room, Michael Cole interviews Owen who doesn't give a shit who the eighth man will be. He's not alone. The focus of the interview is Owen's promise to "bust (HHH's) legs."
Prior to the next match, we see the foreign object used by Pantera to score the victory on last Monday's RAW.
Match 2 for the WWF Light Heavyweight title: Taka Michinoku (champion) versus Pantera
Highlights:
Sunny was the guest ring announcer for this match.
As the match began, Brian Christopher joined the broadcast table.
Michinoku delivered a spinning heel kick, but Pantera used an arm drag to send him to the floor.
When Pantera launched a tope con hilo to Michinoku on the floor, he followed with a flying headscissors.
He then charged Michinoku and fell out of the ring.
After Michinoku scored with a springboard dive, he hit a running forearm to Pantera on the floor.
Back in the ring, Michinoku gave Pantera a cross corner whip followed by another running forearm. I realize he's a babyface, but this is Texas. Texans like brawls with fisticuffs.
Michinoku unleashed a pair of seated dropkicks, and the Houston faithful sought Shiner Bock.
While Pantera reversed a cross corner whip, Michinoku vaulted him to the apron.
Pantera then sent Michinoku flying to the floor with another flying headscissors.
As Pantera hit a tope suicida, he sent Michinoku back-first into the steel railing.
He then supplied Michinoku with a double underhook backbreaker and a camel clutch.
When Michinoku escaped, Pantera hip-tossed him.
He then applied a Mexican surfboard followed by a dropkick.
After Michinoku charged, Pantera backdropped him over the top rope to the floor.
He then unloaded a somersault plancha onto Michinoku's back.
While Pantera tied him up like a pretzel, he got 2. Pass the mustard!
He then delivered a backbreaker, mounted the top turnbuckle, and launched a big elbow.
As Pantera botched a tilt-a-whirl backbreaker, he joined Michinoku atop the top turnbuckle.
Pantera then uncorked a super huracanrana, slammed Michinoku, and offered an arrogant cover for 2.
When he remounted the top turnbuckle, Pantera hit a BEAUTIFUL moonsault.
Do we have a new champion?
1-2-NO!
After he tried again with the moonsault, there wasn't any water in the pool.
Michinoku then mounted the top turnbuckle and scored with a flying knee strike.
While Michinoku attempted a Michinoku driver, Pantera countered with an inside cradle for 2.
He then wrapped Michinoku in la magistral cradle for another 2.
As Pantera attempted a huracanrana, Michinoku countered with a powerbomb for 2.
He then mounted the top turnbuckle and unleashed a missile dropkick.
When he delivered a Michinoku driver, Michinoku pinned Pantera.
Michinoku retained in 10:13.
Rating: ***
Summary: Despite the Houston's faithful craving for popcorn, this was a solid match with plenty of psychology, workrate, and high-flying. Alternatively, Christopher's commentary sent wrestling back about thirty years with his xenophobia.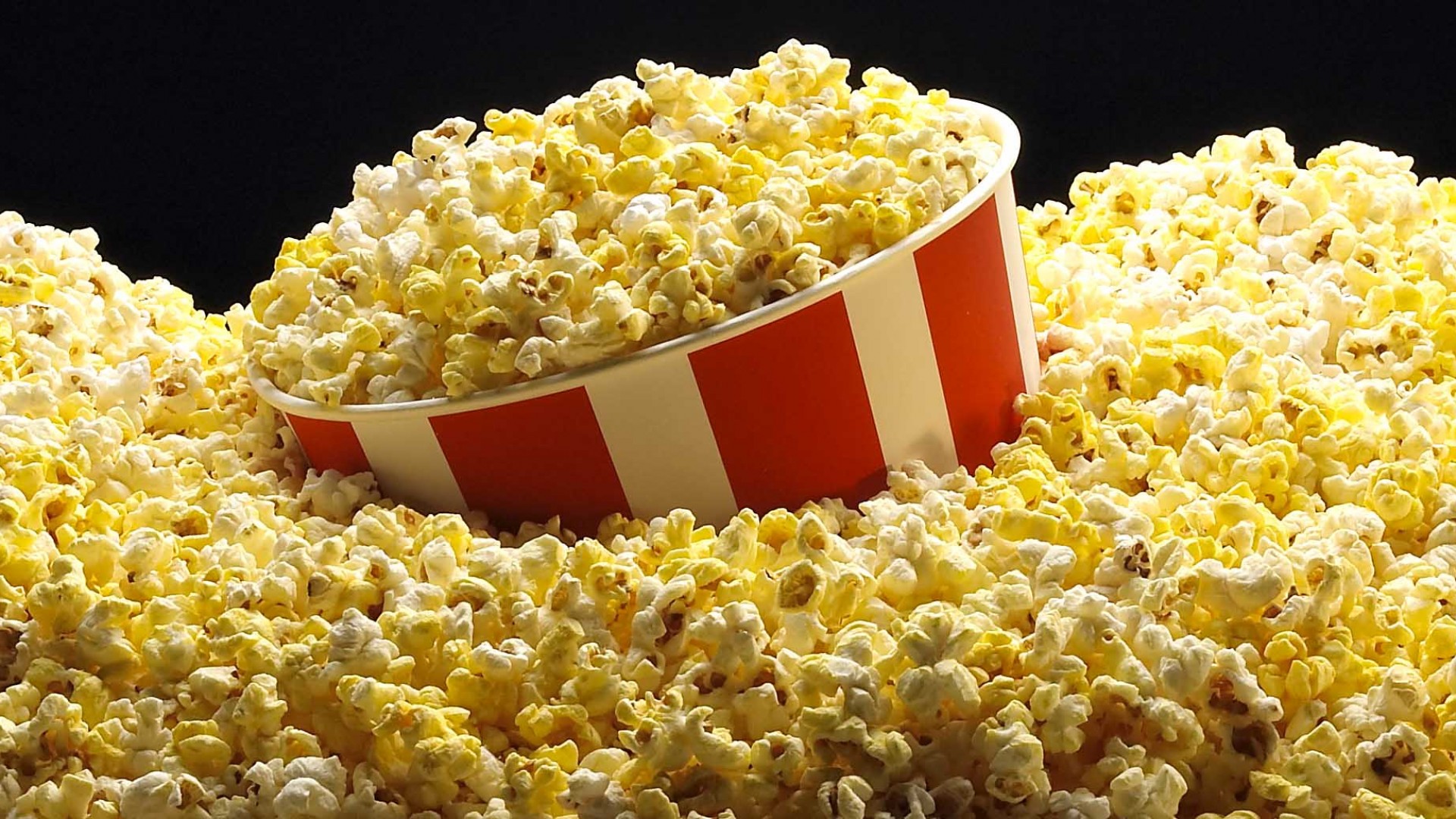 After the match, Christopher leaves the broadcast table, and Lawler tries to talk him out of confronting Michinoku. Before they can do anything, Michinoku mounts the top turnbuckle and dives onto them. The Lawlers then try to corner him, but Michinoku escapes through the crowd.
In the AOL area, Kevin Kelly interviews Cactus and Charlie who are out for revenge against the NAO.
Prior to the next match, we revisit Shotgun Saturday Night when the Godwinns cost the Quebecers a match against Los Boricuas. We then see the Quebecers' revenge by costing the Godwinns their match against the other two members of Los Boricuas. If this sounds familiar, it is. They showed the same exact clips last Monday on that hideous episode of RAW.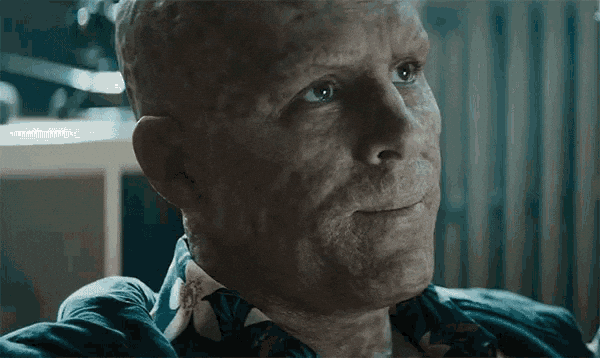 Match 3: The Quebecers versus the Godwinns
Highlights:
Speaking of hideous…
To prove how low the expectations for this match were, members of the Houston faithful were visibly either going back for Lone Star or absent altogether.
Rougeau nipped up and dropkicked Phineas.
When Henry tagged in, Pierre nailed him from behind. Nefarious!
The Quebecers attempted to double-team him, but Henry double-clotheslined them.
As Phineas tagged in, he delivered a single-arm DDT to Rougeau.
Henry tagged in, mounted the second turnbuckle, and hit a flying knee drop.
After he applied a shoulder breaker, Henry tagged in Phineas.
Rougeau reversed an Irish whip but got caught mid-leapfrog.
While Phineas provided him with a modified spinebuster, he followed with a leg drop to Rougeau for 2.
He then distracted referee Mike Chioda, so Henry manhandled Rougeau in the Arkansas corner. Hey! What can I say? Both teams played heel, and the remainder of the Houston faithful were comatose.
Nonetheless, Rougeau rebounded with a sunset flip and got 2.
Henry tagged in, landed a knee drop, and got 2.
When Rougeau countered a reverse chin lock with a jawbreaker, he attempted a piledriver.
Henry then countered with a back drop and tagged in Phineas.
As Henry distracted Chioda, Phineas nailed Rougeau down I-45 SOUTH.
Henry tagged in and gave Rougeau a cross corner whip.
After Henry whipped him toward Rougeau, Phineas ate boot.
Rougeau then connected with a flying back elbow and made the ICE COLD tag.
While Pierre clotheslined Phineas, he followed with a leg drop. Hmmm…does a prominent member of WCW use that move as a finisher?
Pierre then powerslammed Phineas for 2.
When the Quebecers launched Phineas into a double stun gun, Rougeau piledrove him.
Pierre tagged in, and the Quebecers delivered a Quebec Crash to Phineas for 2.
As Rougeau knocked Henry to the floor, he mounted the top turnbuckle.
He then dove onto Henry in a move I'd never thought I see from him.
After Pierre attempted an O'Connor roll, Henry CLOBBERED him with a clothesline from the apron.
1-2-3.
Godwinns won at 9:14.
Rating: *
Summary: Since the Houston faithful couldn't care less, neither will I. The Quebecers get the * for their aerial tactics. Also, the Godwinns and the antiquated Confederate flag can hightail it back to Bitters, Arkansas for all I care.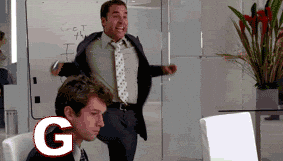 After the match, the Godwinns sneak up on the Quebecers from behind and BLAST them with slop bucket shots to the head. Whatever.
Backstage, Dok Hendrix asks the NAO who the eighth man is. Since the NAO doesn't know, they demand respect. That and a breath mint will cost you a nickel.
WWF Attitude promo airs.
Match 4 for the NWA North American title: Jeff Jarrett (champion w/ Jim Cornette) versus Bradshaw
Highlights:
The Rock'n'Roll Express and Windham came to the ring with Jarrett but were banished back to the locker room.
For those curious, Bradshaw was announced as being from Roscoe, TX. For those unfamiliar, Roscoe is approximately 115 miles southeast of Lubbock.
Jarrett tried a sneak attack, but Bradshaw made him pay for it.
As Bradshaw hip-tossed him out of the corner, he provided Jarrett with a big boot.
He then clotheslined Jarrett over the top rope down to the floor.
When Bradshaw joined him on the floor, he supplied Jarrett and Cornette with a double noggin knocker.
Moronically, Bradshaw turned his attention to Cornette so Jarrett nailed him from behind.
Bradshaw then reversed an Irish whip but ate a dropkick.
After Jarrett delivered a lariat, Bradshaw reversed a cross corner whip but ate a back elbow on his follow-through.
Jarrett then mounted the second turnbuckle and hit a missile dropkick for 2.
While Jarrett distracted referee Jim Korderas, Cornette handed Bradshaw a one-way ticket to chicanery-ville.
Jarrett then landed a running guillotine, and Cornette tried to sell Bradshaw another ticket.
Instead, Bradshaw sauntered after Cornette but ate a clothesline from Jarrett for 2.
Bradshaw then countered a back drop with a sloppy inside cradle for 2.
As Bradshaw reversed an Irish whip, Jarrett attempted a sunset flip.
However, Bradshaw countered with a knuckle sandwich.
He then gave Jarrett a cross corner whip but ate boot on his follow-through.
When Jarrett tried another running guillotine, he came up empty.
Cornette then WHACKED Bradshaw's previously injured knee with the tennis racquet. Wicked!
After Jarrett attempted a figure-four leg lock, Bradshaw kicked him away.
Jarrett then ducked a lariat and delivered a DDT.
While the Houston faithful chanted "Jarrett sucks," their nemesis mounted the top turnbuckle.
Bradshaw then bumped the top rope crotching Jarrett.
As Bradshaw joined him, he attempted a superplex.
Jarrett blocked it and sent Bradshaw back down to the mat.
When he mounted the top turnbuckle, Jarrett tried a cross body block.
Bradshaw caught him and launched a fallaway slam.
After Bradshaw powerbombed Jarrett, Cornette got up on the apron.
Bradshaw then brought him into the ring the hard way and whipped him into an unsuspecting Jarrett.
While Jarrett grabbed the tennis racquet, he WALLOPED Bradshaw in the arm with it.
Korderas saw Jarrett's shenanigans and disqualified him.
Bradshaw won by DQ at 13:06, yet Jarrett retained.
Rating: **½
Summary: As per the NWA gimmick, this was old school wrestling that doesn't electrify a 1998 crowd. While Bradshaw got a mild hero's welcome, his character does not shine as a babyface at all.
After the match, Bradshaw swipes the racquet from Jarrett and CREAMS him with it. The Rock'n'Roll Express return but eat shots from the racquet as well. Meanwhile, Cornette remains in the ring and gets the BEJEEZUS scared out of him by the sight of Bradshaw.
Cornette then receives a slam from Bradshaw, but Windham trips Bradshaw before his manager ends up in a slaughterhouse. The heels quadruple- team Bradshaw until the Road Warriors save the day. Needless to say, but the Road Warriors get the biggest pop of the show thus far.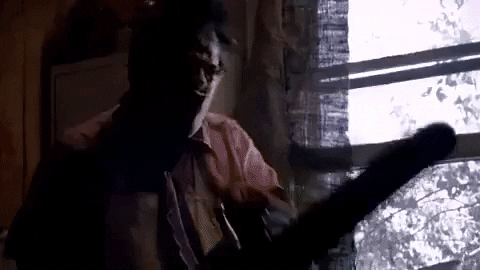 Backstage, Cole interviews HHH with Chyna. HHH sells the eighth slot like one of the world's biggest wrestling stars from another organization will take it. Keep that in mind. On the contrary, he reverses course and mentions that the main event will be a handicap match. Cole then mentions that the WWF will name a partner rather than promote a handicap match. HHH doesn't care, and neither do I.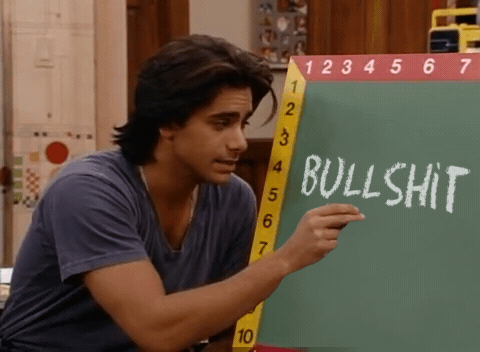 Hendrix interviews the NoD and wants to hear from its leader. Stealing the microphone (and the entire interview) away from Faarooq, the Rock gets a stern warning from him. While Faarooq says nothing of importance, the Rock's personality SHINES in a non-verbal way.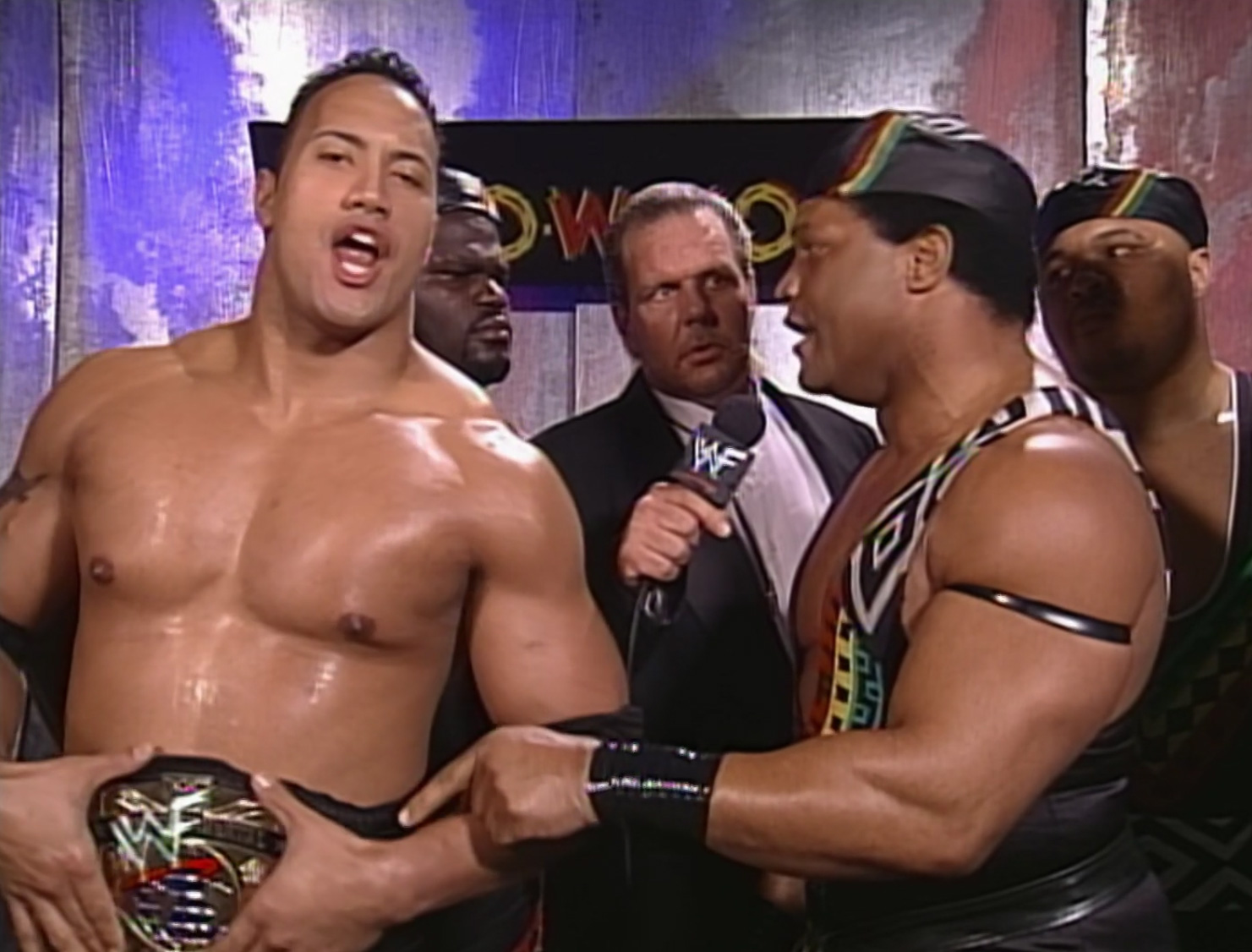 We then revisit last Monday's RAW when the Rock CLOCKED Shamrock with a steel chair and continued to prove his potential.
Match 5: Ken Shamrock, Ahmed Johnson, & the Disciples of Apocalypse versus the Nation of Domination
Highlights:
This match was announced as a "war of attrition." OK, so that means the losing team disbands, right?
When Skull reversed a cross corner whip, he followed with a corner clothesline to Brown.
He then supplied Brown with a ten-punch count-along until Brown countered with an inverted atomic drop.
As brown delivered a spinning heel kick, Skull responded with a swinging neckbreaker.
He then smoked Brown with a big boot and tagged in Shamrock.
After Shamrock launched a flying back elbow to Brown, tags were exchanged on both sides.
Kama gave Chainz a cross corner whip but ate a big boot.
While he slammed Kama, Chainz hit a series of elbow drops.
Henry tagged in and requested Johnson's presence in the ring. Mind you, the Houston faithful know and LOVE Johnson. More on him later.
When Johnson screamed "Motherfucker," he slammed Henry. That type of excitement might not sit too well with WWF brass.
Brown tagged in, attempted a vertical suplex, but Johnson blocked it and executed a front suplex.
As Brown mounted the top turnbuckle, he launched a frog splash ¾ of the way across the ring. Impressive!
Faarooq tagged in, but Johnson provided him with a spinebuster.
After Johnson attempted a Pearl River Plunge, the Rock nailed him from behind.
8-Ball tagged in, clotheslined Faarooq, and followed with a powerslam for 2.
While Shamrock tagged in, he scored with a flying back elbow.
The Rock tagged in and planted Shamrock with a DDT for 2.
When Kama tagged in, he gave Shamrock a cross corner whip but came up empty on his follow-through.
8-Ball tagged in, and he and Skull double-clotheslined Kama.
As Skull tagged in, Chainz distracted referee Mike Chioda. That led to the NoD's pummeling of Skull. Vicious!
Kama then landed a standing side kick and got 2.
After Brown tagged in, Skull gave Brown a cross corner whip but ate a back elbow on his follow-through.
He then mounted the second turnbuckle and delivered a flying elbow smash for 2.
While the Rock tagged in, he slammed Skull and followed with a still-not-named People's Elbow.
Faarooq tagged in, but Skull face-planted him.
When the Rock tagged back in, Skull clotheslined him.
8-Ball then distracted Chioda so the Rock hammered Skull so far south Donald Trump built a wall in front of it.
After Henry tagged in, he clotheslined Skull.
Kama tagged in, slammed Skull, hit an elbow drop, and got 2.
While Brown tagged in, he connected with a backbreaker, mounted the top turnbuckle, but missed a moonsault.
Hot tag Shamrock.
All eight wrestlers were in the ring, and the Houston faithful ERUPTED.
When Shamrock delivered a belly-to-belly suplex to the Rock, he applied an ankle lock.
To no one's surprise, the Rock tapped, and JR screamed "Shamrock, Shamrock, Shamrock."
Shamrock, Johnson, and DoA won at 13:46.
Rating: ***
Summary: Entertaining tag match with the personalities of the main wrestlers spotlighted. Surprisingly, this match marked the end of Johnson's WWF career. According to Johnson, his WWF career ended because his sister was dying. I guess he thought telling Vince that he needed time off wouldn't sit well. According to Stevie Ray, a childhood friend, there was also supposed to be a "tar-and-feathering" of Johnson on RAW. Upon reflection, it was a good career move that Johnson didn't go through with it.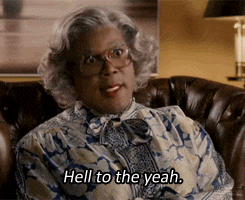 After the match, the Rock gets upset with Faarooq for not having his back. Dissension among the NoD arises, and the Rock exits the ring. When Faarooq demands his return, the Rock follows orders, and the NoD falls in line with Faarooq albeit somewhat reluctantly on the Rock's part.
Back in the locker room, Cole interviews Austin who doesn't "give two craps who the mystery partner is." My sentiments exactly.
Video airs featuring Vader followed by the Kane storyline and their exchanges.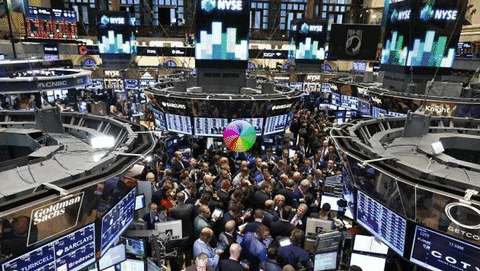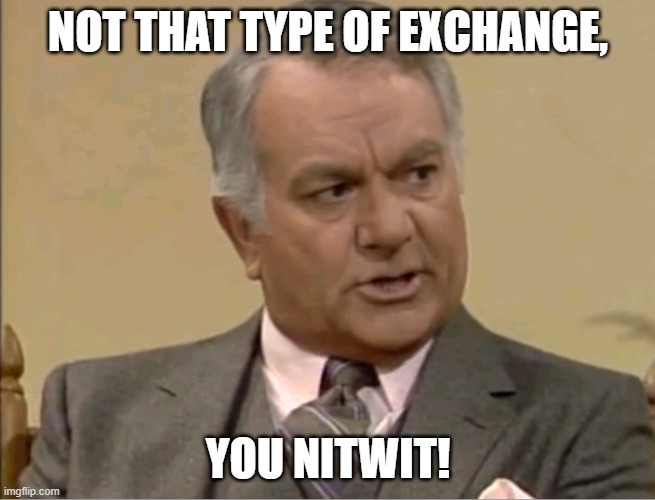 Sorry, Chester.
Match 6: Kane (w/ Paul Bearer) versus Vader
Highlights:
Kane delivered a short-arm clothesline, and he and Vader brawled on the floor.
As Bearer distracted referee Tim White, Kane made Vader taste the steel railing. It must have tasted like the Meltdown at the Flying Saucer.
He then rammed Vader face-first into the steps twice, but Vader rebounded with a flurry and dumped Kane over the top rope.
When Vader joined him, he made Kane HIT THE POLE twice.
Kane then guillotined Vader with the top rope, mounted the top turnbuckle, and launched a flying clothesline.
After Kane suplexed him, he landed an elbow drop.
With Vader on the apron slumped over the top rope, Kane leaped to the top turnbuckle and delivered a flying forearm. That returned Vader to the ring.
He then clotheslined Vader, gave him a cross corner whip, and followed with a corner clothesline.
While he slammed Vader, Kane guillotined him with the top rope again.
Vader then supplied Kane with a running body block and dumped him over the top rope to the floor.
As Kane decimated him with a DDT, he gave Vader a cross corner whip but got nailed on his follow-through.
Vader then gave Kane a cross corner whip followed by an avalanche.
When Kane no-sold it, he attempted a chokeslam.
On the other hand, Vader punted Kane below the depths of hell to escape.
He then hit a short-arm clothesline and followed with a splash.
After he mounted the top turnbuckle, Vader connected with a moonsault.
One would think the mystique of Kane was shattered.
Nope, Kane sat up, but Vader reversed an Irish whip and dealt another running body block.
For the third time, Vader clotheslined Kane over the top rope to the floor.
Vader joined him, but Kane reversed an Irish whip sending Vader shoulder-first into the steps.
While Vader appropriated a fire extinguisher, he blasted Kane with it.
In the meantime, Bearer distracted White.
Vader then powerbombed Kane and POUNDED Bearer on the apron.
When Kane sat up again, he chokeslammed Vader.
Vader stood up, but Kane tombstoned him.
1-2-3.
Kane won at 11:00.
Rating: **
Summary: Vader gave Kane everything he had, yet Kane's relentlessness prevailed.
After the match, Kane exits the ring, tosses the fire extinguisher down the aisle in disgust, grabs a wrench, and returns to the ring. He then OBLITERATES Vader with a shot to the face with the wrench. Next, EMTs remove Vader from the ring on a gurney. Vader is taking time off for necessary eye surgery.
Prior to the main event, a video airs featuring the seven wrestlers whom we know will participate.
Match 7 (non-sanctioned, no DQ, eight-man): Stone Cold Steve Austin, Owen Hart, Cactus Jack, & Chainsaw Charlie versus HHH, the New Age Outlaws, & ???? (w/ Chyna)
Highlights:
I will give credit where it's due: Road Dog nailed his pre-match spiel perfectly on the very first try. He then introduced HHH.
To replace "the icon, the main event, the Showstopper," Finkel introduced…
Savio Vega?
Are you serious?
Savio.Fucking.Vega?
Please tell me they're ribbing us.
To a chorus of boos, Vega headed to the ring with weapons including barbed wire. I felt truly sorry for the Houston faithful.
Honestly, the WWF is sitting in the middle of Texas which has a rich history of wrestling. They didn't ask Terry Funk who to call? They didn't place a call to Kevin Von Erich?
Cactus wheeled out a cart full of weapons, and the babyfaces tossed them into the ring.
Of course, Austin entered to a TREMENDOUS pop. I mean, it's DEAFENING.
Austin delivered a Thesz press to Gunn while Charlie knocked Road Dog silly with a weapon.
When Austin provided Gunn with an inverted atomic drop, he SMASHED Gunn in the face with a trash can lid.
Gunn then evaded a Stone Cold Stunner and hightailed it from the ring.
As Road Dog ate a shot with the trash can lid from Austin, HHH was fed next.
Austin then gave HHH a cross corner whip resulting in a HHH flip.
After he clotheslined HHH, Austin got 2.
He then joined HHH outside the ring and WHACKED him with a mop handle.
While Cactus CROWNED Road Dog with a cookie sheet, Austin snapped the mop handle in half across HHH's back.
He then guillotined HHH with the steel railing, and Charlie got 2 on Road Dog.
When Cactus set a table up in the corner, Austin short-circuited HHH's Sunday night with a power cord.
Charlie then sent Road Dog face-first into the table, and Cactus and Owen double-teamed Gunn sending him through the table.
As Austin rammed Vega shoulder-first into the steps, Owen applied a Sharpshooter to Gunn.
HHH saved Gunn by clotheslining Owen, and Gunn lambasted Austin with a trash can lid.
After Gunn guillotined Austin on the steel railing, Owen reversed an Irish whip and attempted a leap frog.
HHH countered with a spinebuster, and Austin clotheslined Gunn into the middle of next week.
While Austin hammered Gunn with a chair to the back, he leaped from the apron and pelted Gunn with a trash can lid.
Austin then made Gunn taste the steel railing. It must have tasted like an Alex Bregman at Moonshiners.
When HHH delivered a series of trash can shots, he downed Charlie with a DDT for 2.
Austin then cracked Vega with a cookie sheet to the back, and Owen shook HHH with an enziguri.
As referee Earl Hebner got knocked down, HHH reversed an Irish whip.
HHH attempted a leap frog, but Owen caught him with a spinebuster and locked him in a Sharpshooter.
After Road Dog saved HHH with a cookie sheet shot to Owen, he sent a shout-out to lower Amarillo on Charlie.
Finally, the match settled into a tag match.
Road Dog then powerbombed Charlie through some chairs, and Gunn piledrove Charlie on a trash can lid for 2. One simply cannot say that Funk wasn't hardcore.
While the heels illegally switched, Road Dog hit a belly-to-back suplex to Charlie on a trash can lid for another 2.
Fed up with standing in the corner, Austin launched a trash can at Gunn. HA!
HHH then supplied Charlie with an inverted atomic drop and tagged in Vega.
When a false tag occurred, Hebner returned Owen to the babyface corner.
Gunn held Charlie prone, and HHH introduced Charlie to another pair of chair shots.
As Charlie fell out of the ring on his skull, Cactus sent the heels fleeing while threatening the steps.
A mid-ring collision allowed Charlie to make the hot tag to Cactus.
After pummeling Road Dog down in the corner, Cactus placed a piece of table in front of him.
He then whipped Gunn into the table piece which smacked Road Dog.
While Cactus hooked a double-arm DDT upon Gunn, he got 2.
Although Vega made the save, Owen mounted the top turnbuckle and unleashed a missile dropkick to him.
Cactus then applied simultaneous Mandible claws to the NAO like the Von Erichs during the 80s in World Class.
When Helmsley rescued his teammates with a shot to the Southern District of New York upon Cactus, the Houston faithful chanted "Au-stin."
Cactus then unloaded a Cactus clothesline to Gunn but ate a DDT on the floor.
As Gunn slammed him on the floor, he tattooed Cactus with the steps to the head.
HHH then suplexed Cactus for 2.
After Charlie distracted Hebner, the heels broke the wishbone on Cactus.
Vega then wrapped Cactus in barbed wire. Sick!
While Vega rammed Cactus face-first into a chair, the NAO tried to double-team him, but heel miscommunication ensued.
MOLTEN tag Austin.
When he provided the NAO with a double noggin knocker, Austin sent Vega flying over the top rope to the floor.
Road Dog then reversed an Irish whip but fell victim to a Stone Cold Stunner.
1-2-3.
Austin, Owen, Cactus, and Charlie won at 17:33.
Rating: **½
Summary: I cannot in good conscience rate this match any higher.
Did it live up to the non-sanctioned, anything goes stipulation? Yes.
Did it pop the crowd? Absolutely.
Did it entertain? Yes.
Is it unforgettable? No.
Did Vega's involvement help the match? Barely if at all.
Could it be any more pointless?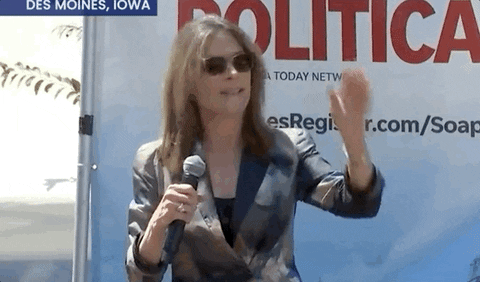 Atter the match, Gunn eats a Stunner, and Austin nails HHH sending him face-first into the broadcast table. Austin celebrates much to the delight of the Houston faithful until Chyna enters the ring.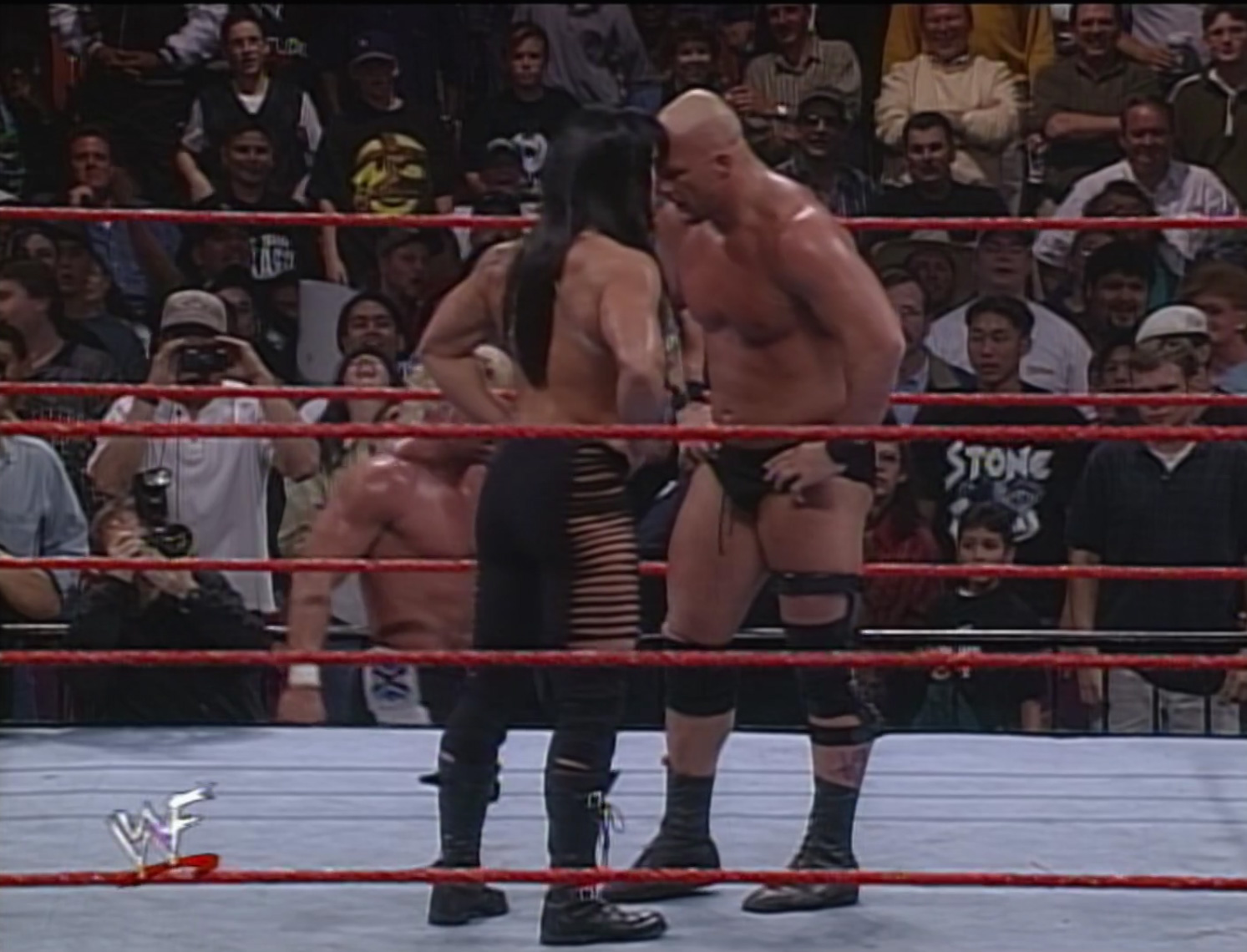 Chyna shoves Austin who questions her why. When she shoves him again, Austin is perplexed. He tries to leave, but Chyna stops and flips him off. As Chyna argues with Hebner, Austin mocks her. She turns around, and Austin gives her a Stunner to an OVERWHELMING ovation from the Houston faithful.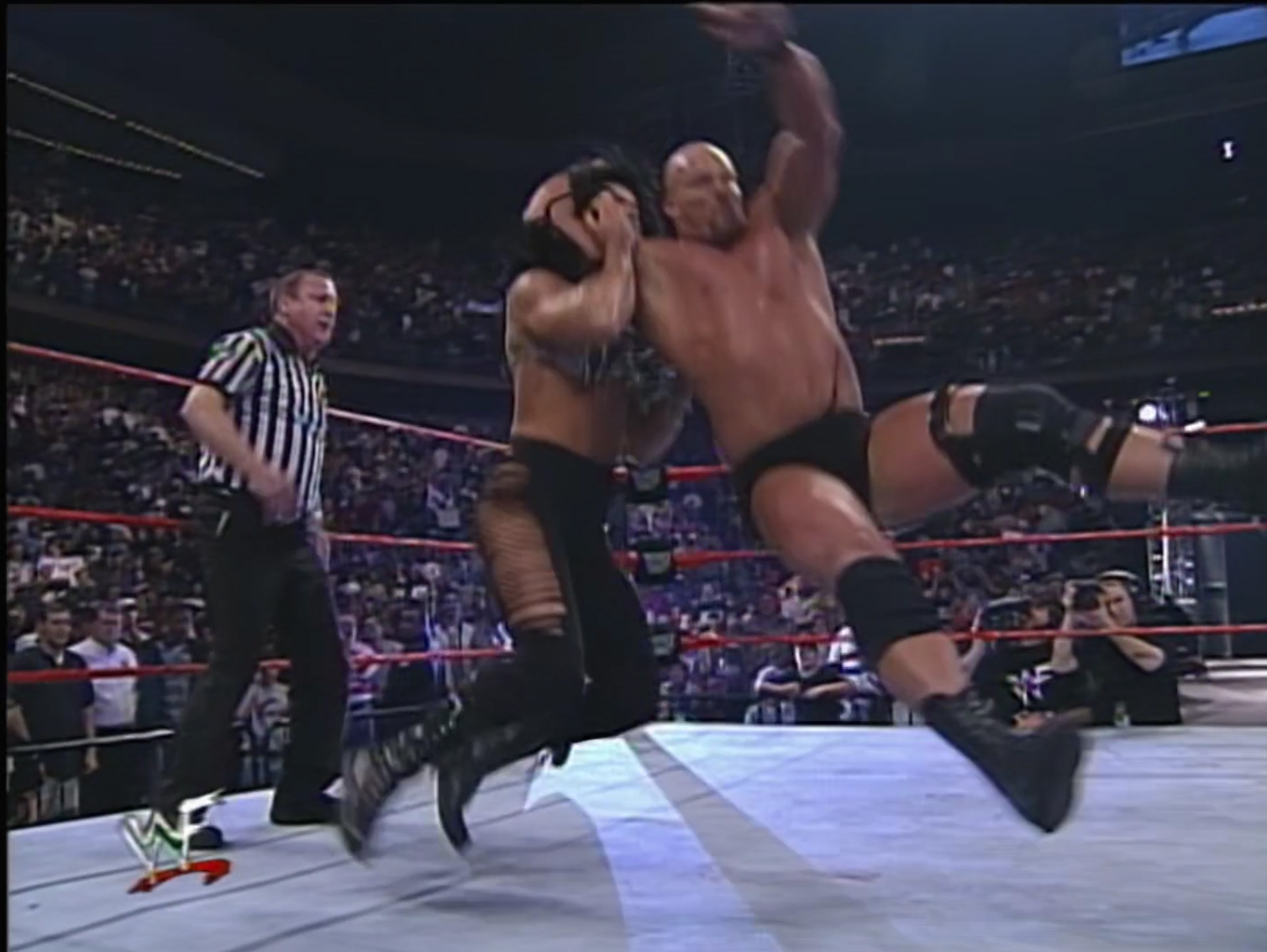 While HHH drags a staggered and humiliated Chyna from the ring, Austin basks in the adulation of his Texas brethren. He then grabs the microphone and salutes them with a "Oh Hell Yeah!"
Conclusion: First, I would like to say that I do not condone any violence against women. Having said that, Chyna is a trained wrestler who follows a script. I will bet dollars to donuts that she's not harmed in the least having taken the Stunner.
Second, while I understand that Michaels couldn't wrestle, why couldn't he have participated in backstage segments? If he couldn't be there in-person, either pre-tape something or send a satellite hookup if possible. The lack of the WWF champion, despite Austin's immense popularity, soured the show.
As I characterized the main event, I will label this show in similar fashion—WORTHLESS. Avoid at all costs.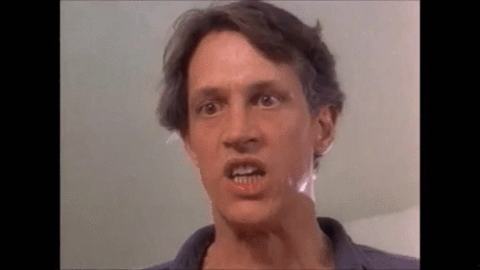 Buyrate: 0.52
Stay tuned for WCW Monday Nitro 2-16-98!
Comments? Suggestions? Send them to me at rsg@rockstargary.com and follow me on Twitter (@rockstargary202).
Custom Search