WELCOME TO ROCK STAR GARY REFLECTIONS!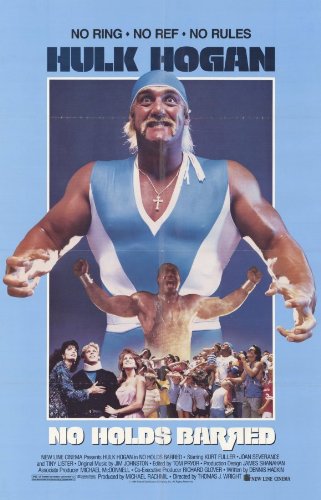 No Holds Barred: The Movie/the Match
Taped from Nashville, TN
Airdate: December 27, 1989 (taped 12/12)
Attendance: unknown
Hosted by Vince McMahon and Jesse "The Body" Ventura
So how did the WWF round out 1989? With a movie and a match! Read on!
Movie:
Intro: First, I am not a film critic. However, I will state that without Hogan's Hollywood hobby, Dwayne Johnson's transition from the ring to the silver screen would not have been as smooth.
Thanks, Charles and great tutu, Dwayne.
Plot: Billionaire Brell (Kurt Fuller) wants the World Wrestling Federation champion Rip (Hulk Hogan) to join his network for ratings. When Rip turns him down, Brell stumbles upon competition for Rip like no other—Zeus.
After Brell's plan to have Samantha Moore (Joan Severance) seduce Rip backfires, Zeus challenges Rip on a sports talk program. He then invades Rip's children charity event via helicopter to get Rip's answer. Brell then manipulates the young audience since Rip won't fight him.
When Rip's brother, Randy, and his best friend Craig foolishly scout Zeus, they encounter Brell who introduces them albeit not in Randy's favor. Upon his discovery of Randy's injuries, Rip destroys Zeus' gym while accepting his challenge.
In the end, Rip avenges Randy's beating by defeating Zeus to become the undisputed champion. In the meantime, Samantha, who had been abducted prior to the match, frees herself to be with her man and our hero, Rip.
Analysis: Despite being written in the late '80s, this film is prescient to what actually happened five years later when Hogan signed with WCW. Additionally, Vince McMahon's hands are all over this movie with the allusion of Ted Turner losing to the WWF and "dookie."
Thanks to Kurt Fuller's performance, this movie wasn't a total disaster. While it was cheesier than a Green Bay Packers home game, cameo appearances by wrestlers Stan Hansen, Bill Eadie, Jeep Swenson, and actor Peter Dinklage kept it interesting for me.
I certainly hope the match is better than the film.
After the movie ends, a promo airs for Royal Rumble '90 LIVE on PPV on 1/21/90.
Sean Mooney then previews the match from inside the cage emphasizing how tough steel is. Perhaps it's not as tough as this guy.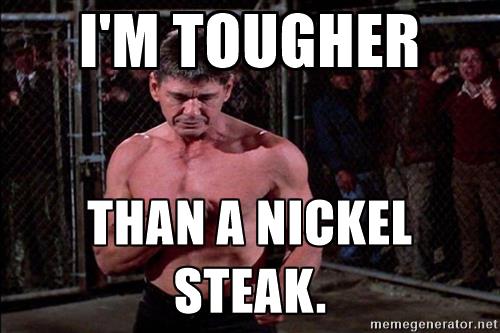 Let's take a trip down memory lane, shall we?
First, we revisit SNME XXI when Zeus prevented Hogan from entering the cage against the Big Bossman. Second, we revisit SNME XXII when even a steel chair couldn't stop Zeus. Third, we revisit Summerslam '89 when Hogan couldn't slam Zeus. Fourth, we revisit SNME XXIII when Zeus twisted Hogan's neck. Fifth, we revisit Survivor Series '89 when Zeus twisted it again before being disqualified. Sixth, we witness the post-Survivor Series interview when Queen Sherri tossed powder in Hogan's and Beefcake's eyes.
Afterward, Okerlund pleads with us to call our cable companies to ensure that we can order Royal Rumble, WrestleMania, etc. going forward. While Vince McMahon reshaped the wrestling landscape, he could not reshape pay-per-view distribution.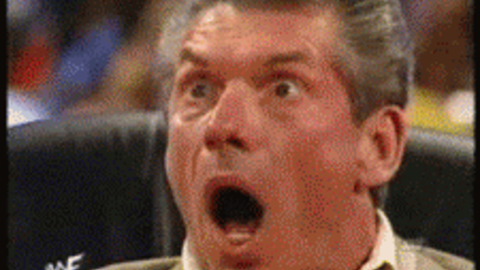 Backstage, Tony Schiavone interviews Savage and Zeus with Queen Sherri. Bartender, I'll have what they're having.
After Savage and Zeus make their entrance, Mooney interviews Hogan and Beefcake. While Hogan's living in cliché-land, Beefcake wants to end Zeus' "reign of terror." He's been hitting the good stuff if it makes him think it's the eighteenth century.
Match (steel cage): WWF Champion Hulk Hogan & Brutus "The Barber" Beefcake versus "Macho King" Randy Savage & Zeus (w/ Queen Sherri)
Highlights:
After Beefcake entered the cage, Queen Sherri rammed the cage door into Hogan's back.
With Hogan outside the cage, Zeus and Savage double-teamed Beefcake.
Queen Sherri then locked the door shut. How dastardly!
Next, Zeus guillotined Beefcake using the top rope.
Upon nailing Savage through the cage, Hogan climbed into it kicking down Savage along the way.
He then clotheslined Zeus and Savage in succession.
After he rammed Zeus face-first into the cage, Hogan whipped Savage into Beefcake who backdropped him into the cage.
Beefcake then gave Zeus a cross-corner whip into a Hogan big boot along with the same medicine to Savage. I hope it didn't taste like castor oil.
After Beefcake delivered an atomic drop, Hogan gave Savage the Axe bomber.
When Beefcake and Hogan tried to ram Zeus into the cage again, Zeus blocked and rammed their heads instead.
Savage then tried to escape the cage, but Beefcake caught him.
As Queen Sherri climbed the cage to assist Savage, Beefcake gave them a double noggin knocker.
Beefcake then applied the sleeper to Zeus, but Savage mounted the top turnbuckle and delivered a double axe handle to break the hold.
Afterward, Savage and Zeus gave Hogan and Beefcake consecutive double clotheslines.
They then rammed Hogan and Beefcake into the cage consecutively.
After Savage delivered a knee drop to Hogan, he and Zeus tried to escape from opposite corners.
While Hogan used a belly-to-back suplex to thwart Zeus' escape, Savage escaped Beefcake's suplex.
He and Beefcake then rammed each other into the steel cage putting all four men down on the mat.
When referee Earl Hebner unlocked the cage, Queen Sherri rammed the door into him. Her wickedness began to resemble that of another queen.
While Hebner was

OUT COLD

on the floor, Queen Sherri climbed the cage and tossed a chain to Savage.
With chain in hand, Savage then mounted the top of the steel cage, leaped, but ate a shot to the midsection by Beefcake.
Stealing the chain, Beefcake wrapped it around his fist and nailed Savage.
Hogan then tried a slam, but Zeus fell on top of him.
While Beefcake and Savage simultaneously climbed the same part of the cage, it's Hulk-up time!
After Beefcake rammed Savage into the cage sending him down to the mat, he escaped to the floor.
With the cage door open, Beefcake dragged Savage out leaving Hogan and Zeus one-on-one.
He then rammed Savage into the cage as Hogan slammed Zeus within it.
When Beefcake tried to assist, Hogan waived him off to handle Zeus by himself.
He then rammed Zeus into the cage multiple times.
After a slam, Hogan delivered a trio of leg drops.
1-2-3.
Hogan and Beefcake won.
Rating: ***
Summary: Hopefully, the Zeus experiment is over. As it is, Savage made this match much better than it could have been.
After the match, Hogan and Beefcake posed for the Nashville faithful.
We then get pre-recorded comments from Ultimate Warrior, Dino Bravo & Earthquake, "Rowdy" Roddy Piper, Savage, the "American Dream" Dusty Rhodes, the Heenan Family, the Hart Foundation, Mr. Perfect, Demolition, Bad News Brown, Hercules, the "Model" Rick Martel, the Rockers, the Powers of Pain, Jimmy "Superfly" Snuka, the "Million Dollar Man" Ted DiBiase, Tito Santana, Jake "The Snake" Roberts and Koko B. Ware.
Finally, Okerlund interviews Hogan.
Conclusion: While entertaining, I felt like the match wasn't worth the price of the PPV. Also, between the shilling of the Royal Rumble and the insistence of "calling my cable operator" to ensure availability, the fluff besides the movie and match was nauseating.
See you for WWF Royal Rumble '90!
Buyrate: 1.60
Comments? Suggestions? Send them to me at rsg@rockstargary.com and follow me on Twitter (@rockstargary202).
Custom Search