WELCOME TO ROCK STAR GARY REFLECTIONS!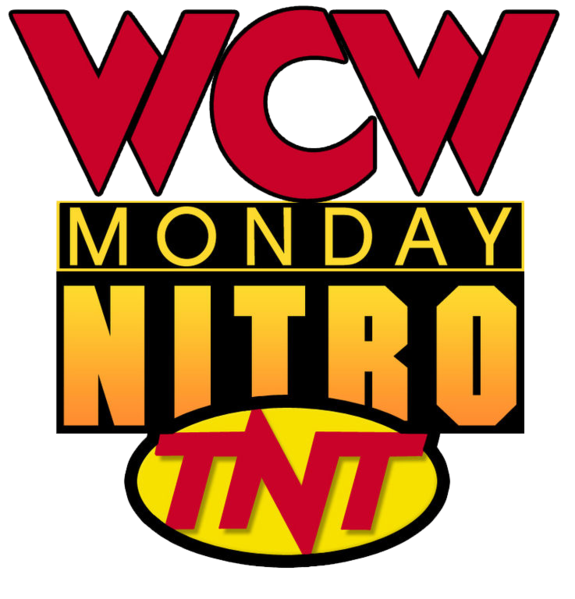 Taped from Augusta, GA
Airdate: December 25, 1995 (taped 12/18)
Attendance: 8,100 (3,000 paid)
Hosted by Eric Bischoff, Bobby "The Brain" Heenan, and Steve "Mongo" McMichael
Opening montage.
In celebration of the Christmas episode Nitro is brought to you by Totino's. Thanks WWE Network!
Match 1: "The Total Package" Lex Luger (w/ Jimmy Hart) versus Scotty Riggs
Highlights:
So last week Luger wrestled one-half of the American Males "this week" he wrestled the other half.
Pair of dropkicks by Riggs.
Flying forearm sent Luger reeling to the floor. Hmmm…didn't Bagwell use one last week?
Riggs reversed an Irish whip but missed a dropkick.
Cross body block by Riggs got 2.
Luger countered a vertical suplex by draping Riggs on the top rope.
With Riggs on the apron Luger hit him with a clothesline making Riggs eat the steel railing. Since we're still in Augusta it must have tasted like Tournedos Aux Champignons from the 5 O'clock Bistro. You didn't seriously think I'd send him for a hot dog at Amen corner, did you?
Vertical suplex by Luger brought Riggs back into the ring.
Inside cradle by Riggs got 2.
He then mounted the top turnbuckle but missed the missile dropkick.
Powerslam by Luger.
Torture Rack got the submission.
Rating: *
Summary: Luger's lack of enthusiasm during the match didn't help his being showcased here.
By the entrance "Mean" Gene Okerlund interviews Sting with some unexpected fireworks. He infuriates Sting regarding Luger. While the World Cup tournament at Starrcade was mentioned what wasn't mentioned was that Sting was going to face US Champion Kensuke Sasaki.
Match 2: Sting versus Big Bubba Rogers
Highlights:
Enziguri by Bubba grazed Sting.
Backbreaker.
With Bubba on the floor Sting followed him and rammed him face-first into the mats on the floor. OUCH!
Avalanche by Bubba.
Eric noted that Hulk Hogan was suspended for the remainder of 1995. Gee, Tampa, FL is a pretty nice place to be in December.
Atomic drop by Bubba.
Sting mounted the top turnbuckle, received an eye gouge, but countered a fireman's carry into an inside cradle for the pin.
Rating: *
Summary: That star is simply for the innovative finish.
By the entrance Gene interviews Luger with Hart. While Luger again claims to be the uncrowned WCW World champion Sting looks on incredulously. Meanwhile Sergeant Craig "Pitbull" Pittman interrupts and requests Hart to be his manager. Hart turns him down making a Marines joke.
Match 3: Dean Malenko versus Mr. JL
Highlights:
Dropkick by Malenko.
Clothesline in the corner.
Modified belly-to-belly suplex.
Headscissors by Mr. JL.
After teasing a plancha Mr. JL hit Malenko with a somersault senton.
Vertical suplex by Mr. JL brought Malenko back into the ring.
Sit-out powerbomb by Mr. JL. Nice!
Malenko guillotined Mr. JL on the top rope.
Mr. JL mounted the top turnbuckle, got caught, and then received a super gutbuster all the way down to the mat. OUCH!
It would appear that Mr. JL tried to use his arm to break his fall and it may be broken.
Leg grapevine by Malenko got the submission.
Rating: ***
Summary: Encore! Encore! Give me more of that stuff! Check this out! As a matter of fact Lynn did break his arm here. What a shame! In his shoot interview Lynn expressed that he didn't want to take the move, but Dean and Eddie Guerrero were insistent.
By the entrance Gene interviews Flair and flubs his lines. Hart interrupts Flair in mid-promo and apologizes to him. Next he requests to be his manager tonight, and Flair accepts.
Be sure to catch Starrcade '95 this Wednesday only on PPV!
Match 4 for the WCW World title: "Macho Man" Randy Savage (champion) versus "Nature Boy" Ric Flair
Highlights:
Flair missed a knee drop.
Savage rammed it twice into the ring post.
He then hooked Flair in the figure-four leg lock.
Before Savage can complete the ten-punch count-along Flair gave him an inverted atomic drop.
Savage countered a figure-four leg lock attempt with an inside cradle.
After Flair tossed Savage outside the ring Hart put the shoes to him.
Flair whipped Savage into the steel railing.
Back elbow by Flair.
Hart choked Savage behind referee Randy Anderson's back.
Clothesline by Savage.
Backslide.
With Anderson occupied Flair used his trick knee to lower the boom.
Vertical suplex by Flair.
Flair flip to the floor.
Savage then mounted the top turnbuckle but ate a shot to the midsection.
Eric noted that next week's live show will be in Atlanta, GA. I actually attended that show.
Sleeper by Savage.
Knee crusher by Flair.
Figure-four leg lock.
In spite of the lack of competition Nitro will go beyond the 10pm timeslot.
Flair mounted the top turnbuckle, got caught, and sent down to the mat.
Pair of clotheslines by Savage.
Sleeper by Flair.
Flair flop after Savage countered using the top turnbuckle as a jaw breaker.
Inside cradle by Savage got 2.
Savage countered a piledriver with a back drop.
He then mounted the top turnbuckle and hit a double axe handle.
Hart grabbed Savage's foot so Savage brought him onto the apron and nailed him.
Luger ran in and attacked Savage. Boo!
Rating: ****
Summary: I could watch these guys wrestle all day long. I wonder if this match is merely a template for the main event of the PPV. Hmmm.
After the match as Savage and Luger are brawling Sting runs in, Subsequently Flair attacks him. In retaliation Sting hits a Stinger splash on Flair then gives him a gorilla press slam. Savage and Sting dispatch Luger and Flair then bump into one another. Savage strikes first then shoving and slapping transpires. The show ends with both men staring eye-to-eye and nose-to-nose.
Conclusion: Um…I realize there's a PPV in a couple of days, but highlighting just the triangle match that leads up to the main event is only part of the show. I don't have high hopes for a good buyrate for this Wednesday night show.
With that being said, the second half of this show was very exciting. The fans in Augusta got way more than their money's worth with the two Nitro telecasts they witnessed. Check this out!
TV Rating: 2.50
In other news during this week in wrestling history:
Do you recall my saying something about Missy Hyatt's lawsuit against WCW back around Starrcade '93? Well, it finally settled in December 1995. According to Missy Hyatt: First Lady of Wrestling, she could not disclose the confidential elements but said the money was more than satisfactory.
Would "Mean" Gene lie? On the WCW hotline he reported that a Ricky "The Dragon" Steamboat retirement ceremony would take place on 1/1 at the Omni in Atlanta. Due to legal pressure Gene retracted this story stating that Steamboat was no longer affiliated with WCW. Tsk, tsk, Gene.
Do you remember that "Nature Boy" Buddy Landel wrestled on last week's RAW? Well, the next night he wrestled Bret "Hitman" Hart for the WWF title and lost. Unfortunately upon exiting the arena he either blew out his knee or tore his quad knocking him out of action.
Also a certain "Superstar" was making some serious waves doing promos in ECW. Check one of them out! Who knows? He may make an appearance again in the Monday Night War very soon.
See you next time for Starrcade '95!
Comments? Suggestions? Send them to me at rsg@rockstargary.com and follow me on Twitter (@rockstargary202).
Custom Search