WELCOME TO ROCK STAR GARY REFLECTIONS!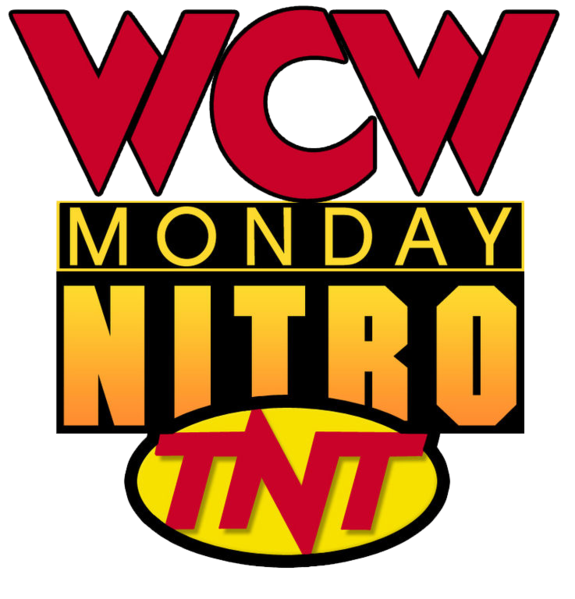 Live from Chattanooga, TN
Airdate: September 2, 1996
Attendance: 5,893 (5,180 paid)
Hosted by Tony Schiavone, Larry Zbyszko, Eric Bischoff, and Bobby "The Brain" Heenan
Opening montage.
It's the one-year anniversary for Nitro! Let's pop the champagne!
Prior to the first match, we revisit last week's episode when the nWo spray-painted Turner Broadcasting's trucks. Afterward, the "Million Dollar Man" Ted DiBiase showed up in the Palmetto crowd.
Match 1: Diamond Dallas Page versus "Das Wunderkind" Alex Wright
Highlights:
Curtain-jerker DDP? I thought those days were behind him. I guess not.
After reversing an Irish whip, Wright delivered a spinning heel kick.
He then clotheslined DDP over the top rope to the floor.
Next, he nailed DDP with a plancha.
Upon tossing DDP back in the ring, he delivered a springboard splash for 2.
Afterward, he attempted a cross body block but hit the ropes as DDP evaded him.
A subsequent tilt-a-whirl slam by DDP got 2.
He then gave Wright a sit-out powerbomb but only got 2.
Following that, he attempted the Diamond Cutter but was shoved off.
Wright then delivered a belly-to-belly suplex for 2 followed by the ten-punch count-along.
After a cross-corner whip, Wright flipped but ate the Diamond Cutter.
1-2-3.
Rating: ***
Summary: Good opener as both men showed off their repertoires. DDP is ready for Chavo at Fall Brawl.
In the aisle, "Mean" Gene Okerlund interviews referee Nick Patrick who questions why people are challenging his integrity. He even pointed out Randy Anderson's gaffe at the Clash.
Ad for the WCW Monday Nitro denim button-down shirts. I WANT ONE!
In the locker room, Okerlund interviews Sister Sherri and Colonel Parker. Sherri then opens a present from Parker--a leather vest. The second present is leather chaps for riding Parker's horse. Uh…I question the validity of that story. Sherri is ecstatic!
Match 2 for the WCW World tag team titles: Harlem Heat (champions w/o Sister Sherri & Col. Parker) versus Greg "The Hammer" Valentine & Buddy Valentino
Highlights:
Buddy who? I guess Greg didn't want him recognized as part of the Valentine family.
Mark Curtis made his WCW debut as the referee here.
Once again, DiBiase came through the crowd and sat in the front row.
To begin the match, Valentine delivered a back elbow to Booker T and got 2.
After Booker T missed a Harlem sidekick, Valentine delivered an elbow smash.
A subsequent elbow drop by Valentine got another 2.
He then followed with a backbreaker and tagged in Valentino.
Stevie Ray tagged in, but Valentino reversed an Irish whip and delivered a dropkick. Give it up for the big man!
After Booker T nailed Valentino in the back of the head, Stevie Ray gave him an elbow drop.
Upon giving Valentino a clothesline, Stevie Ray delivered another elbow drop.
Booker T tagged in and gave Valentino a Harlem sidekick for 2.
Stevie Ray tagged in as Tony informed us that "Iron" Mike Tenay will join Bischoff and Heenan for the second hour tonight and going forward on Nitro.
Meanwhile, in the ring, Stevie Ray slammed Valentino then gave him a sidewalk slam.
Booker T tagged in, delivered the Harlem Hangover, and got the pin.
Rating: *
Summary: Showcase match for the tag champs.
1-800-COLLECT sponsors the replay.
In the aisle, Okerlund interviews Harlem Heat. Unlike last week, Harlem will defend the tag titles against the Nasty Boys rather than the Steiners. After Harlem Heat calls them out, the Nasty Boys ambush them. As the crowd chants "Nasty," they deliver a spike piledriver to Booker T.
Dear Lord, the doggone Glacier promo airs. C'mon, Bubba, remove this guy like a grease spot.
Match 3: Dean Malenko versus "Lionheart" Chris Jericho
Highlights:
Tenay joined the broadcast team.
Early on, Jericho delivered a northern lights release suplex.
After a pair of leapfrogs by Malenko, Jericho gave him a pair of crescent kicks.
Malenko then blocked a kick to the midsection and delivered a belly-to-back suplex.
As Malenko gave Jericho a brainbuster for 2, Tenay noted that Jericho's father was a professional hockey player named Ted Irvine. Quite insightful, no?
According to Tenay, Super Calo will challenge Rey Mysterio, Jr. for the Cruiserweight title at Fall Brawl.
In the meantime, DiBiase left his seat. Perhaps nature called. Even Zbyszko speculated it.
After Malenko hooked a leg scissors, Jericho countered with an electric chair.
Malenko came back with a butterfly suplex for 2.
Malenko then hooked a rope-assisted abdominal stretch, but Jericho escaped.
Jericho came back with a cross-corner whip but ate boot on his follow-through.
Malenko then delivered a springboard bulldog from the second turnbuckle and got 2.
After Patrick backed Malenko away, Malenko charged at Jericho and hit a cross body block sending both men over the top rope to the floor.
With Malenko on the apron, Jericho used a baseball slide to take out his legs sending Malenko to the floor.
Jericho then leaped to the second turnbuckle and hit a flying body press to Malenko on the floor.
After tossing Malenko back in, Jericho hit a missile dropkick but only got 2.
Shortly after, Malenko countered a tombstone piledriver and delivered one of his own for a series of 2 counts.
After a cross-corner whip by Malenko, Jericho floated over, hooked a German release suplex, and almost got 3.
Next, Jericho hit a spinning heel kick then hooked a victory roll for the pin.
UPSET CITY!
Rating: ****
Summary: Wow! I didn't expect that outcome. These guys did a phenomenal job of wrestling while keeping the crowd involved.
Video on both Mysterio and Super Calo to promote their upcoming match at Fall Brawl.
On WCW Saturday Night, the Blue Bloods explode as Eaton faces Taylor. Mongo versus Tenta was advertised but did not occur.
Match 4: Giant (w/ Jimmy Hart) versus Brad Armstrong
Highlights:
Tony referred to Giant as the "centerpiece" of the Dungeon of Doom.
At the onset, Armstrong delivered a pair of dropkicks but couldn't take Giant off his feet.
Giant came back with a boot to Armstrong's throat.
Meanwhile, outside the arena, a black limousine pulled up next to a police car.
After another boot choke in the corner, Giant tossed Armstrong across the ring.
Upon giving Armstrong an Irish whip, Giant tried to bear hug him, but Armstrong wiggled over and hooked a sunset flip. Giant then grabbed him by the throat and tossed him down to the mat.
He then tossed Armstong outside the ring. Tony stated that this was out of character for Giant.
When Giant came to grab him, Armstrong used the top rope to guillotine him.
He then mounted the top turnbuckle and hit a missile dropkick.
Giant responded with a chokeslam.
1-2-3.
Rating: *1/2
Summary: Crowd was very supportive of Giant here. But I wonder why he was so out of character here.
THE FOLLOWING ANNOUNCEMENT HAS BEEN PAID FOR BY THE NEW WORLD ORDER:
More black and white footage of a Hogan promo. He cuts a promo against WCW for WarGames then parodies his own Right Guard commercial with "anything less would be…civilized."
THE PRECEDING ANNOUNCEMENT HAS BEEN PAID FOR BY THE NEW WORLD ORDER.
The second hour begins with fireworks! Once again, we revisit the graffiti by the nWo followed by DiBiase's appearance then wrap it up with the nWo ambush at the end of the program.
Match 5: "Macho Man" Randy Savage versus Ron Studd
Highlights:
In preparation for the match against Giant at Fall Brawl, Savage got to face another giant.
Studd gave Savage a standing choke as the nWo exited the limousine. Hmmm…Hogan told someone to stay in the limo due to the camera being on them.
Studd then gave Savage a HARD cross-corner whip and slammed him for 2.
After Studd argued with referee Randy Anderson, Savage used momentum to toss Studd outside the ring.
Savage then mounted the top turnbuckle and hit a double axe handle.
Upon tossing Studd back in, Savage slammed him but hurt his back.
Once again, Savage mounted the top turnbuckle and hit the big elbow for the pin.
Rating: *
Summary: Showcase match for Savage.
After the match, Okerlund interviews Savage in the ring who wishes tonight was Halloween Havoc because he wants to hurt Hogan really badly. He then guarantees victories against both Giant and Hogan in the upcoming PPVs. That's NEVER a safe bet.
Prior to the next match, the Four Horsemen run out to the limousine, but it's empty. Evidently, the nWo must be in the building!
Ad for Fall Brawl on September 15 only on PPV.
Match 6: The Steiners versus the "Total Package" Lex Luger & Sting
Highlights:
As Luger locked up with Rick, his elbow bumped referee Nick Patrick who called for the bell immediately.
Steiners won by DQ.
Rating: NONE
Summary: The evil Nick Patrick controversy continues. Scott's hip wouldn't be ready anyway.
After the match, Sting and Luger chase Patrick backstage.
Match 7 (eight-man): "Nature Boy" Ric Flair, the "Enforcer" Arn Anderson, the "Crippler" Chris Benoit, & Mongo McMichael (w/ Woman, Elizabeth, and Debra) versus the Taskmaster, Bubba Rogers, Meng, & Barbarian (w/ Jimmy Hart)
Highlights:
To begin the match, Taskmaster gave Mongo a double stomp.
Mongo responded with a three-point stance shoulder block.
Rogers tagged in and gave Mongo the running guillotine but walked into a left hand.
Next, Mongo joined Rogers outside the ring and gave him an inverted atomic drop.
Back in the ring, Mongo gave Rogers a cross-corner whip followed by a back drop.
Benoit tagged in, but Barbarian tagged in too.
After a cross-corner whip by Barbarian, he came up empty on his follow-through.
Benoit then delivered a release German suplex.
He then mounted the top turnbuckle but was caught by Taskmaster.
Barbarian then joined Benoit up top but was headbutted down to the mat.
Benoit then hit the diving head butt, but Meng made the save.
Flair tagged in to a HUGE ovation.
Meanwhile, in the back, Luger and Sting chased Patrick near the nWo limousine.
Just as Bischoff noted that DiBiase entered the limousine cementing his nWo affiliation, Sting threw a brick through the passenger window.
The limousine abruptly left so Sting and Luger hijacked a police car to chase them. Kids, please don't try this at home.
In the meantime, back in the ring, Flair fought with Meng.
As the Horsemen distracted referee Randy Anderson, Flair nailed Meng way down near Dalton, GA.
While Anderson dealt with the Dungeon of Doom corner, Flair delivered low blows to both Taskmaster and Barbarian. The crowd erupted for the "dirtiest player in the game."
Outside the arena, the cop radioed dispatch regarding the stolen police car. Is this Nitro or NYPD Blue?
Back in the ring, Arn delivered a DDT to Meng, but both Barbarian and Rogers made the save.
Barbarian came in, slammed Arn, then delivered an elbow drop.
After tying Arn to the Tree of Woe, Taskmaster tagged in and nailed Arn.
Rogers tagged in, gave Arn an uppercut, and got 2.
Meng tagged in, attempted a piledriver, but received a back drop instead.
During the commercial break, Glacier's vignette aired. Suuuure, when Rogers is tied up in a match, you sneak this in. I see how it is. SNEAKY!
Afterward, Benoit gave Rogers a cross-corner whip then nailed Taskmaster.
Meng came in and gave Benoit an inverted atomic drop. I don't believe Benoit will have much success with a date later on this evening.
Regardless, Barbarian tagged in and delivered a powerbomb to Benoit that only got 2 thanks to Arn.
Rogers tagged in and gave Benoit the Bubba slam.
While Anderson was occupied with the Horsemen, Taskmaster tossed Benoit over the top rope to the floor.
Barbarian then whipped Benoit back-first into the steel railing.
Back in the ring, Taskmaster gave Benoit a short-arm clothesline and got a pair of 2 counts.
Benoit then reversed a cross-corner whip but ate boot on his follow-through.
Rogers tagged back in, slammed Benoit, and mounted the second turnbuckle.
Unfortunately for him, he ate boot on the way down.
Taskmaster tagged in, fought with Benoit, and nailed him low.
Shortly after, Meng tagged in, but Benoit hit a cross-body block for 2.
Arn came in and gave Rogers a SPINEBUSTER.
After another slam or Benoit, both Barbarian and Meng mounted the top turnbuckle but missed stereo diving headbutts.
Hot tag Flair.
As chaos erupted between all eight men, Flair hooked the figure-four leg lock on Taskmaster.
After Benoit said something to Woman, she grabbed Flair by the hand to assist with the figure-four.
1-2-3.
The Horsemen won.
Rating: ***
Summary: Exciting match that actually had an outcome. Where's the nWo?
Oh, there they are! Hall rams Barbarian face-first into the steps then nails Flair. Hogan then nails Flair too as Nash hammers Rogers. Hogan then nails Anderson to a babyface reaction. Here comes Giant! Tenay exclaims "Thank God for the Giant!" As he looks at each member of the nWo, Giant then chokeslams Barbarian! WE HAVE A HEEL TURN! Next, he chokeslams Meng.
Afterward, Giant hugs Nash. But before he can chokeslam Rogers, Savage comes out with a chair and nails Nash and Hall, Hogan tackles Savage, and the numbers catch up to him. Hogan then nails Savage with the chair. To cement his turn, Giant chokeslams Savage and gets booed. Following that, Hogan delivers a series of leg drops to Savage. Later, he spray-paints a yellow streak down Savage's back.
Once again, they take over the broadcast table as Giant explains his turn. Hogan destroys the set and spits on it. The Horsemen and Dungeon return to fight but still lose the battle. That seems a little hard to believe. Giant and Hogan then sing Flair's tagline but associate with the nWo. They then destroy the announce table. Savage actually receives assistance from the Dungeon back to the locker room as the program ends. What an incredible ending!
Conclusion: According to Meltzer, WCW was seeking to duplicate last year's feat of signing away a WWF wrestler at the final hour, but the wrestler in question, Davey Boy Smith, signed another contract with the WWF. With the promise of a fifth member, the nWo was augmented with Giant instead of Smith so that they kept their televised promise. Since the announcers had been saying that Savage thought that Giant dropped the ball at Hog Wild, the turn makes sense. Yet again, I'm truly excited to see what happens next!
TV Rating: 4.30
Stay tuned for WWF RAW Championship Friday!
Comments? Suggestions? Send them to me at rsg@rockstargary.com and follow me on Twitter (@rockstargary202).
Custom Search