WELCOME TO ROCK STAR GARY REFLECTIONS!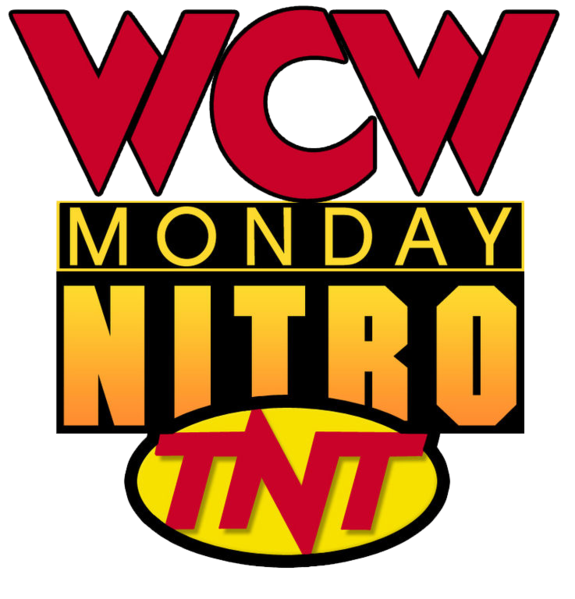 WCW Monday Nitro 8-25-97
Live from Columbia, SC
Airdate: August 25, 1997
Attendance: 8,048 (7,457 paid)
Hosted by Tony Schiavone, Larry Zbyszko, "Iron" Mike Tenay, & Bobby "The Brain" Heenan
Will Hennig join the Horseman, or won't he? How will he decide? What will be the fallout from the Clash? Who will win the three title matches on the show? Let's find out!
Opening montage.
To open the show, we revisit Clash XXXV and the nWo birthday party with Sting's interruption.
In the ring, "Mean" Gene Okerlund interviews nWo head honcho—Eric Bischoff. After Bischoff pantomimes crying about Sting, chairman of the WCW Executive Committee J.J. Dillon calls in from Atlanta. Dillon will attempt to sign a match between Sting and Hollywood Hogan. Demonstratively, Bischoff says "no way." Okerlund then states that Dillon will make the match happen "between now and the end of the year." In Hogan's "defense," Bischoff details the WCW World champion's hectic schedule to refute any possibility of this situation.
Suddenly, Sting emerges through the entrance and enters to the ring. When he grabs Bischoff's ear to get his attention, Sting holds up a Hollywood Hogan t-shirt and drapes it over Bischoff's head. Next, he kicks Bischoff down to the mat and shoves the t-shirt in Bischoff's mouth. He then smiles because he's finally going to get what he wants.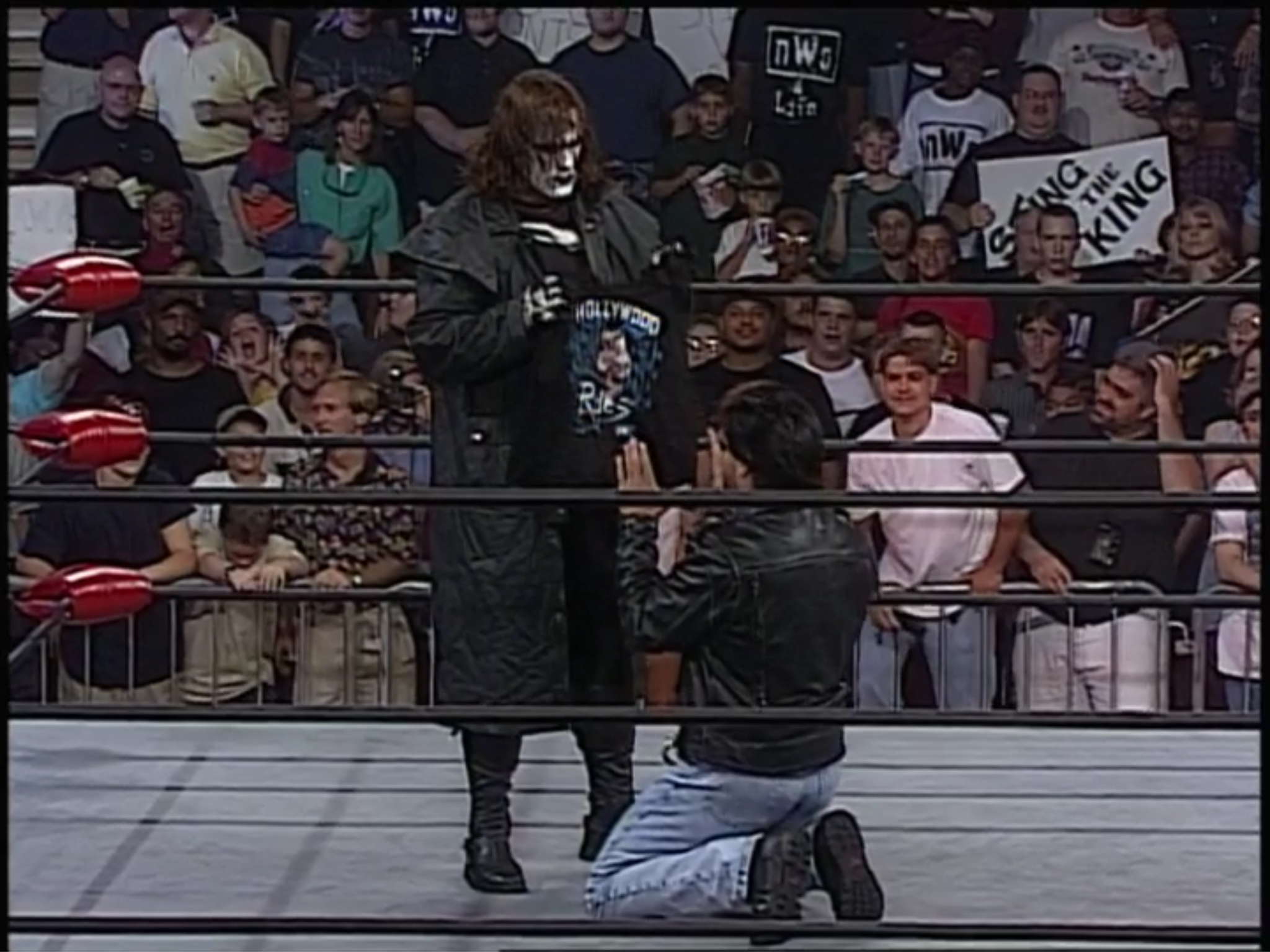 After a commercial break, Raven offers us another soliloquy.
The Nitro Girls dance at the entrance in white and gold.
Match 1: Glacier & the "Cat" Ernest Miller versus La Parka & Psicosis (w/ Sonny Onoo)
Highlights:
La Parka reversed an Irish whip, and Psicosis tripped Glacier coming off the ropes.
When the luchadores miscommunicated, Glacier powerslammed LaParka for 2.
Miller tagged In, and the luchadores miscommunicated again at the expense of Psicosis.
As Glacier tagged in, Miller mounted the top turnbuckle and hit a flying spin kick to Psicosis.
Onoo then tossed a balsa wood chair into the ring while referee Mark Curtis placed Miller back in the babyface corner.
After La Parka WALLOPED Glacier twice with the chair, he placed Psicosis atop Glacier.
1-2-3.
La Parka and Psicosis won.
Rating: ½*
Summary: Way too short to be worth anything. What happens next?
After the match, Ultimo Dragon comes to the ring to notify Curtis of La Parka's infraction. Suddenly, Silver King approaches Dragon from behind but eats a series of kicks. Onoo then threatens to kick Dragon but gets rebuffed.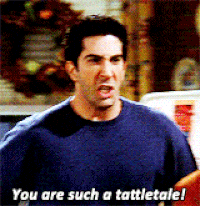 To defend their manager, Psicosis and La Parka pummel Dragon. They then hold Dragon so that Onoo can kick him. Following that, Silver King gives Dragon an airplane spin followed by a somersault senton splash. While Tenay mentions that Silver King will face Dragon in the next match, La Parka hits a tope suicida to Glacier. Wow! Miller then gives La Parka a taste of the same medicine to close the segment.
Match 2: Silver King versus Ultimo Dragon
Highlights:
An injured Dragon chose to participate, and the bell rang to begin the match.
As Silver King gave Dragon a cross corner whip, he followed with a spinning heel kick.
Dragon then landed on his feet after a back drop but ate a superkick.
When he mounted the top turnbuckle, Silver King delivered a missile dropkick.
He then mounted the opposite top turnbuckle and hit a moonsault for 2.
After he gave Dragon a DDT, Silver King mounted the top turnbuckle again.
He then leaped but there was no water in the pool.
As he leap-frogged Dragon, Silver King clotheslined him.
He then slammed Dragon, mounted the top turnbuckle, leaped, but Dragon caught him with a dropkick.
When Dragon delivered the ten-punch count-along, he gave Silver King a cross corner whip followed by a handspring back elbow.
Silver King then reversed an Irish whip, but Dragon hooked a huracanrana into a pinfall attempt.
Next, a pinfall reversal sequence occurred while Silver King hit a back elbow.
After Silver King gave Dragon a cross corner whip, he floated to the apron.
He then mounted the top turnbuckle, but Dragon crotched him.
As he joined Silver King, Dragon delivered a super huracanrana.
He then hooked the Dragon sleeper, and Silver King submitted.
Dragon won.
Rating: **
Summary: Decent TV match as Dragon overcame the earlier beatdown to defeat Silver King.
Scott Hall, Savage, and Elizabeth emerge from the entrance to introduce the newest nWo member—Diamond Dallas Page. Savage then states his relative happiness with DDP's inclusion and cuts a promo on Luger whom he will face TONIGHT.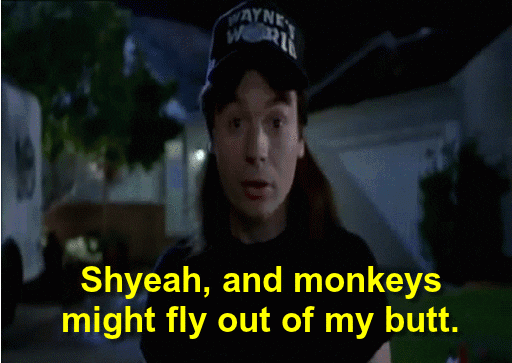 On WCW Saturday NIght, Faces of Fear meet Glacier and Miller. Mongo defends the US title against Jarrett, and the Steiners square off against Vicious & Delicious. Check it out!
At the entrance, Okerlund preps for an interview. We then revisit Clash XXXV when DDP inadvertently delivered the Diamond Cutter to Luger. When DDP emerges for the interview, he thinks Okerlund's ridiculous for asking about joining the nWo. He then calls out Luger whom DDP calls a "stand-up guy." Regrettably, Luger doesn't show. Dissension, perhaps?
Match 3: The "Crippler" Chris Benoit versus Jeff Jarrett (w/ Debra)
Highlights:
After Jarrett missed an enziguri, Benoit dropkicked him.
He followed with a baseball slide, but Jarrett used Debra as a decoy before nailing Benoit.
When he gave Benoit a cross corner whip, Jarrett ate boot on his follow-through.
He then hooked the figure-four leg lock, but Benoit grabbed the bottom rope immediately.
As he delivered a belly-to-back suplex, Benoit mounted the top turnbuckle but missed the diving head butt.
Jarrett then mounted the opposite top turnbuckle, but Benoit caught, joined, and superplexed him from the top rope. Wow!
More impressively, Jarrett hooked an inside cradle upon hitting the mat.
1-2-3.
Jarrett won.
Rating: ***
Summary: Despite the shortness of the match, it was intense, and the finish is a rare callback to Dynamite Kid-Savage from WWF's The Wrestling Classic.
In the ring, the Nitro Girls dance in purple.
At the entrance, Okerlund wants you to submit tapes of your Nitro party. He, along with the Nitro Girls, then shills the Nitro Party pack including hats, t-shirts, and more.
Prior to the next match, we revisit last week's show when Meng applied the Tongan death grip to Wrath.
Match 4: Wrath & Mortis (w/ James Vandenberg) versus Faces of Fear
Highlights:
Wrath reversed an Irish whip, and Vandenberg grabbed Barbarian's ankle.
Since that allowed Wrath to deliver a big boot, Vandenberg tried again, but Barbarian sauntered after him.
As Wrath mounted the top turnbuckle, he hit a flying clothesline for 2.
He then slammed Barbarian, mounted the second turnbuckle, but missed an elbow drop.
When Barbarian slammed Wrath, Meng tagged in.
Faces of Fear then mounted opposite second turnbuckles and hit stereo diving head butts for 2.
After Meng gave Mortis a sit-out powerbomb, Wrath clotheslined him.
He then gave Meng a cross corner whip but ate boot on his follow-through.
As Barbarian tagged in, he delivered the Stroke to Wrath for another 2.
Wrath then hit a cross body block, and tags were exchanged on both sides.
When Meng reversed a cross corner whip, he came up empty on his follow-through.
Mortis then nailed Meng, but it didn't faze him.
Upon hitting a spinning heel kick, Mortis took Meng off his feet for 2.
Meng then attempted a powerbomb, but Wrath interfered.
After Mortis delivered a modified Rocker Dropper, he got another 2.
All four wrestlers were in the ring while Mortis mounted the top turnbuckle.
As Mortis leaped, Meng caught him with the Tongan death grip.
1-2-3.
Faces of Fear won.
Rating: **
Summary: High-impact power match during which the Columbia faithful chose to get popcorn.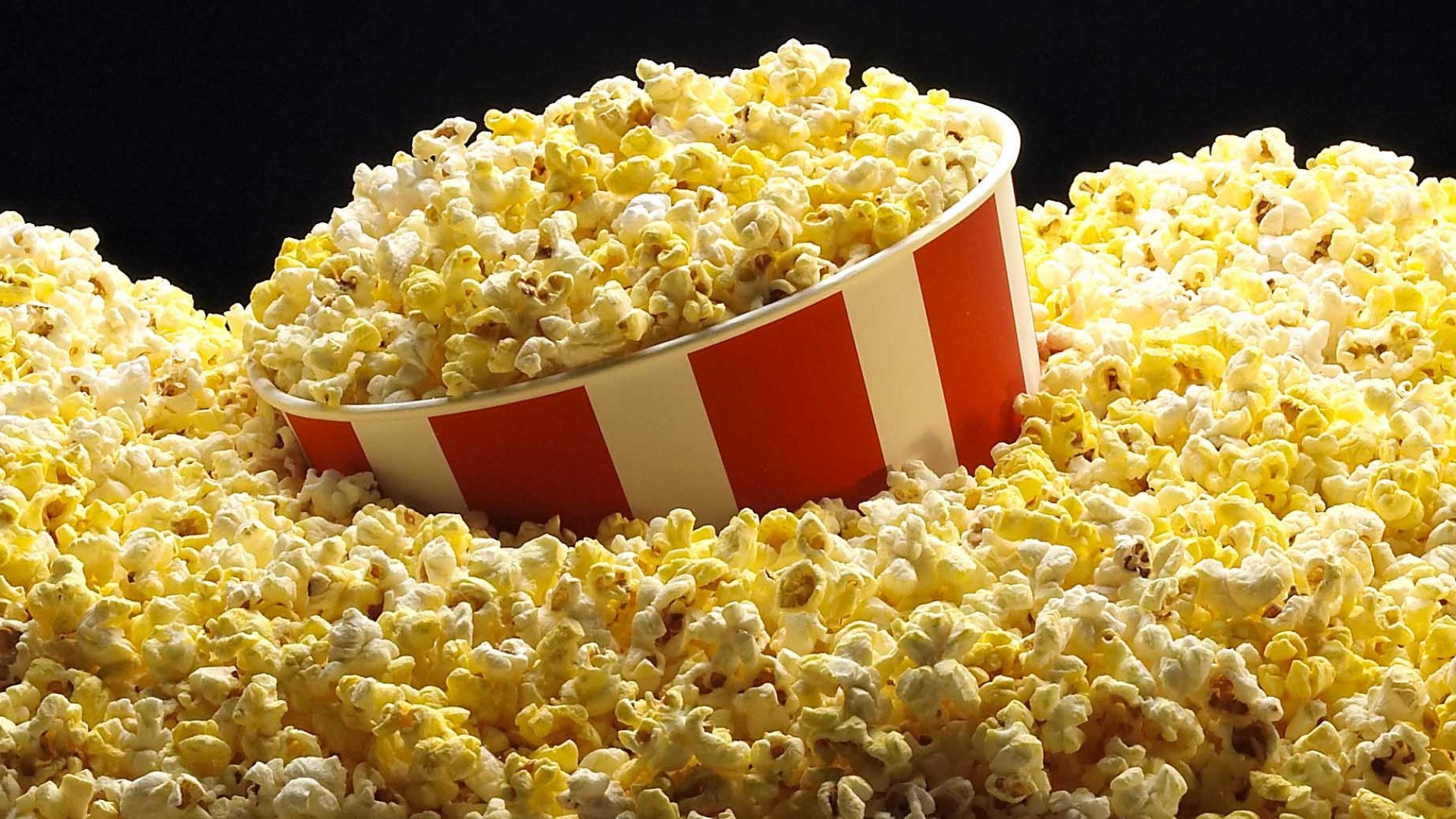 After the match, Meng and Wrath brawl.
HOUR #2!
In the ring, Okerlund interviews the Four Horsemen. "Nature Boy" Ric Flair immediately calls out Curt Hennig, but Hennig's not ready to provide an answer about his Horseman status. Flair then invites the "Enforcer" Arn Anderson to join the discussion. The Columbia faithful supply Arn with a raucous ovation.
Arn then mentions his (alleged) "average size, speed...ability...parlayed that into a very successful career. Four months ago, (the doctors) took four vertebrae out of my neck. Consequently, I'm left with...my left hand, too weak to hold a glass, too weak to button a button...the other day, I had...a cold slap in the face of reality. A guy...slapped me on the back and said 'Where ya been? Hadn't seen ya on TV'...that slap sent a jolt through me, and I dropped the water I was drinking...my system shut down...the drops of water from the bottle draining out of that bottle (symbolized the sand of an hourglass with) the sand running out of the career of Arn Anderson...not only would I put myself in a suicide situation by wrestling again (but) endanger (Benoit and Mongo's) careers (but) I respect them too much...other than be anything but the 'Enforcer' in my best friend's eyes, I'd rather walk away.
"For all you people who have ever bought a ticket to see Arn Anderson wrestle whether you love me or you hated me...when that bell rang, you got all I had that night. Whether I won, whether I lost, I gave you everything I had. And when you (held up the four fingers), that was your acknowledgement...I got nothing left to give. And I want you to remember me as I was not as I am.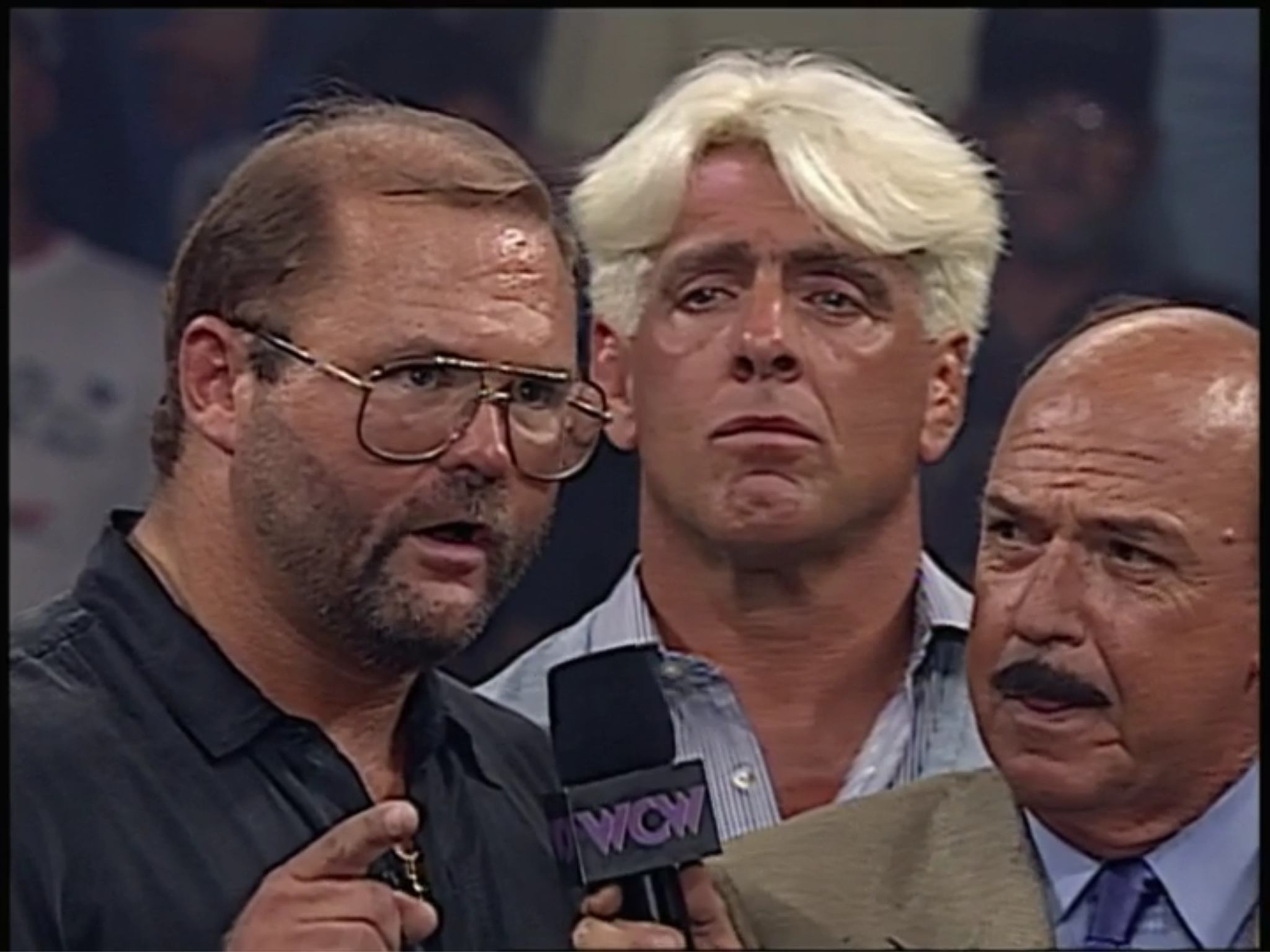 "But being the man that I am, in my last act, formally as a Horseman, I got one last challenge. And that's to you, Curt Hennig...don't misunderstand me, it's not for a fight. You got something special....skills, maturity, commitment to excellence makes you something special.
"...what my challenge is to you, Curt, is stand beside my best friend, Ric Flair, and lead (Benoit and Mongo) back to the glory and prominence the Four Horsemen once had...I'm gonna tell you what your prize is. It's not a spot with the Horsemen because this is worth a lot more than that to me. I'm going to give you the only thing I got left. Not A spot. I'll give you MY spot."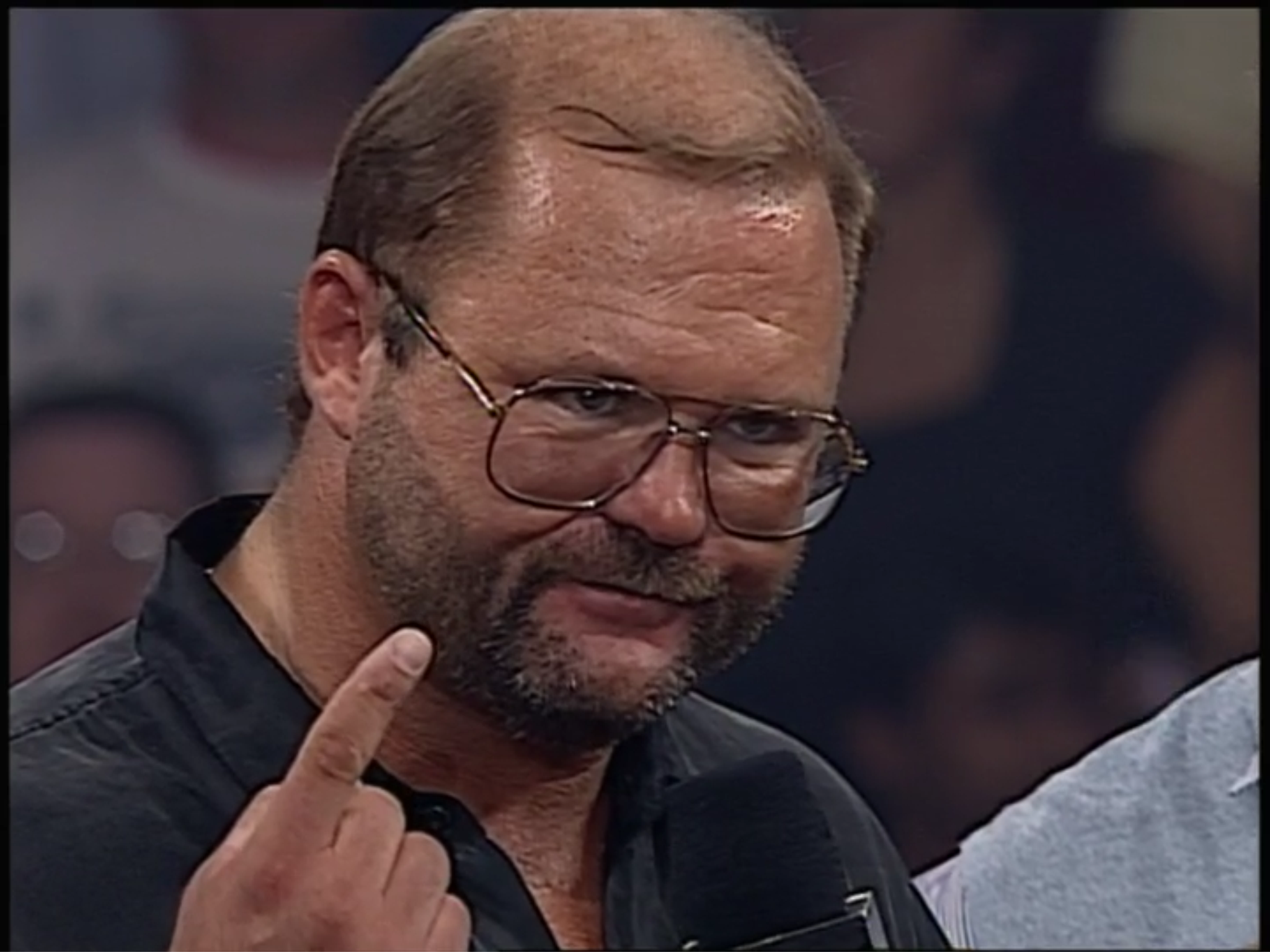 Hennig proudly states "it would be a privilege." Wow! The Four Horsemen shake hands to celebrate the moment.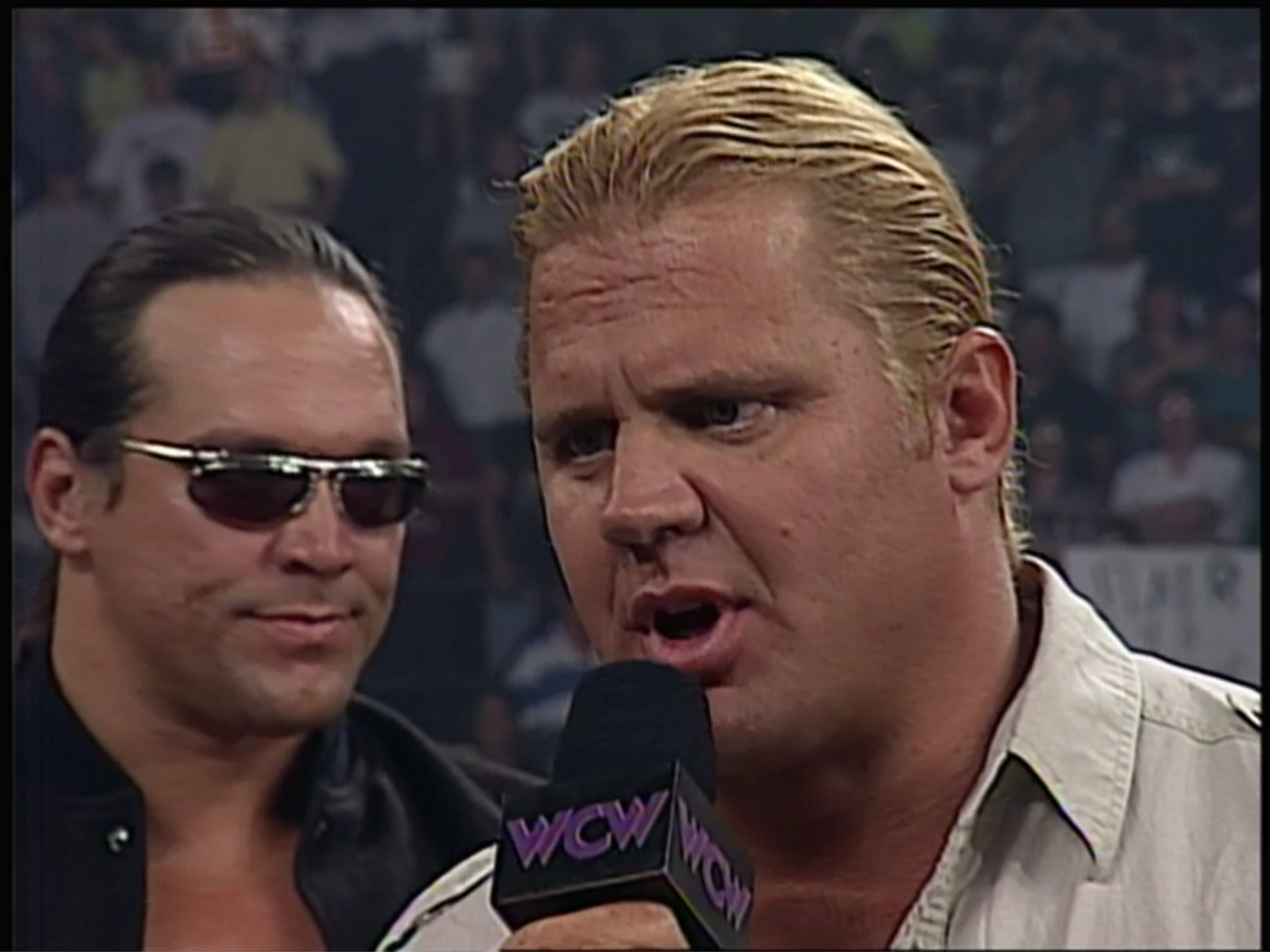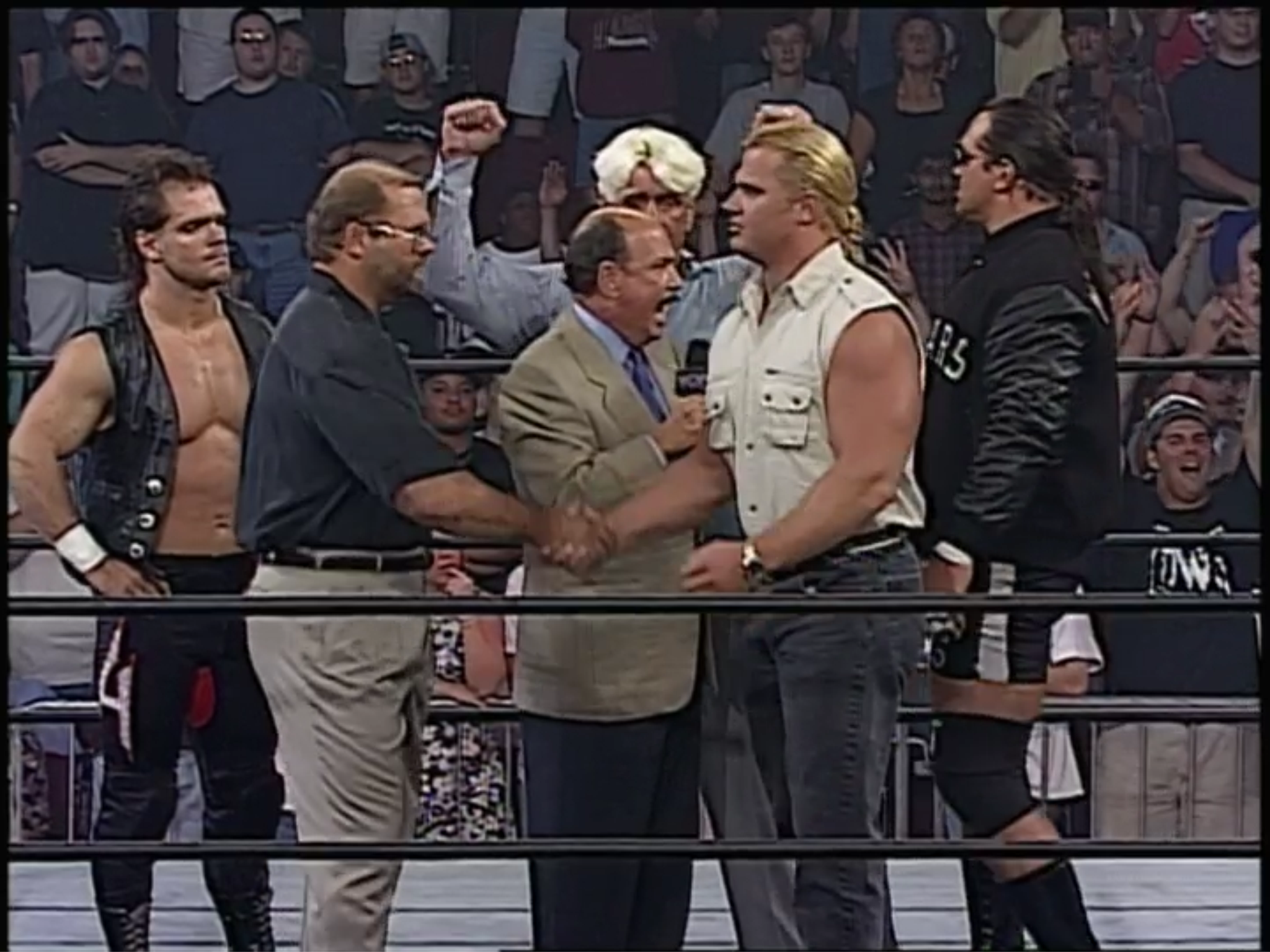 HOT TAKE: Historic Nitro moment. Hands down, this was one of the best retirement speeches in wrestling history. To top it off, Arn's retirement cements Hennig within the group. Arn's gift of cutting promos is one of the best.
Match 5 for the WCW US title: Steve "Mongo" McMichael (champion) versus Eddie Guerrero
Highlights:
Eddie = DEAD MEAT.
After a pair of dropkicks by Eddie, Mongo reversed a cross corner whip but ate a back elbow on his follow-through.
Eddie then mounted the second turnbuckle and hit a tornado DDT for 2.
When Eddie climbed the ropes, he gave Mongo a flying headscissors for another 2.
Mongo then reversed an Irish whip and delivered a stungun.
As he clotheslined Eddie twice, Mongo hit a tilt-a-whirl slam.
He then gave Eddie a cross corner whip, but Eddie leap-frogged over a three-point stance tackle.
After Eddie mounted the top turnbuckle, he attempted a moonsault, but Mongo caught him.
He then delivered the tombstone.
1-2-3.
Mongo retained.
Rating: **
Summary: While Eddie set a good pace, he got some stuff in while making Mongo look good. Unfortunately, there was NO way he was going to win after Arn's motivational retirement speech.
At the entrance, Okerlund interviews Mysterio whose knee is "real bad." Mysterio then mentions that he has an appointment with Dr. James Andrews tomorrow. Suddenly, K-Dogg emerges and threatens Okerlund. He then turns his attention to the hobbled Mysterio, but Giant comes out to stand up for Mysterio. Without hesitation, K-Dogg retreats in a hurry. To close the segment, Giant and Mysterio shake hands and embrace.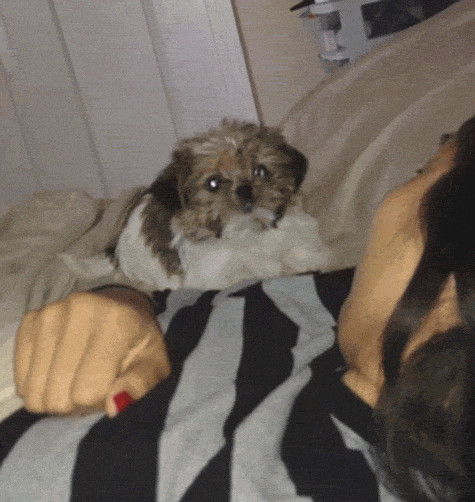 Eric Bischoff re-emerges and heads to the broadcast table. After he boots Tenay and Heenan, Bischoff warns Zbyszko about the restraining order. He then provides commentary for the rest of the show.
Match 6 for the WCW Cruiserweight title: "Lionheart" Chris Jericho (champion) versus Yuji Nagata
Highlights:
This was the first time Nagata had wrestled on Nitro since 4/21.
As Jericho suplexed Nagata, he got 2.
He then gave Nagata a back elbow while the Columbia faithful chanted "game-cocks."
When Jericho slammed him, he delivered a slingshot splash for a 1-count.
He then tied Nagata to the Tree of Woe and dropkicked him in the face. OUCH!
After a commercial break, Jericho hung Nagata out to dry on the top rope.
He then hit a springboard dropkick sending Nagata to the floor.
As Jericho gave Nagata a plancha, he mounted the top turnbuckle.
He then attempted a double axe handle, but Nagata blocked it.
When Nagata delivered an overhead belly-to-belly suplex, he hit a spinning thrust kick to Jericho's back.
Nagata then slammed him, but Jericho rebounded with a series of cross corner whips and corner clotheslines.
After he gave Nagata a Lionsault, Jericho powerbombed Nagata twice.
He then hooked the LionTamer, and Nagata submitted.
Jericho retained.
Rating: **
Summary: Showcase match for Jericho who will face Eddie at Fall Brawl '97.
Castrol sponsors the replay.
Lee Marshall then delivers the 1-800-COLLECT road report from "Pensacola, FL." Methinks if you mention Don Tristan de Luna to Lee, he's ready to call a match involving Luna Vachon.
At the entrance, Okerlund interviews Harlem Heat with Jacqueline. Booker T is adamant about the Steiners still being the #1 contenders to the World tag team titles. When Stevie Ray begins to talk, the Steiners and Ted DiBiase emerge to rebut. Rick then puts Harlem Heat in their place while Vicious & Delicious and Vincent join the debate. As Bagwell spouts off, all six wrestlers have a donnybrook.
Nitro Girls dance in the ring wearing red.
Match 7 for the WCW World TV title: "Das Wunderkind" Alex Wright (champion) versus Dean Malenko
Highlights:
According to Schiavone, Wright will defend the Cruiserweight title against Ultimo Dragon at the PPV should he retain.
Malenko rolled up Wright for 2.
When Malenko leap-frogged him, Wright delivered an elbow drop.
He then gave Malenko a cross corner whip followed by a backbreaker.
As Wright attempted a piledriver, Malenko countered with a back drop.
While the Columbia faithful questioned Wright's bedroom habits, Malenko gave Wright a cross corner whip followed by a corner clothesline.
He then placed Wright atop the top turnbuckle, joined, but got shoved down to the mat.
After Wright mounted the top turnbuckle, he leaped but ate boot.
Malenko then hooked an inside cradle for 2.
When he hit a spinning heel kick, Malenko got a 1-count.
Wright then reversed an Irish whip but missed a dropkick.
As Malenko attempted the Texas Cloverleaf, Wright escaped.
He then delivered a belly-to-back suplex for 2.
After he suplexed Malenko, Wright got another 2.
Wright then gave him a cross corner whip, but Malenko floated over.
When Malenko made a second attempt at the Texas Cloverleaf, Jarrett and Eddie stormed the ring.
While Malenko won by DQ, Wright retained.
Rating: *
Summary: While the match was fluid, nothing of note truly happened.
After the match, Eddie delivers a brainbuster to Malenko. Jarrett then hooks the figure-four leg lock while Wright mounts the top turnbuckle to hit the big stomp. Following that, Eddie mounts the top turnbuckle and hits the frog splash. The trio of Jarrett/Eddie/Wright means business.
THE FOLLOWING ANNOUNCEMENT HAS BEEN PAID FOR BY THE NEW WORLD ORDER:
Buy the shirt! Send it to Rock Star Gary. Make it an XL.
THE PRECEDING ANNOUNCEMENT HAS BEEN PAID FOR BY THE NEW WORLD ORDER.
In jeans and WCW Monday Nitro t-shirts worn like bras, the Nitro Girls dance at ringside.
Match 8: The "Total Package" Lex Luger versus "Macho Man" Randy Savage (w/ Elizabeth)
Highlights:
Savage clotheslined Luger, gave him a cross corner whip, and followed with a back elbow.
As Elizabeth distracted referee Nick Patrick, Savage tossed Luger over the top rope to the floor. SNEAKY!
He then joined and rammed Luger face-first into the steps.
Next, he made Luger taste the steel railing. It must have tasted like the Duke at the Flying Saucer.
When he kicked Luger in the midsection, Savage made him HIT THE POLE.
Again, Savage made him taste the steel railing. Waiter, could you give the chiseled guy a Marsellus Wallace please?
Sorry, Chester.
After Savage mounted the top turnbuckle, he delivered a double axe handle to Luger on the floor.
He then tossed Luger back into the ring, mounted the top turnbuckle, and hit another double axe handle for 2.
As he put a knee into Luger's back, Savage hooked a sleeper.
Luger then countered with a belly-to-back suplex, yet Savage got another 2.
When Luger gave him a series of inverted atomic drops, he delivered a flying forearm.
He then signaled for the Torture Rack, but Hall came to the ring and jumped on the apron.
After Luger sent Savage into Hall, his head collided with Savage's.
DDP then ran into the ring to check on Luger.
While a dazed Luger put DDP in the Torture Rack, the show ended.
No finish.
Rating: **
Summary: Savage ensured that Luger was HURTIN' FOR CERTAIN until the superman comeback. Additionally, the controversial ending was a nice finishing touch to the show.
Conclusion: With the Sting/Bischoff segment and Arn's retirement speech, this episode is a no-brainer to recommend to ALL wrestling fans. Next week, Nitro runs unopposed again and is a 3-hour edition; however, I have a strange suspicion about it.
TV Rating: 5.0
Stay tuned for WCW Monday Nitro 9-1-97!
Comments? Suggestions? Send them to me at rsg@rockstargary.com and follow me on Twitter (@rockstargary202).
Custom Search