WELCOME TO ROCK STAR GARY REFLECTIONS!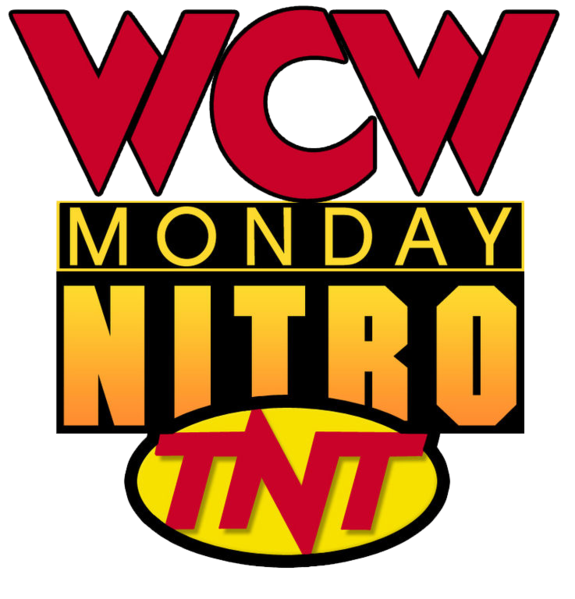 WCW Tuesday Nitro 7-22-97
Live from Jacksonville, FL
Airdate: July 22, 1997
Attendance: 7,465 (6,264 paid)
Hosted by Tony Schiavone, Larry Zbyszko, "Iron" Mike Tenay, & Bobby "The Brain" Heenan
Welcome to a Tuesday edition of Nitro! What surprises does WCW have in store for us? Will Hogan accept Luger's challenge for the PPV? Hennig makes his singles debut! Let's dig in to reveal the goods.
Opening montage.
From the entrance, the Nitro Girls open the program in black.
Hollywood Hogan and Eric Bischoff emerge through the entrance, enter the ring, and then lounge on the mat. As Hogan gloats about being the reason pro wrestling is as big as it is, he cuts a promo on Luger. He then accepts Luger's challenge at Road Wild '97.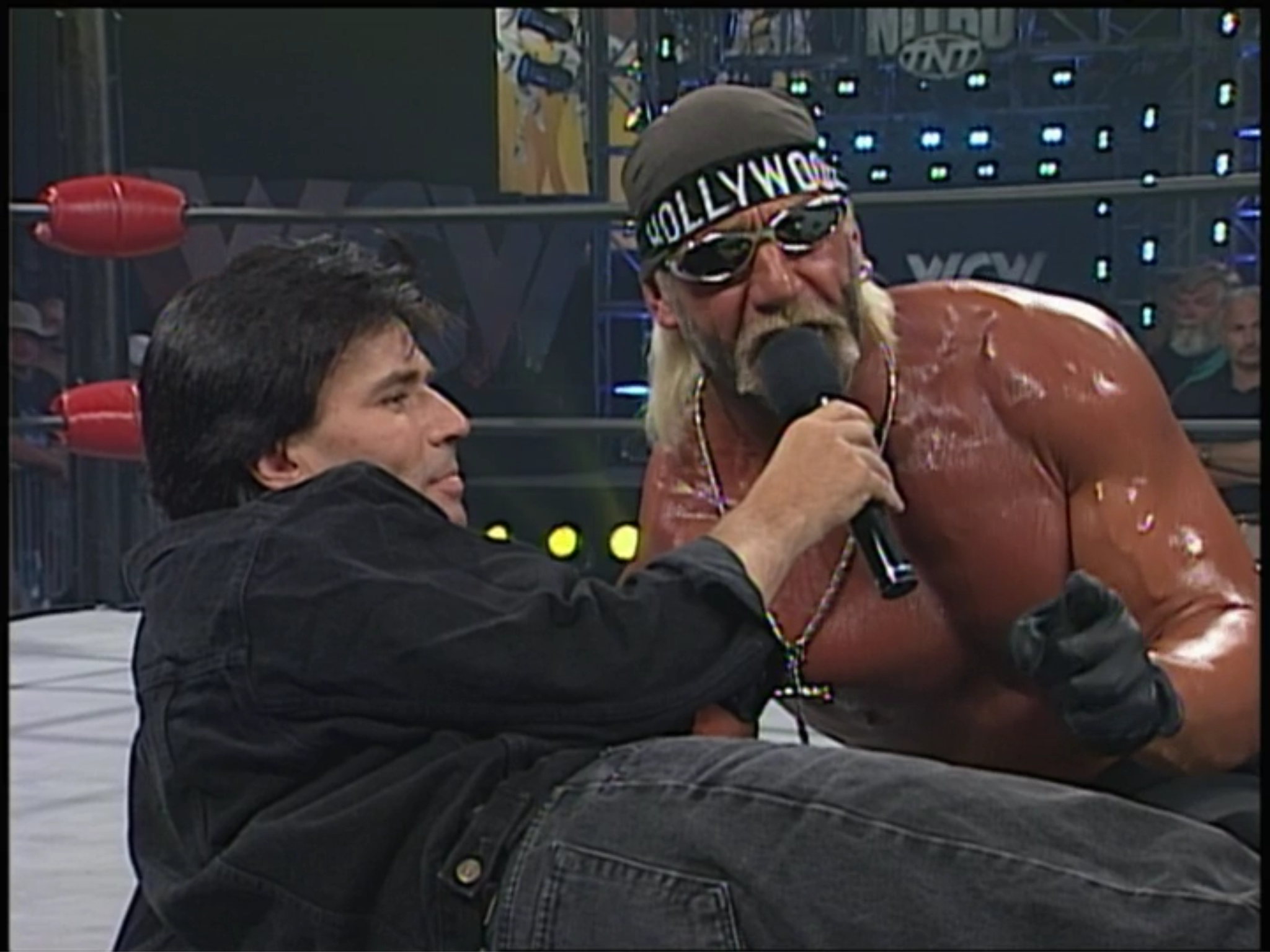 Match 1: K-Dogg versus Tsubasa
Highlights:
Who?
Immediately, K-Dogg hit the 187.
He then hooked the Tequila Sunrise.
K-Dogg won.
Rating: DUD
Summary: Showcase match for the newest member of the nWo.
Match 2 for the WCW World TV title: Lord Steven Regal (champion) versus Ultimo Dragon
Highlights:
After Regal backdropped him, Dragon unleashed a series of kicks.
Regal then reversed a cross corner whip, and Dragon performed a head stand on the top turnbuckle.
Unimpressed, Regal grabbed and slammed Dragon down to the mat.
He then placed Dragon atop the top turnbuckle and joined him.
On the other hand, Dragon hit a superbomb. Impressive!
Regal came back with a reverse suplex while Tenay mistakenly believed that Regal was an American. Zbyszko immediately corrected him.
Finally, Dragon hit a series of kicks and then locked on the dragon sleeper.
WE HAVE A NEW CHAMPION!
Rating: *1/2
Summary: For the second time, Ultimo Dragon became TV champion.
Valvoline sponsors the replay.
At the entrance, "Mean" Gene Okerlund interviews "Nature Boy" Ric Flair. According to Flair, the newest Horseman is..
Wait a minute! Syxx emerges through the entrance to confront Flair. He then informs us that there is no fourth Horseman announcement tonight. Flair then states that he's been "censored" and almost lost his job because of Syxx. Before walking up the entrance ramp, Flair nails him. Benoit then seconds Flair as Syxx mentions that they "wouldn't be pulling this crap if Hall and Nash were here." I smell an upcoming tag match.
For the second time, the NItro Girls dance.
On WCW Saturday Night, Scott Norton & K-Dogg face Harlem Heat.
Match 3: Giant versus the Great Muta
Highlights:
Once again, Muta wore his Halloween costume to the ring.
Muta hit a pair of dropkicks that didn't faze Giant.
When Giant attempted the chokeslam, Muta sprayed green mist in his face.
Referee Mickey Jay then called for the disqualification.
Giant won.
Rating: DUD
Summary: Nothing to see here. Move along...
Afterward, Savage and Vincent hit the ring to triple-team the blinded Giant. When he rises to his feet, Giant sent all three nWo members scurrying. Luger then comes to the ring to aid Giant. Since Giant still couldn't see, he almost chokeslams Luger. Fortunately, he recognized Luger's voice and put him down.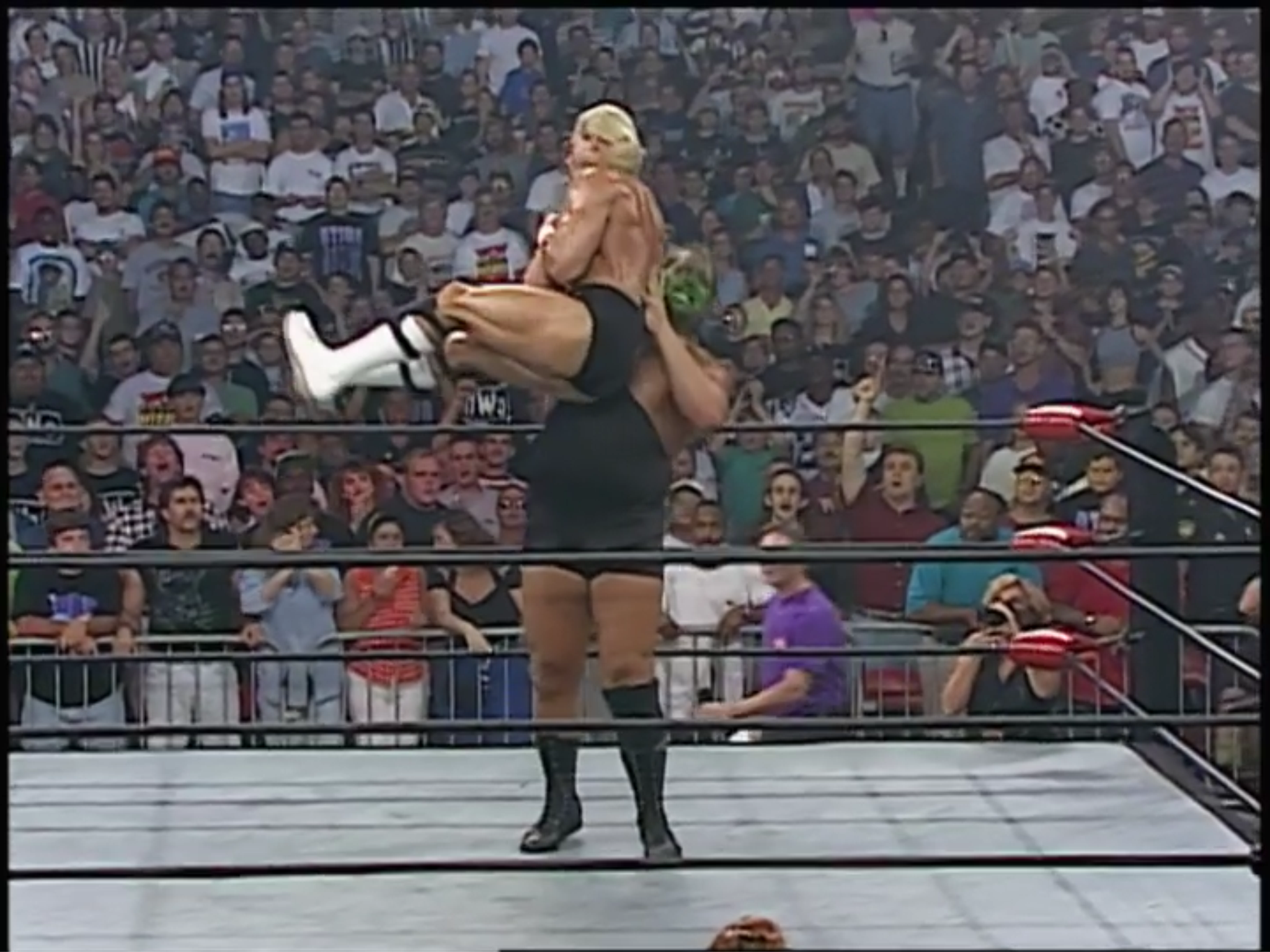 Match 4: Steve "Mongo" McMichael versus Dean Malenko
Highlights:
While Schiavone encouraged us to send in footage of our Nitro parties, Mongo blocked a hip toss and gave Malenko one of his own.
He then missed an elbow drop, and Malenko gave him a cross corner whip.
When Mongo placed him atop the top turnbuckle, Malenko attempted a sunset flip but ate a knuckle sandwich. Make mine pastrami on rye please.
Mongo then hit a powerslam for 2.
As he gave Malenko a cross corner whip, Malenko floated to the apron, mounted the top turnbuckle, but ate another powerslam.
Mongo then attempted a third powerslam, but Malenko escaped and hit a release German suplex.
After Malenko put himself in position for a tilt-a-whirl backbreaker, Mongo improperly caught him yet gave him powerslam #3 instead.
Suddenly, Jeff Jarrett and Debra came to the ring.
Mongo then sauntered after him, but Jarrett guillotined him with the top rope.
When Malenko dropkicked Mongo, he hooked an inside cradle.
1-2-3.
Malenko won.
Rating: *
Summary: More angle than match as the Mongo/Jarrett feud continues.
After the match, Okerlund interviews Malenko, and Jarrett interrupts. While security keeps Mongo away from him, Jarrett cuts a promo on the Four Horsemen. Malenko then interjects with wanting to work alone but understands that "there's strength in numbers." As Debra insults Mongo ("too many cobwebs in that attic,") Malenko informs Jarrett that he'll give him an answer when he's ready.
Match 5: Eddie Guerrero versus Hector Guerrero
Highlights:
Hector gave Eddie a pair of flying headscissors but missed a third one.
As Hector delivered the Guerrero Clutch, Eddie bit his older brother's arm.
He then bit Hector's shoulder, gave Hector a cross corner whip, but came up empty on his follow-through.
When Hector placed him atop the top turnbuckle, he joined and gave Eddie a superplex for 2. Wow!
He then hit a splash for another 2.
After Hector delivered another flying headscissors, he gave Eddie a springboard plancha.
Eddie came back with a powerbomb, mounted the top turnbuckle, and hit the frog splash.
1-2-3.
Eddie won.
Rating: **
Summary: Hector was no match for his younger brother here.
After the match, Malenko comes to the ring and nails Eddie. He then powerbombs Eddie to a raucous ovation. Next, he hooks Eddie in the Texas Cloverleaf, and Hector nails Malenko. When Eddie shoves Hector, Malenko gives Hector a belly-to-back suplex. Rather than helping his brother like Hector, Eddie walks away like a scoundrel.
The Nitro Girls dance in the aisle under a red light.
HOUR #2!
At the entrance, Okerlund interviews the chairman of the WCW Executive Committee James J. Dillon. As Dillon announces an official contract signing, Stevie Richards emerges through the entrance. Richards, wearing a Bullet Boys t-shirt, declares that he signed a contract with WCW. When Dillon confirms it, he asks Richards about Raven.
While Richards leads Dillon, Okerlund describes him as "soft as a grape." HA! Dillon then presents a contract to Raven with "everything he wanted." When Raven questions that stipulation, Richards claims that he negotiated the contract for him. He then rips up the contract and nails Richards.
Match 6: The "Total Package" Lex Luger versus Scott Norton (w/ Buff Bagwell & Vincent)
Highlights:
Luger reversed a cross corner whip and hip-tossed Norton.
When Bagwell got up on the apron, Luger went after him. That allowed Norton to nail Luger from behind. SNEAKY!
Norton then gave Luger a backbreaker as well as a cross corner whip but came up empty on his follow-through.
As Luger hit a pair of clotheslines, he couldn't take Norton off his feet.
He then hit a flying forearm and signaled for the Torture Rack.
Instead, Vincent entered the ring, and referee Mark Curtis called for the bell.
Luger won by DQ.
Rating: DUD
Summary: More angle than match.
Afterward, Luger puts Vincent in the Torture Rack, pressed Bagwell overhead, and tossed him at Norton. He then grabs the microphone, but Hogan emerges to interrupt him. When Hogan calls him a "Hollywood wannabe," Luger chases him backstage.
Backstage, Hall and Nash enter the building, and K-Dogg greets them. He wants to inform them about what happened earlier, but K-Dogg won't do it when the camera's around.
Lee Marshall then delivers the 1-800-COLLECT road report from "Charleston, WV." The closest he's gotten to Charleston was at the convenience store when he bought a Charleston Chew.
While the elongated entrances of the next match's competitors occurred, Tenay detailed the WCW tour schedule:
Philadelphia, PA (7/26)
Charleston, WV (7/28)
Auburn Hills, MI (8/4)
Worcester, MA (9/29)
Before the bell, Hennig and Flair are shown backstage conversing.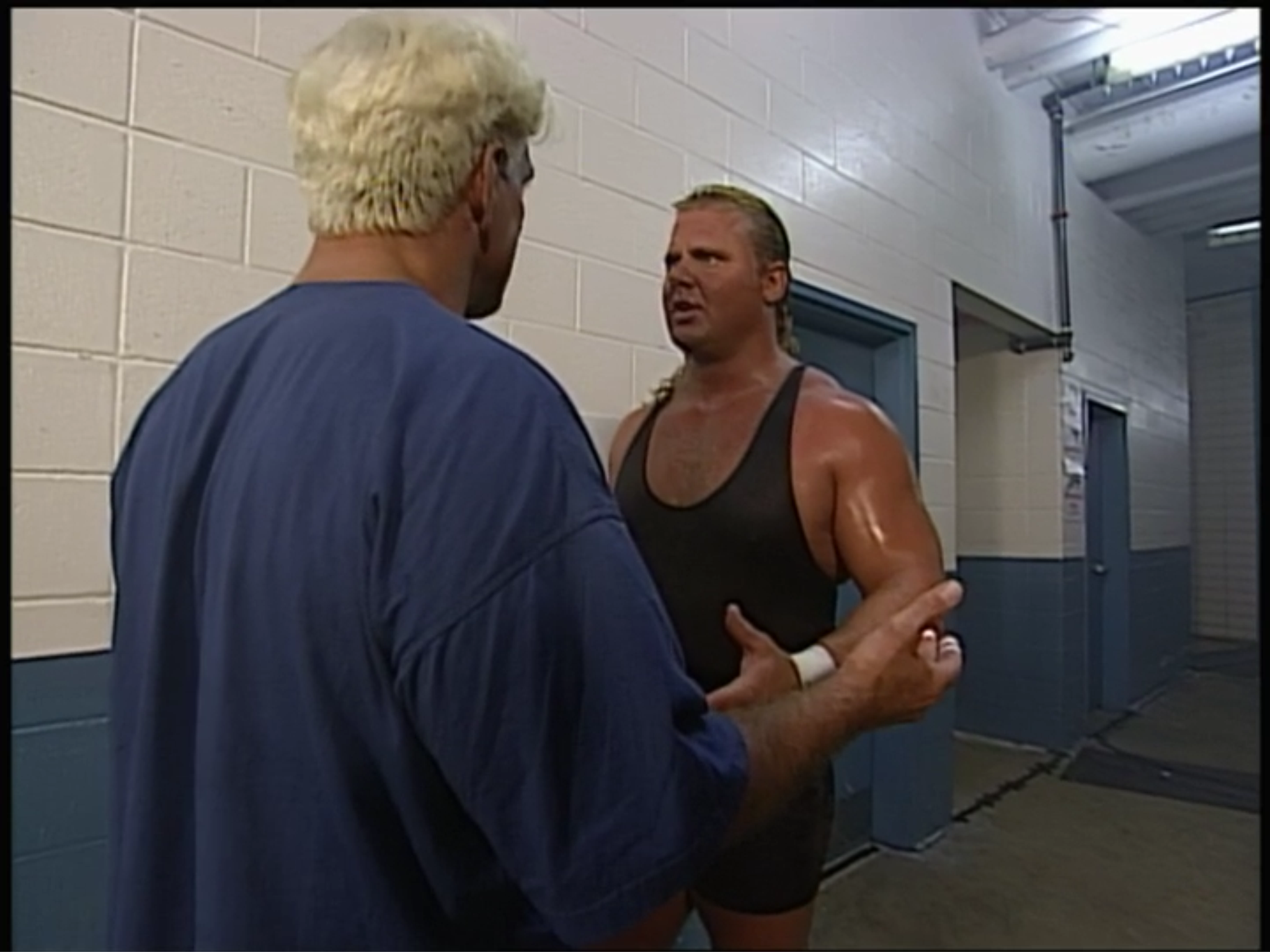 Match 7: Mortis & Wrath (w/ James Vandenberg) versus Psicosis & La Parka (w/ Sonny Onoo)
Highlights:
According to Schiavone, the Outsiders will face Flair and Benoit later in the show.
La Parka mounted the top turnbuckle, leaped, but ate Wrath's boot.
Next, a back elbow by Wrath resulted in a 360° sell by La Parka. Woohoo!
Tags were exchanged on both sides, and Mortis gave Psicosis a cross corner whip.
Upon walking up the turnbuckles, Psicosis lost his balance and fell to the floor from the top turnbuckle. Oops.
He then reversed a cross corner whip and dropkicked Mortis.
With Mortis on the floor, Psicosis hit a tope con hilo. Wow!
Wrath then checked on Mortis only to succumb to a La Parka corkscrew plancha.
As La Parka held Wrath, Psicosis inadvertently baseball-slid him causing him to taste the steel railing. It must have tasted like the 1904 at Spliff's.
Psicosis then attempted a plancha, but Wrath caught, military-pressed, and dropped him on the floor.
With Psicosis on the apron, Mortis suplexed him back in for 2.
He then slammed Psicosis, mounted the top turnbuckle, but missed a senton splash.
When Onoo chased after Vandenberg, all four wrestlers were in the ring.
Psicosis then hit a huracanrana on Mortis, but referee Mickey Jay was occupied with La Parka and Wrath.
With Psicosis atop Wrath's shoulders, the heels hit a powerbomb/neckbreaker combo.
1-2-3.
Mortis and Wrath won.
Rating: *1/2
Summary: Showcase match for Wrath and Mortis.
After the match, La Parka grabbed a balsa wood chair and SMASHED it against Mortis' back. Wrath then disposed of La Parka with a bicycle kick.
Match 8: "Buff" Bagwell (w/ Vincent & Scott Norton) versus Booker T (w/o Stevie Ray)
Highlights:
After a leap frog by Booker T, Bagwell blocked a hip toss and delivered one of his own.
Since Booker T wasn't impressed, he entertained us with a spinaroonie. Woohoo!
He then DEMOLISHED Bagwell with a Harlem sidekick.
When each wrestler blocked a hip toss, Booker T hip-tossed Bagwell over the top rope to the floor. Will referee Nick Patrick disqualify Booker T?
No, but Booker T joined Bagwell on the floor and clotheslined him.
Back in the ring, Bagwell slammed Booker T but ate knees on a splash attempt.
Booker T then gave Bagwell a back elbow, but Bagwell guillotined him with the top rope.
As Booker T reversed a cross corner whip, he ate boot on his follow-through.
Bagwell then clotheslined him resulting in a 360° sell for 2. Woohoo!
After a shoving match with Patrick, Bagwell almost got pinned.
Patrick then read him the riot act, but Booker T came back with a flying forearm.
Upon giving Bagwell an atomic drop, Booker T delivered an inverted atomic drop.
He then landed the scissors kick followed by a leg lariat for 2.
When he backdropped Bagwell, Booker T mistakenly nailed Patrick.
Norton then got up on the apron and clotheslined Booker T.
As Booker T mounted the second turnbuckle, he hit the Buff Blockbuster.
1-2-3.
Bagwell won.
Rating: *1/2
Summary: Despite the fact that these guys worked hard, the Jacksonville faithful wasn't interested and more than likely expected a schmozz finish rather than a heel finish.
After the match, the nWo triple-teams Booker T and disposes of Patrick.
At the entrance, Okerlund interviews Rey Mysterio, Jr. who stands on crutches. According to Okerlund, Mysterio has a torn ligament in his knee and will rehab it rather than have surgery. Suddenly, K-Dogg emerges and bullies Mysterio. Psicosis, Villano IV, and La Parka arrive to save Mysterio's bacon. When Mysterio questions K-Dogg's heritage, K-Dogg swears his allegance to the now instead of "la raza." Mysterio then vows revenge against K-Dogg.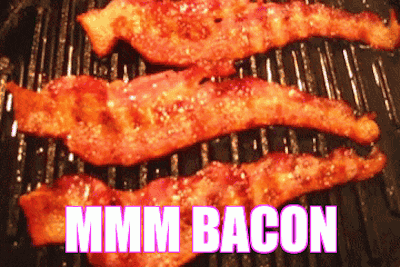 Match 9: Curt Hennig versus Michael Wallstreet
Highlights:
In case you forgot, Wallstreet no longer belonged in the nWo.
While the Jacksonville faithful chanted "D-D-P," Hennig slammed Wallstreet.
Hennig then blocked a suplex and hooked a fisherman's suplex.
1-2-3.
Hennig won.
Rating: DUD
Summary: Showcase match for Hennig.
After the match, DDP comes through the Jacksonville faithful, enters the ring, and brawls with Hennig. While the Jacksonville faithful gets behind DDP, Hennig delivers a knee lift. He then attempts a fisherman's suplex, but DDP counters with the Diamond Cutter to a raucous ovation. Officials then fill the ring to separate them.
THE FOLLOWING ANNOUNCEMENT HAS BEEN PAID FOR BY THE NEW WORLD ORDER:
Buy the shirt! Send it to Rock Star Gary. Make it an XL.
THE PRECEDING ANNOUNCEMENT HAS BEEN PAID FOR BY THE NEW WORLD ORDER.
The Nitro Girls dance in the aisle again.
Match 10 for the WCW World tag team titles: The Outsiders (champions w/ Syxx) versus "Nature Boy" Ric Flair & the "Crippler" Chris Benoit
Highlights:
Flair gave Hall a back elbow causing the Outsiders to seek refuge outside the ring.
As Benoit tagged in, he delivered a dragon screw leg whip to Hall.
He then hooked a Northern Lights suplex for 2.
When tags were exchanged on both sides, Nash gave Flair the boot choke in the corner.
Hall then distracted referee Randy Anderson so that Syxx could nail Flair from behind. How dastardly!
After Nash hit a sidewalk slam, he got 2.
Hall tagged in and gave Flair a fallaway slam for 2.
As Hall distracted Anderson again, Nash gave Flair the business in the heel corner.
Nash tagged in and delivered a running guillotine with Hall's assistance.
When Hall illegally switched with Nash, he gave Flair a cross corner whip followed by a corner clothesline.
Nash tagged in, delivered Snake Eyes to Flair, and distracted Anderson. That enabled Hall to clothesline Flair from the apron.
After Hall tagged in, Flair reversed an Irish whip and hooked a sleeper.
Hall escaped and hooked his own sleeper.
As Flair countered with a belly-to-back suplex, both wrestlers were down on the mat.
Hot tag Benoit.
Upon giving Hall a snap suplex, Benoit whipped Nash into Hall.
He then mounted the top turnbuckle and gave Hall the diving head butt for 2.
Meanwhile, Syxx got up on the apron, but Flair grabbed and brawled with him.
Flair then made Syxx taste the steel railing. It must have tasted like the Balboa at Blackfinn.
Not THAT Balboa!
When Nash attempted the jackknife powerbomb, Benoit hammered him to counter.
He then nailed Hall only to fall victim to a big boot from Nash.
1-2-3.
The Outsiders retained.
Rating: ***
Summary: Methinks the Jacksonville faithful knew they wouldn't see two title changes in a single night because they didn't truly back Benoit during the babyface comeback.
After the match, Syxx applies the Buzzkiller on Flair on the floor until Mongo makes the save. Abruptly, the Steiners emerge from the entrance to taunt the Outsiders. WE'RE OUTTA TIME!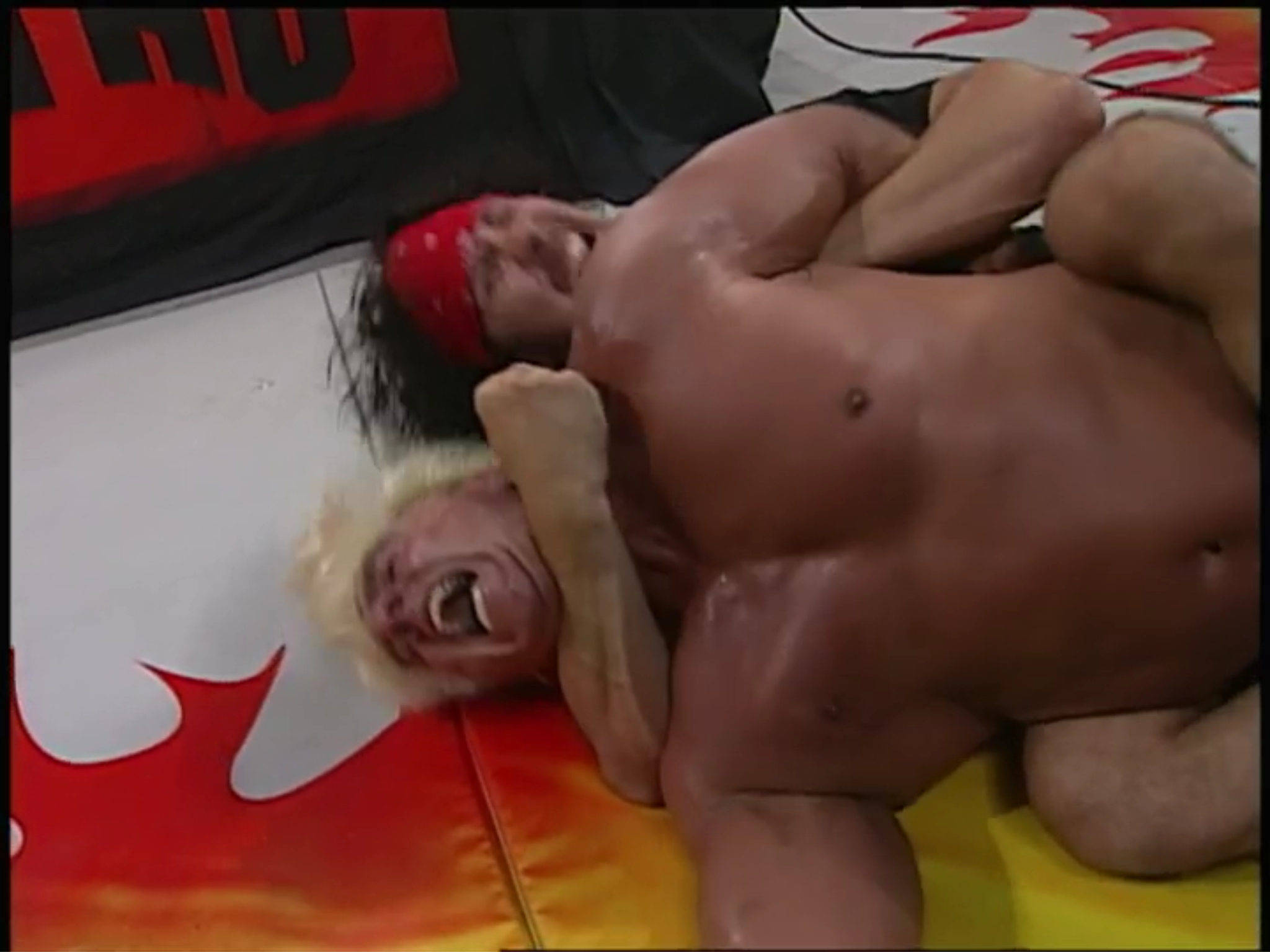 Conclusion: By itself, this was a good episode with a title change and ten matches. Angles were advanced, and PPV match-ups got promoted, so it accomplished its purpose.
In comparison to RAW is WAR, this was a much better show albeit probably less memorable due to the flag match. What's going to happen when they go head-to-head next week?
TV Rating: 3.75
Stay tuned for WCW Monday Nitro 7-28-97!
Comments? Suggestions? Send them to me at rsg@rockstargary.com and follow me on Twitter (@rockstargary202).
Custom Search