WELCOME TO ROCK STAR GARY REFLECTIONS!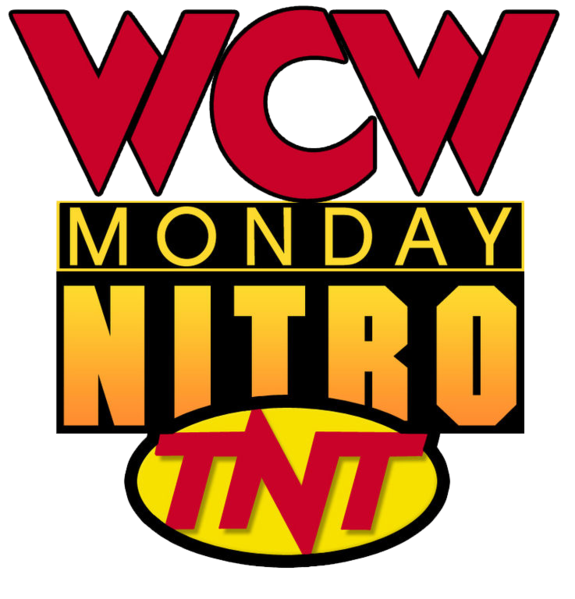 WCW Monday Nitro 03-16-98
Live from Panama City Beach, FL
Airdate: March 16, 1998
Attendance: 2,000 (sold out)
Hosted by Tony Schiavone, Larry Zbyszko, "Iron" Mike Tenay, & Bobby "The Brain" Heenan
Who's ready for Spring Break? WCW is! It's year two at Club La Vela, so what kind of party will WCW offer us?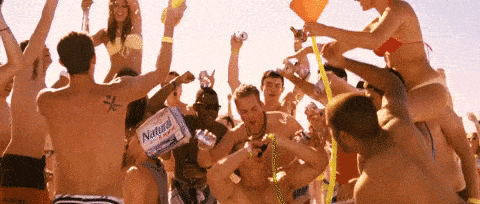 PROLOGUE: As many of my longtime readers know, I normally publish the Monday Night War shows on the same day. Since RAW will be pre-empted by Moby Dick and air the following night, I will publish them separately for YOUR pleasure.
Wait a minute! Nitro is unopposed? Smell the ratings!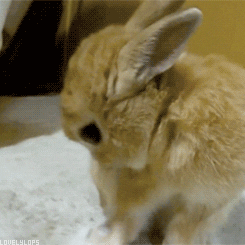 Opening montage.
While the Spring Breakers chant for Zbyszko, stills from last night's main event are shown.
Hollywood Hogan leads the entire nWo (minus Savage) to the ring, and Nash, clad in a Hawaiian shirt, looks like he's had a few. As Hogan sings Nash's praises, he cuts a promo on Savage who's "back in the fold." To celebrate, Hogan will team with Savage against Sting and Luger. Wow! What a blockbuster main event!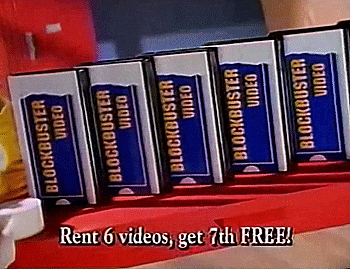 To mock Sting, Bischoff acknowledges that since the show is at an outdoor venue, there are no rafters from which Sting can rappel.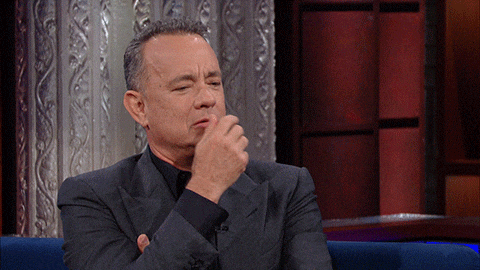 On a side stage, the Nitro Girls dance in yellow and black with St. Patrick's Day hats. Since they're not sitting in his lap this week, Schiavone's all business shilling the Nitro Party contest.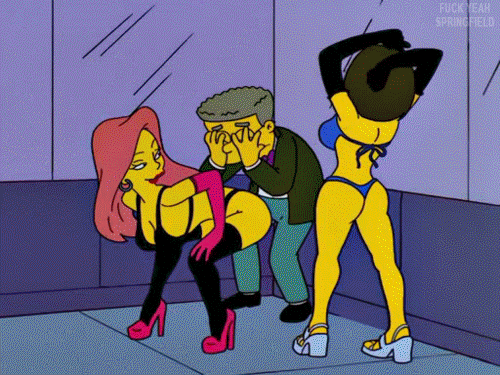 Match 1: Goldberg versus Lodi (w/ the Flock)
Highlights:
When the Spring Breakers chanted "Lodi sucks," their nemesis held up a sign reading "Goldberg is a meathead."
Goldberg immediately took offense and press-dropped Lodi.
As he speared the Cinnaburst out of Lodi, Goldberg hooked a Jackhammer.
1-2-3.
Goldberg won in 0:47.
Rating: *
Summary: Showcase match for Goldberg.
After the match, the Flock attacks Goldberg one-by-one but fails just as quickly. While Kidman gets folded up like an accordion, Sick Boy swallows his Cinnaburst during a spear.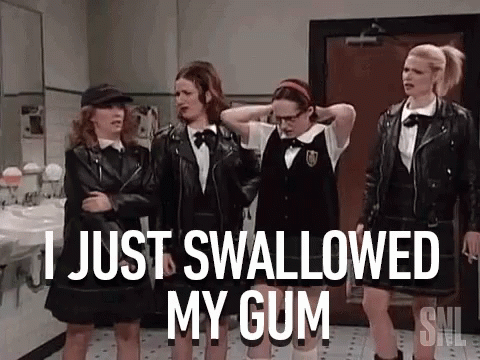 Nitro is sponsored by Valvoline. That's not gum!
At the entrance, "Mean" Gene Okerlund shills the hotline and mentions a big retirement in pro wrestling. All roads point to Rick Martel, but I can neither confirm nor deny it at this time.
Match 2: Fit Finlay versus Ultimo Dragon
Highlights:
Holy beauty salon makeovers, Batman! Scruffy Finlay cut his mullet, dyed it blond, and is clean shaven. He must have a new girlfriend.
As Finlay gave Dragon a cross corner whip, he followed with a shoulder block.
Dragon reversed a cross corner whip, but Finlay vaulted him into an absolutely 100% mandatory headstand on the top turnbuckle.
When Dragon unleashed a series of kicks, Finlay guillotined him on the top rope.
Finlay backdropped him, but Dragon landed on his feet and dropkicked him.
After Dragon missed a dropkick, he tried to nip up but failed miserably. Perhaps he should do more crunches.
With Finlay on the floor, Dragon attempted a plancha but came up empty. OUCH!
Finlay then rammed Dragon sternum-first into the apron and followed with a somersault slam for 2.
While Dragon attempted a dragon sleeper, Finlay escaped.
He then clotheslined Dragon and attempted a vertical suplex.
Nevertheless, Dragon escaped and successfully hooked a dragon sleeper.
Finlay tapped out, so Dragon won in 4:41.
Rating: *
Summary: Showcase match for Dragon although this was quite a styles clash.
Nitro Girls dance in the ring wearing the same outfits. B. Brian Blair would be so proud.
Match 3: Scott "Flash" Norton (w/ Buff Bagwell) versus "Gentleman" Chris Adams
Highlights:
Adams attempted a cross body block, but Norton caught and slammed him.
When Norton missed an elbow drop, Adams connected with a superkick.
That's it!
We have an upset!
Nope, Norton leaned against the ropes and evaded a charging Adams.
He then gave Adams a cross corner whip followed by a corner clothesline.
As Norton dumped Adams over the top rope to the floor, he distracted referee Scott Dickinson.
Bagwell then made Adams taste the steel railing. It must have tasted like Hell'n'Back burger at Patches.
After Bagwell returned Adams to the ring, Norton supplied Adams with a short-arm clothesline.
Norton then gave Adams a cross corner whip but came up empty on his follow-through.
While Adams hip-tossed Norton, he followed with a dropkick.
Adams then mounted the top turnbuckle, leaped, but Norton swatted him away like a gnat.
When Norton delivered a shoulder breaker, he pinned Adams at 3:08.
Rating: ½*
Summary: Showcase match for Norton, but that superkick could have shocked the world.
After the match, Bagwell disposes of Adams from the ring, and Norton spits into the camera.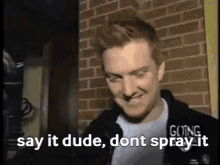 Footage from the 1998 Spring Break Miss Monday Nitro contest was shown. All I can say is…bikinis, gentlemen.
Match 4: The "British Bulldog" Davey Boy Smith & Jim "The Anvil" Neidhart versus Mike Enos & Wayne Bloom
Highlights:
Smith tagged in, but Enos reversed an Irish whip and provided him with a shot to the midsection.
As Enos scored with a hangman's neckbreaker, Bloom tagged in but ate a hip toss.
Smith then hooked a delayed vertical suplex for 2.
When Neidhart tagged in, Bloom reversed an Irish whip sending Neidhart into a knee by Enos. SNEAKY!
Enos then guillotined Neidhart with the top rope, and the team formerly known in the AWA as the Destruction Crew hit a spike piledriver on Neidhart.
Meanwhile, Smith distracted referee Nick Patrick.
Enos then guillotined Neidhart again with the top rope and attempted a piledriver.
After Neidhart countered with a back drop, Bloom tagged in, landed an elbow drop, and got 2.
He then dealt Neidhart a leg drop for another 2.
While Enos tagged in, he bearhugged Neidhart.
He then slammed Neidhart, but the Spring Breakers were NOT pleased.
As Enos mounted the second turnbuckle, he missed a splash.
Hot tag Smith.
When Smith clotheslined Bloom, he followed with a back elbow.
He then powerslammed Bloom although not very crisply.
With all four wrestlers in the ring, Smith reversed a cross corner whip but ate boot on his follow-through.
Smith then reversed a cross corner whip and delivered a running powerslam.
1-2-3.
Smith and Neidhart won in 5:50.
Rating: **
Summary: Showcase match for Smith and Neidhart while Enos and Bloom refuse to be slouches.
HOUR #2!
Nitro Girls remove their t-shirts to reveal bikini tops and dance in the aisle.
Bischoff leads Savage and Elizabeth to the ring. While the Spring Breakers chant his name, Savage shoves Bischoff and clarifies his actions from last night as for himself. Savage vows to beat Sting at the PPV, take over the leadership of the nWo, and send Hogan to the "bottom of the pecking order." Bischoff is bewildered.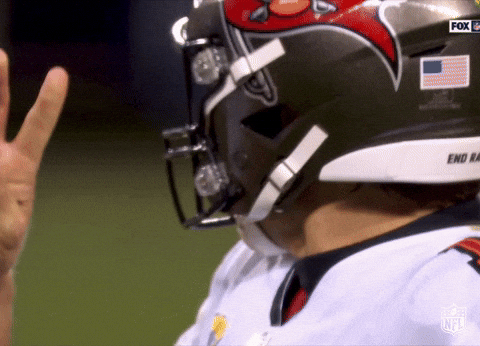 Prior to the next match, Raven cuts a promo on Benoit, yet the Spring Breakers believe that he "sucks." As he informs Benoit that their feud must end, Raven turns his attention to DDP who "deserted" him. He then subtly mentions Jake "The Snake" Roberts who mentored both of them.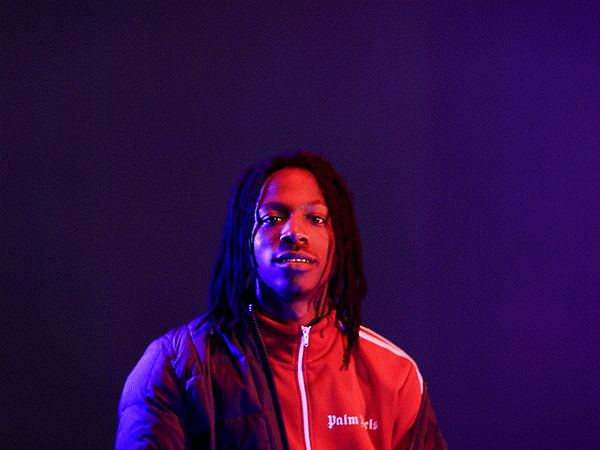 Match 5: The "Crippler" Chris Benoit versus Raven (w/ the Flock)
Highlights:
Benoit unleashed a German suplex which caused Raven to seek refuge outside the ring.
When Benoit uncorked a baseball slide, the match migrated into the Spring Breakers.
Back in the ring, Benoit landed a back elbow for 2.
Raven gave Benoit a cross corner whip but ate boot on his follow-through.
Following a commercial break, the match moved poolside until Benoit reversed an Irish whip sending Raven back-first into the podium for the logo.
They returned to the ring, and Benoit clotheslined Raven.
As he hooked a Northern Lights suplex, Benoit got 2.
He then ripped Raven's t-shirt off and removed some layers of skin from Raven's chest with chops.
After he delivered a belly-to-back suplex, Benoit avoided a Raven uppercut to the Christicles.
He then backdropped Raven for another 2.
While he provided Raven with a series of snap suplexes, Benoit mounted the top turnbuckle but missed a diving head butt.
Raven retrieved a chair from ringside and set it up.
When Raven bulldogged him onto the chair, Benoit blocked an Irish whip.
He then attempted a Crippler Crossface but lost his place in the ring and smacked the chair himself. Yikes!
As Raven DECIMATED him with a DDT on the chair, he pinned Benoit at 8:30.
Rating: ***
Summary: Solid match with a fatal flaw costing Benoit the victory. According to Schiavone, Raven becomes the #1 contender to the US title.
Starburst sponsors the replay.
The Nitro Girls party among the Spring Breakers. Instead of drinking from beer bongs, they spray silly string.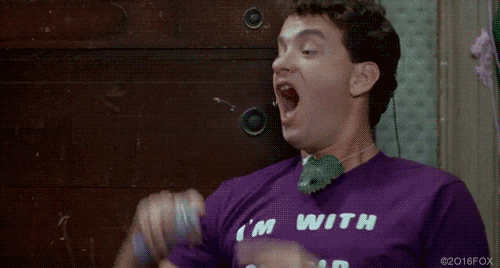 Match 6: Yuji Nagata (w/ Sonny Onoo) versus Ernest "the Cat" Miller"
Highlights:
Miller unleashed a jumping side kick and applied a cross arm breaker.
As Nagata escaped, he caught Miller by his right leg and hooked an overhead belly-to-belly suplex for 2. Nice variation!
The Spring Breakers voiced their displeasure with the match, yet Miller reversed a cross corner whip and uncorked a spin kick.
When they brutally botched a leap frog, Miller clotheslined Nagata.
He then slammed Nagata, mounted the top turnbuckle, and launched a Feliner.
1-2-3.
Miller won in 4:10.
Rating: ½*
Summary: Although this wasn't Spring Break material, it was a good high spot by Miller.
Nitro Girls return to the side stage to dance in neon colors. They'll be ready in case the Spring Breakers want to play in traffic.
Match 7: Scott Steiner versus Ray Traylor
Highlights:
Scott gave Traylor a cross corner whip followed by an overhead belly-to-belly suplex.
When Scott applied a bear hug, Traylor bit him believing Scott tasted like Shoney's.
Scott delivered a Steinerline and booted him down to the floor.
As Scott rammed Traylor face-first into the steps, the show went to a break.
Following said commercial break, Scott gave Traylor a cross corner whip but ate boot on his follow-through.
Traylor then crotched Scott on the ring post. Perhaps it's a good thing that Scott didn't have his "hoochies" yet.
After he rammed Scott side-first into the steel railing, Traylor clotheslined him over it into the pool. That earned the match a * right there.
Traylor retrieved him from poolside and made Scott HIT THE POLE.
While he supplied Scott with a sliding right cross, Traylor followed with a ten-punch count-along.
He then gave Scott a cross corner whip followed by an avalanche.
When he mounted the top turnbuckle, Traylor launched a flying clothesline for 2.
He then hit a big boot and mounted the opposite top turnbuckle.
Suddenly, Bagwell stormed the ring to disturb Traylor's momentum.
Scott then joined Traylor atop the top turnbuckle and scored with a Frankensteiner.
As Scott applied the Steiner Recliner, Traylor submitted.
Scott won in 5:48.
Rating: ***
Summary: Both wrestlers look sharp in a big versus big match. Of course, the pool spot remains the major highlight of the match and probably Scott's career.
After the match, Bagwell, who entered the ring prematurely, whips Traylor with his belt and joins Scott in double-teaming Traylor.
We return to stills from last night when Giant was ready to jackknife-powerbomb Nash, but Brian Adams interfered for the disqualification. It still pisses me off that they didn't have the match at Starrcade due to Nash's "heart attack," screwed up the match at Souled Out with a botched powerbomb, and didn't blow things off at Uncensored. Instead, they booked a stupid DQ finish.
In the ring, the Nitro Girls aren't ready to play in traffic yet as they dance again for the Spring Breakers.
HOUR #3!
Eddie joins Chavo at the entrance with a microphone and gifts him a t-shirt. When Chavo reads the t-shirt, he angrily tosses back in Eddie's face. Since Chavo lost the match on Thunder last week, he MUST wear the t-shirt. What does that t-shirt say?
Match 8 for the WCW World TV title: Booker T (champion) versus Chavo Guerrero, Jr.
Highlights:
Booker T clotheslined Chavo and followed with a back elbow.
As he landed a standing leg lariat, Booker T gave Chavo a cross corner whip but ate boot on his follow-through.
Chavo charged, but Booker T caught and powerslammed him.
With Booker T on the apron, Chavo provided him with a running forearm smash sending Booker T down to the floor.
Chavo then leaped from the apron to deliver a double axe handle.
When he sent Booker T waist-first into the camera stand, Chavo dropkicked him.
Booker T then leapfrogged and rolled up Chavo for 2.
After Chavo dropkicked the knee, he gave Booker T a cross corner whip followed by a back elbow.
Booker T then reversed an Irish whip and demolished Chavo with another leg lariat.
While he supplied Chavo with a scissors kick, Booker T followed with a 110th Street slam.
He then mounted the top turnbuckle and launched a missile dropkick.
1-2-3.
Booker T retained in 5:25.
Rating: **
Summary: Showcase match for Booker T as a humiliated Chavo had to wear the t-shirt during the match.
More Cinnaburst madness at the beach as Trinny Updegrove won the $1000 sweepstakes.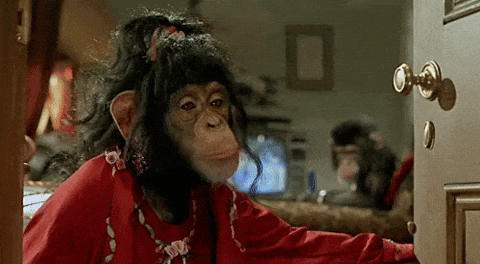 Three Nitro Girls dance in the ring while the rest cruise US-98.
Match 9 for the WCW US title: Diamond Dallas Page (champion) versus Reese (w/ the Flock)
Highlights:
DDP couldn't take Reese off his feet with a discus punch and ate an elevator slam.
When Reese applied a standing choke, he followed with a spinebuster.
DDP then ducked a clothesline and dealt Reese a Diamond Cutter out of nowhere.
1-2-3.
DDP retained at 2:54.
Rating: *
Summary: Showcase match for DDP.
Prior to the next match, Jericho takes the microphone and lists his trophies including "Dean Malenko's dignity." He then states that he'll steal the Texas Cloverleaf, rename it the Jericho Maple Leaf, and make it hold #1005 "just for (Dean)."
Match 10 for the WCW Cruiserweight title: "Lionheart" Chris Jericho (champion) versus Juventud Guerrera
Highlights:
Jericho reversed an Irish whip but ate a spinning heel kick from Guerrera.
As Jericho reversed a cross corner whip, he came up empty on his follow-through.
Guerrera clotheslined him for 2.
When Jericho vaulted him to the apron, Guerrera attempted a springboard maneuver.
Jericho caught and tombstoned him for 2.
After the Spring Breakers informed Jericho that he indeed "sucks," their nemesis provided Guerrera with a delayed vertical suplex from the apron into the ring.
With an arrogant cover, Jericho got another 2.
Jericho then countered a victory roll with a reverse suplex but couldn't get 3.
While Jericho delivered a pair of backbreakers, he levelled Guerrera with a back elbow for yet another 2.
Jericho attempted a release German suplex, but Guerrera landed on his feet.
As Guerrera hit a huracanrana, he got 2.
He then gave Jericho a cross corner whip, but Jericho attempted a float-over.
When Guerrera caught him, he dealt Jericho a Juvi Driver.
He then mounted the top turnbuckle, but Jericho caught him.
After Jericho joined him, Guerrera shoved him down to the mat.
He somehow scored with a botched spinning heel kick yet got 2.
While Jericho attempted a powerbomb, Guerrera countered with a DDT.
Do we have a new champion?
1-2-NO!
Jericho then grabbed the Cruiserweight belt and SLUGGED an incoming Guerrera.
As a result, referee Charles Robinson called for the bell to disqualify Jericho.
Guerrera won at 6:26.
Rating: ***
Summary: Guerrera came close, but Jericho used a weapon that Guerrera couldn't counter to retain his title.
After the match, Jericho intentionally screws up a Texas Cloverleaf, releases it, and refers to it as a "terrible move, and…not move #1005." HA!
Atop the rocks on the second level, the Nitro Girls dance while Heenan scurries out of camera range much to Schiavone and Tenay's delight.
Scott Hall and Nash emerge through the entrance and head to the ring. When a high-octane-fueled Hall performs his survey, the nWo wins it. Nash, in comedic fashion, informs the male portion of the crowd to be "nice to the fat girls over Spring Break. They need a little lovin' too." HA! He then cuts a promo on Giant while Hall pantomimes Frankenstein.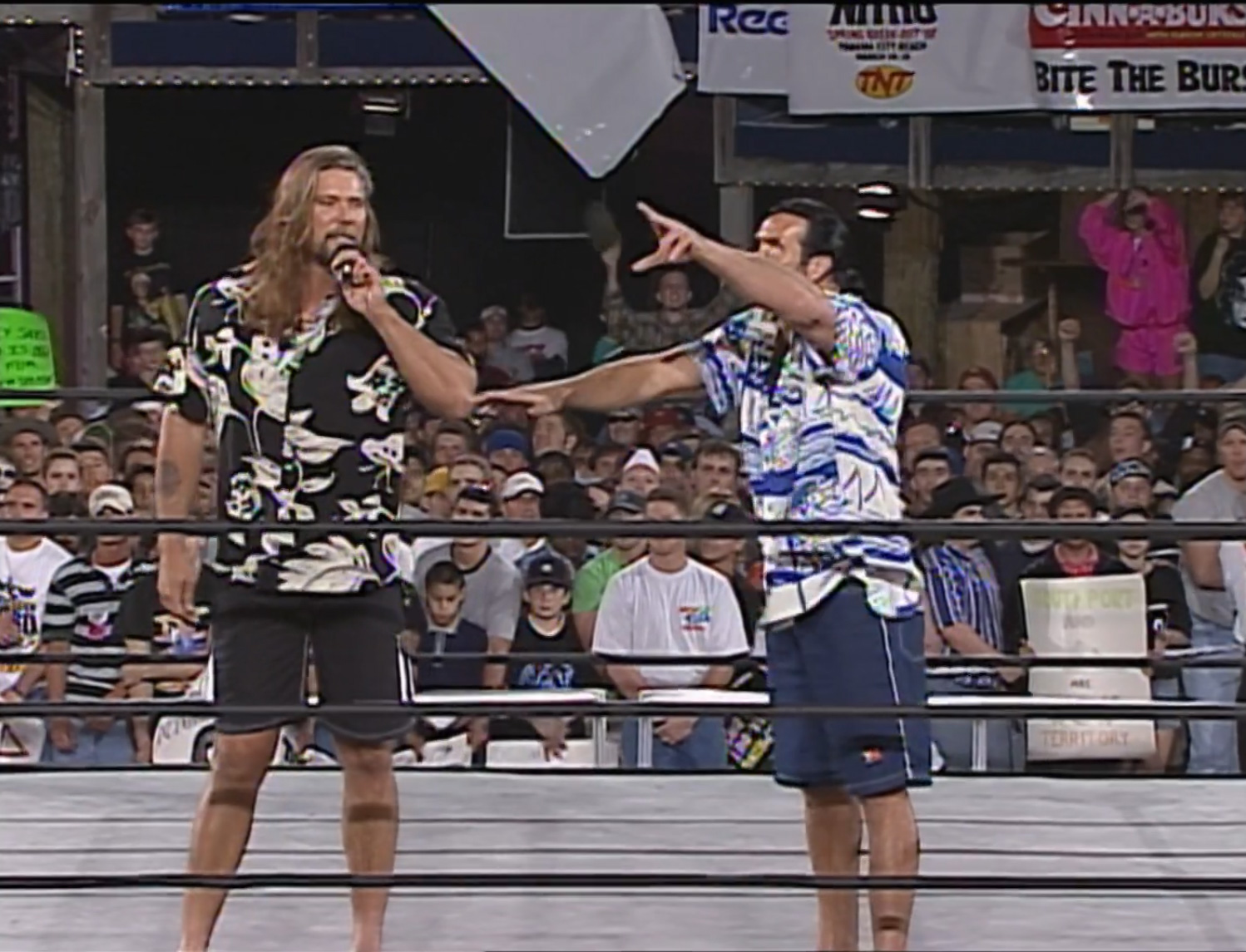 Nash summons Giant, and Hall exclaims "hey Giant, that's your cue." Bartender, I'll have what he's having. As Giant comes to the ring, Nash escapes the Giant by claiming to be the "1998 Cannonball champion of Spring Break" and cannonballing into the pool.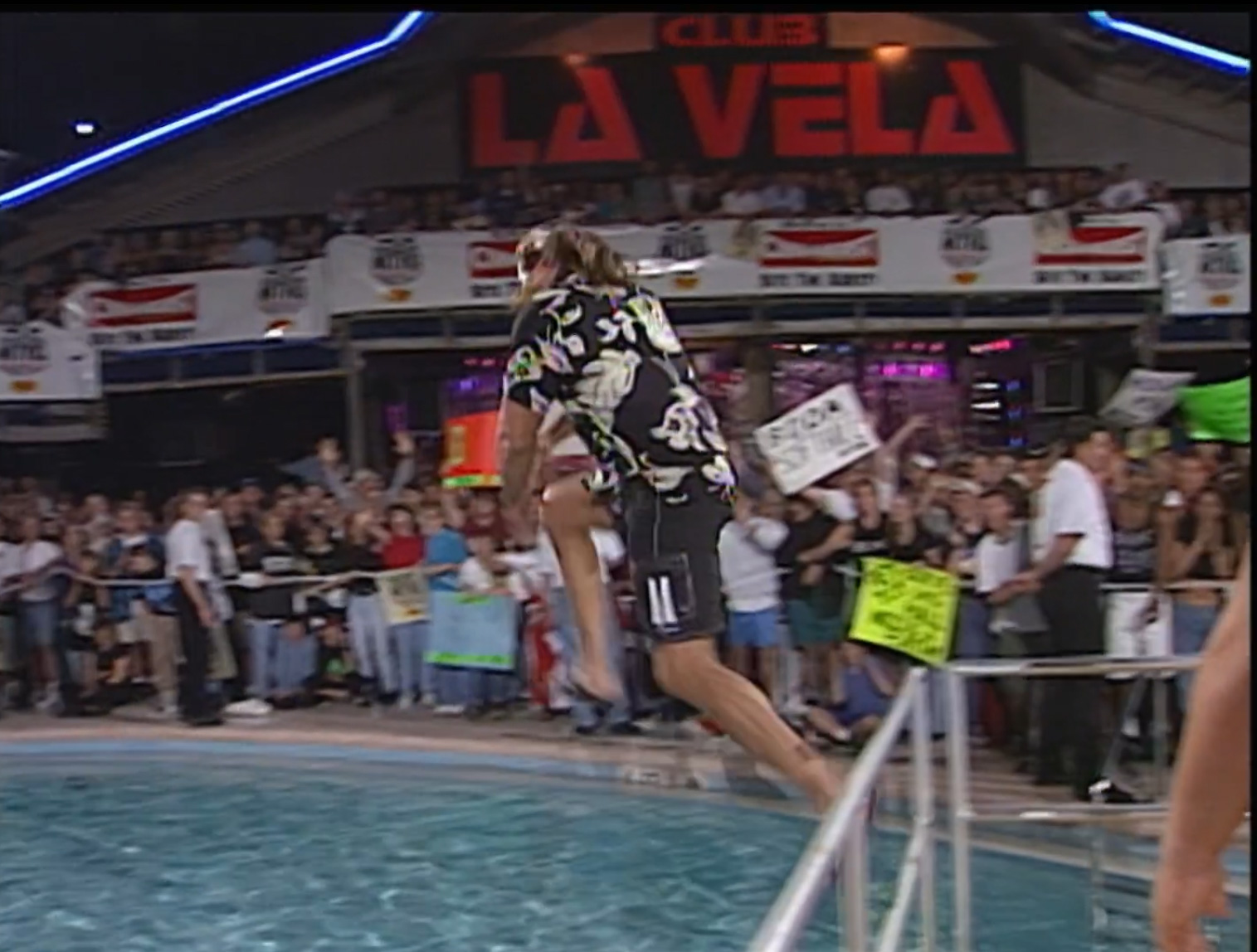 Giant saunters after Hall, catches him, and gives him a wedgie. Next, he military-presses Hall before tossing him into the pool. Although he was quite so beforehand, Hall is now signficantly WET.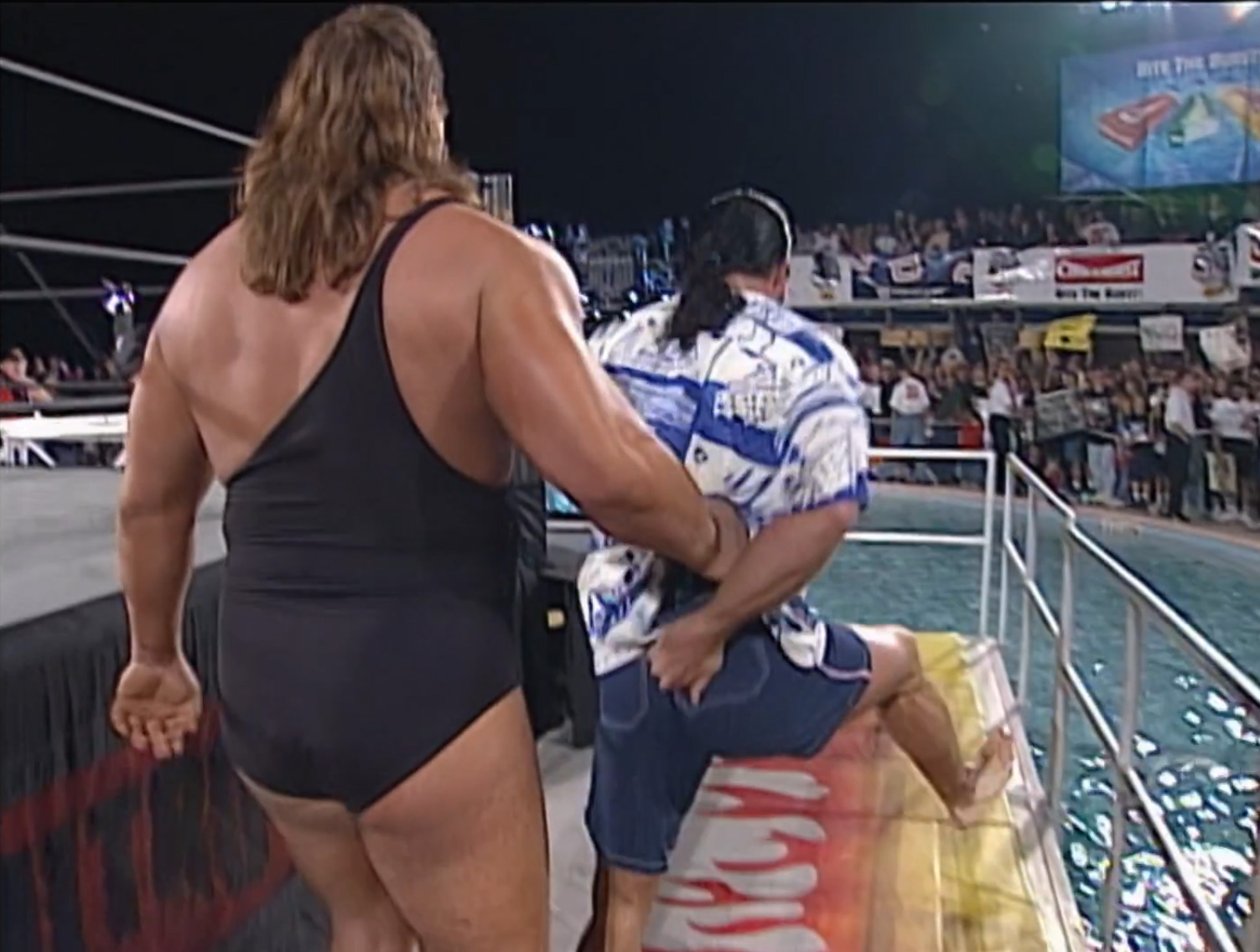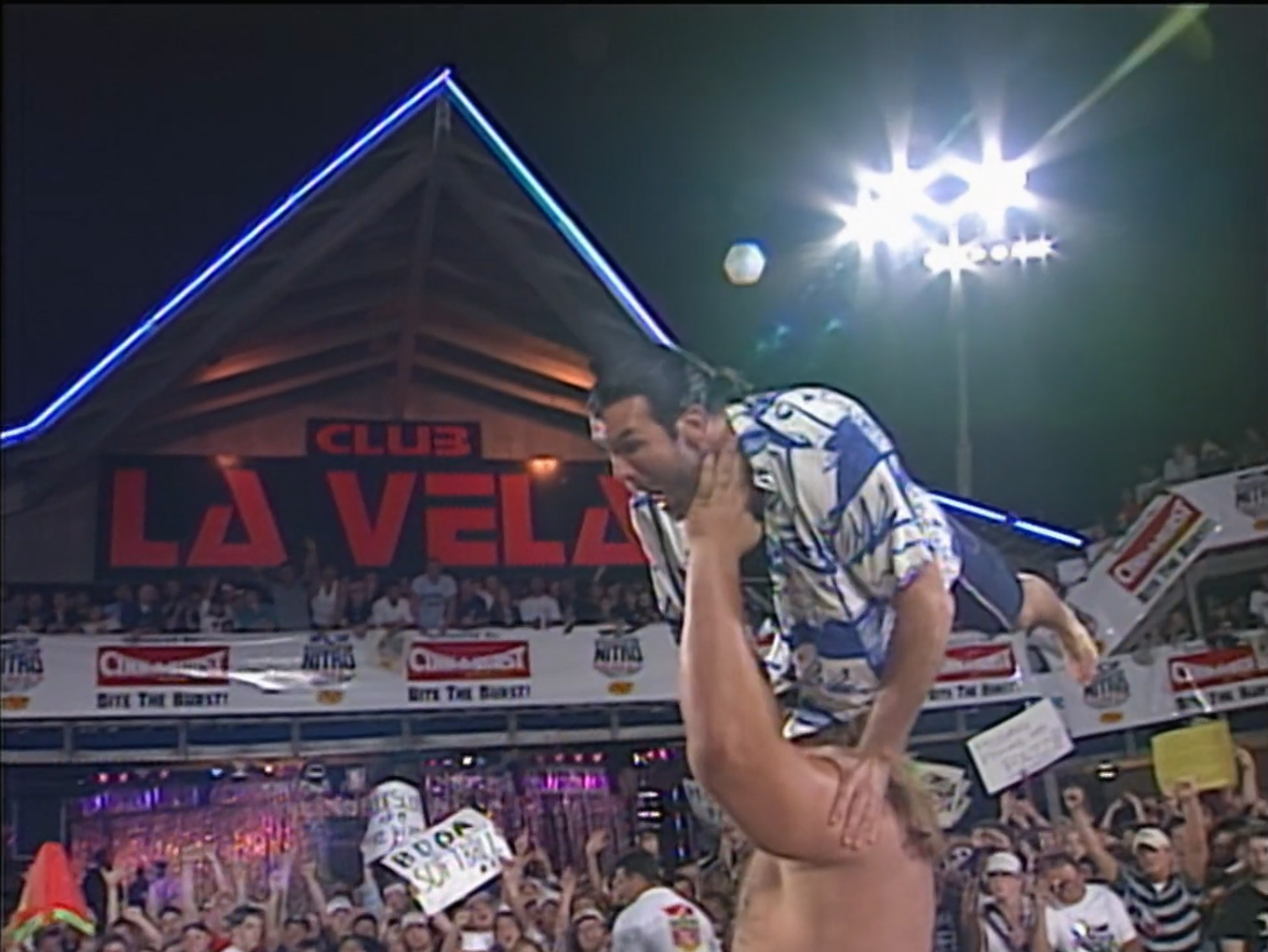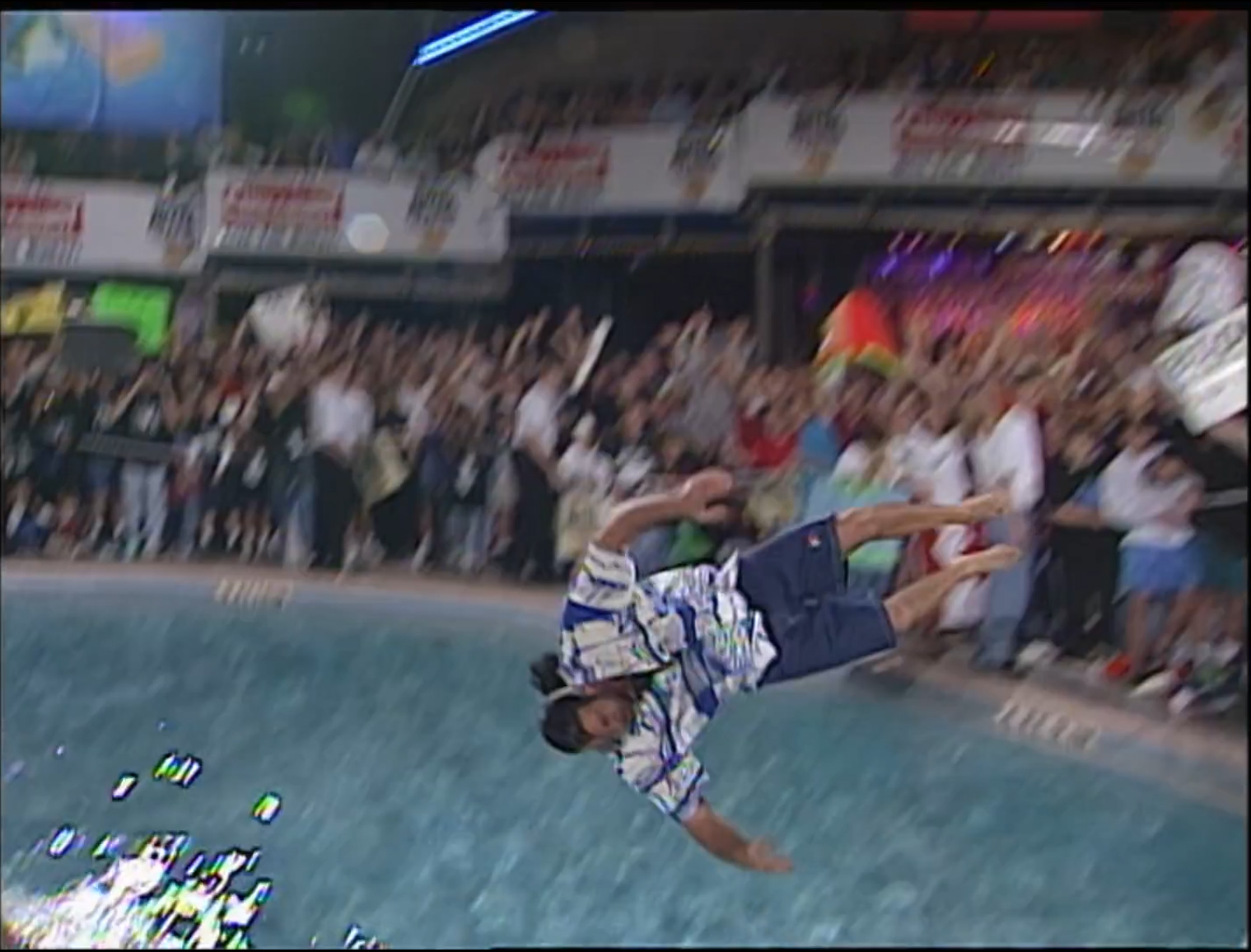 Match 11: "Hollywood" Hogan & "Macho Man" Randy Savage (w/ Elizabeth & Eric Bischoff) versus Sting & the "Total Package" Lex Luger
Highlights:
Buffer rumbled.
When Hogan and Savage argued before the match, Luger came to the ring alone.
Sting didn't make his entrance in the normal fashion. Instead, a scorpion-emblazoned helicopter hovered overhead.
As Sting exited the helicopter, he rappelled down to the ring in a spectacular stunt.
Hogan yelled at Savage that he "didn't get the job done," and Savage belted him before leaving the ring.
After Bischoff almost got blown into the pool, Disciple arrived to aid Hogan.
Hogan and Disciple tossed Savage into the ring to begin the match.
While Sting slammed him, he landed an elbow drop to Savage.
He slammed Savage again, mounted the top turnbuckle, and splashed Savage.
When the Spring Breakers informed Hogan that he indeed "sucks," Luger tagged in, gave Savage a pair of cross corner whips, and suplexed him.
He then gorilla-press-slammed Savage and tagged in Sting.
As Sting supplied Savage with an inverted atomic drop, Luger tagged in and was kind enough to deal Savage another one.
He then clotheslined Savage twice and scored with a running forearm smash.
After Savage forcibly tagged Hogan on the back, Luger rolled up Savage for 2.
Hogan bailed on the match, but Savage nailed him with a double axe handle.
While Luger gave Hogan a cross corner whip, he ate boot on his follow-through.
Meanwhile, Disciple attacked Savage at ringside.
Hogan then clotheslined Luger and followed with a pair of elbow drops.
When Hogan slammed Luger, he missed a leg drop.
Hot tag Sting.
As he gave Hogan a cross corner whip, Sting stung him with a pair of Stinger splashes.
Bischoff got up on the apron, but Sting CREAMED him.
After Disciple tossed Savage into the ring, all four wrestlers were in the ring.
Luger then hooked Hogan in the Torture Rack, but Disciple rushed in to save Hogan.
While referee Mickey Jay called for the bell, Luger and Sting won by DQ at 6:54.
Rating: **
Summary: Spectacular entrance via helicopter by Sting aside, this was, without any equivocation, more storyline than match as the Hogan/Savage soap opera surrounded the main event.
After the match, the rest of the nWo heads to the ring, but Sting and Luger send them packing. In the meantime, Hogan rams Savage side-first into the steel railing to end the show.
Conclusion: If you thought rappelling from the top of the United Center was cool, check out the helicopter stunt by Sting. With the outdoor venue, the episode has a great atmosphere with some decent wrestling. Definitely queue it up ASAP.
TV Rating: 5.10 (highest rating to date)
IN OTHER NEWS THIS WEEK: On a podcast with Steve Austin, Nash details how and why he and Hall were so inebriated during this episode:
While driving a Chrysler Sebring convertible to the show, Nash and Hall made plenty of pit stops while stuck in traffic on US-98. Not only did they purchase their Spring Break outfits but also enough alcohol to bulldoze a few mules. While Nash remained "in trouble" for the incident, Hall wasn't as fortunate but instead asked to return to rehab and not return until May.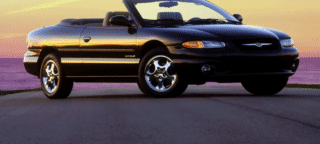 Stay tuned for RAW Is WAR 03-17-98!
Comments? Suggestions? Send them to me at rsg@rockstargary.com and follow me on Twitter (@rockstargary202).
Custom Search