WELCOME TO ROCK STAR GARY REFLECTIONS!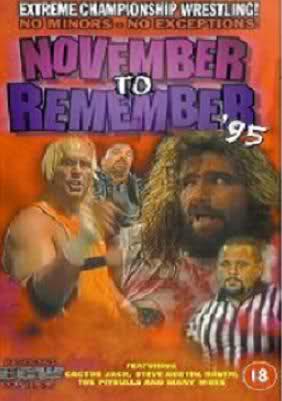 Live from Philadelphia, PA
Airdate: November 18, 1995
Attendance: 1,150
Hosted by Joey Styles
Match 1: Don E. Allen versus the Broad Street Bully
Highlights:
Ring announcer Joel Gertner introduced Buh Buh Ray Dudley as the special ring announcer for this match. Appropriately five members of the crowd held up signs that equate to: "My name is B-B B-B."
Sign Guy Dudley, Chubby Dudley, Dances with Dudley, and Big Dick Dudley escorted Buh Buh (wearing a jacket and top hat, tie and holding a cane) to the ring.
"What's your name?" rang throughout the ECW arena.
In a funny bit he mimicked Michael Buffer but couldn't annunciate "rumble" for obvious reasons.
He then took out his frustration on Allen with a Buh-buh bomb.
Bully attacked Buh Buh from behind.
Buh-buh bomb for the Bully.
1-2-3.
Rating: NONE
Summary: The coronation of one of the biggest stars of ECW, ladies and gentlemen.
Paul Heyman, executive producer of ECW, is in the ring and has a special announcement. The lights are dimmed. When they are illuminated again, SABU returns to ECW! The crowd goes apeshit! Paul and Sabu share a handshake and a hug. The crowd chants "Thank you" to Paul.
Match 2: "The Sexiest Man on Earth" Jason versus Konnan
Highlights:
Last I heard Jason Knight was suffering from throat cancer. As much as we want to denigrate his character in ECW nobody should suffer from this horrible disease. Best wishes on a speedy recovery.
Joey made me laugh because every time he's around Jason he got "hives."
For those who are unfamiliar this was pre-WCW Konnan when he would actually showcase his wrestling talent.
Joey then introduced Taz who's wearing a referee's shirt.
According to Tax he's not cleared to wrestle due to his neck injury.
Jason antagonized him so Taz cussed him out.
Taz nailed Jason then Konnan gave Jason Splash Mountain.
1-2-3.
Rating: DUD
Summary: This "match" was all about giving Taz babyface heat. This becomes important later.
Match 3: "Dancing" Stevie Richards versus El Puerto Ricano
Highlights:
The back of Stevie's shirt stated "RSPW sucks!!!" That wouldn't endear him too well on the Internet back in those days. Stevie then met the Blue Meanie and was given a Flock of Seagulls half-shirt.
Pescado by El Puerto Ricano from the top rope to the floor.
It should be noted that unlike WCW and the WWF ECW did not use mats around the ring when performing in Philadelphia. Considering the risk of injury that was EXTREME.
Springboard moonsault by El Puerto Ricano.
He then mounted the top turnbuckle and delivered a missile dropkick.
To celebrate he delivered a tope suicida to the Blue Meanie.
Upon his ascension to the top turnbuckle again Stevie delivered a harsh message to him "down there."
Steviebomb.
He then draped El Puerto Ricano on the top rope.
Steviebomb #2 followed by a Meanie-sault attempt that failed.
Superkick got the pin for Richards.
Rating: **
Summary: Excellent high-flying by the rookie but he was overmatched by Stevie's charisma here.
Match 4: The Pitbulls (w/ Francine) versus the Eliminators (w/ Jason)
Highlights:
In reference to Francine in 1995, I have three words.
After a pair of slams Pitbull #1 gave Saturn a reverse thrust kick.
After tagging in Pitbull #2 hit an elbow drop from the top rope to Saturn's back.
Powerslam by Pitbull #2 to Kronus.
Dragon suplex by Kronus to Pitbull #2.
Spin kick by Saturn.
Springboard clothesline by Saturn took both men to the floor.
Assisted standing moonsault by Saturn from the ring to the floor.
Somersault leg drop by Kronus.
Belly-to-back suplex.
Briefly Jason choked Pitbull #2 on the second rope.
Pitbull #2 missed an avalanche and vaulted all the way down to the floor. His elbow got busted open.
Saturn mounted the top turnbuckle and hit the Savage elbow.
Top rope huracanrana by Saturn.
Savate kick by Saturn to Pitbull #1 on the apron.
Top rope huracanrana #2 by Saturn countered into a powerbomb.
Behind referee Jim Molineaux's back Jason hit a leg drop on Pitbull #2.
Hot tag Pitbull #1.
Double clothesline by Pitbull #1.
Back elbow by Saturn to Pitbull #2 in the corner.
Kronus mistakenly hit Jason as he held PitBull #1.
Tiger bomb by Saturn to Pitbull #2.
After Pitbull #2 hoisted Kronus on his shoulders Pitbull #1 clotheslined him to the floor.
Pitbulls double-teamed Saturn with a guillotine.
Jason ran in, but Pitbull #2 gave him a press slam.
Handspring back elbow by Kronus to Pitbull #2.
Spinning kick in the corner by Pitbull #2 to Kronus.
Superbomb on Kronus got the pin.
Rating: ***1/2
Summary: The Eliminators were brand new to ECW at this point and showcased themselves well here. This feud by no means was over as it got much more brutal.
After the match Jason manhandles and kisses Francine. As punishment for his indiscretion he eats a chair shot from Pitbull #1. Saturn then dropkicks the chair into Pitbull #1's face then nails Pitbull #2 with a chair to the back. The Eliminators then deliver Total Elimination to Pitbull #1 followed by another one to Pitbull #2.
Match 5 (Mexican death): Rey Mysterio, Jr. versus Psychosis
Highlights:
In this match Psychosis was the rudo while Mysterio was the tecnico. The fans chanted "rudo" at Psychosis upon his entrance.
To add an air of specialty to the match Gertner announced the introductions in both Spanish and English.
Rey was only 20 years old at this point in time.
Flying headscissors by Mysterio.
Primitive version of the 619 by Mysterio got the pinfall.
Each wrestler when pinned had a 10 count to reach their feet. If they could not, the match would end.
Headscissors by Mysterio took both men over the top rope to the floor.
After being reversed on an Irish whip Mysterio attempted to jump atop the steel railing but fell hurting his knee.
Psychosis rewarded his fuck-up by throwing a chair at the face of Mysterio.
After mounting the top turnbuckle Psychosis delivered a missile dropkick.
On trip #2 to the top turnbuckle by Psychosis he hit the moonsault and pinned Mysterio.
Mysterio barely made it up at 9.
Psychosis nailed him with a dropkick in the corner.
Press slam by Psychosis onto the top turnbuckle. OUCH!
With Mysterio on the top turnbuckle Psychosis delivered a double axe handle to the back.
Powerbomb by Psychosis earned him another pin.
Mysterio again up at 9.
Psychosis then ran him over like a Mack truck.
Backbreaker into a gutbuster in the opposite corner.
Make that 2.
Psychosis mounted the top turnbuckle again and delivered a corkscrew senton.
Pin #3 for Psychosis.
Mysterio yet again up at 9.
Dropkick by Psychosis.
Make that 2.
After grabbing a chair Psychosis delivered a DDT on the chair.
A chair shot to the back followed by moonsault #2 by Psychosis got the 4th pin.
Mysterio up again at 9 once more.
Dropkick to the knee by Psychosis.
Another chair tossed by Psychosis.
As Psychosis mounted the top turnbuckle for moonsault #3 Mysterio put the chair on top of himself so Psychosis would land on it. OUCH!
Chair tossed by Mysterio to the face.
With Psychosis on the apron Mysterio delivered a springboard clothesline.
Cross body from the apron by Mysterio took both wrestlers over the steel railing into the front row.
Absolutely gorgeous Asai moonsault by Mysterio.
Both wrestlers made their way through the crowd, and Mysterio nailed him with a few chair shots.
Mysterio then hunted him through the crowd toward the hard camera.
Another chair tossed by Mysterio.
He then mounted the camera area and delivered a huracanrana.
1-2-3. Psychosis could not answer the bell. Mysterio won.
Rating: ****1/2
Summary: Holy frijoles, Batman! These guys threw it all out there and delivered the goods. Check this out if you haven't seen it.
After the match Jason gets into the ring and beckons Mysterio's attention. He then requests to be Mysterio's manager. Rey answers with a leg lariat, arm drag, and headscissors. Immediately the Eliminators hit the ring and demolish Mysterio. Kronus gives Mysterio a slingshot powerbomb. A leg drop by Saturn follows. Leg drops #2 and #3 flatten Mysterio until 911 appears.
As 911 grabs Kronus, Mysterio gives Saturn a top rope huracanrana. A Mysterio dropkick places Saturn in 911's grasp along with Kronus. 911 then proceeds to chokeslam both of them. Mysterio jumps on 911's shoulders as good prevails over evil.
Match 6 for the ECW World tag team titles: Too Cold Scorpio and the Sandman (champions w/ Woman) versus the Public Enemy
Highlights:
At this point in ECW history Scorpio was the ECW TV champion in addition to being World tag team champion.
As per his pre-match ritual Sandman smoked a cigarette and chugged a beer.
The former 4-time World tag team champions hit the ring to a great reaction.
Winner of the pinfall receives a World title shot against Mikey Whipwreck later in the show.
The crowd chanted "Please don't go" to the Public Enemy as they were entertaining offers from both WCW and the WWF at this point in time.
Scorpio challenged Rocco Rock to a dance-off. Joey made a derogatory comment towards Alex Wright.
After Sandman and Scorpio missed a clothesline on Grunge, Rocco mounted the top turnbuckle and clotheslined both men.
Stereo clotheslines over the top rope by both Rocco and Grunge sent the champs to the floor.
Grunge got on the mic and ran down Woman.
Hip toss by Grunge sent Sandman over the top rope to the floor.
Plancha by Rocco.
Scorpio mounted the top turnbuckle and hit a cross body block on Grunge.
Rocco mounted the top turnbuckle and hit a double axe handle on Scorpio.
Chairs were grabbed by all four combatants and a sword fight ensued.
Scorpio with a chair shot to Grunge in the aisle.
He then made Grunge taste the steel railing. It must have tasted like the Philly cheesesteak at Pat's King of Steaks.
While Scorpio swiped a prosthetic hand from a fan to use on Grunge, Rocco nailed Sandman with both a frying pan and a plate of cheese fries.
Despite getting busted open by a prosthetic hand Grunge delivered a Vader bomb to Scorpio.
Rocco nailed Sandman with a pumpkin pie. But where's the whipped cream?
Vertical suplex by Grunge to Scorpio.
Slingshot foot to the face by Sandman. To say his aerial maneuvers looked pathetic would be an insult to pathetic maneuvers. Nevertheless he would win the ECW World title a total of five times in his career.
Headscissors by Rocco to Sandman.
Tilt-a-whirl backbreaker by Sandman.
Slingshot leg drop.
Slingshot splash by Scorpio.
Sidewalk slam.
He missed a dropkick.
Rocco's version of an Asai moonsault (not much altitude) missed.
Superkick by Scorpio.
Double underhook powerbomb by Scorpio.
Standing moonsault by Scorpio hit knees.
Woman nailed Rocco with the Singapore cane.
Make that twice.
Back drop by Grunge to Sandman outside the ring on top of a table that didn't break.
Gourdbuster by Sandman put Grunge through the table.
After placing Sandman on the remains of the table Rocco hit a slingshot somersault senton onto him.
After mounting the top turnbuckle Scorpio delivered a moonsault.
Spinning heel kick by Scorpio.
Hot tag Grunge.
After mounting the top turnbuckle Rocco mistakenly hit Grunge.
A dazed Sandman pinned him to earn the title shot.
Rating: **
Summary: Considering Sandman was the former World champion he was the odds-on favorite to win the match.
After the match Scorpio revives the Sandman with a tall boy of Busch. He subsequently drops the beer. NO! Sandman looks astonished and claims alcohol abuse. However, since it was accidental they embrace. Sandman finishes the beer and smashes the can on his forehead. Hero to ECW fans everywhere!
The J.T. Smith-Axl Rotten match was not included on the WWE Network version of this show. I feel ripped off! Don't you? Send your complaints to them.
Anyways, highlights of the World title match between then-champion Shane Douglas and Sandman were shown. Woman double-crossed Douglas so that he could go play with the Clique in the WWF she could manage the Sandman again. Douglas recruited Pennsylvania State athletic commission-appointed referee Bill Alphonso (last seen in the WWF) to "clean up" ECW by enforcing the rules that he felt were not being followed. Read into that as you will because with his frantic behavior and character style Alphonso became the most hated villain in ECW.
Further highlights show Alphonso delivering a clothesline to ECW commissioner Tod Gordon along with the long-awaited chokeslam by 911 to Alphonso after the double dog-collar match. It had been banned previously by Alfonso but reinstated that evening. Only Heaven and Bill Alphonso know why.
More highlights show Alphonso's bloodying the Commissioner as well as fighting with Beulah.
Match 7: Bill Alphonso versus Tod Gordon
Highlights:
Beulah McGillicutty was the special referee. My opinion of her? Say it with me!
As Gordon was kissing up to Hat Guy for always buying front-row tickets Alphonso clobbered him from behind.
Beulah objected to the action not being in the ring so Alphonso re-entered the ring and pushed her. That earned him a slap.
In retaliation Alphonso decked her with a clothesline. Do you think the audience hated him before? Well they truly LOATHED him after that.
Gordon pounced on Alphonso and walloped him.
He then grabbed the mic and ran down Alphonso.
An offer to shake hands by Alphonso was met with a clothesline.
A vociferous crowd DEMANDED blood.
An extremely primitive version of Seth Rollins' curb stomp by Gordon.
Alphonso answered with a receipt "downstairs."
He then grabbed the mic and ran down Gordon.
Cookie sheet to the cranium by Gordon.
He then rammed Alphonso into the chairs at ringside.
Alphonso was

BUSTED OPEN

!
Gordon then made Alphonso taste the steel railing. It must have tasted like the Whiz Wit at Campo's Deli.
After Gordon brought a frying pan into the ring Alphonso stole it. Before he could use it Gordon landed a shot "down below sea level."
Frying pan shot to the head by Gordon knocked Alphonso out. But where's the referee?
A-ha! Remember that Taz was wearing a referee's shirt earlier? Well, he showed up to officiate the rest of the match.
After being polite and telling Gordon to hook the leg he counted to 2 then knocked Gordon silly!
He placed Alphonso atop Gordon and counted the pinfall.
Rating: DUD
Summary: We have a heel turn, ladies and gentlemen! While this match had ZERO redeeming value from a technical perspective its purpose was to create the monster Taz.
After the match, as the crowd chants for Sabu, Taz curses out the crowd for it. He bitches out the ECW crowd for failing to support him while he was down and out. "What about me?" bemoans Taz. He then tells the crowd off followed by running down Paul Heyman. Next he touts Alphonso as his biggest supporter. The crowd offers a sexual suggestion to him, but he doesn't give a flying you-know-what about them. Now THAT'S a heel turn.
Match 8 for the ECW World title: Mikey Whipwreck (champion) versus the Sandman (w/ Woman)
Highlights:
As Sandman was making his entrance a future Rattlesnake attacked him from behind and took his place in the World title match. Cane shots and a stun gun on the steel railing ensured that Sandman was nowhere near the title match this evening.
Rating: NONE
REAL Match 8 for the ECW World title: Mikey Whipwreck (champion) versus "Superstar" Steve Austin
Highlights:
Austin grabbed the mic, ran down Whipwreck, and referred to him as "Eric Bischoff." HA!
The Sign Guy in the front row had excellent prognostication skills with respect to Austin. I hope he parlayed that into a successful career.
Before the bell Austin attacked Whipwreck, took him outside the ring, and draped him on the steel railing.
After receiving an Irish whip Whipwreck hit the steel railing again.
The crowd taunted Austin with a "Hogan" chant.
Austin then gave Whipwreck the big boot followed by the leg drop.
Laughably it only got 2.
He then tossed Whipwreck over the top rope to the floor.
Again Austin draped him on the steel railing.
Reversal of an Irish whip sent Austin into the steel railing.
Austin tried the old Hollywood Blonde trick of being injured to no avail.
Stun gun by Austin but it only got 2.
Sunset flip by Whipwreck and two handfuls of tights got the pin!
Rating: *
Summary: The underdog story of Mikey Whipwreck continued here as Austin did a great job of putting him over while literally making an ass out of himself.
After the match Austin levels Whipwreck with a clothesline and tosses him out of the ring. Great job, Steve!
Match 9: Hack Meyers versus Sabu
Highlights:
Heyman had "one FUCKING word" for the crowd—Sabu!
Springboard leg lariat by Sabu.
DDT.
Springboard leg lariat with a chair.
Springboard back elbow.
Clothesline in the corner.
Powerslam by Meyers.
He then mounted the top turnbuckle, hit the Coup de Grace, but only got a 1 count as Sabu's leg was on the bottom rope.
He then made Sabu taste the steel railing. It must have tasted like the Schmitter at McNally's.
After mounting the top rope (not the turnbuckle) Sabu nailed Meyers with a guillotine leg drop.
Modified tornado DDT.
Spinning heel kick.
Plancha followed by a huracanrana on the floor.
After whipping Meyers into the steel railing Sabu hit a springboard leg lariat using a chair.
Sabu mounted the top turnbuckle but got caught with a powerbomb.
Standing vertical suplex by Meyers.
He mounted the second turnbuckle, got caught, and then received a victory roll from the top rope. His execution was much better than the one he tried with Alex Wright on Nitro.
Sabu mounted the top turnbuckle, got caught and nailed by a chair.
Guillotine leg drop on the apron by Meyers.
He then mounted the top turnbuckle, but Sabu put him down to the mat the hard way.
Sabu set Meyers up on the table and hit a springboard dive from the ring onto Meyers through the table. "OH MY GOD" is right, Joey.
Atomic Arabian facebuster got the pin for Sabu.
Rating: **1/2
Summary: Great showcase for the returning Sabu. I hope Meyers had plenty of aspirin after this match.
After the match Sabu and Meyers shake hands.
Match 10: Raven and Cactus Jack versus Terry Funk and Tommy Dreamer
Highlights:
Funk got on the mic and ran down Cactus Jack.
Speaking of Foley he wore a Dungeon of Doom t-shirt to the ring. Methinks he was the ONLY fan of that particular contingent.
Outside the ring Funk nailed Cactus with a chair shot to the head.
He then launched the chair into the ring and walloped Raven with it. Great accuracy!
Stevie Richards came to the ring with a trash can full of plunder.
Road sign shots to the heads of Raven and Cactus by Funk.
Dreamer and Funk then put Richards in the shopping cart then ram it into the ring post. OUCH!
Dreamer then nailed Raven with a VCR while Funk walloped Cactus with a snow shovel.
Funk then gave referee Jim Molineaux shots with the dust pan.
He then teed off with a driver to Raven in the "southern hemisphere."
Cheese grater by Dreamer busted Raven open.
Clothesline to Dreamer using a chain by both Raven and Cactus.
A pair of Irish whips by Raven sent Dreamer into the steel railing twice.
DDT by Raven to Dreamer.
Meanwhile Cactus carved Funk's head with a sharp implement.
Raven and Cactus tried the chain clothesline trick again but got rammed together when Dreamer dove on the chain. CLEVER!
DDT by Dreamer to Raven.
A speed limit sign to the head of Dreamer

busted him open

.
Cactus Jack removed his shirt to reveal another underneath. The t-shirt read "Forgive me, Uncle Eric" with Bischoff's picture on the front. HA!
In a cute bit Dreamer pulled Bischoff's face on the shirt in front of Cactus' and walloped him.
Chair shot to Cactus' head by Dreamer.
Double-arm DDT by Cactus to Funk on the chair.
"Tope" by Raven to Dreamer on the floor.
The fans chanted "Vader" at Cactus in an attempt to piss him off.
Taz and Alphonso hit the ring. Alphonso counted the pin fall for Cactus on Funk, but Terry kicked out at 2.
Taz nailed Funk then tried to pin him with his own count, but Dreamer stopped him.
As Dreamer pled to Taz for him to leave Raven nailed him from behind.
Jumping DDT by Dreamer to Raven.
Standard DDT by Dreamer this time.
Piledriver on the chair by Dreamer to Raven.
Funk covered Raven for the pin.
Rating: ***
Summary: If you love garbage brawls with tons of blood then this is your type of main event. Again Dreamer was unable to pin Raven which meant this feud had to continue.
After the match Cactus gives Dreamer a double-arm DDT. Richards enters the ring but eats a superkick from Dreamer. Raven is being mutilated with some barbed wire by Dreamer as Cactus chokes Funk outside the ring. In retaliation Raven delivers a head butt to Dreamer somewhere near this island of Madagascar with the barbed wire on his head. SICK!
Conclusion: Sending the crowd home happy (especially in Philly) was extremely important due to the ramifications of the fire from the show in October.
This show was a rough blueprint for the Attitude Era in the WWF. It contained sex, hardcore violence, profanity, lucha libre, a "comedy" match with angle development, and the return of one of ECW's demigods. What else can you ask for from a great show?
With that being said my recommendation comes with a warning. ECW is NOT family entertainment. This show is not suited for younger audiences. I wouldn't even use it as an introduction to new fans. As evidenced by the crowd reactions within the show the Philly crowd was glued together by a group of smart fans who enjoyed hardcore wrestling. If you haven't seen this show but are somewhat familiar with ECW please enjoy it. If you haven't had a taste of ECW before watch an episode of Hardcore TV on the WWE Network prior to watching a 3-hour TV-MA PPV-quality show.
See you for WWF Survivor Series!
Buyrate: NONE (They were not on PPV yet.)
Comments? Suggestions? Send them to me at rsg@rockstargary.com and follow me on Twitter (@rockstargary202).
Custom Search