WELCOME TO ROCK STAR GARY REFLECTIONS!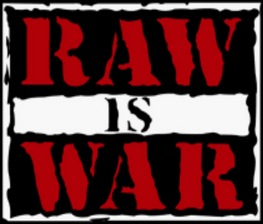 WWF RAW is WAR 8-18-97
Live from Atlantic City, NJ
Airdate: August 18, 1997
Attendance: 8,672 (sold out)
Hosted by Vince McMahon, Jim Ross, & Jerry "The King" Lawler
Can Undertaker and Mankind defeat Michaels and Helmsley? Will either team co-exist? How will Pillman deal with yet another match while wearing a dress? Plus, an update on Stone Cold Steve Austin. Let's dig in!
Opening montage.
To begin the show, Vince interviews "Ravishing" Rick Rude. Interestingly, the Atlantic City faithful did NOT chant "you sold out" at him unlike the Fort Lauderdale faithful last night. Nevertheless, Vince asks Rude who "paid the premium," but Rude dodges the question. While Rude drops some insurance advertising slogans, he promises a Rude Awakening to the nemesis of anyone who pays the premium.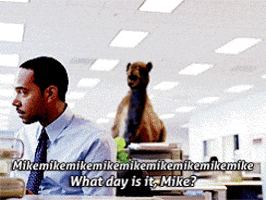 After a commercial break, we see Michaels having a heated discussion with Commissioner Slaughter.
Prior to the opening match, we revisit last week's episode when Animal assisted Hawk in his victory in a "country whippin'" match.
Match 1: The Road Warriors versus Owen Hart & WWF European champion the "British Bulldog" Davey Boy Smith
Highlights:
Ross shilled IYH XVII: Ground Zero as well as the Fatal 4-Way tag match involving the Road Warriors, Hart & Smith, the Godwinns, and Austin & Dude Love.
As Animal flapjacked him, he catapulted Owen into a right hand by Hawk.
Hawk tagged in and gave Owen a hangman's neckbreaker.
When he gave Owen a cross corner whip, Hawk followed with a corner clothesline.
He then gave Owen a second cross corner whip but came up empty on his follow-through.
After Owen distracted referee Earl Hebner, Smith rammed Hawk shoulder-first into the steps. Nefarious!
Owen then delivered a backbreaker and tagged in Smith.
As he gave Hawk a delayed vertical suplex, Smith got 2.
While the Atlantic City faithful chanted "L-O-D," Owen tagged in and slammed Hawk.
He then mounted the second turnbuckle, hit a double axe handle, and got another 2.
When Smith tagged in, a double clothesline put both wrestlers down on the mat.
Hot tag Animal.
After a gorilla press slam, Animal got 2 on Owen.
Speaking of Owen, he rebounded with a spinning heel kick.
He then mounted the opposite top turnbuckle, leaped, but got powerslammed for 2.
Suddenly, the Godwinns came to the ring.
While Hawk and Smith distracted Hebner, Henry CLOCKED Animal with the slop bucket.
1-2-3.
Owen and Smith won.
Rating: **
Summary: Since these teams are very familiar with one another, a quick 5-minute TV match isn't terrible. At the very least, it served as an appetizer for the PPV.
Mmmm...lumpia!
After the match, all three teams fought with each other until officials broke it up.
After a commercial break, Michaels is upset about being "thrown to the lions." Um, back in '97, you would have jumped into the middle of the Roman Coliseum for some soma, Shawn.
Prior to the match, Christopher claims his last match on RAW is WAR was a fluke. Funk rebuts.
Match 2: "Too Sexy" Brian Christopher versus Flash Funk
Highlights:
Sunny was the guest ring announcer for this match. I wonder if Funk was her hookup.
Sorry, Scott, no spoilers.
Although Funk's music played first, Christopher emerged through the entrance.
Christopher slammed and hip-tossed Funk.
As Vince mentioned that Christopher will face Scott Putski at the PPV, Christopher leap-frogged Funk but got slammed.
Funk then hip-tossed and clotheslined Christopher.
When Christopher reversed an Irish whip, Funk dropkicked him over the top rope to the floor.
He then gave Christopher a baseball slide causing him to taste the steel railing. It must have tasted like the Madison Square Garden at the Broadway Burger Bar.
After Christopher delivered the Stroke, he mounted the second turnbuckle and hit a missile dropkick.
He then gave Funk a modified Northern Lights suplex followed by a clothesline.
As he mounted the adjacent top turnbuckle, Lawler left the broadcast table to advise him about a piledriver.
Funk then crotched Christopher, mounted the top turnbuckle, and hit the Funky Flash Splash.
1-2-3.
Funk won.
Rating: *1/2
Summary: For the second week in a row, Funk won unexpectedly.
RAW is WAR is sponsored by Discovery Zone.
Backstage, Helmsley and Chyna chat with Slaughter.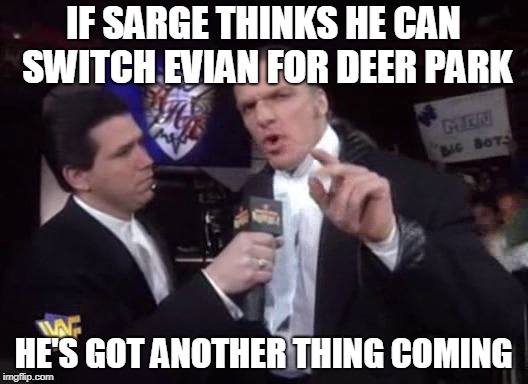 Match 3: Ken Shamrock versus the Sultan (w/ the Iron Sheik)
Highlights:
Albeit subtly, Vince mentioned that WrestleMania XIV will emanate from the Fleet Center in Boston, MA. I wonder if Bret will return the job for Austin during that show.
Shamrock blocked a hip toss and gave Sultan one of his own.
When Shamrock attempted the ankle lock, Sultan immediately grabbed the bottom rope.
Shamrock then attempted a cross body block, but Sultan caught and slammed him.
As Shamrock clotheslined him over the top rope to the floor, Sultan rammed him shoulder-first into the steps.
He then distracted referee Tim White so that Sheik could hammer Shamrock with his flag pole. Devious!
After Sultan delivered a backbreaker, he got 2.
He then gave Shamrock a cross corner whip but came up empty on his follow-through.
When Shamrock slammed him, he clotheslined Sultan.
He then hit a belly-to-belly suplex, and Sheik got up on the apron.
As Shamrock pulled him into the ring, he delivered a belly-to-belly suplex to Sheik.
He then gave Sultan a huracanrana and applied the ankle lock.
After Sultan submitted, Shamrock won.
Rating: *1/2
Summary: Showcase match for Shamrock.
The Nation of Domination comes to the ring along with newest member the Rock. As Ross enters the ring to interview them, the Atlantic City faithful chants "Rocky sucks." Faarooq then derogatorily runs down Ahmed Johnson for wanting to be like Michaels and Austin. When he discusses Vega and Crush, Faarooq mentions their upcoming street fight at the PPV. He then introduces the Rock. Please allow me to transcribe:
"I got three words—die, Rocky, die. That's the gratitude I get from you pieces of crap. For all my blood, my sweat, and my tears...this isn't about the color of my skin. This is about respect. I became the youngest Intercontinental champion in WWF history, and what did it get me? In arenas across the country, I heard chants of 'Rocky sucks.' Well, Rocky Maivia's a lot of things, but 'sucks' isn't one of them.
"It's not a black thing. It's not a white thing. Let's talk about a racist faction...the DoA. The DoA epitomizes racism. To hell with the DoA. I wanna make a point to all you jackass fans out there. Rocky Maivia and the new Nation of Domination lives, breathes, and dies respect. And we will earn respect by any means necessary."
Suddenly, the DoA appears on the Titantron, and Crush refers to them as the "Nation of Constipation." HA! He then challenges the NoD "in the parking lot." The NoD then heads backstage.
HOT TAKE: What a difference a day makes. Since November, plucky rookie Rocky Maivia was a baby-kissing, happy-go-lucky babyface whom the WWF fans detested. Upon returning from injury, the heel version (a.k.a. The Rock) cuts a damn good promo right out of the box. Methinks this guy could amount to something.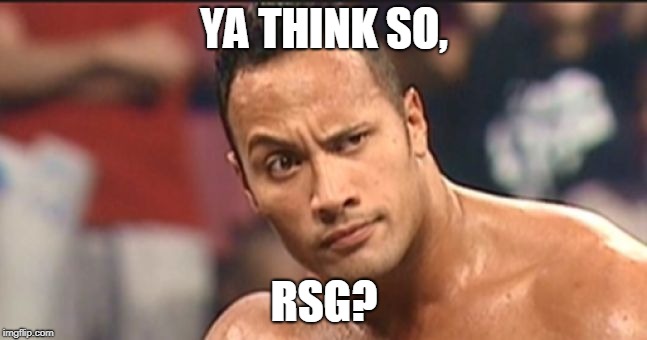 Helmsley along with Chyna subtly references the Curtain Call incident, but Vince interrupts him.
Back in the parking lot, the NoD and DoA brawl with one another. In the meantime, Los Boricuas steal DoA's motorcycles. SNEAKY!
Prior to the next match, we revisit RAW is WAR from two weeks ago as well as last week's show to showcase the dresses Pillman has worn.
Match 4: The "Loose Cannon" Brian Pillman versus Jesse Jammes
Highlights:
For the third consecutive week, Pillman wore a dress to the ring.
After a leap frog, Jammes lifted up Pillman's dress revealing bloomers. HA!
He then gave Pillman a cross corner whip followed by a corner clothesline.
As he mounted the top turnbuckle, Jammes leaped, but there wasn't any water in the pool.
Suddenly, Goldust and Marlena came to ringside while Pillman hit a DDT.
When Goldust entered the ring, he attacked Jammes instead of Pillman.
Oh, he wanted to get Pillman disqualified.
It worked as referee Jack Doan called for the bell.
Jammes won by DQ.
Rating: DUD
Summary: Angle advancement...Next!
At the entrance, Michael Cole interviews Goldust who makes fun of Pillman. Speaking of whom, Pillman grabs the microphone and challenges him to a match at the PPV. What's the stipulation, you ask? If Pillman loses, he'll "leave the WWF forever." However, if Goldust loses, Marlena becomes Pillman's "personal assistant for 30 days." When Goldust refuses, Pillman claims that their daughter Dakota is his daughter and not Goldust's. Oh my!
Quicker than a hiccup, Goldust hits the ring to chase off Pillman, but Marlena accepts the challenge on her husband's behalf. Out of disbelief, Goldust questions Marlena about her acceptance.
WAR ZONE!
Match 5: Patriot versus Vader (w/ Paul Bearer)
Highlights:
At the bell, WWF champion Bret Hart stood at the entrance to watch the match.
Vader gave Patriot a cross corner whip and followed with an avalanche.
After a short-arm clothesline, Vader missed a clothesline.
Patriot then hit a flying shoulder block and crotched Vader with the ring post. OUCH!
When Patriot mounted the top turnbuckle, he hit the Patriot Missile for 2.
Although Vader reversed an Irish whip, Patriot gave him a cross body block for another 2.
He then attempted a sunset flip, but Vader SQUISHED him.
GET OUT THE SPATULA!
As Vader delivered an elbow drop, he gave Patriot another short-arm clothesline.
He then splashed Patriot for 2.
Upon giving Patriot a running body block, Vader hit a second elbow drop.
He then slammed Patriot, mounted the second turnbuckle, but ate knees during a Vader bomb attempt.
When Patriot rebounded with a DDT, he got 2.
Vader then delivered another running body block for 2.
As Patriot gave him an Uncle Slam, he pinned Vader.
Patriot won.
Rating: *
Summary: Showcase match for the #1 contender for the WWF title. Unfortunately, except during patriotic moments, Patriot is NOT over.
After the match, Bret distracts Patriot, and Vader nails him. Upon tossing Patriot back into the ring, Vader clotheslines him. He then slams Patriot while Bret enters the ring. As Bret lays the Canadian flag across Patriot, Vader questions him and breaks the flag pole to a raucous ovation. Following that, Bret and Vader brawl until the Hart Foundation joins the fray. Officials then separate the Patriot and Bret to end the segment. Case in point, Vader got more heat than Patriot.
We then revisit Summerslam '97 when Owen dumped Stone Cold Steve Austin on his head. During analysis of the move, Vince stated it resulted in "spinal shock syndrome."
Next, in an interview taped earlier today in Philadelphia, Ross sits down with Austin. While Austin badmouths the WWF's fruit basket/get-well-soon present, he states that "shit happens" in regards to the receipt of the tombstone. He then vows to get revenge against Owen for it. According to one doctor, he recommended that Austin should be "doing something else." Austin refutes the recommendation and awaits an appointment with a specialist tomorrow.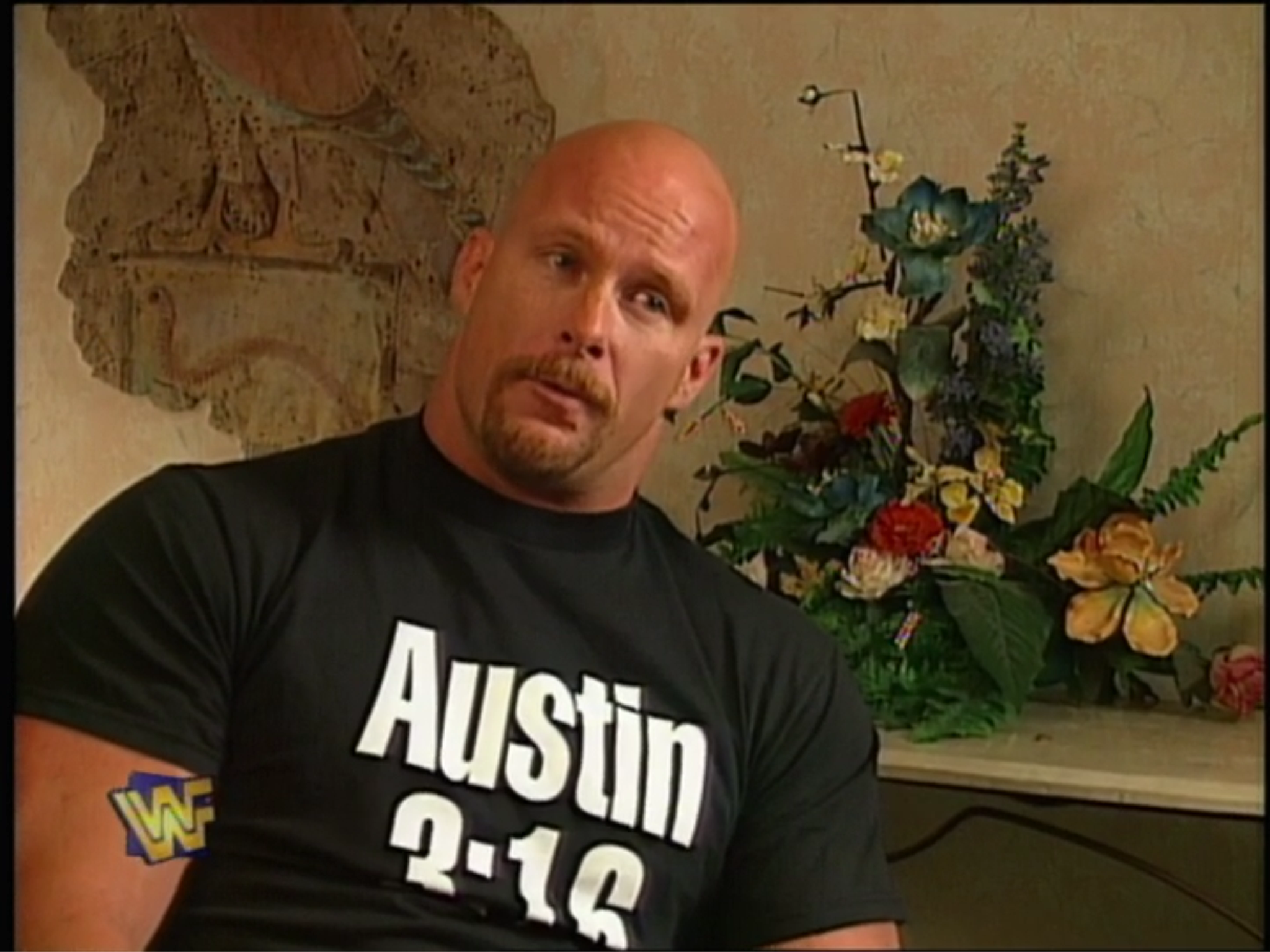 With respect to his future, Austin "may take...a few weeks off," but he's coming back. Nothing's going to stop him, and he'll be at the PPV.
Speaking of which, the PPV is sponsored by Stri-dex.
Match 6: The "Heartbreak Kid" Shawn Michaels & Hunter Hearst Helmsley (w/ Chyna) versus Undertaker & Mankind
Highlights:
If you're seeking the first time that Helmsley and Michaels teamed together, you've found it.
Mankind gave Helmsley a back elbow followed by a discus clothesline.
As Michaels came in, Mankind backdropped him.
He then fought off both Helmsley and Michaels until the latter sought refuge outside the ring.
When Undertaker tagged in, Michaels tried to trip him from the floor.
Helmsley then charged but got backdropped over the top rope onto Michaels.
After Michaels grazed him with Sweet Chin Music, Undertaker fought Helmsley and him off.
Michaels then waved toward the entrance, and Rude came to the ring.
As the show resumed from a commercial break, Michaels slammed Mankind.
Helmsley tagged in, mounted the top turnbuckle, and leaped.
On the other hand, Mankind caught and gave him the Mandible claw.
When Michaels distracted referee Earl Hebner, Chyna tripped and crotched Mankind with the ring post. OUCH!
Michaels tagged in and delivered a flying forearm.
After Helmsley tagged in, he and Michaels gave Mankind a clothesline/school-boy combo for 2.
Mankind then dumped Helmsley to the floor, but Michaels nailed him causing Mankind to fall at Helmsley's feet.
As Helmsley rammed Mankind face-first into the steps, Michaels tagged in and hit a flying back elbow.
Shortly after, he suplexed Mankind, mounted the top turnbuckle, and delivered the big elbow.
He then attempted Sweet Chin Music, but Mankind blocked it.
When Helmsley attempted the Pedigree, Mankind attempted to counter with a catapult.
Helmsley then mule-kicked Mankind who ricocheted from the top turnbuckle and fell onto Helmsley's crotch. Well, they are in SOUTH Jersey.
Sorry, Nucky.
After a hot tag, Undertaker clotheslined and leg-dropped Helmsley for 2.
He then clotheslined Helmsley over the top rope to the floor and nailed Michaels on the apron. That caused Michaels to taste the steel railing. It must have tasted like the Manhattan Project at Wingcraft Kitchen and Beer Bar.
Not THAT Manhattan Project!
As Helmsley attempted to bring a chair into the ring, Mankind nailed him.
Undertaker then gave Michaels a standing choke on the floor but stopped when Rude snuck behind him with a chair.
When he sauntered after Rude, Undertaker chokeslammed Helmsley.
Rude then distracted Undertaker while Michaels brought the chair into the ring.
After Michaels CROWNED Undertaker with the chair, Hebner called for the bell.
Mankind and Undertaker won by DQ.
Rating: **1/2
Summary: Good precursor to the Michaels-Undertaker match at the PPV.
After the match, Undertaker is BUSTED OPEN. Michaels WALLOPS him again with the chair, but he and Helmsley scatter when Undertaker rises to his feet.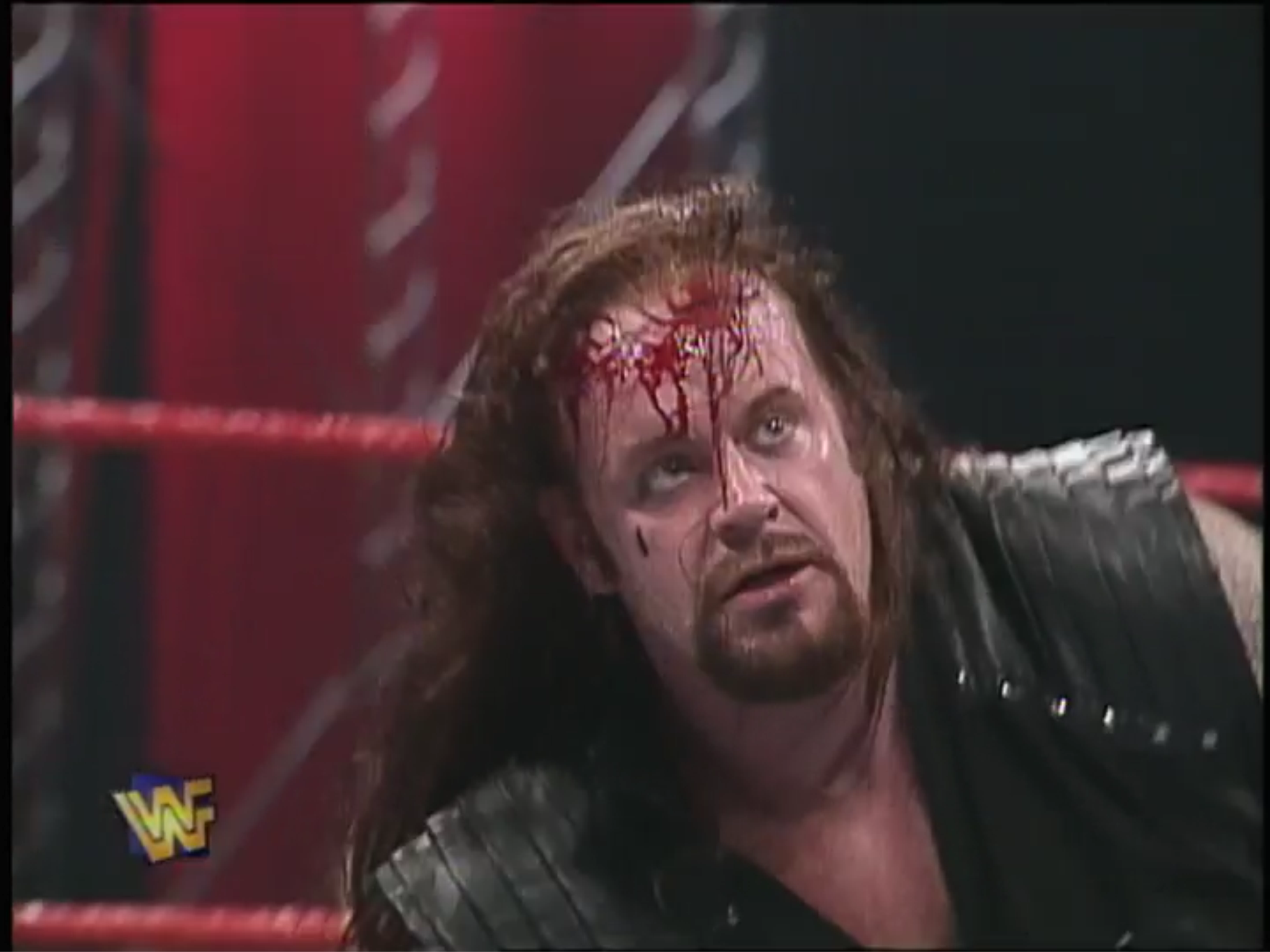 Conclusion: With the US Tennis Open pre-emption imminent, RAW is WAR tried its best to shill the upcoming PPV. The main event did a good job of selling the Michaels-Undertaker match, and the stipulations for the Goldust-Pillman match were set. In addition, the Austin interview brought some much-needed character to the show. Speaking of character, the Rock cut his first heel promo, and it's a doozy. Can all this chocolately goodness help RAW is WAR to defeat Nitro?
TV Rating: 3.2
Who won? Nope, Nitro won by 0.8 despite rehashing its angles and shiling the upcoming Clash. With the pre-emption of RAW is WAR the next two weeks, Nitro will run unopposed. I wonder if anything worthwhile transpires.
Stay tuned for WCW Clash XXXV!
Comments? Suggestions? Send them to me at rsg@rockstargary.com and follow me on Twitter (@rockstargary202).
Custom Search