WELCOME TO ROCK STAR GARY REFLECTIONS!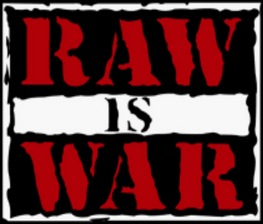 WWF RAW is WAR 7-7-97
Live from Edmonton, AB
Airdate: July 7, 1997
Attendance: 9,500 (7,108 paid)
Hosted by Vince McMahon, Jim Ross, & Jerry "The King" Lawler
While the WWF spends television day two in Canada, what does that mean for Bret and Austin? Read on!
Opening montage.
In the ring, Vince interviews Bret "Hitman" Hart who emerges through the entrance while wearing an Edmonton Oilers jersey. Vince then mentions Bret's challenge for the WWF title against Undertaker at Summerslam '97. While Bret tells the Edmonton faithful "thank you for letting me still be your hero," he voices his pride as a Canadian and name-drops Donovan Bailey, gold medal Olympian.
When Bret mentions his title shot at the PPV, he "won't let (his) Canadian fans down and will be the (WWF) champion for a fifth time." He then promises that if he loses, he "will never, ever, wrestle on American soil again."
Next, he introduces Owen to a big ovation. Owen also wears an Oilers jersey. Afterward, Bret introduces Smith who, according to Ross, will face Shamrock at the PPV. Bret then has the Canadian national anthem played until Austin ambushes them from behind with a steel chair. SNEAKY!
During the commercial break, Bret riles up the Edmonton faithful with more Canadian patriotism aimed in Austin's direction.
Prior to the opening match, Sasuke cut a pre-recorded promo in Japanese. Talk about not recognizing your audience. Sheesh!
Match 1: The Great Sasuke versus Taka Michinoku
Highlights:
After Michinoku made his entrance, Brian Christopher came out for commentary.
Sasuke then gave Michinoku a thrust kick that sent him to the floor.
Next, he gave Michinoku a tope con hilo. Woohoo!
Shortly after, Sasuke hooked a single-leg crab, but Michinoku made the ropes.
He then gave Michinoku a series of kicks followed by a kick that knocked Michinoku silly.
When Michinoku returned to the ring, he mounted the top turnbuckle and hit a missile dropkick.
He then attempted a springboard move but botched it. D'oh!
As he returned Sasuke to his feet, Michinoku hit an Asai moonsault that the camera mostly missed.
Sasuke then escaped a suplex from the apron into the ring and gave Michinoku a release German suplex.
Conversely, Michinoku landed on his feet and delivered an overhead belly-to-belly suplex for 2. Wow!
Upon giving Sasuke a Michinoku driver, he missed a moonsault.
Sasuke then attempted a quebrada but ate a dropkick in mid-air instead.
When Sasuke backdropped Michinoku over the top rope to the floor, he hit a Space Flying Tiger Drop. Amazing!
Michinoku then escaped a suplex back into the ring but couldn't avoid a German suplex with a bridge. As a result, Sasuke got 2.
Finally, Sasuke hit a Thunder Fire powerbomb and pinned Michinoku.
Rating: ***
Summary: Another innovative match between them. Believe it or not, this was Sasuke's last WWF match because his big mouth got him in trouble.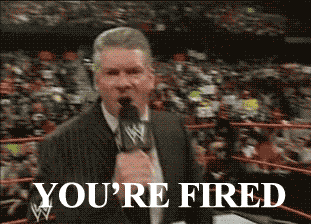 Prior to the next match, we revisit the dissolution of the first iteration of the NoD. We then revisit Shotgun Saturday Night when the DoA and Boricuas brawled with one another.
Match 2: Crush (w/ the Disciples of Apocalypse) versus Savio Vega (w/ Los Boricuas)
Highlights:
After giving Vega a big boot, Crush delivered a backbreaker.
He then missed a second big boot, but Vega responded with a spinning heel kick.
When Crush exited the ring, Los Boricuas tossed him back in. Is this a lumberjack match?
Regardless, when Vega exited the ring upon receipt of a clothesline, a pier-six brawl erupted.
Rating: DUD
Summary: Nothing to see here. Move along.
After the match, Skull and 8-Ball guillotine and injure Jesus on a motorcycle. OUCH! While officials separate the factions, the Edmonton faithful chants "D-O-A."
Vince then shills Summerslam '97 sponsored by Stridex.
Backstage, Bearer's not going to apologize yet describes Kane as "disfigured." He then reiterates his claim that Undertaker is a "murderer."
Here is the bracket for the WWF tag team tournament: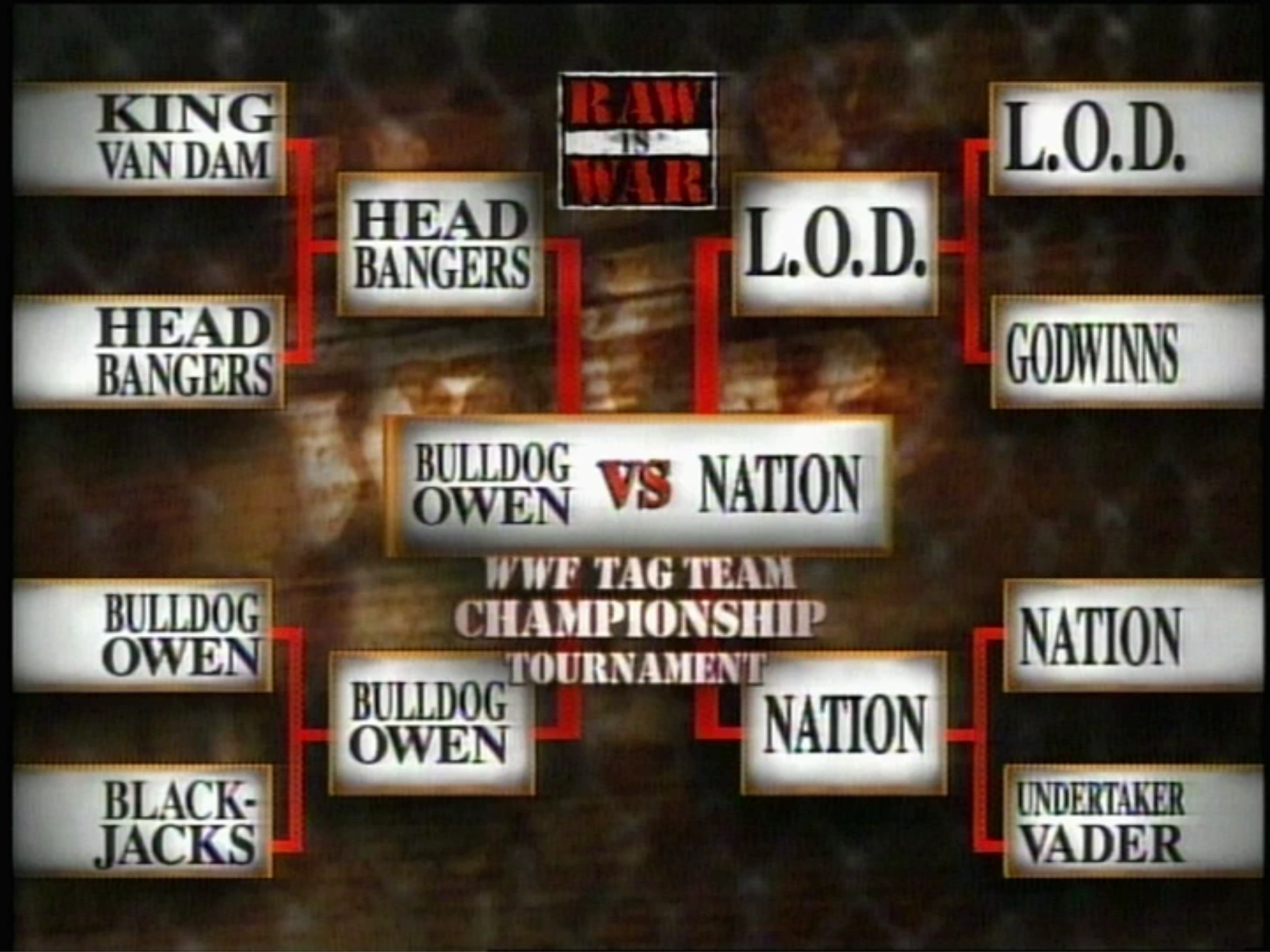 Prior to the next match, Austin doesn't care who his partner is next week against the winner of the next match. Vince then cuts him off after Austin gets angry. Is there tension between Austin and McMahon?
Match 3 for the WWF tag team titles (final): WWF Intercontinental champion Owen Hart & WWF European champion the "British Bulldog" Davey Boy Smith (w/ the Hart Foundation) versus Faarooq & D'Lo Brown (w/ Kama Mustafa)
Highlights:
Winner of the match will face Austin & a mystery partner next week.
As Brown gave Owen a back elbow, he missed an elbow drop.
Tags were exchanged on both sides while the Edmonton faithful chanted "Bull-dog."
After Smith reversed an Irish whip, he powerslammed Faarooq.
He then slammed and clotheslined Faarooq.
When Owen distracted referee Jim Korderas, the NoD triple-teamed Smith.
Brown then slammed Smith and delivered a leg drop for 2.
As Faarooq tagged in, Smith face-planted him.
Brown tagged in and gave Smith a vertical suplex for 2.
After Brown put a knee into Smith's midsection, Ross corrected Lawler on Brown's educational and CPA background.
Owen then distracted Korderas again so the NoD made an illegal switch.
When Faarooq powerslammed Smith, he got 2.
With a poor camera angle, Faarooq ate knees on a splash attempt. C'mon, director!
Shortly after, Faarooq attempted a Dominator, but Smith countered with a back drop.
Hot tag Owen.
Upon dropkicking Brown, Owen hit a spinning heel kick.
Faarooq came in but ate a spinning heel kick too.
As Owen came off the ropes, Kama low-bridged him.
He then slammed Owen on the floor, but Pillman came around to WHACK Kama with a flag pole.
While the Hart Foundation and NoD brawled at ringside, Owen slipped back into the ring.
Owen and Smith advanced to the title match next week.
Rating: **
Summary: Bad finish to a decent match where the Edmonton faithful truly was behind the Hart Foundation.
After the match, Mankind comes to the ring wearing an Austin 3:16 shirt and taunts the Hart Foundation.
Backstage, we return to Austin who cuts a promo on Helmsley and Chyna.
WAR ZONE!
Prior to the next match, we see stills of the Helmsley-Mankind battle at last night's PPV.
Match 4: Stone Cold Steve Austin versus Hunter Hearst Helmsley (w/ Chyna)
Highlights:
It's a battle between the KOTR '96 and KOTR '97 winners. Let's hope Mabel doesn't join the fray.
While Austin made his entrance, he blew his nose on the broadcast table and stole Vince's water.
Due to Helmsley's blade job from last night, he wore a bandage on his forehead.
Austin gave Helmsley a cross corner whip that sent him over the top turnbuckle to the floor.
When Austin joined him on the floor, he guillotined Helmsley with the steel railing.
He then guillotined Helmsley again with the top rope.
After Helmsley escaped a suplex back into the ring, he rolled up Austin for 2.
Austin retaliated with a clothesline for 2.
Upon completion of a commercial break, Austin placed Helmsley atop the top turnbuckle and joined him.
Helmsley then blocked a superplex, leaped from the top rope, but ate boot.
As Austin gave Helmsley a cross corner whip, he ate boot on his follow-through.
Helmsley then delivered a knee drop for 2.
When Austin reversed an Irish whip, he gave Helmsley an inverted atomic drop but ate a clothesline.
Austin then hit a Thesz press while Chyna grabbed a steel chair and left it on the apron.
After Helmsley reversed a cross corner whip, he ate a clothesline.
Austin then came off the ropes, but Chyna tripped him. How dastardly!
As Helmsley clotheslined Austin, Chyna got up on the apron to distract referee Earl Hebner.
Helmsley then grabbed the chair but nailed an incoming Mankind instead of Austin.
When Helmsley returned his attention to Austin, he received a Stone Cold Stunner.
1-2-3.
Austin won.
Rating: **
Summary: Write this one down, as this match-up has legs going forward.
After the match, Vince announces that Michaels will return to RAW is WAR next week. Austin then grabs the microphone and addresses Mankind (a.k.a. "long-haired freak" per Austin). As he offers Mankind a tag team partnership for next week, Mankind doesn't want to shake hands. Instead, he wants a hug. Aw. Austin then gives Mankind the Stone Cold Stunner, grabs the microphone, and informs him "D.T.A., you stupid piece of trash...you ain't gonna be my partner, 'cuz you're a long-haired freak and you suck." Outstanding character work by Austin here.
While Austin leaves, Mankind grabs the microphone asking for respect and friendship. He then threatens him with "drastic measures" next week. Upon making this threat, he claims "the (WWF) will never be the same." You gotta love this dude.
Prior to the next match, we revisit last week's episode when Lawler helped his son defeat Scott Putski. When Vince asks Lawler about a tag match against the Putskis next week, Lawler accepts the challenge.
Match 5: Brian Christopher versus Eric Shelley
Highlights:
Sunny was the guest ring announcer for this match.
After a leap frog, Shelley monkey-flipped Christopher.
Christopher came back with the Stroke followed by a Northern Lights suplex.
When Shelley delivered a standing dropkick, he sent Christopher over the top rope to the floor.
He then attempted a plancha, but Christopher evaded him.
As Christopher re-entered the ring, he mounted the second turnbuckle and hit a missile dropkick.
Shelley came back with a dropkick, gave Christopher a cross corner whip, but came up empty on his follow-through.
From the second rope, Christopher hit an inverted DDT.
He then mounted the top turnbuckle and delivered a guillotine leg drop.
1-2-3.
Christopher won.
Rating: *
Summary: Showcase match for Christopher.
After the match, Lawler joins Christopher in the ring and nails Shelley. They then give Shelley a spike piledriver. When Lawler grabs the microphone, he insults the Edmonton faithful while Christopher challenges any and all Canadians.
RAW is WAR is sponsored by the US Army.
Austin returns to the ring to be interviewed by Vince. As we revisit the aftermath of the main event from last night's PPV, Austin doesn't care who his partner is next week. He then insults WWF President Gorilla Monsoon. When Vince asks him about meeting Owen for the Intercontinental title at Summerslam '97, Austin ups the ante on Bret's stipulation by stating that if he can't kick Owen's ass, he'll kiss it.
Prior to the main event, we briefly revisit the Hart family reunion in the ring from last night's PPV.
Match 6: Bret "Hitman" Hart versus Goldust (w/o Marlena)
Highlights:
Immediately, Bret exited the ring and made Goldust taste the steel railing. It must have tasted like the Augusta at 1st Rnd.
Upon re-entering the ring, Bret gave Goldust an inverted atomic drop followed by a clothesline.
Goldust then attempted a slam, but Bret fell on top for 2.
As he gave Goldust a HARD cross corner whip, Bret mounted the second turnbuckle and delivered a double axe handle.
He then slammed and gave Goldust an elbow smash.
When Bret tied Goldust to the Tree of Woe, the DoA rode their motorcycles through the entrance.
Goldust then made Bret HIT THE POLE and rammed him face-first into the steps.
After the Hart Foundation came to the ring, a commercial break ensued.
Subsequently, Goldust tossed Bret outside the ring and tried to join him.
Pillman then took exception, but referee Earl Hebner got between them.
As Bret rammed Goldust face-first into the apron, he followed with a backbreaker in the ring.
He then mounted the second turnbuckle and hit a flying elbow smash for 2.
Next, he gave Goldust a side-Russian leg sweep for another 2.
Goldust came back with a knee drop for 2.
Suddenly, the Road Warriors and Ken Shamrock came to the ring.
Goldust then delivered a clothesline for another 2.
When he gave Bret a cross corner whip, Goldust ate boot on his follow-through.
To add even more intrigue to the match, Austin stood at the top of the ramp. Overbooked, much?
Bret then delivered a vertical suplex for 2.
After Goldust attempted a sunset flip, Bret hooked his legs.
1-2-3.
Bret won.
Rating: ***
Summary: Despite the overbooking, this was a decent hometown victory for Bret.
After the match, the Hart Foundation joins Bret to celebrate said victory.
Conclusion: The table is somewhat set for Summerslam '97 which contains both a World title and an Intercontinental title match. Also, Bret and Austin have additional stipulations should they lose.
As far as the show goes, quite a bit was promoted for next week's show. First, Lawler and Christopher will tangle with Ivan & Scott Putski. Second, Shawn Michaels returns to RAW is WAR for the first time since King of the Ring '97. Third, Owen and Smith will face Austin and a mystery partner.
TV Rating: 2.5
Who won? Nitro won by a margin of 3.4 to 2.5. While next week's Nitro will have the fallout from the PPV, next week's RAW is WAR has a lot to offer. I can't wait to see what happens. Can you?
Stay tuned for WCW Bash at the Beach '97!
Comments? Suggestions? Send them to me at rsg@rockstargary.com and follow me on Twitter (@rockstargary202).
Custom Search