WELCOME TO ROCK STAR GARY REFLECTIONS!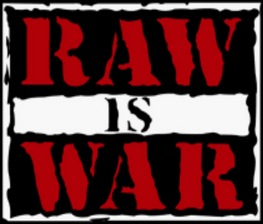 WWF RAW is WAR 6-16-97
Live from Lake Placid, NY
Airdate: June 16, 1997
Attendance: 2,773
Hosted by Vince McMahon & Jim Ross
Who will join the Nation of Domination and who will join Austin against the Hart Foundation at the PPV? Read on!
Opening montage.
As the program begins, Vince and Ross discuss the ramifications of the fight between Bret Hart and Shawn Michaels last week prior to RAW is WAR. According to Ross, Michaels will be out "four to six weeks." Since he's not available, Vince declares a tag team tournament. An added stipulation to winning the tournament will be to face Austin and "a partner of his choice."
Speaking of Austin, he comes to the ring with Vince interviewing him. While he states that he doesn't need a partner, Mankind interrupts from the Titantron. He wants to be Austin's partner, but Austin rebuts by calling him a "freak." When Austin mentions Michaels' long hair and ass-shaking, Mankind retorts with "I've got a nice ass."
Vince then notes that Austin will face Pillman tonight. We then revisit last week's show when the Hart Foundation attacked Austin costing him his opportunity against Pillman. As Austin guarantees that he will beat Pillman, Vince mentions that the Hart Foundation will be handcuffed around the ring.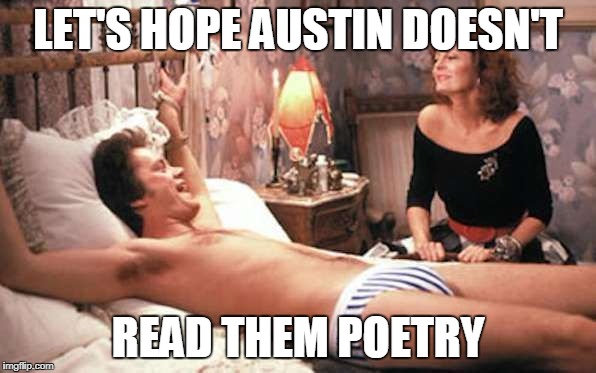 Suddenly, Ken Shamrock comes to the ring and challenges Austin for a match TONIGHT. Although Shamrock's ready to throw down immediately, Austin advises him to wait until after he finishes off Pillman. Shamrock accepts.
Promo airs for 'Cause Stone Cold Said So. Back in '97, I bought this videotape and recommend it highly.
Vince then shills the Summerslam $1 million chance sponsored by Discovery Zone.
We then revisit King of the Ring '97 when Austin gave Pillman a swirlie. As Pillman objects to handcuffs upon his stablemates, he cuts a promo on Shamrock and Austin.
Earlier today, Windham and Bradshaw cut a promo on Owen and Smith.
Also, earlier today, Owen and Smith cut a promo on the new Blackjacks and Austin.
Match 1 for the WWF tag team titles (quarterfinal): WWF Intercontinental champion Owen Hart & WWF European champion the "British Bulldog" Davey Boy Smith versus the Blackjacks
Highlights:
After Owen missed a spinning heel kick, Windham delivered a lariat for 2.
Bradshaw tagged in and gave Owen a back elbow.
As Windham tagged in, he booted Owen in the head.
He then hit a vertical suplex for 2.
When Owen countered with an overhead takedown, Smith tagged in, and they broke the wishbone on Windham. OUCH!
Smith then gave Windham a back drop followed by a delayed vertical suplex.
After Owen tagged in, he mounted the top turnbuckle and hit a missile dropkick.
He then applied a sleeper until Windham countered with a belly-to-back suplex.
As Bradshaw tagged in, he gave Smith a big boot.
He then delivered a short-arm clothesline to Smith followed by a clothesline to Owen.
When he gave Smith a powerslam, Bradshaw got 2.
He then hooked a side-Russian leg sweep but couldn't get 3 due to Windham's distraction of referee Mike Chioda.
With all four wrestlers in the ring, Owen hit a spinning heel kick to Bradshaw.
Smith then pinned Bradshaw as he and Owen advanced.
Rating: **
Summary: Were you truly expecting an upset here? I'd hope not, because the new Blackjacks are NOT over.
We then revisit last week's episode when Johnson and the Road Warriors defeated the Nation of Domination after Savio and Crush deserted Faarooq. After he fired them, Faarooq challenged Undertaker and Johnson for a match this week.
Vince then interviews Undertaker with Bearer. When Undertaker begins to speak, Bearer exerts his mind control over him due to the infamous family secret.
Back in the locker room, Shamrock cuts a promo on Austin.
Prior to the next match, Mankind came to the ring last week only for Helmsley to nail him with the crown. Unfortunately, Helmsley forgot the crown, and Mankind placed it atop his head.
Match 2: Hunter Hearst Helmsley (w/ Chyna) versus Phineas Godwinn
Highlights:
Before the bell, Chyna manhandled a ring attendant.
After Phineas gave him a back elbow, Helmsley retaliated with a face crusher.
He then gave Phineas a high knee and tossed him out of the ring.
While Helmsley distracted referee Earl Hebner, Chyna nailed Phineas.
Helmsley then tossed Phineas back in, mounted the top turnbuckle, leaped, but ate a clothesline.
As Phineas rebounded with a back drop, he gave Helmsley a cross corner whip resulting in a Helmsley flip.
He then clotheslined Helmsley and attempted the Slop Drop.
Abruptly, Chyna got up on the apron to distract Phineas.
When she shoved Phineas, Chyna received a lip lock much to the delight of the Lake Placid faithful.
Phineas then turned around only to fall victim to a Pedigree.
1-2-3.
Helmsley won.
Rating: *
Summary: Showcase match for Helmsley.
After the match, Henry Godwinn comes to the ring and reads Phineas the riot act.
The Sega Slam of the week is a springboard clothesline from Mosh to RVD during their match on Shotgun Saturday Night (aired 6/14, taped 6/9).
RAW is WAR is sponsored by the US Army and 1-800-COLLECT.
From the locker room, Faarooq with D'Lo Brown promises to add two new members to the Nation of Domination.
Match 3: Chris Candido (ECW) versus Brian Christopher (USWA)
Highlights:
Sunny was the guest ring announcer, and Uncle Paul joined the broadcast table for this match.
After a leap frog, Christopher countered Candido's leap frog with an inverted atomic drop.
He then delivered an enziguri as Uncle Paul shilled the next ECW PPV on 8/17.
Next, Christopher gave Candido a back drop, reversed a cross corner whip, but received a swinging neckbreaker.
Candido then mounted the second turnbuckle and hit a leg drop for 2 as a portion of the Lake Placid faithful chanted his name.
When Candido placed Christopher atop the top turnbuckle, he delivered a super huracanrana.
Meanwhile, Uncle Paul SHOCKINGLY revealed that Christopher was Jerry Lawler's son.
That caused Lawler to come to ringside, manhandle Uncle Paul, and pull Christopher off his boy.
As a result, referee Jack Doan called for the bell disqualifying Christopher.
Rating: ½*
Summary: More ECW crossover to fill the show.
After the match, RVD, Christopher, and Lawler triple-team Candido until Tommy Dreamer chases them off with a steel chair.
Backstage, Johnson wants the Undertaker to do it "the easy way." Methinks he didn't mean this song.
After a commercial break, we revisit what transpired beforehand.
Ross then shills the WWF calendar:
Friday (6/20) in Philadelphia, PA.
Saturday (6/21) in Uniondale, NY.
Sunday (6/22) in Hershey, PA.
Next Monday (6/23) in Detroit, MI (LIVE RAW is WAR)
Saturday (6/28) in Anaheim, CA Wow! Both WCW and the WWF hold shows in the Los Angeles area on that night. WCW's attendance: 11,000. WWF's attendance: 9,400.
Monday (6/30) in Des Moines, IA.
We then see footage from Toronto Skydome as Vince acknowledges the supposedly positive response from the Canadian faithful.
Backstage, Neidhart runs down the handcuff stipulation. C'mon, Jim, we all know how Natty was (allegedly) conceived.
Prior to the next match, we revisit last week's episode when Marlena slapped Smith prompting Shamrock to come to her rescue.
Match 4: Goldust (w/ Marlena) versus Jim "The Anvil" Neidhart
Highlights:
Goldust gave Neidhart the ten-punch count-along.
When Neidhart came back with a knee to the midsection, Goldust reversed a cross corner whip and clotheslined him.
He then slammed Neidhart as Smith came to ringside.
After an elbow smash, Goldust got 2.
Meanwhile, Smith sauntered after Marlena and blocked a slap.
Goldust then came to her rescue and nailed Smith.
Seeing Goldust distracted, Neidhart gave him a double axe handle.
Back in the ring, Goldust nailed Neidhart with an uppercut.
1-2-3.
Goldust won.
Rating: DUD
Summary: Showcase match for Goldust as the Smith angle moves along.
Backstage, Austin's ready for the Hart Foundation as well as Shamrock.
After a commercial break, we revisit the highlights of hour #1.
HOUR #2!
Match 5: Stone Cold Steve Austin versus the "Loose Cannon" Brian Pillman (w/ the Hart Foundation)
Highlights:
Neidhart, Smith, and Owen were handcuffed to ring posts.
After Austin gave PIllman an inverted atomic drop, he delivered a stungun.
Pillman came back by reversing a cross corner whip only to eat a clothesline.
When Pillman mounted the top turnbuckle, Austin caught and crotched him on the top rope. YEE-OUCH!
Owen then consoled Pillman outside the ring while Austin manhandled Smith and made him HIT THE POLE.
PIllman then sauntered after Austin with a chair, but Austin made him eat that too.
As a result, Pillman's nose was supposedly broken, and he was

BUSTED OPEN

.
As Austin pounded on both Neidhart and Owen, Pillman procured a cable to choke him.
During the commercial break, Pillman rammed Austin shoulder-first into the steps.
Afterward, Pillman clotheslined Austin for 2.
While referee Mike Chioda checked on him, Austin gave Pillman his trick knee.
Pillman then upended Austin and got another 2.
When Pillman hooked a sleeper, Austin countered with a jaw breaker.
As Ross shilled IYH XVI, Austin stomped a mudhole on Pillman.
Chioda then admonished him so Austin gave him the Stone Cold Stunner.
With Chioda

OUT COLD

, Pillman blatantly nailed Austin down near Lake George.
He then pulled a foreign object out of his tights and WALLOPED Austin.
When Doan replaced Chioda, Pillman only got 2.
Meanwhile, Owen stole the handcuff key from Chioda and unlocked himself. How devious!
After Owen entered the ring to attack Austin, Doan called for the bell disqualifying Pillman.
Rating: *
Summary: When I think of an Austin-Pillman match that involves both blood and a ref bump, this was NOT what I imagined.
After the match, Austin gives Owen and Pillman a double noggin knocker until Neidhart nails him from behind. As the Hart Foundation pummels Austin 4-on-1, Mankind, Shamrock, and Goldust hit the ring to even the odds. When all is said and done, only Austin and Shamrock remain in the ring. Austin then tries to nail Shamrock only to receive a belly-to-belly suplex.
As Austin returns to his feet, he takes down Shamrock to brawl with him.
Suddenly, the Road Warriors and Goldust hit the ring to separate them. Goldust then grabs the microphone and admonishes Austin for falling for the heels' bait. As he suggests the five of them face the Hart Foundation at the PPV, he gets a good response from the Lake Placid faithful. Austin reluctantly accepts them as his partners if only for one night.
Promo #2 for 'Cause Stone Cold Said So airs.
The WWF Rewind sponsored by Super Soaker is Austin's Stunner on Chioda.
Back in the locker room, the Hart Foundation are ready for their PPV challengers as a bloody Pillman goes maniacal.
Match 6: Tommy Rogers versus Bobby Fulton
Highlights:
Sable was the guest ring announcer for this match.
It's the battle of the Fantastics! Say it isn't so!
Believe it or not, Fulton actually had short, brown hair rather than a blond mullet.
At the onset, Fulton dropkicked and slammed Rogers.
Rogers came back with his own slam and dropkick.
After a hip toss by Rogers, Fulton delivered a spinning heel kick for 2.
With Rogers on the floor, Fulton gave him a baseball slide causing him to taste the steel railing. It must have tasted like the Fried Green BLT at Smoke Signals.
Back in the ring, Fulton attempted a piledriver, but Rogers countered with a back drop.
He then delivered a dropkick, but Fulton took him down and tried to pin him with his feet on the ropes. As you might expect, referee Jack Doan would have none of it.
Suddenly, Rogers hit the Tomikaze.
1-2-3.
Rogers won.
Rating: DUD
Summary: Wrong venue for this match as it would have generated a better response south of Baltimore.
After the match, "Wildman" Marc Mero escorts Sable backstage.
Prior to the next match, the Headbangers provide a wacky promo about winning the WWF tag team titles.
Match 7 for the WWF tag team titles (quarterfinal): The Headbangers versus "Mr. Monday Night" Rob Van Dam & Jerry "The King" Lawler
Highlights:
Mosh gave RVD a cross corner whip followed by a splash back-first.
As Thrasher tagged in, the Headbangers gave RVD a flapjack.
He then delivered a gutwrench suplex for 2.
After a cross corner whip, Thrasher ate boot on his follow-through.
RVD then mounted the top turnbuckle, flipped over Thrasher, and monkey-flipped him.
Upon mounting the second turnbuckle, he hit a flying thrust kick.
Shortly after, RVD slammed him, mounted the top turnbuckle, and hit the ***** frog splash.
Lawler tagged in and got 2.
As he slammed Thrasher, Lawler missed a fist drop.
Lukewarm tag Mosh.
While Lawler piledrove Thrasher, Mosh hit a springboard clothesline sending RVD to the floor.
Lawler then taunted Uncle Paul and Dreamer as referee Billy Silverman was focused on the action outside the ring.
In the meantime, Sandman hit the ring and crotched Lawler with his Singapore cane. At that very moment, Lawler qualified for the Northern Adirondack Vocal Ensemble as a soprano.
From the second rope, Thrasher gave Mosh a front suplex atop Lawler.
1-2-3.
The Headbangers advanced.
Rating: *
Summary: More ECW filler.
After the match, RVD brawls with Dreamer and Sandman in the front row until officials separate them.
Backstage, Johnson, Undertaker, and Bearer are ready as Johnson chews out Undertaker about Bearer.
RAW is WAR is sponsored by RAW Magazine.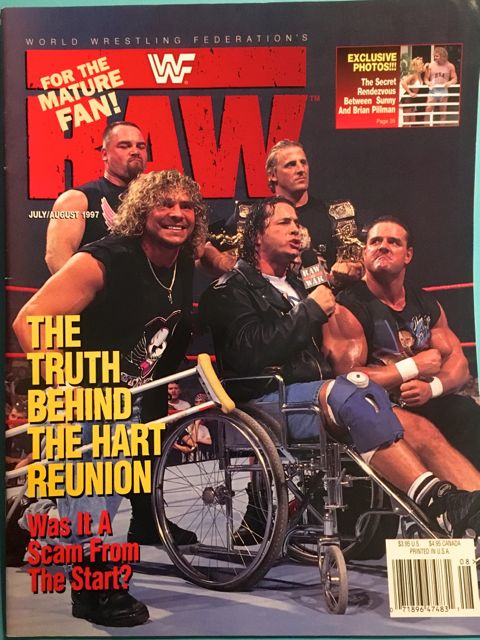 Prior to the main event, we revisit RAW is WAR from two weeks ago when Undertaker chokeslammed Johnson. Following that, we revisit King of the Ring '97 when Johnson gave Undertaker some comeuppance with a Pearl River Plunge.
Match 8: The Nation of Domination versus WWF Champion Undertaker & Ahmed Johnson (w/ Paul Bearer)
Highlights:
When Faarooq made his entrance, he introduced Kama Mustafa as a new member and partner for this match. C'mon, Charles, where's the Papa Shango garb?
As Mustafa nailed him from behind, he gave Undertaker a cross corner whip followed by an avalanche.
He then gave Undertaker another cross corner whip but ate a clothesline.
After a slam, Undertaker came off the ropes, but Faarooq put a knee into his back.
Faarooq tagged in, and the NoD gave Undertaker a double clothesline.
When Undertaker came back with a Rocker Dropper, Mustafa tagged in.
He then slammed Undertaker and tossed him outside the ring.
While Johnson distracted referee Earl Hebner, Faarooq and Brown double-teamed Undertaker. How dastardly!
After a commercial break, Undertaker hit a flying clothesline.
Faarooq then reversed an Irish whip only to receive a chokeslam for 2.
As Mustafa tagged in, Johnson sauntered after Bearer making him unavailable for a hot tag.
Vince and Ross then speculated that the next newest member would either be Butch Reed, Abdullah the Butcher, or Junkyard Dog. HA!
Meanwhile, Mustafa gave Undertaker a uranage.
1-2-3.
The NoD won.
Rating: ½*
Summary: More angle than match as you will see.
After the match, the NoD tries to triple-team Undertaker until Johnson intervenes. As Undertaker struggles to his feet, Johnson delivers a Pearl River Plunge to him. WE HAVE A HEEL TURN! Johnson has joined the NoD.
Conclusion: This show reminded me of RAW back in late '96 when everything (minus Austin) needed canned heat to earn a response. Nothing rose above ** which makes this one of the worst episodes in RAW's history.
TV Rating: 2.4
Who won? Do we even need to ask? With NBA World Champion Chicago Bull forward and celebrity nWo member Dennis Rodman on Nitro, RAW is WAR got SLAUGHTERED 3.3 to 2.4. With nothing promised for next week, I don't see RAW is WAR turning it around.
Stay tuned for WCW Monday Nitro 6-23-97!
Comments? Suggestions? Send them to me at rsg@rockstargary.com and follow me on Twitter (@rockstargary202).
Custom Search