WELCOME TO ROCK STAR GARY REFLECTIONS!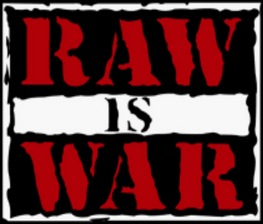 WWF RAW is WAR 6-9-97
**BREAKING NEWS** According to Meltzer, at 7:20pm (37 minutes before show time), Bret Hart and Shawn Michaels had a legitimate pull-apart brawl in the locker room. Based upon previous events that may have impacted Bret's personal life, Bret and Shawn fought and were immediately pulled from tonight's program. In the end, Bret tweaked his surgically repaired knee while Michaels lost a large clump of hair resulting in a "bald spot."
Live from Hartford, CT
Airdate: June 9, 1997
Attendance: 7,164
Hosted by Vince McMahon & Jim Ross
Opening montage.
Match 1 (six-man): The Road Warriors & Ahmed Johnson versus the Nation of Domination
Highlights:
As the Hartford faithful heartily chanted "L-O-D," Hawk gave Vega a hip toss followed by a dropkick.
He then followed with a cross corner whip and cemented it with a corner clothesline.
When Animal tagged in, he did the same to Crush.
After Crush missed a big boot, Animal took him down with a flying shoulder block.
He then delivered a dropkick sending Crush over the top rope to the floor.
While there, Hawk mowed him down with a clothesline.
Crush then tagged in a reluctant Faarooq.
Since the Hartford faithful wanted Johnson in, Animal did the honors.
Faarooq then gave Johnson a cross corner whip but ate a scissors kick.
While Johnson distracted referee Mike Chioda, the Road Warriors double-teamed Faarooq.
Animal tagged in and gave Faarooq a powerslam for 2.
As Johnson tagged in, he delivered a spinebuster.
Faarooq couldn't tag out thanks to a conference between Clarence Mason, Crush, and Vega.
After Hawk tagged in, he gave Faarooq a standing leg drop.
He then clotheslined Faarooq and hit a fist drop.
When Animal tagged in, he clotheslined Faarooq.
Johnson tagged in and tossed Faarooq outside the ring.
As he distracted Chioda, the NoD briefly argued until the Road Warriors made a Nation sandwich. Pass the pickles!
Johnson then gave Faarooq a cross corner whip, whipped Animal into him, and followed with a whip of Hawk into him.
While the rest of the NoD left ringside, Johnson hit the Pearl River Plunge on Faarooq.
1-2-3.
The Road Warriors and Johnson won.
Rating: **
Summary: This has to be the nail in the coffin for the NoD. They're disjointed and worthless.
TV Rating: 2.2 (according to Meltzer)
Promo airs for the replay of KOTR '97. ORDER NOW!
RAW is WAR is sponsored by Castrol and 1-800-COLLECT.
In the ring, Vince interviews the 1997 Jobber, er, I mean, King of the Ring, Hunter Hearst Helmsley with Chyna. When Vince questions Helmsley's actions against Mankind last night, Helmsley peels back the curtain and indirectly points to the Curtain Call cancelling his opportunity last year. In fact, he calls it Vince's "politics." Similar to Austin's speech last year, Helmsley challenges any and all comers.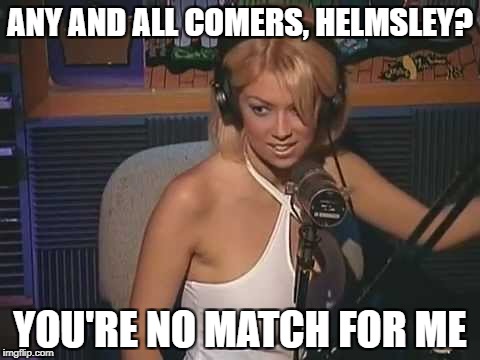 You tell 'im, Jenna.
Suddenly, from the Titantron, Mankind interrupts Helmsley's proud yet surly moment in the sun and requests a rematch. While Helmsley believes Mankind doesn't "deserve anything," Chyna speaks for the first time and tells Mankind to kiss her ass. Mankind's reply: "It's your lucky day, because I'm a good kisser." HA!
Mankind then comes to the ring, but Helmsley WALLOPS him with the crown. When Helmsley exits, he forgets his crown. Mankind then grabs it and puts it on his head to a raucous ovation.
Sunny then shills the RAW is WAR t-shirt for $25. Call now!
We then revisit the path that Smith took to become the first-ever WWF European champion.
Match 2 for the WWF European title: The "British Bulldog" Davey Boy Smith (champion) versus Goldust (w/ Marlena)
Highlights:
After a hip toss, Goldust delivered a lariat.
Smith came back with a delayed vertical suplex, but Goldust retaliated with a clothesline.
Upon giving Smith a cross corner whip, Goldust followed with the Flip, Flop, and Fly.
Smith then gave Goldust a cross corner whip and attempted the running powerslam.
However, Goldust escaped and hit the DDT.
Do we have a new champion?
1-2-3!
WE HAVE A NEW CHAMPION!
Wait a minute! Referee Tim White noticed Smith's foot on the bottom rope and restarted the match.
When Goldust missed an elbow drop, Smith got 2.
Shortly after, Goldust hit a cross body block but spilled outside the ring.
Smith then joined and brawled with Goldust.
After a ten-count, White called for the bell.
Ring announcer Tony Chimel stated the match result was a double count-out.
Smith retained.
Rating: **1/2
Summary: The match had its moments, and the Hartford faithful would have exploded had Goldust actually won.
After the match, Smith drops Goldust head-first onto the steps. When Marlena confronts him, she slaps Smith. He then tosses Goldust into the ring as Marlena slaps him a second time. Next, he grabs a steel chair while Marlena protects her husband. Before Smith can use the chair, Ken Shamrock rescues her and shoos him away. What a hero!
Not THAT kind of hero!
Ross then shills the $1 million Summerslam chance.
Backstage, Dok Hendrix stands outside the NoD locker room. When Faarooq emerges, he mentions that he'll make a statement in the ring. Hendrix then enters the NoD locker room to find Crush and Vega arguing. Afterward, Vega yells at Faarooq en español. Crush then threatens bodily harm to Hendrix.
In the ring, Ross interviews Faarooq who FIRES Vega, Crush, and the rest of the NoD except D'Lo Brown. Clarence Mason stands incredulous to the decision but leaves nonetheless. Next week, Faarooq will form a "new Nation." Also, he challenges Undertaker and Johnson to a tag match.
We then revisit Superstars from 10/27/1996 when Austin attacked Pillman returning him to the shelf.
Ross then shills the WWF Superstar Line with promises of "locker room news" about Hart and Michaels.
Prior to the next match, Tommy Dreamer and Uncle Paul make their way through the Hartford faithful.
Match 3: The Headbangers versus Doug Furnas & Philip LaFon
Highlights:
While the Hartford faithful chanted "E-C-W," Mosh dropkicked LaFon.
Furnas tagged in as did Thrasher.
When Thrasher tagged in, the Headbangers gave Furnas a double flapjack.
Thrasher then delivered a sidewalk slam for 2.
As Mosh distracted referee Billy Silverman, LaFon and Furnas gave Thrasher a double guillotine using the top rope.
Furnas then delivered an overhead belly-to-belly suplex and tagged in LaFon.
Speaking of LaFon, he whipped Thrasher into the corner and hit a corner clothesline.
He then delivered a snap suplex and tagged in Furnas.
As Furnas hit a dropkick, he got 2.
Again, Mosh distracted Silverman so Furnas and LaFon double-teamed Thrasher.
Furnas then gave Thrasher a powerslam for another 2.
When the Hartford faithful chanted for Uncle Paul, Furnas hit a huracanrana, but Mosh saved Thrasher from getting pinned.
Thrasher then caught and powerslammed LaFon.
As Thrasher made the cover, Furnas mounted the top turnbuckle but splashed his partner instead of Thrasher.
1-2-3.
The Headbangers won.
Rating: **
Summary: Meaningless tag match that the Hartford faithful ignored. This was serious change-the-channel stuff.
TV Rating: 1.9
We then revisit RAW from 11/4/1996 when Austin beat up Pillman's friends before almost getting shot in the Pillman house.
The Sega Slam of the Week is the Pedigree by Helmsley through the broadcast table last night.
We then revisit highlights from hour #1.
HOUR #2!
In the ring, Vince interviews Austin who comes to the ring to a good ovation. Vince then questions the swirlie Austin gave Pillman last night. After Austin cuts a promo on Pillman, Vince mentions the ten-man tag match at In Your House XVI: Canadian Stampede on 7/6. Austin volunteers to be the first wrestler opposite the Hart Foundation that evening.
Promo #2 airs for the replay of KOTR '97. Order NOW!
Vince then reads some comments from AOL users about the PPV from last night. I'm surprised the users didn't use "LOL" or "A/S/L."
Before the next match, allow me to insert some context from ECW Wrestlepalooza '97 that will explain the circumstances.
According to the WWF, its promo for Summerslam '96 won an award at the PromaxBDA Awards.
Match 4: "Mr. Monday Night" Rob Van Dam (w/ Jerry "The King" Lawler) versus Flash Funk
Highlights:
As RVD made his entrance, Uncle Paul and Dreamer tried to attack them from the front row.
Despite being hoarse, Lawler joined the broadcast table for this match.


After RVD missed a spinning heel kick, Funk dropkicked him.
He then gave RVD a baseball slide followed by a plancha. Woohoo!
As RVD came back, he hit a somersault plancha. Double woohoo!
Back in the ring, he gave Funk Rolling Thunder.
Funk came back with a spinning heel kick for 2.
Upon whipping RVD into the corner, Funk hit an avalanche.
When he gave RVD a T-bone suplex, Funk mounted the top turnbuckle and delivered a moonsault for 2.
He then missed another spinning heel kick, but RVD didn't miss a spinning thrust kick.
Next, RVD hit a standing moonsault for 2.
As Funk attempted a huracanrana, RVD countered with a powerbomb.
He then hooked a somersault rollup for another 2.
After Funk delivered an enziguri, he gave RVD a cross corner whip but ate boot on his follow-through.
RVD then slammed Funk, mounted the top turnbuckle, and hit the split-legged moonsault.
1-2-3.
RVD won.
Rating: ***
Summary: Showcase match for RVD with some good offense from Funk too.
TV Rating: 2.6
After the match, Uncle Paul jumps the steel railing to attack Lawler. When Lawler turns the tables, Dreamer joins the fray only to be cut off by RVD. Officials try to separate them with extreme difficulty.
WAR ZONE is sponsored by RAW Magazine.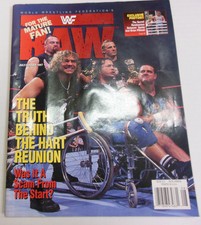 Match 5 (non-title): WWF Intercontinental champion Owen Hart (w/ Jim "The Anvil" Neidhart) versus Sycho Sid
Highlights:
Shamrock joined the broadcast table for this match.
Owen attacked Sid at the bell and choked him with Sid's vest.
As Sid face-planted Owen, he followed with a big boot.
He then shoved Owen over the top rope to the floor.
When Neidhart distracted Sid, Owen grabbed his opponent by the legs and rammed his left knee into the ring post.
Owen then distracted referee Mike Chioda so that Neidhart could continue to punish Sid. SNEAKY!
In the meantime, smarks in the audience forecasted Raven on Nitro tonight as well as "Mr. Perfect" on 6/30. If you've read my Nitro reflection already, you'd know Raven did not appear.
Owen then attempted a Sharpshooter, but Sid blocked it.
Next, Sid gave Owen a cross corner whip but came up empty on his follow-through.
Owen then mounted the top turnbuckle and hit a missile dropkick.
As Owen distracted Chioda again, Neidhart guillotined Sid using the steel railing. How dastardly!
Neidhart then tossed Sid back into the ring while Shamrock left the broadcast table.
When Shamrock caught up with him, he gave Neidhart a belly-to-belly suplex on the floor.
Sid then reversed an Irish whip and chokeslammed Owen.
1-2-3.
Sid won.
Rating: **1/2
Summary: Owen carried Sid to a serviceable level. This would mark Sid's last wrestling match in the WWF.
We then revisit Shotgun Saturday Night when Austin attacked Pillman who was at the broadcast table.
After a commercial break, Sable shills the RAW is WAR t-shirt. Before she exits, Marc Mero pulls her behind the curtain.
Prior to the next segment, Ross apologizes and wishes that he hadn't participated in it.
Mankind interview (part four): When Ross asks him why he didn't bring Cactus Jack to the WWF, Mankind states that "he wasn't welcome." He then notes that the origin of the Mandible claw began as a torturing device toward Vince and maniacally questions why Vince didn't hire him sooner. As he compares himself to Shawn Michaels, he'd "like to cause" suffering to the WWF superstars. Ross then asks if he suffers from multiple-personality disorder, but Mankind refutes it by saying that if something was wrong upstairs, he'd "be the first one to know."
Mankind then tells Ross about his inability to tell the "truth." When he describes "loving pain" (Ross' words), Mankind hits his own face to demonstrate that he doesn't truly love it. He then sarcastically associates the administration of an epidural to "(letting) the party begin." As the volume of his voice intensifies, Mankind rises to his feet and manhandles Ross. He then applies the Mandible claw but releases it when he feels empathy for Ross. In fact, he calls Ross "Jimmy." As Ross writhes in pain, Mankind informs the crew that Ross will require medical attention.
HOT TAKE: Powerful, emotional TV that blows the Goldust interview out of the water. Mankind's transformation from heel to face occurs when he empathizes with Ross' pain. This was excellent character development.
Upon returning to the live show, Ross feels that he "pushed the wrong buttons" on Mankind.
Match 6: Bart Gunn versus Rockabilly (w/ the Honkytonk Man)
Highlights:
Show of hands...who really wanted to see this match?
Bart reversed a cross corner whip and gave Rockabilly a flapjack.
Next, he clotheslined Billy over the top rope to the floor.
Rockabilly then gave Bart a cross corner whip but ate boot on his follow-through.
When Bart missed a clothesline, Rockabilly didn't. In addition, Bart supplied a 360° sell. Woohoo!
Bart then face-planted Rockabilly and delivered a back elbow.
As Rockabilly came back with a Rocker Dropper, he gave Bart a swinging neckbreaker.
1-2-3.
Rockabilly won.
Rating: DUD
Summary: Showcase match for Rockabilly. Despite getting closure in his feud with Bart, Rockabilly still isn't over.
Ross then shills the upcoming WWF schedule:
Friday (6/13): Montreal, Quebec
Saturday (6/14): Toronto, Ontario
Sunday (6/15): Ottawa, ON
Next Monday (6/16): RAW is WAR in Lake Placid, NY
The following Monday (6/23): RAW is WAR in Detroit, MI
The WWF Rewind is the attack by Austin on PIllman from Superstars on 10/27/1996.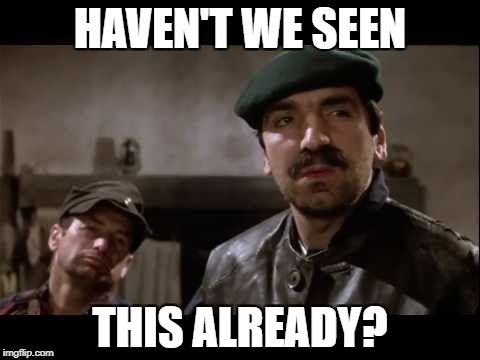 Match 7: Stone Cold Steve Austin versus the "Loose Cannon" Brian Pillman
Highlights:
While Austin made his entrance, Owen attacked him from behind.
The Hart Foundation then ganged up on Austin 4-on-1.
As officials try to break it up, Mankind hit the ring.
Austin was removed from the match as Mankind took his place.
According to Meltzer, Austin injured his knee during his match last night. In addition, a question mark hangs over Austin's neck, but he will continue to wrestle.
Rating: NONE
REAL Match 7: Mankind versus the "Loose Cannon" Brian Pillman
Highlights:
After a commercial break, Mankind gave PIllman a back elbow.
He then followed Pillman outside the ring and hammered him on the ramp.
Believe it or not, Vince then mentioned that Bret and Shawn had been thrown out of the building due to "unprofessional conduct." Wow! I'm surprised he'd say that on the air.
Pillman then gave Mankind a belly-to-back suplex on the ramp. OUCH!
Shortly after, Mankind gave Pillman a cross corner whip but came up empty on his follow-through.
He then reversed an Irish whip and delivered an inverted atomic drop.
After a boot to the face, he gave Pillman a double-arm DDT.
He then applied the Mandible claw, but the Hart Foundation ran in.
As referee Earl Hebner called for the bell, Mankind won by DQ.
Rating: DUD
Summary: Bait meets switch, and the TV audience responded by changing the channel. Perhaps the point of this was trying to establish Mankind as a babyface.
TV Rating: 2.0
After the match, the Hart Foundation pummels Mankind, but Austin limps to the ring to save him. Shamrock then passes him by to join the melee. After they shoo the heels from the ring, Austin questions Shamrock's presence. He then gives Shamrock the Stone Cold Stunner and flips off Mankind before leaving.
Conclusion: No Undertaker, no Bret, and no Shawn. While the Mankind interview is historical, the WWF tried to steal ECW's thunder with the Jerry Lawler angle. I understand that Vince needed to change quite a bit of the program without those characters, but this show is skippable at best and horrible at worst.
TV Rating: 2.2
Who won? Nitro destroyed RAW is WAR 3.4 to 2.2. The blockbuster episode of Nitro kept its audience for the most part. Next week, Nitro will contain the fallout from GAB '97 while RAW is WAR tries to recover with Faarooq's new Nation.
Stay tuned for WCW Great American Bash '97!
Comments? Suggestions? Send them to me at rsg@rockstargary.com and follow me on Twitter (@rockstargary202).
Custom Search