WELCOME TO ROCK STAR GARY REFLECTIONS!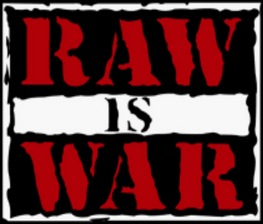 WWF RAW is WAR 6-2-97
Live from Huntington, WV
Airdate: June 2, 1997
Attendance: 4,945 (sold out)
Hosted by Vince McMahon, Jim Ross, & Jerry "The King" Lawler
Pieces of the puzzle for King of the Ring '97 need to be placed. What will the WWF do to entice viewers and fill out the PPV card?
Opening montage.
WWF Champion Undertaker comes to the ring to be interviewed by Vince. To "protect the ones (he) love(s)," Undertaker defends his actions from last week. While still acting like a babyface, he states his disdain for Bearer.
Speaking of Bearer, he comes to the ring as the Huntington faithful chant "rest in peace." He then asserts control over Undertaker wanting to destroy everyone on the WWF roster before claiming to be the "ruler of the world.
Suddenly, Sycho Sid returns! Upon calling Bearer "fat man," Sid "rule(s) the world." While the Huntington faithful chant his name, he requests a rematch for the WWF title TONIGHT. Undertaker accepts.
Next, the NoD emerges, and Faarooq claims that he'll be the first black WWF champion at King of the Ring '97.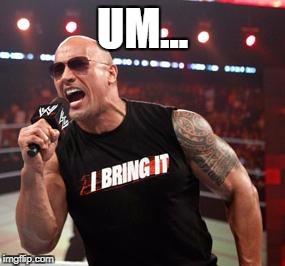 Shh, Dwayne, no spoilers.
After a commercial break, Vince shills the aforementioned PPV this Sunday LIVE on PPV.
Prior to the next match, we revisit the history between Faarooq and Johnson.
Match 1: Faarooq (w/ the Nation of Domination) versus Ahmed Johnson
Highlights:
According to Ross, Johnson received his pro wrestling training from Joe Blanchard and "Captain Redneck" Dick Murdoch. I wonder if Lone Star beer was required after-school training.
Faarooq attacked Johnson at the bell and gave him a cross corner whip.
On the other hand, he ate a clothesline on his follow-through.
Johnson then removed Faarooq's belt and whipped him with it.
After a pair of clotheslines, Johnson followed him outside the ring and rammed him face-first into the steps.
Back in the ring, Faarooq gave Johnson another cross corner whip but ate a back elbow on his follow-through.
Johnson then delivered a scissors kick followed by a spinebuster.
While Crush distracted referee Tim White, Vega tripped Johnson coming off the ropes.
Suddenly, Undertaker hit the ring and nailed Vega from behind.
Faarooq exited the ring to brawl with Undertaker at ringside as Johnson fought with other members of the NoD.
While Johnson's back was turned, Undertaker whipped Faarooq into him sending Johnson into the steps.
Faarooq then tossed Johnson back into the ring.
1-2-3.
Faarooq won.
Rating: *
Summary: Faarooq had to go over due to his main event match at the PPV, but this match deserved a proper build.
After the match, Undertaker dispatches the rest of the NoD before focusing on Faarooq in the ring. Faarooq then exits in anticipation for his match at the PPV.
Johnson then physically confronts Undertaker about the snafu on the floor, so Undertaker chokeslams him.
We then revisit the aftermath of the main event from last week when Austin reinjured Bret's surgically-repaired knee.
Todd Pettengill then shills the WWF King of the Ring '97 inflatable chair for only $59.99. Insert your own inflatable joke here.
After a commercial break, Vince interviews the Hart Foundation. With Austin and Michaels in split-screen on the Titantron, Bret states that he cannot compete against Michaels at King of the Ring '97 due to Austin's nefariousness last week. Michaels and Austin then argue about Bret. Angered, Michaels leaves his dressing room to confront Austin. As the Hart Foundation confers, Pillman offers his match at the PPV against Austin to Michaels. Austin accepts as long as he gets Pillman next week.
Prior to the next match, we revisit RAW is WAR from two weeks ago when Holly upset Owen.
Match 2 for the WWF Intercontinental title: Owen Hart (champion) versus "Sparkplug" Bob Holly
Highlights:
After a leap frog, Holly took Owen down with a huracanrana.
He then gave Owen a cross corner whip followed by a powerslam for 2.
As Owen came back with a belly-to-belly suplex, he gave Holly a cross corner whip and a spinning heel kick for 2.
He then delivered a backbreaker for another 2.
While the Huntington faithful chanted "U-S-A," Holly face-planted Owen.
He then gave Owen a back elbow and a dropkick for 2.
After an inverted atomic drop, he delivered a clothesline for another 2.
Owen came back with a swinging neckbreaker, but Holly hooked a backslide.
Do we have a new champion?
1-2-NO!
When Holly attempted another huracanrana, Owen countered with a powerbomb.
He then hooked the Sharpshooter.
Owen retained via submission.
Rating: **
Summary: Good workrate as Owen avenged his defeat from two weeks ago.
From the locker room, Michaels accepts Pillman's offer and will face Austin at King of the Ring '97.
Ross previews part three of the Mankind interview with highlights from last week's segment.
SUNNY'S SEARCH & SOAK MISSION: While Cornette colludes with the Headbangers and the Honkytonk Man, Sunny soaks them all.
We then revisit RAW is WAR from 4/28 when Marlena tossed powder in Chyna's eyes causing her to attack Helmsley inadvertently.
Match 3: Goldust (w/ Marlena) versus Hunter Hearst Helmsley (w/ Chyna)
Highlights:
Helmsley reversed an Irish whip but ate a pair of lariats.
As Goldust gave Helmsley the ten-punch count-along, Ross announced that the winner of this match will face Smith for the European title next week on RAW is WAR.
Goldust then delivered the Flip, Flop, and Fly before they headed to the floor
With Goldust leaned against the ring post, Helmsley charged but HIT THE POLE.
When Helmsley tried to counter another ten-punch count-along, Goldust clotheslined him for 2.
Helmsley came back with a face crusher followed by a high knee.
Next, he gave Goldust a HARD cross corner whip injuring the back.
He then delivered a back elbow and distracted referee Mike Chioda.
When Chyna tried to interfere, Marlena grabbed Chyna by the boot.
Helmsley then attempted to put a knee into Goldust but hit Chyna instead.
That allowed Goldust to roll up Helmsley.
1-2-3.
Goldust won and will face Smith next week.
Rating: *
Summary: There was more reaction when Chyna got involved than any other point in the match.
After the match, Chyna tosses Chioda over the top rope to the floor.
Ross then shills the WWF Superstar Line.
The Sega Slam of the Week is Michaels' huracanrana against Smith in last week's tag title change.
After a commercial break, the Road Warriors cut a promo on Austin.
HOUR #2!
We then revisit Summerslam '91 when the Road Warriors defeated the Nasty Boys to win the WWF tag titles. As soon as football season ends, I'll be able to reflect upon this show.
Match 4 for the WWF tag team titles: The "Heartbreak Kid" Shawn Michaels & Stone Cold Steve Austin (champions) versus the Road Warriors
Highlights:
Hawk military-press-slammed Michaels and delivered a fist drop.
Next, he mounted the top turnbuckle but missed a splash.
When the Road Warriors pinballed Michaels between them, Austin came in for a four-way brawl.
Hawk then clotheslined Austin over the top rope to the floor.
After a powerslam, Animal clotheslined Michaels over the top rope to the floor.
Michaels then ate the steel railing. It must have tasted like the Dixie Chick at Fat Patty's.
Suddenly, the Hart Foundation came to ringside prior to a commercial break.
Afterward, Animal gave Austin a flying shoulder block for 2.
While Michaels distracted referee Earl Hebner, Austin delivered a trick knee. OUCH!
Michaels tagged in as did Hawk.
Speaking of Hawk, he gave Michaels a back drop.
As Austin put a knee into Hawk's back, Michaels nailed Hawk.
Michaels then guillotined him using the bottom rope.
When Austin tagged in, he mounted the second turnbuckle and hit an elbow smash for 2.
Michaels tagged in, and the champs gave Hawk a double back elbow.
When the Huntington faithful chanted "L-O-D," a false tag occurred.
In the process, Animal ran over Hebner like a Mack truck.
While Animal checked on Hebner, Austin CLOCKED Hawk with the tag title belt for 2.
Austin tagged in, mounted the second turnbuckle, leaped, but ate a shot to the midsection.
After a double clothesline, the Hart Foundation came to ringside.
Lukewarm tag Animal.
He then dropkicked the champs consecutively before sending Michaels over the top rope with a right.
Next, he gave Austin the ten-punch count-along but ate a clothesline from Austin.
Michaels was distracted by the Hart Foundation so Austin grabbed him by the hair returning him to ringside.
As the champs brawled outside the ring, Hebner called for the bell.
The Road Warriors won by countout, yet the champs retained.
Rating: **1/2
Summary: Decent match with an angle finish to set up their match at the PPV.
After the match, despite officials trying to separate them, Michaels sent Austin into the steps.
RAW is WAR is sponsored by Super Soaker and WWF Magazine.
Mankind interview (part three): As a prelim worker, Foley wanted to wrestle his way rather than dye his hair. He then said he's "finally home" when barbed wire replaced ring ropes. We then witness the hardcore gimmick matches Foley endured in Japan. Afterward, we get a glimpse of Foley from his ECW Arena farewell. Next, we see a few scars on Foley's arm as trophies of war. He seems proud to make people sick.
Match 5 (KOTR quarterfinal): Savio Vega (w/ the Nation of Domination) versus Mankind
Highlights:
Winner of this match faces Lawler in the semi-final at the PPV.
As the match began, Mankind gave Vega a baseball slide.
He then charged Vega but received a back drop on the steel ramp. OUCH!
When Vega mounted the top turnbuckle, he hit a cross body block to Mankind on the floor. Wow! He really soared!
Regardles, Vega reversed a cross corner whip and gave Mankind a leg lariat.
After he gave Mankind a cross corner whip, Vega came up empty on his follow-through.
Mankind then delivered a belly-to-back suplex, and a Cactus clothesline took both wrestlers over the top rope to the floor.
When Lawler called him a "freak," Mankind dragged him from the broadcast table and pummeled him.
Mankind then returned to the ring only to be held by Vega.
As Crush got up on the apron, he inadvertently nailed Vega instead of Mankind.
1-2-3.
Mankind advanced.
Rating: **
Summary: More angle than match as dissension between Crush and Vega is teased as well as the upcoming Mankind-Lawler match at the PPV.
After the match, Crush tries to apologize, but Vega shoves him. They then brawl until officials separate them. Initially, Faarooq comes out but reconsiders his options.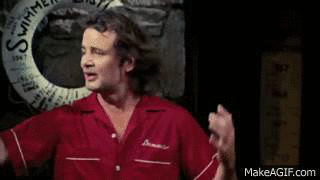 Ross then details the brackets for the KOTR tournament as Johnson will face Helmsley in the other semi-final. Also, Undertaker defends the WWF title against Faarooq and will have Bearer in his corner. The Road Warriors and Sid will face Smith, Neidhart, and Owen in a six-man tag match. Additionally, Austin will face his tag team championship partner Michaels.
We then revisit Sid's involvement in the opening segment.
Supposedly, Sable danced for the KOTR inflatable chair, but the WWE Network didn't air it.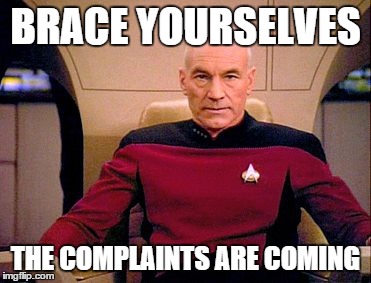 Match 6 (non-title): WWF champion Undertaker (w/ Paul Bearer) versus Sycho Sid
Highlights:
While this was advertised as a title match earlier, ring announcer Howard Finkel stated this was non-title.
When Undertaker reversed an Irish whip, Sid chokeslammed him for 2.
He then gave Undertaker a cross corner whip, but Undertaker gave him the business in the corner.
Shortly after, Undertaker hit a flying clothesline and the tombstone.
1-2-3.
Undertaker won.
Rating: *
Summary: Showcase match for Undertaker as Sid proved no match for him.
Afterward, the NoD hits the ring to ambush Undertaker. Sid then intervenes on Undertaker's behalf and chokeslams Crush. When he catches Vega, Sid chokeslams him too. Faarooq then gives Sid a chop block, and the NoD triple-team him. As the officials try to restore order, Faarooq whips Undertaker with his belt. How dastardly!
Conclusion: Cleaning up the PPV lineup was the main focus of this show as the Hart-Michaels and Austin-Pillman matches morphed into just Austin-Michaels. With the exception of that match, the PPV doesn't look very strong. Conversely, two matches have been announced for next week's show as Austin supposedly faces Pillman while Goldust challenges Smith for the European title. Can RAW is WAR achieve victory over Nitro this week?
TV Rating: 2.5
Who won? Nope, Nitro won 3.3 to 2.5. I have to side with the victory because Nitro was the stronger program this week. Perhaps next week things will differ.
Stay tuned for WWF King of the Ring '97!
Comments? Suggestions? Send them to me at rsg@rockstargary.com and follow me on Twitter (@rockstargary202).
Custom Search