WELCOME TO ROCK STAR GARY REFLECTIONS!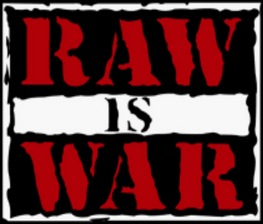 WWF RAW is WAR 5-26-97
Live from Evansville, IN
Airdate: May 26, 1997
Attendance: 6,765
Hosted by Vince McMahon & Jim Ross
How can the WWF make its best attempt to win a Monday Night ratings war with WCW returning to head-to-head competition? Read on!
Opening montage.
To begin the show, Austin emerges and comes to the ring. He's joined by Michaels and Ross for an interview. Although he and Austin barely co-exist, Michaels states that they will 'kick some ass." Suddenly, the Road Warriors hit the ring and request a title shot should Austin and Michaels win tonight.
Prior to the first match, Vince shills King of the Ring '97 LIVE on PPV on 6/8.
Match 1: The Road Warriors versus the "Loose Cannon" Brian Pillman & Jim "The Anvil" Neidhart (w/ the Hart Foundation)
Highlights:
As Pillman whipped Hawk into the ropes, Hawk tossed him down like a wet dishrag.
He then gave Pillman a gorilla press slam. That did NOT look crisp.
After they repeated the gorilla press slam, tags were exchanged on both sides.
Animal then gave Neidhart a flying shoulder block followed by a clothesline.
When Hawk tagged in, he delivered a flying shoulder block to Neidhart.
Meanwhile, the Evansville faithful LOUDLY chanted "We Want Fl.." er, I mean, "L-O-D."
Pillman tagged in, and Hart Foundation missed a double clothesline; yet, Hawk didn't.
As Animal tagged in, he gave Pillman a powerslam.
He then tried to clothesline Pillman over the top rope, but Pillman backdropped him to the floor instead.
After Neidhart tagged in, he gave Animal a cross corner whip. He then whipped Pillman in Animal's direction, but Animal clotheslined Pillman.
Hawk tagged in, cleaned house, and prepped for the Doomsday Device.
Abruptly, Smith and Owen came to the ring to attack the Road Warriors.
Referee MIke Chioda called for the bell disqualifying Pillman and Neidhart.
Rating: **
Summary: This match was pointless due to the predictable DQ finish.
After the match, Austin and Michaels join the fray to even the odds. The heels then exit the ring for higher ground. As Austin and Neidhart brawl at ringside, Michaels hits a baseball slide but catches Austin instead of Neidhart. Oops. Austin then gets in Michaels' face, and they brawl until officials separate them.
SUNNY'S SEARCH & SOAK MISSION: When Sunny asks the Honkytonk Man if the "wethead" was still alive, Honkytonk Man affirms. She then tells him that "the rest of you will join it" and soaks him with a Super Soaker.
From backstage, Paul Bearer, no longer completely covered in gauze, decrees that he has changed and "will reveal the secret."
Prior to the next match, we revisit last week's episode when Holly upset Owen in a non-title match.
Match 2: D'Lo Brown (w/ the Nation of Domination) versus Bob "Sparkplug" Holly
Highlights:
This was Brown's RAW is WAR wrestling debut as he made his TV wrestling debut on Shotgun Saturday Night on 4/26.
Faarooq joined the broadcast table for this match.
After Holly gave Brown a huracanrana, he delivered a clothesline.
He then gave Brown a cross corner whip but ate boot on his follow-through.
As Brown slammed Holly, he followed with a pair of standing leg drops.
He then hit a vertical suplex for 2.
When Holly reversed an Irish whip, he delivered a dropkick.
Brown then reversed an Irish whip and put a knee into Holly's midsection.
Next, Brown hit a springboard leg drop for 2.
Holly then tried a second huracanrana, but Brown countered with a sit-out powerbomb.
1-2-3.
Brown won.
Rating: *
Summary: Showcase match for Brown.
Backstage, under blue light, Undertaker's concerned about his impending decision later in the show. Unfortunately, audio difficulties affect the beginning.
Elsewhere backstage, Lawler cuts a promo on Goldust. In the process, he referred to Marlena as "the biggest gold-digger in Georgia," Goldust a "flaming fag," and Dakota "target." Wow! If being nasty and ignorant makes you a heel, Lawler truly is the king of heels.
Todd Pettengill then shills the King of the Ring '97 inflatable chair for only $59.99. Bartender, I'll have what he's having.
Prior to the next match, we revisit last week's show when Dakota made her RAW is WAR debut.
Also, we revisit RAW from 12/16/96 when Lawler questioned Goldust's sexuality but didn't receive the expected response. While "fag" wasn't censored on the live telecast, "queer" was censored on the previously taped segment.
Match 3 (KOTR quarterfinal): Goldust (w/ Marlena) versus Jerry "The King" Lawler
Highlights:
Goldust attacked Lawler at the bell and delivered a back drop.
Since Evansville was a regular stop on the USWA tour, Lawler received cheers from its faithful.
Goldust then attempted the Curtain Call, but Lawler hooked the ropes.
Next, Goldust mounted the top turnbuckle, leaped, but ate a shot to the midsection.
Lawler then delivered a piledriver but got nailed.
As Goldust hit his own piledriver, he got 2.
Shortly after, Lawler missed a clothesline, and Goldust delivered a bulldog.
He then gave Lawler a lariat followed by the ten-punch count-along.
After a cross corner whip, Goldust came up empty on his follow-through. In fact, he fell to the floor.
Marlena then checked on Goldust, but when Lawler joined them, she slapped the taste of his mouth.
Back in the ring, Lawler took Goldust down, put his feet on the ropes, and pinned him.
Lawler won.
Rating: *1/2
Summary: What the hell? The WWF spent time and money producing a behind-the-scenes exposé on Goldust, and he's lost the last two matches on RAW is WAR afterward.
After the match, Goldust catches Lawler on the ramp and gives him the Flip, Flop, and Fly. He then clotheslines Lawler causing him to barrel down the ramp. Upon her exit, Marlena then walks over him. Unfortunately, this was the right story, but the wrong crowd for this match.
From the locker room, Austin and Pillman brawl, and the tag champs gang up on Austin until officials separate them. After a commercial break, Austin meanders backstage, finds a previously-attacked Michaels, yet chastises him for not helping him.
Match 4: Rocky Maivia versus Flash Funk
Highlights:
As the match began, the Headbangers brought inflatable King of the Ring '97 chairs through the Evansville faithful.
Maivia then leap-frogged Funk twice and delivered a dropkick.
While the Headbangers brought their chairs to ringside, they joined the broadcast table for this match.
Funk then delivered a spinning thrust kick for 2.
When he gave Maivia a cross corner whip followed by a clothesline, Maivia no-sold it.
He then delivered a uranage to Funk for 2.
After Maivia missed a dropkick, Funk hit another spinning thrust kick.
Upon kicking Maivia out of the ring, Funk delivered a plancha.
Suddenly, the Headbangers left the broadcast table and brawled with Maivia and Funk.
Mosh then CLOCKED Funk with his boombox. Perhaps he wanted Funk to play Name That Tune.
As Maivia re-entered the ring, he mounted the top turnbuckle, hit a cross body block, and pinned Funk.
Rating: *
Summary: Showcase match for Maivia.
Mankind interview (part two preview): Foley describes not wearing a protective cup while playing lacrosse. When he paid the price for his grave error, he was thrilled because the female persuasion actually cared for his grapefruit-sized genitalia. We then revisit Madison Square Garden from 10/17/1983 when Snuka mounted the top of the steel cage and splashed the "Magnificent" Don Muraco.
The Sega Slam of the Week features Pillman's WWF TV wrestling debut on Shotgun Saturday Night as he beat Tony Williams with a hangman's neckbreaker.
Bret alongside the Hart Foundation cuts a promo from the locker room and advertises the ten-minute stipulation of their match at King of the Ring '97. Pillman then cuts a promo on Austin. With sixteen stitches in his head, Smith also cuts a promo on Austin. Owen then cleans it up by stating that Austin and Michaels can't beat them.
HOUR #2!
Match 5: Vader versus Ahmed Johnson
Highlights:
Ken Shamrock joined the broadcast table for this match.
According to Ross, Johnson's "spot" in the KOTR tournament was at stake in this match.
After nailing Vader, Johnson slammed him.
Ross then shilled the UFC PPV this Friday. Considering its appeal would grow beyond the fan base of the WWF, I'm certain Ross' plugs didn't continue much longer.
As he and Johnson brawled, Vader delivered a running body block.
He then clotheslined Johnson as Bearer, in split-screen, looked at his watch backstage.
Out of nowhere, Johnson hit the spinebuster.
1-2-3.
Johnson won.
Rating: DUD
Summary: Too short to be worth anything. Vader's out for a few weeks due to surgery.
Ross then shills the WWF Superstar Line.
RAW is WAR is sponsored by the US Army and Super Soaker.
Meanwhile, Bearer forewarns Undertaker of his impending revelation.
Prior to the next match, we revisit IYH XIII when Chyna made her debut by choking Marlena.
We then revisit last week's show when Goldust broke a guitar over Honkytonk Man's head and got disqualified.
Match 6: Hunter Hearst Helmsley (w/ Chyna) versus Rockabilly (w/ the Honkytonk Man)
Highlights:
After a leap frog by Rockabilly, Helmsley delivered a high knee.
Rockabilly then reversed a cross corner whip and followed with an inverted atomic drop.
Upon giving Helmsley a standard atomic drop, Rockabilly clotheslined him for 2.
Helmsley came back with a facecrusher and a vertical suplex.
Next, he delivered a knee drop for 2.
Rockabilly recovered and hit a Rocker Dropper for 2 as Chyna grabbed his foot.
While Rockabilly distracted referee Jack Doan, Honkytonk Man sauntered toward Helmsley with his guitar.
Chyna then gave Honkytonk Man a double axe handle to the back and slammed him on the floor. The Evansville faithful ate that up with a spoon.
As Helmsley got to his feet in the corner, Rockabilly charged but came up empty.
Helmsley then hit the Pedigree.
1-2-3.
Helmsley won.
Rating: ½*
Summary: Showcase match for Helmsley.
Backstage, still under a blue light, Undertaker tells Bearer to go ahead, but there will be repercussions.
After a commercial break, Sable models the King of the Ring '97 inflatable chair for only $59.99. According to Vince, Sable is not included. Doggone 14th Amendment.
Mankind interview (part two): According to Foley, he hitchhiked to Madison Square Garden to see Snuka face Muraco for the Intercontinental title. At that moment, he realized that he wanted to become a pro wrestler. Next, a home movie from 1983 starring "Dude Love" is shown which includes his dive from the roof to a pair of mattresses below. We then witness Dominic DeNucci's wrestling school which Mankind attended. Next week, we reveal who Cactus Jack is.
Match 7 for the WWF tag team titles: The "British Bulldog" Davey Boy Smith & Owen Hart (champions w/ the Hart Foundation) versus Stone Cold Steve Austin & the "Heartbreak Kid" Shawn Michaels
Highlights:
This was Michaels' return match after a four-month absence. He last wrestled on 2/9 in East Rutherford, NJ before losing his "smile."
All four wrestlers brawled outside the ring to begin the match.
Next, Austin put a knee into Owen's midsection, attempted the Sharpshooter, but nailed an incoming Smith instead.
He then slammed Owen, mounted the second turnbuckle, hit an elbow smash, and got 2.
As Michaels tagged in, he mounted the top turnbuckle and lowered the boom on Owen.
Smith tagged in, leap-frogged Michaels, but received an eye poke.
After Michaels hit a huracanrana, he gave Smith an enziguri for 2.
Shortly after, the Road Warriors, scheduled to challenge Owen/Smith at King of the Ring '97, watched the match backstage on a monitor.
While Michaels distracted referee Earl Hebner, Owen put a knee into Austin's back. SNEAKY!
Owen tagged in and guillotined Austin using the steel railing.
After a commercial break, Owen hooked a sleeper, but Austin countered with a jawbreaker.
Hot tag Michaels.
As Smith reversed an Irish whip, Michaels hit a flying forearm.
He then caught a napping Owen on the apron sending him into the steel railing.
When Michaels gave him a dropkick, Smith came back with a gorilla press and crotched Michaels on the top rope. Methinks Michaels won't be mingling at the bar after the show.
Austin then distracted Hebner while Owen rammed Michaels back-first into the steel railing.
Back in the ring, Smith catapulted Michaels face-first into the top turnbuckle for 2.
He then gave Michaels a cross corner whip that resulted in a Michaels flip.
As Smith hit the running powerslam, he only got 2 thanks to a save by Austin.
Owen then illegally switched with Smith and gave Michaels a gutwrench suplex followed by a standing leg drop for 2.
Upon hitting a SWEET belly-to-belly suplex, Owen got another 2, but Austin saved Michaels again.
After Owen baited Austin to distract Hebner, the heels double-teamed Michaels in their corner. How dastardly!
Smith tagged in, but Michaels hooked a sunset flip and earned a false pin thanks to Owen's distraction of Hebner.
When Smith hit a leg drop, he got 2.
A false tag occurred, and Owen suplexed Michaels atop the top turnbuckle.
As he joined Michaels, Owen attempted a superplex, but Michaels shoved him down to the mat.
Michaels then mounted the top turnbuckle, hit a cross body block, and got 2.
After Owen responded with a spinning heel kick, he whipped Michaels into the corner but came up empty on his follow-through.
Hot tag Austin.
When Austin attempted the Stunner, Owen interrupted.
All four wrestlers were in the ring.
While Hebner placed Owen back in the heel corner, Michaels hit Sweet Chin Music on Smith.
Austin then made the cover.
Do we have new champions?
1-2-3!
WE HAVE NEW CHAMPIONS!
The Evansville faithful lost its collective mind!
Rating: *****
Summary: Oh. My. God. What an incredible match! These four busted their asses and destroyed every match in quality since WrestleMania XIII. This match is either the best or one of the best matches in RAW's history. Check it out ASAP!
After the match, the Hart Foundation pummels Michaels while Austin grabs the WWF tag team belts. Instead of helping Michaels, Austin finds Bret all alone at the top of the ramp. He then takes Bret down and hammers him. Next, he nails Bret's repaired knee until the Hart Foundation makes the save.
The WWF Rewind features the ending to the previous match.
Back in the locker room, Austin claims to win the titles "by himself" until Michaels interrupts. They then argue to finish the segment.
Bearer then enters the ring to be interviewed by Vince. While he, as the mortician, describes the day Undertaker's parents were buried, he mentions three graves instead of two. Immediately, the Undertaker comes to the ring to address the situation. He loathes and grabs Bearer by the throat while the Evansville faithful chant "rest in peace." As the program ends, Undertaker kneels before Zod, er, Bearer.
Conclusion: With the historical main event, this show earns my wholehearted recommendation to watch. While the rest of the wrestling matches stink up the ring, the episode-long story made for great wrestling television. Can it help the WWF win the ratings war?
TV Rating: 2.7
Who won? No, despite RAW's awesome main event, Nitro won again. This time, they won 3.2 to 2.7. Next week, Benoit faces Barbarian on Nitro while the new tag champs face the Road Warriors on RAW is WAR.
Stay tuned for WCW Monday Nitro 6-2-97!
Comments? Suggestions? Send them to me at rsg@rockstargary.com and follow me on Twitter (@rockstargary202).
Custom Search