WELCOME TO ROCK STAR GARY REFLECTIONS!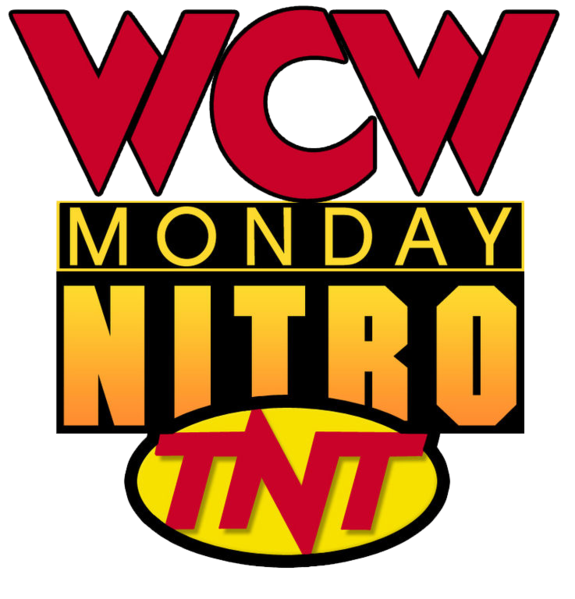 WCW Monday Nitro 4-28-97
Live from Norfolk, VA
Airdate: April 28, 1997
Attendance: 9,467 (8,761 paid)
Hosted by Tony Schiavone, Larry Zbyszko, & Bobby "The Brain" Heenan
It's the 60-minute version of Nitro! How much fun can WCW pack into it? Read on!
As the program begins, we revisit Starrcade '93 when Flair defeated Vader to win the WCW World title. Gee, where does Vader work again?
As Schiavone opens the show, Piper and Flair emerge to join them at the broadcast table. Piper then challenges the nWo as Flair is either ready to fight, dance, or use the facilities.
Opening montage.
Match 1 for the WCW US title: Dean Malenko (champion) versus Prince Iaukea
Highlights:
Oh no! The rookie who just won't go away. I fear he'll transform into a pretzel here.
In split-screen, Jeff Jarrett cuts a promo on Malenko because they'll square off at Slamboree.
Malenko gave Iaukea a cross corner whip but came up empty on his follow-through.
Next, he reversed a cross corner whip but ate foot on his follow-through.
After a superkick, Iaukea got 2.
He then gave Malenko a back drop for another 2.
When Malenko delivered a powerbomb, he got 2.
He then hit a powerslam followed by the Texas Cloverleaf.
Iaukea submitted.
Rating: DUD
Summary: Showcase match for Malenko.
Match 2 for the WCW Cruiserweight title: Syxx (champion) versus Juventud Guerrera
Highlights:
After a leap frog, Guerrera gave Syxx a flying headscissors.
He then landed on his feet upon receiving a back drop and hit a standing thrust kick.
As Syxx reversed a cross corner whip, Guerrera lost his balance climbing the turnbuckles yet flipped over him.
To punish Guerrera for fucking up, Syxx almost BEHEADED Guerrera with a leg lariat. That looked STIFF! It also got 2.
Syxx then gave Guerrera a series of kicks in the corner followed by the Bronco Buster.
Afterward, he delivered a vertical suplex for 2.
While Syxx delivered a leg drop, he mounted the top turnbuckle and hit a double axe handle.
He then mounted the opposite top turnbuckle, but Guerrera crotched him.
As Guerrera joined him, he hit a super huracanrana.
Do we have a new champion?
1-2-NO!
Next, he delivered a springboard dropkick putting his feet right into Syxx's mush for another 2.
Syxx then reversed an Irish whip, but Guerrera missed an Asai moonsault.
With Guerrera down on the mat, Syxx hooked the Buzzkiller for the win.
Syxx retained.
Rating: **
Summary: Sloppy high-flying by Guerrera, but each wrestler got to kick the other in the mouth. OUCH!
Lee Marshall then delivers the 1-800-COLLECT road report from "Lakeland, FL." If Marshall discovered the Silver Moon Drive-In Theater, he'd probably go looking for Fonzie.
Scott Hall, Kevin Nash, and Syxx take over the broadcast table. As Scott Hall grabs a microphone and tells Piper and Flair "whatever," Nash demands "75% of the gate" in Charlotte for Slamboree. In kayfabe, that makes a lot of sense. In actuality, WCW wrestlers were under guaranteed contracts to WCW and did not receive any portion of the gate. Hogan, however, may be the only exception.
Match 3: The "Crippler" Chris Benoit (w/ Woman) versus Lord Steven Regal
Highlights:
As Benoit and Regal exchanged head butts, Regal was

BUSTED OPEN

!
The camera then panned back to prevent showing blood.
When Benoit attempted a sunset flip, Regal escaped.
Benoit then clotheslined Regal and delivered a snap suplex.
Next, Benoit mounted the top turnbuckle, but Regal caught him.
Suddenly, Kevin Sullivan, Jimmy Hart, and Jacqueline come to the ring.
As Regal attempted a superplex, Sullivan pulled him down to the mat to get to Benoit.
Referee Randy Anderson then called the bell to throw the match out.
Rating: DUD
Summary: More angle than match as the Sullivan-Benoit feud continues.
As Benoit and Sullivan brawl toward the aisle, Benoit kicks him down near Bonita Springs. Jacqueline jumps on Benoit's back, but Woman pulls her down. Abruptly, Meng arrives and hooks the Tongan Death grip on Benoit. Regal returns to aid Benoit to no avail.
THE FOLLOWING ANNOUNCEMENT HAS BEEN PAID FOR BY THE NEW WORLD ORDER:
Buy the shirt! Send it to Rock Star Gary. Make it an XL.
THE PRECEDING ANNOUNCEMENT HAS BEEN PAID FOR BY THE NEW WORLD ORDER.
Actually, it's a promo by Savage and Elizabeth about DDP and Kimberly.
Prior to the next match, we revisit Uncensored when the nWo punked Luger with help from Dennis Rodman.
Match 4: Amazing French Canadians (w/ Col. Parker) versus the "Total Package" Lex Luger & Giant
Highlights:
Luger hip-tossed both Canadians, but they came back by hanging Luger out to dry on the top rope.
While Rougeau distracted referee Mickey Jay, Parker put the boots to Luger. SNEAKY!
Ouellet then rammed Luger back-first into the steel railing.
When Rougeau tagged in, he mounted the top turnbuckle while Ouellet gave Luger a backbreaker.
He then delivered a fist drop and tagged in Ouellet.
As Ouellet mounted the second turnbuckle, he missed an elbow drop.
Hot tag Giant.
The Canadians tried to double-team Giant, but he just swatted them down.
Next, he gave Rougeau the chokeslam.
While Giant pinned Rougeau, Luger put Ouellet in the Torture Rack.
Giant and Luger won.
Rating: ½*
Summary: Showcase match for Luger and Giant.
Prior to the next match, we revisit last week's show when Reggie White stopped Mongo's attempt to interfere in Jarrett's match.
Match 5: Steve "Mongo" McMichael (w/ Debra) versus the Barbarian
Highlights:
Barbarian reversed an Irish whip but ate a clothesline.
When Barbarian attempted a piledriver, Mongo countered with a back drop.
He then gave Barbarian a cross corner whip but ate a Mafia kick.
After Barbarian tossed him outside the ring, he whipped Mongo back-first into the steel railing.
Barbarian then rammed Mongo back-first into the ring post.
Back in the ring, Barbarian hit a piledriver and got 2.
He then shoved referee Mark Curtis across the ring.
In the meantime, Debra handed the Haliburton to Mongo.
While Debra distracted Curtis, Mongo WALLOPED Barbarian with the replacement Haliburton.
1-2-3.
Mongo won.
Rating: DUD
Summary: Showcase match for Mongo. Schiavone covered for them by calling it a second Haliburton. Methinks some wires got crossed when planning this match.
After a commercial break, Piper and Flair come to the ring as Schiavone mentions that Nitro will air at 7pm again next week. Flair then calls out the nWo and focuses on Syxx, especially with "I've been the world champion more times than you've had pieces of ass, pal." Wow! Suddenly, thousands of pieces of paper shower the Norfolk Scope. The papers read "Tradition Bites! nWo 4 Life.
The nWo then emerges, and Flair and Syxx brawl in the aisle. When Nash tries to interfere, he meets Flair's trick knee. YEE-OUCH! Flair then helps Hall join Sullivan DOWN SOUTH. Meanwhile, Piper stands in the ring by himself. Flair then hooks the figure-four leg lock on Syxx, but Hall and Nash pummel him. As Flair pleads for Piper to help him, Piper finally joins the fray before the show goes off the air.
Conclusion: This was more of a plug for Slamboree than anything else. The one good thing I can say about the show is that Glacier wasn't booked. On another note, RAW is WAR has to be better than this. What's on RAW is WAR?
TV Rating: 2.7
Stay tuned for RAW Is WAR 4-28-97!
Comments? Suggestions? Send them to me at rsg@rockstargary.com and follow me on Twitter (@rockstargary202).
Custom Search