WELCOME TO ROCK STAR GARY REFLECTIONS!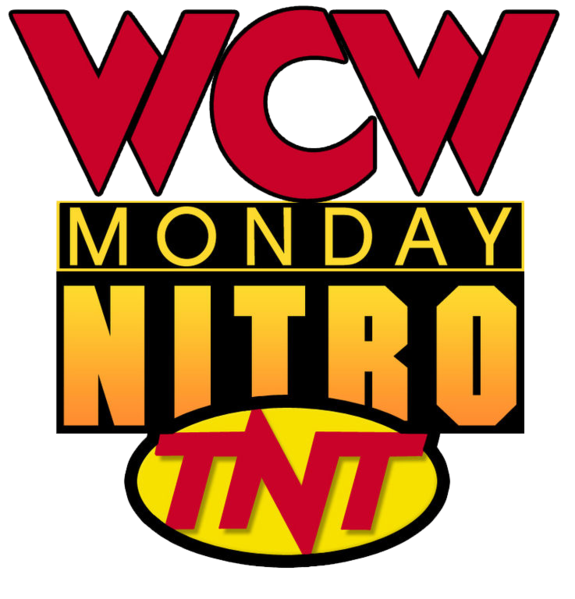 WCW Monday Nitro 4-21-97
Live from Saginaw, MI
Airdate: April 21, 1997
Attendance: 5,484 (4,989 paid)
Hosted by Tony Schiavone, Larry Zbyszko, "Iron" Mike Tenay, & Bobby "The Brain" Heenan
Will Nitro contain any surprises? What happens in the next chapter of WCW versus nWo? Read on!
As the program begins, former WWF Vice-President of Talent Relations James J. Dillon exits a limousine to enter the arena. What's he doing here? For those unaware, Dillon took the front office job with the WWF when Tully Blanchard and Arn Anderson left the NWA in late 1988.
Opening montage.
Match 1 for the WCW US title: Dean Malenko (champion) versus Yuji Nagata
Highlights:
After Malenko missed a clothesline, Nagata WHIFFED on an enziguri.
While the Saginaw faithful chanted "U-S-A," Reggie White was shown among them.
Malenko then countered a side headlock with a belly-to-back suplex.
As Malenko gave Nagata a cross corner whip, he followed with a corner clothesline.
He then delivered a delayed vertical suplex for 2.
When Malenko hit a spinning heel kick, he only got a 1-count.
Nagata came back with a series of kicks, but Malenko countered with a dragon screw leg whip.
After Malenko gave Nagata another cross corner whip, he avoided eating boot yet ate a thrust kick thereafter.
Nagata then hit a modified fisherman's suplex for 2.
Next, he followed with an overhead belly-to-belly suplex for another 2.
As Nagata missed another enziguri, Malenko delivered an elbow drop to the knee.
He then hooked the Texas Cloverleaf.
While the Saginaw faithful rose to their feet, Nagata submitted.
Malenko retained.
Rating: **1/2
Summary: Decent opener that showcased Nagata well despite that first enziguri attempt.
Match 2: Glacier versus Ciclope
Highlights:
Oh, crap! This ham'n'egger's back!
Ciclope reversed a cross corner whip, but Glacier floated over and hit a belly-to-back suplex.
Woohoo! The Saginaw faithful earn my love with their healthy chant of "Glacier sucks."
After a tilt-a-whirl pancake, Glacier hit the Cryonic kick.
1-2-3.
Glacier won.
Rating: DUD
Summary: Showcase match for Glacier.
After the match, the former Adam Bomb comes to the ring. Meanwhile, Mortis sneaks up from behind Glacier and annihilates him with a superkick. Vandenberg joins the fray as Mortis steals Glacier's helmet. While Mortis slaps Glacier, the former Adam Bomb delivers a uranage. Mortis then goes after Glacier's "white" eye. Next, they use the spike of Glacier's helmet and bury it into his eye. SICK! Unlike the Road Warriors' destruction of Dusty Rhodes back in 1988, Glacier doesn't bleed like a stuck pig.
According to Schiavone, Dillon has been named the chairman of the Executive Committee. We then revisit the ending to last week's show when Sting distributed bats to Giant, Luger, and DDP. Suddenly, referee Nick Patrick invades the broadcast table and apologizes to some WCW people. Afterward, he mentions "Macho Man" Randy Savage along with Eric Bischoff. As he states that the fine he levied against Savage was revoked, he notes his durability, reliability, and loyalty. WE HAVE A FACE TURN!
Match 3 for the WCW World TV title: Ultimo Dragon (champion w/ Sonny Onoo) versus "Beautiful" Bobby Eaton
Highlights:
As Eaton delivered a back elbow, he slammed Dragon.
He then clotheslined Dragon, but Dragon came back with a series of kicks.
After Onoo grabbed Eaton's leg to distract him, Dragon hit a dropkick.
Dragon then distracted referee Mickey Jay so that Onoo could unleash some kicks upon Eaton.
Afterward, Onoo leaped from the apron to deliver a thrust kick. That caused Eaton to eat the steel railing which must have tasted like the Big Greek at Timber's Bar & Grill.
Dragon then tossed Eaton back in, placed him atop the top turnbuckle, and delivered a huracanrana.
Not so ultimately, Dragon hooked the Dragon sleeper.
Dragon retained.
Rating: 1/2*
Summary: Showcase match for Dragon.
At the entrance, "Mean" Gene Okerlund interviews Lord Steven Regal. While the Saginaw faithful chants "Regal sucks," Regal hints that he slept with the Duchess of York Sarah Ferguson. He then states that at Slamboree he'll get his chance to regain the WCW World TV title. After he runs down Dragon, he insults the audience at home by calling us "xenophobic, miserable, little toads." Great promo, Regal!
Match 4: "Lionheart" Chris Jericho versus Meng (w/ Jimmy Hart)
Highlights:
Per Schiavone, due to the NBA playoffs, Nitro will begin at 7pm ET. Set your VCRs accordingly!
Meng gave Jericho a cross corner whip but ate a mule kick on his follow-through.
As Jericho mounted the second turnbuckle, Meng swatted away his missile dropkick.
He then countered a side headlock by Jericho with a belly-to-back suplex.
Next, Jericho hit a flying back elbow, but Meng barely sold it.
After Jericho missed an enziguri, Meng missed an elbow drop.
Jericho then attempted a Lionsault, but Meng WHIFFED catching him. D'oh!
When Meng tried to roll Snake Eyes, Jericho escaped and hooked a German suplex with a bridge for 2.
He then mounted the top turnbuckle, leaped, but ate a stungun.
Afterward, Meng applied the Tongan death grip.
Jericho submitted.
Rating: ½*
Summary: Showcase match for Meng. Poor Jericho. At the entrance, Okerlund interviews Hart with Meng and mentions that Meng will face Chris Benoit at Slamboree. Sullivan and Jacqueline join them to mention Sullivan's daughter Shannon. When Sullivan requests Meng apply his Tongan death grip, Jacqueline, wearing a very revealing dress, stops him.
A video airs featuring Benoit.
On WCW Saturday Night, Ultimo Dragon defends the World TV title against Juventud Guerrera. Also, Lex Luger faces Meng. All in one hour!
Match 5: Public Enemy versus the Steiners
Highlights:
Before the Steiners could make their long-awaited return to Michigan, Konnan and Hugh Morrus jumped them backstage until WCW Security pulled them apart.
The Steiner family was shown in the aisle.
As Rick powerslammed Grunge, Rocco tagged in.
Scott tagged in, gave Rocco a cross corner whip, but ate a back elbow on his follow-through.
When Scott reversed an Irish whip, he gorilla-pressed Rocco onto Grunge.
He then double-clotheslined Public Enemy to the sheer joy of the Saginaw faithful.
While Rick tagged in, he gave Grunge a cross corner whip but came up empty on his follow-through.
Rocco tagged in, and Public Enemy gave Rick a double back elbow.
After a slam, Rocco mounted the top turnbuckle but missed a somersault senton.
Suddenly, Morrus and Konnan hit the ring as Scott tossed Morrus over the steel railing into the front row.
Scott then nailed Morrus with a plastic chair, and Public Enemy assisted the Steiners against the Dungeon of Doom.
Of course, referee Mickey Jay called for the bell to throw the match out.
Rating: 1/2*
Summary: More angle than match as the Steiners mix it up with the Dungeon.
After the match, Scott makes Konnan taste the steel railing. It must have tasted like the Porker at Coty's Landing. The six-way brawl continues as even Big Poppa Steiner nails Morrus.
HOUR #2!
We then revisit moments from hour #1.
At the entrance, Okerlund interviews Dillon. When Schiavone mentions Patrick's return plea, Dillon states that his reinstatement "is being taken under advisement." He then has good news and bad news about Bischoff. The good news is that he has NO AUTHORITY in WCW, but the bad news is that he "has an iron clad contract;" thus, he cannot be fired. Dammit!
Suddenly, Bischoff makes his entrance as Dillon notes that contracts for Big Bubba Rogers and Michael Wallstreet are "not valid." Bischoff then interrupts with "Bite me," touts WCW as the "#1 wrestling company on the planet," and questions whether or not he's a problem within Turner. When Dillon says "yes," Bischoff responds with another "Bite me."
As Bischoff asks whether or not Dillon can "fill (his) shoes," Dillon shoots on him about how Bischoff didn't build up WCW alone. Before leaving, Bischoff finishes with a third "Bite Me." Dillon closes by asserting his authority vehemently. I guess the nWo is trying to appeal to adolescent fans with their new catchphrase.
After a commercial break, we revisit last week's show when Reggie White entered the ring to confront Mongo.
Match 6: Jeff Jarrett (w/ Debra) versus Scotty Riggs
Highlights:
This was a return match from WCW Saturday Night when Riggs upset Jarrett. After his loss, Jarrett piledrove Riggs to regain his heat.
At the onset, Jarrett gave Riggs a swinging neckbreaker.
He then delivered a gutwrench suplex and delivered a move that would become the Stroke. I wonder if he got permission from Billy Squier.
As Riggs came back, he gave Jarrett an inverted atomic drop.
After a back elbow, he slammed Jarrett.
While Debra got up on the apron to distract referee Mark Curtis, Jarrett backdropped Riggs over the top rope to the floor.
Jarrett then joined Riggs and rammed him face-first into the steps.
Next, he guillotined Riggs using the steel railing.
Back in the ring, Riggs delivered a back drop followed by a pair of clotheslines.
He then mounted the top turnbuckle, hit a cross body block, and got 2.
When Riggs hit a flying forearm, he got another 2 thanks to Debra's placing Jarrett's foot on the bottom rope.
Suddenly, Mongo came out with the Haliburton.
As he passed by White's seat, White jumped the railing to steal the Haliburton.
Meanwhile, in the ring, Riggs gave Jarrett a vertical suplex and mounted the top turnbuckle.
Jarrett then shook the top rope spilling Riggs down to the mat.
With Riggs' knee hurt, Jarrett hooked the figure- four leg lock.
Riggs submitted.
Rating: **
Summary: More angle than match as the Reggie White-Mongo saga continues.
Match 7 for the WCW Cruiserweight title: Syxx (champion w/ Kevin Nash) versus Rey Mysterio, Jr.
Highlights:
Syxx reversed a cross corner whip, but Mysterio floated over to give him a flying headscissors.
As Syxx came back with a flapjack, he celebrated with some crotch chops.
He then gave Mysterio a pair of leg drops and delivered a series of kicks in the corner.
With Mysterio slumped in the corner, Syxx gave him the Bronco Buster.
He then hooked a rope-assisted abdominal stretch until referee Randy Anderson caught him.
While Nash distracted Anderson, Mysterio reversed the hold, but Syxx hip-tossed him over the top rope to the floor.
Schiavone mentioned the "lawn dart incident" as Nash sauntered after Mysterio on the floor.
Upon Mysterio's return, Syxx gave him a cross corner whip but came up empty on his follow-through.
Syxx then reversed an Irish whip, but Mysterio hit a huracanrana for 2.
When Mysterio mounted the top turnbuckle, he delivered another flying headscissors.
Syxx then sought refuge on the floor, but Mysterio gave him a somersault senton. Woohoo!
While Anderson counted Syxx, Nash entered the ring and jackknife-powerbombed Mysterio. How dastardly!
As Syxx hooked the Buzzkiller, Anderson called for the bell.
Syxx retained.
Rating: ***
Summary: Good high-flying from Mysterio with Syxx acting as the ring general.
After the match, Dillon heads to the ring and yells at Syxx to "break the hold." As EMTs come to the ring, Syxx fought with WCW Security. EMTs then carried Mysterio out on a stretcher. Asserting his authority, Dillon informs Nash and Syxx: "This type of behavior is not going to be tolerated anymore." Nash and Syxx respond with "Bite Me."
Next, a video airs featuring Luger.
Lee Marshall then delivers the 1-800-COLLECT road report from "Norfolk, VA." If Marshall took a tour of the USS Wisconsin, he'd probably ask for some cheese and a polka band.
THE FOLLOWING ANNOUNCEMENT HAS BEEN PAID FOR BY THE NEW WORLD ORDER:
Buy the shirt! Send it to Rock Star Gary. Make it an XL.
THE PRECEDING ANNOUNCEMENT HAS BEEN PAID FOR BY THE NEW WORLD ORDER.
Actually, it's an nWo promo for Hogan's latest movie—McCinsey's Island starring Grace Jones and Robert Vaughn.
The nWo hits the ring, and Syxx calls Flair "banana-nose" as well as a rip-off of Buddy Rogers. When Nash speaks, he mentions "the road (Flair and Piper) paved for (him) and saw nothing but potholes." He then mentions WCW's penchant for nepotism (e.g. Watts, Rhodes) as well as Hall's earlier WCW tenure and pay cut.
Upon mentioning "going to New York," he needed to "dig the business out of the funk (Flair and Piper) left it in." Nash then seeks and gains the cheap pop when mentioning his hometown of Detroit yet also demands respect. As he continues with his soliloquy, Nash states that (the young guys) "try their best to patch the potholes that (Flair and Piper) have left behind."
HOT TAKE: Similar to Shawn Michael's speech last week on RAW is WAR, this is a carefully-crafted worked shoot. While on RAW is WAR, it generated buzz about the Michaels-Bret rivalry. On Nitro, its purpose is to induce heat for the main event at the PPV.
Match 8: Diamond Dallas Page (w/ Kimberly) versus Psicosis
Highlights:
Psicosis reversed an Irish whip and dropkicked DDP.
When he mounted the top turnbuckle, DDP shook the top rope crotching Psicosis.
With Psicosis atop the top turnbuckle, DDP delivered the Diamond Cutter.
1-2-3.
DDP won.
Rating: DUD
Summary: Showcase match for DDP.
Among the Saginaw faithful, Savage with Elizabeth calls out DDP and claims that Kimberly has felt the "madness." Ooh. DDP replies by calling Savage "monkey boy" and challenges him RIGHT NOW. While the Saginaw faithful chants "D-D-P," Savage retreats.
In the ring, Okerlund interviews Flair, Piper, and Kevin Greene. When Flair begins his promo, all three guys lie down on the mat as Flair challenges the nWo to "pave the highway." The nWo emerges, and Scott Hall makes his return. As Vincent and nWo Sting hit the ring, Flair and Piper take them down. While Greene dispatches Bagwell, Piper clotheslines Norton over the top rope to the floor. Flair then rams Syxx into the top turnbuckle as Greene clotheslines Nash over the top rope. WE'RE OUTTA TIME!
Conclusion: In addition to plugging matches for Slamboree, Nitro included the introduction of a new authority figure, the nWo worked shoot, and Glacier's destruction by the WCW audience and Vandenberg's charges. While not tremendously historical, it was an extremely entertaining show. Check it out! What's on RAW is WAR?
TV Rating: 3.3
Stay tuned for RAW Is WAR 4-21-97!
Comments? Suggestions? Send them to me at rsg@rockstargary.com and follow me on Twitter (@rockstargary202).
Custom Search