WELCOME TO ROCK STAR GARY REFLECTIONS!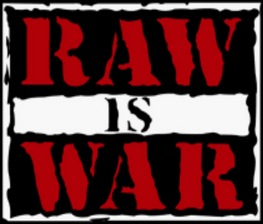 WWF RAW is WAR 4-7-97
Taped from Muncie, IN
Airdate: April 7, 1997 (taped 4/6)
Attendance: 3,353
Hosted by Vince McMahon, Jim Ross, & the Honkytonk Man
With most of the roster in South Africa, how will the WWF entertain us for two hours? Read on!
Remarkably, this episode is rated TV-MA. I wonder why.
Opening montage.
Prior to the first match, Owen gets on the microphone and thanks Bret for reuniting the Hart family. He then addresses Michaels' later appearance and tells him not to besmirch Bret.
Match 1 (non-title): WWF tag team champions Owen Hart & the "British Bulldog" Davey Boy Smith versus the Godwinns
Highlights:
Henry military-press slammed Owen and followed with a clothesline for 2.
Upon slamming Owen, Henry tagged in Phineas and slammed him atop Owen.
Smith tagged in but Phineas hip-tossed him.
Backstage, Michaels stated he won't adhere to Owen's guidelines.
As Phineas fought out of the heel corner, Vince stated he was "cleaning house." Methinks Phineas might need an industrial vacuum for his domicile.
Phineas tagged in but ate a spinning heel kick from Owen.
While Phineas hooked a backslide, Smith distracted referee Earl Hebner.
Owen then hit an enziguri to Phineas for 2.
As Smith tagged in, he and Owen double-clotheslined Phineas.
A false tag occurred post-commercial break.
After the tag champs missed a double clothesline, they received one from Phineas.
Hot tag Henry who gave Smith a standing wheelbarrow facebuster for 2.
Meanwhile, the Road Warriors cut a promo in split-screen on the tag champs. Hawk continued his streak of medical knowledge-themed promos by using "rancid bile."
The Godwinns then whipped the tag champs into one another.
After Phineas clotheslined Owen over the top rope to the floor, Henry gave Smith the Slop Drop.
Phineas then distracted Hebner preventing Henry from successfully pinning Smith.
Therefore, Owen mounted the top turnbuckle and CLOBBERED Henry with a double axe handle and pinned him.
Rating: *1/2
Summary: Even the tag champs can't make the Godwinns look good.
After the match, as the tag champs back their way to the dressing room, the Road Warriors stand at the entrance. On the other end of the ramp are the Godwinns with a bucket of slop. When Henry tosses the slop, the tag champs duck so that it hits the Road Warriors. Yikes! I fear for the Godwinns. The Road Warriors then brawl with the Godwinns as the tag champs scurry backstage. While the Muncie faithful chants "L-O-D," officials separate the teams.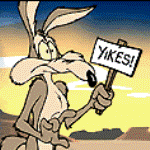 The tag champs then cut a promo on the Road Warriors from backstage. When Smith requests to see the video "one more time," Austin interrupts them but leaves for his match.
RAW is WAR is sponsored by Coliseum Home Video and America Online.
Match 2: Stone Cold Steve Austin versus Billy Gunn (w/ the Honkytonk Man)
Highlights:
The pop for Austin's getting louder.
Austin gave Gunn a back drop and nailed him causing a Gunn flop.
When Gunn sought refuge outside the ring, the tag champs complained about Austin's interruption.
Austin then rammed Gunn's left arm into the ring post twice.
While the Muncie faithful chanted "Aus-tin," Gunn came back with a swinging neckbreaker.
Austin then stomped Gunn to the mat and flipped him off.
After Austin used his trick knee, referee Tim White admonished him for it.
Austin then flipped off White behind his back to a good ovation.
Next, he mounted the top turnbuckle, but Gunn caught and crotched him.
Austin then reversed a cross corner whip but ate boot on his follow-through.
As Gunn missed a clothesline, Austin hit the Stone Cold Stunner.
1-2-3.
Austin won.
Rating: *
Summary: Showcase match for Austin.
After the match, Honkytonk Man enters the ring, gets on the microphone, and embellishes Gunn. He then offers his services, but Gunn nails him instead.
Dok Hendrix then shills an Undertaker door banner for only $29.95.
A soldier then stands at the entrance who calls himself the Commandant—the commanding officer of the Truth Commission from South Africa. He then informs us that RAW is WAR will emanate from South Africa next week. After he besmirches America's handling of democracy, he wants to teach the "liberal Americans" the meaning of democracy. Mind you, he said this in INDIANA. Know your audience, soldier. As the Muncie faithful chants "U-S-A," the Commandant touts Bret for his anti-American political stance.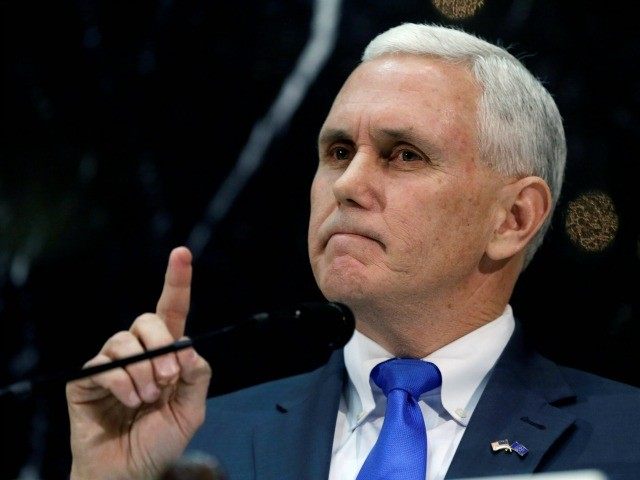 A video featuring Bret from South Africa airs. While he runs down Austin, Bret then cuts a promo on Sid. We then see Bret coming to the ring waving the flag of South Africa.
Vince shills the upcoming edition of WWF Magazine with Bart Simpson and Bret on the cover. Unfortunately, we can't see it. Thanks, Vince. Here it is for those curious: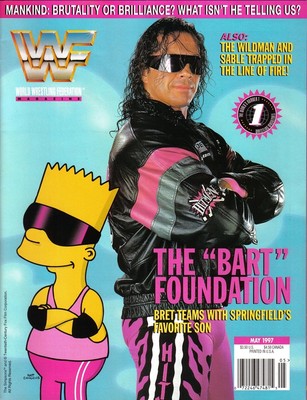 Michaels conveys to Bret that The Simpsons is "just a cartoon."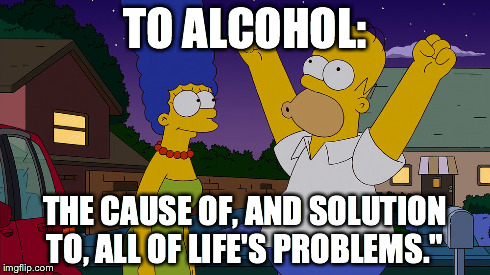 In the ring, Vince interviews the "Heartbreak Kid" Shawn Michaels. With Bret in South Africa, this ought to be interesting. In the meantime, we revisit RAW is WAR from two weeks ago when Bret attacked Michaels and Maivia. Michaels then mentions that Bret "has always been a bad guy." Next, he states that "if Bret could make a buck, he'd sell his mother."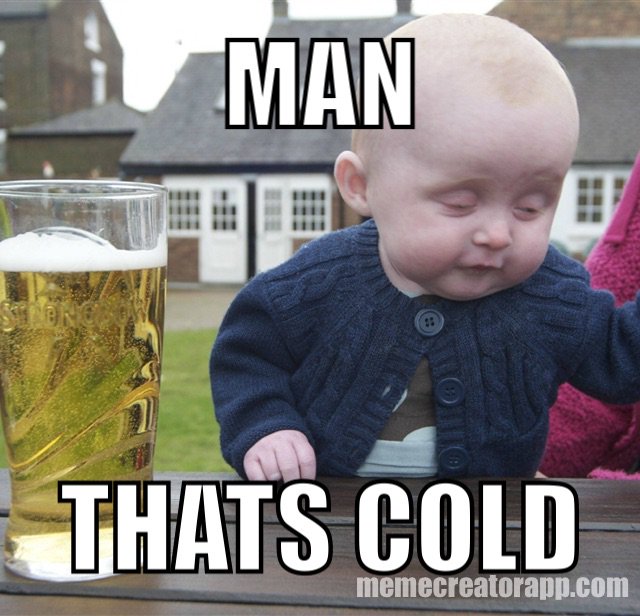 Michaels then notes Bret's obsession with him and the WWF title. As he reflects back to 1992, Michaels was IC champ while Bret was WWF champ, but Michaels didn't mind being second banana. When the shoe was on the other foot, Bret "did it kickin' and screamin' every inch of the way." He then besmirches Bret for taking time off last year to see if Michaels fell flat on his face without him.
He then mentions Bret's disdain for someone "who dances, and has long hair with a pierced navel." As he talks about Bret's returning for the sake of the WWF fans, Michaels calls it "horseshit." Upon saying that Bret used "a rival organization against (Vince McMahon) and the (WWF)." He then calls himself "the hottest free agent in this business today."
After mentioning that Bret doesn't leave his character at work, Michaels informs us that he's "plain old Shawn" at home. He then tells the fans that they should not let other people tell them what to do and to do what they want. While not claiming to be a "role model," he gives the paying customer his or her money's worth in the ring.
Ultimately, Michaels states that Bret's obsession with him and the WWF title "will be (his) destruction." He then begins a strip tease until Owen and Smith hit the ring. Michaels then grabs a chair to keep them at bay.
HOT TAKE: While Michaels got some of his facts wrong (time when he was IC champ, monetary figures during his title reign of '96), this was a great interview that enhanced Michaels' status as a top babyface. Unfortunately, the tease of dissension among the nWo opposed this segment so it got SLAUGHTERED.
HOUR #2!
Match 3: Headbangers versus Freddie Joe Floyd & Barry Horowitz
Highlights:
Mosh tagged in, mounted the second turnbuckle, and hit a lariat on Horowitz.
As Mosh guillotined Horowitz using the top rope, Vernon White gave an interview about his upcoming shoot exhibition with Shamrock.
Thrasher tagged in, but Horowitz gave him a knee lift.
When Mosh tagged in, the Headbangers delivered a flapjack to Horowitz.
Floyd then distracted referee Billy Silverman while the Headbangers double-teamed Horowitz.
After Mosh guillotined Horowitz using the top rope, he tagged in but received a jawbreaker from Horowitz.
Floyd tagged in and dropkicked Mosh.
When Thrasher came in, Floyd gave him a spinning heel kick.
He then delivered a flying back elbow to Mosh for 2.
As Mosh reversed an Irish whip, he hit a sidewalk slam on Floyd.
Thrasher tagged in, mounted the top turnbuckle, and hit the Stage Dive.
1-2-3.
The Headbangers won.
Rating: ½*
Summary: Showcase match for the Headbangers.
Vince then mentions that Sid is still not here although he's scheduled for the main event.
Match 4 (shoot fight exhibition): Ken Shamrock versus Vernon White
Highlights:
Believe it or not, Vince shilled the upcoming UFC PPV on 5/30.
After White legitimately kicked him in the midsection, Shamrock took him down and repeatedly nailed him.
White tapped out.
Rating: NONE
Summary: Showcase exhibition for Shamrock.
After the match, White was BUSTED OPEN. With two pools of blood on the mat, I can see why this was taped and rated TV-MA.
At ringside, Ross interviews Shamrock until Vader and Bearer interrupt him. Vader gets in Shamrock's face, but officials stand between them.
Match 5: Vader (w/ Paul Bearer) versus Frank Staletto
Highlights:
After giving Staletto a short-arm clothesline, Vader delivered a release German suplex.
In split-screen, Mankind cut a promo from backstage.
Vader then hit the Vader bomb.
Upon picking Staletto up at 2, Vader hit Vader bomb #2.
He then delivered a powerbomb.
1-2-3.
Vader won.
Rating: 1/2*
Summary: Showcase match for Vader
As Ross shills the WWF Superstar Line, WWF President Gorilla Monsoon states that Sid isn't backstage and inserts Austin into the main event in case Sid doesn't appear. Austin then negotiates that if he can face Bret at IYH XIV, then he'll wrestle in tonight's main event. Monsoon agrees.
In the ring, Ross interviews Mankind with Bearer who cuts a Cactus Jack-like promo. We then revisit the fireball spot from last week. He then offers Undertaker a mask just like the one he wears. Suddenly, Undertaker's bell tolls, and Undertaker cuts a promo on the Titantron.
Match 6: Mankind (w/ Paul Bearer & Vader) versus Stone Cold Steve Austin
Highlights:
At the onset, Austin blocked a vertical suplex and delivered one of his own on the ramp. OUCH!
Austin then made Mankind taste the steel railing. It must have tasted like the mean frickin' chicken sandwich at Brothers Bar & Grill.
Next, he blocked a shot to the steps and rammed Mankind instead.
As Austin made Mankind HIT THE POLE, Smith and Owen cut a promo about Bret having to face Austin at the PPV.
With Austin's head on the apron, Mankind hit a leg drop.
Outside the ring, Mankind whipped Austin into the steel railing, grabbed a chair, but referee Earl Hebner stole it from him.
Austin then guillotined Mankind using the steel railing.
From the apron, Austin leaped and delivered a double axe handle.
He then gave Mankind a short-arm clothesline on the floor.
Following that, Mankind rammed Austin face-first into the timekeeper's table.
Back in the ring, Austin delivered a back elbow for 2.
While Smith and Owen lurked among the Muncie faithful, Austin motioned for them to proceed and gave Mankind the trick knee. OUCH!
During the commercial break, Mankind WALLOPED Austin in the back with a steel chair.
With Austin on the apron, Mankind guillotined him using the top rope.
According to Ross, the Road Warriors will face the Godwinns next week on RAW is WAR.
Austin then countered a rear chin lock with a jawbreaker.
After Austin missed an elbow drop, Mankind removed the protective mat on one side of the ring.
He then leaped from the apron and hit a double axe handle.
With Austin on the concrete floor, Mankind hit a Cactus elbow.
Mankind then attempted a piledriver on the ramp, but Austin shoved him back-first into the steel railing.
As Austin placed Mankind atop the top turnbuckle, Owen and Smith came to the ring.
After Mankind sent Austin down to the mat, he leaped from the second turnbuckle but got nailed instead.
Suddenly, the Road Warriors hit the ring to even the odds.
A double clothesline put both wrestlers down on the mat.
Abruptly, Vader hit the ring and ambushed both wrestlers.
Hebner then called for the bell disqualifying Mankind.
Rating: **
Summary: Although this was a somewhat disjointed brawl, this match-up could have possibilities down the road.
After the match, Mankind and Vader brawl as Austin chases Owen and Smith backstage. Bearer then makes peace as the feed ends.
Conclusion: Certain wrestlers, due to the South Africa tour, were overexposed on the show--Austin, Smith, and Owen. On the other hand, where's Sid? According to Meltzer, Sid supposedly injured his back while training and had a herniated disc. The Michaels interview was worthwhile, but the rest of the show made Nitro look award-worthy. Can RAW is WAR beat Nitro this week?
TV Rating: 2.8
Who won? Nope, Nitro won by more than 0.8. The star power on Nitro defeated the storyline segments on RAW is WAR this week. Next week, Nitro is in Philly with Public Enemy in a street fight while RAW is WAR is taped from Johannesburg, South Africa with the Godwinns versus the Road Warriors.
Stay tuned for ECW Barely Legal!
Comments? Suggestions? Send them to me at rsg@rockstargary.com and follow me on Twitter (@rockstargary202).
Custom Search