WELCOME TO ROCK STAR GARY REFLECTIONS!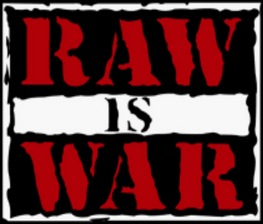 WWF RAW is WAR 3-24-97
Live from Rockford, IL
Airdate: March 24, 1997
Attendance: 7,557 (6,200 paid)
Hosted by Vince McMahon, Jim Ross, & Jerry "The King" Lawler
Can the fallout from WrestleMania XIII cause a shift in the Monday Night War? Read on!
Opening montage with a bloody Austin tacked on the end of it.
Match 1 for the WWF tag team titles: Owen Hart & the "British Bulldog" Davey Boy Smith (champions) versus the Headbangers
Highlights:
As the champs made their entrance, one-upmanship was in full force. Do I smell dissension?
According to Ross, the WWF tag team champions will defend the titles against the Road Warriors on 4/20 at IYH XIV. Also, Undertaker will defend the WWF title against Mankind.
Owen gave Mosh a dragon screw leg whip, but the Headbangers responded with a schoolboy/clothesline combo.
As Smith tagged in, the champs gave Thrasher a drop toehold/leg drop combo.
Smith then slammed Thrasher, tagged Owen, and pressed Owen atop Thrasher for 2.
In split-screen, Road Warrior Hawk fancied his medical knowledge in their quest to regain the WWF tag titles.
Meanwhile, Mosh gave Owen a cross corner whip but came up empty on his follow-through.
Smith tagged in and gave Mosh a spinebuster as Owen mounted the top turnbuckle and hit an elbow drop.
Next, Thrasher tagged in and the Headbangers gave Owen a double clothesline.
Smith tagged in and gave Thrasher a delayed vertical suplex revealing what was under Thrasher's "skirt."
Afterward, Smith escaped a side head lock, came off the ropes, and inadvertently knocked Owen off the apron. He also caused Owen to taste the steel railing. It must have tasted like the Espresso Chicken sandwich at the Tavern on Clark.
Thrasher then rolled up Smith for 2.
As the champs argued on the floor, Owen stormed off but returned soon after.
During a commercial break, Thrasher mounted the top turnbuckle as the Headbangers delivered what appeared to be a powerbomb/leg drop combo.
Afterward, Thrasher mounted the second turnbuckle and clotheslined Smith for 2.
Shortly after, Thrasher tagged in, and the Headbangers executed more Midnight Express magic with a leap frog/guillotine combo for another 2.
As the Rockford faithful chanted "Bull-dog," Mosh hit a Thrasher-assisted splash.
Smith came back with a sunset flip for 2.
When Thrasher tagged in, Smith countered a double back drop with a double DDT.
Interestingly, the WWF Superstar Line got shilled without audio.
Hot tag Owen.
After Owen dispatched Mosh from the ring, he gave Thrasher a belly-to-belly suplex for 2.
He then gave Thrasher a backbreaker and tagged in a reluctant Smith.
Upon powerslamming Thrasher, Smith got another 2.
He then tagged in a hesitant Owen who gave Thrasher a gutwrench suplex.
As Owen mounted the top turnbuckle, he delivered a missile dropkick.
Thrasher then missed a dropkick so Owen hooked the Sharpshooter.
When Mosh made the save, Smith came in illegally and powerslammed Thrasher.
He then tried to put Owen atop Thrasher, but Owen objected.
While the champs argued, Smith shoved down referee Earl Hebner.
As you'd expect, Hebner called for the bell disqualifying the champs.
Owen and Smith retained.
Rating: ***
Summary: Decent match until the crappy finish.
After the match, the champs shove one another until they begin to scrap. Officials separate them as Owen gets on the microphone. Upon claiming to be the "captain" of the team, he wants a shot at the European title. Smith replies by noting he beat Owen last month in Berlin to the delight of the Rockford faithful and accepts Owen's challenge.
From a dark corner backstage, Mankind informs us that "he's gone." Apparently, Paul Bearer and Mankind have severed ties.
RAW is WAR is sponsored by Selsun Blue and Discovery Zone.
From the Titantron, Bret insists that he'll get the proper amount of time to address his concerns. Vince promises him that as long as he keeps his language in check.
Prior to the next match, we revisit stills from last night of the Helmsley/Goldust match. According to Vince, Marlena suffered bruised ribs from being rag-dolled by Chyna.
Match 2: Hunter Hearst Helmsley (w/ Chyna) versus Bart Gunn
Highlights:
When Bart gave Helmsley a cross corner whip, a Helmsley flip occurred.
Bart then gave Helmsley a gorilla press slam followed by a vertical suplex.
Next, he mounted the top turnbuckle but missed an elbow drop.
Helmsley then delivered the face breaker knee smash while Goldust mourns over Marlena's injury in split-screen.
Upon giving Bart a hangman's neckbreaker, Helmsley hit a vertical suplex.
Vince then mentioned that Goldust and Helmsley will face one another minus valets next week on RAW is WAR.
After a knee drop, Helmsley got 2.
He then gave Bart a high knee for another 2.
As Helmsley delivered an elbow drop, his "nonchalant" cover couldn't get a 3-count.
Helmsley then gave Bart the ten-punch count-along, but Bart countered with a stungun.
After a pair of clotheslines, Bart delivered a back elbow followed by a powerslam.
He then gave Helmsley a cross corner whip and set up for a bulldog, but Chyna low-bridged him sending Bart to the floor.
While Helmsley distracted referee Billy Silverman, Chyna slammed Bart on the floor.
Bart tried to re-enter the ring, but Chyna made him HIT THE POLE instead.
Upon further review, the replay showed Chyna's phantom low-bridge act. Ugh. Fire the director!
Helmsley then hit the Pedigree.
1-2-3.
Helmsley won.
Rating: DUD
Summary: Showcase match for Helmsley.
Match 3 (lucha libre): Super Nova, Venum, y Discovery contra El Mosco, Abismo Negro, y Hysteria
Reflejos:
Who thought this was a good idea?
While El Mosco delivered a powerslam to Discovery, Bret whined about getting promo time again in split-screen.
El Mosco then missed a senton splash.
After Discovery delivered a dropkick, Abismo Negro powerbombed Super Nova.
Speaking of Super Nova, he hit a dropkick as Abismo Negro tagged in Hysteria.
When Venum moonsaulted into the ring, Hysteria gave him a leg lariat.
Venum came back with a pair of flying headscissors, but Hysteria slammed him.
While Hysteria mounted the top turnbuckle, Venum dropkicked him to the floor.
He then flipped over the top rope and landed on his feet.
After Discovery gave Abismo Negro a back drop, he climbed the turnbuckles and delivered a spinning heel kick.
As Ross rattled off the WWF tour schedule, El Mosco whipped Super Nova into the corner but fell out of the ring on a follow-through.
Super Nova then mounted the top turnbuckle and hit a moonsault to him on the floor.
As Discovery sent Abismo Negro to the floor, he mounted the top turnbuckle and hit a senton on the floor.
After Venum gave Hysteria a baseball slide, he hit a top rope Asai moonsault. Wow!
El Mosco then gave him a flapjack, but Super Nova came back with a huracanrana.
Next, he mounted the top turnbuckle and delivered a missile dropkick to El Mosco.
El Mosco then vaulted him to the apron, so Super Nova mounted the top turnbuckle and hit the West Coast Pop.
1-2-3.
Super Nova, Discovery, y Venum ganan.
Rating: **1/2
Summary: Pure definition of a spot fest with polite applause from the Rockford faithful.
Earlier tonight, Vince interviewed Rocky Maivia and his father Rocky Johnson. After discussing how proud he was of Maivia, Johnson promised not to interfere ever again.
Match 4: Flash Funk (w/ the Funkettes) versus the Brooklyn Brawler
Highlights:
The Honkytonk Man joined the broadcast table for this match.
After Funk assisted the Funkettes out of the ring, Brawler attacked him from behind.
He then gave Funk a cross corner whip but ate a leg lariat.
As Funk delivered a huracanrana, he gave Brawler a cross corner whip followed by a corner clothesline.
He then gave Brawler another cross corner whip along with a reverse pump handle slam.
Upon signaling a high-flying move to the Rockford faithful, Funk ate knee on a standing moonsault.
Brawler then guillotined him using the top rope.
After Brawler gave him a flapjack, Funk came back with a dropkick.
He then hit a leg lariat and tossed Brawler outside the ring.
Next, he delivered a plancha, tossed Brawler back in the ring, mounted the top turnbuckle, and hit a cross body block for 2.
After Brawler reversed a cross corner whip, he ate boot on his follow-through.
Funk then delivered a belly-to-back suplex, mounted the top turnbuckle, and hit the 450 splash.
1-2-3.
Funk won.
Rating: *1/2
Summary: Showcase match for Funk.
After a commercial break, Vince interviews Ken Shamrock on the Titantron. Hopefully, he improves his promo skills as his WWF career progresses.
HOUR #2!
In the ring, Ross interviews Bret who apologizes to his fans in Europe, Middle East, Asia, South Africa, and Canada. On the other hand, Bret refuses to apologize to the American fans. He then indirectly besmirches Michaels for posing in a "girly" magazine. On the contrary, he subtly refers to Playgirl as a "gay" magazine.
While the Rockford faithful chants "Au-stin," Bret extensively runs down his most recent WWF run and brings up American "heroes" such as Charles Manson and O.J. Simpson. He then states that the American fans don't respect him, so he doesn't respect them. Summarily, he tells the American fans to "kiss (his) ass."
The "Heartbreak Kid" Shawn Michaels emerges and runs down Bret. He then praises Austin's effort from last night and calls Bret "mark man." Next, he cites examples of freedom of expression and tells Bret "tough titties said the kitty." Upon challenging Bret, he provides an American slogan.
Bret then tells him to leave, but Michaels questions how Bret knew about Playgirl. Bret then attacks Michaels' knee and hooks the figure-four leg lock around the ring post. While officials struggle to break the hold, Sid comes to the ring and chases Bret away. When Bret threatens to return, Sid badmouths him (albeit censored), and Bret retreats. What a heel turn and segment!
After a commercial break, we revisit the last segment.
Match 5 (non-title): WWF Intercontinental champion Rocky Maivia versus Leif Cassidy
Highlights:
After a commercial break, Maivia leaped from the apron and hit a cross body block to Cassidy on the ramp.
Suddenly, Bret returned to a chorus of boos as Cassidy gave Maivia an inverted powerbomb.
Bret then joined the broadcast table as the Rockford faithful chanted "Bret Hart sucks."
When Cassidy mounted the top turnbuckle, he missed a frog splash.
Meanwhile, in split-screen, Michaels hobbled with assistance from Blackjack Lanza and Rene Goulet. He also wore an ice pack on his "injured" knee.
In the ring, Maivia delivered a belly-to-belly suplex for 2.
He then hit a float-over DDT, mounted the top turnbuckle, hit a flying body press, and pinned Cassidy.
Rating: ½*
Summary: More angle than match.
After the match, Bret leaves the broadcast table and attacks Maivia. As he leaves, Cassidy gives him a thumbs up. I smell a pending match for RAW is WAR next week.
Match 6: Savio Vega (w/ the Nation of Domination) versus Ahmed Johnson
Highlights:
Vince detailed Faarooq's injuries from last night with Johnson already in the ring.
After Johnson gave Vega a cross corner whip, he came up empty on his follow-through.
Johnson then gave Vega another cross corner whip but ate boot on his follow-through. Does this guy EVER learn?
After an atomic drop, Johnson crotched Vega on the top rope and shoulder-blocked him down to the floor.
He then blocked a vertical suplex and delivered one of his own.
Next, he mounted the top turnbuckle and hit a somersault senton. Wow!
He then missed an elbow drop.
As Vega hit a thrust kick, he hooked a sleeper until Johnson came back with a uranage.
He then delivered a spinebuster, attempted the Pearl River Plunge, but Crush pulled Vega to safety.
Referee Jim Korderas then called for the bell disqualifying Vega.
Rating: ½*
Summary: God-awful main event that continued the Johnson-NoD feud.
After the match, Johnson challenges anyone from the NoD with the stipulation that if the NoD loses, they leave the WWF. At least, that's what I understood.
After a commercial break, Vince interviews the NEW WWF champion—Undertaker. Upon thanking his "creatures," he also applauds Sid for last night. Next, Vince asks him about Mankind, and Undertaker calls Mankind "the most dangerous individual in the (WWF)." Suddenly, Paul Bearer comes to the ring, but Mankind calls for his "Uncle Paul." WE'RE OUTTA TIME!
Conclusion: Save for a Bret heel turn and the breakup of the tag champions, this RAW didn't offer much else. Conversely, isn't it fascinating that both turns happened this week? Next week's show should be interesting to say the least. Can RAW is WAR beat Nitro this week?
TV Rating: 2.5
Who won? Nope, RAW is WAR lost by a half point. While that's true, the Bret heel turn was the storyline of the week between the programs. I wonder what each show has in store for us next week.
Stay tuned for WCW Monday Nitro 3-31-97!
Comments? Suggestions? Send them to me at rsg@rockstargary.com and follow me on Twitter (@rockstargary202).
Custom Search