WELCOME TO ROCK STAR GARY REFLECTIONS!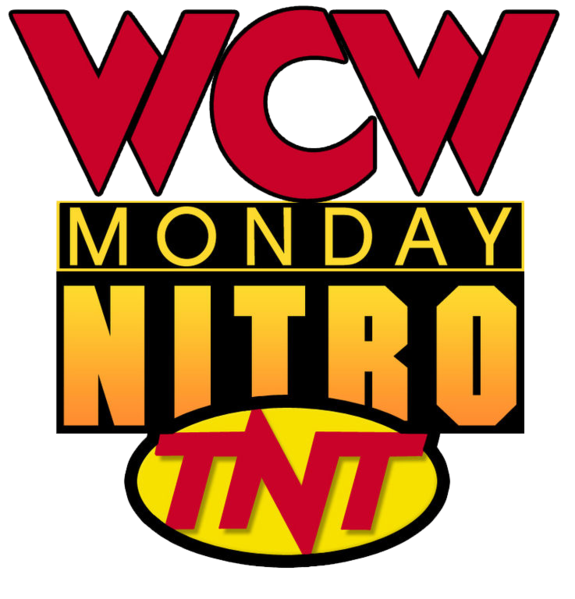 WCW Monday Nitro 2-17-97
Live from Tampa, FL
Airdate: February 17, 1997
Attendance: 3,000
Hosted by Tony Schiavone, Larry Zbyszko, "Iron" Mike Tenay, & Bobby "The Brain" Heenan
Since the WWF's product has improved, what can Nitro do to maintain its ratings streak?
As the program begins, the nWo exits its limousines as Rogers goes down on the concrete. Who is responsible for these shenanigans?
Match 1: Rey Mysterio, Jr. versus Super Calo
Highlights:
After a dropkick to the back, Mysterio attempted a springboard maneuver but ate a dropkick in mid-air.
Calo then flipped over Mysterio on the apron, landed on the floor, but thought better than to murder Mysterio accidentally by forcefully dropping him.
After he rammed Mysterio face-first into the apron, Calo hit a springboard dropkick.
Upon re-entering the ring, Calo delivered a somersault senton to Mysterio on the floor.
Back in the ring, Calo hit an elbow drop for 2.
As Calo delivered a sidewalk slam, EMTs put Rogers in an ambulance as Wallstreet joins him.
Mysterio then hit a corkscrew senton for 2.
With Calo stuck in the ropes, Mysterio gave him a springboard guillotine leg drop for another 2.
Next, he mounted the top turnbuckle but got caught.
Calo then joined and delivered a superhuracanrana for 2.
As Mysterio came back, he temporarily hooked a crab-like submission and followed with the West Coast Pop.
1-2-3.
Mysterio won.
Rating: ***
Summary: Showcase match for Mysterio with some great workrate and high-flying. The Tampa faithful ate this up with a spoon.
After the match, Mysterio calls out Regal as Schiavone notes they will face one another at SuperBrawl VII without a time limit. Hmmm…
Match 2: Hugh Morrus versus Steve "Mongo" McMichael (w/ Debra)
Highlights:
Upon giving Morrus a cross-corner whip, Mongo followed with a clothesline.
He then took down Morrus with two three-point stance tackles.
After Mongo missed a leg drop, Morrus taunted Debra.
Morrus then slammed Mongo and mounted the second turnbuckle.
When Mongo caught him, he gave Morrus an electric chair.
Not THAT electric chair!
After a slam, Morrus mounted the top turnbuckle as Debra slid the Haliburton to Mongo.
When Morrus hit the No Laughing Matter, he knocked himself out on the Haliburton.
Upon ridding the ring of the evidence, Mongo pinned Morrus.
Rating: *
Summary: Showcase match for Mongo who may have injured his knee. Will he make it intact to SuperBrawl VII?
We then revisit Nitro from two weeks ago when Piper gets railroaded into facing Hogan at SuperBrawl VII.
Prior to the next match, Malenko cuts a promo on Syxx.
Match 3: WCW Cruiserweight champion Dean Malenko versus Robbie Brookside
Highlights:
Who's this ham'n'egger? Where do they get these guys?
After giving Brookside a cross-corner whip, Malenko followed with a corner clothesline.
He then attempted a vertical suplex, but Brookside escaped and delivered a Northern Lights suplex for 2.
After a dropkick, Brookside rolled up Malenko for another 2.
During a pinfall reversal sequence, Brookside botched a somersault rollup. That will NOT help him keep his job.
Regardless, Malenko delivered a vertical suplex and attempted the Texas Cloverleaf.
Since Brookside had probably NEVER seen a Malenko match, he kept his legs straight making it look AWFUL.
Needless to say, but Brookside submitted.
Rating: ½*
Summary: Showcase match for Malenko. Someone haul this Brookside kid back to the WCW Power Plant.
After the match, Syxx comes through the entrance and completely disrespects Malenko.
Upon completion of a commercial break, Hall, Nash, and Syxx come out to acknowledge a car accident involving the Steiners. Nash then supplies a videotape of the incident to Schiavone as Zbyszko wants to stretch Hall RIGHT NOW. Allegedly, Zbyszko's ADD flared up causing him to concentrate on shilling vitamins instead.
Match 4: The Amazing French Canadians (w/ Colonel Parker) versus Public Enemy
Highlights:
Are we ready for the comedy match? Or is there a chance they'll play this straight?
While the Canadians made their entrance, Faces of Fear sat shirtless in the crowd. Someone stole their Nitro shirts. Security!
When the Canadians sang their anthem, Harlem Heat stood in the crowd.
As Public Enemy attempted to whip the Canadians into one another, the Canadians performed a do-si-do. Rougeau then dropkicked Rocco as Ouellet clotheslined Grunge.
While referee Jimmy Jett was occupied with action in the ring, Parker put the boots and his whip to Grunge on the floor. How dastardly!
The Tampa faithful then chanted "U-S-A" as Ouellet tagged in.
After Grunge ate a clothesline, the Canadians double-teamed him.
As the Canadians guillotined Grunge using the top rope, Ouellet collided not only with his partner but also Grunge.
When Parker got up on the apron, a false tag occurred.
After Rougeua slammed Grunge, the Canadians missed the Quebec crash.
Hot tag Rocco.
Outside the ring, Grunge rammed Ouellet shoulder-first into the steps.
He then placed Ouellet on the table, but Ouellet moved before Rocco could dive.
Seeing that Ouellet wasn't there, Rocco imitated Mysterio albeit in slow motion.
After some heel miscommunication, Ouellet landed on the table.
That allowed Rocco to hit the senton on him through the table.
After Grunge tossed him back into the ring, Rocco pinned Ouellet.
Rating: 1/2*
Summary: Less comedy than I expected but still neither good nor interesting.
At the entrance, "Mean" Gene Okerlund interviews DDP who denies any wrongdoing against the nWo.
On WCW Saturday Night, Jeff Jarrett faces Konnan and a whole lot of nothing else happens.
Prior to the next match, Okerlund interviews Regal who refers to Mysterio as "Dopey" from the movie Snow White and the Seven Dwarfs.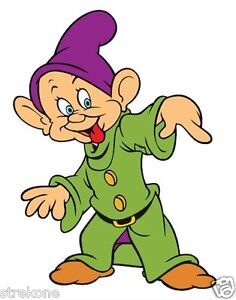 Match 5 for the WCW World TV title: Lord Steven Regal (champion) versus Prince Iaukea
Highlights:
If you recall, Prince Iaukea wrestled in Florida at Battle of the Belts II in 1986. That was the son of King Curtis Iaukea. THIS Prince Iaukea was Mike Hayner.
As the Tampa faithful chanted "Regal sucks," Regal attempted to suplex Iaukea atop the top turnbuckle, but Iaukea fell to the mat. Oops.
Regal then successfully put Iaukea on the top turnbuckle, joined him, and delivered a butterfly superplex where Iaukea barely got any air under him.
As Regal called out to the "bloody midget," Mysterio watched the match from the entrance.
After an elbow drop, Regal made an arrogant cover while goading Mysterio.
Iaukea then hooked a crucifix.
1-2-3.
UPSET CITY!
WE HAVE A NEW CHAMPION!
Rating: *
Summary: Hmmm…that looks familiar, no? Didn't a Polynesian wrestler with limited experience just beat a blue blood on RAW last week? In my opinion, this is reactive booking by WCW and not very smart. WCW should take lessons from fellow Atlanta resident Coca-Cola by not acknowledging the competition in order to maintain status at the top of the food chain.
After the match, a horrified Regal questions and shoves referee Mark Curtis. In the aisle, Teddy Long and Public Enemy celebrate with Iaukea. Welcome to the midcard, kid!
Valvoline sponsors the replay.
HOUR#2!
We then revisit Rogers' demise at the beginning of the show.
Match 6 for Randy Anderson's job: Randy Anderson versus Nick Patrick
Highlights:
As Patrick made his entrance, he ran down Anderson.
When referee Jimmy Jett inspected Patrick, he came up empty; however, upon inspecting Anderson, Jett handed him some brass knux. SNEAKY!
While the Tampa faithful chanted "Ran-dy," Anderson FLATTENED Patrick with one punch.
1-2-3.
Anderson won.
Rating: DUD
Summary: Tally one in the column for WCW.
On the other hand, Bischoff powerwalked to the ring to berate Anderson. He then fired both Anderson and Jett. Afterward, he raises Patrick's arm while Patrick's OUT COLD.
THE FOLLOWING ANNOUNCEMENT HAS BEEN PAID FOR BY THE NEW WORLD ORDER:
Buy the shirt! Send it to Rock Star Gary. Make it an XL.
THE PRECEDING ANNOUNCEMENT HAS BEEN PAID FOR BY THE NEW WORLD ORDER.
Lee Marshall then delivers the 1-800-COLLECT road report from "San Francisco, CA." Perhaps he'll get lost on Lombard Street.
Match 7: The "Crippler" Chris Benoit (w/ Woman) versus Roadblock
Highlights:
As Benoit made his entrance, George Steinbrenner was shown in the front row. I wonder how George Costanza felt about that.
Sorry about that, George, after all, it was February.
While Roadblock gave Benoit a clothesline, Tony mentioned that Benoit will face Sullivan in a San Francisco Death match this Sunday. No Golden Gate Bridge jokes, ok?
After a slam, Roadblock received a slap from Woman to the delight of the Tampa faithful.
When Roadblock turned his attention to her, Benoit gave him a baseball slide making him taste the steel railing. It must have tasted like the Mike Kline Italian Philly at Buckets Tavern.
Immediately in front of Steinbrenner, Benoit made Roadblock HIT THE POLE.
Back in the ring, Benoit mounted the top turnbuckle and hit a diving head butt.
1-2-3.
Benoit won.
Rating: ½*
Summary: Showcase match for Benoit.
We then see the videotape that the nWo gave to Schiavone earlier. With Syxx holding the camera, Nash drove them around as they intercept the Steiners. While they tail them down the street, they intentionally bump the Steiner's car from behind. When they pull up next to them, Rick gives them a earful. Unfortunately, he then flips the car on the side of the road. The nWo then deserts the scene as the tape ends. Suffice it to say, the Steiners will NOT be competing at SuperBrawl VII. Cool stunt with good trick camera action. Check it out:
At the entrance, Okerlund interviews Sullivan with Hart and Jacqueline. Hart then refers to Sullivan and Jacqueline as "too legit to quit." As Sullivan runs down "Chris and Nancy," Jacqueline chides Woman about the size of her ass.
Match 8: Kevin Sullivan (w/ Jacqueline) versus Doc Dean
Highlights:
Who in the blue blazes is this ham'n'egger?
After a knee lift, Sullivan clotheslined Dean.
He then slammed and tossed Dean outside the ring.
While Sullivan occupied referee Scott Dickinson's attention, Jacqueline rammed Dean back-first into the steel railing.
She then followed with a clothesline and a slam on the floor.
After she tossed him back into the ring, Dean hooked a sunset flip for 2.
When Sullivan tried another slam, Dean hooked an inside cradle for another 2.
Sullivan came back with a belly-to-back suplex and tossed Dean outside again.
This time, Jacqueline suplexed Dean on the floor.
As she tossed him back in, Sullivan tied Dean to the Tree of Woe.
He then put a knee into Dean's midsection, hit the double stomp, and pinned Dean.
Rating: DUD
Summary: Showcase match for Sullivan and Jacqueline.
After the match, Jacqueline comes into the ring and gives Dean a series of elbow drops.
Match 9 for the WCW US title: Eddie Guerrero (champion) versus Konnan
Highlights:
After a gorilla press slam, Konnan made a second attempt, but Eddie escaped.
Eddie then delivered a flying headscissors and an arm drag.
When Konnan sought refuge outside the ring, Eddie leaped down to the floor.
Konnan then whipped him back-first into the steel railing and followed with a dropkick.
Upon ramming Eddie face-first into the steps, Konnan tossed him back into the ring.
After a somersault clothesline, Konnan gave Eddie a seated dropkick for 2.
Konnan then clotheslined and slammed Eddie before mounting the top turnbuckle.
However, when he leaped, Eddie caught him with a dropkick.
He then gave Konnan a cross-corner whip but got vaulted into the top turnbuckle on his follow-through.
After a clothesline to the back of the neck, Konnan got a pair of 2-counts.
He then hit a sit-out powerbomb for another 2.
While the Tampa faithful chanted "Ed-die," Schiavone noted that Iaukea will defend the TV title at SuperBrawl VII against Mysterio.
Eddie came back with a clothesline and a brainbuster.
Next, he mounted the top turnbuckle but got caught.
Konnan then joined him and attempted a superplex, but Eddie shoved him down to the mat.
With Konnan down, Eddie delivered the frog splash.
1-2-NO!
Abruptly, Barbarian ran in and pulled Eddie off.
Referee Mark Curtis then called for the bell disqualifying Konnan.
Eddie retained.
Rating: *
Summary: With more time and better preparation, this could be a much better match.
After the match, Meng enters the ring to gang up on Eddie. Suddenly, Jericho runs in, dropkicks Barbarian, and gives Meng a spinning heel kick. He and Eddie then clear the ring.
At the entrance, Okerlund interviews the Four Horsemen. As Flair reels off another "Meeeeeeeeeeeeeeeeeeeeeeeeean (wooooo) Geeeeeeeeeeeeeeeeeeene," he calls Benoit "love machine." Arn then deems the Horsemen the "core of WCW." While Mongo cuts a promo on Jarrett, Debra refers to Jarrett as a "winner" and Jacqueline as "bowlegged." OUCH! When Okerlund directs the interview to "Nancy," Benoit's ready to "kick the door down and make a statement" against Sullivan.
Match 10 (handicap): Giant versus Johnny Swinger & Top Gun
Highlights:
For those unaware, Top Gun was portrayed by the Cuban Assassin. Unfortunately for him, Swinger was his wingman.
Upon Giant's entrance, Top Gun distracted him so that Swinger could dropkick Giant from behind. You can guess how well that worked.
Giant then reversed a cross-corner whip and delivered a corner clothesline to Swinger.
Next, he chokeslammed Swinger.
When Top Gun interfered, he ate a chokeslam too.
Giant then pinned both opponents.
Rating: DUD
Summary: Showcase match for Giant's upcoming handicap match at the PPV.
After the match, Giant procures a can of black spray paint and wrote Hall on Top Gun and Nash on Swinger. Okerlund then interviews him along with Lex Luger who has medical clearance for Sunday. Meanwhile, Bischoff interrupts from the entrance and informs Luger that he's a week too late. Despite that, Luger states that he will be in San Francisco. Giant and Luger then chase Bischoff backstage to end the segment.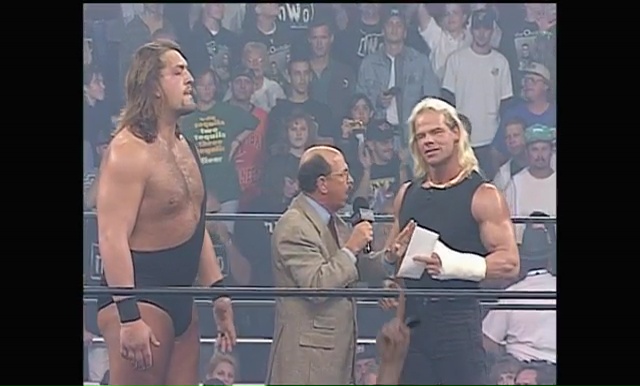 Promo for SuperBrawl VII LIVE on PPV this Sunday.
Via satellite, "Rowdy" Roddy Piper cuts a crazed promo from inside a cell at Alcatraz. After he tosses his own cell, Piper states he'll stay in Alcatraz all week to prepare for his title match against Hogan. As he quotes Lou Reed lyrics, he does some push-ups to finish a once-in-a-lifetime promo. That was surreal.
Match 11: Jeff Jarrett versus "Lionheart" Chris Jericho
Highlights:
After a spinning heel kick by Jericho, Jarrett guillotined him using the top rope.
Meanwhile, Debra came to the ring to support Jarrett.
Upon giving Jericho a running guillotine, Jarrett channeled Tully Blanchard by hooking a slingshot suplex. Does that mean that Debra is Baby Doll?
Nonetheless, Jarrett applied a sleeper, but Jericho countered with a belly-to-back suplex.
When Jarrett gave him a cross-corner whip, Jericho floated over and hooked la magistral cradle for 2.
He then countered a hip toss with a backslide for 2.
After a clothesline, Jarrett mounted the top turnbuckle and hit a cross body block.
However, Jericho used momentum to land on top for 2.
Abruptly, Mongo came to the ring as Jericho delivered a butterfly powerbomb.
Jericho then mounted the top turnbuckle as Debra told Mongo not to hurt Jarrett.
Promptly, Jericho missed the big elbow.
Jarrett then hooked a figure-four leg lock as referee Mark Curtis was occupied with Debra.
Seizing the opportunity, Mongo entered the ring and WALLOPED Jarrett in the back.
1-2-3.
Jericho won.
Rating: *1/2
Summary: More angle than match as Mongo lets Jarrett know who he'll be facing on Sunday.
As the nWo enters the ring, Hogan rips his t-shirt and poses for his hometown faithful. He then cuts a promo on Piper as Sting and "Macho Man" Randy Savage emerge through the entrance. When they approach the ring, Savage tells Sting to save it for Sunday.
Conclusion: Seriously, the only two worthwhile parts of the show was Iaukea's upset and Piper's promo. What's on RAW?
TV Rating: 2.90
Comments? Suggestions? Send them to me at rsg@rockstargary.com and follow me on Twitter (@rockstargary202).
Custom Search