WELCOME TO ROCK STAR GARY REFLECTIONS!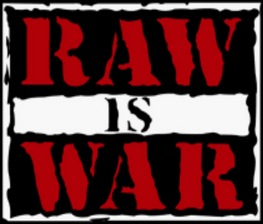 WWF Monday Night RAW 02-02-98
Live from Indianapolis, Indiana
Airdate: February 2, 1998
Attendance: 12,043 (sold out)
Hosted by Jim Ross, Michael Cole, Kevin Kelly, & Jerry "The King" Lawler
Austin battles Road Dog, but will DeGeneration-X have something to say about it? Why are Cactus and Charlie fighting against one another and what will become of it? Let's find out!
COLD OPEN: The "Heartbreak Kid" Shawn Michaels, straight-laced, advises that the networks that carry RAW is WAR have "(drawn) the line with WWF programming and DeGeneration-X." He then outlines the "standards and practices that DX promises to adhere to:"
From 9-10pm, HHH states "(DX) will only use the words ass, damn, and hell." Further, "(DX) will never use the words ***CENSORED***."
From 10-11pm, HHH mentions "(DX) will only use the words ass, damn, hell, ***CENSORED***" Also, "(DX) will never use the words ***CENSORED***."
"As it pertains to video, (DX) promise(s) there will be less ***CENSORED*** references.
At this point, Michaels swears, and HHH warns him about his ***CENSORED*** mouth. They then trade more ***CENSORED*** words between them.
HHH continues with "(DX) will have less references to (their) 'enormous' genitalia."
Michaels return to the podium and purposely (although he appeared like he erred) switches "oral offices" for Oval Office and noting "swallow the leader" rather than follow. To complete the segment, Michaels declares "I did not, I repeat, I did not sleep with that young intern. As a matter of fact, I was UP ALL NIGHT!"
HOT TAKE: You can despise them for their behind-the-scenes politicking, but that is one of the funniest segments ever on RAW. To give this some perspective, President Bill Clinton had an extramarital affair with Monica Lewinsky, and the press uncovered it. He made a televised statement denying it, and this parody does a great job of mocking it. Here is the uncensored version for those who care to partake:
Opening montage.
DeGeneration-X approaches the ring while cosplaying Uncle Sam, and red, white, and blue balloons fall from the top of the arena. While Chyna carried a sign campaigning for "Tyson vs. Austin," Michaels affirms the political strategy with a sign "Uncle Sam wants Tyson-Austin." HHH and Michaels trade the microphone selling the matchup with a "let them fight" message.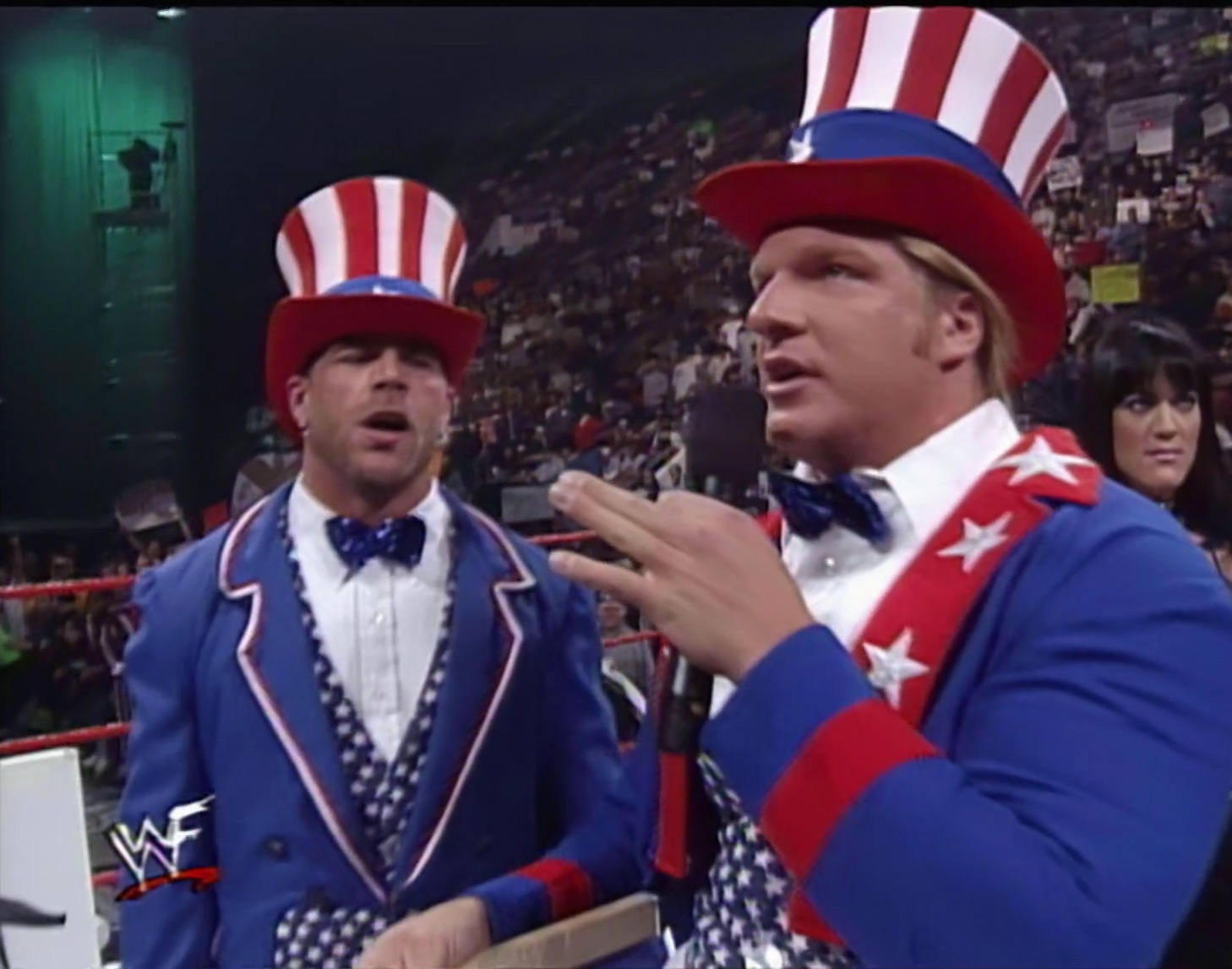 Suddenly, Austin's music hits, and Austin heads to the ring. He and Michaels stand nose-to-nose, and Austin appreciates their campaign because he "can beat the living crap out of Mike Tyson." However, when Austin won the Royal Rumble, he's guaranteed a WWF title shot at WrestleMania XIV. You can't fault his logic. Austin continues with "that damn belt is coming with Stone Cold whether you like it or not." He then leaves the ring unscathed.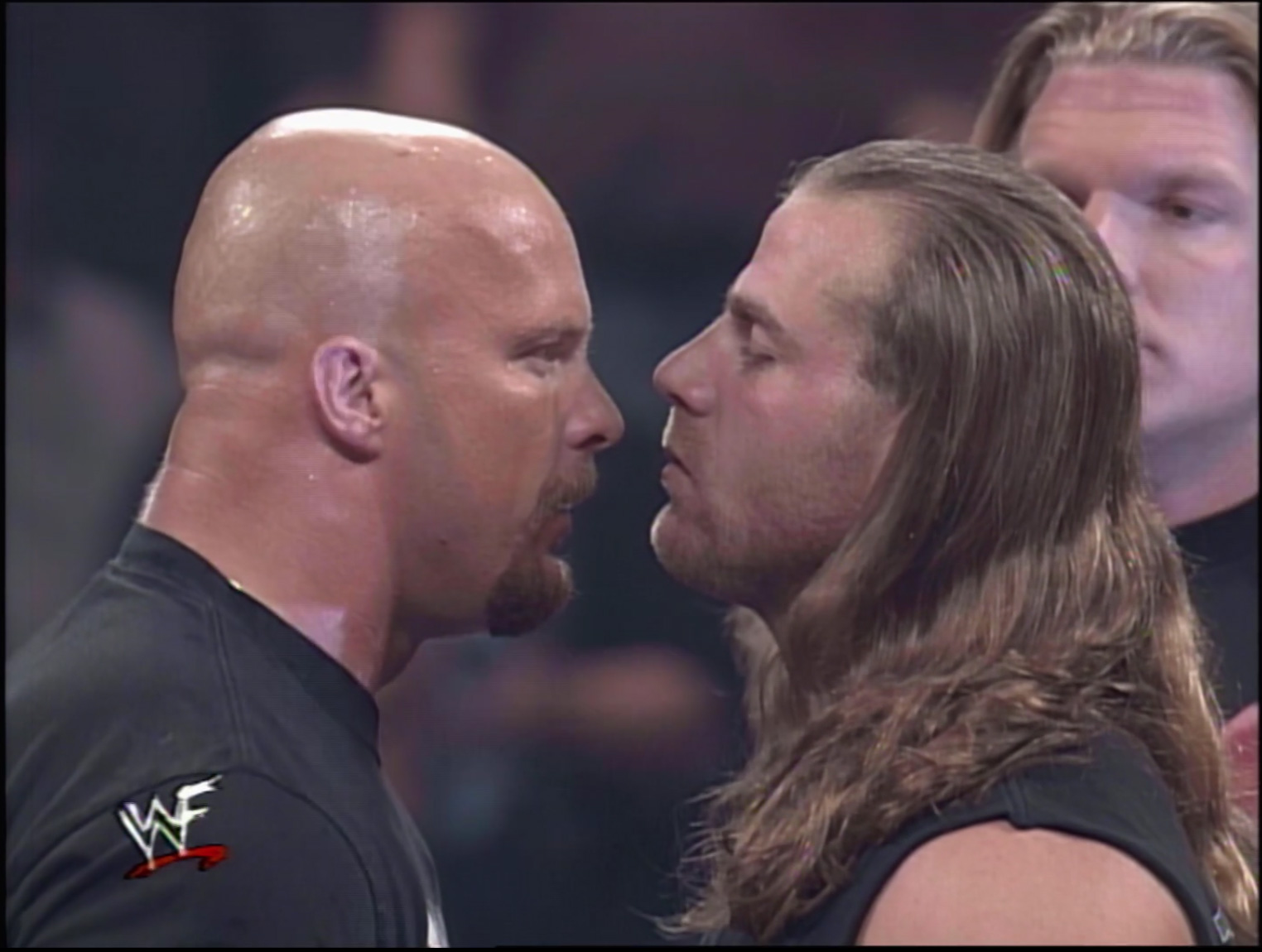 RAW is WAR is sponsored by the US Army.
Prior to the opening match, we revisit last week's episode when Cactus and Charlie decimated the tag team champions.
In an interview taped earlier in the stands, JR asks why the hardcore legends are facing one another. Foley is worried about his legacy, and Funk wants to be remembered as a hardcore wrestler.
Match 1 (hardcore): Cactus Jack versus Chainsaw Charlie
Highlights:
During his entrance, Charlie brought a waste container full of weapons to the ring.
Not to be outdone, Cactus wheeled out a dumpster full of weapons.
They fought over a chair, and Cactus got the first shot in.
When he rammed Charlie face-first into the dumpster, Cactus scored with a DDT on the stage and got 2.
Cactus then launched a ladder atop Charlie and unleashed a "bang, bang."
As Cactus attempted a suplex onto the ladder, Charlie countered with an inside cradle.
In lieu of getting a count, they roll down the ramp toward the ring. HA!
Charlie tossed three garbage cans into the ring but ate one immediately.
After Cactus refused to CROWN him with another garbage can, Charlie took it and BEANED Cactus with it mercilessly.
Cactus placed the garbage can over Charlie's head and piledrove him on it.
Following a commercial break, the match returned to the stage while Charlie swung a ladder into Cactus' face.
He then WHACKED Cactus with a chair and set up a table.
When they climbed atop it, Charlie attempted a piledriver, but Cactus backdropped him into the dumpster.
He then applied a Mandible claw until Charlie collapsed deep into the dumpster.
As Cactus used a ladder to climb onto the Titantron, he delivered a flying elbow drop to Charlie within the dumpster. Wow!
Suddenly, the New Age Outlaws emerged on the stage, and the match was thrown out.
No contest at 8:18.
Rating: NONE
Summary: While this is a preview of future hardcore matches, the storyline has a more significant impact.
The NAO tied the dumpster shut locking the hardcore legends inside it. While they contemplated sending the dumpster down the ramp toward the ring, they reconsidered and wheeled the dumpster OFF THE STAGE. Holy schnikes!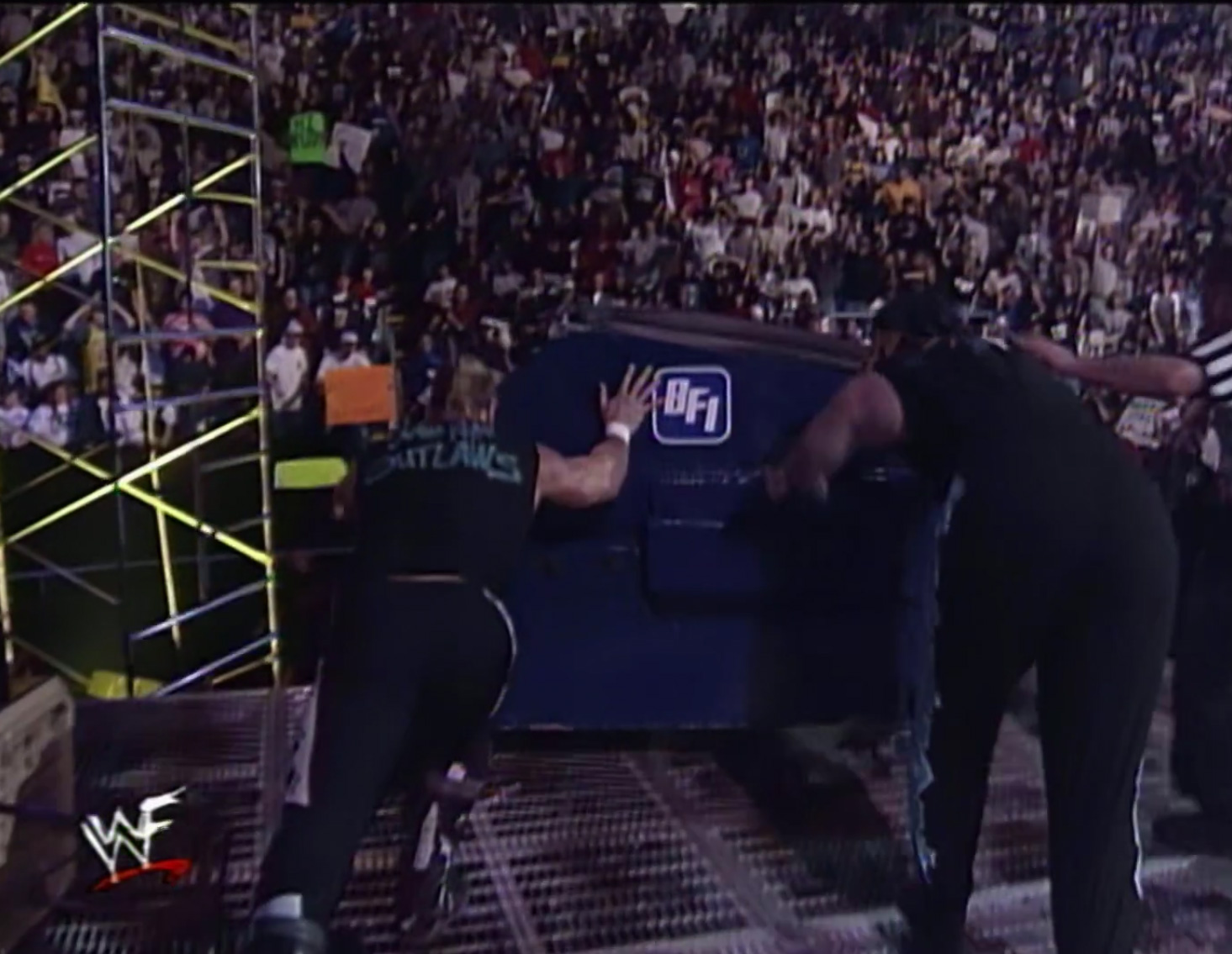 As the NAO celebrate their triumph, officials arrive to rescue the hardcore legends. Overheard is someone saying an ambulance will arrive in three minutes. After a replay of the crash, Cactus and Charlie remain in the wreckage. Vince McMahon questions the NAO, but the conversation is barely audible.
Following a commercial break, an ambulance arrives, and both Cactus and Charlie are prepped for medical assistance. A furious Flash Funk must be restrained by officials before he can fight with the NAO. Suddenly, the Headbangers begin to brawl with the NAO while Sunny comforts Charlie.
With wrestlers and officials carrying Charlie into the ambulance, EMTs and Savio Vega lift Cactus into the rig. The ambulance pulls away while Sunny weeps.
HOT TAKE: JR can quip about trying to garner ratings, but this was a pure ratings stunt. You take two wrestlers who have gone through hell to entertain the masses during their careers, put them in an indestructible vehicle, and crash them off an approximately six-foot stage. Since this was pre-planned, the dumpster was loaded with copious amounts of soft packing material to lessen the potential damage. I understand it's WrestleMania season and sweeps month, but this is taking things a little too far.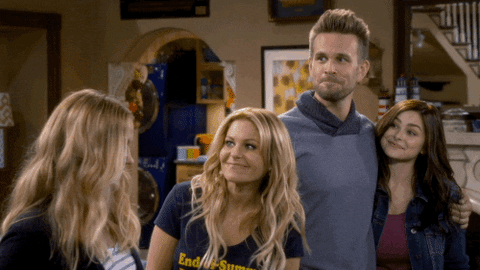 Backstage, the NAO defend their right to "get over." DeGeneration-X joins the interview and supports them in their wild behavior. Furious, Michaels asks JR "Where does it end?" DX tells the NAO to "suck it up" and the "show goes on."
WAR ZONE!
Match 2 for the WWF European title: Owen Hart (champion) versus Billy Gunn (w/ Road Dog)
Highlights:
Owen came to the ring and immediately attacked the NAO.
As he reversed an Irish whip, Owen backdropped Gunn.
He then clotheslined Gunn over the top rope to the floor.
With Gunn on the floor, Owen delivered a plancha. Woohoo!
He then sent Gunn shoulder-first into the steps and suplexed him on the floor.
If anything, this helped to settle the portion of the Indianapolis faithful who may have wanted to lynch the NAO for their stunt.
From the apron, Gunn rebounded by guillotining Owen with the top rope.
He then distracted referee Earl Hebner while Road Dog gave Owen the business.
When Gunn hit a hangman's neckbreaker, he got 2.
Gunn then missed a dropkick, so Owen attempted a Sharpshooter.
After Gunn escaped, he gave Owen a cross corner whip resulting in a sternum-first bump.
He then hooked a belly-to-back suplex for another 2.
While he supplied Owen with a swinging neckbreaker, Gunn gave him another cross corner whip.
Owen leaped to the second turnbuckle and launched a cross body block for 2.
As Owen reversed an Irish whip, Gunn secured a sunset flip.
Owen escaped and applied a Sharpshooter.
Before Gunn could submit, Road Dog entered the ring but ate a spinning heel kick.
Hebner called for the bell disqualifying Gunn.
Owen won by DQ at 5:25.
Rating: **
Summary: Gee, when you pull a stunt that keeps action out of the ring for the better part of an hour, you kill the crowd. The Indianapolis faithful's bubble is deflated, and they sat on their hands except for the first Sharpshooter attempt.
After the match, the NAO double-team Owen while DeGeneration-X approaches the ring. When Owen gets tossed to the floor, DeGeneration-X pummels him. Their demolition of Owen continues up the ramp to the stage where HHH unloads a DDT to Owen. The NAO then attempt to KILL Owen by tossing him off the stage, but officials intervene to stop the madness.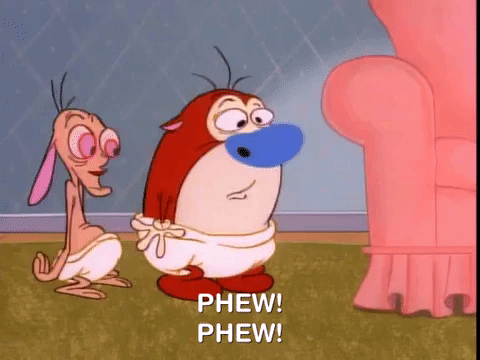 Replay of the dumpster crash is shown again.
No Way Out will be LIVE on PPV on 2/15. Order NOW!
From the hospital, Cole reports that "doctors are working on (Foley) and (Funk)." That's deep investigative reporting, Cole!
Prior to the next match, Mero scolds Sable for not wearing a robe. He then instructs her to disrobe him and rips a heart box from her hands. He then tosses it like a frisbee much to Sable's dismay and dismisses her. Next, Mero introduces MarilynDust and sings the chorus to "The Beautiful People" written by Marilyn Manson.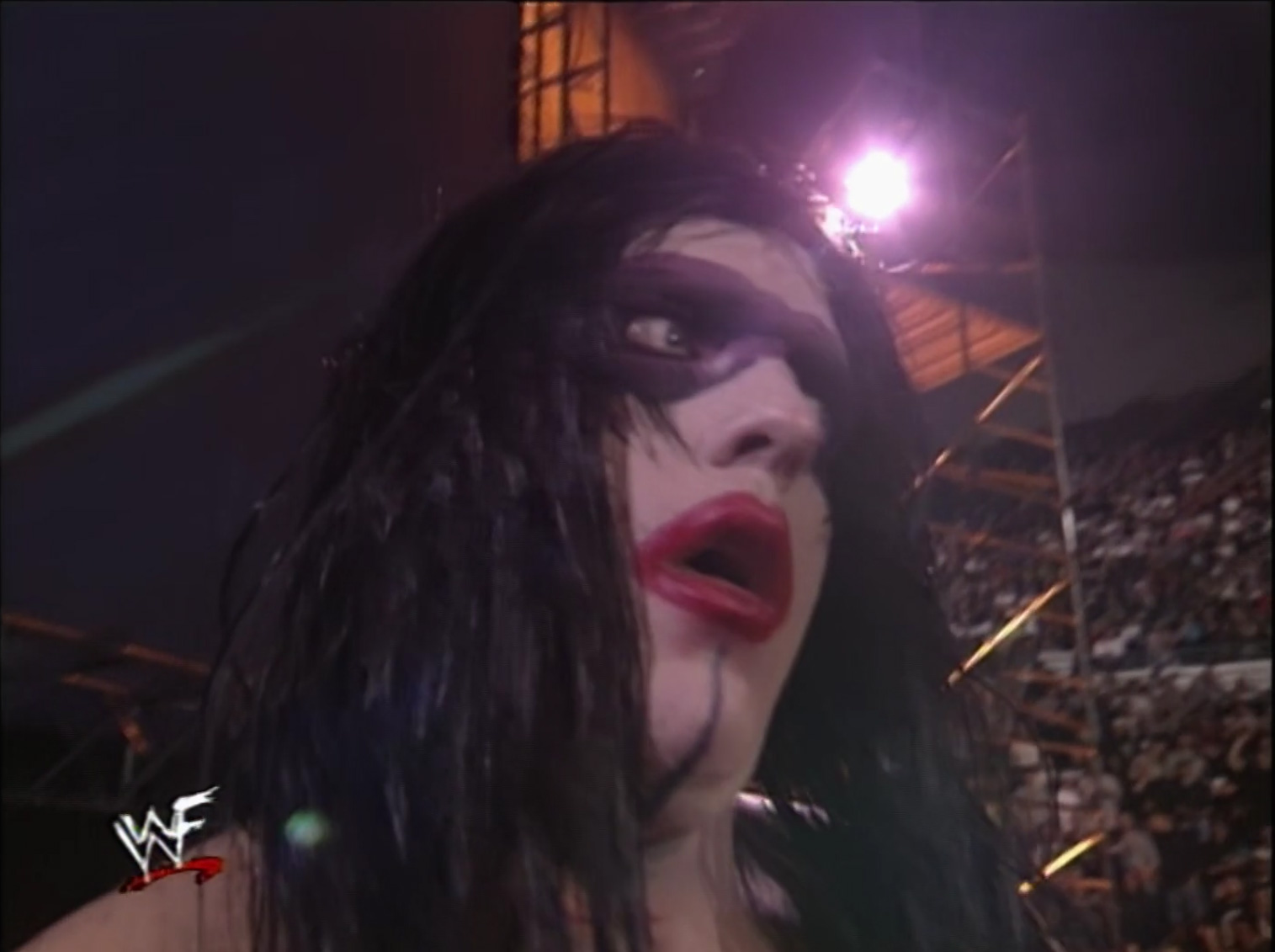 Match 3: "Marvelous" Marc Mero (w/ Sable) versus Mosh (w/ Thrasher)
Highlights:
Mero delivered an elbow drop and tossed Mosh to the floor.
When Mero distracted rerferee Jim Korderas, MarilynDust guillotined Mosh with the steel railing. SNEAKY!
Mero then scored with a sit-out powerbomb while Lawler described the effect of the earlier stunt as "not good."
As Mosh reversed a cross corner whip, he ate a back elbow on his follow-through.
Mero charged, but Mosh powerslammed him.
After he backdropped Mero, Mosh dropkicked him.
He then tried to supply Mero with a ten-punch count-along, but MarilynDust got too close for comfort.
While he gave Mero a cross corner whip, Mosh delivered a reverse avalanche.
Mosh then knocked MarilynDust from the apron, and Thrasher clotheslined MarilynDust.
With both Korderas and Mosh distracted, Mero hit a home run in Mosh's southern league.
1-2-3.
Mero won at 2:26.
Rating: DUD
Summary: Worthless filler as Sable has eclipsed Mero, and MarilynDust, while innovative, didn't factor significantly within the match.
In split-screen, Windham with the Rock'n'Roll Express, Jarrett and Cornette cuts a promo on Bradshaw. In the meantime, Bradshaw throws a temper tantrum yet will find a partner to face Windham and Jarrett tonight.
Video featuring Tiger Ali Singh airs. Who wants popcorn?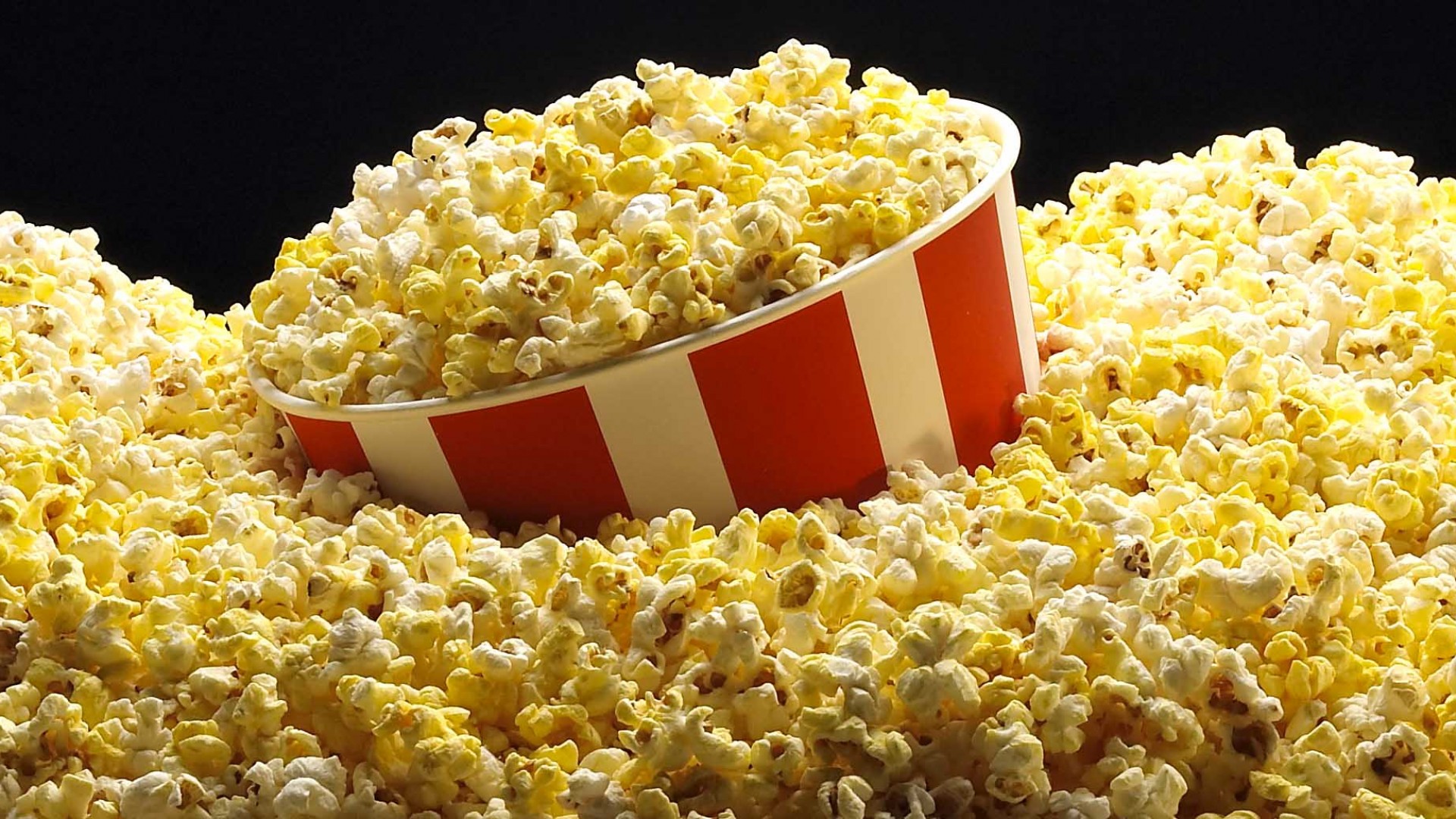 Match 4: Faarooq (w/ the Nation of Domination) versus Chainz (w/ Disciples of Apocalypse, Ken Shamrock, & Ahmed Johnson)
Highlights:
Faarooq gave Chainz a cross corner whip but ate a clothesline.
As he reversed an Irish whip, Chainz powerslammed Faarooq for 2.
Faarooq then delivered a snap suplex for 2.
When Chainz rebounded with an electric chair, he ate knees on a splash.
Faarooq gave Chainz another cross corner whip followed by a clothesline for 2.
After Cole reported that Funk had "regained consciousness" and Foley wasn't "out of the woods yet," Faarooq slammed Chainz, mounted the top turnbuckle, but whiffed on a flying clothesline.
Chainz then reversed an Irish whip, and Kama mistakenly grabbed Faarooq's leg thinking it was Chainz'.
While the NoD congregated to settle the argument, referee Jack Doan counted Faarooq out.
Chainz won by countout at 3:34.
Rating: DUD
Summary: Just a placeholder to hype their eight-man tag at the PPV.
After the match, Kama wants to scrap with Faarooq but gets restrained. Meanwhile, Faarooq asserts his authority and mandates the NoD to salute atop the stage.
WWF REWIND: Kurrgan applies a claw hold to Mike Modest and carries him up the ramp and backstage. Who does Kurrgan think he is? Lester Hayes?
Match 5: Barry Windham & Jeff Jarrett (w/ Jim Cornette & the Rock'n'Roll Express) versus Bradshaw & Flash Funk
Highlights:
For those curious, Windham returned his hair to its natural blond color and shaved off that ridiculous mustache.
Bradshaw reversed an Irish whip and delivered a big boot to Jarrett.
When Funk tagged in, Jarrett slammed him but ate a dropkick.
Funk then hit a flying clothesline and tagged in Bradshaw.
As Bradshaw distracted referee Tim White, the Rock'n'Roll Express double-teamed Funk on the floor. How dastardly!
They guillotined Funk with the steel railing, and officials sprinted to the ring to check on him.
After Bradshaw slammed Jarrett, he landed an elbow drop for 2.
Bradshaw then reversed a cross corner whip, and officials removed Funk from ringside.
Following a commercial break, Bradshaw provided Jarrett with a pumphandle slam.
Cornette got up on the apron to distract White, and Morton tripped Bradshaw coming off the ropes. Nefarious!
While Jarrett sent Bradshaw to the floor, Windham clotheslined Bradshaw.
Windham tagged in and backdropped Bradshaw.
When Jarrett tagged in, Bradshaw reversed an Irish whip but fell victim to a swinging neckbreaker.
Windham tagged in, but Bradshaw dispatched him.
As Bradshaw launched a lariat, he pinned Jarrett. But Jarrett wasn't the legal man!
Bradshaw and Funk won at 4:00.
Rating: *
Summary: Vehicle to get Bradshaw over against four wrestlers and a manager.
After the match, Bradshaw overtakes the NWA contingent and supplies Windham with a big boot. When Bradshaw holds Jarrett in a standing choke, Cornette WAFFLES him with a tennis racquet. Since it barely fazes Bradshaw, he saunters after Cornette. However, the NWA contingent gangs up on Bradshaw and delivers a slam/neckbreaker combo. Jarrett hooks a figure-four leg lock, and Windham splashes Bradshaw's previously injured left knee. Syrup, anyone?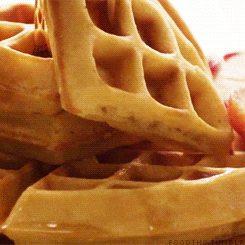 Cole reports from the hospital that "all hell has broken loose," but Cole's cellular signal disappears.
WrestleMania XIV will be LIVE on PPV on 3/29. Order NOW!
JR and Lawler then promote a news conference from the All-Star Café in New York City on Thursday. According to Lawler, ESPNNEWS, CNNSI, and TSN will carry coverage.
Wink Collins (who?) is in the ring and announces that the "remaining" tickets for WrestleMania XIV sold out in ninety seconds. Can you spell PRESALE? Suddenly, the lights go out, and Kane's music hits. Kane begins to chokeslam Collins, but Vader interrupts. When Vader approaches the ring, he cuts a promo on Kane. They will have a match at the PPV. As Vader grabs a fire extinguisher from ringside, he blasts it in Kane's face. In doing so, he chases Kane from the ring.
In a "oops, we forgot to play this" moment, we revisit Kane's destruction of Vader from last week.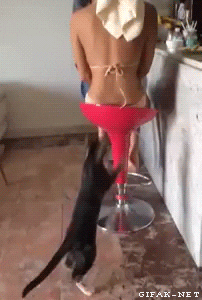 Match 6: Stone Cold Steve Austin versus Road Dog (w/ Billy Gunn)
Highlights:
The brawl began on the floor, and Austin manhandled the NAO.
As Austin sent him shoulder-first into the steps, he rammed Road Dog face-first into the broadcast table.
Gunn entered the ring but ate a Stone Cold Stunner.
When referee Earl Hebner called for the bell, Austin won by DQ at 0:32.
Rating: NONE
Summary: Nothing to write home about, and how will Austin fare 1-on-2?
After the match, Road Dog clotheslines Austin, and DeGeneration-X trips Austin coming off the ropes. They double-team Austin on the floor, and a 4-on-1 beating transpires in the ring. They tie Austin up in the ropes, and Michaels chastises him with the belt.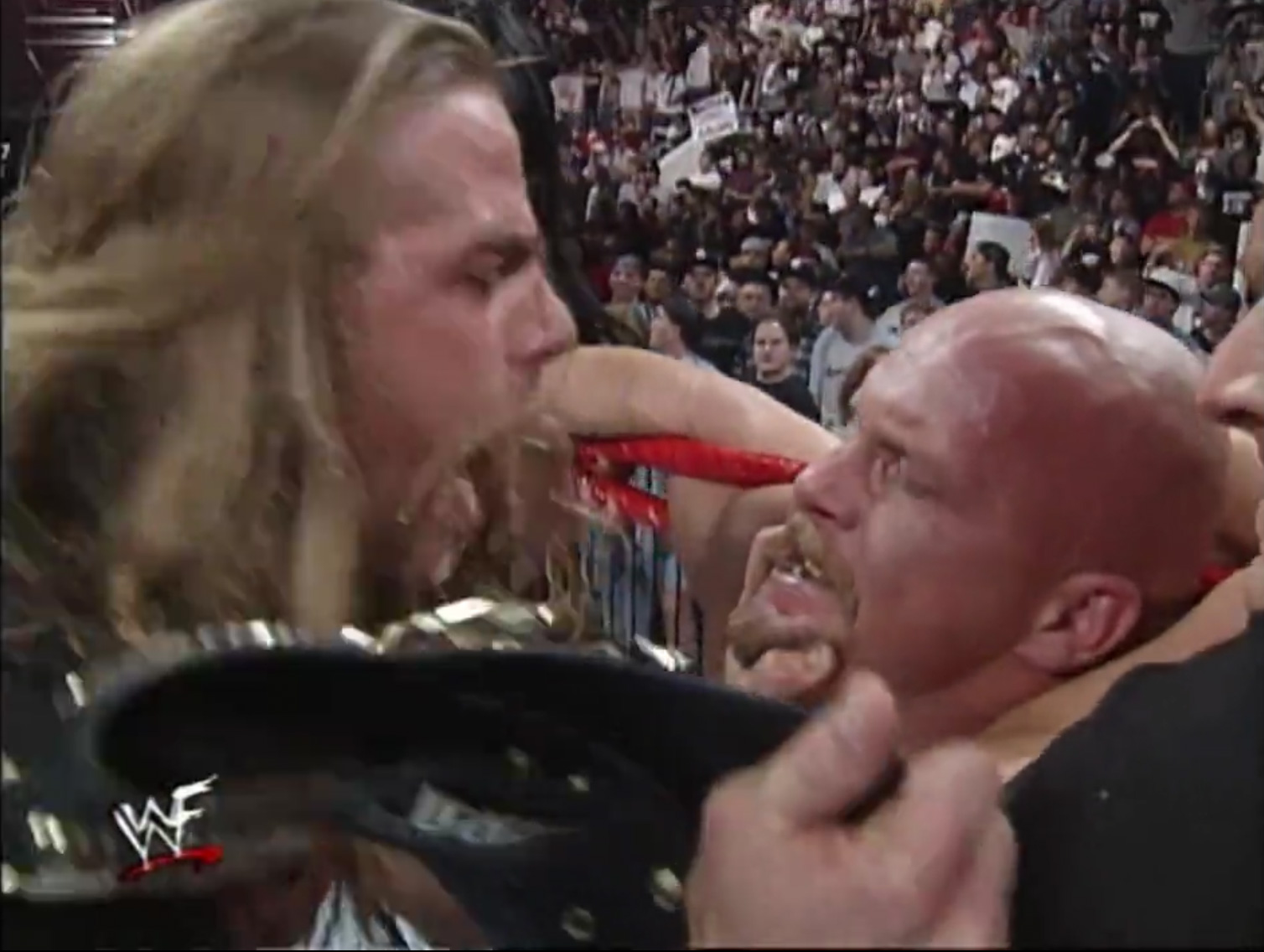 Abruptly, an injured Cactus returns from the hospital and heads to the ring. With IV stand in hand, Cactus shoos D-Generation-X away. Next, Charlie, decked in a johnny, hobbles to the ring with his trusty chainsaw.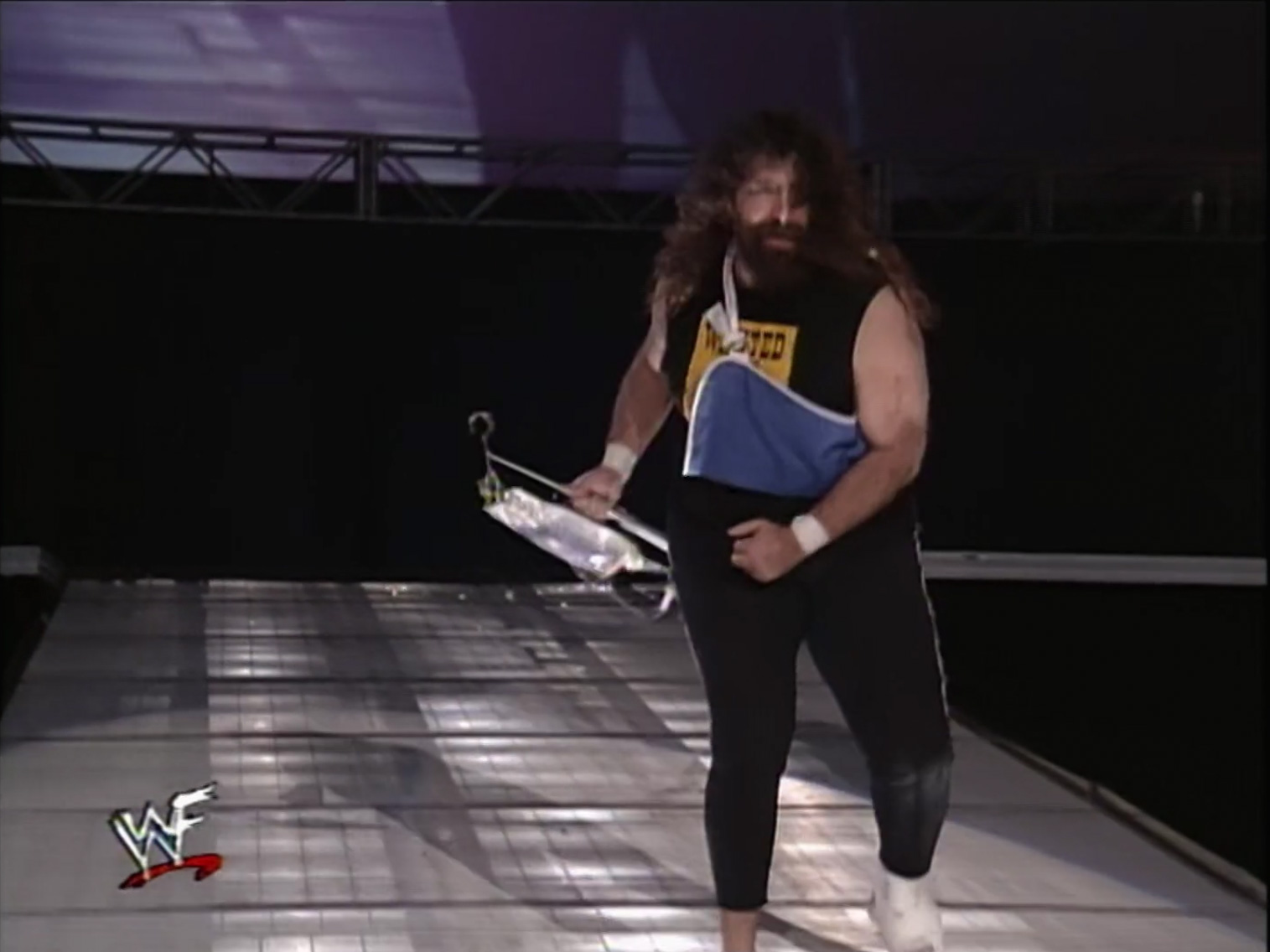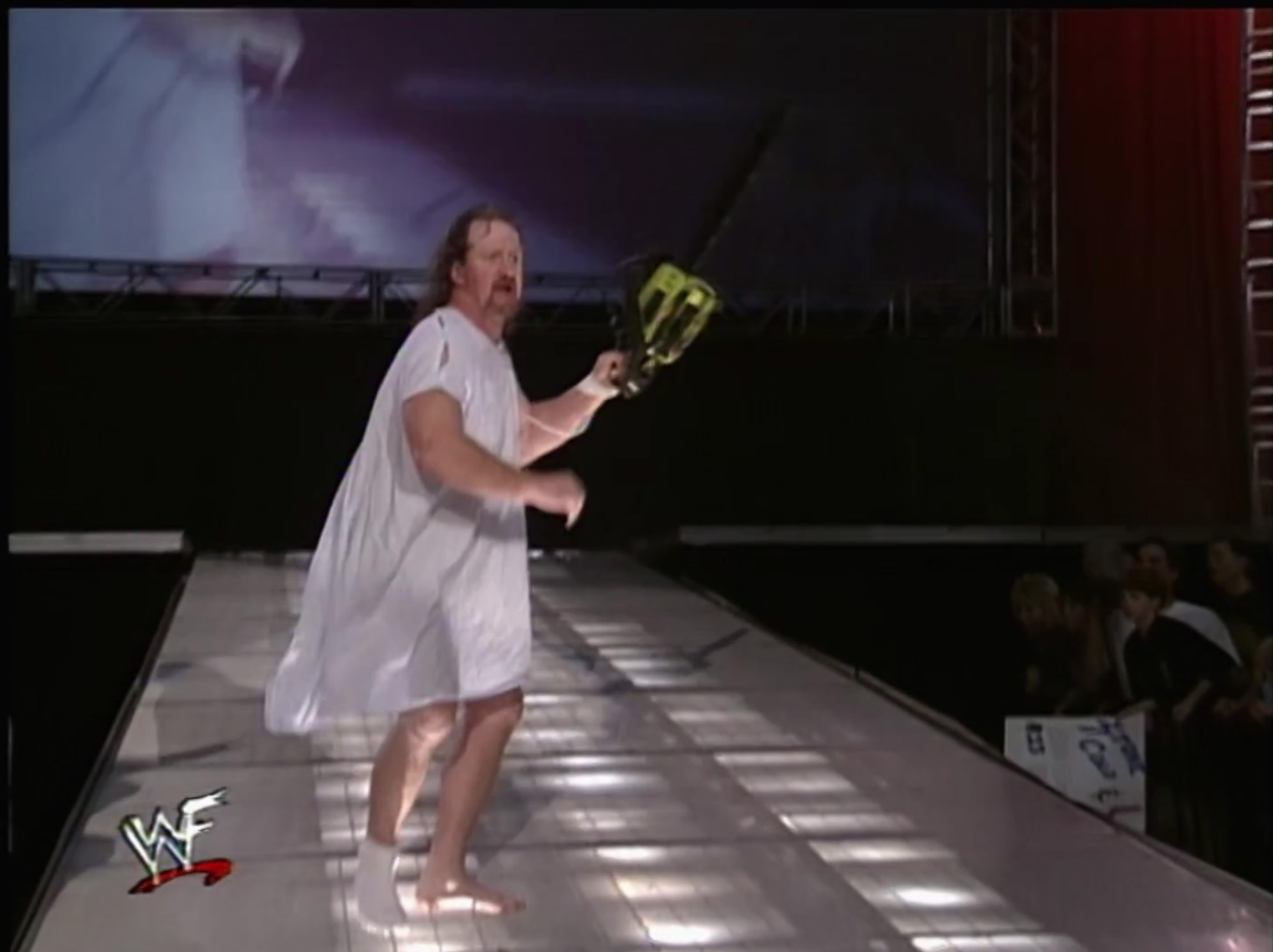 After Austin chases DeGeneration-X backstage, he returns to the ring and rips up a DX shirt to end the show.
In an Extra Attitude post-game moment, Austin stands atop the broadcast table calling out names to whom he will bring a can of whoop-ass. He then pops a white balloon symbolizing Michaels at WrestleMania XIV.
Conclusion: With WrestleMania XIV sold out, the build for PPV sales begins and ends with Austin-Michaels. Nevertheless, the ratings/publicity stunt from the dumpster ride absorbs too much time in the show killing what was a hot crowd. With the exception of the DX skit and interview, the rest of the show is a hot mess.
Could it finally overcome Nitro in the ratings?
TV Rating: 3.45
Who won? Nope, once again, Nitro TROUNCED them by a point and a half. Nothing, and I mean, NOTHING says "watch Nitro" other than Sting will be wrestling. I don't see things changing next week, but who knows?
Stay tuned for WCW Thunder 02-05-98!
Comments? Suggestions? Send them to me at rsg@rockstargary.com and follow me on Twitter (@rockstargary202).
Custom Search