WELCOME TO ROCK STAR GARY REFLECTIONS!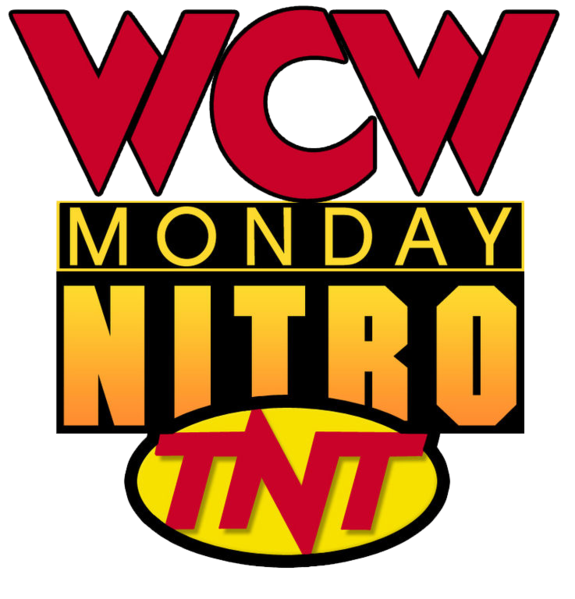 WCW Monday Nitro 02-02-98
Live from San Antonio, TX
Airdate: February 2, 1998
Attendance: 21,213 (20,005 paid)
Hosted by Tony Schiavone, Larry Zbyszko, "Iron" Mike Tenay, & Bobby "The Brain" Heenan
Sting battles Savage in the main event? How will Hogan be involved? Will Nash unleash another powerbomb, and how will WCW react? Can Jericho and Booker T retain their titles? Let's find out!
Opening montage.
Nitro Girls dance in the ring wearing blue and black. Perhaps they're Kenny Wayne Shepherd fans.
Match 1: Juventud Guerrera versus Psicosis
Highlights:
While Raven's Flock made its way to ringside, Guerrera leapfrogged Psicosis and followed with a flying headscissors.
Following a commercial break, Psicosis snuck a low blow on Guerrera unbeknownst to referee Charles Robinson.
He then slammed Guerrera, mounted the top turnbuckle, leaped, but ate an inverted atomic drop.
When Guerrera mounted the top turnbuckle, he delivered another flying headscissors for 2.
He then placed Psicosis atop the top turnbuckle, joined, and hit a somersault roll for another 2.
As Psicosis rolled through a Guerrera huracanrana, Guerrera attempted a somersault rollup.
They bridged out of it, and Psicosis supplied Guerrera with a reverse suplex.
After a seated dropkick sent Guerrera to the floor, Psicosis mounted the top turnbuckle and leaped.
Not to be outdone, Guerrera dropkicked him in mid-air.
Back in the ring, Guerrera mounted the top turnbuckle and launched a 450°.
1-2-3.
Guerrera won in 5:18.
Rating: **
Summary: With a lucha-friendly crowd, these guys brought their A-game for an entertaining opener.
Promo airs for SuperBrawl VIII LIVE on PPV on 2/22. Order NOW!
At the entrance, the Nitro Girls dance while having not changed costumes. That's just lazy!
THUNDER RECAP: DDP offers Benoit a shot at the US title scheduled for this Thursday, and Benoit accepts.
In the ring, "Mean" Gene Okerlund interviews DDP who refers to Benoit as "underrated" and cuts a promo on him.
Video featuring Giant airs.
We then revisit last week's episode when Nash powerbombed Traylor. According to Schiavone, the fine for violating the powerbomb ban has tripled to $150,000.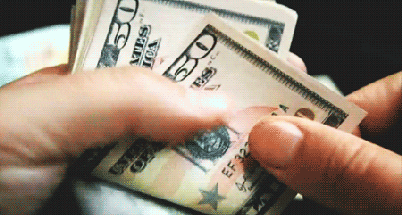 Match 2: Ultimo Dragon versus Kidman (w/ Lodi)
Highlights:
Lodi distracted Dragon, so Kidman capitalized with a dropkick.
As Kidman gave him a cross corner whip, Dragon performed a headstand on the top turnbuckle.
He then unleashed a series of kicks and punted him in the back.
When Dragon attempted a suplex, Kidman blocked it and tried one of his own.
Kidman escaped but got caught in a Dragon sleeper.
Meanwhile, Lodi got up on the apron to distract referee Randy Anderson, so Saturn from the opposite apron nailed Dragon. SNEAKY!
Kidman then slammed Dragon and followed with a springboard leg drop for 2.
After Dragon hooked a sunset flip, he got 2.
He then countered a rear chin lock with a jawbreaker, but Kidman rebounded with a somersault rollup for 2.
While he suplexed Dragon, Kidman got another 2.
He then gave Dragon a cross corner whip but ate boot on his follow-through.
As Dragon delivered a snap suplex, he applied a single-leg crab.
Kidman made the ropes but got tied up like an odd-looking pretzel with Dragon lying on his front.
When Kidman delivered a sit-out powerbomb, he got 2. Keep that fresh In your mind.
He then hit a springboard bulldog for another 2.
After he gave Dragon another cross corner whip, Kidman followed with a lariat but couldn't get 3.
Kidman then mounted the top turnbuckle, but Dragon crotched him.
While Dragon joined him, he provided Kidman with a super huracanrana.
Dragon then secured a Dragon sleeper, and Kidman submitted at 5:47.
Rating: **½
Summary: Solid match between these two with Dragon getting the well-received duke.
After the match, Lodi enters the ring, but Dragon leg-sweeps him. Sick Boy takes his turn and eats a superkick. Although Dragon prepares to deliver an enziguri to Riggs, Saturn supplies him with a German suplex. The Flock then triple-teams Dragon, and Kidman launches a shooting star press. Wow!
Kevin Nash approaches to the ring, grabs the microphone, and complains about Kidman's "tiger bomb." Rightfully, Nash asserts that he's the victim of the system and says either he or Hogan can pay any fine.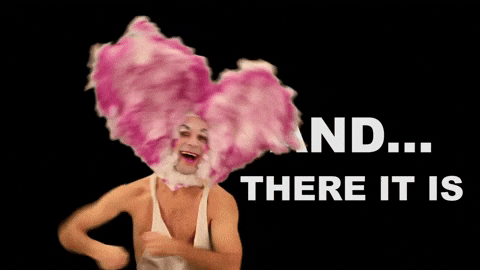 HOUR #2!
Prior to the next match, Jericho grabs the microphone and thanks the "Jerichoholics" for their support. I wonder what his ABV is.
Match 3 for the WCW Cruiserweight title: "Lionheart" Chris Jericho (champion) versus Super Calo
Highlights:
Jericho attempted a suplex, but Calo escaped and dropkicked him.
When Calo attempted a leap frog, Jericho countered by guillotining him with the top rope.
Jericho then suplexed Calo and dropkicked his knee.
As Jericho slammed him, he delivered a springboard splash for 2.
He then provided Calo with a knee lift, but Calo reversed a cross corner whip.
After Calo blocked a boot, he ate a clothesline.
Jericho then mounted the top turnbuckle, but Calo dropkicked him all the way down to the floor. OUCH!
While Calo hit a baseball slide, he followed with a somersault plancha. Woohoo!
Jericho then whined before returning to the apron.
When Calo suplexed him back into the ring, he connected with a missile dropkick for 2.
Jericho then reversed a cross corner whip but came up empty on his follow-through.
As Calo placed him atop the top turnbuckle, he attempted a flying headscissors.
On the contrary, Jericho escaped and hooked a Liontamer.
Calo submitted; thus, Jericho retained at 5:08.
Rating: **
Summary: Good match, but Calo was NOT going to win the TV title.
1-800-COLLECT sponsors the replay.
Match 4 for the WCW World TV title: Booker T (champion) versus Lord Steven Regal
Highlights:
It's the return of Regal! For those unaware, Regal was arrested for allegedly urinating on a flight attendant on a flight between Japan and the U.S. Let's hope he keeps it in his pants in 1998.
Why do I smell a time-limit draw?
As Zbyszko mentioned Regal's accumulation of ale around his torso, Booker T scored with a standing leg lariat.
He then delivered a forearm smash for 2.
When Regal whipped Booker T into the corner, he provided a series of European uppercuts.
Booker T then hooked a rollup for 2.
After he hooked a backslide, Booker T got 1.
Regal then hooked his own rollup for 2.
While Booker T landed a Harlem side kick, he followed with a scissors kick for 2.
Booker T then missed a cross body block, so Regal supplied another European uppercut.
As Regal attempted another one, Booker T countered with a belly-to-back suplex and performed a Spinaroonie. Woohoo!
He then launched a second Harlem side kick and pinned Regal at 4:23.
Rating: **
Summary: No time-limit draw here as Booker T has a firm grasp on the TV title by going over a formerly svelte champion.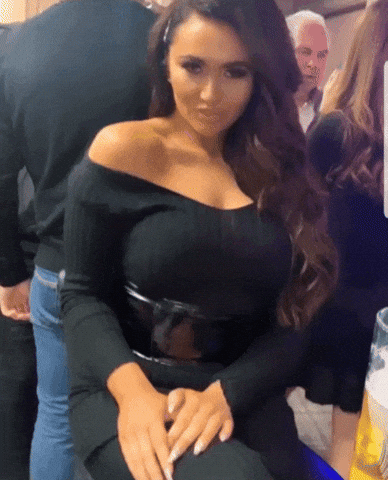 We then revisit last week's episode when Bret announced his intentions in WCW going forward.
Match 5: Konnan (w/ Vincent) versus Hugh Morrus
Highlights:
Morrus clotheslined Konnan and followed with a gorilla press slam.
When Konnan rebounded with a somersault clothesline, he landed a seated dropkick.
Konnan then distracted referee Billy Silverman so that Vincent could give Morrus the business. How dastardly!
As Morrus reversed an Irish whip, he delivered a series of elbow drops.
He then gave Konnan a cross corner whip and a powerslam.
After Vincent got up on the apron, Morrus nailed him.
Morrus then mounted the top turnbuckle, but Konnan powerbombed him down to the mat. Will he get fined $150,000?
While he scored with a Pedigree sans double underhook, Konnan pinned Morrus at 4:09.
Rating: *
Summary: Showcase match for Konnan.
Prior to the next match, Hall grabs the microphone and takes his survey. Surprisingly, San Antonio is nWo country. Hall then questions why he didn't "get no title shot" at SuperBrawl VIII. When Rhodes gets to speak, he takes "Rowdy" Roddy Piper to task for his decision.
Match 6: Jim "The Anvil" Neidhart versus Scott Hall (w/ the "American Dream" Dusty Rhodes)
Highlights:
After Neidhart made his entrance, Louie Spicolli stormed the ring to inform Hall that he was "robbed." Also, Spicolli will "fight for (Hall)."
Of course, it was a decoy, and Hall CREAMED Neidhart with the microphone.
He then gave Neidhart a cross corner whip but came up empty on his follow-through.
As Neidhart applied an Asiatic spike a la Terry "Bam Bam" Gordy, Rhodes distracted him.
That allowed Hall to supply Neidhart with an Outsider Edge.
1-2-3.
Hall won in 2:05.
Rating: *
Summary: Showcase match for Hall who got his well-fed flunkies to assist him in victory.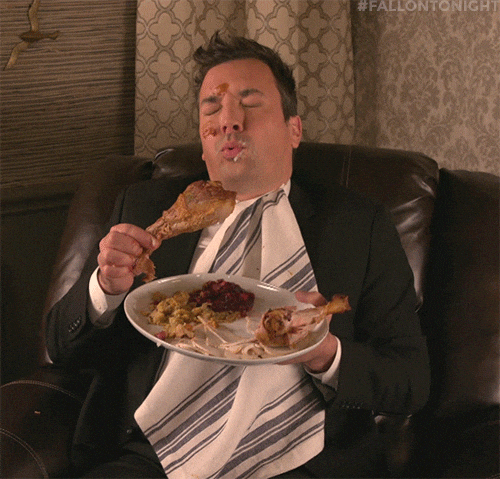 After the match, Spicolli attacks Neidhart until Smith storms the ring to save his fellow Hart family member. Smith back drops Spicolli before clotheslining him down to the floor.
In the ring, Okerlund interviews the "Total Package" Lex Luger who cuts a promo on Savage.
This week's Nitro Party pack goes to the Brice family from Hartford, Wisconsin.
Nitro Girls dance in silver and black among the San Antonio faithful.
Match 7: Goldberg versus Mark Starr
Highlights:
Last time Starr saw major TV time was at World War III.
When Starr jumped him before the bell, Goldberg hooked an ankle lock.
Immediately, Starr grabbed the bottom rope and attempted his own ankle lock.
Goldberg fought out of it and delivered a gorilla press into a powerslam. Innovative!
As he hit a spear, Goldberg launched a Jackhammer.
Goldberg won in 1:12.
Rating: *

Summary: Showcase match for Goldberg.

Prior to the next match, we revisit last week's episode when Smith returned to WCW and beat Mongo.

Speaking of Mongo, he makes his entrance and announces "Mongo's home." The San Antonio faithful welcome their native son.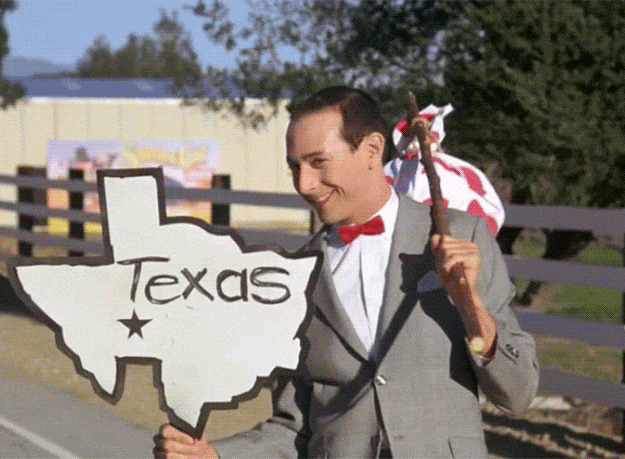 Match 8: Steve "Mongo" McMichael versus the "British Bulldog" Davey Boy Smith
Highlights:
Take two?
Smith and Mongo brawled on the floor until Smith hit an atomic drop.
As a clothesline from Smith sent both wrestlers over the top rope to the floor, Mongo reversed an Irish whip and sent Smith shoulder-first into the steps.
The bell rang, and both wrestlers were counted out at 1:02.
Rating: DUD
Summary: Why do I get the feeling these two will settle their score at the PPV? Fact check, instead of the magic 8-ball, says I'm right.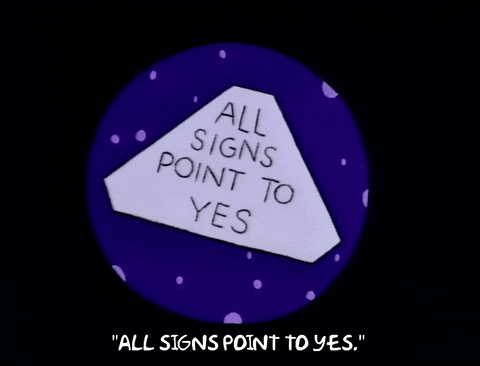 After the match, Smith makes Mongo taste the steel railing twice. It must taste like the Rocket Q at 54th Street Grill. While the San Antonio faithful chants "Mon-go," their hero tosses Smith onto the broadcast riser and LEVELS referee Mickey Jay. They then fight all the way backstage.
HOUR #3!
"Hollywood" Hogan and Eric Bischoff approach the ring. While Hogan gives Nash carte blanche to run roughshod over WCW, he promises to beat Sting at the PPV. He then agrees that Nick Patrick should be the referee. Afterward, Hogan grants Savage his freedom against Sting tonight.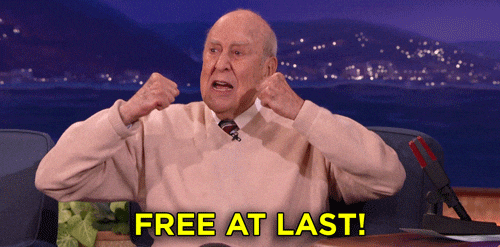 Prior to the next match, Raven offers a soliloquy of little matter.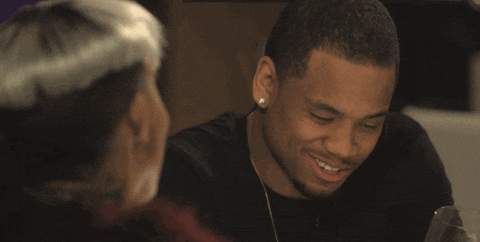 Match 9: Raven versus Disco Inferno
Highlights:
When Raven tossed Disco down to the floor, he followed with a plancha.
He then set up a chair in the ring, reversed an Irish whip, and arm-dragged Disco into it.
As he provided Disco with a face full o' chair, Raven ate a clothesline while sitting in it.
Raven then charged but came up empty, so Disco rolled him up for 2.
After Disco got another quick rollup, he earned another 2-count.
He then followed with a swinging neckbreaker but couldn't get 3.
While he delivered a belly-to-back suplex, he got yet another 2.
Raven then blocked another belly-to-back suplex and hit one of his own.
When Disco countered a side head lock with a belly-to-back suplex, Raven tried the same trick.
On the other hand, Disco landed on top for 2.
Disco then rolled up Raven for another 2.
As Raven reversed a cross corner whip, he ate knee on his follow-through.
Disco then tried to pin Raven with his feet on the ropes but only got 2.
After Raven thwarted a back drop attempt, he PLANTED Disco with a DDT.
Raven won in 5:00.
Rating: **½
Summary: Showcase match for Raven, but Disco puts it into overdrive like he's motivated. While the broadcast team has no idea why Raven calls it an Evenflow DDT, I'll let you enjoy some Pearl Jam.
Nitro Girls dance at the entrance wearing silver and black while multiplying.
Match 10: Kevin Nash & Buff Bagwell versus the Steiners (w/ Ted DiBiase)
Highlights:
Bagwell leapfrogged Scott and booted him in the midsection.
As Scott countered a hip toss with one of his own, he delivered a Steinerline.
Scott then supplied Bagwell with a double underhook slam, and Rick mocked Bagwell. HA!
When Rick distracted referee Charles Robinson, Bagwell reversed an Irish whip, and Nash smashed Scott in the back of the head. Devious!
Nash tagged in, manhandled Scott, and sent his hat into the fifth row.
After he hit a sidewalk slam, Nash got 2.
Nash then landed a big boot to Scott while Bagwell spoiled Rick's dog chow.
Meanwhile, Rick distracted Robinson again.
Nash attempted a powerbomb, and the San Antonio faithful ERUPTED.
Conversely, Rick scored with a Steinerline to thwart it.
As Bagwell tagged in, Scott provided Bagwell with a Steinerline and was in position to tag out.
Instead, he reversed an Irish whip and launched a Frankensteiner upon Bagwell.
1-2-3.
Steiners won in 7:30.
Rating: *
Summary: More storyline than match as Scott's inflated ego highlights this week's match.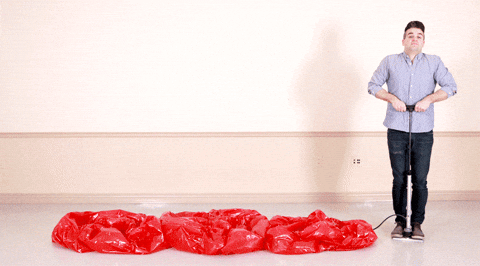 After the match, Rick berates his brother about making a tag, but Scott walks off again.
Match 11: Sting versus "Macho Man" Randy Savage (w/ Elizabeth)
Highlights:
Buffer rumbled.
For those curious, this is the first match Sting has had on Nitro since 9/2/96.
When Savage made his entrance, he cut a promo on Luger.
From the top of the Alamodome, Sting descended toward the floor. Why the FUCK didn't they do this at Starrcade '97?
He landed among the San Antonio faithful, made his way to ringside, and removed his rappelling gloves.
As Sting no-sold Savage's attack in the ring, he made Savage taste the steel railing after chasing him into the aisle. It must have tasted like the Santa Anna at Moses Roses.
He then slammed Savage on the floor before tossing hm into the ring.
After Savage pulled him to the floor, Sting made him HIT THE POLE.
Referee Randy Anderson admonished Sting, and Elizabeth handed Savage the ring bell.
While Sting attempted a Stinger splash, Savage CLOBBERED him with the bell. Heinous!
He then guillotined Sting on the steel railing and removed the turnbuckle pad.
When Savage mounted the top turnbuckle, he launched a double axe handle to Sting on the floor.
He then made Sting HIT THE POLE and taste the steel railing. Waiter, could you give the silent guy in white makeup a Crockett?
Back in the ring, Savage piledrove Sting who no-sold it.
Sting then landed a Stinger splash but appeared to have missed on a second attempt.
Actually, he hit the exposed steel turnbuckle with his head.
Savage then mounted the top turnbuckle and hit the big elbow.
Before Savage could pin Sting, Hogan intervened.
As a result, Savage won by DQ at 3:58.
Rating: **
Summary: Of course, this match doesn't have a conclusive or decisive finish, but what's the deal with Hogan now?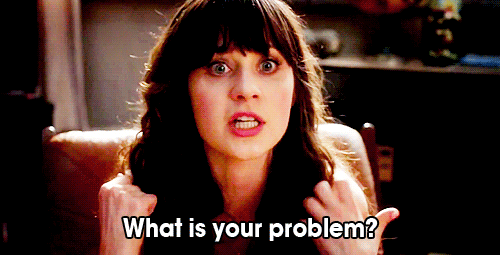 After the match, Hogan slaps Savage while Luger pulls him to the floor. While Luger provides Savage with another taste of the steel railing, Sting fights off the nWo and intimidates Hogan out of the ring to end the show.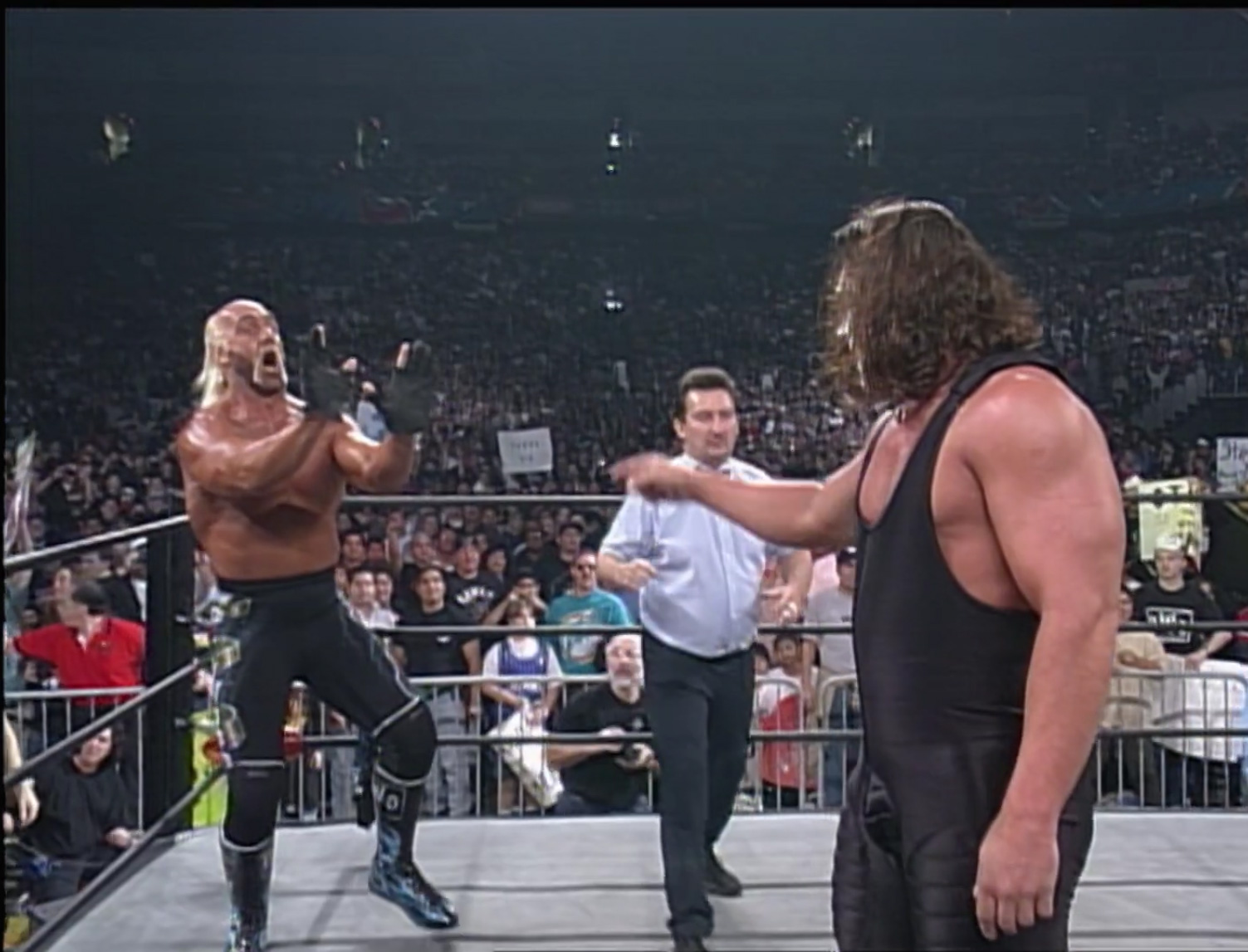 Conclusion: WCW knew ahead of time that Austin would be in the main event on RAW, so they pulled Sting out of mothballs and made him wrestle on Nitro. Of course, his entrance was spectacular, but the booking centers around Hogan and not Sting. As Nash got to bitch about life not being fair, Disco Inferno stepped up his game. Let's hope it continues. Booker T survived a returning (and rotund) Regal while Jericho and Calo had a contest to see who could kill himself first. While neither succeeded, thankfully, Goldberg continued his winning ways. All in all, it was an entertaining show. What's on RAW is WAR?
TV Rating: 4.9
Stay tuned for RAW Is WAR 02-02-98!
Comments? Suggestions? Send them to me at rsg@rockstargary.com and follow me on Twitter (@rockstargary202).
Custom Search