WELCOME TO ROCK STAR GARY REFLECTIONS!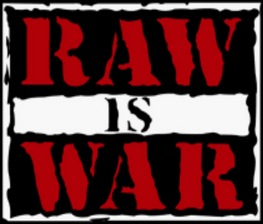 WWF Monday Night RAW 01-19-98
Live from Fresno, CA
Airdate: January 19, 1998
Attendance: 7,329 (sold out)
Hosted by Jim Ross, Michael Cole, Kevin Kelly, & Jerry "The King" Lawler
What will happen when Tyson invades RAW is WAR? Will Undertaker reemerge after last night's fiery fiasco? How will DX behave this week? Let's find out!
Opening montage.
To begin the program, Undertaker's music hits, but Paul Bearer emerges. Upon entering the ring and grabbing the microphone, Bearer laughs about the ruse he pulled on the WWF fans and the Undertaker. While the Fresno faithful chants "you suck" at him, Bearer details the destruction of Undertaker from last night.
When Undertaker's music starts again, the tattered casket gets wheeled to the ring. Although Bearer would have you believe that Undertaker was charred beyond recognition, JR reveals that Undertaker has "disappeared." Nevertheless, Kane rises from the casket to join Bearer.
Promo for the replay of Royal Rumble '98 airs. It will begin at 8pm tomorrow night. Reorder NOW!
RAW is WAR is sponsored by the US Army.
From the locker room, HHH cuts a promo on Owen. Afterward, Shawn Michaels feigns emotion about the fall of the Undertaker, yet DX will begin its hunt for Undertaker TONIGHT.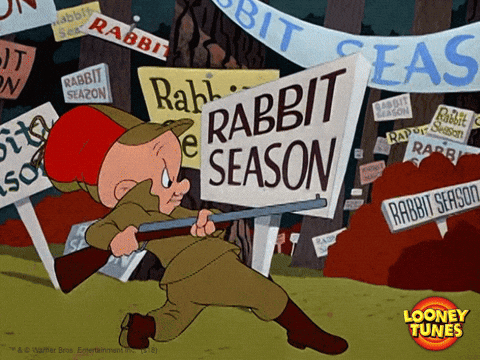 Match 1 (six-man): The Nation of Domination versus the Disciples of Apocalypse
Highlights:
Why?
8-Ball reversed an Irish whip and landed a back elbow to Brown.
When he caught Brown with a corner clothesline, 8-Ball provided him with a ten-punch count-along.
Unimpressed, Brown countered with an inverted atomic drop and clothesline.
8-Ball then delivered a big boot, and tags were exchanged on both sides.
As Kama blocked a hip toss, he supplied Chainz with one of his own.
Chainz hit a big boot and followed with a series of elbow drops.
After Skull tagged in, Kama reversed an Irish whip sending Skull into a knee from Faarooq.
Kama scored with a leg lariat, and 8-Ball distracted referee Earl Hebner.
That allowed the NoD to triple-team Skull in the heel corner and an illegal tag to Faarooq.
When Brown tagged in, the Fresno faithful informed him that he truly "sucks."
Skull then gave Brown a cross corner whip but ate a back elbow on his follow-through.
As Brown delivered a standing leg drop, he got 2.
Kama tagged in and clotheslined Skull.
After Kama slammed Skull, Brown tagged in, mounted the top turnbuckle, but missed a moonsault.
Hot tag Chainz.
All six wrestlers were in the ring, and Hebner called for the bell.
As a result, the match outcome was a double-disqualification.
BOOOOOOOOOOOOOOOOOOOOOOOOOOOOOO!
Rating: **
Summary: Shitty finish aside, this was a well-oiled six-man match that followed the formula well.
After the match, the Rock and Mark Henry storm the ring, and the DoA are outnumbered 5-3. Suddenly, Ken Shamrock and Ahmed Johnson join the fray to even the sides. With their help, the DoA clears the ring.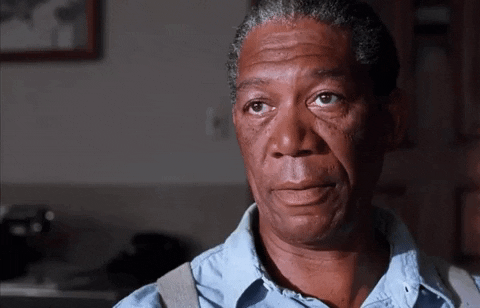 Vic Venom shills both the WWF Magazine and RAW Magazine. For those in the know, Venom is otherwise known as Vince Russo—a member of the booking committee.
Backstage, a hearse pulls into the arena, yet no one has emerged from it.
Match 2: "Marvelous" Marc Mero (w/ Sable) versus Tom Brandi
Highlights:
While Mero made his entrance, he insisted Sable wear a robe.
He then insisted Sable disrobe him; however, Brandi kindly asked her to step aside.
As Brandi turned him around, he nailed Mero.
He then dropkicked Mero and followed with a clothesline.
When he delivered a sidewalk slam, Brandi got 2.
He then gave Mero a cross corner whip but came up empty on his follow-through.
After Mero hit a DDT, he landed an elbow drop.
Abruptly, flowers were given to Sable at ringside, and Mero questioned her about them.
In fact, he took them from Sable and sent her back to the locker room.
Back in the ring, Mero reversed a cross corner whip, but Brandi rebounded with a spear.
He then scored with a gourdbuster for 2.
As Mero reversed an Irish whip, he attempted a belly-to-back suplex.
On the other hand, Brandi used momentum to land on top for another 2.
Brandi then escaped a TKO, hooked an O'Connor roll, but couldn't get 3.
Unfathomably, Sable returned to ringside.
From the apron, Brandi returned to the ring via sunset flip.
Mero grabbed the top rope, but referee Tim White wouldn't permit it.
When Mero grabbed him, White shoved him.
Brandi then got 2.
After Sable got up on the apron, Mero nailed Brandi down SR-41 near Kettleman City.
He then delivered a TKO and pinned Brandi.
Rating: *½
Summary: Brandi may be an up-and-comer, but all the Fresno faithful wanted was more and more Sable.
Backstage, DX investigates the hearse and discovers DX groupies inside. Much to their delight, HHH and Michaels join them in the back of the hearse while Chyna scowls.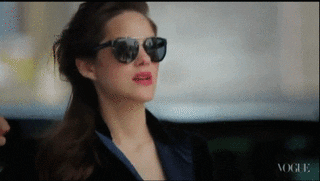 SONY PLAYSTATION SLAM OF THE WEEK: ICYMI, Luna took a ride on Vader's back during a Vader bomb of Goldust last night.
Outside the arena, Shane McMahon and "Iron" Mike Tyson exit a limousine.
Match 3: Cactus Jack & Chainsaw Charlie versus the Quebecers
Highlights:
Holy defections, Batman! The Amazing French Canadians have jumped ship! In case you're unfamiliar, they've recovered their previous WWF name and were known as the Quebecers.
Where's Colonel Parker?
Outside the ring, Cactus clotheslined Pierre and rammed him shoulder-first into the steps.
While Cactus rammed Pierre face-first into the steps, Rougeau countered a piledriver with a back drop sending Charlie over the top rope to the floor.
Rougeau then piledrove Charlie and provided him a ten-top-turnbuckle count-along.
When Pierre tagged in, he also piledrove Charlie, and I truly believed that Funk forgot he lived in Texas.
Nonetheless, the Quebecers attempted a spike piledriver on Charlie, but Cactus interfered.
He then supplied Rougeau with a discus clothesline but got chastised by referee Mike Chioda.
Not to be outdone, Cactus applied a Mandible claw on Chioda while the Quebecers double-guillotined Charlie with the top rope.
Officials came to ringside, and the bell rang.
As you'd expect, the Quebecers won by DQ.
Rating: DUD
Summary: Inauspicious return by the Quebecers. I wonder if they get another invite.
After the match, Cactus offers the Quebecers a double noggin knocker followed by a double Cactus clothesline. Charlie then hits a Vader bomb onto the Quebecers. When Cactus celebrates in the ring, Rougeau puts a knee into his back sending him outside the ring again. Next, Rougeau intentionally backdrops Pierre over the top rope atop Cactus; however, Cactus grabs his trusty barbed-wire baseball bat to chase them away. Wouldn't you run away from a toothless Christmas-loving hardcore freak?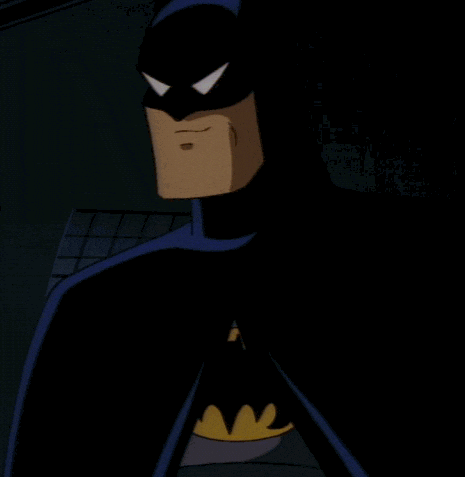 Backstage, DX encounters los luchadoritos. When Michaels wants to question Max Mini, Chyna lifts him up to be eye-to-eye with Michaels. HA!
Following a commercial break, we see Tyson surrounded by WWF agents.
Match 4 for the NWA North American title: Jeff Jarrett (champion w/ Jim Cornette & the Rock'n'Roll Express) versus Blackjack Bradshaw (w/ Blackjack Windham)
Highlights:
In case you're curious, that wasn't a pin drop you heard during Jarrett's entrance, it was NOTHING.
Before the bell, Jarrett and the Rock'n'Roll Express triple-teamed Bradshaw. How dastardly!
Bradshaw reversed an Irish whip and delivered a sidewalk slam.
As he gave Jarrett a cross corner whip, Bradshaw followed with a corner clothesline.
He then slammed Jarrett but missed an elbow drop.
When Jarrett attempted a cross body block, Bradshaw caught him and hit a fallaway slam.
Cornette then distracted referee Jim Korderas, so the Rock'n'Roll Express tripped Bradshaw coming off the ropes. SNEAKY!
After they pulled him out of the ring, the Rock'n'Roll Express rammed Bradshaw back-first into the apron.
Jarrett then unleashed his famous dropkick and distracted Korderas.
In the meantime, the Rock'n'Roll Express continued to do a number on Bradshaw.
Jarrett then missed a running guillotine, but Robert Gibson clocked Bradshaw behind Korderas' back.
As Bradshaw reversed another Irish whip, he caught Jarrett by the foot and demolished him with a lariat.
He then provided Jarrett with a big boot and powerbombed him.
When Cornette got up on the apron, Bradshaw prepped the Clothesline from Hell but nailed the Rock'n'Roll Express instead.
Windham entered the ring and unwrapped a HUGE lariat but caught Bradshaw instead of Jarrett.
After Jarrett hooked the tights, he pinned Bradshaw.
Jarrett retained.
Rating: DUD
Summary: This was definitely booked with a Southern old-school flair, but Fresno in 1998 was neither Southern nor old-school.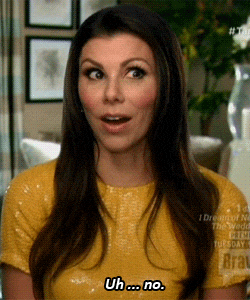 After the match, Jarrett shoves Bradshaw so he could strut. Bradshaw takes no prisoners and nails both Jarrett and the Rock'n'Roll Express. While Jarrett and the Rock'n'Roll Express restrain Bradshaw, Cornette CLOBBERS him with his tennis racquet. Windham re-enters the ring and waves them off. All of a sudden, he unravels a lariat to Bradshaw. WE HAVE A HEEL TURN! He then puts the boots to Bradshaw and joins the NWA group smiling all the way back to Texas.
Cole and Kelly run down the WWF tour:
Tomorrow (1/20): Davis, CA (RAW is WAR taping)
Saturday (1/24): Bethlehem, PA
Sunday (1/25): Philadelphia, PA
Monday (1/26): Hartford, CT
Monday (2/2): Indianapolis, IN (RAW is WAR live)
WAR ZONE!
Undertaker's music hits again, and he descends from the ceiling. When the lights illuminate, Michaels unveils himself from Undertaker's attire. What a ruse! HHH and Chyna join him in the ring with a barbecue grill. In true degenerate fashion, HHH wears a unique apron.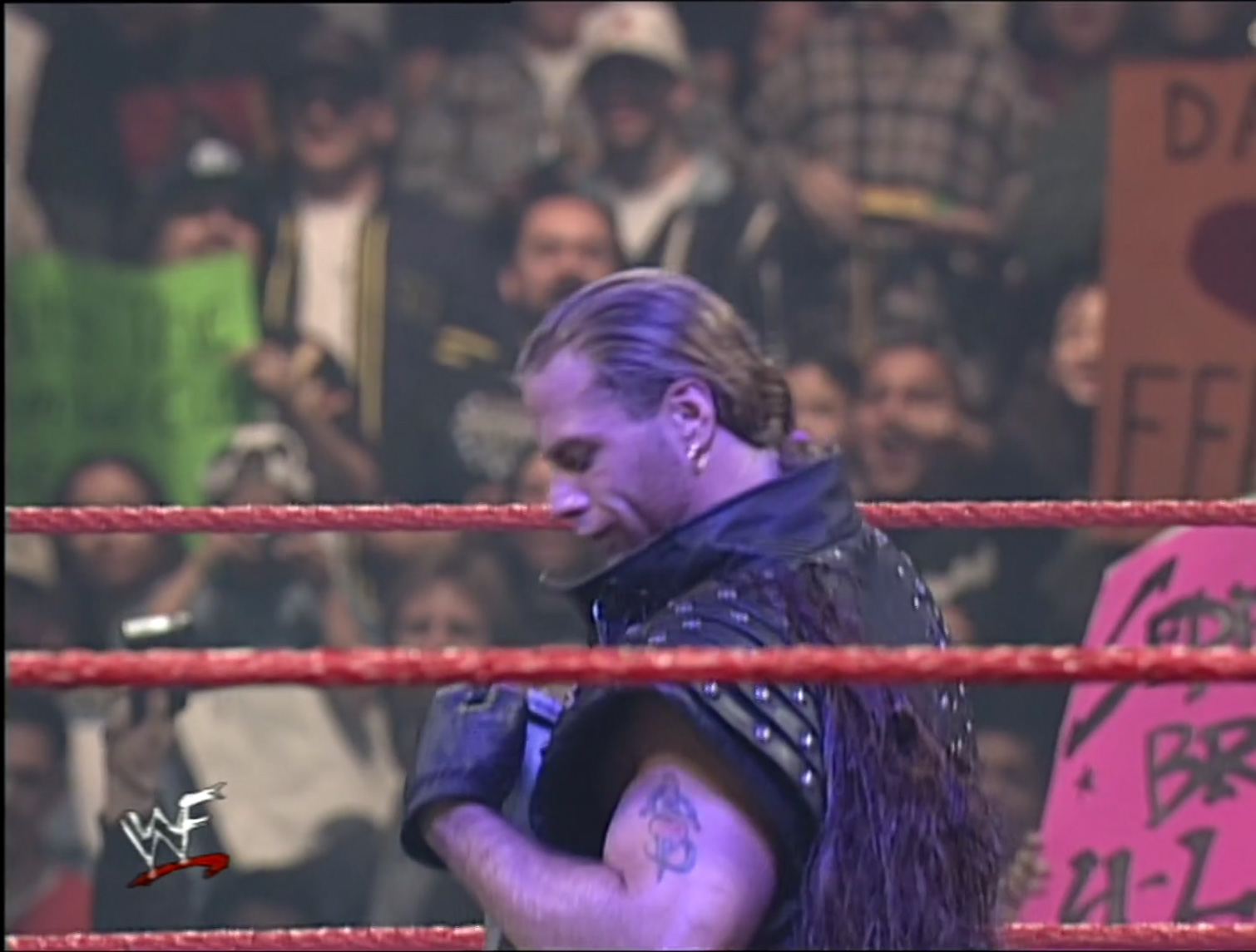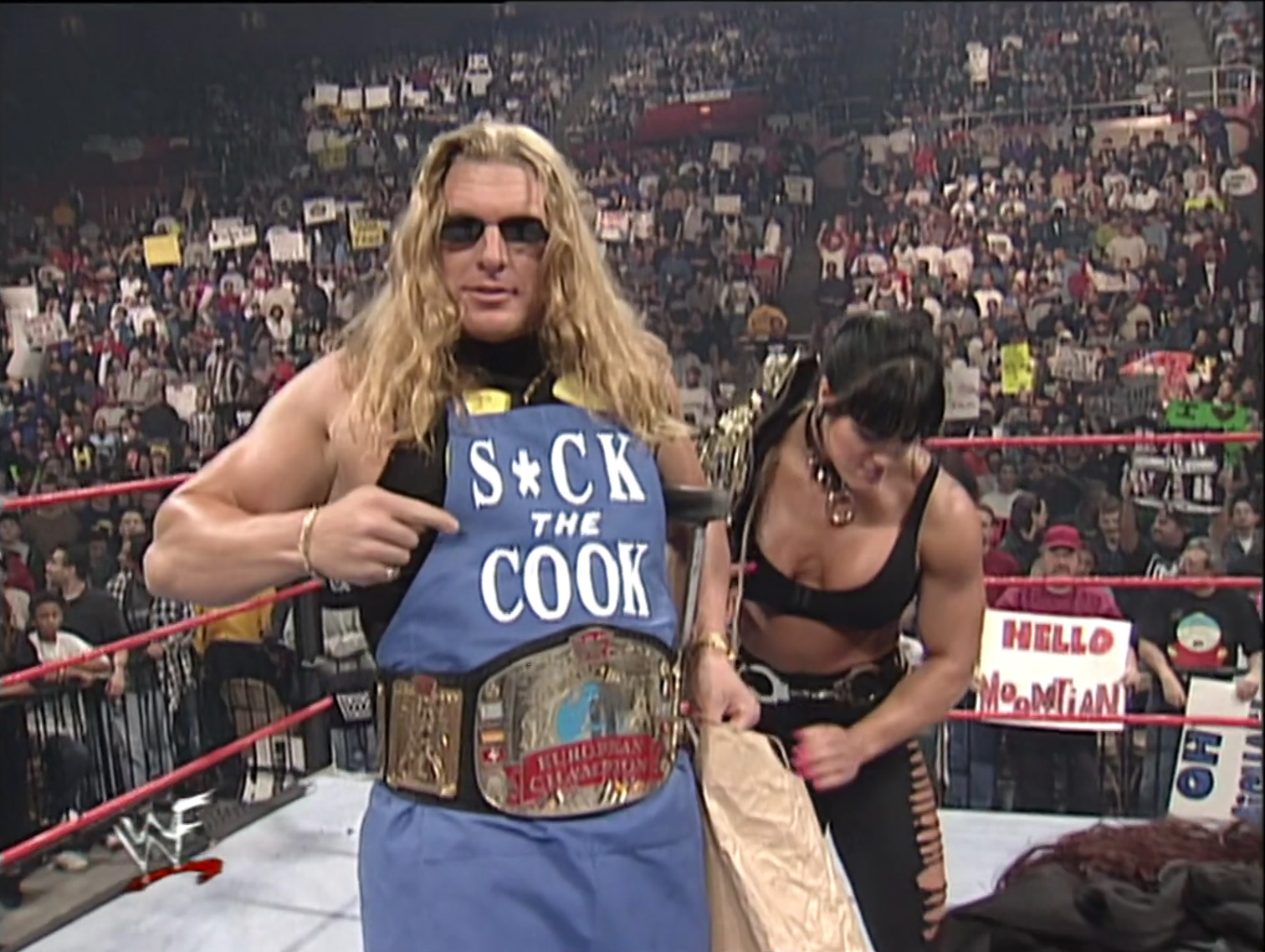 HHH starts off with a "jumbo weenies" reference, yet Chyna grabs a HUGE salami. I guess we know where the seeds of her second career were sown. Regardless, Michaels relates a barbecue reference to Undertaker. HHH then refers to Owen as the "Mr. Hanky of the WWF" and cuts a promo on him. In fact, he offers a shot at the European title next week.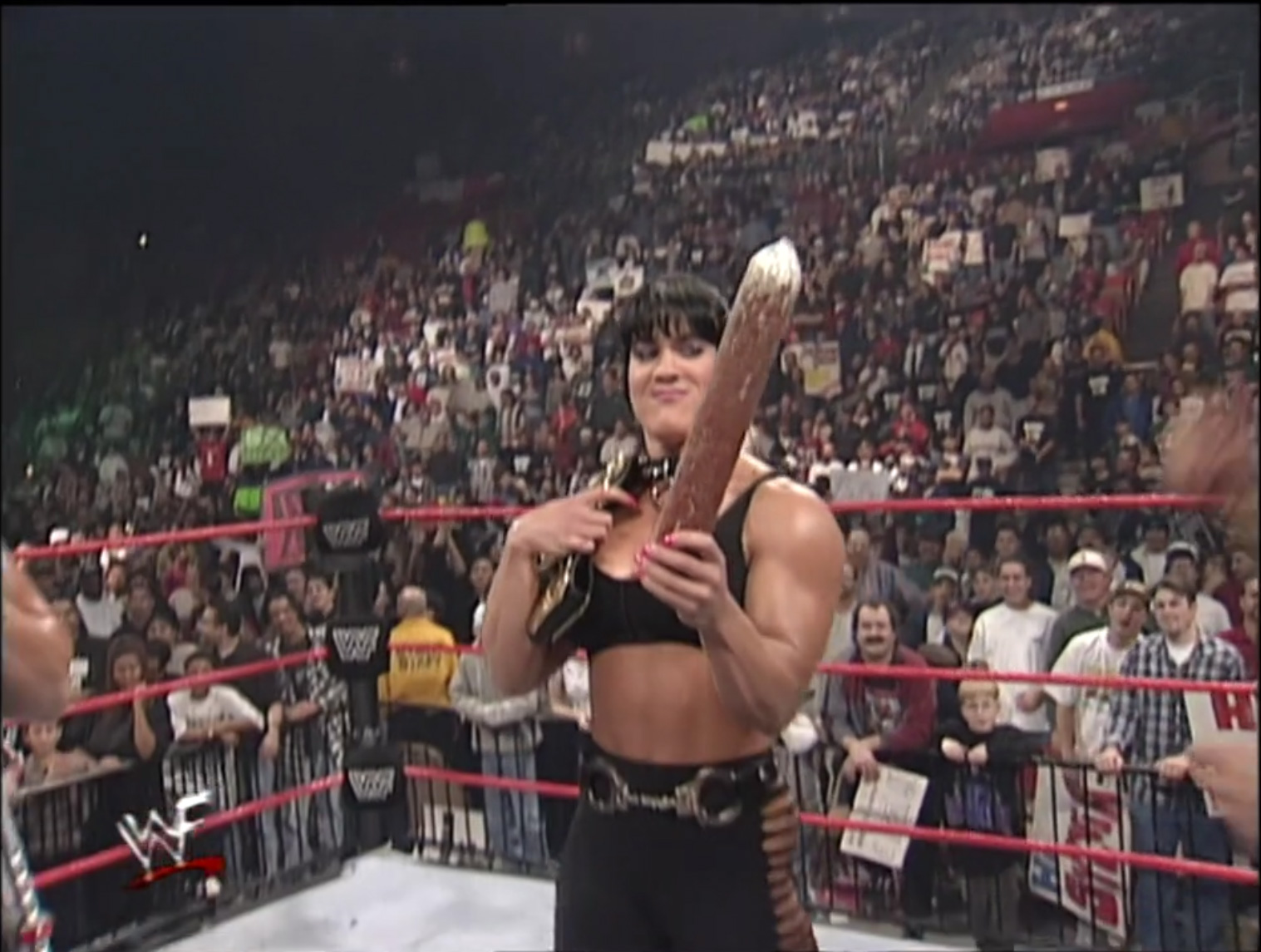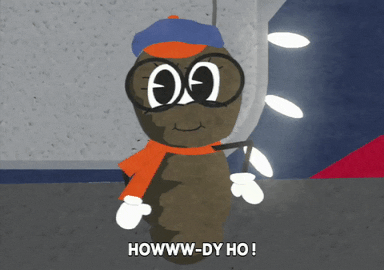 While Michaels shoves the big sausage down his pants, HHH takes a subtle potshot at Flair. Michaels then sings his own praises in a delusional manner. When he brings up Austin, Michaels informs him that he "lays down for absolutely nobody." DX then tosses marshmallows into the Fresno faithful.
JR shills No Way Out LIVE on PPV on 2/15 from Houston, TX sponsored by Western Union.
Backstage, while Tyson chit-chats with the Road Warriors, Sunny hits on him.
Match 5 (eight-man): Los Boricuas versus Owen Hart, Taka Michinoku, & the Headbangers
Highlights:
Honkytonk Man joined the broadcast table for this match.
When Michinoku leapfrogged him, Perez delivered a clothesline.
Michinoku rebounded with a springboard huracanrana followed by a standard one.
As he dropkicked Perez, Michinoku suffered another clothesline from him.
Jesus tagged in, slammed Michinoku, but missed an elbow drop.
After Mosh tagged in, he hip-tossed and dropkicked Jesus.
Thrasher tagged in, and the Headbangers supplied Jesus with a dropkick/clothesline combo.
When Perez kicked Thrasher coming off the ropes, Vega tagged in, gave Thrasher a cross corner whip, and followed with a leg lariat.
He then gave Thrasher another cross corner whip but came up empty on his follow-through.
As tags were exchanged on both sides, Owen supplied Jose with an enziguri.
He then unleashed a spinning heel kick to Perez, and all eight wrestlers were in the ring.
After Jesus attempted a Thesz press, Owen caught and wrapped him in a Sharpshooter.
Jesus submitted; thus Owen, Michinoku, and the Headbangers won.
Rating: *½
Summary: The Fresno faithful only had eyes for Owen in this match. The rest was F-I-L-L-E-R.
At ringside, Cole interviews Owen who accepts HHH's challenge.
Match 6 (non-title): WWF Intercontinental champion the Rock versus Ahmed Johnson
Highlights:
Rock suplexed Johnson and slammed him.
As he scored with a People's Elbow, the Fresno faithful were napping.
Johnson then blocked a vertical suplex and supplied Rock with one of his own.
When he clotheslined Rock, Johnson joined him outside the ring and sent him shoulder-first into the steps.
Not so swiftly, Henry approached the ring and grabbed a chair.
Johnson then reversed an Irish whip and delivered a spinebuster to Rock.
While Johnson came off the ropes, Henry HAMMERED him with the chair. OUCH!
That enabled Rock to hit a Rock Bottom.
1-2-3.
Rock won.
Rating: *
Summary: If there wasn't a "Rocky sucks" chant going around, this match would get zilch.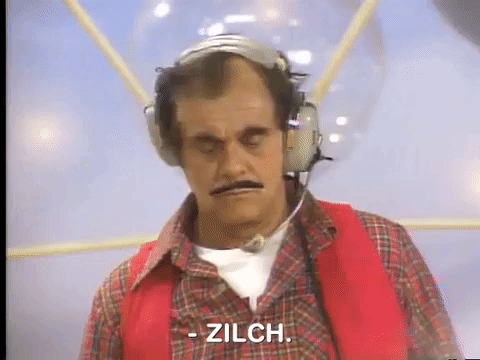 After the match, Shamrock ensures that Johnson doesn't get double-teamed in his desire to harm Rock.
WWF REWIND: Highlights from the Undertaker-Michaels match from last night are shown including Undertaker's crotch grab.
Meanwhile, DX attempts to recruit Tyson. Might be nothing…
Match 7 for the WWF tag titles: The New Age Outlaws (champions) versus the Godwinns
Highlights:
During the NAO entrance, Gunn brought a stuffed pig with him.
Henry clotheslined Gunn and stripped him of his overalls.
When Phineas tagged in, he also clotheslined Gunn.
He then sent Gunn directly into an incoming Road Dog.
As Phineas attempted a gutwrench suplex, either he or Gunn botched it TERRIBLY.
Henry tagged in, slammed Gunn, and followed with an elbow drop for 2.
After Phineas tagged in, he distracted referee Tim White so that Henry could give Gunn the business.
Henry tagged in, gave Gunn a cross corner whip, and clotheslined him again for 2.
When he backdropped Gunn, Henry delivered a wheelbarrow facebuster.
Phineas tagged in, and the Godwinns double-flapjacked Gunn.
As Henry distracted White, Road Dog handed Gunn the stuffed pig.
Gunn then OBLITERATED Phineas with it. What was it stuffed with? Cabbage?
1-2-3.
NAO retained.
Rating: DUD
Summary: No tag formula, no heat segment, and Road Dog never tagged in. Absolute garbage.
After the match, Henry clobbers Road Dog with his slop bucket, rips open the stuffed pig, and a brick falls out. Heinous! He then bitches at JR and Lawler about it.
JR then shills the WWF Superstar Line teasing a possible WWF-Savage deal. I wonder if WCW executives will cut Savage a bigger check with that story simmering on the stove.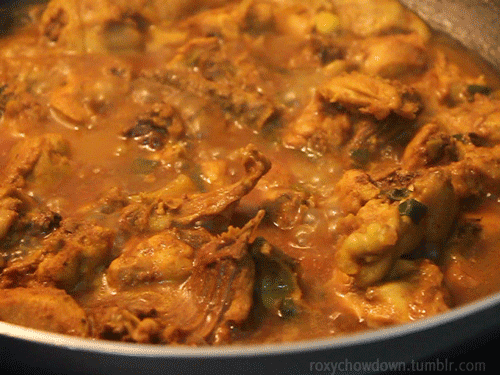 And now what you've been waiting for…
Vince McMahon is in the ring and introduces "Iron" Mike Tyson. Along with his entourage, Tyson enters the ring to a flurry of flashbulbs. During his interview, Tyson rattles off Bruno Sammartino as one of his favorites. I guess McMahon didn't prep him beforehand. Nevertheless, Vince announces that Tyson will be the special guest referee for the main event at WrestleMania XIV.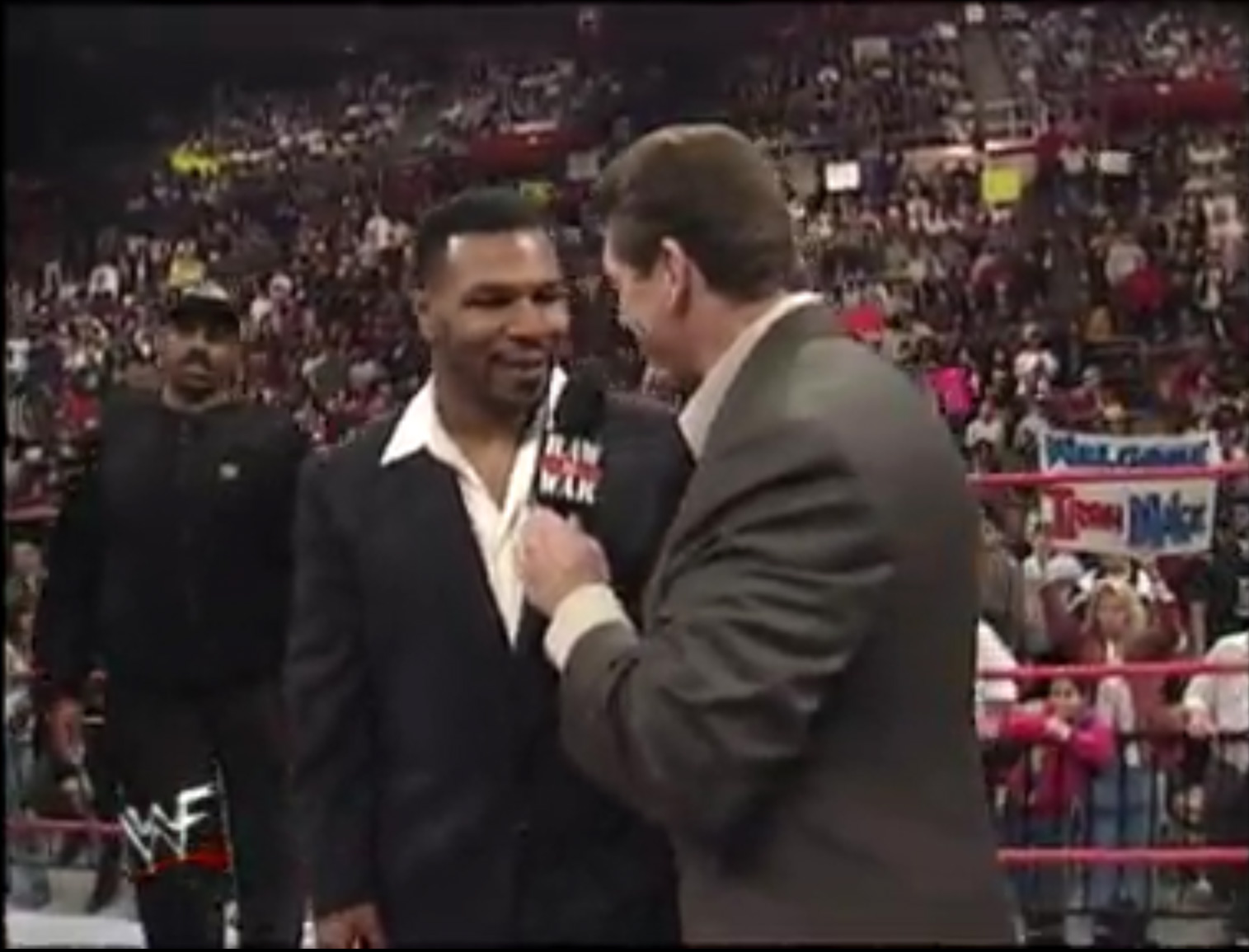 But before Vince can complete his announcement, the glass crashes, and Stone Cold Steve Austin emerges. WWF officials storm the ring to prevent chaos. As Vince questions his appearance, Austin complains about Tyson. While Austin respects Tyson's boxing resume, he warns Tyson about being in his neighborhood. In fact, he "wants a piece of Mike Tyson's ass." That's not homoerotic in the slightest.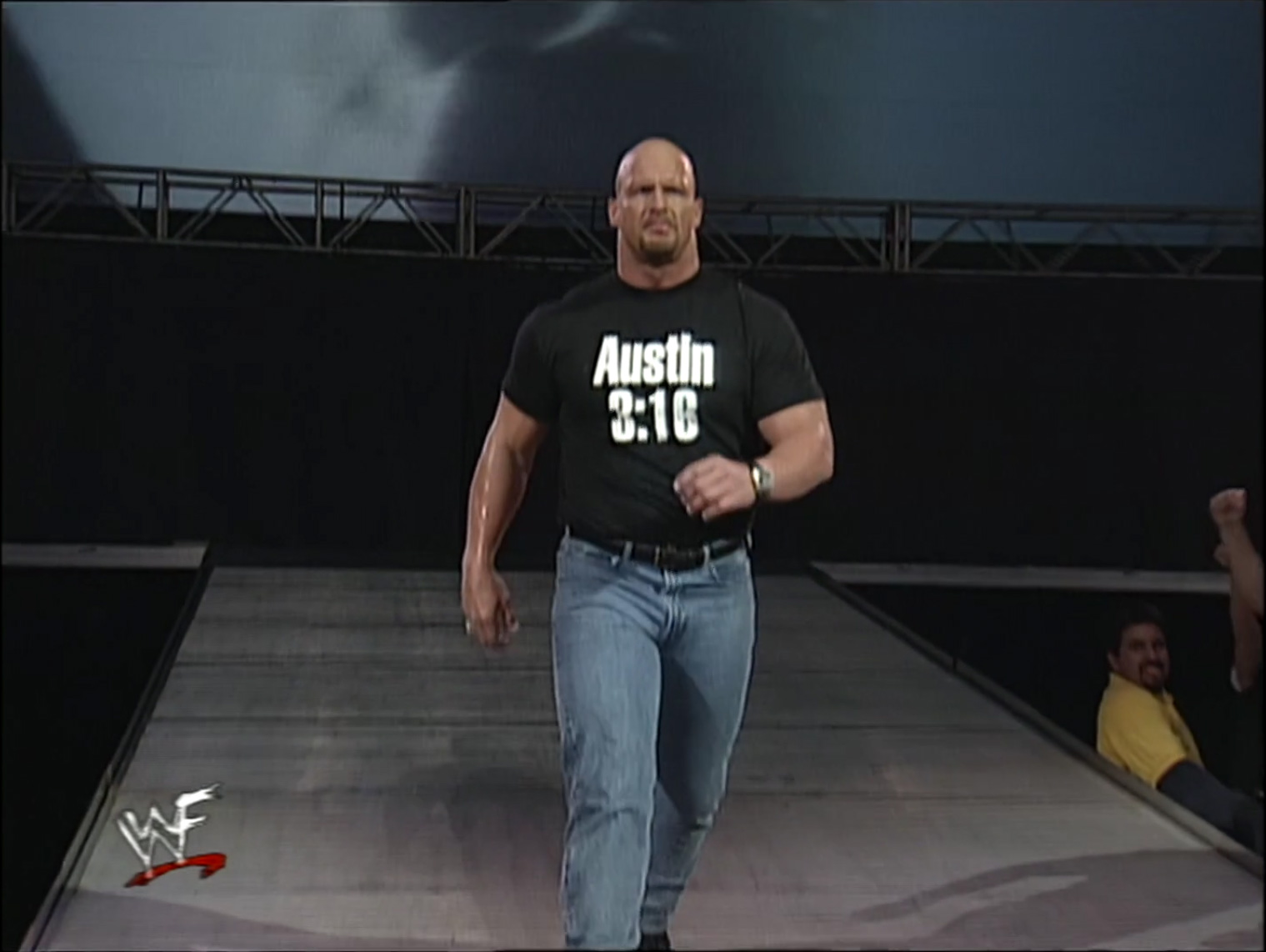 Regardless, Austin warns Vince not to say anything under the threat of "knock(ing) (his) damn lights out." Austin puts himself over and informs Tyson that he can beat him "any day of the week (and) twice on Sunday." He then summons a "hell yeah" from the Fresno faithful when he proposes the idea of beating Tyson.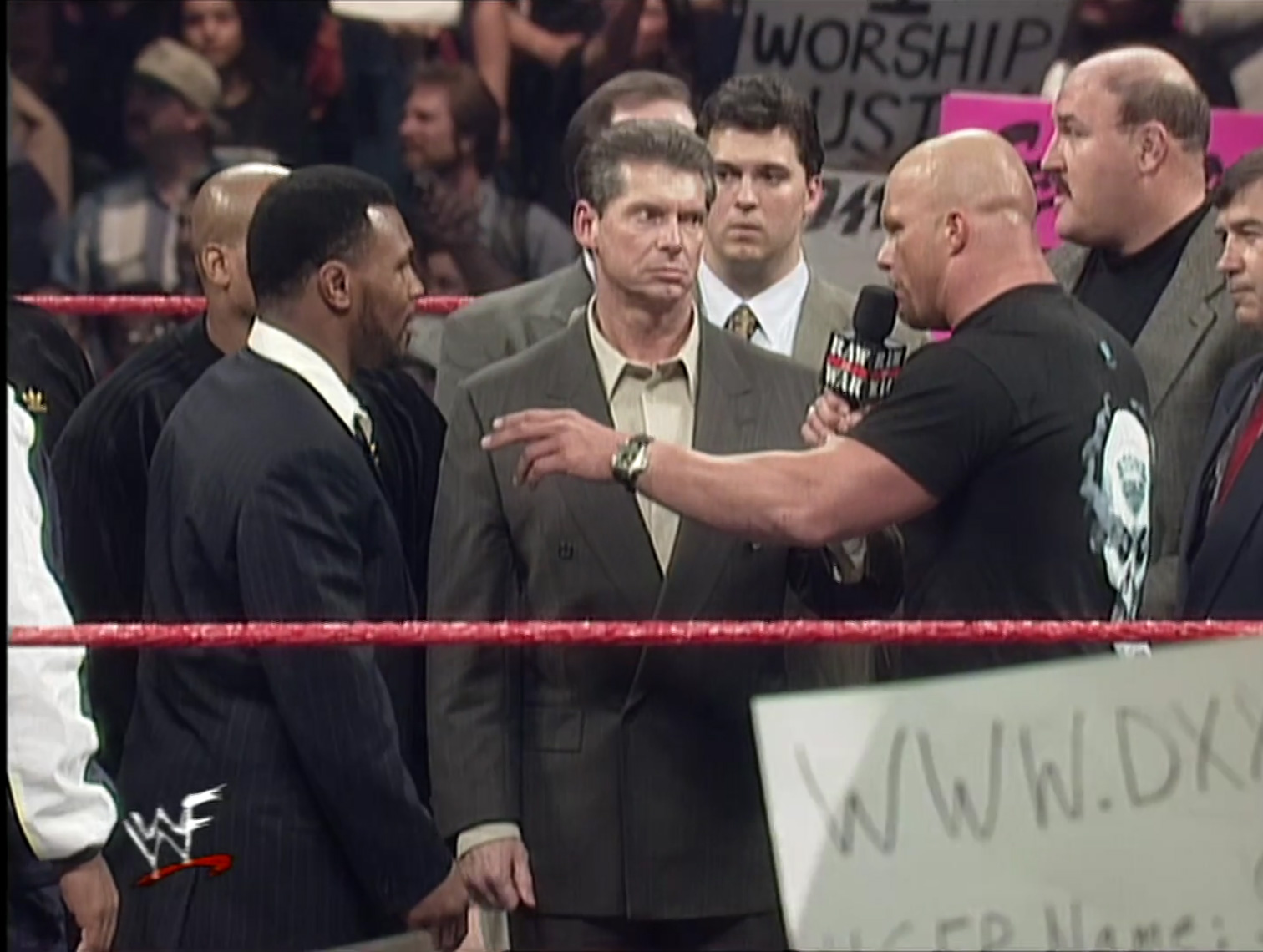 When Austin offers Tyson a two-finger salute, Tyson shoves him. Both Tyson's entourage and WWF officials attempt to separate them, and WWF officials successfully restrain Austin. The Fresno faithful showers their hero with "Au-stin" chants. As Austin gets dragged from the ring, Vince scolds him by saying "You've ruined it!" Vince is genuinely pissed while Austin provides him with a single-finger salute. Will a Tyson-Austin match occur at WrestleMania XIV instead?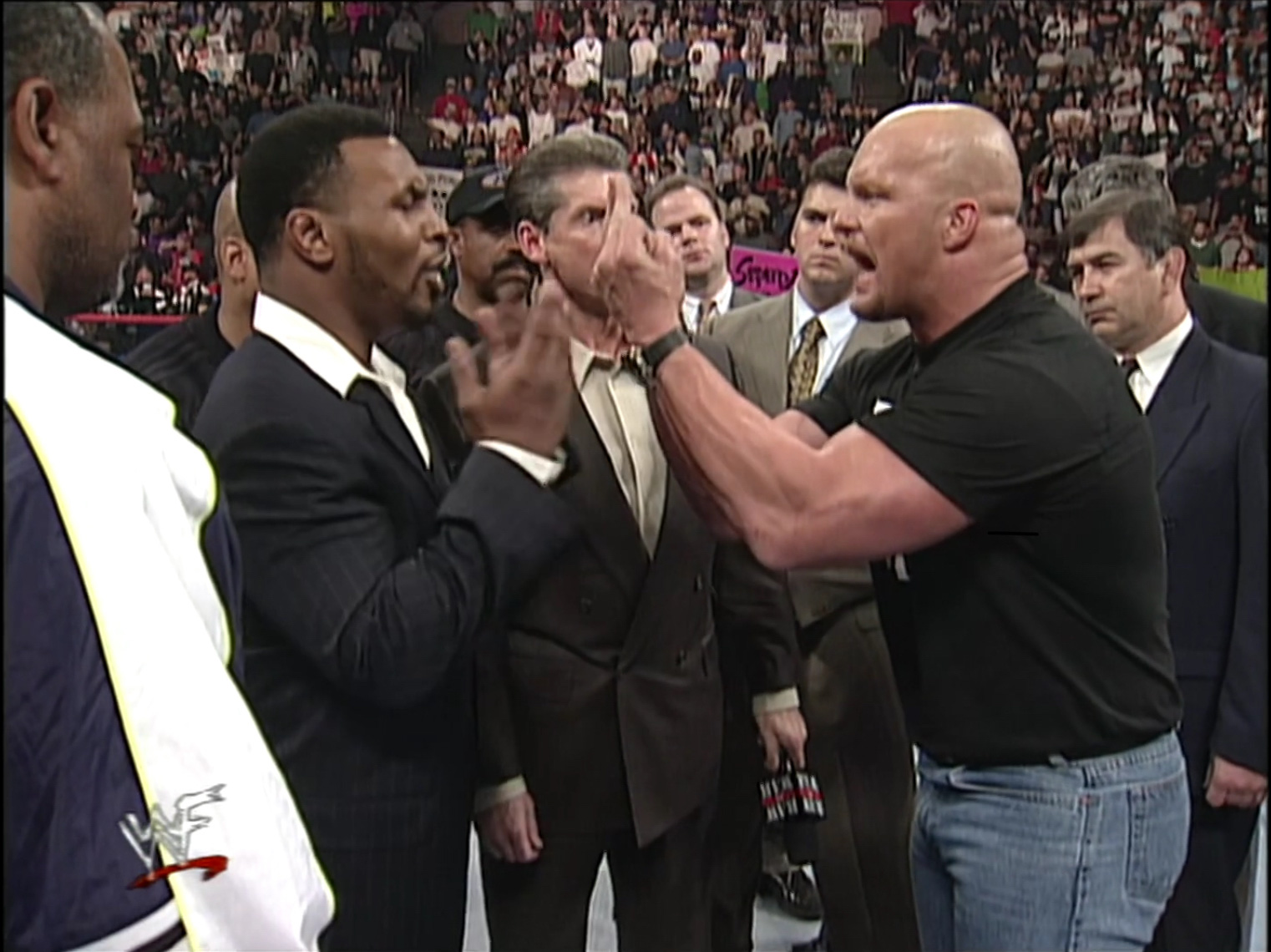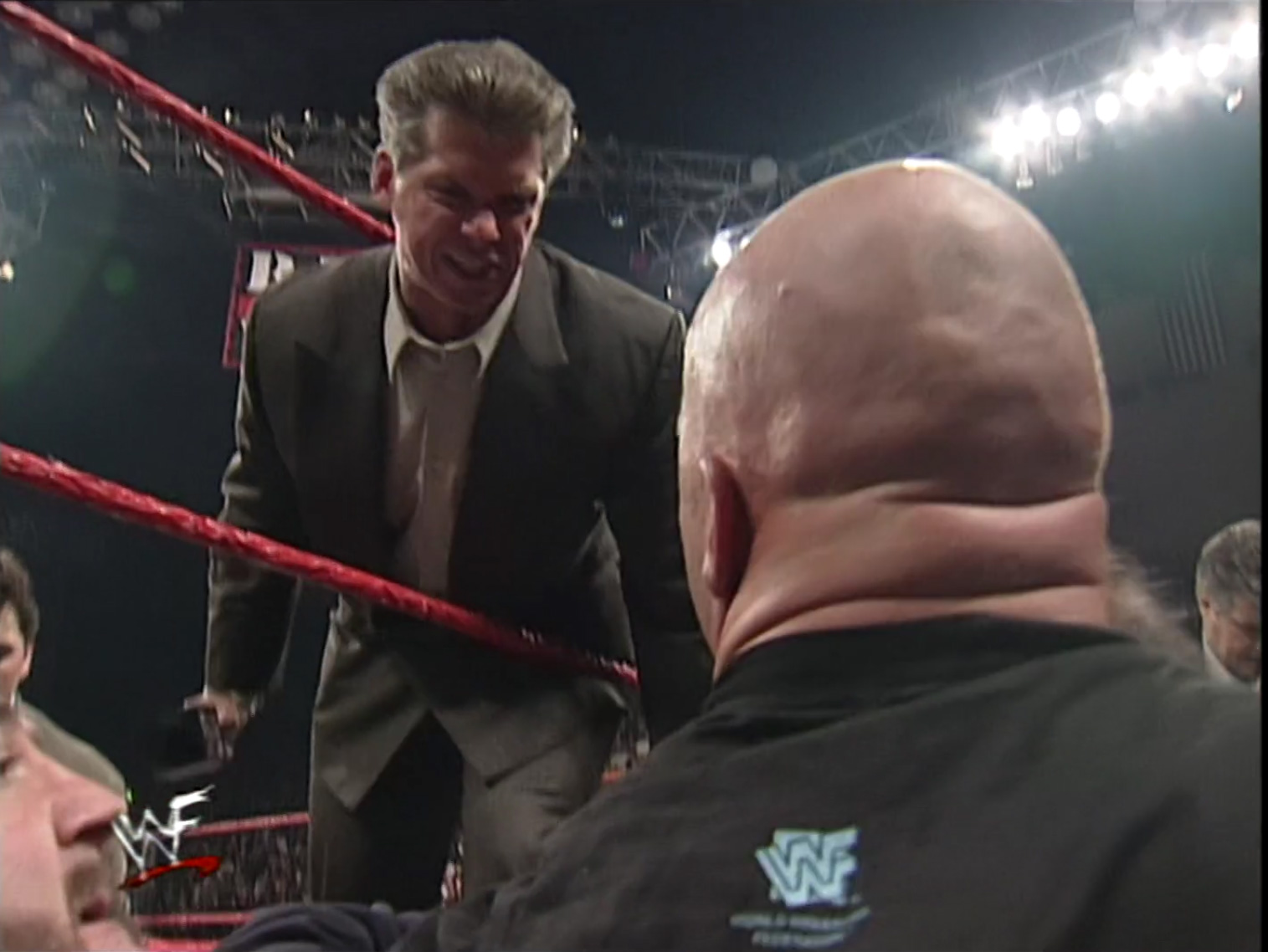 HOT TAKE: This was a genuine ESPN Sportscenter moment during a time when the WWF got ZERO attention from the sports world. Also, this was a truly historical moment as Tyson provided the WWF with mainstream attention and helped to make WrestleMania XIV a can't-miss spectacle.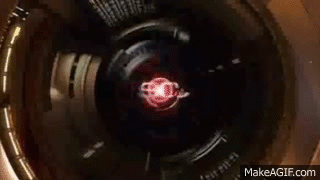 Promo airs for the encore of Royal Rumble '98. It will air tomorrow night at 8pm ET. Order NOW!
A replay of the Tyson-Austin confrontation airs, and Tyson yells at Vince about Austin to close the show.
Conclusion: At this time during the Monday Night War, there were very few can't-miss episodes. This was certainly one of them. If you've never seen the Austin-Tyson encounter, pull up a chair and watch this show. If you've not seen it in a while, you owe it to yourself to watch it again. Could it finally overcome Nitro in the ratings?
TV Rating: 4.00
Who won? Nope, the Tyson teasing during the entire show kept some wrestling viewers glued, but Nitro put Hogan in the main event to crush the WWF's dreams on Martin Luther King Day. Tyson-Austin could provide a big jolt in the coming weeks, and Vince's involvement adds some spice. Perhaps next week?
Stay tuned for WCW Thunder 01-22-98!
Comments? Suggestions? Send them to me at rsg@rockstargary.com and follow me on Twitter (@rockstargary202).
Custom Search