WELCOME TO ROCK STAR GARY REFLECTIONS!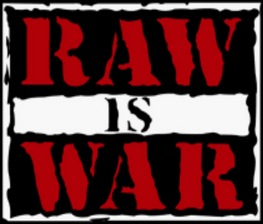 WWF Monday Night RAW 01-12-98
Live from State College, PA
Airdate: January 12, 1998
Attendance: 8,628 (sold out)
Hosted by Jim Ross, Michael Cole, Kevin Kelly, & Jerry "The King" Lawler
What does DX have in store for Undertaker this week? How is Owen involved? What is next on Goldust's agenda? Can Shamrock contnue to steamroll the NoD? Or do they have something up their sleeves? What's the latest on the Mike Tyson developments? And what happens during the Rumble match drawing?
From within a limousine, DX is excited about being at Penn State because of "college chicks." They then cut a promo on Undertaker, and Shawn Michaels sticks his ass out of the sunroof. Well, he truly was an ass back then.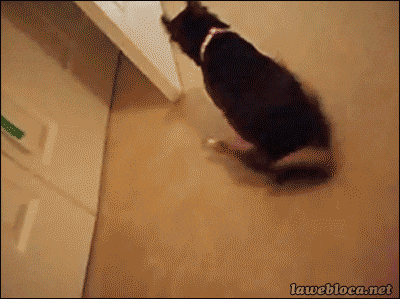 Opening montage.
While the NAO makes its entrance, they are wearing Florida Gators t-shirts and caps. Why? Because on 1/1, Penn State lost to Florida 21-6 in the Citrus Bowl. Evil!
Match 1 (four corners): WWF tag team champions New Age Outlaws versus Godwinns versus Headbangers versus Truth Commission (w/ Jackal)
Highlights:
While the Headbangers double-teamed Road Dog, the Truth Commission delivered a double back elbow to Gunn.
They then double-clotheslined Gunn before clotheslining him over the top rope to the floor.
When the Headbangers ejected Road Dog over the top rope to the floor, Henry clotheslined Thrasher.
Speaking of Thrasher, he rebounded with a pair of dropkicks and tagged in Mosh.
Recon tagged in, but Mosh hip-tossed him.
As Mosh followed with a dropkick, Recon clotheslined him for 2.
While Cole announced that this episode marked the fifth anniversary of RAW on USA, the State College faithful chanted "We Are Penn State" to rattle the NAO.
Mosh tagged in, mounted the top turnbuckle, and launched a lariat to Recon for 2.
After Phineas tagged in, Recon slammed him.
Gunn tagged in, yet Phineas attempted a Slop Drop.
When Road Dog broke it up, Henry clotheslined him over the top rope to the floor.
Gunn then CLOCKED Phineas with a foreign object.
1-2-3.
NAO won.
Rating: *
Summary: The sole star for the match was the reaction by the State College faithful to the heat given by the NAO. The rest was C-R-A-P.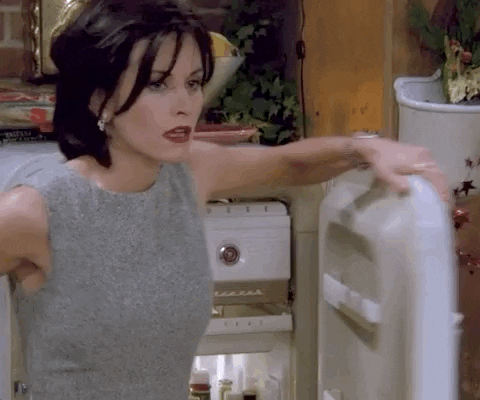 Video featuring the Road Warriors airs.
During the commercial break, Stone Cold Steve Austin pulls up in his pickup truck and decimates the Godwinns with Stunners.
Afterward, Cole interviews Austin in the ring. Austin claims he won last year's Rumble "fair and square." HA! Regardless, he draws a bullseye on his chest and promises to win the Rumble.
Missing from the WWE Network feed is footage from MSG where Austin allegedly cut a promo for MTV's "Celebrity Deathmatch." Methinks he makes more than just a single appearance.
Promo airs for Royal Rumble '98 LIVE on PPV this Sunday. Order NOW!
RAW is sponsored by Snickers. It's funny. WCW's PPV is also sponsored by them. It seems that sponsors know where the action (and ratings) is.
Match 2 (handicap): Kurrgan (w/ Jackal) versus Lance Diamond & Jimmy Cicero
Highlights:
Popcorn, anyone?
As you'd expect, Jackal joined the broadcast table for this match.
Kurrgan whipped Diamond into the corner and followed with a corner clothesline.
When Kurrgan demolished Cicero with another one, Diamond ate one more.
Kurrgan then delivered a big boot to Diamond and powerslammed Cicero.
After he landed an elbow drop, Kurrgan hoisted Diamond atop the top turnbuckle.
He then applied a Paralyzer to Cicero while Diamond fell off the top turnbuckle.
1-2-3.
Next, Kurrgan suplexed Diamond and placed Cicero atop him.
1-2-3.
Kurrgan won.
Rating: DUD
Summary: Showcase match for Kurrgan.
After the match, Jackal brings Kurrgan to the broadcast table and hands him a Penn State football helmet. Menacingly, Kurrgan rips it apart.
With Chyna and Michaels trying to get the WWF truck out of their way, Owen Hart climbs through the sunroof to ambush HHH. After Chyna and Michaels climb in, the driver pulls the limousine away from the arena. I don't like Owen's odds.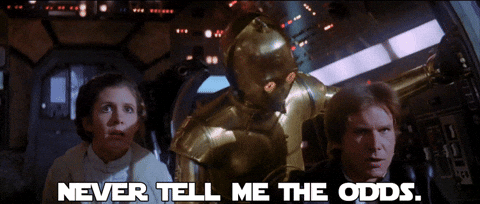 Prior to the next match, Mero enters the ring and grabs the microphone. When he begins to speak, Mero's microphone doesn't work. When Sable's music hits, TAFKA Goldust impersonates her.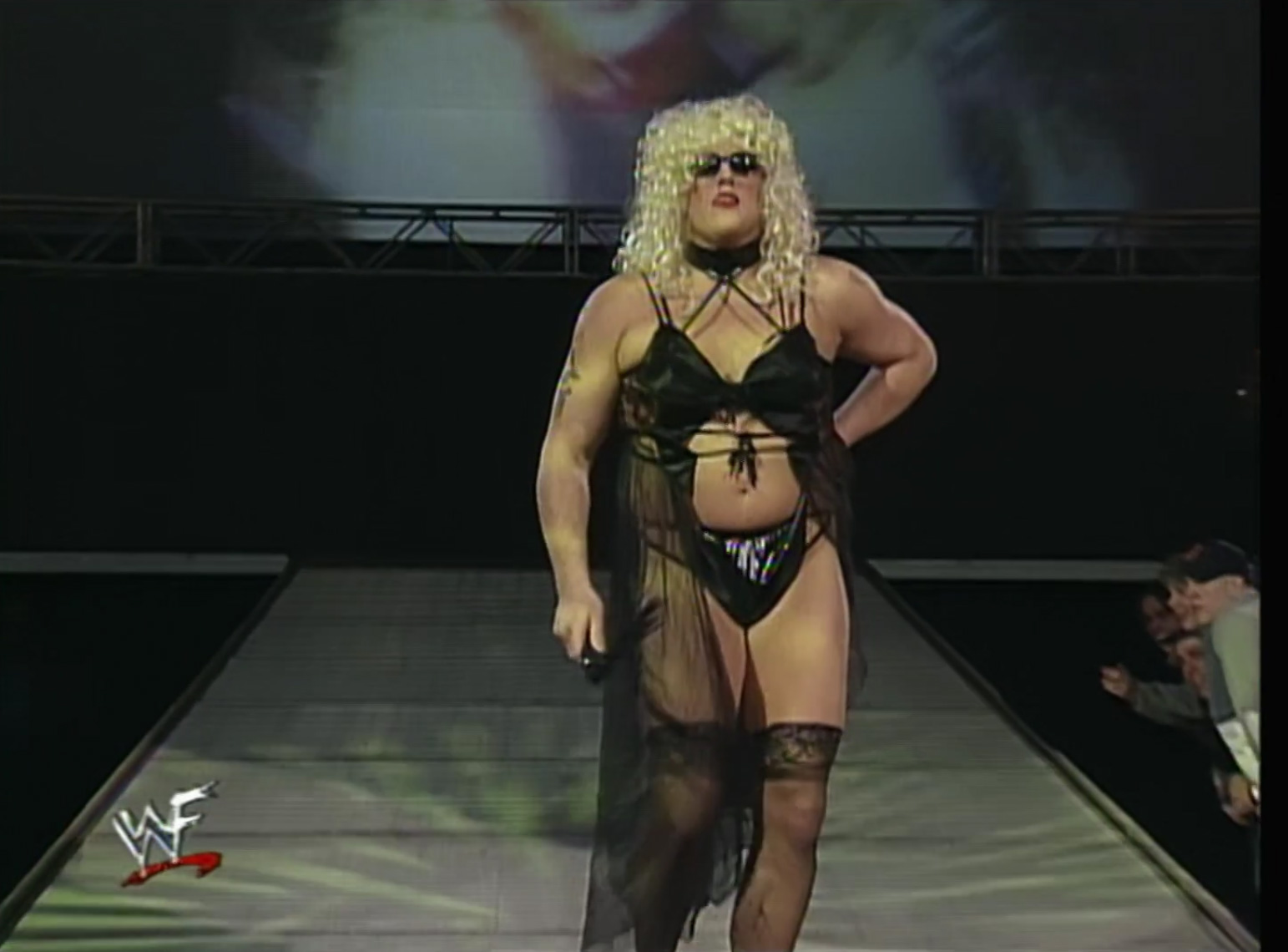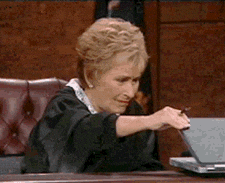 Match 3: "Marvelous" Marc Mero (w/o Sable) versus Vader
Highlights:
Mero gave Vader a cross corner whip but ate a back elbow on his follow-through.
When Goldust grabbed Vader's ankle, Mero nailed Vader down I-99 SOUTH.
Mero then scored with a flying forearm while the real Sable finally appeared.
As she confronted Goldust, Sable kicked him solidly in the flank.
Mero then sent Sable back to the locker room, turned around, and got clotheslined by Vader.
After he sent Mero shoulder-first into the steps, Vader returned him to the ring, gave him a cross corner whip, and followed with a running body block.
He then clotheslined Mero, mounted the second turnbuckle, and hit a Vader bomb.
While Goldust entered the ring, he WALLOPED Vader with one of his coconuts.
Referee Tim White called for the bell to disqualify Mero.
Rating: DUD
Summary: More storyline than match as the Goldust-Vader feud prepares for this Sunday.
Outside the arena, the limousine returns, and DX exits. Where's Owen?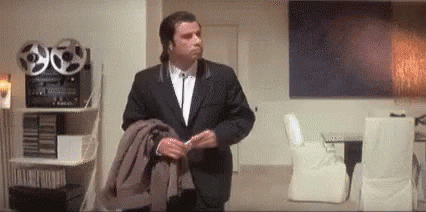 1-800-COLLECT SLAM OF THE WEEK: Back on 1/22/95 at Royal Rumble '95, Bam Bam Bigelow shoved Lawrence Taylor of the New York Giants.
Back in the locker room, Austin has another victim—Vader.
We then revisit Shotgun Saturday Night from two weeks ago when the NoD pummeled Henry until Shamrock made the save.
Prior to the next match, the Rock grabs the microphone and insults the State College faithful.
Match 4: Nation of Domination (w/ Kama) versus Ken Shamrock & Mark Henry
Highlights:
As Henry made his entrance, he wore a never-before-seen Rocky Sucks t-shirt. Hmmm...
Shamrock delivered a flying back elbow to Rock and a spinning heel kick to Brown.
When Brown reversed an Irish whip, Rock nailed Shamrock from behind. SNEAKY!
Brown then clotheslined Shamrock and tagged in Rock.
While the State College faithful chanted "Rocky sucks," their nemesis launched a shoulder breaker at Shamrock.
He then scored with the People's Elbow for 2. At this point in time, the move neither had a name nor any recognition.
After Shamrock reversed an Irish whip, he powerslammed Rock for 2.
Rock then reversed a cross corner whip but fell victim to a huracanrana.
As he supplied Rock with a belly-to-belly suplex, Shamrock attempted an ankle lock.
Suddenly, Henry clotheslined Shamrock.
WE HAVE A HEEL TURN!
Henry then powerslammed Shamrock and followed with a pair of elbow drops.
When the NoD quadruple-teamed Shamrock, referee Mike Chioda called for the bell.
Rating: DUD
Summary: All angle as the Henry heel turn evolves.
TV Rating: 3.5
Afterward, Rock hits a Rock Bottom on Shamrock, and Henry counts the bogus pin. Rock then rips off Henry's shirt to reveal an NoD shirt. They get to the top of the ramp, and Faarooq's none-too-pleased with Rock's acquisition.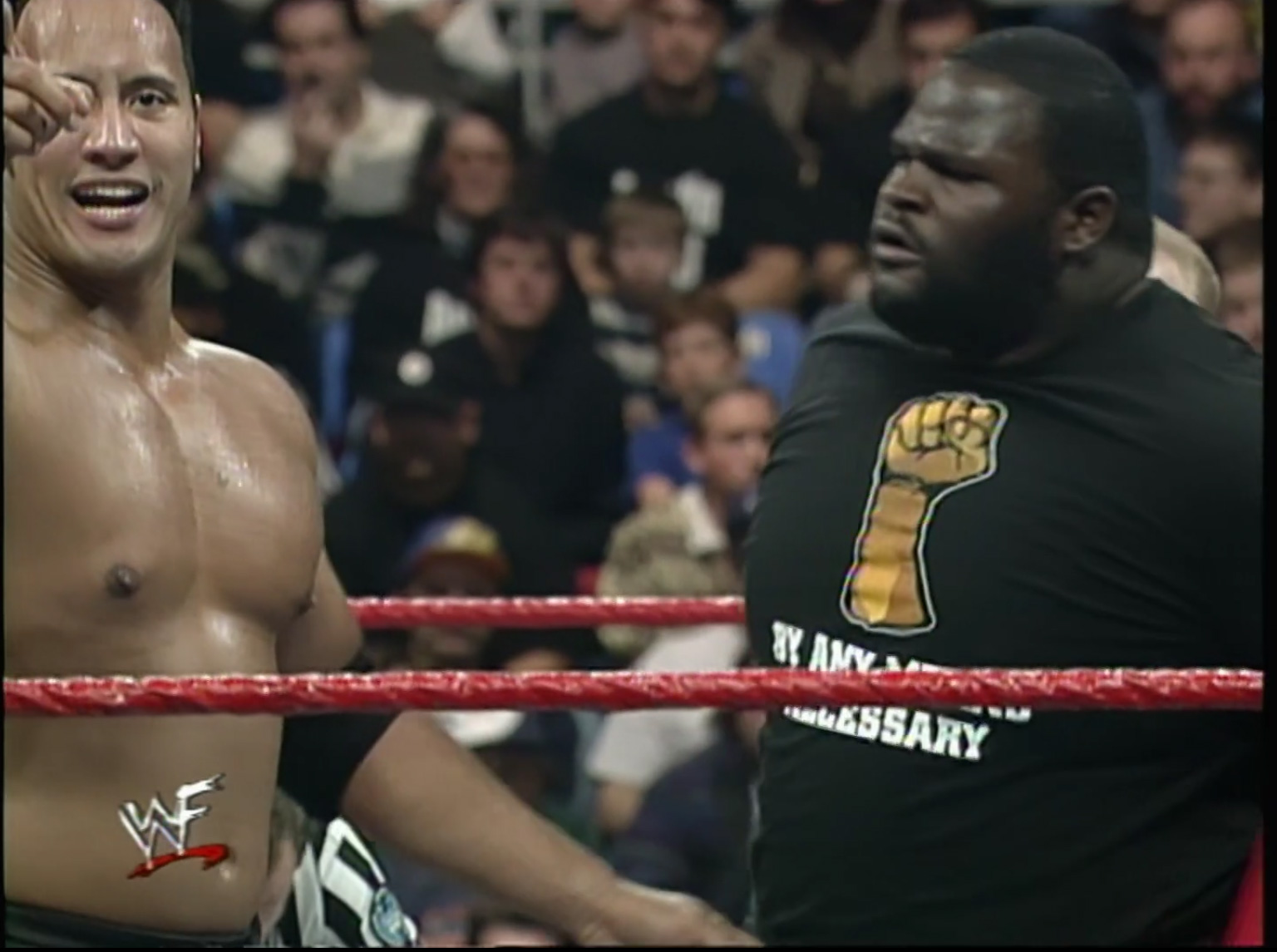 Back in the locker room, the NoD basks in their glow.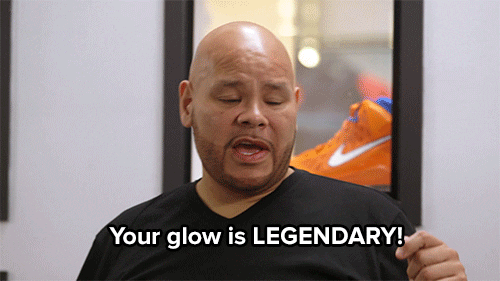 WAR ZONE!
DX heads to the ring while HHH walks with a single crutch. While HHH claims that Owen's been flushed, he finishes with some dick jokes. Michaels hypes Mike Tyson as HHH mimics him. After he cuts a promo on Tyson, Michaels mentions Kane. Abruptly, Owen appears on the Titantron the worse for wear. He then comes to the top of the ramp, threatens to break HHH's other leg, and calls him a "gutless bastard." Officials separate them to end the segment.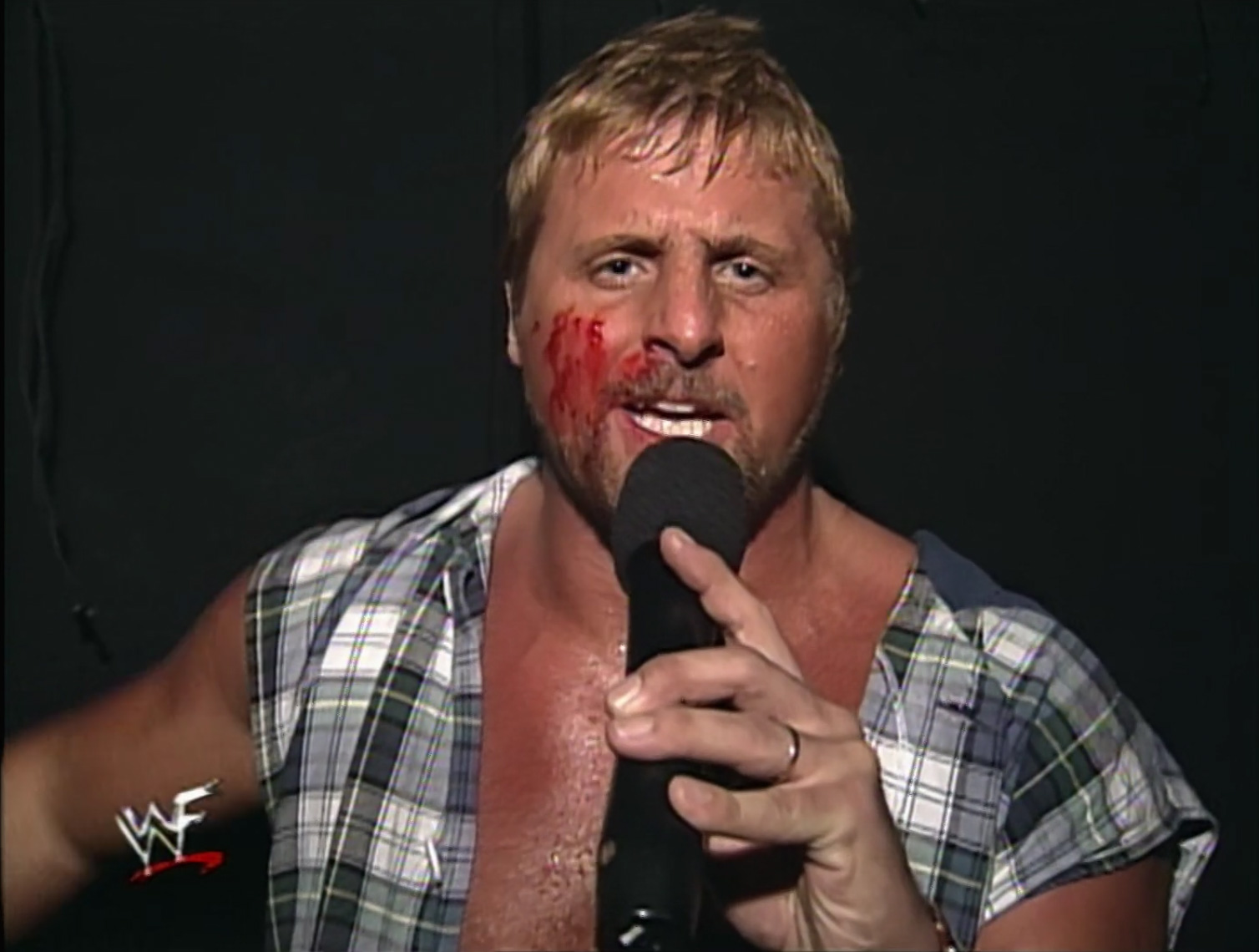 We then revisit last week's episode when Jarrett became the NWA North American champion thanks to Cornette.
Match 5: Disciples of Apocalypse versus the Rock'n'Roll Express (w/ Jim Cornette)
Highlights:
Cornette joined the broadcast team for this match.
When 8-Ball clotheslined Morton, he followed with a sidewalk slam.
Gibson tagged in, got reversed on an Irish whip, and ate a big boot.
As they double-teamed 8-Ball, the Rock'n'Roll Express hit a cross body block/schoolboy combo to 8-Ball.
Morton tagged in, but 8-Ball double-clotheslined the Rock'n'Roll Express.
After Skull tagged in, he powerslammed Gibson.
Morton and 8-Ball brawled at ringside and distracted referee Jim Korderas.
Meanwhile, Cornette climbed in the ring and WHACKED Skull with his tennis racquet. How dastardly!
Seeing Cornette in the ring, Korderas called for the bell to disqualify the Rock'n'Roll Express.
Rating: DUD
Summary: Good ideas in theory don't always pan out..like this one.
TV Rating: 3.2
After the match, 8-Ball catches Cornette in the ring and hammers him. Morton then grabs the racquet and CREAMS 8-Ball with it to save Cornette. Skull comes to his partner's aid but eats a double dropkick from the Rock'n'Roll Express. Chainz arrives to shoo them away.
Earlier today, Cactus Jack stands barefoot in Beaver Stadium, brings up Terry Funk, and cuts a promo on the NAO.
Match 6: TAFKA Goldust (w/ Luna) versus Mankind
Highlights:
As Goldust made his entrance, he disguised himself as Dude Love. HA!
Mankind backdropped Goldust and applied a Mandible claw.
Before anything else could happen, Austin stormed the ring and provided Mankind with a Stone Cold Stunner.
He then supplied Goldust with a Stunner much to the delight of the State College faithful.
Rating: NONE
Afterward, Austin commandeers JR's headset for a good ol' "Hell Yeah."
Backstage, Vince McMahon informs us that Tyson is an "invited guest" to Royal Rumble '98 this Sunday. While receiving boos, he promises that Tyson will appear on next week's episode.
We then revisit last week's episode when Los Boricuas delivered Owen to DX for cold hard cash.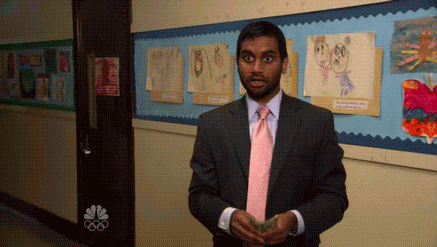 Match 7: Los Boricuas versus Taka Michinoku & Scott Taylor
Highlights:
Sunny was the guest ring announcer for this match and wore a Penn State cheerleader outfit. Yowza!
When Taylor dropkicked him out of the ring, he dropped Jesus face-first on the apron. OUCH!
Taylor then launched a baseball slide sending Jesus back-first into the steel railing.
As he mounted the apron, Taylor leaped but tasted nothing but steel railing. It must have tasted like the Big Cheese at Otto's Pub.
Back in the ring, Taylor reversed a cross corner whip, got vaulted to the apron, mounted the top turnbuckle, and clotheslined Jesus.
Michinoku tagged in, mounted the top turnbuckle, and lowered the boom on Jesus.
After he slammed Jesus, Michinoku followed with an elbow drop for 1.
Vega tagged in, but Michinoku hooked a victory roll for 2.
When Michinoku attempted a cross body block, Vega caught and slammed him.
Vega then gave Michinoku a cross corner whip followed by a leg lariat.
As Vega powerbombed Michinoku, Jesus tagged in and hit a high knee.
He then scored with an elbow drop, gave Michinoku a cross corner whip, but came up empty on his follow-through.
After Taylor tagged in, he gave Jesus a cross corner whip followed by a back drop.
Vega came in but ate a double dropkick from Taylor and Michinoku.
When Vega sought refuge outside the ring, Michinoku mounted the second turnbuckle and attempted a moonsault.
Unfortunately for Michinoku, Vega caught and slammed him on the floor.
Taylor then mounted the top turnbuckle, but Vega crotched him on the top rope.
As Jesus joined him, he delivered a reverse superplex to Taylor.
1-2-3.
Los Boricuas won.
Rating: *
Summary: All high-flying and NOTHING else.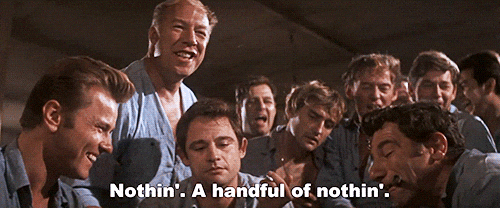 After the match, Los Boricuas outnumber and destroy Michinoku and Taylor. Immediately, Owen hits the ring with a crutch and BATTERS Los Boricuas away.
Again, we revisit Royal Rumble '95 when Bigelow shoved Taylor. The broadcast team believes something like this might happen next week.
TWIX REWIND: Michaels somehow avoids elimination and wins the Rumble match at Royal Rumble '95.
DX returns to the ring, and Cole reluctantly interviews them. While Michaels welcomes the newest member of DX—Kane. In lieu of Kane's music, Undertaker's music plays. Undertaker comes to the ring to confront Michaels. When he throttles Michaels, Undertaker senses Chyna with the European belt approaching him. He then lifts her up WITH ONE ARM, but HHH whacks him with his crutch.
Since that didn't faze Undertaker, he saunters after HHH. That allows Michaels to unleash Sweet Chin Music upon Undertaker. With the help of HHH's crutch, Michaels assaults Undertaker. The State College faithful chants "we want Kane," and the lights go out. Kane appears, comes to the ring, and pulls Michaels off Undertaker. Scared out of their skulls, DX scampers away. From the top of the ramp, Kane symbolically offers his hand, and Undertaker accepts. What a segment!
ROYAL RUMBLE DRAWING: A host of WWF superstars are in the ring with the tumbler. As Shamrock enters the ring, a brawl erupts. Believe it or not, the Honkytonk Man heads to the ring as brawl ends. Cactus Jack follows, and Austin arrives. Wait a minute! While the WWF superstars await his entrance from the ramp, Austin enters the ring through the State College faithful and hammers anyone he can get his mitts on.
Austin supplies Phineas with another Stunner and gets out of Dodge unscathed. To end the show, chaos reignites in the ring while the NoD and Los Boricuas attack Austin on the ramp.
Conclusion: Is Royal Rumble '98 this Sunday? Are you sure?
Absolutely huge sell-job by the WWF to buy the PPV with all feuds being announced or furthered on the show. Will it cause a shift in the ratings?
TV Rating: 3.46
Who won? Nope, RAW is WAR lost by an entire rating point again. I said it last week, but perhaps the lack of having Mike Tyson on the show cost them the battle. Next week's show should tell us something.
Stay tuned for WCW Thunder 01-15-98!
Comments? Suggestions? Send them to me at rsg@rockstargary.com and follow me on Twitter (@rockstargary202).
Custom Search