WELCOME TO ROCK STAR GARY REFLECTIONS!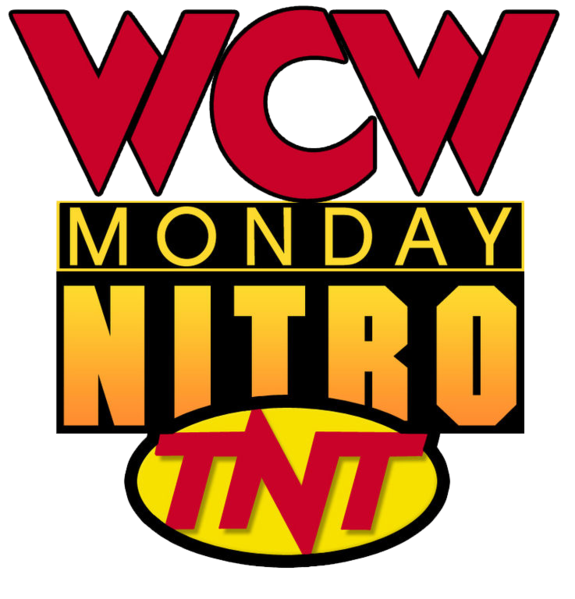 WCW Monday Nitro 01-12-98
Live from Jacksonville, FL
Airdate: January 12, 1998
Attendance: 8,718 (7,604 paid)
Hosted by Tony Schiavone, Larry Zbyszko, "Iron" Mike Tenay, & Bobby "The Brain" Heenan
Will the Outsiders regain the World tag team titles, or will the Steiners find a way to retain? What's happening with. Nash and Savage? Who's the latest newcomer to WCW? And how will WCW guarantee Nash appears at the next PPV? Let's find out!
Opening montage.
Outside the arena, "Mean" Gene Okerlund interviews the nWo about the 'family business" last week. Nash ends the interview with "Savage don't want no part of me." Where's Savage?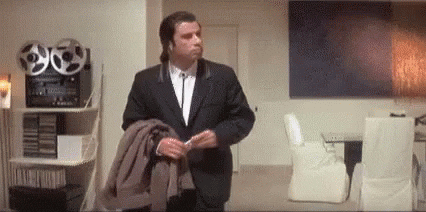 Match 1: Bill Goldberg versus Jerry Flynn
Highlights:
The reaction to Goldberg is GROWING.
When Flynn attacked him at the onset, he hooked an arm scissors.
Goldberg, with that one arm, lifted Flynn and slammed him. Impressive!
As Flynn briefly rebounded with some kicks, Goldberg landed a spear.
He then hooked a Jackhammer.
1-2-3.
Goldberg won.
Rating: *
Summary: Showcase match for Goldberg. Methinks this guy might be getting over.
Nitro Girls dance in silver and black among the Jacksonville faithful. Schiavone, ever the gentleman, introduces new Nitro Girl Whisper. She is better known today as Mrs. Shawn Michaels.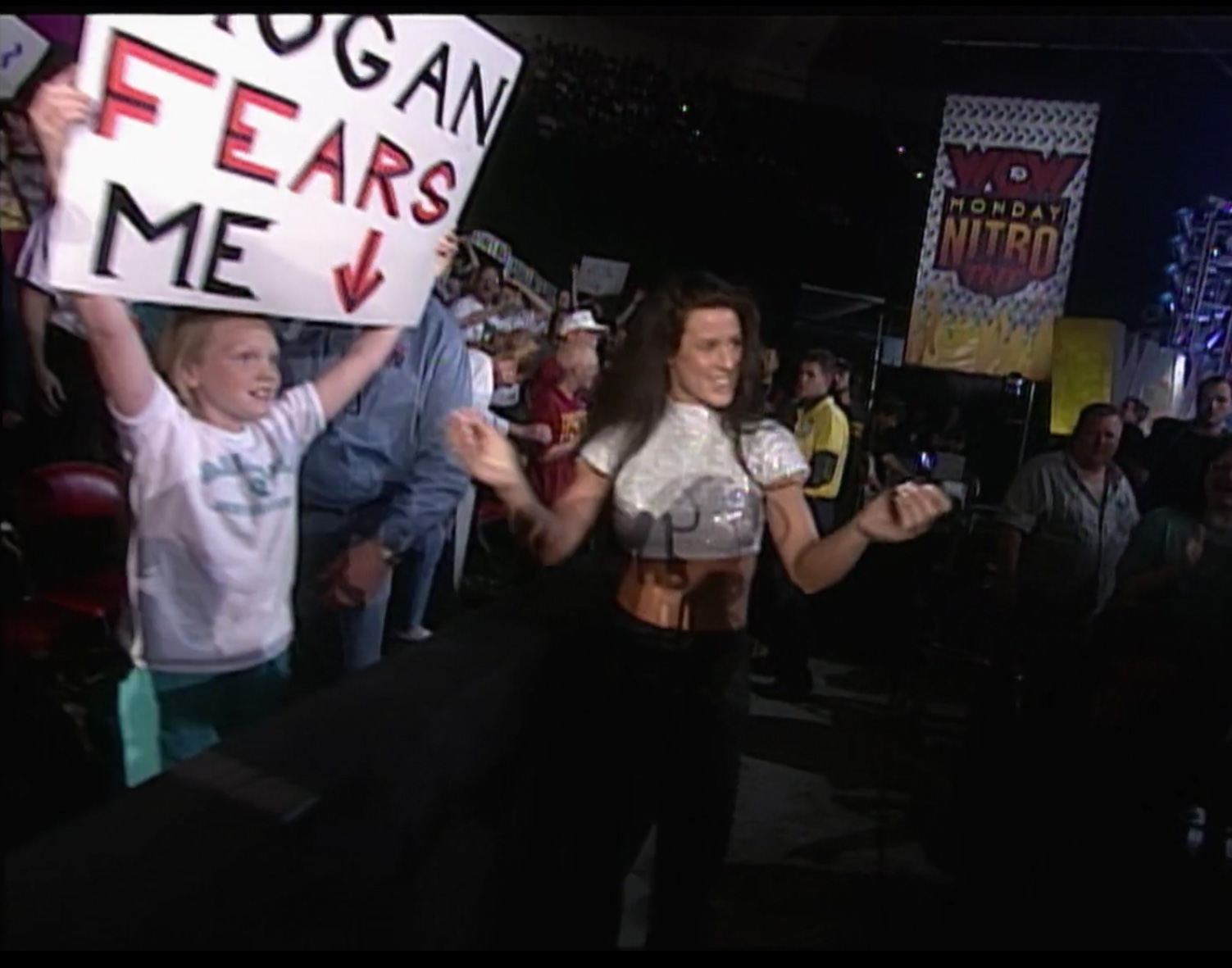 Match 2: Marty Jannetty versus Black Cat
Highlights:
Holy Midnight Rockers, Batman!
For those unaware, Cat was another New Japan Pro Wrestling offering to WCW much like Tenzan and Ohara from Thunder.
Cat clotheslined Jannetty but ate a dropkick.
As Cat reversed an Irish whip, he delivered his own version of a flapjack.
He then gave Jannetty a cross corner whip followed by a head butt to the midsection.
When Cat gave Jannetty another cross corner whip, Jannetty leaped and hooked a sunset flip for 2.
He then scored with a superkick, but Cat rebounded with an elbow drop for 2.
After Cat launched an implant DDT, he got another 2.
Jannetty then spiked Cat with a spinebuster and followed with a Rocker Dropper. Since WCW can't refer to the move as such, they renamed it the Show Stopper. Nice play, WCW.
1-2-3.
Jannetty won.
Rating: *
Summary: Showcase match for Jannetty as he tamed the black cat.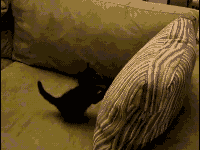 Snickers sponsors the replay.
Nitro is sponsored by Valvoline.
Following a commercial break, Okerlund, still out in the parking lot, interviews Savage who desperately wants to know what Nash said about him.
Match 3: The "Crippler" Chris Benoit versus Dean Malenko
Highlights:
Miraculously, the Flock were seated at ringside rather than exhibiting their usual tardiness.
According to Schiavone, Benoit will face Raven at Souled Out '98 on 1/24.
Malenko dropkicked Benoit and followed with a belly-to-back suplex for 2.
When Benoit countered a side head lock with his own belly-to-back suplex, he clotheslined Malenko for 2.
Malenko rebounded with a hip toss and hooked a key lock.
As Benoit stood up, he hoisted Malenko overhead to escape. Outstanding!
He then provided Malenko with a snap suplex for only 2 because Malenko put his foot on the bottom rope.
After Benoit missed a dropkick, Malenko gave him a cross corner whip followed by a corner clothesline.
They each countered a suplex attempt, and Malenko delivered a release German suplex.
When Malenko momentarily hesitated to apply a Texas Cloverleaf, Benoit secured an inside cradle for 2.
Benoit then attempted a Crippler Crossface, but Malenko made it to the ropes.
As Benoit tried to counter a double underhook maneuver, Malenko hit a sunset flip.
Benoit escaped, cradled Malenko, and got 2.
After Benoit gave Malenko a cross corner whip, he ate boot on his follow-through.
Malenko then attempted a victory roll, but Benoit sent him crashing face-first to the mat.
When Benoit successfully applied a Crippler Crossface, Malenko tapped out.
Rating: ***
Summary: As you expect from these two, they provide a solid match with excellent wrestling. Since Benoit has the upcoming PPV match with Raven, he gets the victory.
Speaking of Raven, after the match, he storms the ring and attacks Benoit. He then PLANTS Benoit with a DDT and stands face-to-face with Malenko. That is until Saturn CLOBBERS Malenko from behind. How dastardly! Saturn then hooks a Rings of Saturn on Malenko while Zbyszko complains about Raven's piercings. Methinks he's old-fashioned.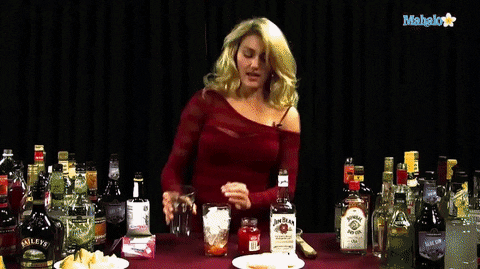 At the entrance, Okerlund interviews Chairman of the WCW Executive Committee JJ Dillon. We then revisit Thunder and last week's Nitro with the chair exchanges between Luger and Savage. Dillon, due to Savage's striking executive Vice-President Eric Bischoff, fines him $5000. Like a bat out of hell, Savage sprints toward Dillon to confront him. Immediately, Bischoff pulls Savage away and offers to pay the fine. Savage was LIVID.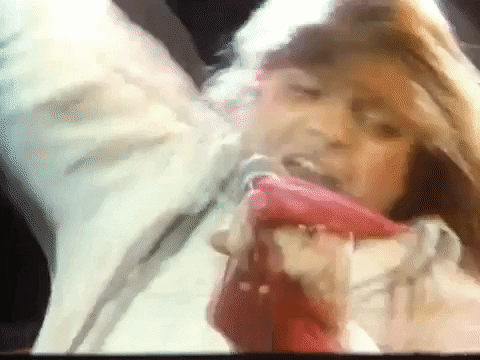 In the ring, Okerlund interviews US champion DDP who plugs a tag match on this week's Thunder between he and Luger versus Savage and Nash. That ought to be interesting. After he takes a potshot at the Savage/Elizabeth relationship, DDP cuts a promo on Savage and Nash.
Match 4 for the WCW World TV title: Booker T (champion) versus Saturn
Highlights:
According to Schiavone, the Flock was banned from ringside.
Booker T countered a hip toss with a clothesline.
As he leapfrogged Saturn, Booker T landed a flying forearm for 2.
He then sent Saturn to the floor with a leg lariat.
Upon Saturn's return, Booker T cradled him for another 2.
Saturn rebounded with a pumphandle suplex for 2.
When he scored with a T-bone suplex, Saturn received both a cross corner whip and corner clothesline.
Booker T then gave Saturn another cross corner whip but ate boot on his follow-through.
After Saturn cradled Booker T with his feet on the ropes, he got the pin.
WE HAVE A NEW CHAMPION!
Wait a minute! Rick Martel and referee Scott Dickinson approached the ring to inform referee Jimmy Jett that Saturn put his feet on the ropes.
Jett restarted the match, so Saturn rolled Booker T up.
Since Jett had to wait to give ring announcer David Penzer the belt, he couldn't make a count.
Not to be dismayed, Saturn hooked an inside cradle for 2.
Booker T then delivered a scissors kick and followed with a sidewalk slam.
As he mounted the top turnbuckle, Booker T hit a Harlem Hangover.
1-2-3.
Booker T retained.
Rating: **½
Summary: The Dusty finish was employed merely to include Rick Martel in the World TV title picture.
After the match, Martel asks Booker T for a title shot. Booker T replies that he has an "open contract" and offers it to him.
In the ring, Okerlund interviews Nick Lambros with Giant. Lambros explains that the nWo has failed to explain Nash's absence at Starrcade '97 and requires Nash or the nWo to pay a $1.5 million performance bond for the upcoming PPV. Wow! Should the performance bond not be paid, Nash would be suspended for a year. Holy cow! Lastly, Lambros declares that Bischoff has been spending Time-Warner's money "like water" and is "cut off." Blockbuster announcements!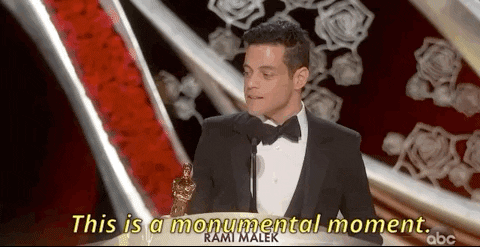 Giant gets his turn and wants Nash to "show up." I bet he regrets saying that. Suddenly, Bischoff, Nash, "Hollywood" Hogan, and Henry Holmes-a sports and entertainment lawyer—come to the ring. Holmes accepts the performance bond care of Hogan. But he has a catch! He requires that WCW and Giant match the $1.5 million to prevent Giant from touching or coming near Nash prior to the PPV. Patiently, Giant accepts the counteroffer. Nash then harasses Giant who stands firmly before leaving.
Promo airs for Savage-Luger at the PPV.
HOUR #2!
Match 5: The "Total Package" Lex Luger versus Hugh Morrus
Highlights:
Morrus delivered a spinning heel kick, but Luger rebounded with a powerslam for 1.
When Morrus gave Luger a cross corner whip, he came up empty on his follow-through.
Luger then hit a belly-to-back suplex followed by a pair of clotheslines.
As he scored with a flying forearm, Luger gave Morrus a cross corner whip.
Morrus leaped to the second turnbuckle and launched a flying clothesline.
After he mounted the top turnbuckle, Morrus missed a splash.
Luger then applied a Torture Rack, and Morrus submitted.
Rating: *½
Summary: Showcase match for Luger who is tremendously over with the Jacksonville faithful.
After the match, Elizabeth comes to ringside for a booty call to plead for Luger's help. Of course, it's a ruse as Savage LEVELS Luger from behind. SNEAKY! Savage then makes Luger taste the steel railing. It must have tasted like the Randy at Wicked Barley.
He then holds Luger so that Elizabeth could slap Luger silly. When DDP arrives to aid Luger, Savage and Elizabeth scamper away.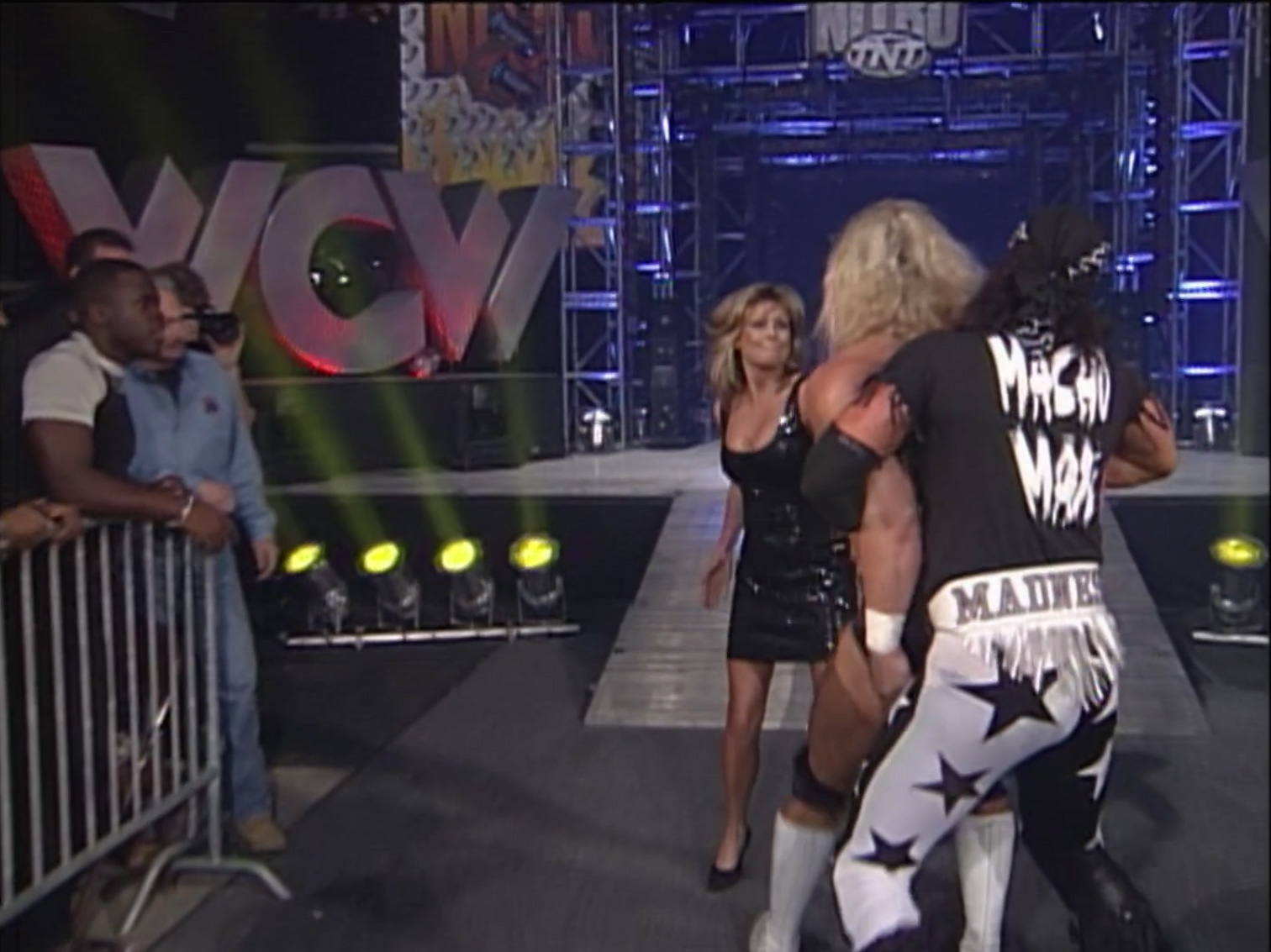 Nitro Girls dance in the ring wearing shiny black outfits while Schiavone shills the Nitro Party contest. This week's winner is Grant Cambridge from West Chester, OH.
We then revisit Thunder when the Steiners retained their titles, but Scott was selfish with the victory.
Match 6: Steve "Mongo" McMichael versus "Lionheart" Chris Jericho
Highlights:
Mongo gave Jericho a cross corner whip but ate boot on his follow-through.
As Jericho mounted the second turnbuckle, he launched a missile dropkick.
Mongo then delivered a sidewalk slam and slammed Jericho.
When he mounted the second turnbuckle, Jericho caught, joined, and supplied Mongo with a huracanrana for 2. Woohoo!
Mongo rebounded with a three-point stance tackle followed by his version of a belly-to-back suplex.
After Jericho dropkicked Mongo's left knee, Mongo gave him a cross corner whip, caught him mid-float-over, and DESTROYED Jericho with a tombstone piledriver.
1-2-3.
Mongo won.
Rating: *½
Summary: Showcase match for Mongo.
Following a commercial break, Jericho berates the Jacksonville faithful. When he notices that Nitro has returned to air, he changes his tune. As Mysterio makes his entrance, Jericho interrupts and attacks him. WE HAVE A HEEL TURN! Jericho then presses Mysterio overhead and delivers a backbreaker. As he follows with a double underhook backbreaker, Jericho applies a LionTamer. Guerrera makes his entrance yet trips over the top rope.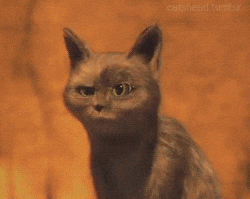 Match 7 for the WCW Cruiserweight title: Juventud Guerrera (champion) versus Rey Mysterio, Jr.
Highlights:
Guerrera dropkicked Mysterio while he was down after the attack.
When Guerrera attempted a powerbomb, Mysterio fought his way out of it.
Mysterio then attempted an Asai moonsault, but Guerrera caught and spiked him.
As he mounted the top turnbuckle, Guerrera scored with a 450° splash.
1-2-3.
Guerrera retained.
Rating: ½*
Summary: Barely a contest due to the pre-match attack by Jericho.
We then revisit Thunder when Dillon held up the World title much to Sting's chagrin.
Hogan and Bischoff return to the ring, and Hogan will have Holmes get an injunction in federal court regarding the World title.
At the entrance, Okerlund interviews WWF defector WCW newcomer Jim "The Anvil" Neidhart who takes exception with Flair's comments last week. Also, Neidhart believes Bret is the best, not Flair. Speaking of Flair, he joins the interview and asks Neidhart to repeat himself. A challenge between them ensues, and Neidhart enters the ring. After Flair joins him in street clothes, he removes his jacket, takes brass knux out of his pocket, and CLOCKS Neidhart.
With Neidhart OUT COLD, Flair knocks out referee Billy Silverman. He then hooks Neidhart in a ring-post figure-four leg lock. That's Bret's move! Speaking of Bret, he storms to the ring to brawl with Flair and aid his brother-in-law. The fight continues at ringside until Flair runs away.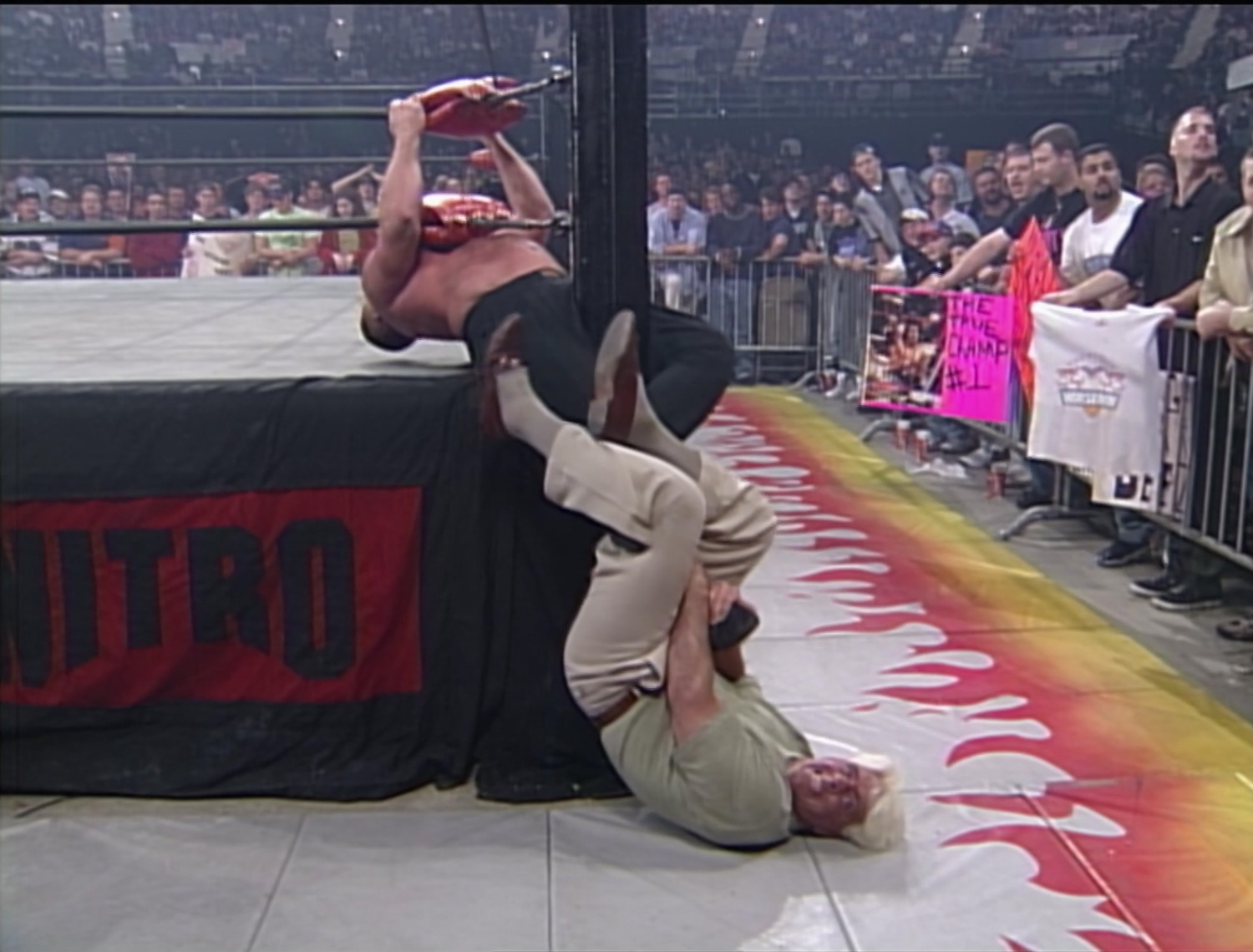 Match 8 for the WCW World tag team titles: Steiners (w/ Ted DiBiase) versus the Outsiders (w/ "Hollywood" Hogan)
Highlights:
Buffer rumbled.
As Hall performed his survey, the Jacksonville faithful LOUDLY cheered WCW but also chanted n-W-o.
Hall attempted a slam, but Scott escaped and slammed him.
When Scott hooked a double underhook powerbomb to Hall, the Steiners double-suplexed an incoming Nash.
Abruptly, Savage came to ringside.
While the Jacksonville faithful chanted "We Want Sting," tags were exchanged on both sides.
Nash gave Rick a cross corner whip but ate boot on his follow-through.
After Rick mounted the second turnbuckle, he launched a Steinerline to Nash for 2.
Rick then powerslammed Nash and nailed an incoming Hall.
As Scott tagged in, Nash supplied him with a short-arm clothesline.
Hall tagged in and delivered a chokeslam to Scott.
Upon mocking Giant, Hall received an overhead belly-to-belly suplex from Scott for 2.
Rick tagged in and applied a half crab.
When tags were exchanged on both sides again, Nash slammed Scott.
Nash then missed an elbow drop allowing Rick to tag back in.
After Rick escaped Snake Eyes, he sent Nash into the corner and mounted the top turnbuckle.
In lieu of hitting a bulldog onto Nash, Rick got crotched on the top rope by Hogan. Nefarious!
Meanwhile, Scott distracted referee Randy Anderson.
Scott then sprinted toward Hogan, and a brawl erupted.
As Hall gave Rick a cross corner whip, he followed with a corner clothesline.
While the chant of "We Want Sting" returned from the Jacksonville faithful, Hall scored with a fallaway slam for 2.
Nash tagged in and provided Rick with a sidewalk slam for another 2.
When Hall tagged in, he reversed an Irish whip sending Rick into a shot by Nash. Wicked!
Hall then landed a lariat to Rick but couldn't get 3.
While Scott distracted Anderson again, heel miscommunication between the Outsiders occurred.
In the process, Anderson got hammered and went down like a ton of bricks.
Rick then delivered a Steinerline to Nash and powerslammed Hall.
After Rick earned a false pin, Hogan CREAMED DiBiase.
Off-camera, Nash allegedly smashed Rick somewhere down I-95 SOUTH.
He then covered Rick, and Savage mounted the top turnbuckle.
Instead of hitting Nash who was his target, Savage launched a big elbow onto Rick.
Although Savage was peeved that he missed Nash, both Outsiders covered Rick.
1-2-3.
WE HAVE NEW CHAMPIONS!
Rating: ***
Summary: With questions revolving around the Steiners, the Outsiders' regaining the titles made sense. Also, when the Steiners originally won the World tag titles, Nash was out with a knee injury, so the Outsiders reclaimed what they technically didn't lose in the first place.
TV Rating: 4.4
After the match, Hogan questions Savage about his motives. Nash then saunters after Savage while Hogan tries to play peacemaker. How will they coexist on Thunder?
Conclusion: The obvious question is: can Savage and Nash get along? In addition, the Outsiders dethroned the Steiners with Savage's inadvertent assistance. The Hart-Flair feud is heating up with Neidhart's arrival being spoiled by Flair. The Nash-Giant feud was accelerated with the performance bond stipulation while Jericho finally turned heel by making Mysterio into mush. Lastly, the Savage-Luger feud continues with Elizabeth getting involved.
This was an action-packed episode to combat the live RAW is WAR. I believe WCW did more than enough to maintain its audience, and it was oodles of fun.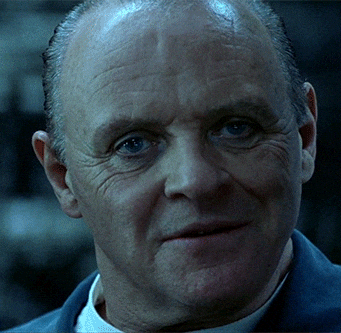 But, what's on RAW is WAR?
TV Rating: 4.50
Stay tuned for RAW Is WAR 01-12-98!
Comments? Suggestions? Send them to me at rsg@rockstargary.com and follow me on Twitter (@rockstargary202).
Custom Search