WELCOME TO ROCK STAR GARY REFLECTIONS!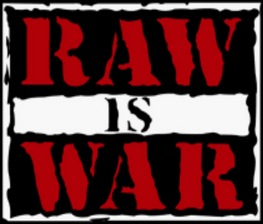 WWF Monday Night RAW 12-29-97
Live from Uniondale, NY
Airdate: December 29, 1997
Attendance: 11,243
Hosted by Jim Ross, Michael Cole, Kevin Kelly, & Jerry "The King" Lawler
How will Owen fare against DeGeneration-X? What does Austin have in store for Goldust? And what type of major announcement will be made? Let's find out!
Opening montage.
To begin the show, TAFKA Goldust comes to the ring dressed as Baby New Year alongside Luna. He cuts a rather odd promo on Stone Cold Steve Austin stating that while Goldust can be Barbie, Austin can be Ken. Austin enters the ring, grabs the microphone, and summons something from the ceiling. Is it Sting?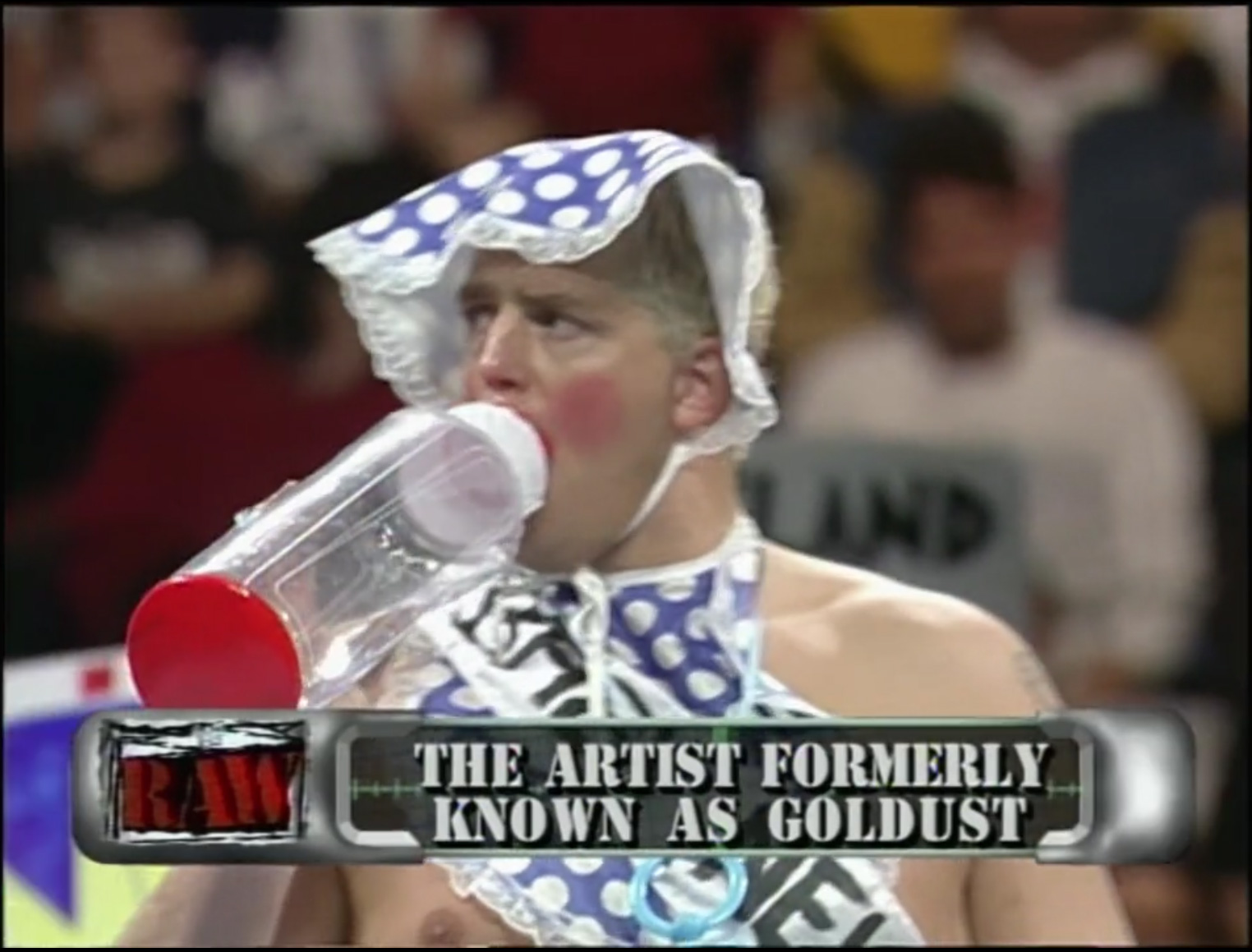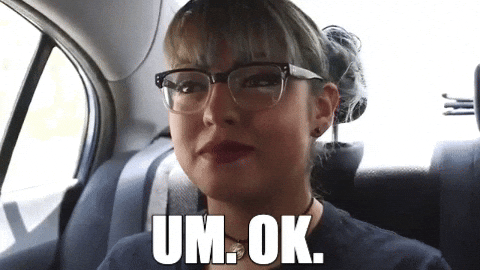 Nope, it's "Crapper 3:16," and Austin requests a "hell yeah" from the Uniondale faithful. When Goldust tries to ambush him, Austin slams the crapper door in his face. HA!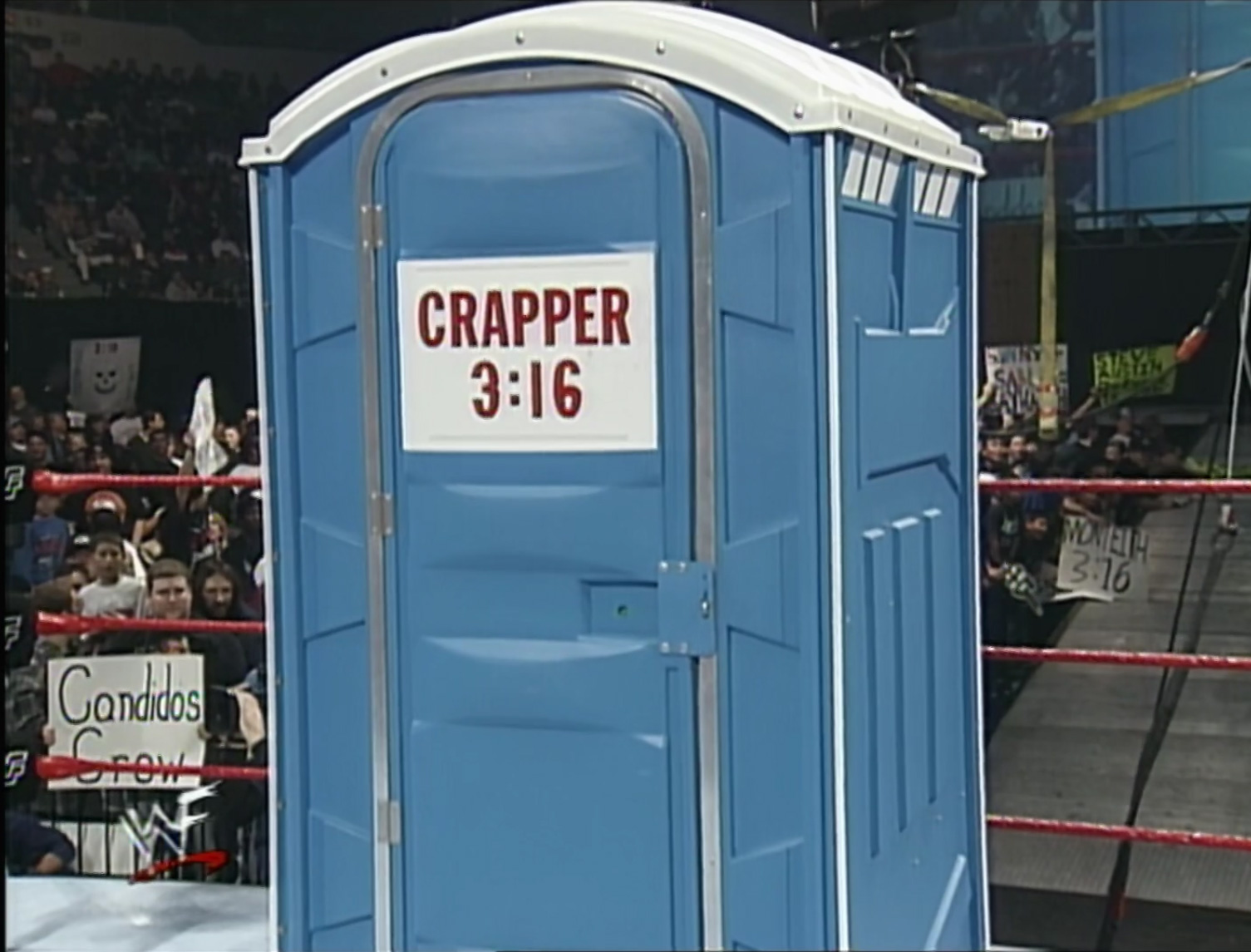 He then backdrops Goldust before hitting a lariat. Afterward, he rams Goldust into "Crapper 3:16" and shuts him inside. Austin finishes his promo, but Goldust re-emerges. To cement the segment, Austin gives him a Stone Cold Stunner, tosses him inside, and pushes it over. Ew.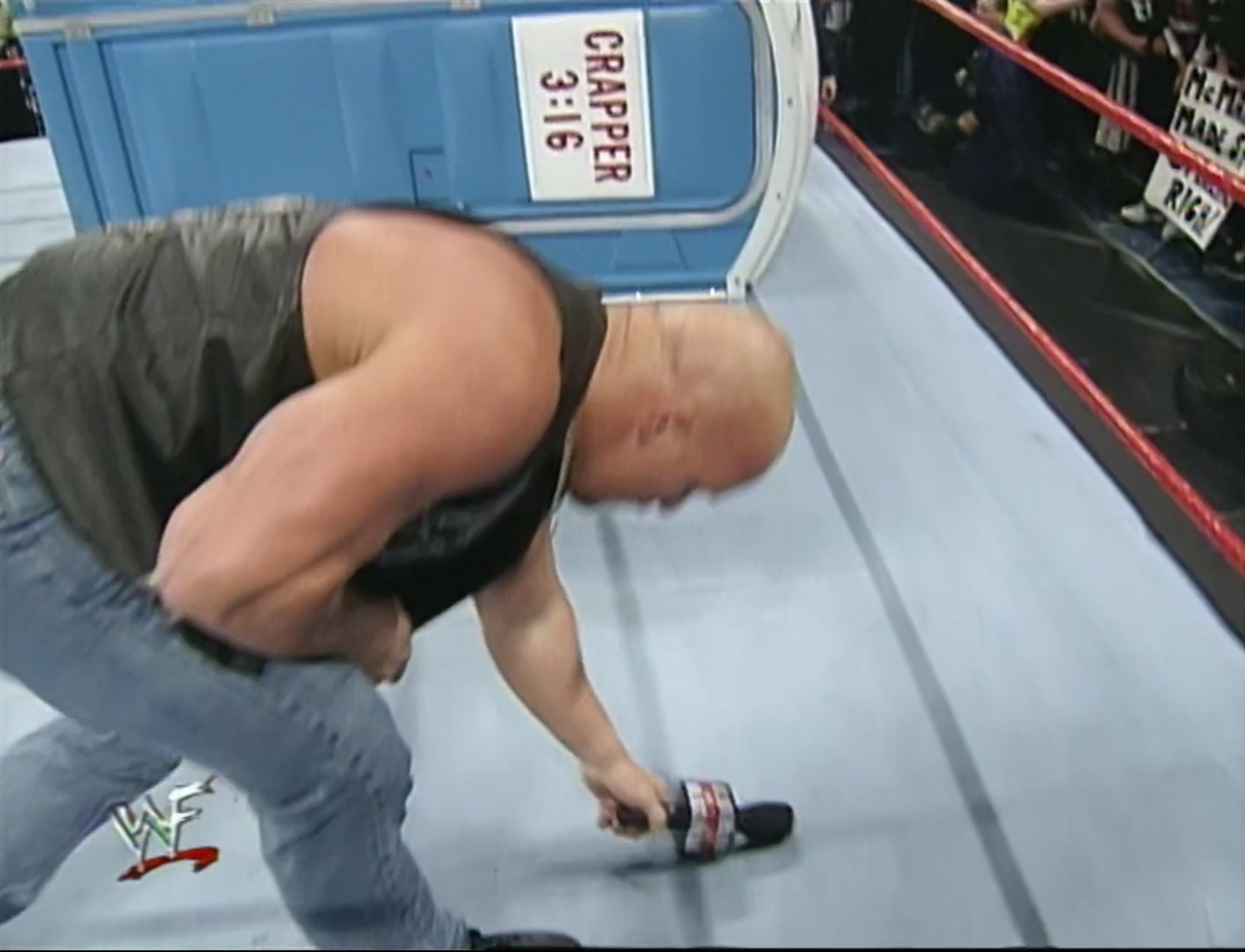 Prior to the opening match, we revisit the not-so-illustrious history of the feud between DoA and Los Boricuas.
Match 1 (six-man): Disciples of Apocalypse versus Los Boricuas (w/ Jose Estrada)
Highlights:
According to JR, this match was a "Long Island brawl," and anything goes.
Jesus delivered a plancha, but Skull rammed him face-first into the steps.
Inside the ring, Vega supplied Chainz with a side kick, gave him a cross corner whip, but ate a back elbow on his follow-through.
Chainz then clotheslined Vega over the top rope to the floor.
When Jesus WHACKED Skull with a steel chair, JR mentioned that Crush was no longer employed by the WWF.
Jesus and Skull entered the ring, and Jesus hammered him again with the chair for 2.
As 8-Ball rescued his brother by CROWNING Jesus with a chair, Vega got tossed over the top rope to the floor.
Estrada entered the ring, held Chainz from behind, but Vega CLOCKED him with a roundhouse kick instead of Chainz.
1-2-3.
DoA won.
Rating: DUD
Summary: All I have to say is...NEXT!
Much like Nitro, RAW is WAR is sponsored by Burger King.
In the ring, HHH sports a knee brace and crutches. He grabs the microphone and informs us that he's not capable of defending the European title tonight against Owen. According to him, HHH "dislocated (his) knee cap." Also, according to HHH, Michaels is sick with 102° fever., so Undertaker will have to wait until Royal Rumble '98.
Suddenly, a casket gets wheeled to the ring. Instead of Undertaker, Michaels pops out, and the casket has been "desecrated." He then introduces the two newest members of DeGeneration-X...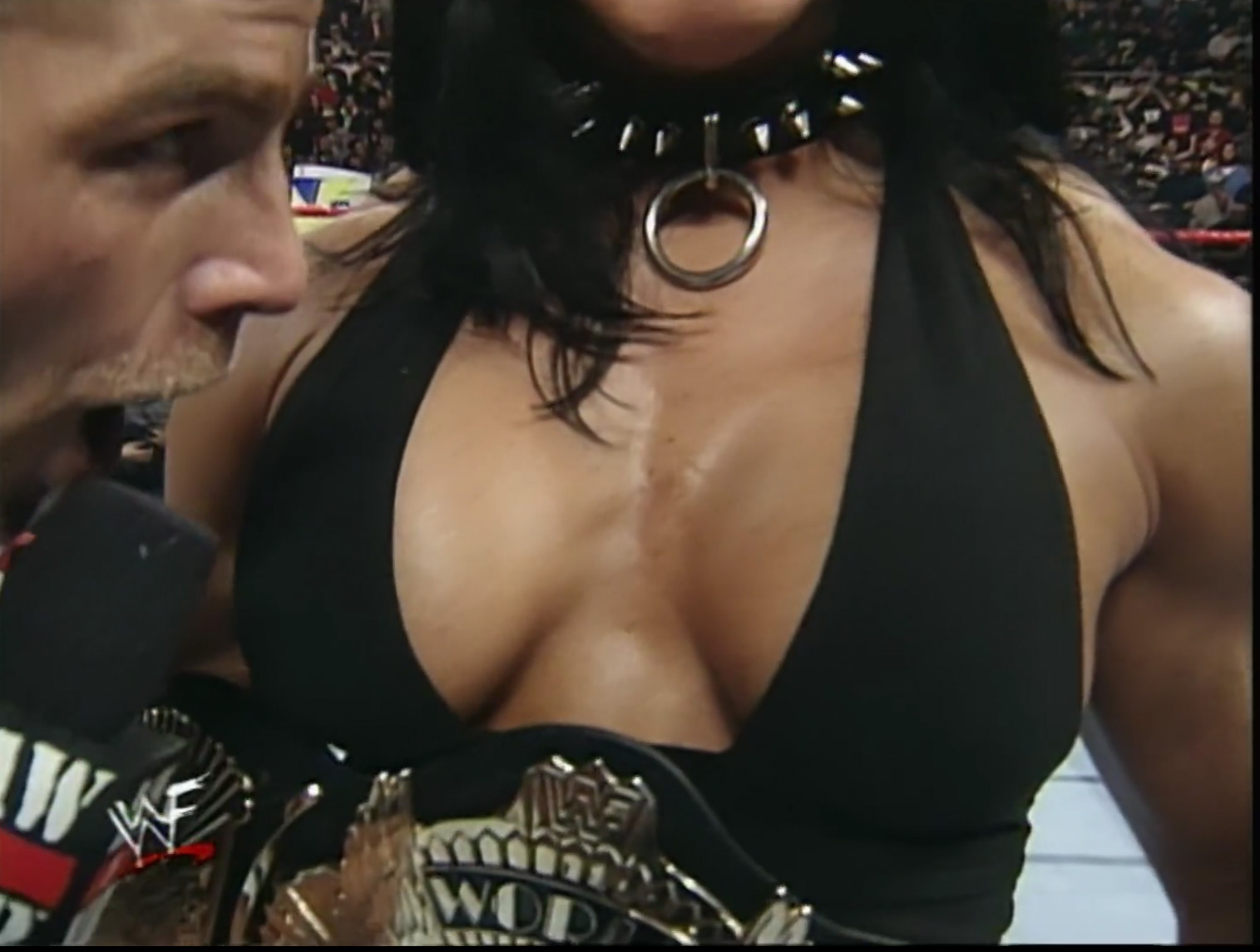 Michaels and HHH joke about the upgrade, and Michaels cuts a promo on Undertaker. Much to their chagrin, Commissioner Slaughter comes to the ring and decrees that Michaels will defend the WWF title against Owen since HHH isn't cleared to wrestle.
Prior to the next match, we revisit last week's episode when Shamrock defeated D'Lo Brown.
Match 2: Ken Shamrock versus Kama Mustafa (w/ the Nation of Domination)
Highlights:
Brown tripped Shamrock allowing Mustafa to deliver an elbow drop.
As Shamrock attempted a cross body block, Mustafa caught and supplied him with a backbreaker.
He then gave Shamrock a HARD cross corner whip to injure the back.
When he gave Shamrock another cross corner whip, Mustafa came up empty on his follow-through.
Shamrock then gave Mustafa a cross corner whip but ate knee on his follow-through.
After Mustafa hit a standing leg lariat, he got 2.
Shamrock rebounded with a clothesline and followed with a flying back elbow.
As he dropkicked Mustafa, Shamrock got 2.
Faarooq then got up on the apron to distract referee Tim White so that Mustafa and Brown could double-team Shamrock. Nefarious!
Unfortunately, it backfired as Mustafa mistakenly kicked Brown.
Shamrock then applied an ankle lock, and Mustafa submitted.
Thus, Shamrock won.
Rating: ½*
Summary: Good story behind the match, but the outcome was never in doubt.
After the match, the Rock emerges and broaches the subject of the elderly and Social Security. He then declares that Shamrock will face Faarooq next week, and Faarooq is none too pleased about it.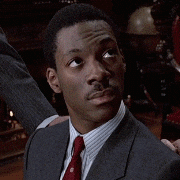 In a segment taped "earlier today," Vince McMahon thanks the fans of the World Wrestling Federation and wishes a Happy New Year.
Prior to the next match, we revisit the 12/08 episode when the Lawlers spike-piledrove Michinoku. We then see Christopher interfere in a match between Lawler and Michinoku from two weeks ago.
Match 3: Jerry "The King" Lawler & Brian Christopher versus Taka Michinoku & ????
Highlights:
And the mystery partner for Michinoku is...George "The Animal" Steele!
While the Lawlers double-team Michinoku, Steele ate a turnbuckle.
Christopher delivered a northern lights suplex to Michinoku and backdropped him.
When Christopher gave him a cross corner whip, Michinoku climbed the turnbuckles and flipped over him.
He then attempted a huracanrana, but Christopher countered with a powerbomb.
As Michinoku escaped a suplex attempt, he landed a spinning heel kick.
He then slammed Christopher, mounted the top turnbuckle, and hit a moonsault.
Since Steele distracted referee Jim Korderas, Michinoku only earned a false pin.
Lawler then entered the ring and nailed Michinoku with a foreign object. SNEAKY!
After Christopher slammed him, Lawler mounted the top turnbuckle.
In the meantime, Steele entered the ring and used his own foreign object on Christopher. Clever!
To thwart the double-teaming by the Lawlers, Steele hammered each of them with his foreign object.
Korderas called for the bell to disqualify Steele and Michinoku.
Rating: -*
Summary: Crappy match as Steele's act doesn't translate to tag team wrestling. The nostalgia pop was warm however.
WAR ZONE!
Prior to the next match, we revisit the destruction the New Age Outlaws inflicted upon Dude Love/Mankind. Dude Love appears on the Titantron and summons Mankind to do his dirty work. Suddenly, Cactus Jack appears and introduces us to Chainsaw Charlie.
Match 4: Road Dog (w/ "Bad Ass" Billy Gunn) versus Mankind
Highlights:
Like good heels, the NAO wore New York Rangers jerseys to irk the Islanders' faithful.
Cactus brought a barbed-wire baseball bat to the ring with him.
As the NAO double-teamed him, Cactus rebounded with a double Mandible claw.
With Road Dog slumped in the corner, Cactus put a knee into his ear.
He then tossed Road Dog outside the ring and delivered a Cactus elbow.
Back in the ring, Cactus provided Road Dog with a Cactus clothesline sending them to the opposite side of the ring.
Gunn tried to sneak-attack Cactus with the bat, but Cactus caught and nailed him.
When Cactus turned around, Road Dog CROWNED him with a steel chair.
Cactus then hit a double-arm DDT, but Gunn interfered to prevent the pin.
Therefore, Cactus won by DQ.
Rating: DUD
Summary: More storyline than match as you shall see.
After the match, Gunn clotheslines Cactus over the top rope to the floor. Cactus then gets the NAO to follow him and rams Road Dog into a large vertical crate. With the sound of a chainsaw buzzing, Chainsaw Charlie cuts his way out of the crate and scares the bejeezus out of the NAO. For those unaware, Charlie is portrayed by none other than Terry Funk.
Following a commercial break, Sable emerges and heads to the ring. Kevin Kelly interviews her and shills the dual covers of Sunny and Sable on RAW Magazine. When Sable tries to give us a preview of the swimsuit edition, "Marvelous" Marc Mero storms the ring with a steel chair.
He questions Sable and refers to himself as the "star." As Kelly stands up for Sable, Mero calls him a "third-string announcer" and "fat boy." He then delivers a low blow to Kelly. To rescue Sable, Tom Brandi hits the ring and hammers Mero. He then assists Sable out of the ring, so Mero CLOBBERS him with the steel chair. Following that, he lands a TKO on the chair to Brandi. OUCH! To add insult to injury, Mero feeds pages of the magazine to him. And we're denied a Sable swimsuit for this?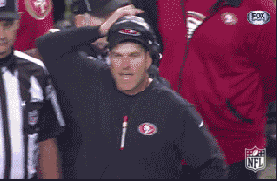 Royal Rumble '98 will be LIVE on PPV on 1/18. Call to order NOW!
Seven wrestlers stand in the ring and call out Kane. Without any hesitation, Kane and Paul Bearer head to the ring. Abruptly, Undertaker makes his entrance felt. Will he join the seven wrestlers to destroy Kane? No, instead of eliminating Kane, Undertaker and Kane work together to eliminate the seven wrestlers.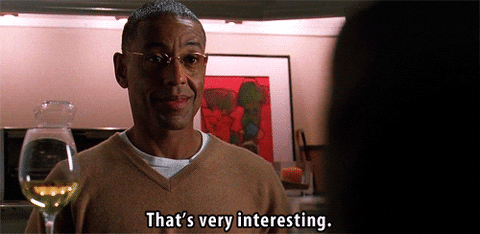 Backstage, Cole interviews the NAO who intimidates him until Charlie literally cuts his way into the scene.
CORNETTE'S COMMENTARY: First, he believes that the current state of ALL wrestling (e.g. WCW/nWo, WWF, and ECW) "stinks" and is embarrassed by what transpired on last week's RAW is WAR. Second, he asks "where's the wrestling?" Third, he wants respect for the tradition of wrestling. Fourth and finally, he's going to bring tradition back because the status quo stinks.
PLAYSTATION SLAM OF THE WEEK: Austin gives Santa Claus a Stone Cold Stunner for Christmas.
Sunny emerges to shill her appearance in the RAW Magazine swimsuit edition.
Next, JR drops the bomb that "iron" Mike Tyson and WWF are negotiating for him to appear at WrestleMania XIV.
Prior to the main event, we revisit Owen's return after Survivor Series '97 and his attacks of Michaels.
Match 5 for the WWF title: The "Heartbreak Kid" Shawn Michaels (champion w/ Chyna) versus Owen Hart
Highlights:
Owen attacked Michaels in the aisle and suplexed him on the steel ramp.
When he rammed Michaels face-first into the steel ramp, Owen tossed him into the ring and pummeled Michaels.
He then backdropped Michaels over the top rope to the floor. Keep that in mind for the near future.
Following a commercial break, Owen guillotined Michaels with the steel railing.
In the meantime, HHH came to ringside on crutches.
Owen then crotched Michaels with the steel railing and dragged him into the ring.
Unbeknownst to referee Earl Hebner, Chyna tripped Owen coming off the ropes. How dastardly!
Owen then stood on the apron due to Chyna's distraction, so Michaels shoved him causing Owen to taste the steel railing. It must have tasted like Hangover burger at Hurricane Grill & Wings.
As Michaels leaped from the apron, he scored with a double axe handle.
Back in the ring, he gave Owen a HARD cross corner whip to injure the back.
He then piledrove Owen for 2.
After Owen reversed an Irish whip, Michaels countered a back drop attempt with a DDT for another 2.
Michaels then hooked a sleeper, but Owen escaped by backing him into a corner.
When Michaels reapplied it, Owen escaped again in the same fashion.
Again, Michaels applied a sleeper, but Owen countered with a belly-to-back suplex.
Owen then backdropped Michaels and provided him with a ten-punch count-along.
As Owen gave Michaels a cross corner whip, it resulted in a Michaels flip.
He then clotheslined Michaels for 2.
Upon hitting a spinning heel kick, Owen got another 2.
He then hooked a belly-to-belly suplex but couldn't get 3.
While Owen gave Michaels a cross corner whip, he came up empty on his follow-through.
When Michaels missed Sweet Chin Music, Owen scored with an enziguri.
He then secured a Sharpshooter, but HHH interfered with his crutch.
As a result, Owen by DQ, yet Michaels retained.
Rating: ****
Summary: Wow! What a great match! Owen truly deserved the World title.
After the match, HHH destroys Owen with his other crutch. Before the show leaves the air, Chyna decks Hebner.
Conclusion: Scorching HOT main event punctuates a great episode with a lot of filler. The Austin segment keeps him from wrestling due to his current injury issues, and the Rock brings charisma although his promos are still a bit misguided. Undertaker and Kane are in cahoots now? And Mike "I'll have another bite" Tyson could be at WrestleMania XIV? This show's got a lot of meat on the bone.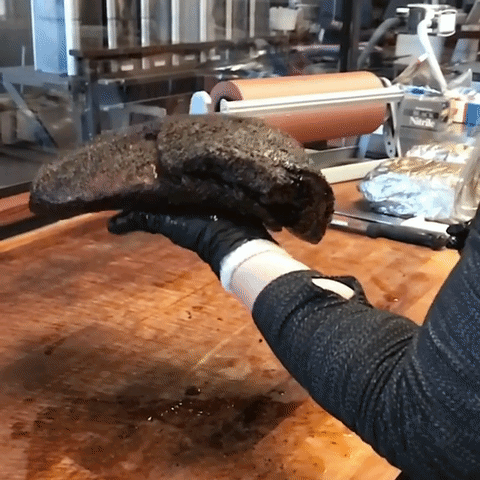 Could it finally overcome Nitro in the ratings?
TV Rating: 3.6
Who won? Nope, by a full ratings point, Nitro destroyed RAW is WAR; however, the numbers increased dramatically on both sides compared to last week. As you'd expect, a lot of people tuned into Nitro to get the fallout from the PPV, yet the WWF didn't disappoint with both shocking news and a solid main event on its show. Give me more of this please!
Stay tuned for WCW Monday Nitro 01-05-98!
Comments? Suggestions? Send them to me at rsg@rockstargary.com and follow me on Twitter (@rockstargary202).
Custom Search