WELCOME TO ROCK STAR GARY REFLECTIONS!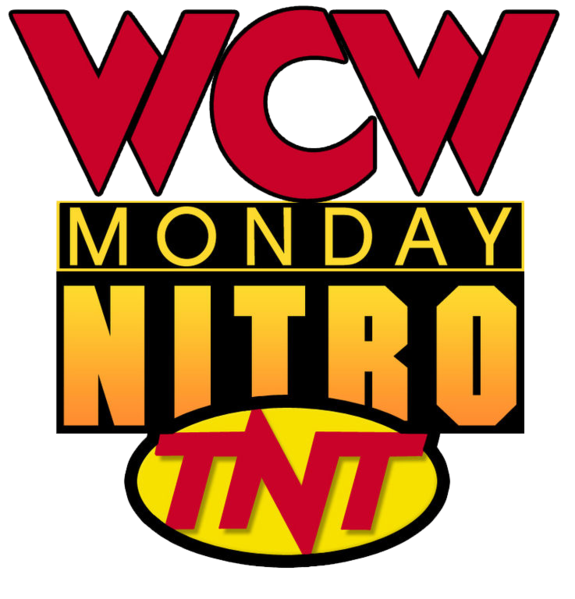 WCW Monday Nitro 12-29-97
Live from Baltimore, MD
Airdate: December 29, 1997
Attendance: 12,196 (11.040 paid)
Hosted by Tony Schiavone, Larry Zbyszko, "Iron" Mike Tenay, & Bobby "The Brain" Heenan
It's the fallout from Starrcade '97! What surprises does WCW have in store for us? How will Hogan respond to his loss last night? Let's find out!
Opening montage.
To begin the show, purple and gold balloons fall from the ceiling to celebrate WCW.
Nitro Girls dance in the ring wearing black glitter.
Schiavone then introduces the victorious Zbyszko to a raucous ovation and informs nWo fans 18-25 with no job and living at home to turn on "Space Ghost Coast to Coast" on the Cartoon Network. HA!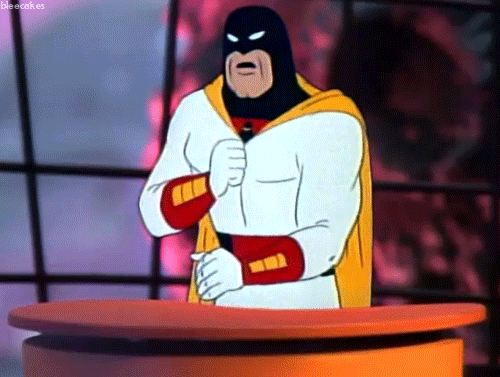 Match 1: Glacier versus Bill Goldberg
Highlights:
During Glacier's elongated entrance, Tenay mentioned referee Nick Patrick's "true colors" and alleged realignment with the nWo. I shall now ascertain that, in fact, Patrick FUCKED UP the fast count and thus FUCKED UP the main event in the process.
Goldberg countered a spinning heel kick by catching and dumping Glacier down to the mat.
When he delivered a spear, Goldberg followed with a jackhammer.
1-2-3.
Goldberg won, and the Baltimore faithful graciously approved.
Rating: *
Summary: Showcase match for Goldberg. Fact: Glacier's entrance was longer than the match.
On WCW Saturday Night, DDP defends the US title against Hennig in a rematch from the PPV.
In the ring, "Mean" Gene Okerlund interviews Bret "Hitman" Hart. While Bret mentions "justice being served" and runs down the nWo, he cuts a babyface promo in support of WCW. To top it off, he name-drops Hogan, states "(Hogan) ran away from me a long time ago," and wants to face him in a WCW ring. I smell a challenge!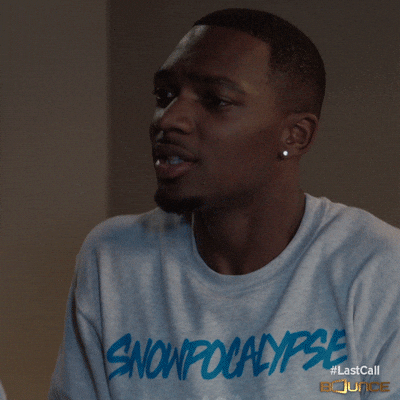 From his ringside seat, Raven runs down Benoit.
Match 2: The "Crippler" Chris Benoit versus Hammer
Highlights:
Before Benoit entered the ring, he leaped over the steel railing to attack the Flock.
After the Flock did a number on him, Hammer tossed Benoit into the ring.
He then delivered a knee lift, gave Benoit a cross corner whip, and followed with a kick to the midsection.
As he hoisted Benoit atop the top turnbuckle, Hammer joined, almost dropped, and supplied Benoit with a superplex for 2. That looked DANGEROUS!
He then gave Benoit another cross corner whip but came up empty on his follow-through.
When Benoit applied a Crippler Crossface, the entire Flock stormed the ring to ambush him.
Referee Mickey Jay called for the bell and ruled the match in favor of Benoit by DQ.
Rating: *½
Summary: The pummeling of Benoit has become routine for the Flock. Will someone PLEASE save Benoit?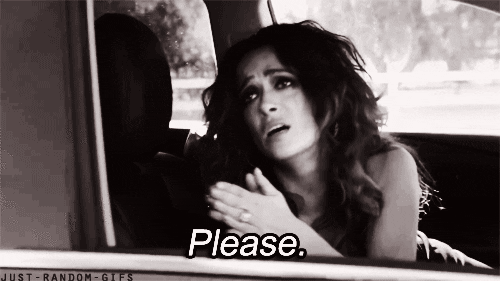 Before I could finish typing that last sentence, Mongo sprints to the ring and heaves members of the Flock over the top rope to the floor.
At the entrance, Okerlund interviews "Nature Boy" Ric Flair who uncorks a "Mean Wooooooo Gene" for us. Upon singing WCW's praises, Flair pulls out a clipping from the Baltimore Sun as well as some reading glasses. Flair then quotes Meltzer's praise of him.
Match 3 for the WCW Cruiserweight title: Eddie Guerrero (champion) versus Ultimo Dragon
Highlights:
While Dragon made his entrance, Eddie attacked him in the aisle.
In the ring, Eddie powerbombed Dragon while Tenay mentioned that Dragon will challenge Shinjiro Otani for the IWGP Junior Heavyweight title on January 4 in the Tokyo Dome.
Eddie then suplexed Dragon, hoisted him atop the top turnbuckle, joined him, and delivered a SWEET tornado DDT.
When Eddie attempted a second powerbomb, Dragon escaped and hooked a Dragon sleeper.
Eddie tapped, so...
WE HAVE A NEW CHAMPION!
Rating: *
Summary: Short but solid victory for Dragon. The tidbit by Tenay gave away the outcome because I'm certain that WCW wanted to send its Cruiserweight champion to challenge Otani.
After the match, Eddie hammers Dragon to regain his heat.
Following a commercial break, the FORMER World champion "Hollywood" Hogan emerges and heads to the ring with Eric Bischoff. Hogan mentions referee Nick Patrick, and the replay of JJ Dillon's announcement from last night is shown. Stills from the main event and Bret's annihilation of Patrick follow. While Hogan strokes his own ego, he and Bischoff request Dillon fix the mess from last night.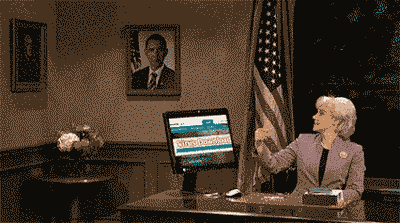 Afterward, Heenan tries to join the broadcast team, but Schiavone dismisses him. Heenan pleads his case and er, weasels his way back on TV. To celebrate, the Nitro Girls dance at the broadcast table in halter tops and jeans. Schiavone shills the Nitro Party contest and rags on Heenan.
Match 4 for the WCW US title: Diamond Dallas Page (champion) versus Mortis (w/ James Vandenberg)
Highlights:
DDP blocked a hip toss and delivered a swinging neckbreaker.
As Vandenberg got up on the apron to distract referee Mickey Jay, Mortis provided DDP with a shot down I-95 SOUTH. The male portion of the Baltimore faithful groaned in sympathy.
Mortis then hit his own version of a pancake for 2.
When Mortis distracted Jay, Vandenberg gave DDP the business. SNEAKY!
DDP then gave Mortis a cross corner whip but ate a back elbow on his follow-through.
Upon mounting the second turnbuckle, Mortis launched a one-arm bulldog for another 2.
He then PLANTED DDP with a facebuster but couldn't get 3.
As Mortis argued with Jay, DDP rolled him up for 2.
Mortis rebounded with a spinning heel kick for 2.
When Mortis attempted a Flatliner, DDP escaped and unleashed a Diamond Cutter.
1-2-3.
DDP retained.
Rating: **½
Summary: Solid workrate from Mortis before he put the NEW US champion over.
After the match, Vandenberg gets up on the apron, but DDP clobbers him.
HOUR #2!
Nitro is sponsored by Burger King.
At the entrance, Okerlund interviews Dillon. While he's ecstatic about WCW and its loyal fans, Dillon upholds Sting's victory from last night. He then mentions Sting's inclination to "put the title on the line tonight." Whoa! Someone from the nWo will get a title shot.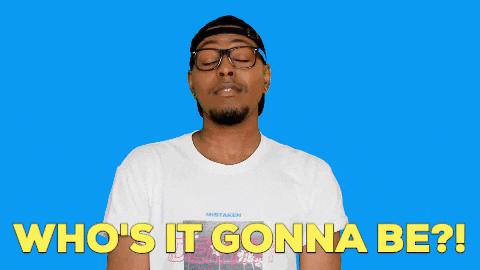 Match 5 for the WCW World TV title: Disco Inferno (champion) versus Booker T
Highlights:
Booker T countered a hip toss with a clothesline.
When he delivered a back elbow, Booker T got 2.
He then slammed Disco, missed an elbow drop, yet performed a spinaroonie. Woohoo!
As he hit a leg lariat, Booker T joined Disco on the floor and rammed him back-first into the steel railing.
With Disco on the apron, he countered a suplex with a guillotine.
He then provided Booker T with an inverted atomic drop and clotheslined him over the top rope to the floor.
After he joined Booker T, Disco rammed him flank-first into the steel railing.
He then made Booker T taste the steel railing. It must have tasted like the Champ at Mick O'Shea's.
Back in the ring, Booker T hooked a sunset flip for 2.
Disco rebounded with a back elbow for 2.
When he put a knee into Booker T's midsection, Disco got another 2.
He then reversed an Irish whip, hit a swinging neckbreaker, but couldn't get 3.
As Booker T rebounded with a flying forearm, he received a cross corner whip yet FLATTENED Disco with a second leg lariat.
He then scored with a sidewalk slam, mounted the top turnbuckle, and launched a Harlem Hangover.
1-2-3.
WE HAVE A NEW CHAMPION!
Rating: **
Summary: Considering WCW had been flaunting Disco with his Chartbuster, the Baltimore faithful was STUNNED by the upset victory by Booker T. Great job, Booker!
After the match, Stevie Ray comes to the ring to congratulate his brother.
At the entrance, Okerlund re-interviews Dillon. To offer his reply to Dillon, Bischoff re-emerges and offers Hogan as the nWo challenger for the World title match tonight. Methinks Bischoff figured out that the WWF would pit Owen versus Michaels and wanted to beat them to the punch.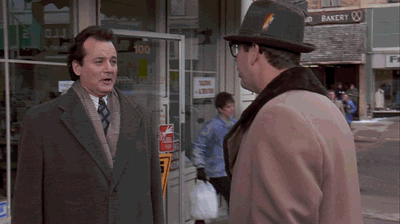 Match 6: Curt Hennig (w/ "Ravishing" Rick Rude) versus "Lionheart" Chris Jericho
Highlights:
Hennig leap-frogged Jericho but missed a dropkick.
As Jericho clotheslined him, Hennig sought refuge outside the ring.
Hennig returned, but Jericho supplied him with a jump kick.
When Jericho gave Hennig a cross corner whip, he ate a mule kick on his follow-through.
He then countered a rear chin lock with a jawbreaker.
After he elbowed Hennig, Jericho slammed him, and botched a LionTamer. Two things: Jericho didn't get enough air underneath him to flip, and Hennig saved Jericho's bacon by having his knees up. Otherwise, Jericho could have been seriously injured.
Hennig then hooked a Hennigplex.
1-2-3.
Hennig won.
Rating: DUD
Summary: Showcase match for Hennig.
After the match, an irate Jericho tosses ring announcer David Penzer from his chair. He then grabs the chair and WALLOPS the ring post with it. To punctuate his tantrum, Jericho yells "I'm sick of this. I've had enough." Character development on the horizon, perhaps?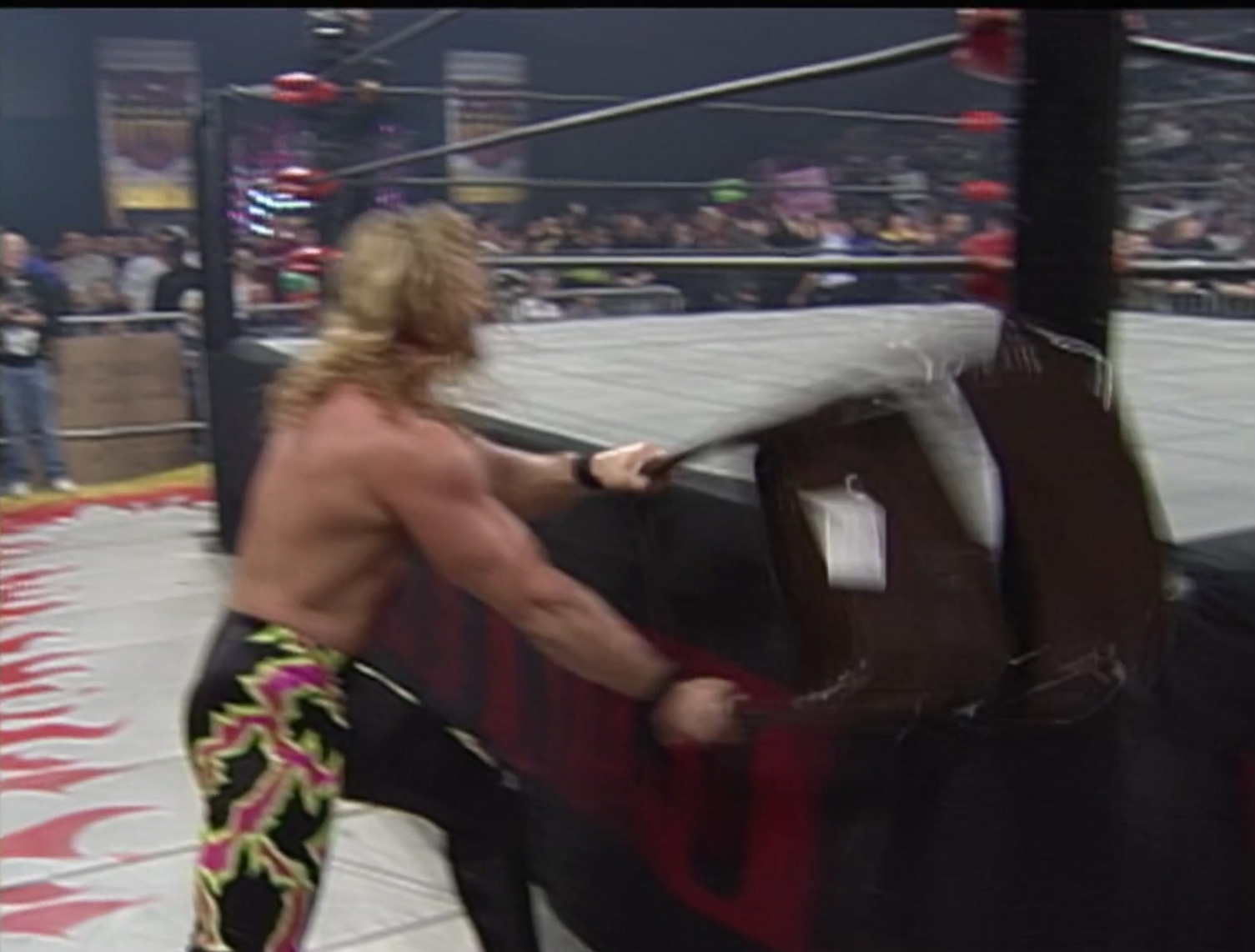 Promotional consideration paid for by the following: Slim Jim.
Nitro Girls dance at the entrance wearing pink and silver.
Next, Scott Hall emerges wearing an nWo Monday Nitro t-shirt and touk. When he conducts his survey, the Baltimore faithful give a decent reaction to WCW but sing "nWo" like sheep for him.

Following a commercial break, Billy Ripken, brother of Hall of Fame shortstop Cal Ripken, was shown on camera. Billy debuted in 1987 and played until 1998.
This week's Nitro Party pack goes to Adam Yeazel from Champaign, IL. His video follows.
Prior to the next match, Bagwell enters the ring and cuts a promo on Luger.
Match 7: The "Total Package" Lex Luger versus Buff Bagwell (w/ Scott "Flash" Norton)
Highlights:
Dear God. With this bloated roster, we have to see these two AGAIN?
Bagwell dropkicked Luger in the back and tossed him down to the floor.
When Norton grabbed him, he rammed Luger back-first into the steel railing.
He then made Luger HIT THE POLE. How dastardly!
As Bagwell delivered a hangman's neckbreaker, he got 2.
Bagwell then tossed him back down to the floor where Norton supplied Luger with more punishment. Nefarious!
After Bagwell slammed him, he mounted the second turnbuckle but missed a Buff Blockbuster.
Luger rebounded with a series of clotheslines, slammed Bagwell, and nailed Norton who had jumped on the apron. In fact, Norton tasted the steel railing on the way down. It must have tasted like Dr. Thompson's Short Rib sandwich at Maisy's.
When Luger applied a Torture Rack to him, Bagwell submitted.
Luger won.
Rating: *
Summary: Hopefully this feud is finally over. Bagwell needs a different opponent to get himself over.
Match 8 for the WCW World title: Sting (champion) versus "Hollywood" Hogan
Highlights:
Buffer rumbled.
For those who care, Randy Anderson was the referee and NOT Nick Patrick.
Also, when Sting brought the World title belt to the ring, the spray paint had been removed.
As if he heard me, Hogan grabbed it and WALLOPED Sting in the back with it.
As he delivered a series of elbow drops, Hogan tossed Sting to the floor, joined, and slammed him.
Hogan continued to nail Sting in the back until Sting no-sold the shots.
Sorry, Chester.
Nevertheless, when Sting followed him to the floor, he made Hogan taste the steel railing. It must have tasted like the Markie at Chaps.
He then rammed Hogan flank-first into the steel railing on the other side of the ring.
Back in the ring, Sting delivered an inverted atomic drop.
Hogan rebounded with a cross corner whip followed by a corner clothesline for 2.
While the Baltimore faithful chanted "Let's go, Sting," Hogan hit a big boot for another 2.
Sting then ducked a clothesline and landed a shoulder block.
Upon bouncing off the ropes, Sting landed head-first into Hogan's groin. OUCH!
Hogan then slammed Sting but missed a leg drop.
After Sting gave Hogan a cross corner whip, he followed with a Stinger splash.
He then gave Hogan another cross corner whip and sandwiched Anderson thanks to Hogan.
Suddenly, Schiavone screamed: "WE'RE OUTTA TIME. WE GOTTA GO!"
Rating: NONE
Summary: If ripping off the customer was WCW's motive, they've accomplished it. Between the PPV and the end of this show, WCW would rather have controversy instead of satisfied viewers.
Memo to WCW: Satisfied viewers don't change the channel.
Conclusion: Up until the finish of the main event, this show was GANGBUSTERS good. Two title changes combined with a Sting-Hogan rematch cause me to: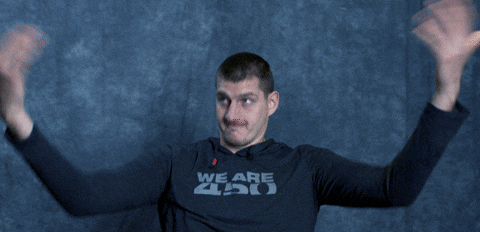 What's on RAW is WAR?
TV Rating: 4.65
Stay tuned for RAW Is WAR 12-29-97!
Comments? Suggestions? Send them to me at rsg@rockstargary.com and follow me on Twitter (@rockstargary202).
Custom Search