WELCOME TO ROCK STAR GARY REFLECTIONS!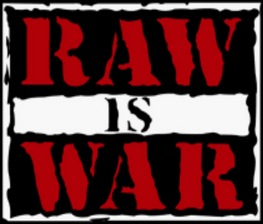 WWF Monday Night RAW 12-22-97
Taped from Lowell, MA
Airdate: December 22, 1997 (taped 12/11)
Attendance: 2.403 (sold out)
Hosted by Jim Ross, Michael Cole, Kevin Kelly, & Jim Cornette
Who will challenge Michaels for the European title? How does Austin celebrate Christmas? What present does Sable have for us? What else does the WWF have stuffed in our stocking? Let's find out!
Opening montage.
DeGeneration-X comes to the ring wearing bathrobes. When Michaels asks if the fans have been "good little boys and girls," he states that DeGeneration-X has a "present for you." Meanwhile, in the back of the arena, two women hold up adjoining signs reading "Shawn: Let's put the DX in Sex." Oh, my!
HHH cuts a promo on the Road Warriors, the New Age Outlaws' desire to "take credit" for the Road Warriors' demise, and Owen. While the Lowell faithful chant "O-wen," HHH relates his roshambo victory with destroying their hero. Michaels then runs down Undertaker while the Lowell faithful chants "rest in peace."
Next, DeGeneration-X remove their robes to unveil holiday-themed boxers. Michaels then wishes everyone a very...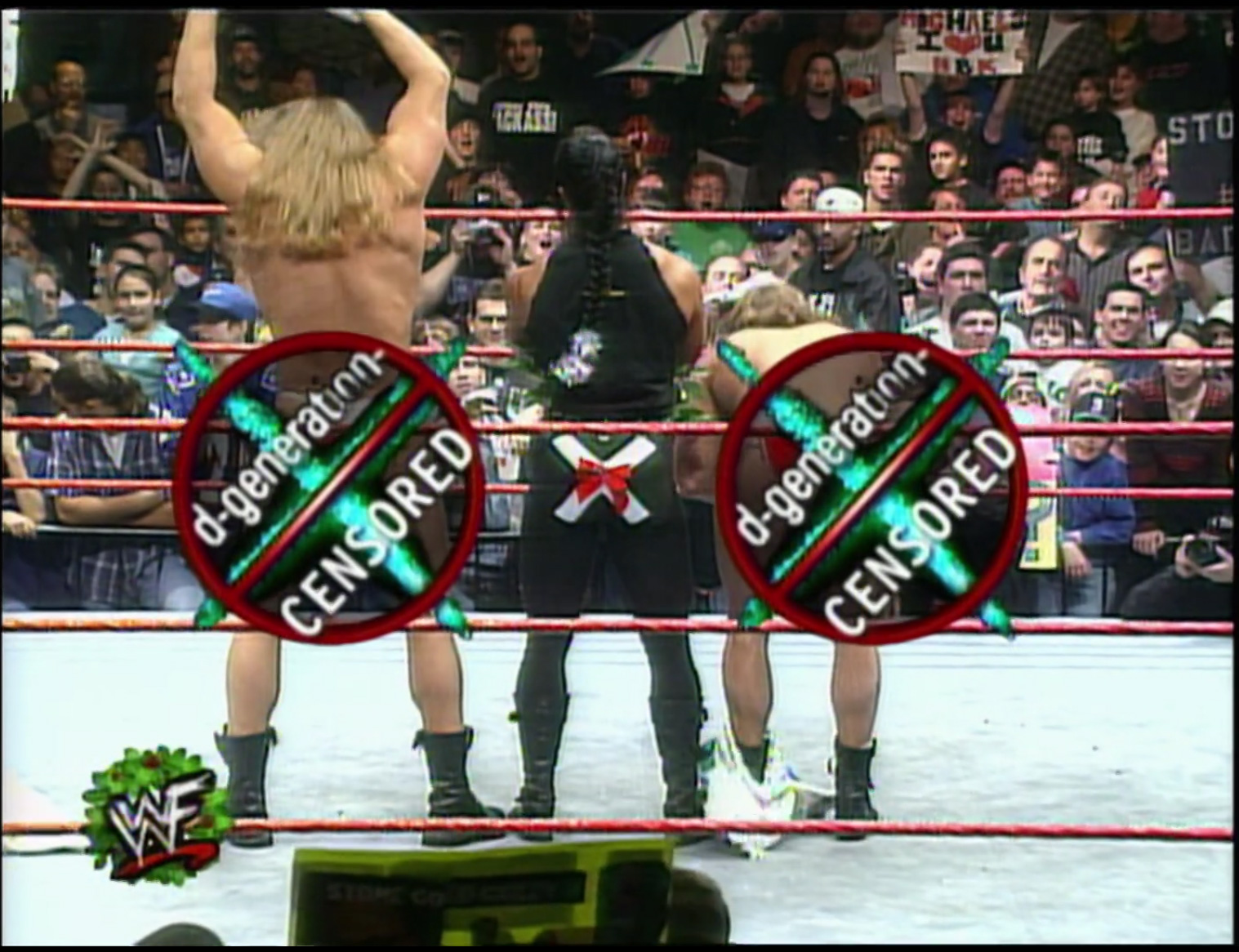 Abruptly, Commissioner Slaughter comes to the ring while DeGeneration-X put their robes back on. He has a "present" for them. When he brings up the fact that Michaels hasn't defended the European title in "60 days," he gives Michaels the choice of defending the title tonight or being stripped of the title.
Like a card-carrying hypocrite, Michaels says he won't surrender the title yet will defend it instead. Slaughter then names HHH as his opponent much to HHH's chagrin. When HHH complains to Slaughter about ruining Michaels' Christmas (by defeating him), Michaels speaks up by calling HHH a "loser." Michaels then reminds HHH that he "doesn't lay down for anybody." Could a rift occur between DeGeneration-X?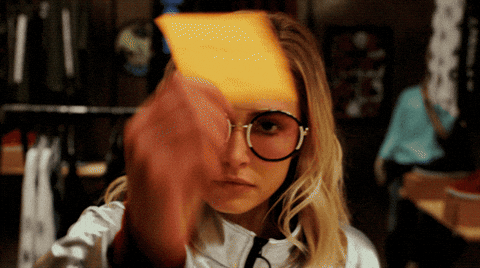 RAW is WAR is sponsored by Burger King, Jakks, and Skittles.
Prior to the first match, we revisit Shotgun Saturday Night when heel miscommunication cost the Godwinns a victory over the Headbangers.
After the Headbangers make their entrance, Cole interviews the Godwinns at ringside. Henry vows "sweet revenge" upon the Headbangers and reminds the New Age Outlaws that he's not forgotten about them.
Match 1: Henry Godwinn (w/ Phineas Godwinn) versus Thrasher (w/ Mosh)
Highlights:
Phineas distracted Thrasher allowing Henry to clothesline Thrasher.
When Henry gave Thrasher a cross corner whip, he ate boot on his follow-through.
Thrasher then gave Henry a cross corner whip and followed with a back elbow.
As Thrasher mounted the top turnbuckle, he delivered a cross body block.
Immediately, Phineas broke up the count, so referee Jim Korderas called for the bell.
Henry won by DQ.
Rating: ½*
Summary: Pointless match.
Afterward, Henry hits a slop drop to Mosh and pulls a pair of leather straps out of the slop bucket. The Godwinns then whip the tar out of the Headbangers until officials arrive to stop them.
We then revisit the saga between the New Age Outlaws and Dude Love.
"Somewhere in the bowels of the building" according to Kelly, Mankind cuts a promo on the New Age Outlaws about the "fight before Christmas."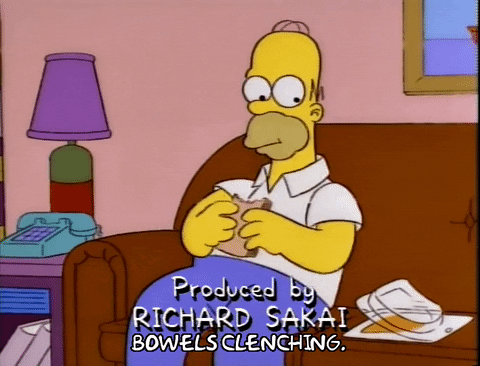 We then revisit last week's episode when Stone Cold Steve Austin tossed the IC belt into the river.
In a "RAW exclusive" taped last week, instead of Sable, a kid sat on Santa's lap and stated that the guy wasn't "the real Santa Claus." When Santa objected, Austin arrived and told Santa to "shut up." Austin took Santa to task for making a kid sad. After Austin questioned him about his Christmas wish at the age of six, Santa's answer was "a barbie doll and some tiddlywinks." HA!
In his own unique style, Austin warned Santa about tiddlywinks, told Santa to "shut up" again, and took a survey. According to the survey, this wasn't the real Santa Claus care of a "hell no." Austin then gave Santa a Christmas present--a Stone Cold Stunner. To finish the segment, he tossed Santa over the top rope to the floor.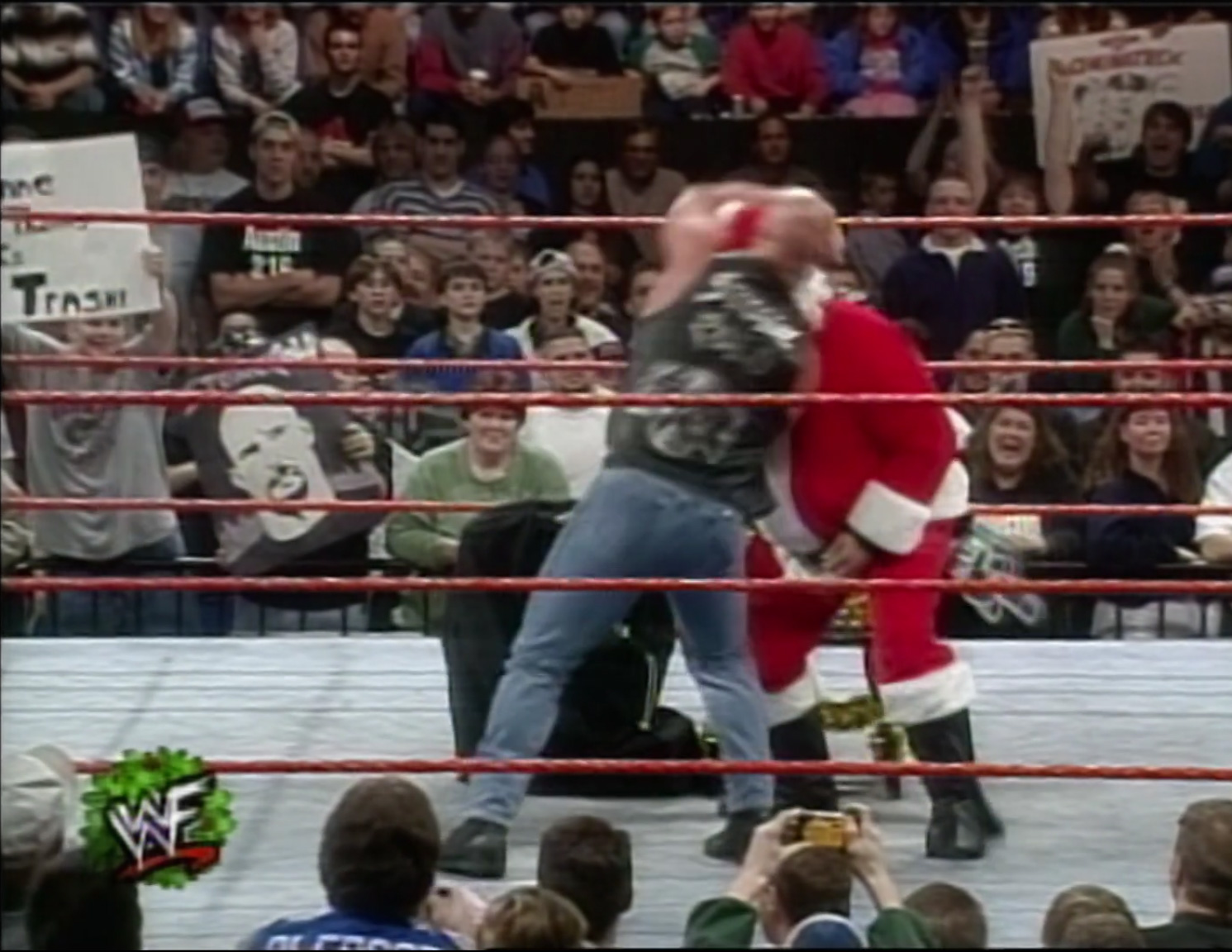 With the door to DeGeneration-X's locker room closed, Michaels and HHH argue about what was said earlier. Michaels and Chyna exit the locker room angry and frustrated.
WWF Attitude ad airs.
Match 2 (non-title): WWF Intercontinental champion the Rock (w/ the Nation of Domination) versus Undertaker
Highlights:
As Brown distracted Undertaker, Rock attacked Undertaker from behind.
He then gave Undertaker a cross corner whip but ate boot on his follow-through.
When Undertaker clotheslined Rock, he delivered a big boot.
He then landed a leg drop for 2.
During a ropewalk shoulder smash, Paul Bearer emerged through the entrance.
That allowed Kama to hammer Undertaker somewhere down near Nantucket.
Following a commercial break, Kama clotheslined Undertaker on the floor.
Back in the ring, Rock distracted referee Earl Hebner so that Kama could CREAM Undertaker. SNEAKY!
While the Lowell faithful chanted "Rocky sucks," their nemesis slammed Undertaker.
He then hit a People's Elbow for 2.
After Rock clotheslined him, D'Lo Brown distracted Hebner so that Rock could wallop Undertaker so far SOUTH that even WCW noticed. How dastardly!
Undertaker rebounded with a cross corner whip but ate a back elbow.
As Rock gave Undertaker a cross corner whip, Undertaker countered a back drop attempt with a flying leg drop for 2.
Brown got up on the apron, but Undertaker nailed him.
When Undertaker delivered a chokeslam, he followed with a tombstone.
Before the count for the pin could be made, the lights went out.
Kane arrived with Bearer, and Bearer ran down Undertaker.
After Bearer insulted Undertaker's parents, Undertaker grabbed Bearer.
Kane intervened and fought with Undertaker.
As Undertaker refused to retaliate, Kane pummeled him in the corner.
Rating: *
Summary: Future WWF main event until the sports-entertainment finish.
WAR ZONE!
Match 3 for the WWF European title: The "Heartbreak Kid" Shawn Michaels (champion) versus HHH (w/ Chyna)
Highlights:
HHH made his entrance, but Owen delivered a chop block to him.
When Slaughter demanded that Owen return backstage, Michaels and Chyna checked on HHH.
Obviously, this match will occur later.
Rating: NONE
Somewhere in the arena, the New Age Outlaws hunt for Mankind. When they encounter a man in the dark, the Outlaws jump him. When Road Dog turns on the lights, Billy Gunn tells him that it's not Mankind. They then grab their gear and hightail it.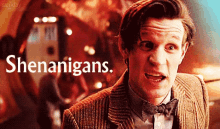 Prior to the next match, Mero introduces his valet Sable. A person in a reindeer costume emerges and enters the ring. Obviously with the blonde hair sticking out and the black heels, it's Sable. Mero requests that she disrobe him again, and Sable removes his robe. He then demands that she exit the ring immediately.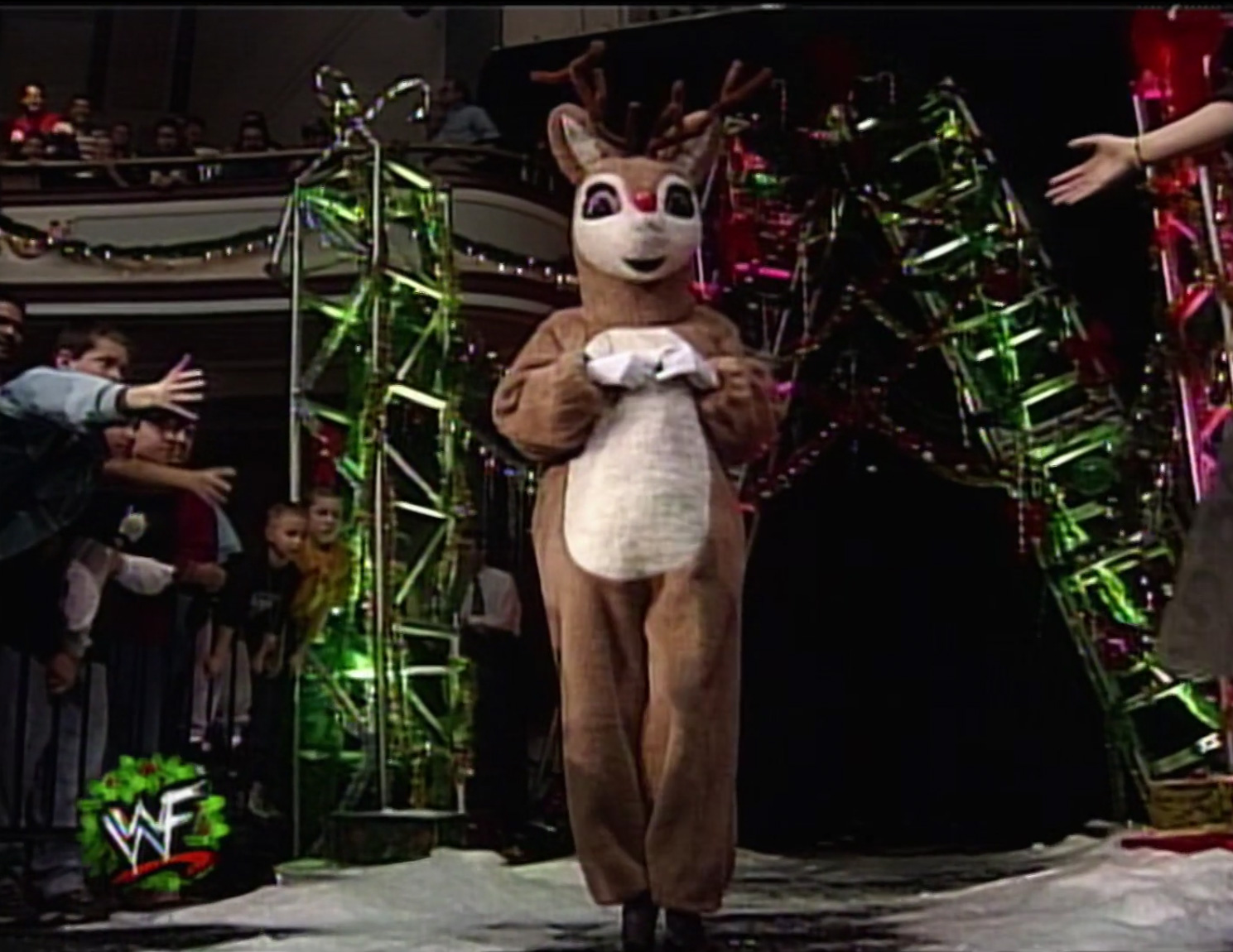 Match 4: "Marvelous" Marc Mero (w/ Sable) versus Scott Taylor
Highlights:
As the match began, Sable removed the head of her costume to the delight of the Lowell faithful.
Taylor gave Mero a cross corner whip, slid under Mero, and tripped him.
When he mounted the top turnbuckle, Taylor delivered a flying clothesline for 2.
Mero then reversed an Irish whip and pancaked Taylor.
After he landed an elbow drop, Mero chastised Sable about her standing in the wrong corner.
Taylor then rolled up the distracted Mero for 2.
As Taylor hit a somersault leg drop, he got another 2.
Mero then scored with a TKO and pinned Taylor.
Rating: ½*
Summary: Fans don't want Mero. Instead they want Sable.
After the match, Mero hits Taylor low and sets up for another TKO. Abruptly, Tom Brandi arrives to save Taylor's bacon. He then dropkicks Mero and executes a baseball slide sending Mero into the steel railing. While Mero writhed in pain on the floor, Sable removed her reindeer costume to reveal a Santa's little helper outfit. As she parades around the ring, Sable grabs the microphone and offers the WWF audience a holiday wish. To no one's surprise, she is showered with "Sa-ble" chants.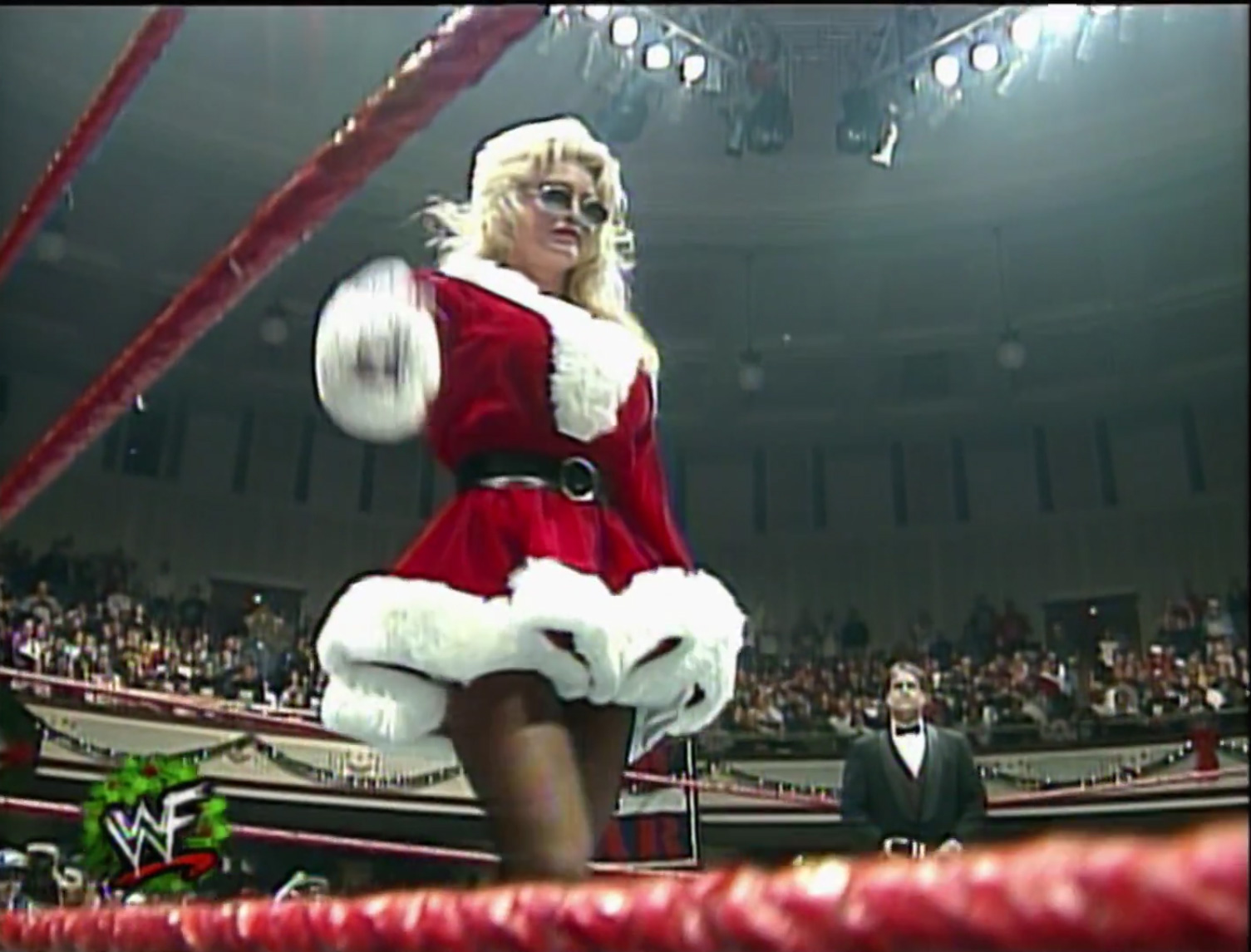 From the locker room, HHH cuts a promo on Michaels while wearing a Chyna t-shirt.
Prior to the next match, Jackyl cuts a promo for Kurrgan.
Match 5: Kurrgan (w/ the Jackyl) versus 8-Ball
Highlights:
8-Ball supplied him with the ten-punch count-along, but Kurrgan countered with an inverted atomic drop.
When Jackyl distracted 8-Ball, Kurrgan leaped from the apron and delivered a double axe handle.
He then rammed 8-Ball face-first into the apron, tossed him into the ring, and applied a boot choke in the corner.
As he gave 8-Ball a cross corner whip, Kurrgan ate boot on his follow-through.
8-Ball then clotheslined Kurrgan twice, but Jackyl grabbed his foot.
After 8-Ball dragged Jackyl up to the apron, Kurrgan hit another double axe handle.
Kurrgan then scored with a sidewalk slam.
1-2-3.
Kurrgan won.
Rating: ½*
Summary: Showcase match for Kurrgan.
After the match, 8-Ball manhandles Jackyl until Kurrgan and the Truth Commission triple-team him. Skull storms the ring and CRACKS the Truth Commission with a 2x4.
Elsewhere in the arena, the New Age Outlaws continue their hunt for Mankind but come up empty.
1-800-COLLECT REWIND: Kane attacked Undertaker who neither retreated nor retaliated.
Match 6: Ken Shamrock versus D'Lo Brown (w/ the Nation of Domination)
Highlights:
Due to the tombstone earlier tonight, Rock did not join Brown for this match.
Shamrock executed a dragon screw leg whip and hooked la magistral cradle for 2.
As he reversed an Irish whip, Shamrock delivered a belly-to-belly suplex.
He then applied an ankle lock, and Brown submitted.
Rating: ½*
Summary: Showcase match for Shamrock.
After the match, Rock reappears with a microphone. In a complete WTF moment, Rock brings up the "Gulf crisis." In another WTF moment, Rock challenges Shamrock to a match at Royal Rumble '98. Whatever's in the water in Lowell, I want to be drinking it. Nevertheless, Rock will put the IC title on the line. When he summons the rest of the NoD backstage, Faarooq stands nonplussed.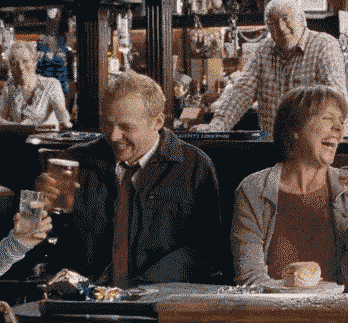 Back in the locker room, Michael cuts a promo on HHH while wearing a Chyna t-shirt.
Elsewhere in the arena, the New Age Outlaws find another dark room to investigate but end up getting brained by Mankind. While Mankind quotes Christmas lyrics, he tosses the NAO around like ragdolls. That's until the NAO gain the upper hand and lock Mankind in a walk-in freezer. Does anyone care for a Mick-sicle?
The Artist Formerly Known as Goldust and Luna come to the ring. While TAFKA Goldust lisps The Night Before Christmas, Santa Claus emerges. Luna chastises Santa who ignores them. As Goldust turns his attention to him, Santa ANNHILATES him with his bag of goodies. He then delivers a running body block, and now we can figure out just who's behind the Santa costume.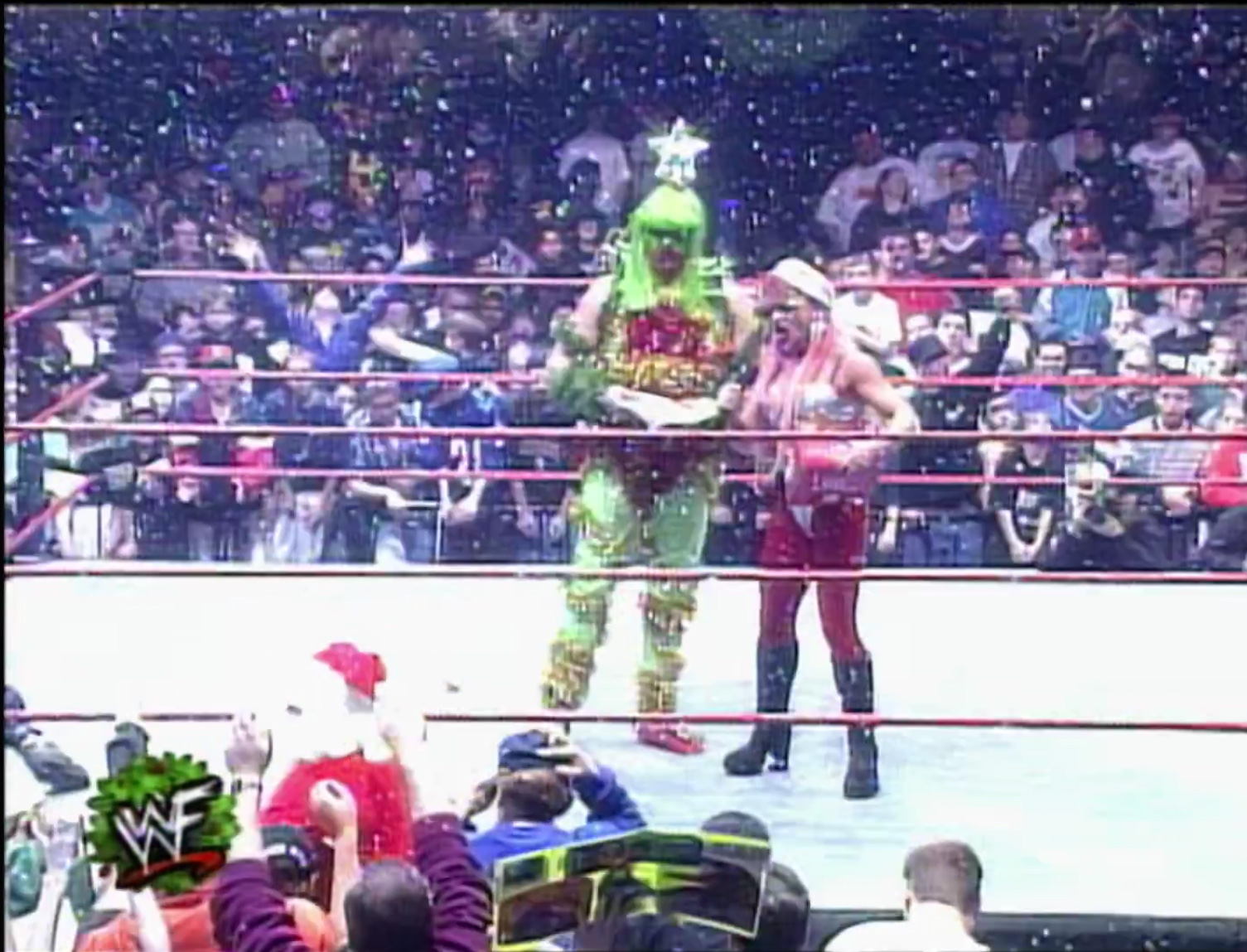 Santa removes his disguise to reveal Vader. Out of genuine fear, TAFKA Goldust and Luna hightail it backstage.
Royal Rumble '98 will be LIVE on PPV on 1/18! Order NOW!
Match 7 for the WWF European title: The "Heartbreak Kid" Shawn Michaels (champion) versus HHH (w/ Chyna)
Highlights:
Can you smell it?
After HHH won a collar-and-elbow tie-up, Michaels dropped like a rock.
HHH then S-L-O-W-L-Y ran the ropes and haphazardly splashed Michaels.
1-2-3.
WE HAVE A NEW CHAMPION!
Rating: DUD
Summary: Yep, the show-long "rift" was all a ruse as DeGeneration-X fools us again.
After the match, Michaels pantomimes a temper tantrum while HHH acts like he almost went broadway with Flair before winning the title. Keep this moment in mind for down the road. Also, Cornette gets a good zinger on Michaels: "Michaels cries every time he comes to this town." HA!
Slaughter emerges while Michaels feigns sobbing on the microphone. While blubbering, Michaels congratulates HHH with a hug. HHH grabs the microphone and mimics Rocky at the end of Rocky II. They then laugh at Slaughter who, without a microphone, states that HHH will defend the European title against Owen NEXT WEEK.
Conclusion: Quite the entertaining show with HHH winning the European title while the WWF cleverly gets the title off Michaels. The table for Royal Rumble '98 begins to get set as the Rock and Shamrock will battle for the IC title. In fact, Rock had a decent match with Undertaker until the Kane stuff happened. And, of course, Santa Claus was not exempt from receiving a Stone Cold Stunner as the WWF juggernaut that is Austin continues his ascension to immortality.
Could RAW is WAR finally overcome Nitro in the ratings?
TV Rating: 3.1
Who won? Nope, but, boy, did WCW drive its viewers away with the nWo garbage. In fact, Nitro LOST the last hour 3.2 to 3.0. Folks, that will NOT sit well with WCW brass. The margin of victory by WCW was a mere 0.4 compared to two weeks straight of victories by 1.4. I truly believe that nWo Monday Nitro is HISTORY.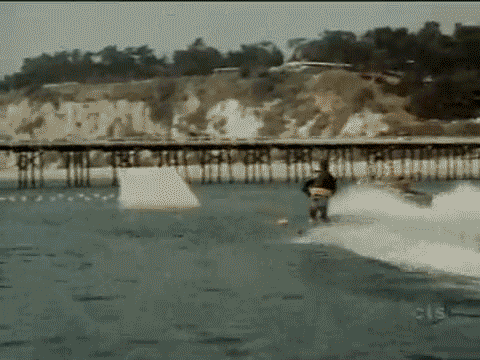 Stay tuned for WCW Starrcade '97!
Comments? Suggestions? Send them to me at rsg@rockstargary.com and follow me on Twitter (@rockstargary202).
Custom Search