WELCOME TO ROCK STAR GARY REFLECTIONS!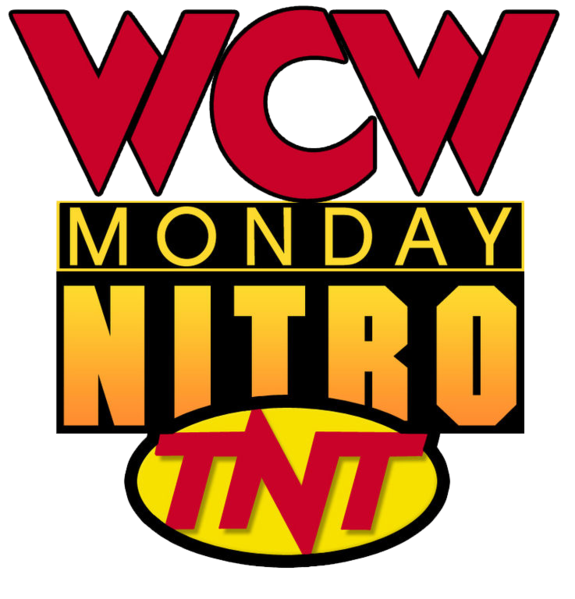 WCW Monday Nitro 12-22-97
Live from Macon, GA
Airdate: December 22, 1997
Attendance: 7,615 (sold out)
Hosted by Tony Schiavone, Larry Zbyszko, "Iron" Mike Tenay, & Bobby "The Brain" Heenan
It's the go-home show for Starrcade '97! There's no possible way that WCW could screw this up, right? Let's find out!
Opening montage.
Nitro Girls dance in the ring to holiday-themed music while dressed like "Santa's little helpers."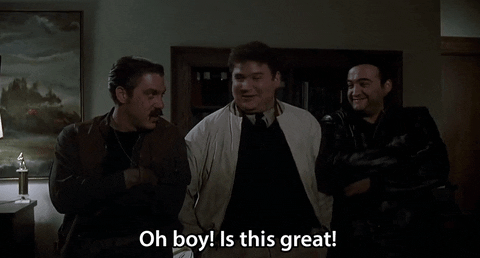 THE FOLLOWING ANNOUNCEMENT HAS BEEN PAID FOR BY THE NEW WORLD ORDER:
Bischoff cuts a promo on Zbyszko and promises a "treat" for nWo fans.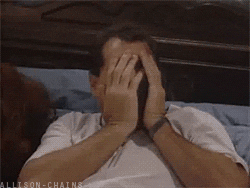 THE PRECEDING ANNOUNCEMENT HAS BEEN PAID FOR BY THE NEW WORLD ORDER.
Match 1 (non-title): WCW Cruiserweight champion Eddie Guerrero versus Fit Finlay
Highlights:
Eddie dropkicked Finlay's knee twice and followed with a springboard senton.
When he tried a third dropkick to the knee, Finlay avoided him sending Eddie to the floor.
Eddie returned, but Finlay delivered a short-arm clothesline.
As he guillotined Eddie with the top rope, Finlay landed an elbow drop.
He then catapulted Eddie into the top rope, but Eddie reversed a cross corner whip.
Upon charging Finlay, Eddie was vaulted face-first into the top turnbuckle.
Finlay then scored with another short-arm clothesline and got 2.
When Finlay rammed him face-first twice into the apron, Eddie rebounded with a fourth dropkick to the knee.
Eddie then mounted the top turnbuckle, but Finlay caught, joined, and superplexed him. Wow!
Before Finlay could administer the tombstone, Eddie raked his eyes and hightailed it.
Finlay won by countout.
Rating: **½
Summary: Decent match with Eddie using psychology until he bailed to escape Finlay's finisher. Also, I agree with the Macon faithful that "Eddie sucks."
We then see highlights of 'Sack Master" Kevin Greene beating up Mongo earlier this year.
Nitro is sponsored by Valvoline.
Video featuring Giant versus Kevin Nash airs. Does that whet your appetite for the PPV?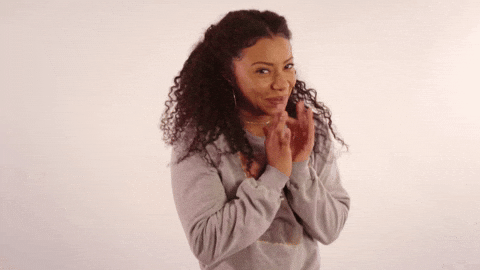 Match 2: Steve "Mongo" McMichael versus Meng (w/ Jimmy Hart)
Highlights:
Mongo delivered an elbow smash, gave Meng a cross corner whip, and followed with a corner clothesline.
As Meng reversed a cross corner whip, he ate a knee to the midsection on his follow-through.
He then no-sold a big boot and powerslammed Mongo for 2.
When he piledrove Mongo, Meng got another 2.
He then slammed Mongo, mounted the top turnbuckle, hit a flying splash, and picked up Mongo at 2.
After he tossed Mongo to the floor, Meng joined and made him HIT THE POLE.
While Meng distracted referee Billy Silverman, Hart attempted to behead Mongo with a chair but HIT THE POLE instead.
Hart then slid a balsa wood chair into the ring and distracted Silverman.
As Mongo SMASHED the wooden chair across Meng's head, Meng no-sold it. Scary!
Mongo then grabbed a steel chair and WHACKED Meng with it to ZERO effect. Terrifying!
When he scored with a tombstone, Mongo pinned Meng.
Rating: **½
Summary: While Meng's strategy backfired, Mongo's strategy worked as the Macon faithful ate it up with a spoon.
We then see highlights of Reggie White tearing apart Mongo earlier this year.
Nitro Girls dance at the entrance while wearing red and silver. Meanwhile, Schiavone shills the Nitro Party contest.
In the ring, "Mean" Gene Okerlund interviews DDP who will substitute for Flair at Starrcade '97 against Hennig. While he enjoys the holidays, DDP will enjoy his Christmas present of giving Hennig the "bang."
On WCW Saturday Night, Eddie faces Mysterio. Also, Saturn squares off with Benoit. Public Enemy challenges the Steiners, and Ray Traylor hooks up with Scott Hall.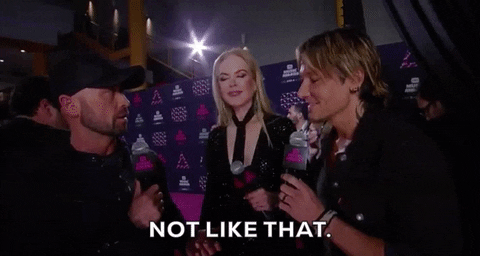 Tenay voices over a tale of the tape for the battle of the giants at Starrcade '97. Order NOW!
Match 3: Rey Mysterio, Jr., Hector Garza, & Juventud Guerrera versus Psicosis, La Parka, & Silver King
Highlights:
While not wearing the awesome golden costume from last week, La Parka strutted in mostly white. Spooky!
After both he and Silver King out-flip one another, Garza scored with a backbreaker.
Guerrera tagged in and delivered a springboard dropkick to Silver King.
When Psicosis tagged in, he landed an elbow drop to Guerrera.
In the meantime, Raven's Flock arrived LATE to their assigned seats.
Guerrera rebounded with a flying headscissors, but Psicosis reversed a cross corner whip.
As Psicosis came up empty on his follow-through, Mysterio tagged in and supplied La Parka with a flying headscissors.
Psicosis tagged back in, but another flying headscissors by Mysterio sent both wrestlers over the top rope to the floor.
After Rey attempted a springboard cross body block, La Parka caught him, strutted, but inadvertently nailed Silver King with an enziguri.
La Parka then reversed an Irish whip and sent Mysterio face-first into the mat.
When La Parka missed a senton splash, Garza mounted the top turnbuckle to attempt a flying splash. However, there wasn't any water in the pool.
Psicosis then missed a guillotine leg drop while Guerrera also missed a flying splash.
As Silver King also crashed down to the mat, Mystero launched a cross body block to him sending both wrestlers down to the floor.
Guerrera then backdropped Psicosis to the apron, and La Parka mistakenly dropkicked him to the floor.
After Garza reversed an Irish whip, Guerrera hit "Air Juvi" to Psicosis on the floor. Woohoo!
La Parka then set up a steel chair, placed Guerrera in it, and SQUISHED him with a tope suicida. Excelente!
When Garza mounted the top turnbuckle, he took out both La Parka and Psicosis with a corkscrew plancha. Olé!
Back in the ring, Silver King gave Mysterio a cross corner whip but came up empty on his follow-through.
Mysterio then placed Silver King backwards on the second turnbuckle and launched a reverse "Frankentoyota" according to Meltzer. Amazing!
As he delivered the West Coast Pop, Mysterio pinned Silver King while the Macon faithful ERUPTED!
Rating: ***
Summary: Although not as great as last week's match, los luchadores showed why they belong on Nitro. Fantastic work, gentlemen!
Ben Gay sponsors the replay.
Brandon Lowry of UT-Chattanooga won the Grand Prize Nitro Party pack as his video plays again.
Prior to the next match, we revisit last week's episode when Benoit dove onto the Flock only for Hammer to toss him back to ringside.
Match 4: The "Crippler" Chris Benoit versus Hammer
Highlights:
Once again, Raven did not appear.
Benoit chopped Hammer down to size and mule-kicked him over the top rope to the floor.
As Benoit delivered a tope suicida, he slapped the smirk from Saturn's face.
Back in the ring, Benoit whipped Hammer into the corner but ate a kick to the midsection.
Hammer then almost destroyed Benoit with a reverse powerbomb into the top turnbuckle.
When he placed Benoit atop the top turnbuckle, he hit his own version of a chokeslam sending Benoit down to the mat.
Hammer then tossed him down to the floor and joined Benoit; however, he got reversed on an Irish whip and ate the apron back-first. OUCH!
After the Flock intervened, referee Nick Patrick called for the bell.
Benoit won by DQ.
Rating: *½
Summary: The entirety of the rating goes in Benoit's favor as Hammer is U-S-E-L-E-S-S.
After the match, Saturn tosses Benoit into the ring and applies a Rings of Saturn. Methinks Saturn will replace Raven this Sunday.
We then see highlights of Jim Kelly getting involved on Nitro a couple of weeks ago.
Upon returning from commercial, the nWo shoos Schiavone, Tenay, and Zbyszko away from the broadcast table. By my clock, the show is at 45 minutes. Bagwell then bullies cameraman Jackie Crockett into giving him the camera and wearing an nWo Monday Nitro t-shirt. I want one!
Furthermore, Rude bullies more production staff into wearing nWo t-shirts. While the staff removes WCW Monday Nitro placards, the nWo forces them to replace them with nWo ones. Konnan then storms the production truck and bullies director Craig Leathers. Next, Norton uses his brute strength to dismantle the huge steel WCW letters by the entrance, and Konnan showcases an nWo Monday Nitro banner on the production truck.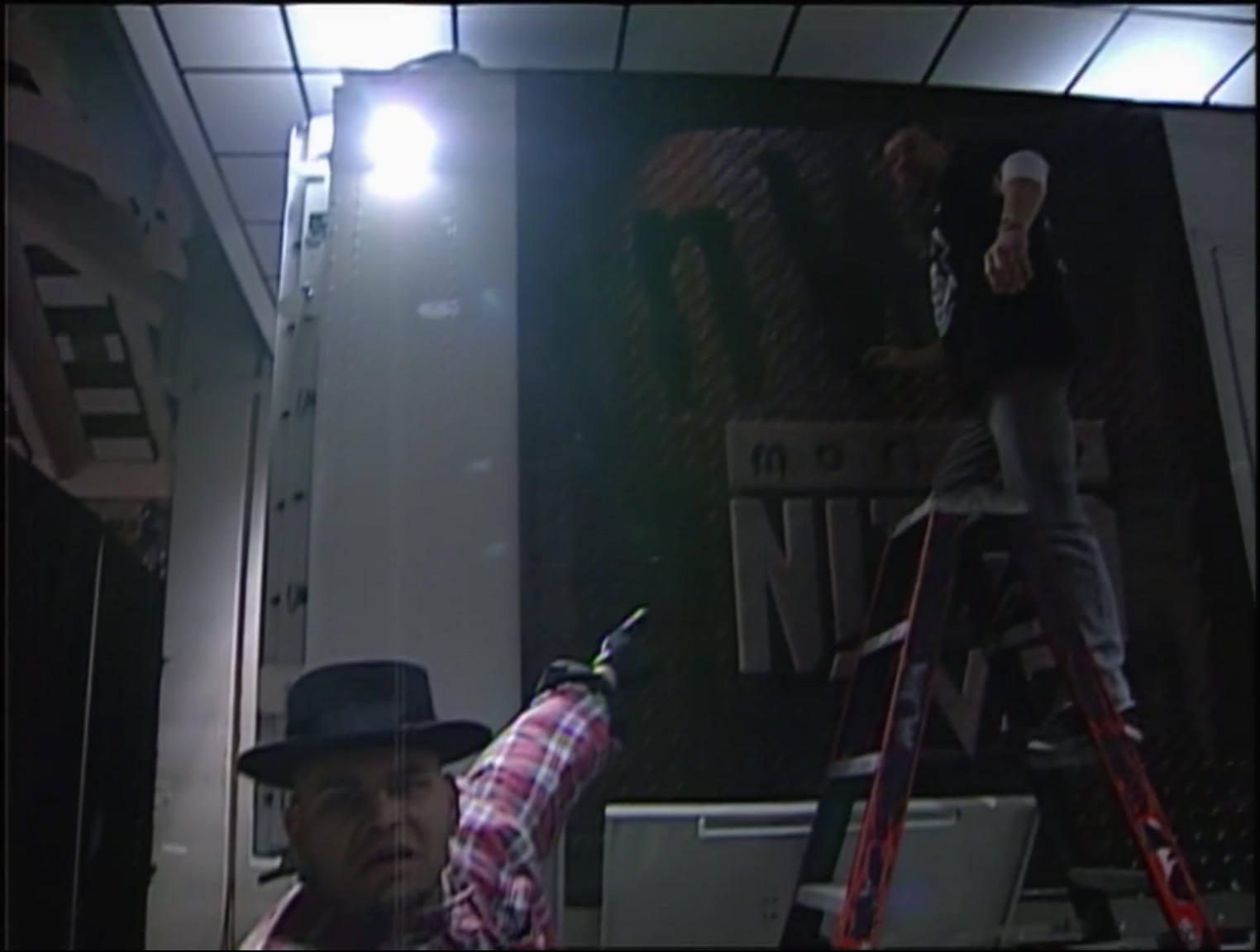 As the destruction of the set continues, boos can be heard among the Macon faithful. We then see the nWo Monday Nitro logo on the broadcast table as well as banners replacing the WCW ones. After Bagwell heads to the ring, he antagonizes ring announcer David Penzer. When Penzer denounces the nWo, Bagwell tosses him down to send him packing. nWo Monday Nitro banners nWo hang above the ring as we head to commercial after nine minutes.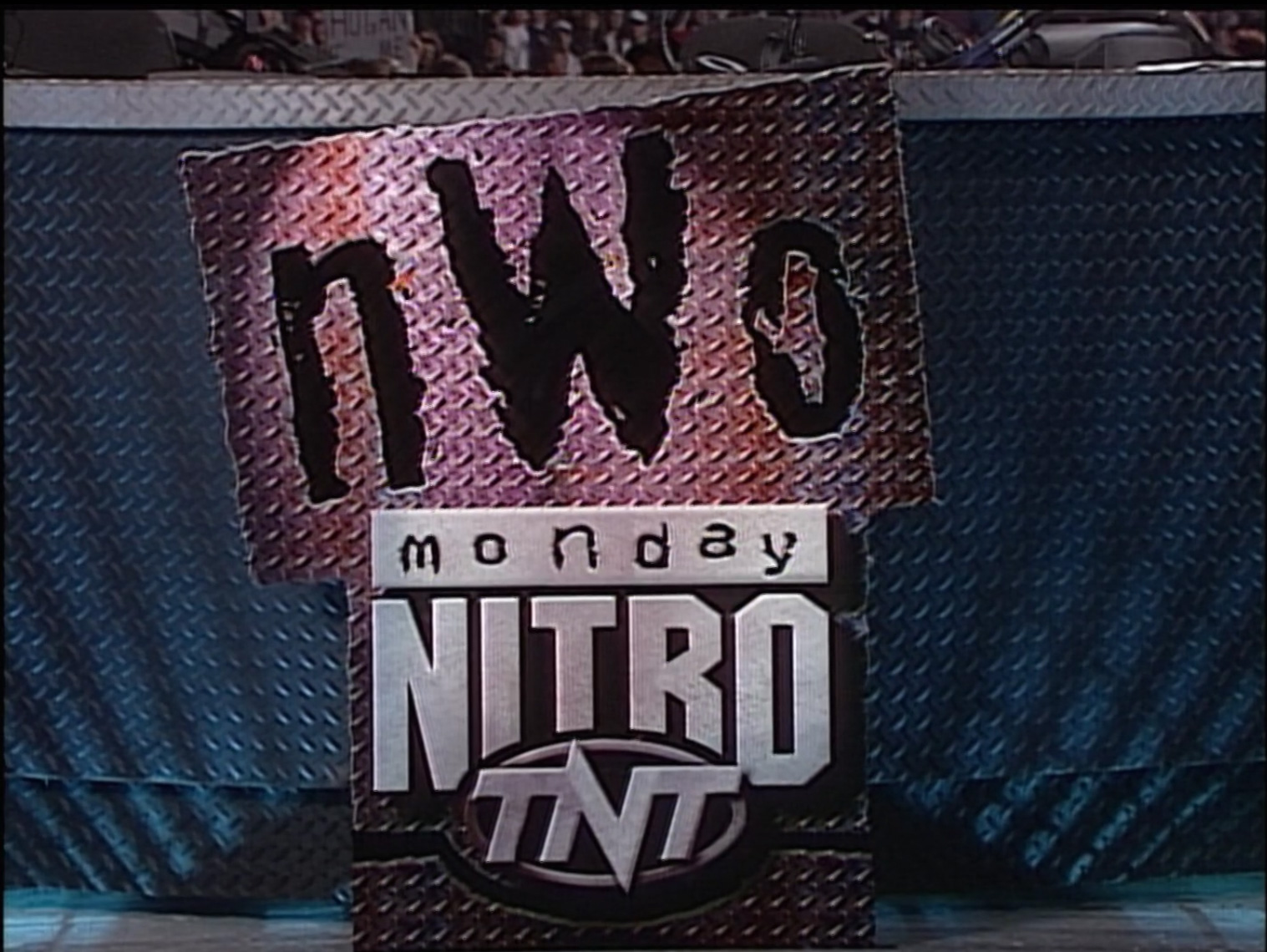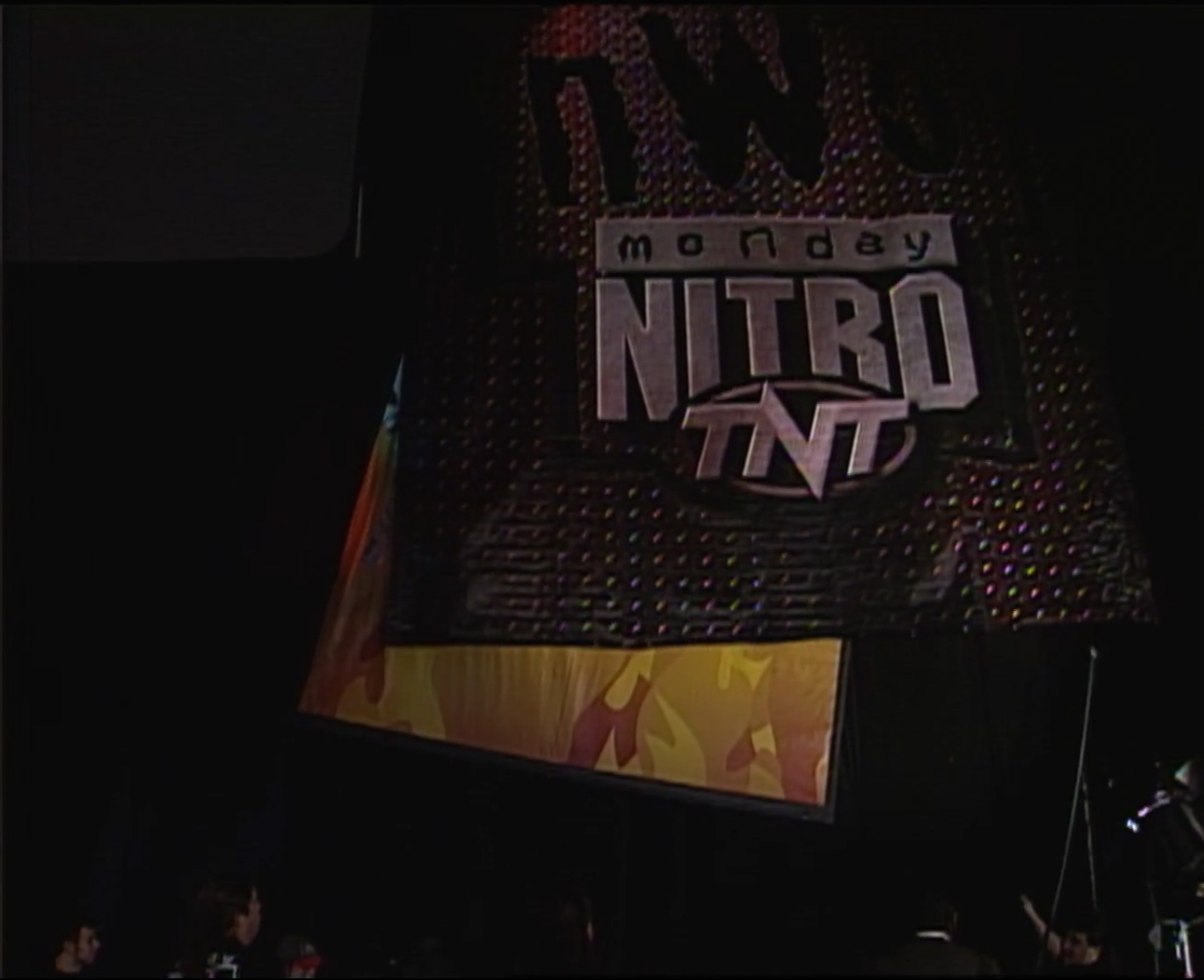 HOUR #2!
When we return, Bagwell has spray-painted "nWo" on the mat. Rude signals for pyro, and sparks fly. Next, a heavy sign is lowered to the entrance sporting the nWo Monday Nitro logo. To top it off, an opening montage for the new show airs.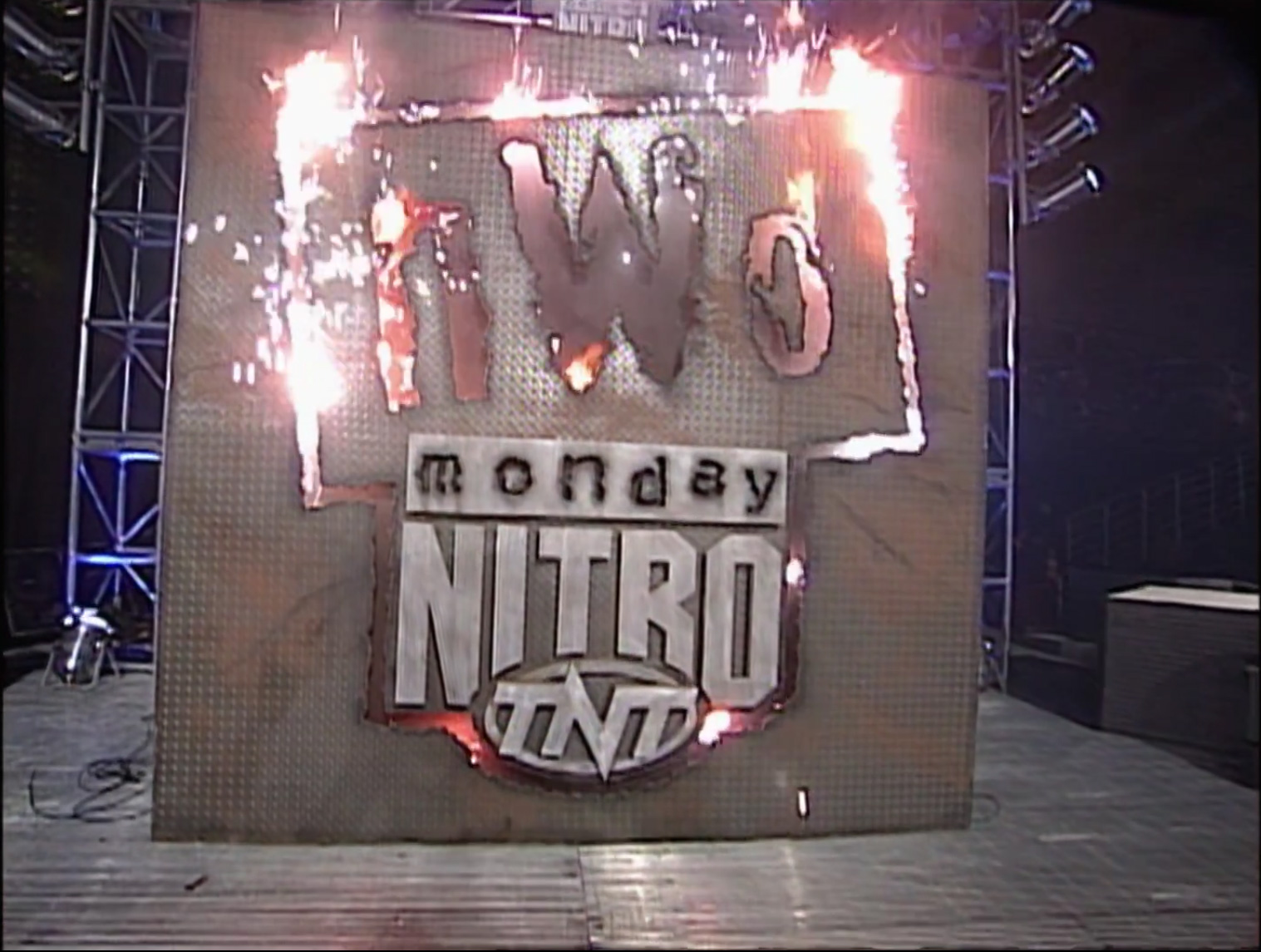 With thirteen minutes of actual show wasted with the transformation minus commercials, Eric Bischoff rides a Harley to the ring. He then introduces the entire nWo including "Hollywood" Hogan. To celebrate Christmas, Bischoff dedicates the inaugural episode of nWo Monday Nitro to Hogan. Meanwhile, nWo propaganda falls from the ceiling.
Next, Bischoff summons the production crew to bring out another Christmas present—a Harley-Davidson motorcycle. Obviously, they brought out the wrong one because another production crew member rides out the "Hollywood" Hogan motorcycle for Hogan. But we're not done! To top it all off, Bischoff bestows the "Saturday night wheels" for Hogan. An extremely long Mercedes stretch limousine complete with a hot tub drives into the arena.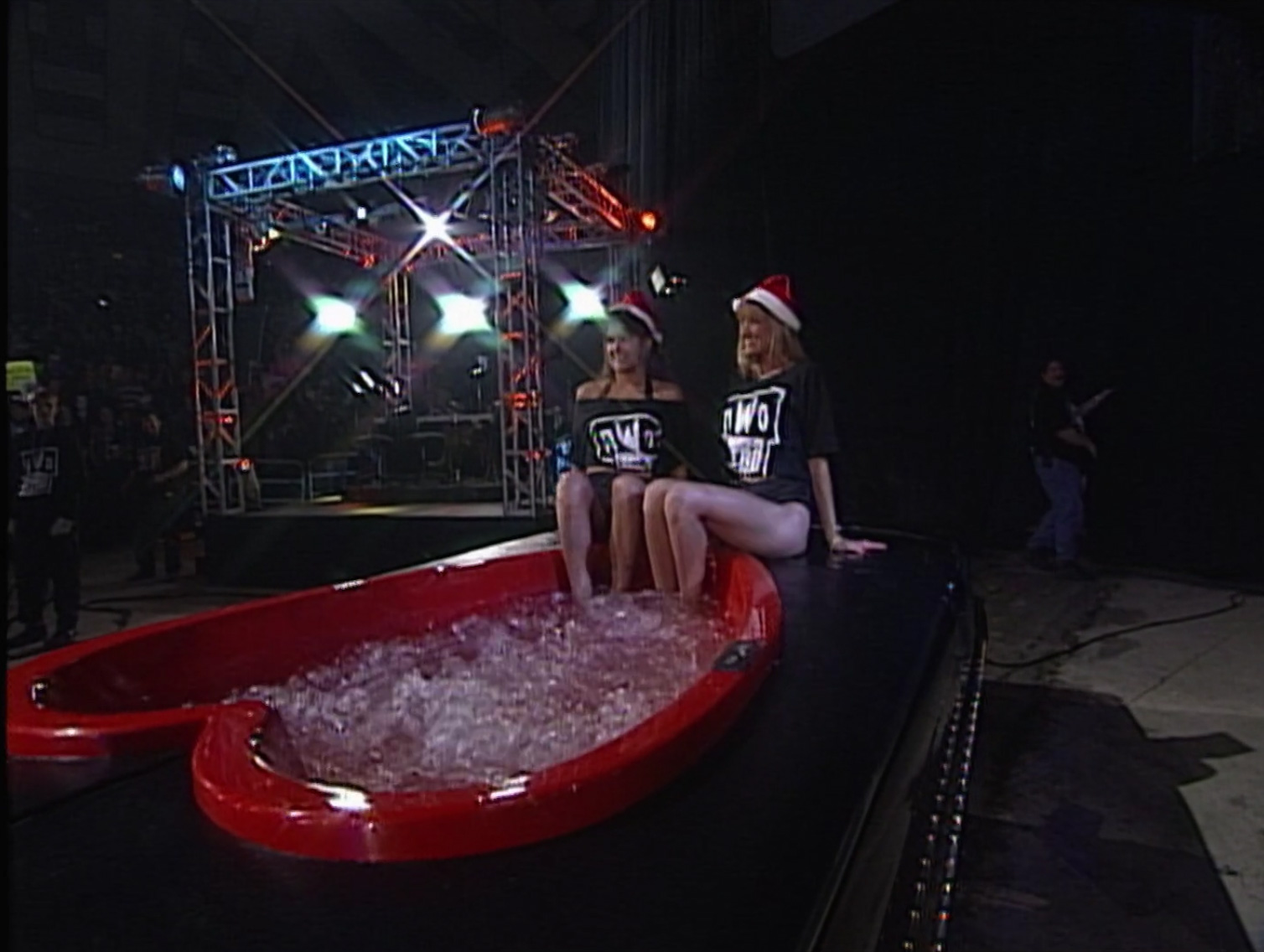 Upon completion of a commercial break, JJ Dillon greets Rick Steiner and Ted DiBiase backstage. He informs them that they don't have to participate in this nonsense. Despite Dillon's insistence, they decide to go to the ring anyway. At this point, more than 25 minutes have elapsed with ZERO matches.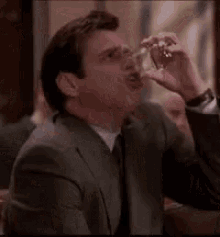 Prior to the next match, we revisit the horrific highlight of Norton dumping Rick on his head much to the delight of the nWo.
Bischoff, "Ravishing" Rick Rude, and Kevin Nash sat at the broadcast table for YOUR enjoyment.
Match 5: Scott "Flash" Norton versus Rick Steiner (w/ Ted DiBiase)
Highlights:
Rick caught him with a Steinerline, but Norton reversed a cross corner whip and followed with a corner clothesline.
When he launched a flying shoulder block, Norton brought Rick outside the ring and made him taste the steel railing. It must have tasted like A.J. Battle at the Bearfoot Tavern.
He then caused Rick to HIT THE POLE rather than the steps.
As Norton rammed Rick back-first into the steel railing, Rude WENT OFF about Sting "breaking (Rude's) neck in Japan." Wow!
Norton then provided Rick with a helping of the ring apron, tossed him in the ring, and delivered a short-arm clothesline.
Without question, the Macon faithful, who were VOCAL earlier in the show, supplied this match with NO LOVE. They felt cheated!
Norton then suplexed him, but Rick rebounded with a powerslam.
After a second Steinerline, Rick landed an elbow drop for 2.
He then hoisted Norton atop the top turnbuckle, joined, and hit a belly-to-belly superplex. Awesome!
Regardless, the Macon faithful were NOT impressed.
He then mounted the top turnbuckle, but Konnan stormed the ring and tossed him down to the mat.
As a result, referee Billy Silverman disqualified Norton, and Rick won.
Rating: ½*
Summary: I realize the storyline progression of putting these guys one-on-one this week after what transpired last week; however, the Macon faithful needed a wake-up call after sitting idle for 30 minutes waiting for another match.
After the match, Konnan and Norton double-team Rick until Scott heads to the ring to rescue his brother. When Vincent makes it 3-on-2 for the nWo, Ray Traylor evens it up for WCW by joining the melee. Thanks to Traylor's charisma and enthusiasm, the Macon faithful AWAKEN! To top off the segment, DiBiase kicks Vincent at ringside. HA!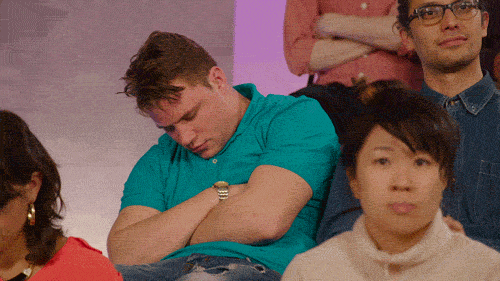 We the see highlights of Dennis Rodman battling Luger earlier this year.
Match 6 for the WCW US title: Curt Hennig (champion) versus WCW World TV champion Disco Inferno
Highlights:
While Disco made his entrance, Lodi provided us with his extremely important Christmas list. HA!
Nevertheless, a member of the Macon faithful questioned Disco's bedroom habits, and Nash made note of the *blurred* sign.
Hennig leap-frogged and dropkicked Disco.
As Hennig followed with a stellar standing dropkick, Disco rebounded with a cross corner whip.
On the other hand, he ate a mule kick during his follow-through.
Hennig then delivered an axe and rang Disco's bell.
When he hit a knee lift, Hennig got 2.
Disco rebounded again with a swinging neckbreaker for 2.
After Hennig countered a back drop with a Hennigplex, he pinned Disco.
Hennig retained.
Rating: DUD
Summary: Showcase match for Hennig as he wasn't going to lose or look bad prior to defending his title against DDP at Starrcade '97. Unfortunately, it diminishes the importance of the WCW World TV title with Disco looking like a jabronie.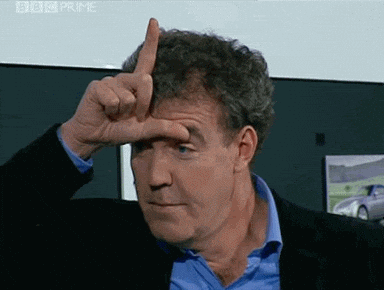 The replay, shown in black and white, was shown twice.
Heenan headed to the broadcast table to "talk business." Upon name-dropping the World Wrestling Federation, Heenan butters Bischoff up by calling him the "Donald Trump of wrestling." Yikes! Nonetheless, he wants to broadcast Nitro. Upon showing some fake emotion, Bischoff replaces Nash with Heenan.
Match 7: Harlem Heat (w/o Jacqueline) versus Scotty Riggs & Lodi
Highlights:
For those unaware, Jacqueline was fired for not participating in an angle with Elizabeth. Didn't she learn anything from the Disco Inferno drama? Keep her exit in mind.
While the Macon faithful chanted "Lodi sucks," Tenay replaced Bischoff at the broadcast table.
Booker T reversed an Irish whip and hip-tossed Riggs.
When Riggs dropkicked him, he gave Booker T a cross corner whip but ate boot on his follow-through.
Booker T then delivered a VICIOUS leg lariat and tagged in Stevie Ray.
As Stevie Ray slammed Riggs, he missed an elbow drop.
Lodi tagged in, but Stevie Ray reversed an Irish whip and clotheslined him.
After he hit a pair of backbreakers, Stevie Ray slammed Lodi.
Rude continued to disparage Sting for "breaking (Rude's) neck" while Booker T tagged in.
When he landed a scissors kick, Booker T hit a standing leg lariat.
Stevie Ray tagged in, and Harlem Heat provided Lodi with a double suplex.
As he scored with a bicycle kick, Stevie Ray got 2.
Stevie Ray then tossed Lodi to the floor, so Booker T guillotined him with the steel railing.
Back in the ring, Stevie Ray supplied Lodi with an F5.
Booker T tagged in, and Harlem Heat DESTROYED Lodi with a Big Apple Blast.
1-2-3.
Harlem Heat won.
Rating: *
Summary: Showcase match for Harlem Heat as Raven's Flock continues to appear lost without its leader.
Match 8: Buff Bagwell versus "Lionheart" Chris Jericho
Highlights:
WWE Network continues to insult my intelligence by using Jericho's WWF theme prior to his WWF debut.
Regardless, Jericho backdropped Bagwell and slapped the taste out of his mouth.
With Bagwell on the apron, Jericho delivered a springboard dropkick sending Bagwell to the floor.
He then joined Bagwell, rammed him flank-first into the steel railing, and supplied a big boot.
Back in the ring, Jericho reversed an Irish whip and hit a spinning heel kick.
He then slammed Bagwell and landed a senton splash.
As Jericho mounted the top turnbuckle, Bagwell caught and knocked Jericho to the apron.
He then HAMMERED Jericho causing him to taste the steel railing. It must have tasted like the 476 Melt at Parish on Cherry.
Following a commercial break, Jericho dropkicked Bagwell.
He then scored with a cross body block for 2.
While the Macon faithful chanted "Jer-I-cho," their hero gave Bagwell a cross corner whip but ate boot on his follow-through.
Bagwell then attempted to pin Jericho with his feet on the ropes, but referee Mickey Jay disallowed it.
When the Macon faithful notified Bagwell that he "sucks," Jericho dropkicked Bagwell twice.
He then suplexed Bagwell for 2.
After Bagwell rebounded with a slam, he mounted the second turnbuckle but missed a big elbow.
In a completely botched situation, Bagwell tried to leap-frog Jericho and guillotined himself on the top rope. OUCH!
Jericho then clotheslined Bagwell, got reversed on an Irish whip, but delivered a double underhook backbreaker for 2. Impressive!
As he hoisted Bagwell atop the top turnbuckle, Jericho joined but got dumped to the floor.
Jericho then rejoined Bagwell and questionably backflipped off the top rope.
Unimpressed, Bagwell DESTROYED him with a Buff Blockbuster.
1-2-3.
Bagwell won.
Rating: **
Summary: Since Bagwell has the match against Luger at the PPV, he went over.
After the match, Bagwell argues with Jay and CLOBBERS him from behind. What a role model.
Following a commercial break, the nWo returns to the ring, and Bischoff presents Hogan with a solid gold replica of the WCW World title ring. Bischoff then displays an enlarged black and white photo of the April 29, 1985 issue of Sports Illustrated when Hogan graced the cover. Not to be outdone, an enlarged photo from Rocky III when Thunderlips choked Rocky is unveiled.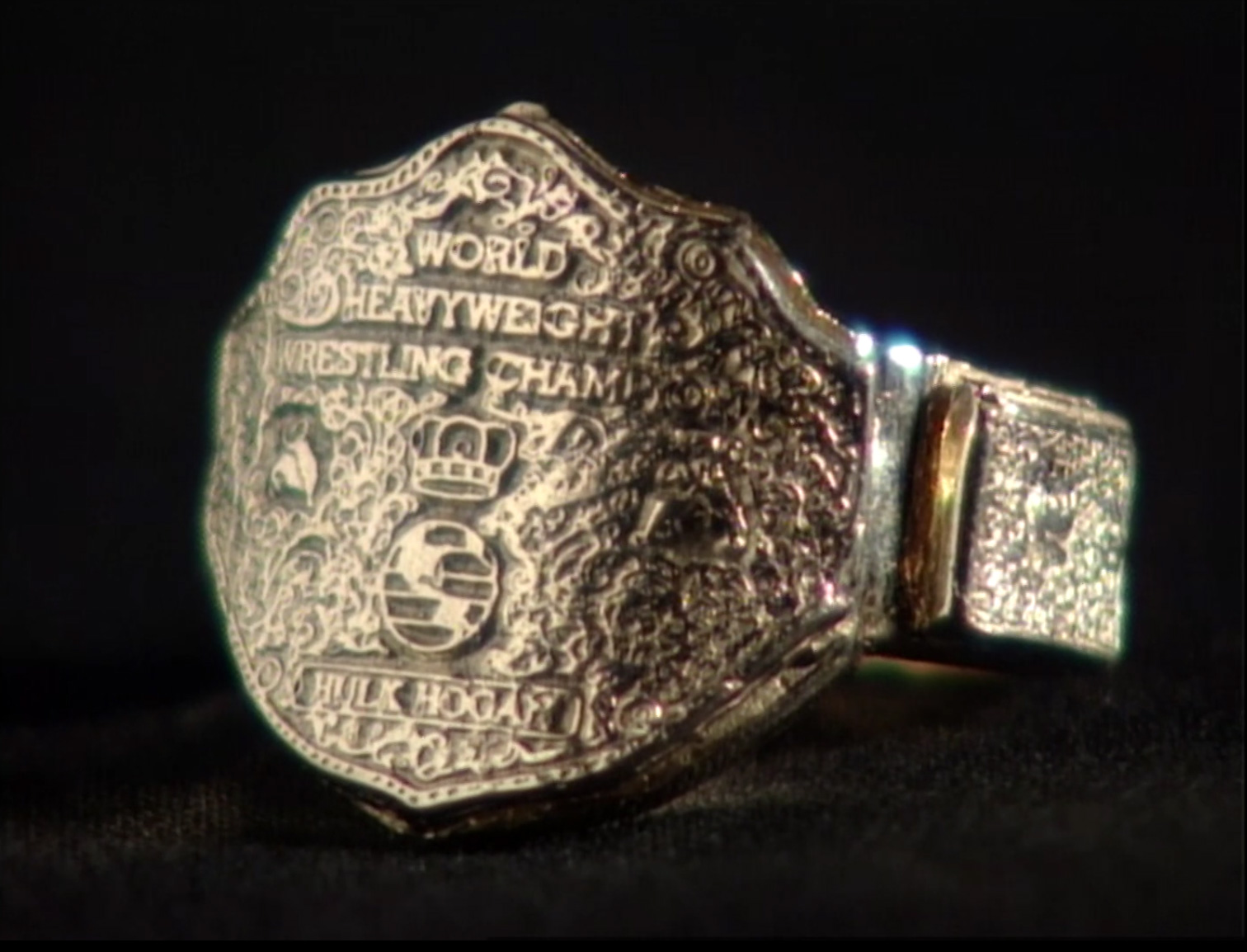 Before Savage heads to the ring, he joins the broadcast table to dedicate the match to Rude. Following a commercial break, Tenay flubs by calling the show "WCW Monday Nitro." Rude and Heenan take him to task for it.
Match 9: "Macho Man" Randy Savage (w/ Elizabeth) versus the "Total Package" Lex Luger
Highlights:
Luger gave Savage a pair of cross corner whips followed by a clothesline.
When he suplexed Savage, Luger gave him another cross corner whip but ate boot on his follow-through.
Savage then guillotined Luger with the top rope, gave him a cross corner whip, and delivered a back elbow.
As he tossed Luger to the floor, Savage rammed him face-first into the steps.
He then tried to make Luger taste the steel railing, but Luger blocked it and sent Savage over the steel railing into the front row.
Back in the ring, Luger unleashed a series of clotheslines but missed a flying forearm.
Actually, he inadvertently nailed referee Randy Anderson when Savage ducked.
With Anderson OUT COLD, Luger gorilla-press-slammed Savage.
He then followed Savage to the floor, and Savage, like a good heel, hid behind Elizabeth.
Suddenly, Bagwell stormed to the ring and LEVELED Luger.
He then made Luger HIT THE POLE.
After Nash joined Bagwell in the ring, he jackknife-powerbombed Luger.
Savage then mounted the top turnbuckle and hit the big elbow.
1-2-3.
Savage won.
Rating: *½
Summary: If you like your main event nWo-flavored, this match is for you.
nWo Monday Nitro is sponsored by Skittles.
Hogan and Bischoff make yet another appearance in the ring. When Hogan cuts a promo on Sting, a production crew member brings yet another present for Hogan. Bischoff seems surprised by the wrapped gift despite Hogan's profuse gratitude. As the limo, which had backed up earlier in the show, returns, Bret Hart sits in the back with the lovely ladies.
Bret then heads to the ring while Hogan unwraps his gift. Inside is a "Hollywood" Hogan head, and Hogan is aghast. While the present would appear to come from Sting, it also has Bret's blessing. Like last week, Sting appears atop the entrance.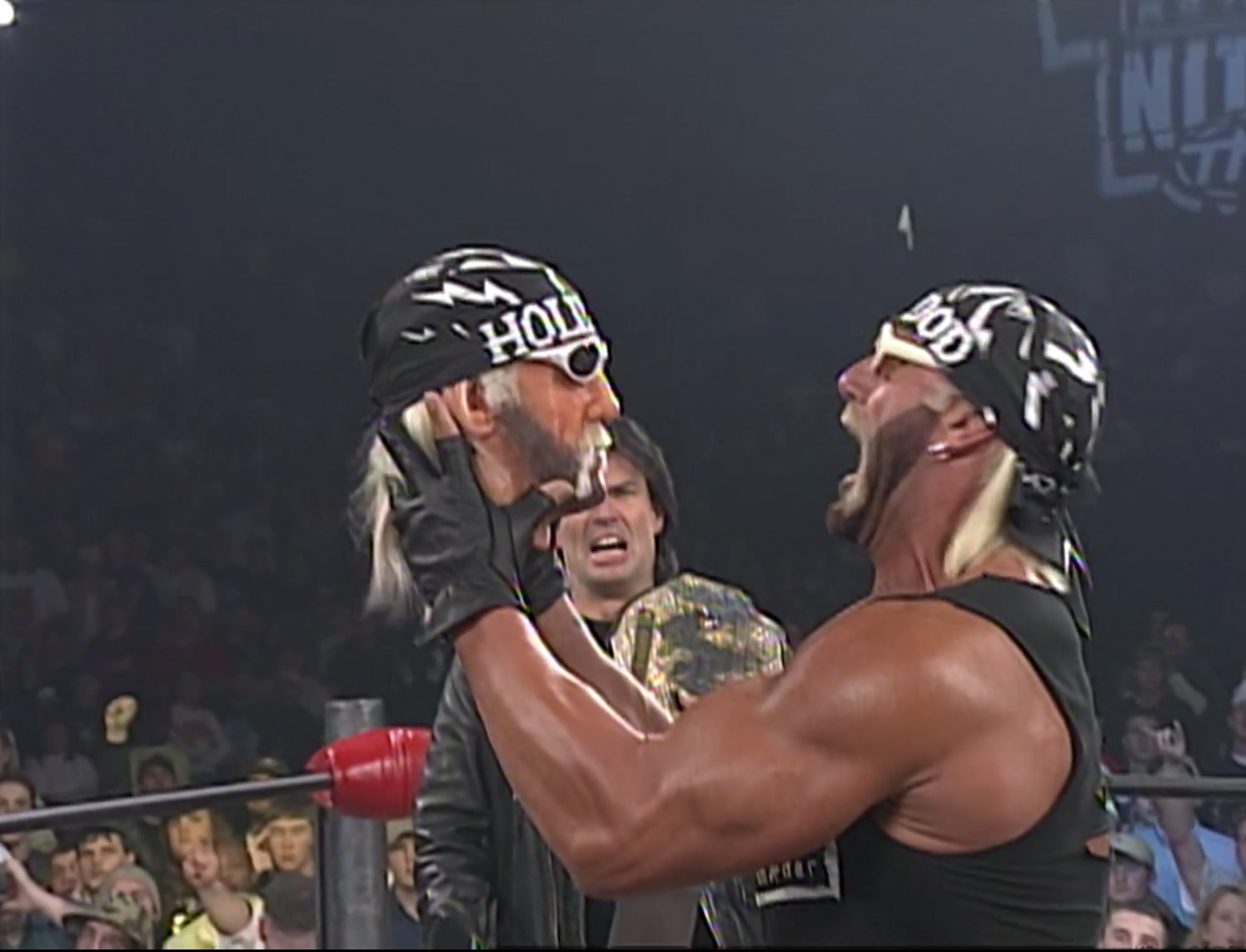 While Hogan cowers in fear, Sting zip-lines to the ring as the show ends.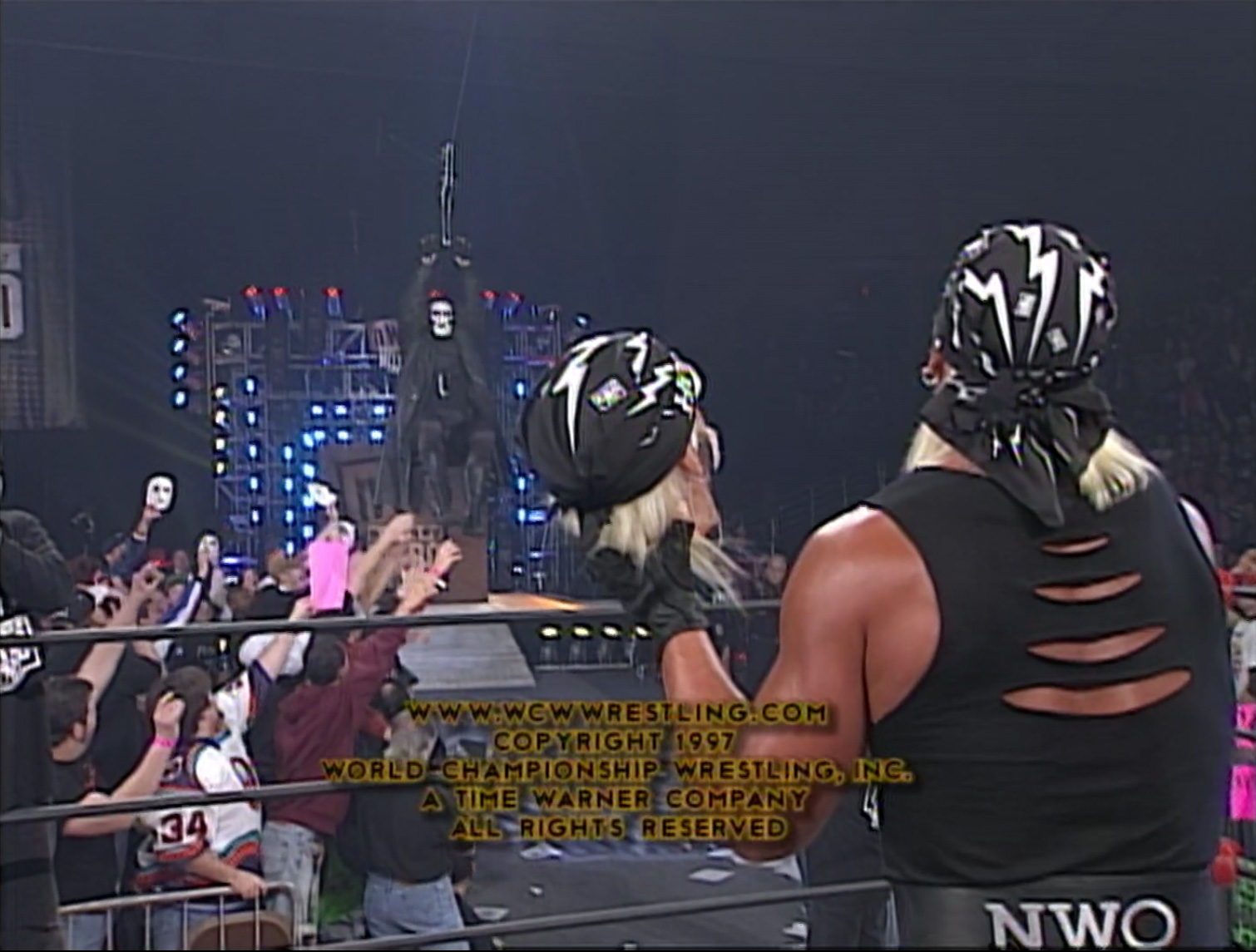 Conclusion: Truly, if you like your Nitro nWo-flavored or are the biggest Hogan fan, this is the show for you. Otherwise, this show is the epitome of ego and stupidity. As I mentioned during the show, there's at least a 30-minute break where ZERO wrestling occurred. I wonder if the Monday night wrestling audience stays tuned or switches to RAW is WAR.
Despite the relative short drive between Atlanta and Macon, WCW transported extra banners, signs, etc. to reflect the "new" program. Attached to that exuberant cost were the motorcycles, the extra-long limousine, the nWo montage, and the zip-line for Sting which should have been reserved for the PPV. I truly wonder if this episode comes back to bite WCW in the ass.
What's on RAW is WAR?
TV Rating: 3.5
Stay tuned for RAW Is WAR 12-22-97!
Comments? Suggestions? Send them to me at rsg@rockstargary.com and follow me on Twitter (@rockstargary202).
Custom Search