WELCOME TO ROCK STAR GARY REFLECTIONS!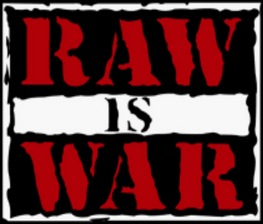 WWF Monday Night RAW 12-15-97
Taped from Durham, NH
Airdate: December 15, 1997 (taped 12/09)
Attendance: 5,511 (sold out)
Hosted by Jim Ross, Michael Cole, Kevin Kelly, & Jim Cornette
Can the Road Warriors stop the freight train that is DeGeneration-X? What does Austin have in store for the Rock this week? Who will challenge Michaels for the WWF title at the next PPV? Let's find out!
Opening montage.
Check out that scratch logo!
To begin the show, Undertaker makes his customary yet spooky entrance and heads to the ring, and Michael Cole interviews him in the ring. On 1/18 at Royal Rumble '98, Undertaker will face Michaels for the WWF title in a casket match. Somehow, I believe this match has historical ramifications. Regardless, Undertaker informs Michaels that he can't win. He then subtly mentions the finish to the casket match at Royal Rumble '94 as his only casket match defeat.
Suddenly, the lights go out, and Kane and Paul Bearer make their entrance. Kane comes into the ring and stares face-to-face with Undertaker. Bearer grabs the microphone and again accuses Undertaker of murder. When Bearer instructs Undertaker that he must face his brother, Kane slaps Undertaker. Kane tries another strike, but Undertaker blocks it but doesn't retaliate. Instead, he leaves without incident.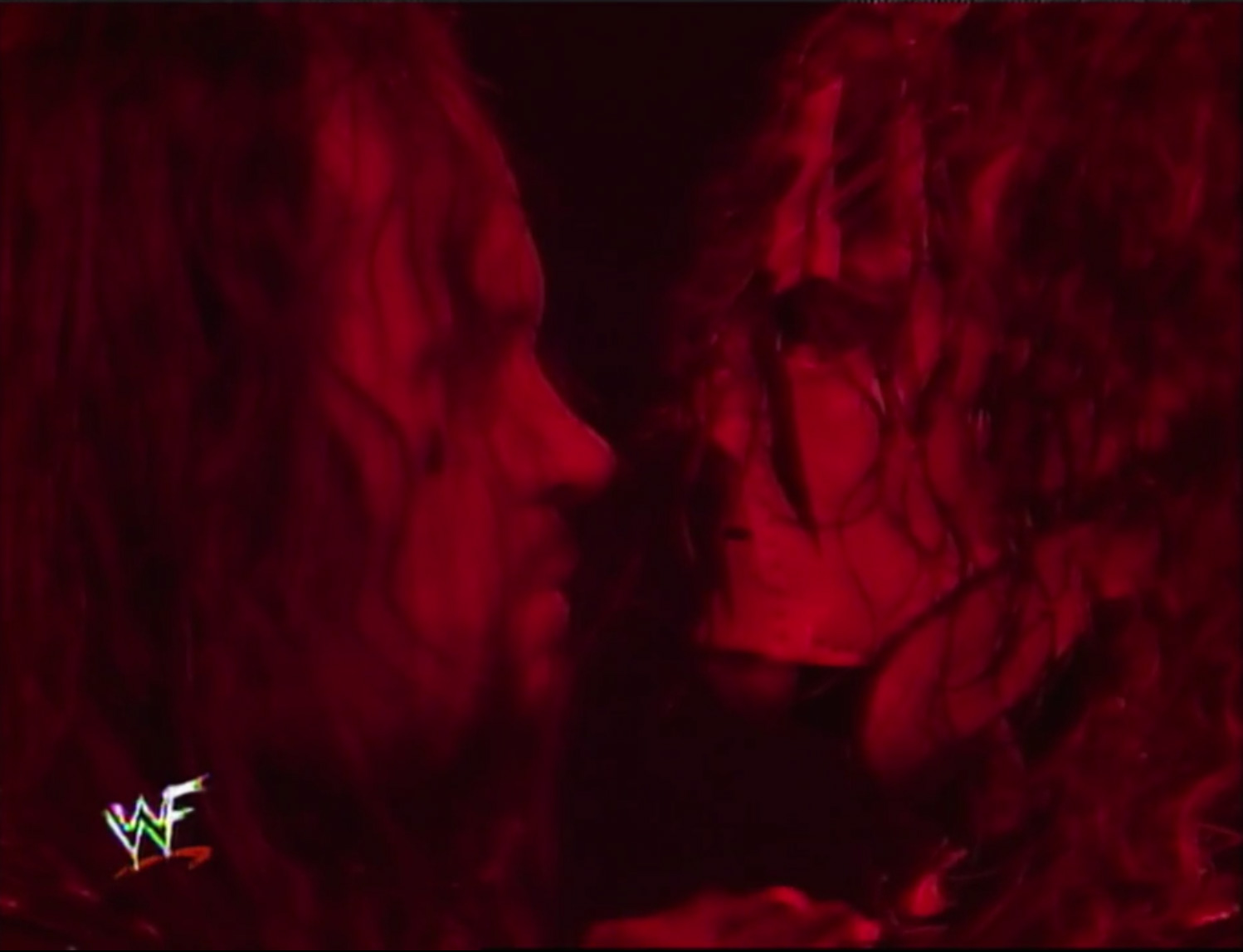 Promo for WWF: The Music Volume 2 airs. Get yours today!
1-800-COLLECT REWIND: We revisit last week's show when Brian Christopher swerved all of us by attacking Michinoku while disguised as an apparent ally.
Prior to the opening match, we revisit the PPV when Michinoku was presented the title belt.
Match 1 (non-title): WWF Light Heavyweight champion Taka Michinoku versus Jerry "The King" Lawler
Highlights:
Before entering the ring, Lawler gave JR a "lesson" in Japanese vocabulary and related it to his upcoming victory over Michinoku. JR's reply: "You're not an Oki, I'm an Okie." HA!
Lawler gave him a cross corner whip, but Michinoku leaped to the top turnbuckle, flipped over Lawler, and hip-tossed him.
When Michinoku landed a series of kicks, he dropkicked Lawler to the floor.
He then vaulted to the top turnbuckle and delivered a tope. Woohoo!
Back in the ring, Lawler hit his own dropkick but ate another dropkick from Michinoku.
They then tried simultaneous dropkicks but hit nothing but air.
As Lawler ate a third dropkick, Michinoku mounted the second turnbuckle, attempted a moonsault, but there wasn't any water in the pool.
Lawler then suplexed and backdropped Michinoku.
After a fist drop, Lawler tossed Michinoku down to the floor.
Upon Michinoku's return, Lawler piledrove him.
He then mounted the second turnbuckle but missed a second fist drop.
When Michinoku delivered a Michinoku driver, Brian Christopher stormed the ring to attack him.
Michinoku won by DQ.
Rating: ½*
Summary: More chicanery by the Lawlers to Michinoku was the result of this clash of styles.
TV Rating: 3.0
Afterward, Christopher continues his assault and checks on his father. Michinoku recovers and hits a spinning heel kick to Christopher. Following a huracanrana, Michinoku escapes a double-team by the Lawlers and heads for safer ground.
JR shills the WWF Superstar Line and mentions a "near-riot." More on this later.
In a quick promo for the main event, the Road Warriors cut a promo where Hawk refers to DeGeneration-X as "Michael Bolton (before the haircut), Fabio, and RuPaul." HA!
Headbanger ad for Jakks action figures. Hijinks ensue.
Following a commercial break, the Nation of Domination comes to the ring. We then revisit last week's episode when Austin forfeited the IC title to the Rock rather than lose to him at the PPV. The Rock, with fanny pack, refers to himself as the "People's Champion" to ZERO reaction. When Faarooq wants to interject, Rock cuts him off with "the champ is talking."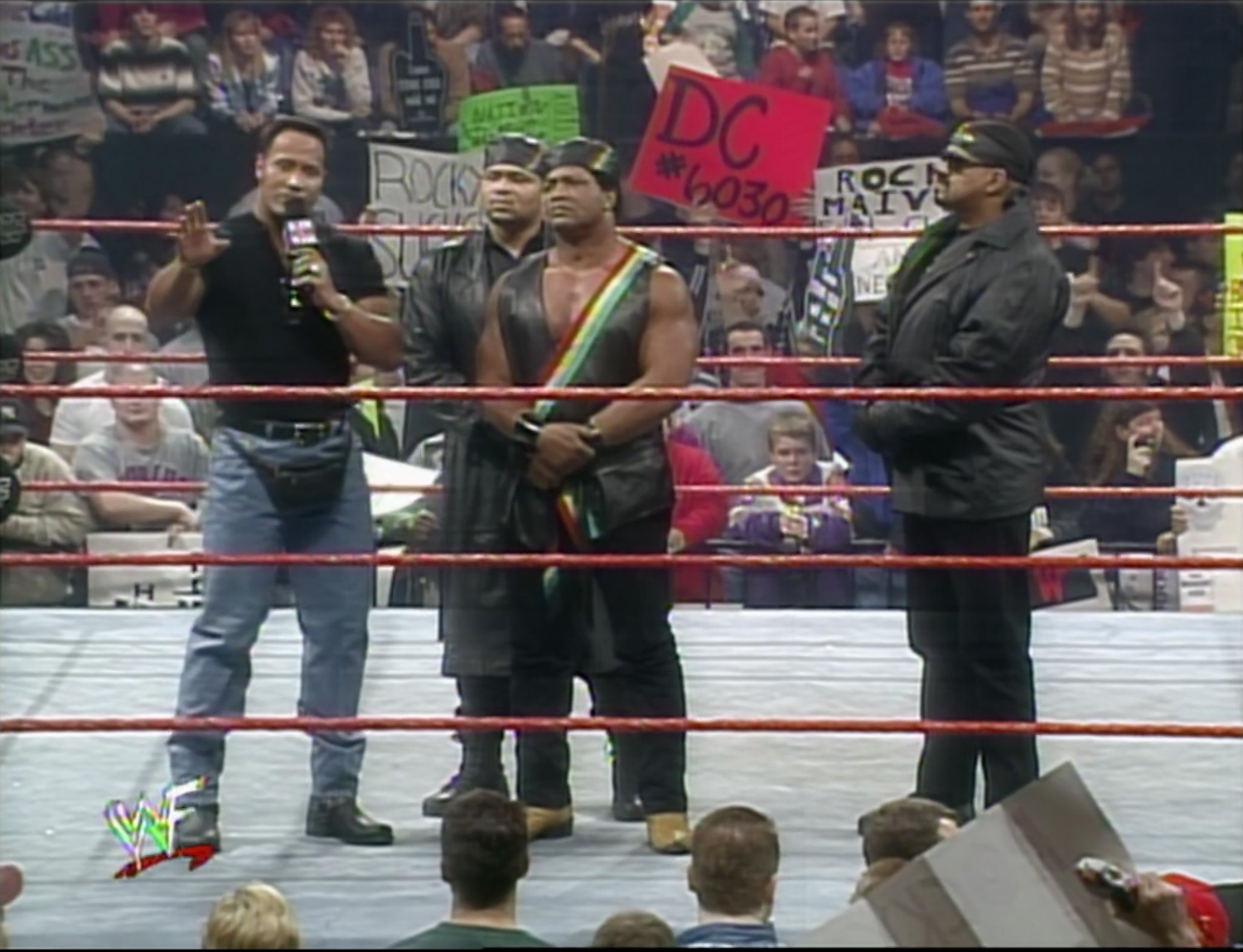 Rock then cuts a promo on Austin while Faarooq shoots him a dirty look. As Rock "orders" him to return the IC belt, Austin emerges without the IC belt. He then cuts a promo on the NoD and teases the location of the belt. When Austin leaves, Rock gives him "exactly one hour" to return the Rock's "property." I believe the leadership role of the NoD is under question.
WWF Attitude promo airs.
Prior to the next match, we revisit last week's episode when Dude made Gunn his bitch and relegated him back to the tag team ranks. Of course, the tag champs took exception sending Dude reeling into the 21st century.
Match 2: Dude Love versus Road Dog (w/ "Bad Ass" Billy Gunn)
Highlights:
In a rare moment, Gunn introduced Road Dog to the ring instead of the other way around. It wasn't as pretty as it sounded.
Gunn joined the broadcast table for this match.
As Dude delivered a back elbow, JR coined the team name of the New Age Outlaws for Gunn and Road Dog.
As Road Dog put a knee into Dude's midsection, Dude ducked a clothesline, slid out of the ring, and nailed Gunn.
When Road Dog leaped from the apron, he delivered a forearm smash.
He then distracted referee Tim White so that Gunn could give Dude the business on the floor. How dastardly!
After a wormy cover, Road Dog got 2.
He then hit a standing dropkick, gave Dude a cross corner whip, but ate a Mandible claw.
As Road Dog spilled to the floor, Dude made him taste the steel railing. It must have tasted like Bomb Diggity at Hop and Grind.
Back in the ring, Dude supplied Road Dog with a knee smash in the corner.
He then landed Sweet Shin Music followed by a double-arm DDT.
1-2-3.
Dude won.
Rating: *
Summary: More storyline than match as you shall see.
TV Rating: 3.0
After the match, Gunn brings a steel chair into the ring, but Dude intercepts him. Dude then delivers a Cactus clothesline and follows Gunn up the ramp. While Road Dog hammers Dude from behind, the New Age Outlaws suplex Dude on the steel entranceway. OUCH! Next, they try to send Dude eight feet down to the concrete floor, but Dude retaliates. Gunn attempts to hip-toss him down to the concrete, but Dude blocks it and clotheslines him.
As he also caught Road Dog with a clothesline, Dude succumbs to a DDT on the steel entranceway. When Dude returns to his feet, the New Age Outlaws use referee Mike Chioda as a battering ram to send Dude flying onto a table followed by the concrete floor. Double OUCH! Although they seem concerned about Dude's safety, the New Age Outlaws put the boots to him. Evil! According to Meltzer, Dude suffered a fractured rib.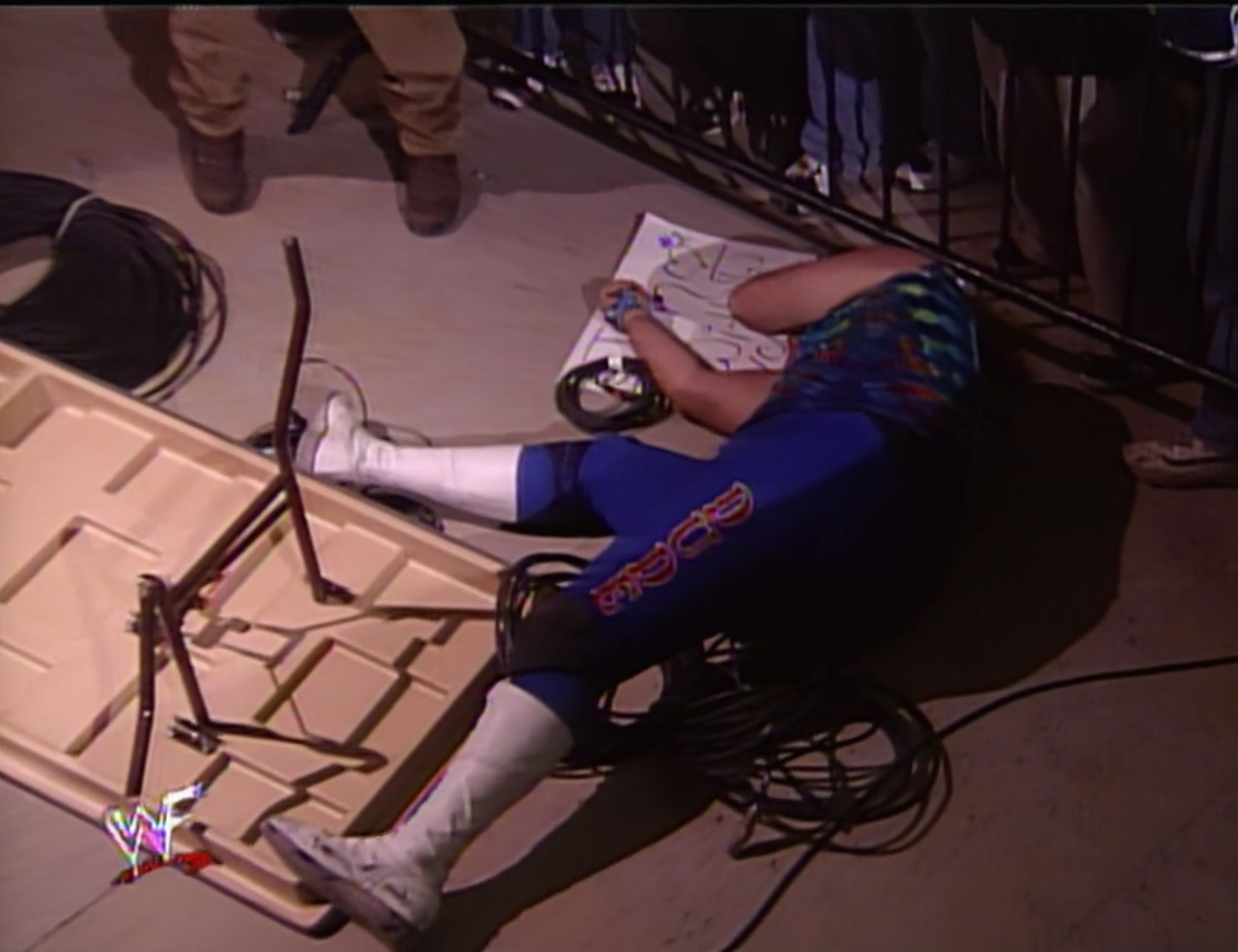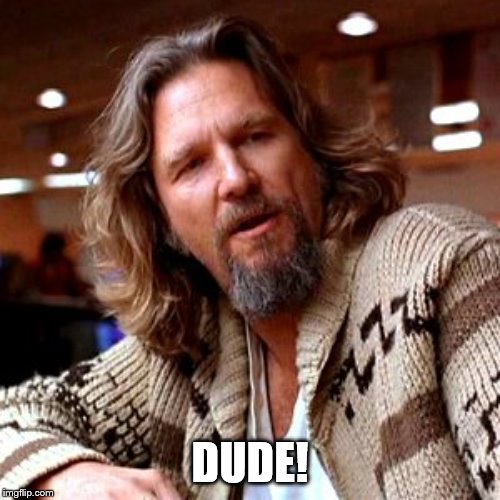 RAW is WAR is sponsored by the US Army, Lazer Tag, and Burger King.
Match 3: Mark Henry versus the Brooklyn Brawler
Highlights:
This was Henry's first televised match since 11/17/96 due to injuries and further development, but why is it on RAW is WAR?
When he reversed a cross corner whip, Henry followed with a corner clothesline.
He then gave Brawler a cross corner whip sending him shoulder-first into the ring post.
As he delivered a series of backbreakers, Henry slammed Brawler.
He then hit an elbow drop and applied a bear hug.
Without hesitation, Brawler submitted; thus, Henry won.
Rating: ½*
Summary: Showcase match for the returning Henry.
TV Rating: 2.6
We then revisit the PPV when Owen shockingly returned and shoved Michaels through the Spanish broadcast table. Following that, we see Michaels' response along with Owen's second ambush of Michaels.
WAR ZONE!
Vince McMahon comes to the ring and requests Owen join him. Owen walks among the Durham faithful and receives an "O-wen" chant from them. Upon joining Vince, Owen adamantly uses a series of expletives in frustration but elects to remain in the WWF. While Vince tries to steer the interview in the direction of the WWF title, Owen shoots it down immediately.
Instead, he informs us that he wants to make Michaels' life "a living hell." After using another expletive, Owen cuts a promo on Michaels. Vince requests security to accompany him in the ring, and Owen stares him down. As he grabs Vince by the lapels, Owen offers Vince something not picked up by the microphone. He leaves with security escorting him through the Durham faithful who adorn him with "O-wen" chants again.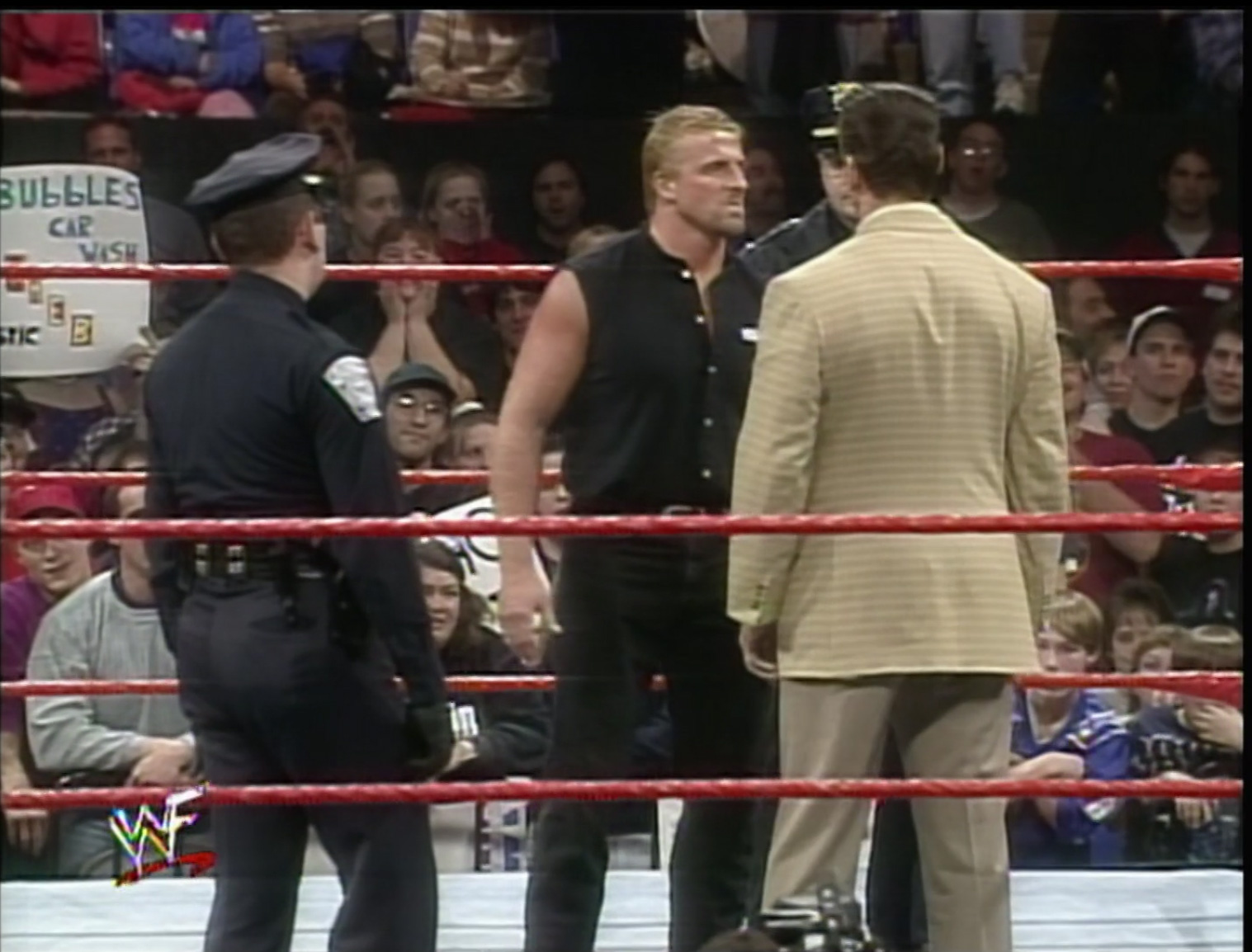 We then revisit last week when Sable unwrapped a potato sack to reveal a bikini that left nothing to the imagination.
Match 4: Tom Brandi versus the Sultan (w/ the Iron Sheik)
Highlights:
Like the Henry match, why is this on RAW is WAR?
Brandi gave Sultan a cross corner whip, considered crotching him with the ring post, but got distracted by the Iron Sheik.
As he supplied Sultan with a ten-punch count-along, Brandi attempted a back drop.
On the other hand, Sultan countered with a piledriver for 2.
He then clotheslined Brandi who sold it with a 360°. Woohoo!
When he delivered a backbreaker, Sultan got another 2.
While the Durham faithful chanted "U-S-A," Sultan put a knee into Brandi's midsection but couldn't get 3.
He then gave Brandi a cross corner whip but came up empty on his follow-through.
After Brandi delivered a DDT, Sultan no-sold it and hit a standing thrust kick for another 2.
Brandi then countered a back drop attempt with a swinging neckbreaker.
As the Iron Sheik got up on the apron, Brandi grabbed him.
Sultan then tried to ambush him, but Brandi moved.
Therefore, Sultan nailed the Iron Sheik inadvertently.
Brandi then rolled Sultan up.
1-2-3.
Brandi won.
Rating: ½*
Summary: Showcase match for Brandi. More on this later.
TV Rating: 2.5
After the match, Brandi celebrates in the ring, but Marc Mero hits the ring to spoil the party. In fact, he walloped Brandi so far south that Brandi believed he was already in Worcester. Mero continues to attack Brandi while the Durham faithful chants "Sa-ble."
Royal Rumble '98 will be LIVE on PPV in San Jose, CA on 1/18. Order NOW!
As the NoD returns to the ring, we revisit Austin's mayhem upon Slaughter, JR, and Vince. Footage from the PPV includes Austin's decimation of the NoD thanks to an Austin 3:16 Chevy pick-up truck. Austin's forfeiture is shown again as well as his attack on Rock.
When we return to the arena, Rock informs Austin that his time is up. Upon calling him a coward, Rock's "pissed off." Abruptly, Austin appears on the Titantron standing on a bridge with the IC belt. He then tosses a scuba mask, snorkel, and regulator over the edge. Continuing his promo, he tosses an apparently empty oxygen tank over too. He then includes swimming fins, a cell phone, and a pager to further insult Rock. To cement the promo, Austin tosses the belt into MerryMeeting Lake.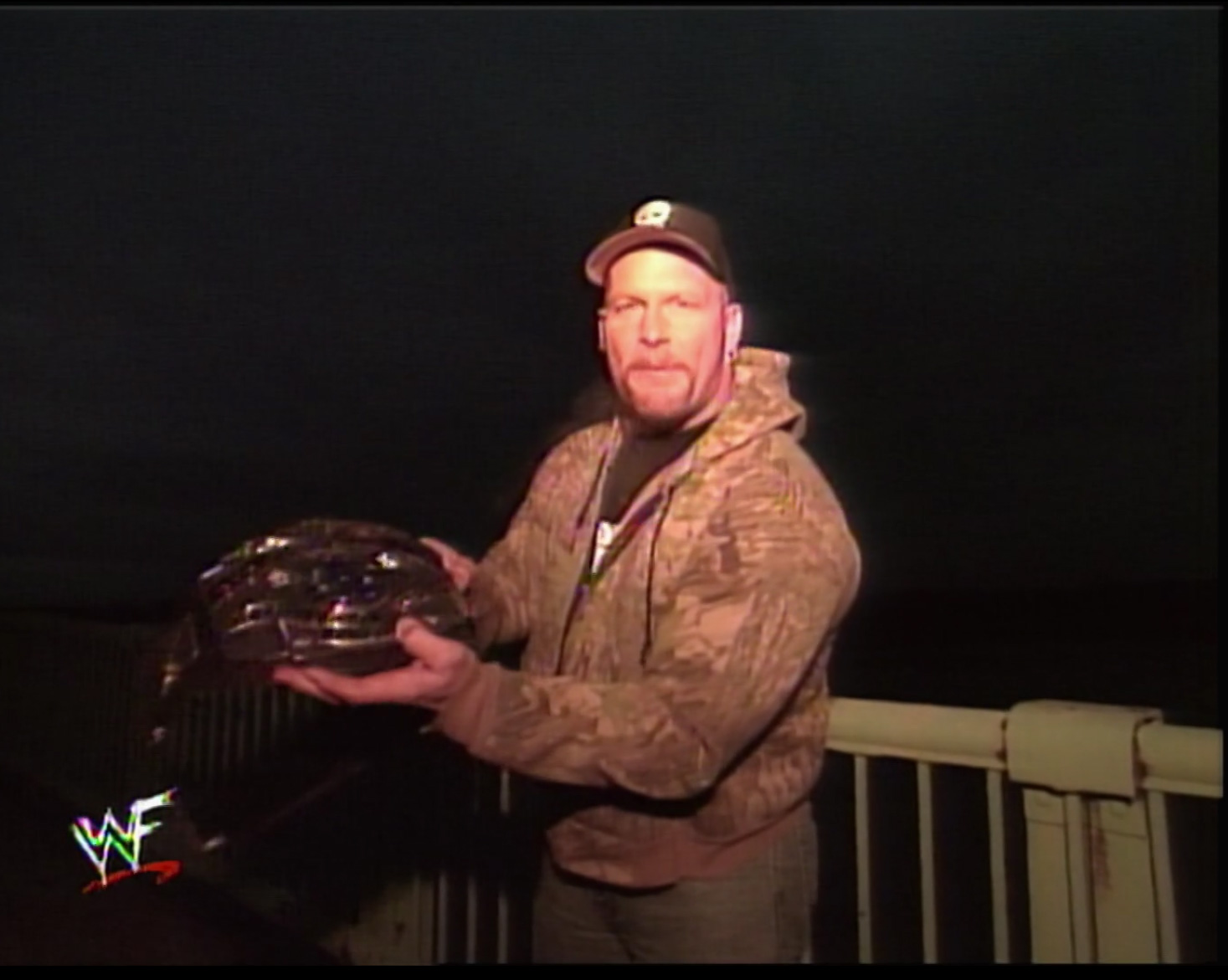 A second helping of the Headbangers ad for Jakks action figures airs in case you're still hungry.
THE CURE FOR THE COMMON SHOW: In a pre-taped segment, Vince is ready to "open the creative envelope" to entertain the WWF audience "in a more contemporary manner." He continues by stating WWF programming contains elements from soap operas like Days of Our Lives or MTV music videos. Also included are shows like Jerry Springer, King of the Hill, and Seinfeld.
Vince notes that the WWF acknowledges that the audience is "tired of having (its) intelligence insulted." Furthermore, he explains that the audience is also tired of "good guys versus bad guys." He then infers that the Hulkamania doctrines (e.g. prayers, vitamins) are "passé." While asking for parental discretion for RAW is WAR going forward, Vince advises that other WWF programs on USA need no discretion. In other words, the Attitude Era has begun!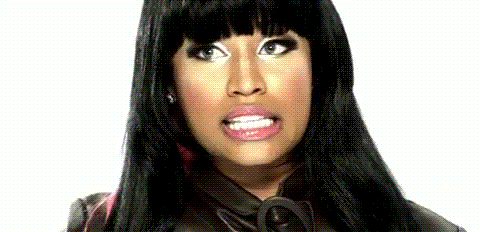 Match 5: Steve Blackman versus Jose Estrada (w Los Boricuas)
Highlights:
This was Blackman's first televised match since Survivor Series '97.
Again, why is this on RAW is WAR?
Blackman delivered a cross body block for 2.
When he supplied Estrada with a backbreaker, Blackman backdropped him.
He then slammed Estrada and hooked a single-leg crab.
As he landed a bicycle kick, Blackman hooked a German suplex with a bridge.
1-2-3.
Blackman won.
Rating: DUD
Summary: Showcase match for Blackman, but the Durham faithful couldn't care less.
TV Rating: 2.4
DeGeneration-X plays a game of roshambo to decide who will rid the WWF of Owen Hart. When HHH wins, Michaels doesn't like Owen's chances and follows with a quick promo on the Road Warriors. I'm certain the booking meetings were more intense.
LAZER TAG SLAM OF THE WEEK: Undertaker chokeslams Sultan on Shotgun Saturday Night. I didn't realize this show was still being syndicated. Nonetheless, Undertaker also tombstones Sultan to ruin his weekend.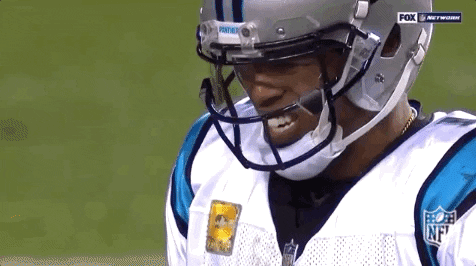 Match 6: DeGeneration-X (w/ Chyna) versus the Road Warriors
Highlights:
Michaels tagged in and lowered the boom on Animal.
As Michaels escaped a clothesline from Animal in the ring, he ate one outside the ring by Hawk.
Like a rag doll, Michaels was heaved back into the ring by Hawk.
Animal then clotheslined him over the top rope to the floor. In the process, Michaels tasted the steel railing. It must have tasted like the Burganzola at the Thirsty Moose.
When tags were exchanged on both sides, Hawk clotheslined HHH.
Behind referee Earl Hebner's back, Michaels kicked Hawk from the apron. SNEAKY!
Helmsley then delivered a high knee and distracted Hebner.
Meanwhile, Michaels cheated like a mofo in the heel corner. Nefarious!
Michaels tagged in, and DeGeneration-X used the Midnight Express combo of drop toe hold/elbow drop. In the meantime, Cornette color-commentated but didn't acknowledge it.
After Animal obnoxiously distracted Hebner, DeGeneration-X continued to pummel Hawk in their corner.
HHH tagged in and landed a knee drop for 2.
As Michaels tagged in, we went to a commercial break.
Following it, Michaels gave Hawk a cross corner whip, followed, and both of their heads collided.
Hot tag Animal.
When Animal powerslammed Michaels, the New Age Outlaws made their presence felt at ringside.
Animal then hit a flying shoulder block onto HHH while Road Dog smothered Hawk with chloroform. Without question, Hawk was

OUT COLD

.
After Animal escaped a double-team with an electric chair to Michaels, he gave DeGeneration-X a double noggin knocker.
Immediately, Chyna climbed into the ring and knocked Animal so far south that he skipped Massachusetts entirely and ended up in Rhode Island.
Hebner called for the bell and disqualified DeGeneration-X.
Rating: ***
Summary: With help from the tag formula, the match had a good pace until the storyline finish.
TV Rating: 2.5
After the match, Chyna nails Animal with the European title belt while Gunn shaves off Hawk's mohawk. As DeGeneration-X laughs at the New Age Outlaws' antics, Chyna drapes Animal over the top rope. Both DeGeneration-X and the New Age Outlaws combine their efforts to powerbomb Animal through the broadcast table.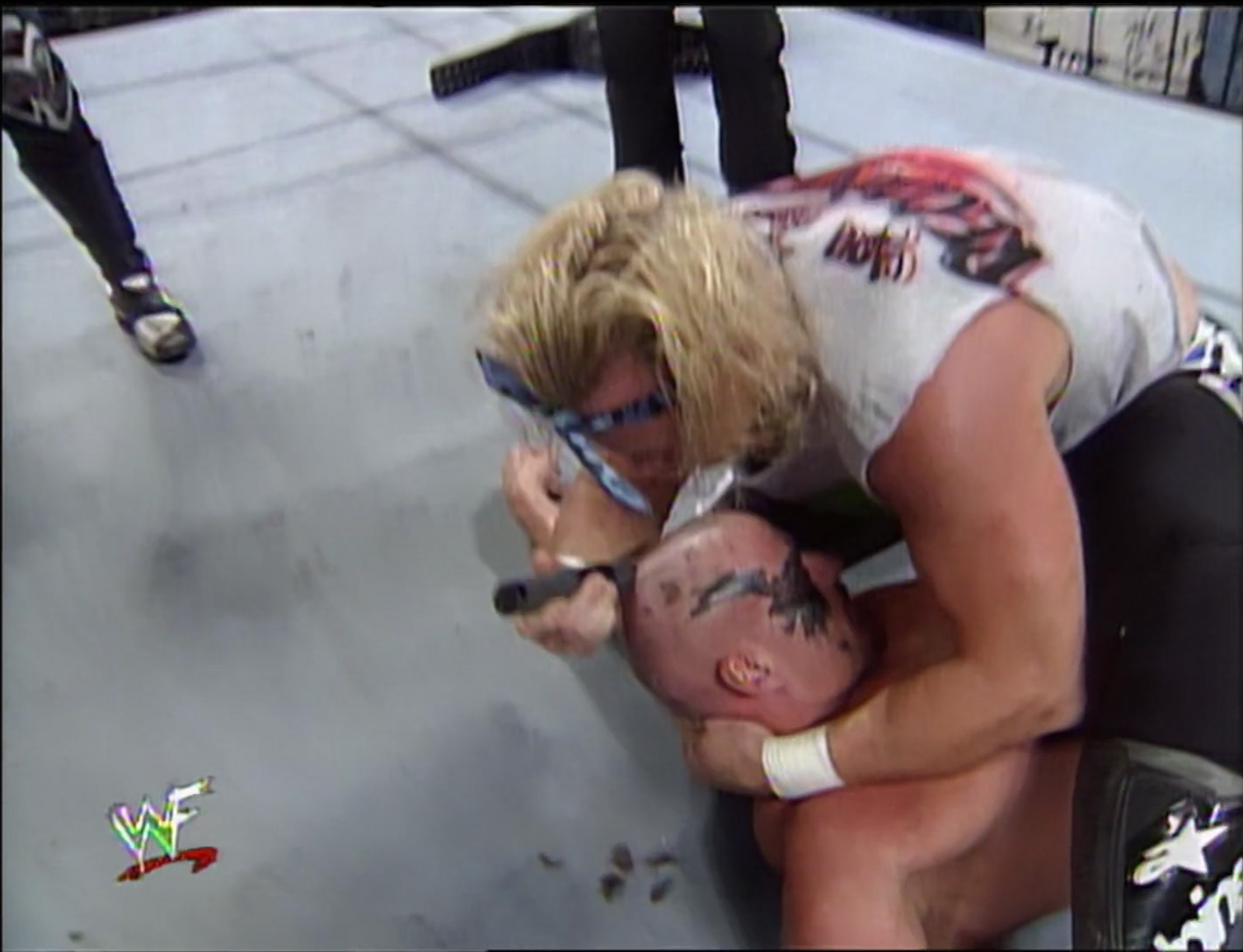 Upon returning to the ring, Gunn mounts the top turnbuckle and destroys Hawk with a guillotine leg drop. Michaels then mounts the same top turnbuckle and hits a big elbow. Needless to say, but the Road Warriors have been taken out of commission.
Conclusion: It's the end of an era, folks. While this wasn't the Road Warriors' last match, it was a sign that things are about to change. Vince's announcement solidifies that. Both DeGeneration-X and the New Age Outlaws are running wild in the WWF. Much like Bret's announcement on Nitro, Owen's statements about remaining in the WWF were tepid at best. Despite his issues with Kane, Undertaker will face Michaels at Royal Rumble '98 in a casket match. What could possibly happen?
Allow me to answer why those ATROCIOUS matches were on RAW is WAR. Simply put, the WWF had NO IDEA that Nitro would run three hours. Meanwhile, WCW knew what to expect and counterprogrammed successfully.
Could RAW is WAR finally overcome Nitro in the ratings?
Final TV Rating: 2.7
Who won? Nope, like last week, RAW is WAR was completely obliterated by a 1.4 margin. The Sting-Hogan business has the wrestling audience firmly in WCW's favor. To top it off, this week, RAW is WAR featured three enhancement matches. With competitive wrestling on TNT, who wants to watch enhancement matches on USA? Unless something drastic occurs, next week's ratings battle should remain the same.
IN OTHER NEWS THIS WEEK: In both Memphis, TN and Little Rock, AR, DeGeneration-X was scheduled to main event house shows; however, due to fans' behavior, they refused to wrestle. While a riot was teased in Memphis, one actually occurred in Little Rock. With chairs and whiskey bottles flying, police used tear gas to empty the building. Fans pounded on cars outside the building containing Flash Funk and Kama while police needed to escort DeGeneration-X from the area. According to Meltzer, thirteen arrests were made.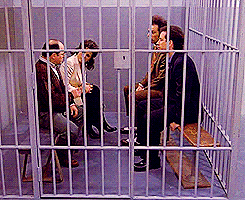 HOT TAKE: You're not part of the show, guys. Whether you rush the ring or throw stuff, it's dangerous and unnecessary. If you don't like the heel in the ring, booing/jeering/chanting is customary while rushing/tossing objects isn't. This isn't just a WWF problem as both WCW and ECW also suffer from it.
Stay tuned for WCW Monday Nitro 12-22-97!
Comments? Suggestions? Send them to me at rsg@rockstargary.com and follow me on Twitter (@rockstargary202).
Custom Search