WELCOME TO ROCK STAR GARY REFLECTIONS!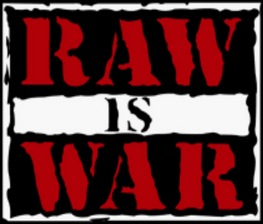 WWF Monday Night RAW 12-08-97
Live from Portland, ME
Airdate: December 8, 1997
Attendance: 6,510 (sold out)
Hosted by Jim Ross, Michael Cole, Kevin Kelly, & Jerry "The King" Lawler
Will Austin retain the IC title in a rematch against the Rock? What does DeGeneration-X have in store for us this week after Michaels retained the WWF title at the PPV? What other tricks does the WWF have up its sleeve this week? Let's find out!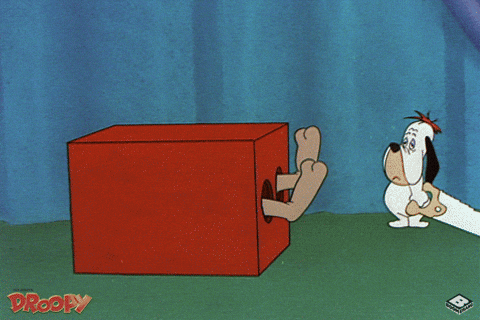 Stills from the PPV last night are shown.
Opening montage.
To begin the show, Vince McMahon comes to the ring to a mixed reaction. After some Stone Cold history, Vince demands an Intercontinental title match between Austin and the Rock. Austin then stomps to the ring and questions Vince's authority.
When Vince informs him about being the boss, Austin's not impressed. In fact, he asks the Portland faithful if they want him to kick Vince's ass. As you'd expect, they respond with a "Hell Yeah!" Vince berates him about language while Austin drops a "damn" and a "hell" followed by "Jesus Christ." On the other hand, Austin threatens violence six ways to Sunday if he has to wrestle tonight. I like the "anything can happen" aspect happening here.
MILTON BRADLEY KARATE FIGHTERS HOLIDAY TOURNAMENT (final): Jerry "The King" Lawler versus Sunny
In quick order, Lawler knocks Sunny's fighter off to win. However, courtesy of "hidden video," Lawler uses gum to adhere his fighter down. Also, he "seduces" Sunny's fighter with a female action figure. Oh, brother. To top it off, Lawler bribes the official. Some unknown ham'n'egger with a microphone comes out and dubs Sunny the winner due to nefarious chicanery by Lawler.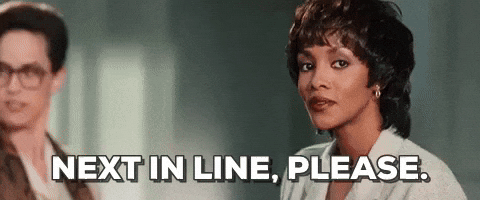 RAW is sponsored by the US Army, Lazer Tag, and Jakks.
More stills from last night air.
Match 1: The Road Warriors versus the Godwinns (w/ Road Dog & "Bad Ass" Billy Gunn)
Highlights:
Animal gave Henry a cross corner whip but ate boot on his follow-through.
When Henry clotheslined him, he slammed Animal.
He then missed an elbow drop, but Animal reversed an Irish whip and delivered a flying shoulder block.
As Animal landed an elbow drop, Hawk tagged in and clotheslined Henry.
He then dropkicked Henry into the heel corner, so Phineas tagged in.
After Hawk gave Phineas a cross corner whip, he came up empty on his follow-through.
In lieu of hitting the turnbuckle, Hawk stopped short and hit a big boot to Phineas.
He then scored with a hangman's neckbreaker and slammed Phineas.
When he mounted the top turnbuckle, Hawk leaped but there wasn't any water in the pool.
Animal then knocked Henry off the apron, so Phineas clobbered Animal over the top rope to the floor.
As the Godwinns rammed Animal shoulder-first into the steps, the lights go out.
Is Sting on this show too?
No, it's Kane and Paul Bearer.
With Hawk alone in the ring, Kane piledrove him to ZERO effect.
He then chokeslammed Hawk and followed with a tombstone.
Without question, Hawk was

OUT COLD

.
After Kane left, Road Dog and Gunn gave Hawk the business until Animal chased them away with a steel chair.
Rating: NONE
Summary: More storyline than match as the Road Warriors-Gunn/Dog feud continues.
Following a commercial break, Road Dog grabs the microphone and declares his team as the top dog of the tag division. He and Gunn then sing "Goodbye" to the Road Warriors. Next, he states that they'll compete in singles competition. When he challenges anyone from the back, Dude Love emerges. In a funny retort, Road Dog exclaims "I said one guy, not three." HA!
Match 2: "Bad Ass" Billy Gunn (w/ Road Dog) versus Dude Love
Highlights:
The match began outside the ring, and Gunn rammed Dude face-first into the steps.
As Road Dog joined the broadcast table, Dude countered a back drop with a backslide for 2.
Gunn rebounded with a clothesline for 2.
When Road Dog referred to the Godwinns as "Southern Justice," Gunn gave Dude a cross corner whip but came up empty on his follow-through.
Dude then backdropped and supplied Gunn with a ten-top-turnbuckle count-along.
After Dude warmed up Sweet Shin Music, Gunn countered it with a leg sweep and a Rocker Dropper.
Dude then ducked a right and delivered a double-arm DDT.
1-2-3.
Dude won.
Rating: *
Summary: To prove that they should remain as a tag team, Gunn promptly loses.
After the match, Road Dog grabs his chair, enters the ring, and CREAMS Dude with it. If you want to hear a sick THUD, then this is your chance. Nonetheless, Road Dog drapes the tag belts on Dude's face while Gunn mounts the top turnbuckle. Gunn then leg-drops the belts sending Dude barreling into 1998. To close out the segment, officials hit the ring to check on Dude.
Austin then shills Jakks action figures.
Backstage, the Rock cuts a promo on Austin while rewriting wrestling history.
More stills from last night air.
We then get an exclusive interview backstage from last night from "Too Sexy" Brian Christopher. In a crazed frenzy, Christopher vows to have the "last laugh."
In the ring, Jim Cornette interviews the NEW WWF Light Heavyweight champion—Taka Michinoku. Earlier tonight, JR provided some key English phrases that every non-English-speaking person should learn...like "Slobberknocker." HA!
Cornette then introduces Michinoku's next challenger, but Lawler interrupts and supplies us with a xenophobic rant against Michinoku. When Lawler informs him that foreigners should speak English when they come to America, Michinoku responds with "you jackass." HA!
Cornette then introduces El Unico whom JR, the talent relations manager, doesn't recognize. In true Lawler fashion, he refers to El Unico as an illegal alien with racial overtones. El Unico takes exception and shoves Lawler down. When he stands side-by-side with Michinoku to challenge Lawler, El Unico nails Michinoku with a double axe handle.
Lawler and El Unico stomp the bejeezus out of Michinoku until El Unico unmasks to reveal Rey Mysterio, Jr.! Oh wait, I already did that one. Actually, it's Christopher. While the Portland faithful chants "Jerry's kid," the Lawlers punish Michinoku with a spike piledriver. Christopher then delivers another piledriver to the fallen Michinoku, and Lawler follows suit. To close out the segment, officials come out to check on Michinoku.
The encore of DeGeneration-X airs tomorrow night at 7pm. Check it out!
DESTRUCTION OF THE HART FOUNDATION: First, we see Michaels steal the European title from the "British Bulldog" Davey Boy Smith at One Night Only in an absolute travesty. Second, we see Michaels screwing Bret out of the WWF title at Survivor Series '97. Third, we see DeGeneration-X demolish Jim "The Anvil" Neidhart on RAW. Lastly, we see Owen give Michaels his comeuppance and stand up for his family. Unfortunately, instead of facing Michaels for the title at Royal Rumble '98, Owen would be relegated to the midcard.
Match 3: Kurrgan (w/ Jackyl) versus Flash Funk
Highlights:
Jackyl joined the broadcast table for this match.
When Kurrgan delivered a back elbow, he followed with a big boot.
He then applied a claw and a one-handed chokeslam.
As Kurrgan continued to cinch the claw on his head, Funk submitted.
Rating: DUD
Summary: Showcase match for Kurrgan, but the Portland faithful couldn't care less.
After the match, Recon and Sniper can't make Kurrgan release the hold. Referee Mike Chioda threatens to reverse the decision, and when Kurrgan doesn't comply, Choida follows through with the reversal.
More stills from last night air.
We then get an exclusive interview backstage from last night from Ken Shamrock who cuts a promo on Michaels.
WWF Attitude ad airs.
WAR ZONE!
DeGeneration-X emerges through the curtain and heads toward the ring. Set up in the middle of the ring is a card table, and HHH cuts a promo on Slaughter. Shawn Michaels grabs the microphone and runs down Shamrock and touts himself. When he turns his attention to Owen, Michaels cuts the Hart Foundation down to size—even calling the Hart family a "turd." In his elaborate bathroom scenario, Michaels equates Owen to a "nugget" and calls him out.
While waiting for Owen, DeGeneration-X plays poker in the ring. Chyna whispers to remind him about the one time Michaels promised to "strip naked on TV." To up the ante, so to speak, Michaels changes the stipulations of the game to strip poker.
Following a commercial break, the strip poker game makes its way to ringside while the next match takes place.
Match 4: Los Boricuas versus the Disciples of Apocalypse
Highlights:
Skull gave Jose a cross corner whip followed by a powerslam.
As 8-Ball tagged in, he thwarted a back drop attempt and clotheslined Jose for 2.
Perez came in, and Los Boricuas gave 8-Ball a cross corner whip.
Next, they followed with a clothesline by Jose and a dropkick by Perez.
Speaking of Perez, he landed another dropkick, hooked a sunset flip, but 8-Ball nailed him.
While Jose distracted referee Jack Doan, 8-Ball earned a false pin.
Jose tagged in and landed a fist drop to 8-Ball.
When he gave 8-Ball a cross corner whip, Jose came up empty on his follow-through.
8-Ball then delivered a swinging neckbreaker, and tags were exchanged on both sides.
After Skull clotheslined him, Perez executed a 360° sell. Woohoo!
Mind you, the Portland faithful was taking a collective nap.
Skull then backdropped Perez, and all four wrestlers were in the ring.
As DoA hit a double slam on Perez, 8-Ball and Jose occupied Doan in the far right corner.
That allowed Savio Vega to enter the ring with a 2x4 and WHACK Skull in the lower leg. OUCH!
1-2-3.
Los Boricuas won.
Rating: DUD
Summary: With a four-on-two advantage, Los Boricuas still needed a 2x4 to steal a win. Raise your hand if you truly care...I thought not.
After the match, both Michaels and HHH have lost their shirts and are smoking cigars.
Following a commercial break, the strip poker game resumes in the ring. Chyna wins again, and Michaels removes his pants. For those curious, Michaels wears boxer briefs. For those like me, whoop-dee-doo. Regardless, the Headbangers come to the ring and flip over the card table. In retaliation, Michaels SMASHES his whiskey bottle on Mosh's head.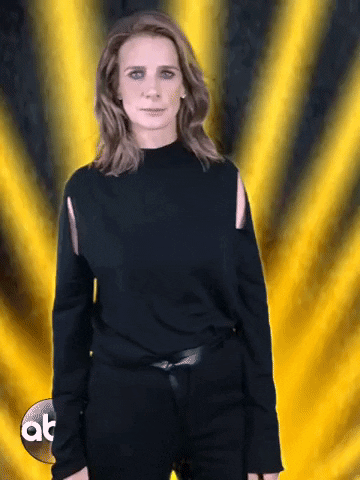 He then hammers Mosh with his chair while HHH and Chyna take care of Thrasher. To completely send the Headbangers packing, DeGeneration-X puts Thrasher through the card table via a top-rope powerbomb. Michaels then pours whiskey on Thrasher while Mosh bleeds like a stuck pig. To add insult to injury, Michaels humiliates Mosh while HHH hits him "down there."
While juggling his package, Michaels straddles the top turnbuckle. How classy! Suddenly, Owen storms the ring to attack Michaels. Before HHH can get ahold of him, Owen heads for higher ground through the Portland faithful.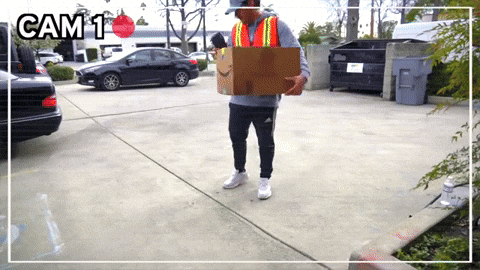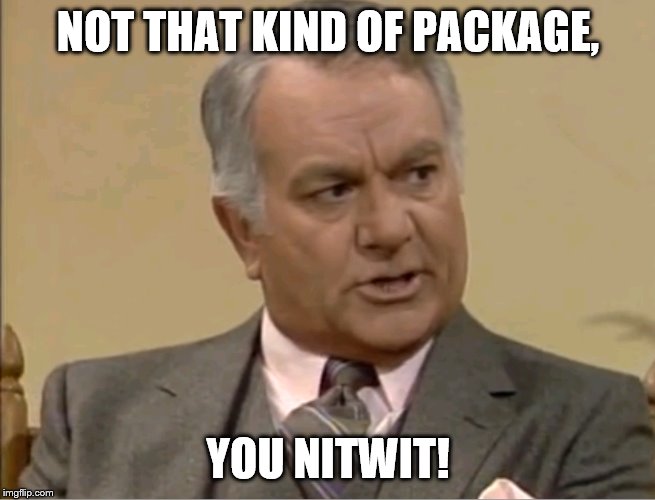 Sorry, Chester.
Second promo for the encore of last night's PPV airs. Call your TV provider NOW!
Match 5: Vader versus Jeff Jarrett
Highlights:
Before the match began, Goldust and Luna appeared at ringside.
To antagonize Vader, Goldust "flashed" Vader, yet, fortunately for us, only Vader saw it.
Vader then chased them backstage, and Jarrett won by countout.
Rating: DUD
Summary: Just a storyline means to make Jarrett 2-0 in WWF competition.
During the commercial break, the Headbangers shill Jakks WWF action figures, yet get destroyed by Road Warrior action figures.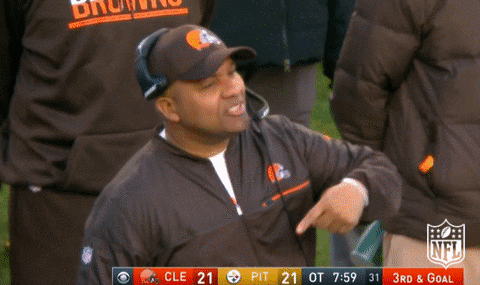 We then revisit stills from the PPV of the toughman match. Afterward, an exclusive interview from last night backstage as Butterbean's "stalking (Mero) now."
Match 6: "Marvelous" Marc Mero (w/ Sable) versus Salvatore Sincere
Highlights:
Before the match began, Mero grabbed the microphone and referred to Sincere as a "jobber." Methinks that's the first time that the expression broke the fourth wall.
Nonetheless, Mero outed Sincere as Tom Brandi while JR mocks Mero with a Johnny B. Badd catchphrase.
Mero then introduced Sable who's wearing a potato sack.
As Mero requested that Sable "disrobe" him, she removed the sack to reveal...
Oh. My. God.
Of course, Mero threw a hissy fit and covered up Sable immediately.
BOOOOOOOOOOOOOOO!
Sincere Brandi then dropkicked Mero over the top rope, and Mero escorted Sable backstage.
Unbelievably, Brandi won by countout.
Rating: DUD
Summary: Both an excuse to break kayfabe and thrill the 18-34 male demographic in one fell swoop.
ALLEGED REMATCH FOR THE WWF INTERCONTINENTAL TITLE: With six minutes left in the show, I do not foresee much action. In fact, Austin comes to the ring wearing jeans. Vince questions whether or not Austin wants to wrestle. In providing his answer, Austin coins the phrase "Steveweiser." HA! He then refuses to wrestle since he beat the Rock last night.
When Austin asks Vince if he'll relieve Austin of his bread and butter, the Rock chimes in with "the Rock thinks you should fire him." HA! As a consequence, Vince won't fire him but will strip Austin of the Intercontinental title. When Austin threatens violence, he states that he's only interested in the WWF title. He then forfeits the Intercontinental title to the Rock.
As Austin offers to congratulate him by shaking the Rock's hand, they shake hands, but Austin attacks with a Stone Cold Stunner. He then informs Rock "DTA, don't trust anybody." He then takes the Intercontinental belt and requests that we tune in "same Stone Cold time, same Stone Cold channel." Nice Batman reference!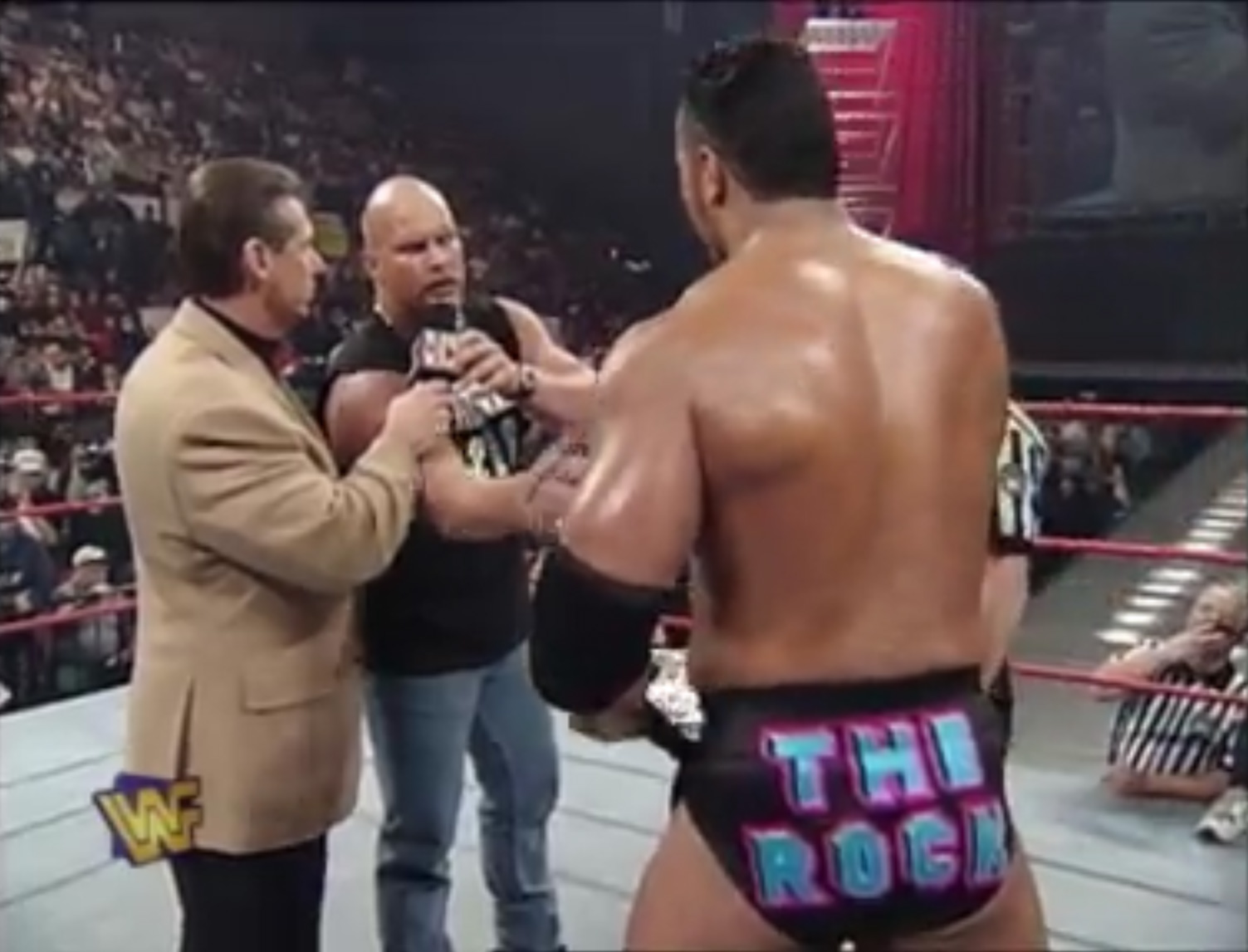 With Vince on the apron, Austin runs the ropes shooting him like a bullet down to the floor. To say Vince was not pleased would be a gross understatement.
Conclusion: Look quickly, and you'll see dollar signs in Vince's eyes upon seeing the chemistry between Austin and the Rock. Also, DeGeneration-X continues to push the envelope at the top of the promotion. Speaking of pushing the envelope, Sable's becoming a star thanks to her then-husband and looks. Lastly, Road Dog and Gunn shine at the top of the tag team division as Dude Love sacrifices himself to put them over. Could RAW is WAR finally overcome Nitro in the ratings?
TV Rating: 2.7
Who won? What's that, Jack?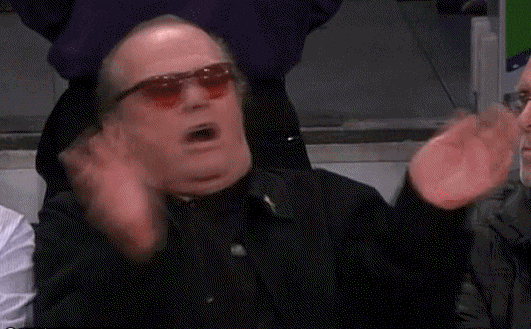 On their route to Starrcade '97, Nitro demolished RAW is WAR by a margin of 1.4. Despite the change in demeanor of RAW is WAR, the star power of Nitro continues to steamroll them. Will Nitro's streak continue or will RAW is WAR feature something that will capture the Monday night audience next week?
Stay tuned for WCW Monday Nitro 12-15-97!
Comments? Suggestions? Send them to me at rsg@rockstargary.com and follow me on Twitter (@rockstargary202).
Custom Search