WELCOME TO ROCK STAR GARY REFLECTIONS!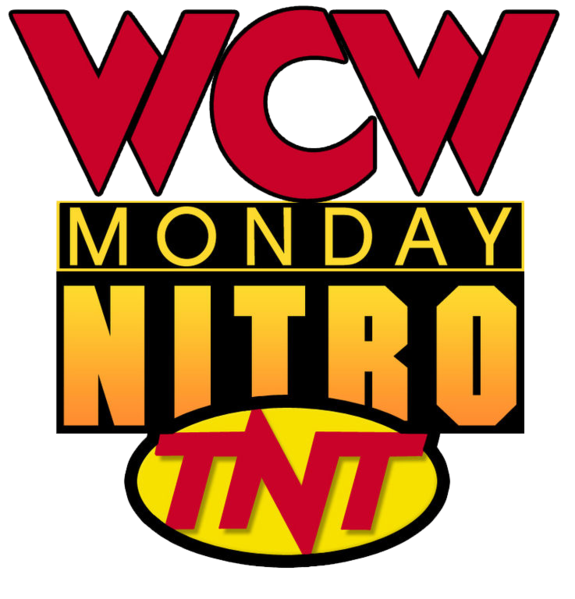 WCW Monday Nitro 12-08-97
Live from Buffalo, NY
Airdate: December 8, 1997
Attendance: unknown (19,000 if you believe Tenay)
Hosted by Tony Schiavone, "Iron" Mike Tenay, & Bobby "The Brain" Heenan
Can Saturn retain the TV title or will Disco Inferno find a way to regain it? And where in the blue hell is Sting? Let's find out in this lights-out episode!
Match 1: Ray Traylor versus Konnan
Highlights:
Traylor reversed a cross corner whip and delivered an avalanche.
When Traylor reversed an Irish whip, Konnan leap-frogged him before receiving a powerslam.
Konnan then dragged Traylor to the floor but ate the apron for his troubles.
As Konnan reversed an Irish whip, he made Traylor HIT THE POLE.
He then guillotined Traylor with the top rope, yet Traylor reversed a cross corner whip.
After Konnan got caught floating over, he hit an inverted DDT. Perhaps, that might bring Sting out of hiding.
Konnan then gave Traylor a series of cross corner whips, and the lights went out.
Regardless, a THUD was heard as darkness continued.
When the lights returned, Konnan was

OUT COLD

.
Traylor then placed his right boot atop him.
1-2-3.
Traylor won.
Rating: *
Summary: More storyline than match as something happened when it became pitch black.
Nitro is sponsored by Valvoline.
We then revisit last week's episode when the nWo prevented DDP from winning the US title.
Match 2: Steve "Mongo" McMichael versus Barbarian (w/ Jimmy Hart)
Highlights:
Mongo landed a flying shoulder block, gave Barbarian a cross corner whip, and followed with a corner clothesline.
As he clotheslined Barbarian, Mongo ate one himself.
Barbarian then booted Mongo between the ropes to the floor.
When he rammed Mongo face-first into the steps, Barbarian rammed him face-first into the apron.
He then made Mongo taste the steel railing. It must have tasted like the Cheektowaga Polka at Local Kitchen.
After he delivered a pump-handle suplex, Barbarian got 2.
He then slammed Mongo, mounted the second turnbuckle, but ate a shot to the midsection.
As Mongo hit a tombstone, he pinned Barbarian.
Rating: DUD
Summary: Finish came out of nowhere, but could it lead to anything?
After the match, Hart gets up on the apron to call out the troops. Mongo grabs and nails him, but Hart falls safely into Meng's arms. Feverishly, a brawl erupts until Meng clamps on the Tongan death grip. Mongo succumbs to its power and is OUT COLD.
At the entrance, "Mean" Gene Okerlund interviews Disco Inferno who refers to his match against Jacqueline as a "joke." He's fed up with the ribbing about it.
Following a commercial break, Okerlund interviews Bagwell who runs down Luger. When Bagwell asks why Luger can't beat him, he states that he's "buff and I'm in Buffalo."
Match 3: Prince Iaukea versus Dean Malenko
Highlights:
Eddie Guerrero joined the broadcast table for this match.
When Malenko dropkicked Iaukea, he followed with a belly-to-back suplex for 2.
Iaukea rebounded with a cross corner whip followed by a corner clothesline.
As Iaukea gave him another cross corner whip, Malenko floated to the apron.
On the other hand, Iaukea dropkicked him to the floor.
From the apron, Iaukea delivered a springboard roll-up for 2.
A pinfall reversal sequence preceded a double clothesline that put both wrestlers down on the mat.
After Malenko attempted a back drop where Iaukea landed on his feet, he hit a spinning heel kick for 2.
Iaukea then reversed an Irish whip but suffered a double underhook powerbomb.
While Guerrero mocked Malenko's wife for being pregnant, Malenko hooked a Texas Cloverleaf.
Iaukea submitted; thus, Malenko won.
Rating: *
Summary: Tune-up match for Malenko upon whom Guerrero has his eyes focused.
Castrol GTX sponsors the replay.
At the broadcast location, the Nitro Girls dance much to the delight of Schiavone. Of course, a promo for the Nitro Party contest follows.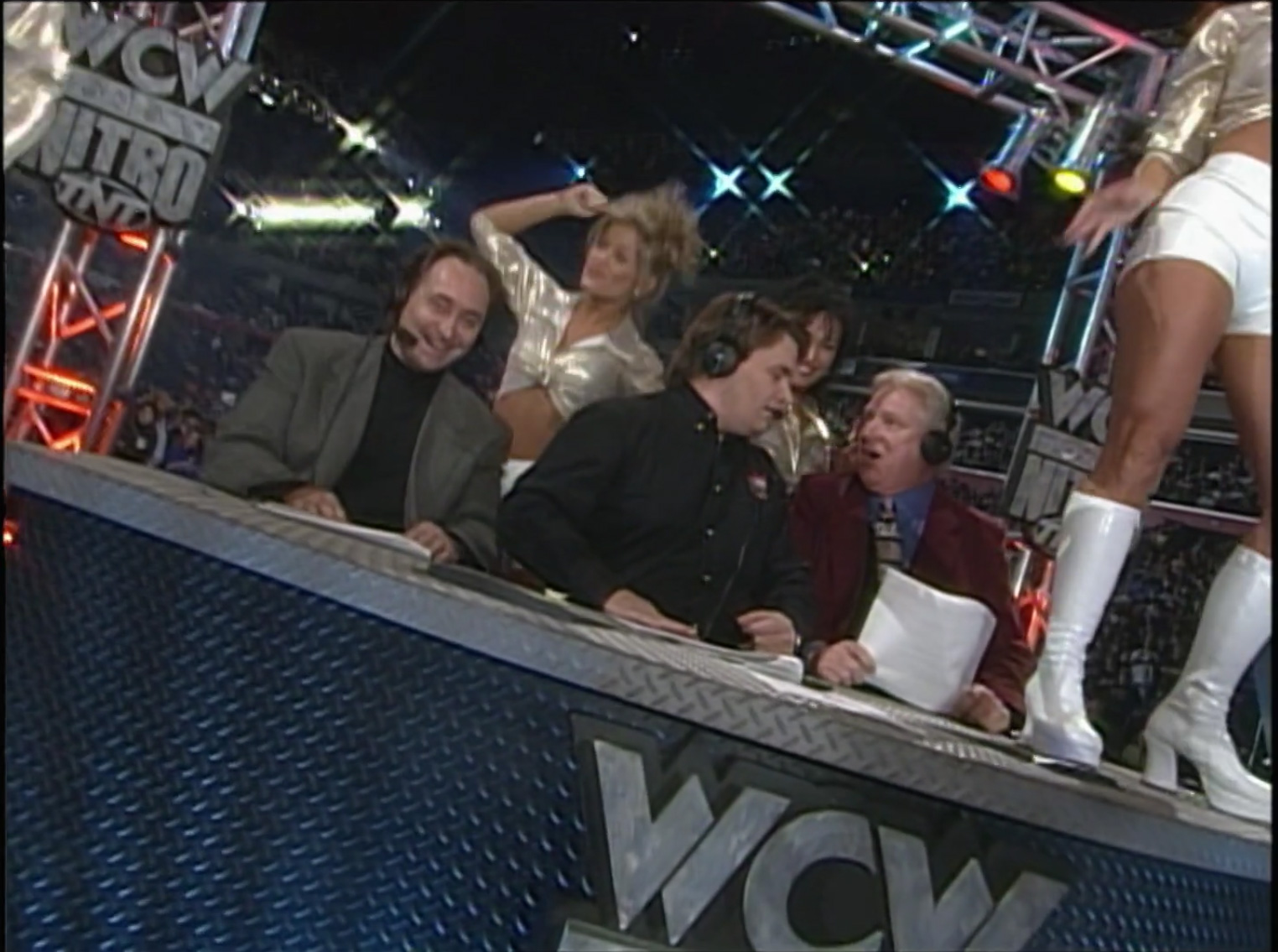 THE FOLLOWING ANNOUNCEMENT HAS BEEN PAID FOR BY THE NEW WORLD ORDER:
Nash disparages Giant. Film at 11.
THE PRECEDING ANNOUNCEMENT HAS BEEN PAID FOR BY THE NEW WORLD ORDER.
On WCW Saturday Night, Benoit squares off against Finlay. Also, Harlem Heat and Faces of Fear hook it up. Lest we forget, Hennig defends the US title against Traylor.
Shown standing in the front row are Buffalo Bills Jim Kelly and Bruce Smith. This becomes important later.
THE FOLLOWING ANNOUNCEMENT HAS BEEN PAID FOR BY THE NEW WORLD ORDER:
More disparagement from Nash about Giant. He then challenges Giant to a match at Starrcade '97.
THE PRECEDING ANNOUNCEMENT HAS BEEN PAID FOR BY THE NEW WORLD ORDER.
In the ring, Okerlund interviews Giant who offers his response: he's bringing the CHOKESLAM to Washington, DC.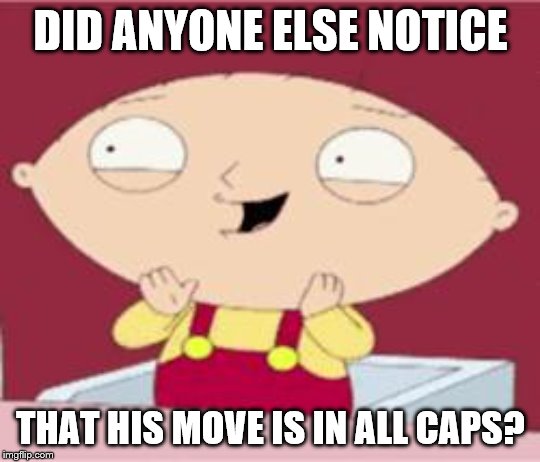 Following a commercial break, the Nitro Girls dance in the ring wearing silver.
We then revisit the 11/24 episode when the Sting mannequin crashed through the ring.
Match 4: The "Crippler" Chris Benoit versus Raven Lodi
Highlights:
Raven wasn't in the front row with the Flock, so Lodi replaced him. In fact, Raven didn't appear due to a stomach illness according to Meltzer.
As Benoit joined him on the floor, he rammed Lodi face-first into the steps.
In the ring, Benoit clotheslined the bejeezus out of Lodi.
He then gave Lodi a cross corner whip, hoisted him atop the top turnbuckle, and delivered a top rope superplex.
When he mounted the top turnbuckle, Benoit hit a diving head butt.
He then applied a Crippler crossface, and Lodi submitted.
Rating: **
Summary: Pure definition of a squash.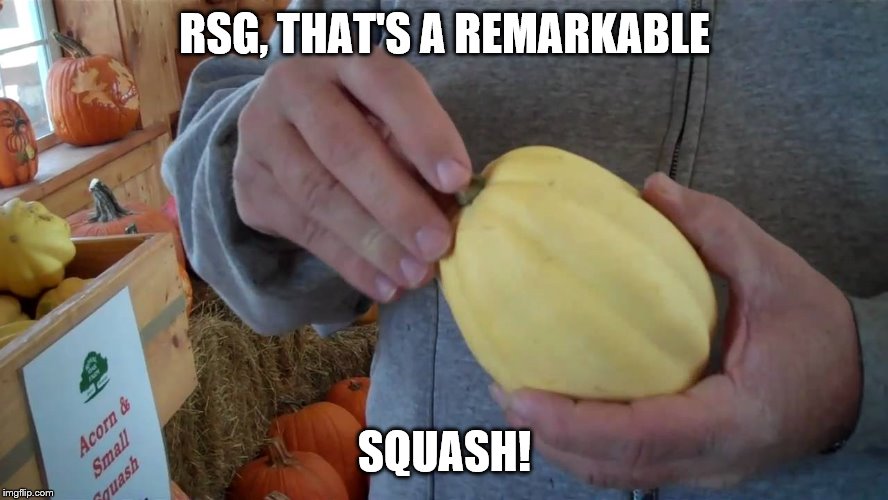 After the match, Benoit grabs the microphone and mocks Raven's catchphrase. He then calls out Raven and invites him to feel Benoit's pain.
HOUR #2!
In the ring, Okerlund interviews "Nature Boy" Ric Flair who uncorks a "Meeeeeeeean wooooo Gene." As only he can, Flair challenges Hennig to a cage match at Starrcade '97. When Okerlund mentions Bret Hart's alleged membership in the nWo, Flair chastises him about his column in the Calgary Sun and runs down Bret's best ever catchphrase by tying it to himself.
Supposedly, another nWo promo of the destruction of Sting was placed here but removed from the WWE Network. Send your complaints in their direction and/or baby Yoda memes in my mailbox.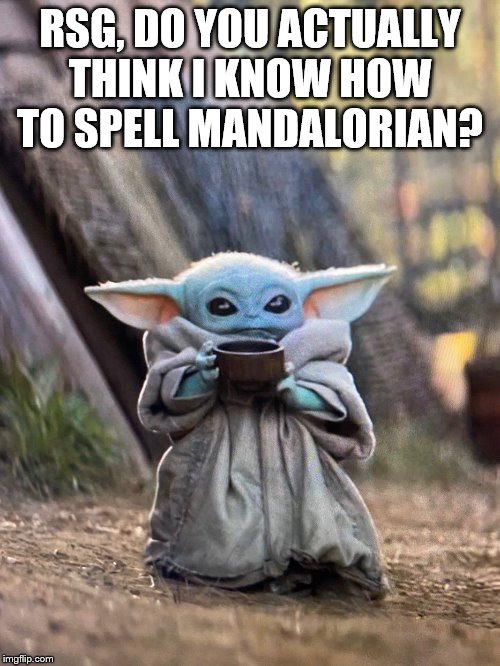 Match 5: "Macho Man" Randy Savage (w/ Elizabeth) versus Hugh Morrus
Highlights:
Savage came to ringside and knocked Jim Kelly's hat off.
When Morrus held Savage, Kelly and Bruce Smith lowered the boom onto Savage. Woohoo!
Morrus then made Savage HIT THE POLE.
As he gave Savage a cross corner whip, Morrus followed with a corner clothesline.
He then gave Savage another cross corner whip but came up empty on his follow-through.
After Savage put a knee into Morrus' back, he joined Morrus on the floor and rammed him into the steps.
Back in the ring, Morrus reversed an Irish whip and powerslammed Savage.
He then mounted the top turnbuckle but missed a big elbow.
When Savage slammed him, he mounted the top turnbuckle, delivered the big elbow, yet pulled Morrus up at 2.
He then remounted the top turnbuckle, hit big elbow #2, and pulled Morrus up again.
Next, he FLATTENED referee Charles Robinson.
He then remounted the top turnbuckle, but the lights went out again.
When the lights illuminated, Savage was

OUT COLD

and wearing a Sting mask.
No contest.
Rating: NONE
Summary: Obviously this was part 2 of the show-long storyline with a hint of what's to come.
Following a commercial break, "Ravishing" Rick Rude and Eric Bischoff storm the broadcast table. Rude accuses the broadcast team of the power shenanigans. While threatening force, Rude converts the broadcast team into a see no evil, hear no evil, and speak no evil trio.
Promo for Starrcade '97 airs. It will be LIVE on PPV on 12/28. Call to order NOW!
Match 6 for the WCW World TV title: Saturn (champion) versus Disco Inferno
Highlights:
Saturn slammed Disco, and they exchanged slaps.
As Saturn tried to regroup outside the ring, Disco rammed him into the steps.
Saturn rebounded by guillotining Disco with the top rope.
When he delivered a T-bone suplex, Saturn mounted the top turnbuckle but missed a guillotine leg drop.
A mid-ring collision sent Saturn to the floor where Disco joined and hammered him with a double axe handle.
After Saturn reversed an Irish whip, he sent Disco back-first into the steel railing.
Disco then backdropped a charging Saturn into the front row among the Flock.
As Disco applied a Chartbuster to Lodi along the steel railing, he tossed Saturn back into the ring.
Saturn then countered a suplex attempt with a swinging neckbreaker.
When he hit a pumphandle suplex, Saturn got 2.
He then attempted a powerbomb, but Disco escaped.
Immediately, Disco scored with a Chartbuster.
1-2-3.
WE HAVE A NEW CHAMPION!
Rating: **
Summary: Upset victory by Disco to regain the title.
HOT TAKE: When you're #1, you don't acknowledge #2. At this time in wrestling history, WCW prided itself with being #1. However, they shouldn't have hinted about anything related to the WWF. Instead, they subtly mentioned the Montreal Screwjob when Rude signed, and have now given midcarder-for-life Disco Inferno the finishing move of Stone Cold Steve Austin.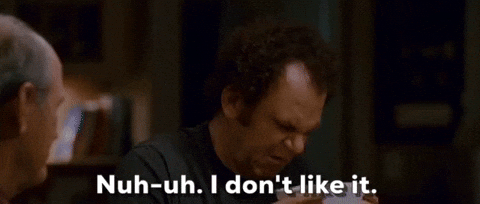 After the match, the Flock storms the ring, but Disco hightails it with the belt held high.
Brian Riddick of Zeta Beta Tau fraternity at the University of Illinois at Champaign won this week's Nitro party pack. We then see his video.
The Nitro Girls reappear and dance at the entrance.
Match 7: Buff Bagwell (w/ Vincent) versus the "Total Package" Lex Luger
Highlights:
Again?
Tenay tried his best, but while Luger and Jim Kelly both played in the USFL, they were never teammates.
When Bagwell hip-tossed him, he leapfrogged and dropkicked Luger.
Speaking of Luger, he hip-tossed Bagwell and slammed him.
He then clotheslined Bagwell but fell victim to a belly-to-back suplex.
As he gave Luger a cross corner whip, Bagwell nailed him in the midsection.
He then delivered a knee lift while the Buffalo faithful chanted "Lu-ger."
After Luger countered a rear chin lock with an electric chair, Scott "Flash" Norton came to ringside.
Luger then backdropped and clotheslined Bagwell before hammering him with a flying forearm.
When Bagwell sought refuge outside the ring, Luger joined him and decked Vincent.
Norton then distracted Luger long enough to earn Bagwell a countout victory. SNEAKY!
Rating: *
Summary: As many times as they've wrestled, THIS is what we get?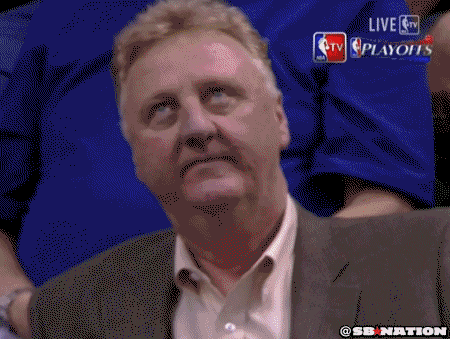 THE FOLLOWING ANNOUNCEMENT HAS BEEN PAID FOR BY THE NEW WORLD ORDER:
Hogan cuts a promo on P-p-p-p-p-p-p-p-piper. You have to see it to believe it.
THE PRECEDING ANNOUNCEMENT HAS BEEN PAID FOR BY THE NEW WORLD ORDER.
Video featuring Sting airs.
Prior to the main event, Hall grabs the microphone and conducts his customary survey.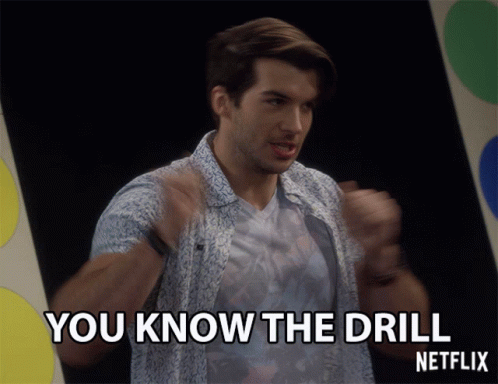 Match 8: Diamond Dallas Page versus Scott Hall
Highlights:
As you'd expect, Kimberly led DDP through the entrance and showed off her engagement ring.
DDP blocked a hip toss, each wrestler ducked the other's clothesline, but DDP scored with a solid clothesline for 2.
When Hall gave him a cross corner whip, he followed with a corner clothesline.
He then mounted the second turnbuckle, delivered a bulldog, and got 2.
After he hit a fallaway slam, Hall got another 2.
He then hooked a rope-assisted abdominal stretch until referee Randy Anderson caught him.
As DDP hooked his own abdominal stretch, Hall escaped with a hip toss.
DDP then countered an Outsider Edge with a back drop and supplied Hall with an inverted atomic drop.
When he landed a discus clothesline, DDP pancaked Hall.
Suddenly, Curt Hennig stormed the ring to attack DDP.
Anderson called for the bell to disqualify Hall.
Rating: DUD
Summary: Just a placeholder for the eventual nWo beatdown.
After the match, the nWo storms the ring en masse, and Hall hits an Outsider Edge on DDP. "Hollywood" Hogan joins the party, but another Sting mannequin drops from the ceiling plummeting through the mat. Hogan then runs down Sting and requests that Sting be pulled back into the ring for more nWo chicanery.
When the nWo struggles to lean Sting against the ropes, Hogan removes the Sting mask to reveal---Murray Langston! Oh wait, I already did that one. Actually, it's the real Sting. Upon failing to unhook the rip cord, Sting fights off each member of the nWo. He then delivers a Scorpion Death Drop to Hall while Hogan stands in fear to close the show.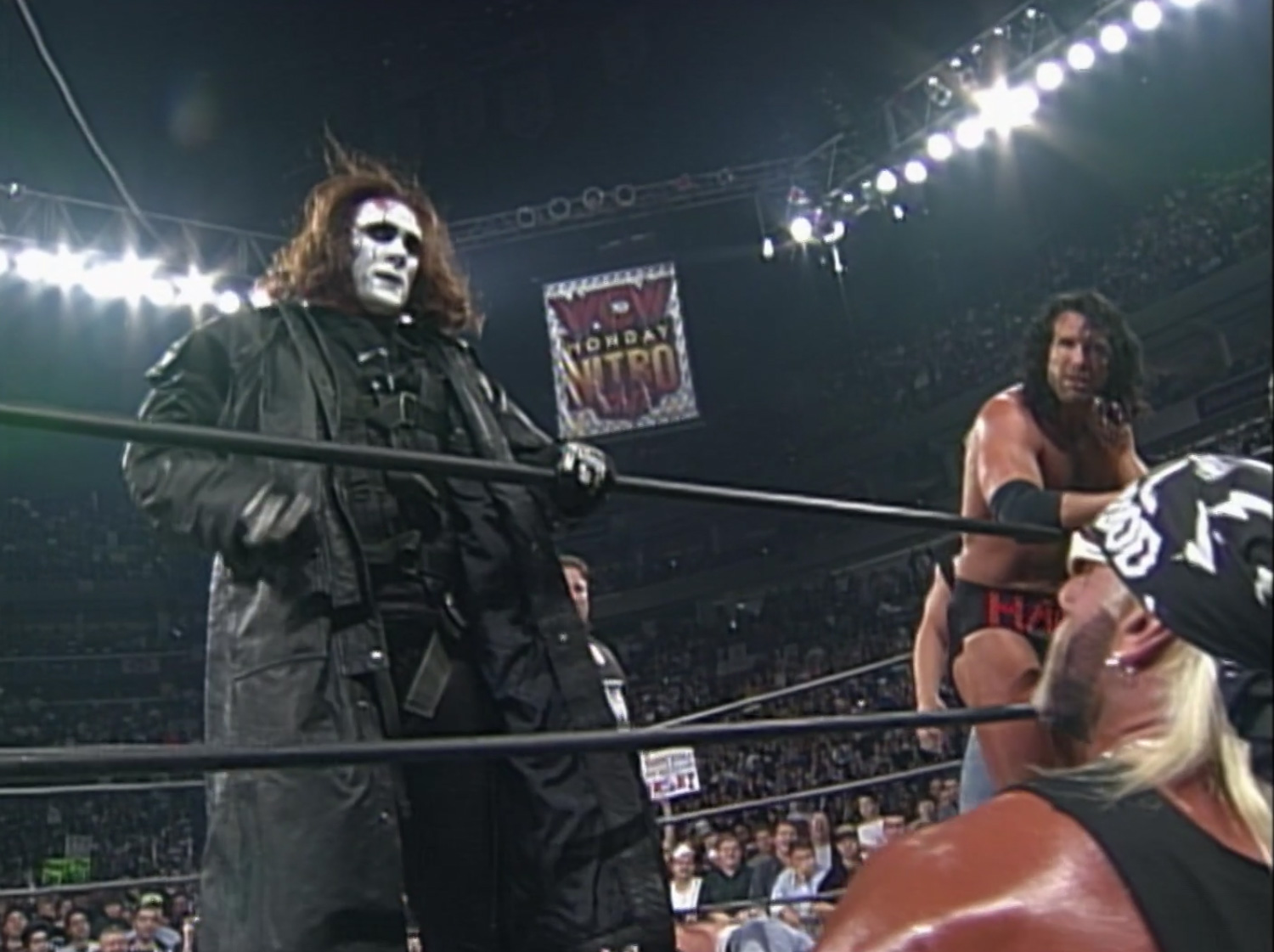 Conclusion: Finally Sting reappears three weeks before the biggest PPV in WCW history. Also, the lights-out scenarios are a cute show-long trend to warn the nWo about Sting's return. Disco's second TV title victory not only boosts his stock but also shows how aimless the Flock is without Raven. Starrcade '97 was hyped heavily with the Nash-Giant and Flair-Henning matches announced.
Wait! A special guest just arrived. I don't normally get special guests for these reflections, so let's see what he has to say.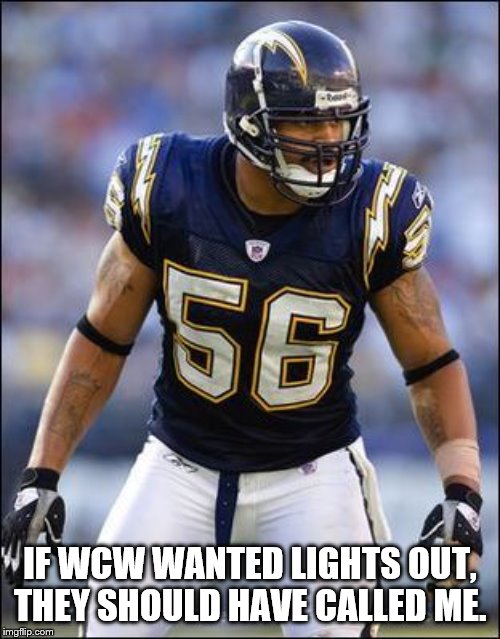 Duly noted, Shawne. Thanks for stopping by. What's on RAW is WAR?
TV Rating: 4.1
Stay tuned for RAW Is WAR 12-08-97!
Comments? Suggestions? Send them to me at rsg@rockstargary.com and follow me on Twitter (@rockstargary202).
Custom Search