WELCOME TO ROCK STAR GARY REFLECTIONS!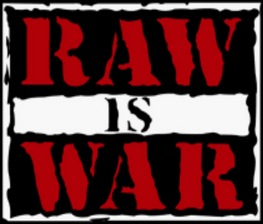 WWF Monday Night RAW 12-01-97
Taped from Roanoke, VA
Airdate: December 1, 1997 (taped 11/25)
Attendance: 6,542 (sold out)
Hosted by Jim Ross, Jim Cornette, & Jerry "The King" Lawler
Will Neidhart gain revenge over DeGeneration X? Will Vader halt the Rock's momentum? What kind of surprise does Luna have for us? Let's find out!
Opening montage.
To begin the show, Road Dog and Gunn come to the ring and bury the Road Warriors. While outstaying their welcome, the new tag champs get ambushed by the Road Warriors sans face paint. The Road Warriors then cut a promo vowing to regain the titles at the PPV.
Match 1 for the WWF Light Heavyweight title (semifinal): Taka Michinoku versus Aguila
Highlights:
Sunny was the guest ring announcer for this match.
When Aguila hooked a bow-and-arrow, Michinoku escaped.
Aguila then somersaulted over the top rope to the floor and LANDED ON HIS FEET.
Not to be outdone, Michinoku mounted the top rope and delivered a tope.
Back in the ring, Michinoku applied an STF, yet released it.
To reward him, Aguila backdropped him over the top rope to the floor.
Aguila then whiffed on a baseball slide, reversed an Irish whip, and made Michinoku HIT THE POLE.
As Michinoku vaulted him to the apron, Aguila mounted the top turnbuckle and hit a corkscrew moonsault. Amazing!
Back in the ring, Aguila landed a flying back elbow followed by an elbow drop.
Michinoku rebounded with a slam, mounted the top turnbuckle, but missed his own corkscrew moonsault.
After Aguila hooked la magistral cradle, he got 2.
Michinoku then countered a huracanrana with a powerbomb for 2.
When Michinoku mounted the opposite top turnbuckle, he delivered a missile dropkick.
He then planted Aguila with a Michinoku driver and pinned him.
Rating: *½
Summary: If the WWF was looking to counter the lucha libre on Nitro, these guys fit the bill. Unfortunately, the Roanoke faithful sought popcorn from the concession stands.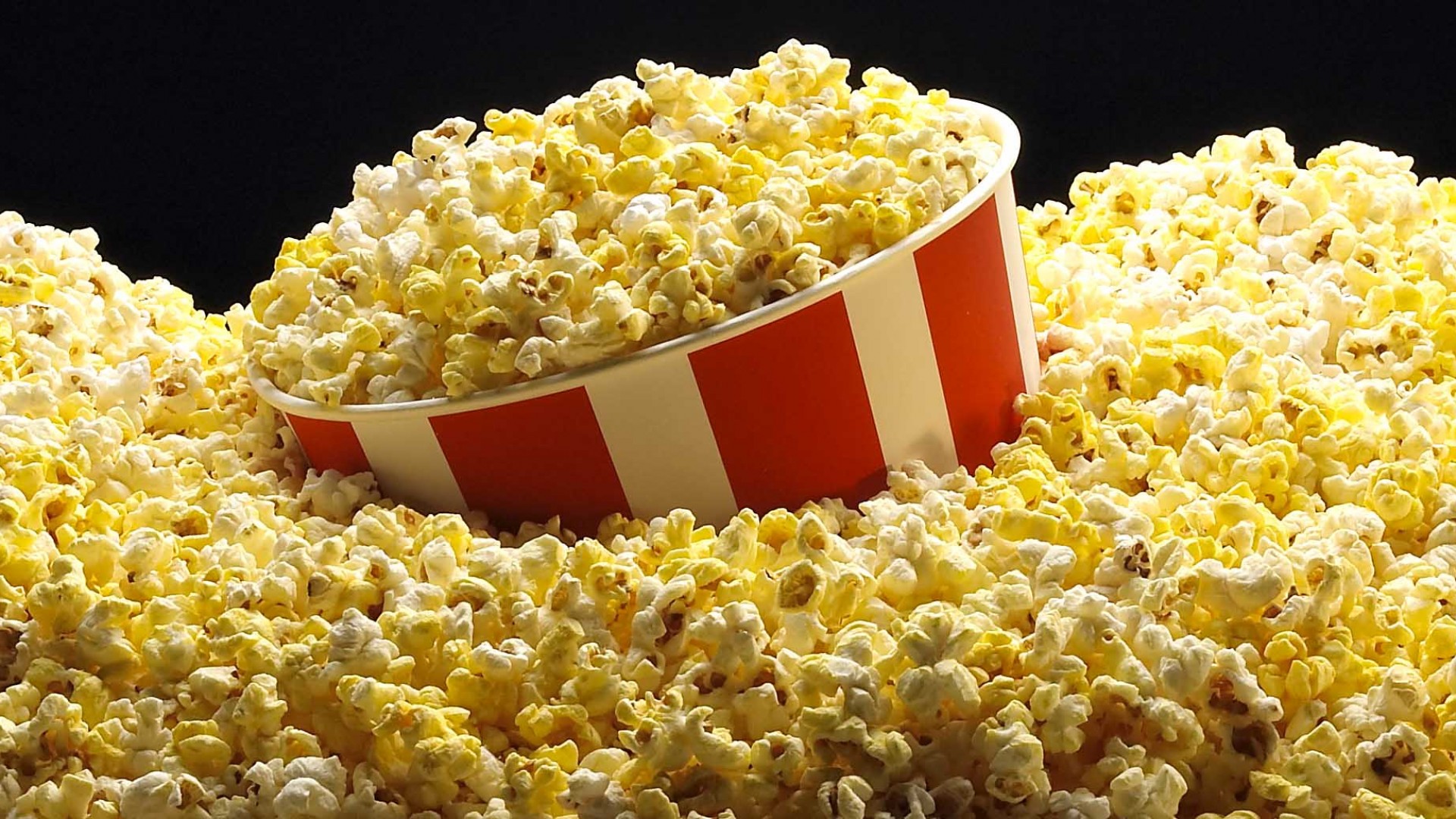 Promo for DeGeneration-X LIVE on PPV this Sunday! Order NOW!
Luna emerges with Goldust literally in tow via a steel chain. Someone put JR's momma to bed, 'cuz she can't unsee this. Luna runs down Dusty Rhodes and Terri and refers to her charge as The Artist formerly known as Goldust. As Lawler brings up Vader, Luna vows that TAFKA Goldust will defeat him. She and TAFKA Goldust then share a very salacious kiss to close the segment.
KARATE FIGHTERS HOLIDAY TOURNAMENT: Lawler and Tito Santana square off and insult one another with fast food references. Lawler wins to advance to the finals against Sunny.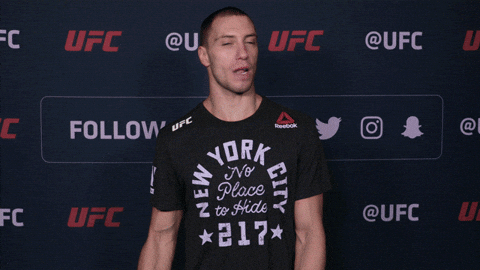 RAW is WAR is sponsored by FootAction USA, Lazer Tag, and Jakks.
Match 2 (four corners): Chainz (w/ the Disciples of Apocalypse) versus D'Lo Brown (w/ the Nation of Domination) versus Recon (w/ the Truth Commission & Jackyl) versus Miguel (w/ Los Boricuas)
Highlights:
Brown gave Chainz a cross corner whip but ate boot on his follow-through.
As Chainz clotheslined him, he followed with a series of elbow drops.
Recon tagged in and leap-frogged Brown.
When Brown leap-frogged him, Recon delivered a huracanrana.
Brown then reversed a cross corner whip, but Recon floated over.
Unfortunately, he succumbed to a spinning heel kick from Brown soon thereafter.
Brown then clotheslined Recon and tagged in Chainz.
After Recon reversed an Irish whip, he ate a big boot from Chainz.
He then tried to tag in Brown but got nailed.
Next, Chainz hit a Death Valley driver and pinned Recon.
Brown entered but ate a clothesline from Chainz.
As Miguel tagged in, Brown clotheslined him.
He then leap-frogged Miguel and attempted a leap frog.
Instead, Miguel secured Brown's legs and pinned him.
Chainz entered and delivered a Death Valley driver to Miguel.
Before Chainz can pin Miguel, the ring flooded with all four factions.
No contest.
Rating: DUD
Summary: C-R-A-P. This was either switch to Nitro or fast-forward material back in '97.
Afterward, an immense brawl ensues while Jackyl joins the broadcast team with nothing worthwhile to add.
DeGeneration-X emerges through the curtain, and Shawn Michaels sits in a wheelchair. As he cuts a promo, both he and HHH have lollipops. Michaels then equates Neidhart to a sucker. While HHH runs down Neidhart, he also isn't intimidated with a boot camp match against Slaughter at the PPV. Michaels then claims that Chyna put Michaels in a wheelchair due to her "rigorous workouts" and cuts a promo on Shamrock. To demonstrate how "tough" he is, Michaels allows HHH to tweak his left ankle. Of course, it's all a ruse because HHH twists the foot over 720°.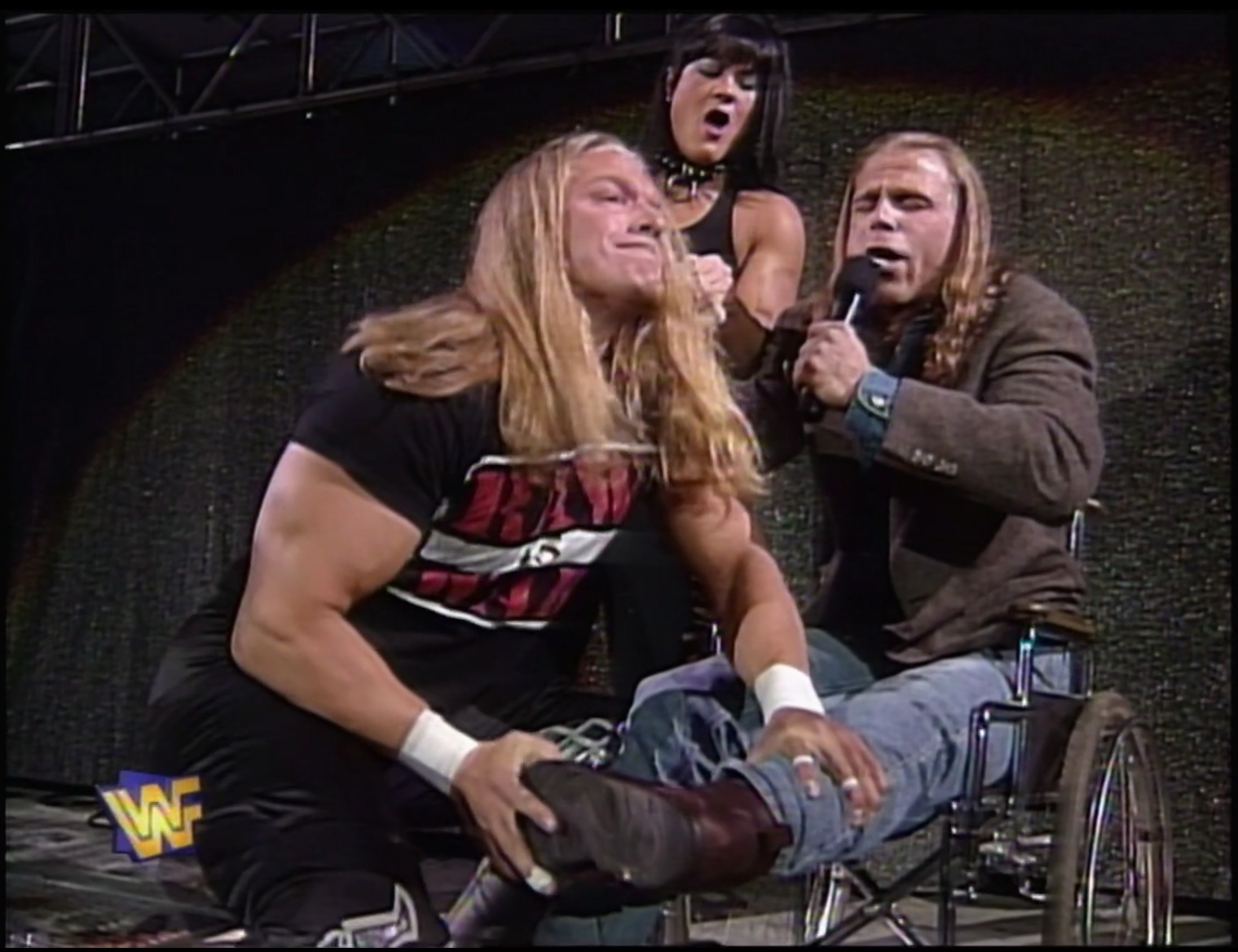 We then revisit Survivor Series '97 and the finishing sequence of the main event. More to come on this later.
WAR ZONE!
Prior to the next match, the Rock grabs the microphone and declares the match to be "non-title." HA!
Match 3: The Rock (w/ the Nation of Domination) versus Vader
Highlights:
When the bell rang, a black pickup truck bearing the logo Austin 3:16 pulls into the arena.
While carrying the remainder of a Budweiser six-pack, Austin climbed onto the roof of the cab.
Vader then reversed an Irish whip and clotheslined Rock.
As he clotheslined Rock again, Vader gave him a cross corner whip followed by an avalanche.
Austin looked on while Vader mounted the second turnbuckle.
After Vader leaped, Rock caught and powerslammed him.
Vader then reversed another Irish whip but received a tornado DDT.
When Rock distracted referee Jack Doan, the NoD gave Vader the business. How dastardly!
Rock then slammed him, but Vader reversed yet another Irish whip.
As Rock attempted a sunset flip, he avoided getting SQUISHED.
Rock then clotheslined Vader over the top rope to the floor.
Immediately, TAFKA Goldust stormed the ringside area to brawl with Vader.
With Vader softened up, Rock suplexed him and delivered a People's Elbow for 2.
Vader then chased TAKFA Goldust and Luna away and got counted out.
Rating: *
Summary: Way more storyline than match as the Rock/Austin along with Vader/TAFKA Goldust matches were teased.
Following a commercial break, JR shills the PPV with the following matchups:
For the WWF title, Shawn Michaels defends against Ken Shamrock.
For the Intercontinental title, Austin defends against the Rock.
Vader will face Goldust.
Video featuring Shamrock airs.
Match 4 for the WWF Light Heavyweight title (semifinal): "Too Sexy" Brian Christopher versus Scott Taylor
Highlights:
As Taylor entered the ring, Kane and Paul Bearer emerged.
Taylor delivered a series of dropkicks that didn't faze Kane.
When he mounted the top turnbuckle, he hit a missile dropkick to no avail.
Kane then chokeslammed and tombstoned him.
According to Meltzer, Christopher ran out and pinned Taylor. The footage wasn't aired.
Nonetheless, Christopher advanced.
Rating: NONE
Afterward, Bearer grabs a microphone and cuts a promo on Undertaker while Kane lights the turnbuckles ablaze.
Match 4: Ahmed Johnson versus Jeff Jarrett
Highlights:
Jarrett made his entrance and stated he wouldn't be wrestling tonight. He further complained that Johnson was one of the reasons he left two years ago. OUCH!
When Johnson offered an explicit response about Jarrett's cowardice, Commissioner Slaughter emerged and agreed with Jarrett about not wrestling tonight. Instead, Jarrett will face Undertaker at the PPV or be suspended. Not surprisingly, the Roanoke faithful LOVED that idea.
Rating: NONE
Video hyping the Slaughter-HHH boot camp match at the PPV airs.
Prior to the next match, another promo for DeGeneration-X airs.
REAL Match 4 (non-title): WWF tag team champions Road Dog & "Bad Ass" Billy Gunn versus the Headbangers
Highlights:
Thrasher tagged in, and the Headbangers supplied Road Dog with a dropkick/clothesline combo.
As he powerslammed Road Dog, Thrasher got 2.
Road Dog then reversed an Irish whip but missed a dropkick.
When Road Dog distracted referee Earl Hebner, Gunn clotheslined Thrasher. SNEAKY!
Gunn tagged in and delivered a hangman's neckbreaker to Thrasher.
After a leg drop, Gunn tagged in Road Dog who mounted the second turnbuckle but missed a guillotine leg drop.
Hot tag Mosh.
All of a sudden, the Road Warriors stormed the ring to brawl with the new champs.
Instead, Road Dog and Gunn hightailed it faster than the playoff hopes of the New York Jets.
In fact, they ran out of the building and peeled out.
Road Dog and Gunn won by DQ.
Rating: DUD
Summary: Obviously a teaser for the tag title match on Sunday.
Following a commercial break, JR shills a four-round tough man fight between Marc Mero and Butterbean at the PPV.
In the ring, Cornette interviews Mero and Sable. He then disparages Mero and glorifies Sable while the Roanoke faithful chant "Sa-ble." As Mero insults his wife, he refers to her as "(his) properly." He then cuts a promo on Butterbean, and Sable puts on hand mitts with Butterbean on them. When he knocks one of the mitts off, Mero demands that Sable pick it up. To quote JR, "what a jerk!" He continues to denigrate her until Sable cries. After Sable leaves, Mero finishes his promo on Butterbean.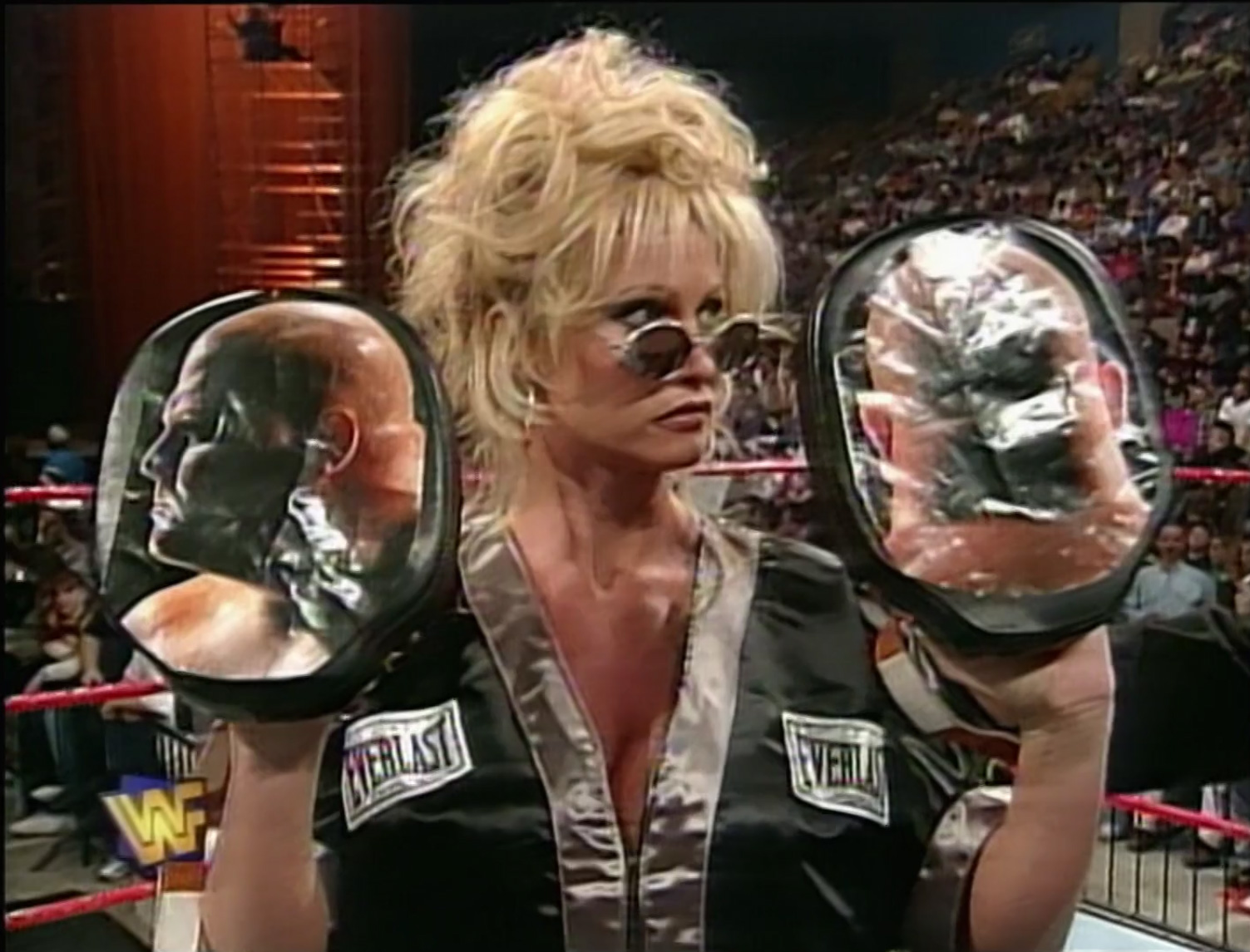 Once again, we revisit Survivor Series '97, and Lawler lies his ass off stating that Bret quit. I hope he got to enjoy his paycheck that month.
Match 6: HHH (w/ DeGeneration-X) versus Jim "The Anvil" Neidhart
Highlights:
Neidhart gave HHH a cross corner whip followed by a clothesline.
As he backdropped HHH, Neidhart chased after lollipop-sucking Michaels.
HHH then gave Neidhart a cross corner whip but ate another clothesline.
When Neidhart slammed him, he followed with a powerslam.
Michaels then got up on the apron to distract Neidhart again.
After Neidhart nailed Michaels, HHH CREAMED him with a steel chair thanks to Chyna.
In the meantime, she distracted referee Mike Chioda so that HHH didn't get disqualified.
1-2-3.
HHH won.
Rating: DUD
Summary: Typical nefariousness by the degenerates to attain victory.
After the match, HHH pedigrees Neidhart on the steel chair while Michaels shakes a can of spray paint. Michaels then paints "WCW" on Neidhart's back. An irate Neidhart gets up and double-clotheslines the hooligans, but DeGeneration-X triple-teams and handcuffs him to the top rope.
When Slaughter hits the ring to rescue Neidhart, HHH and Michaels clobber him. Shamrock runs in and hooks a belly-to-belly suplex on Michaels. When he applies an ankle lock to Michaels, the WWF champion submits. In the meantime, Slaughter applies a cobra clutch to Helmsley while Neidhart somehow keeps Chyna at bay. Great ending albeit the copycat nWo stuff was unnecessary.
Conclusion: Is there a PPV on Sunday? Are you sure? Oh yes, this was the pure definition of a go-home show, and it was eons better than Nitro. Could it finally overcome Nitro in the ratings?
TV Rating: 3.0
Who won? Nope, RAW is WAR lost 3.8 to 3.0. Perhaps with the lackluster Nitro and the fallout from the PPV, viewers will choose the WWF next week. Will I be right?
Stay tuned for WWF DeGeneration-X!
Comments? Suggestions? Send them to me at rsg@rockstargary.com and follow me on Twitter (@rockstargary202).
Custom Search