WELCOME TO ROCK STAR GARY REFLECTIONS!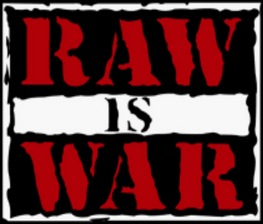 WWF Monday Night RAW 11-10-97
Live from Ottawa, Ontario
Airdate: November 10, 1997
Attendance: 8,209
Hosted by Jim Ross, Jim Cornette, & Jerry "The King" Lawler
With Bret gone, how will the WWF recover? What's next for **cough**WWF champion**cough** Michaels? Who's Austin's next target? Let's find out!
Opening montage.
To begin the show, the DeGeneration-X theme hits, and "Ravishing" Rick Rude heads to the ring. The Ottawa faithful boos him out of the building. As he introduces Michaels, a LOUD "bull-shit" chant emanates from the Ottawa faithful. The **cough**WWF champion**cough** emerges with HHH and Chyna.
Next, a LOUD "We Want Bret" chant begins while Rude congratulates Michaels. Shunning political correctness, Michaels states that he "beat Bret...in his home country in his own finishing hold." Following that, he mentions that the WWF wasn't big enough for the both of them, and "ran (Bret) down south with the rest of those dinosaurs."
Upon threatening Bret with violence from his "friends" in WCW, he chastises Bret, Hulk Hogan, and Randy Savage for not having "God-given, pure, natural talent." What an ego on this sumbitch. As the chant from the Ottawa faithful changes to reflect Michaels' alleged bedroom habits, Michaels "would never beat up a 52-year-old man." By the way, Bret, despite Michaels' saying to the contrary, believed from this moment forward that Michaels was involved in the screwjob, and he would be proven correct.
Suddenly, Ken Shamrock emerges and heads to the ring. Michaels insults his intelligence, and Shamrock calls DeGeneration-X a "disgrace." He then questions Chyna's gender in a very derogatory manner. Afterward, he challenges Michaels "right now" and calls Rude "an old man." When Michaels steals the microphone, he defends Chyna and Rude. He then defends HHH while Commissioner Slaughter walks to the ring.
Slaughter then declares a WWF title match between Michaels and Shamrock. When Michaels claims he's worn down from his match last night, Slaughter points out that he won't face Shamrock tonight. In fact, HHH will, and Slaughter will be at ringside. DeGeneration-X is banned from ringside.
Match 1: Marc Mero (w/ Sable) versus Ahmed Johnson
Highlights:
Johnson hip-tossed Mero before clotheslining him twice.
When Mero landed a flying back elbow, Johnson responded by reversing an Irish whip and hitting a leg lariat.
He then delivered a spinebuster and attempted a Pearl River Plunge.
As Sable distracted Johnson, Mero landed a shot WAY DOWNTOWN.
Referee Jack Doan then called for the bell disqualifying Mero.
As a result, Johnson won.
Rating: DUD
Summary: G-A-R-B-A-G-E. The only thing the Ottawa faithful were interested in was Sable with her "38EE" or so the sign read.
After the match, Mero hoists Johnson up and delivers the TKO albeit barely.
Butterbean was shown at ringside.
RAW is WAR is sponsored by FootAction USA and Castrol.
Match 2 for the WWF Light Heavyweight title (first round): Taka Michinoku versus Devon Storm
Highlights:
The guest ring announcer for this match was Sunny, and Brian Christopher joined the broadcast table.
Before Sunny could introduce him, Storm attacked Michinoku at the bell.
He then attempted a powerbomb, but Michinoku escaped.
As Storm backdropped him to the apron, Michinoku mounted the top turnbuckle and delivered a missile dropkick.
Storm then sought refuge outside the ring but fell victim to an Asai moonsault from Michinoku.
When Michinoku attempted another high-flying move, Storm caught and guillotined him on the apron.
He then slammed Michinoku on the floor, mounted the apron, and splashed Michinoku.
Back In the ring, Storm hit a front suplex followed by a dropkick.
He then went to the apron and hit a springboard somersault leg drop for 2.
After he placed MIchinoku atop the top turnbuckle, Storm received a tornado DDT for 2.
Storm rebounded with a release German suplex, mounted the top turnbuckle, but Michinoku crotched him.
As he joined Storm, Michinoku hit a huracanrana for another 2.
He then mounted an adjacent top turnbuckle but came up empty on a splash attempt.
When Storm delivered a Death Valley driver, he got 2.
He then slammed Michinoku and hit a leg drop.
Upon mounting the top turnbuckle, Storm missed a moonsault.
He then mounted an adjacent top turnbuckle, but Michinoku stopped, joined, and superplexed him.
As Michinoku mounted the same top turnbuckle, he hit a corkscrew maneuver that could have blown out Storm's left knee. Dangerous!
Michinoku then signaled for his move while Christopher jumped up on the apron.
To counter that, Michinoku mounted thet op turnbuckle and dropkicked him back to the floor.
Michinoku then delivered the Michinoku driver and pinned Storm.
Rating: **
Summary: Solid high-flying and workrate by both guys, but the Ottawa faithful couldn't care less. Storm has a future in the business.
After the match, Michinoku mounts the top turnbuckle and hits his patented tope onto Christopher on the ramp. They then brawl until Christopher hightails it.
We then revisit last week's episode when Goldust dumped Terri.
In the ring, JR interviews...oh my dear God...Goldust. First, Goldust disses his "fat ass old man." Next, he describes the "hell" his marriage was. We then revisit stills from the PPV until Vader interrupts. As he yells "nobody walks out on Vader," Vader summarizes their elongated history and wants to know why he stuffed him at the PPV. Goldust offers a crappy excuse, but Vader doesn't buy it. Frustrated, Vader powerbombs him.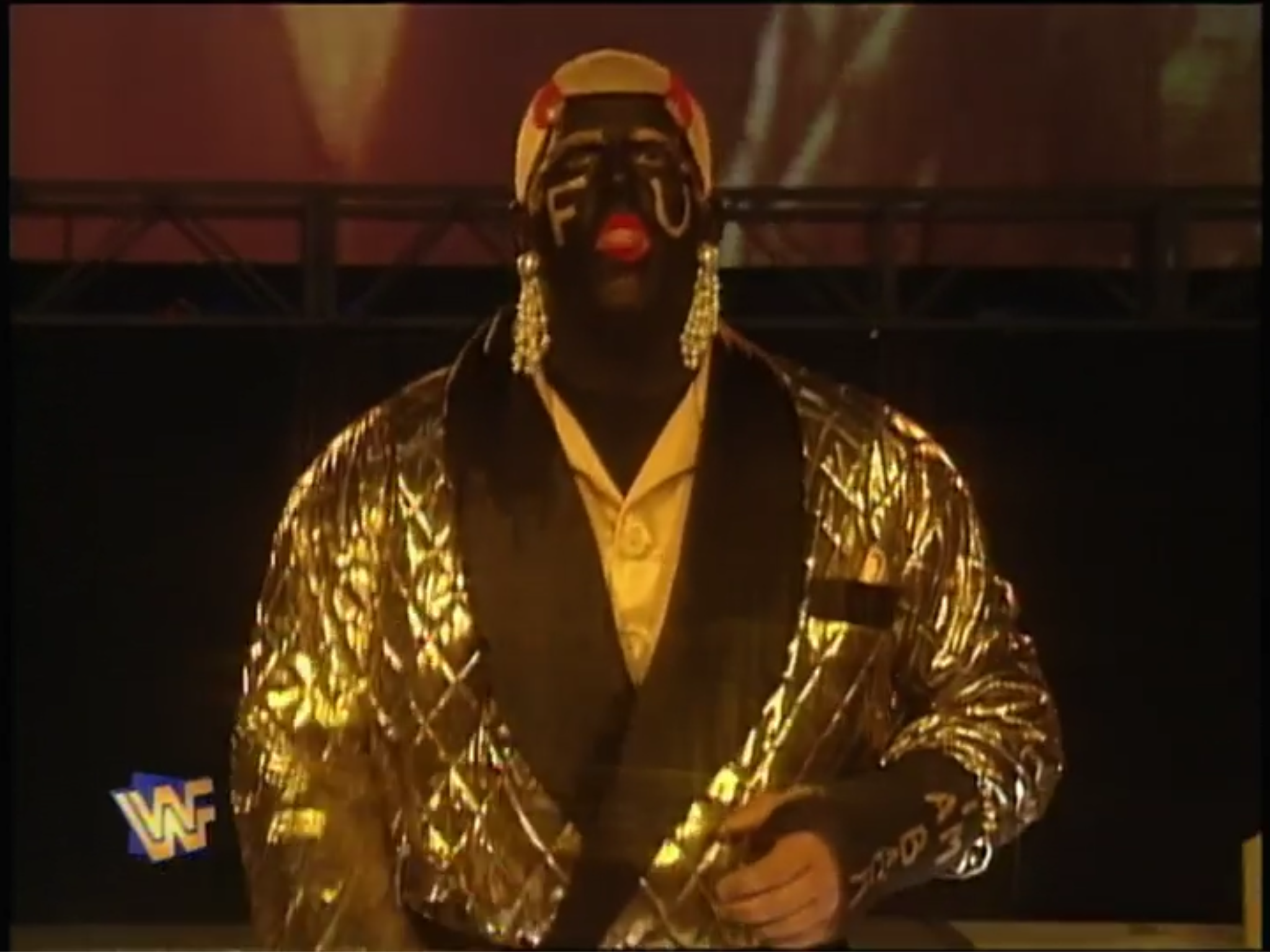 Back in the locker room, Michael Cole tries to explain the chaos, but Blackjack Bradshaw manhandles him. Apparently, Blackjack Windham was attacked. In actuality, Windham was among the group that walked out on this show in protest to the screwjob.
Austin shills Jakks WWF action figures.
Match 3: Headbangers (w/ Disciples of Apocalypse) versus the Truth Commission (w/ Jackyl & the Interrogator)
Highlights:
To no one's surprise, Jackyl joined the broadcast table.
Mosh hip-tossed Recon and followed with a dropkick.
When Recon tagged in, Mosh delivered a cross body block for 2.
Thrasher tagged in, and the Headbangers hit a dropkick/clothesline combo on Recon.
As he powerslammed Recon, Thrasher couldn't get a count due to Recon's interference.
All four wrestlers were in the ring while the Headbangers dropkicked the Truth Commission from the ring.
Meanwhile, the Ottawa faithful were out seeking popcorn.
Jackyl then left the broadcast table and jumped on the apron.
After the Headbangers bumped him to the floor, the Truth Commission re-entered the ring and provided Thrasher with a double big boot/elbow drop combo.
Recon then delivered a back elbow to Thrasher, gave him a cross corner whip, and followed with a corner clothesline.
When Recon tagged in, he mounted the top turnbuckle and lowered the boom upon Thrasher.
He then hit a flying back elbow for 2.
As Sniper tagged in, he missed a dropkick, and Thrasher "inadvertently" collapsed head-first onto Sniper's nether regions. Sting would be so proud.
Hot tag Mosh.
After he delivered his own version of a flying back elbow, Mosh clotheslined an incoming Sniper.
Mosh then supplied Recon with a ten-punch count-along, but Sniper put a halt to his shenanigans.
When Recon mounted the second turnbuckle, he mistakenly clotheslined Sniper instead of Mosh.
The Headbangers then double-flapjacked Recon and double-dropkicked an admiring Interrogator.
As Thrasher powerbombed Mosh atop Recon, Mosh pinned Recon.
The Headbangers won.
Rating: *½
Summary: Meaningless tag match. Move along. Nothing to see here.
After the match, the Interrogator enters the ring and hits a sidewalk slam to Thrasher. DoA also enters the ring, and a six-man melee erupts. Officials break it up much to the Interrogator's chagrin.
WAR ZONE!
Stills from the Intercontinental title match from last night are shown.
Austin emerges while carrying the Intercontinental title belt, and Cole interviews him in the ring. While Austin emphatically states he's "back," Rocky Maivia interrupts him. Maivia crows about his previous days as Intercontinental champion and challenges Austin. In the meantime, the Ottawa faithful chants "Rock-y sucks."
Austin, in his own unique style, challenges Maivia to two things.
Get a decent haircut. HA!
Flush himself "down the commode."
He then accepts the challenge and informs Maivia that he sucks because Stone Cold said so. In a first-of-many, Maivia's facial expression is priceless.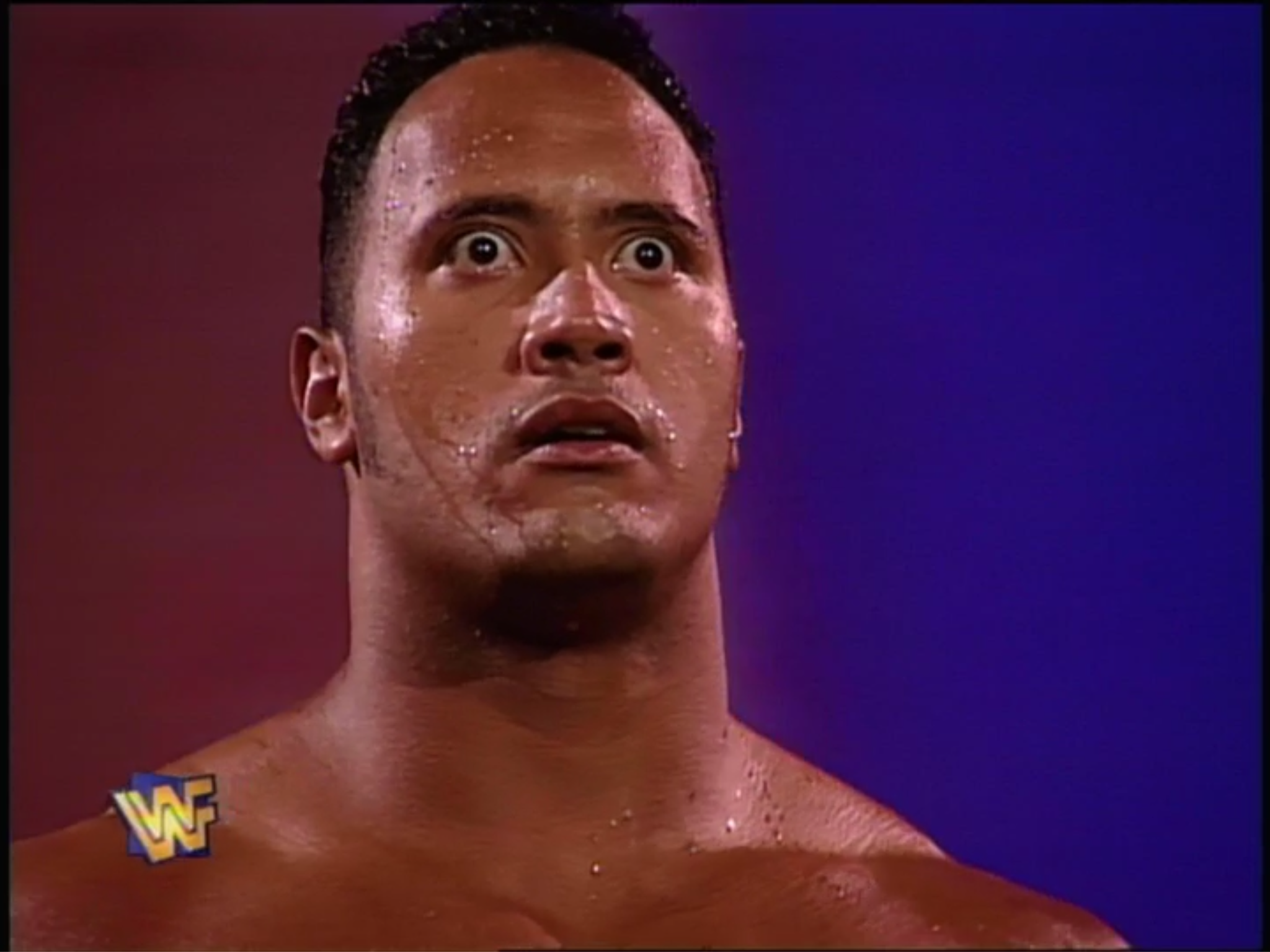 At ringside, JR interviews Steve Blackman, but Miguel Perez interrupts him. Los Boricuas then triple-team Blackman, but the tide turns when it continues into the ring.
Backstage, Cole interviews Road Dog and Billy.
Match 4 (handicap/bunkhouse brawl): "Road Dog" & "Bad Ass" Billy Gunn versus Blackjack Bradshaw
Highlights:
As Bradshaw made his entrance, he tossed powder in Billy's eyes.
He then WALLOPED Billy with a trash can and rammed Road Dog shoulder-first into the steps.
When he delivered a big boot to Billy, Bradshaw SMACKED Road Dog with a trash can lid.
He then clotheslined Billy over the top rope to the floor before booting Road Dog over the opposite top rope.
After he rammed Billy shoulder-first into the other set of steps, Bradshaw HAMMERED him with a trash can.
E-C-W! E-C-W! E-C-W!
He then BELTED Road Dog in the face with the timekeeper's wooden table, grabbed a chair, and sent Road Dog into the middle of 1998 with a chair shot.
As Bradshaw placed him atop the top turnbuckle, Billy rebounded with a tornado DDT onto a chair.
Road Dog and Billy then dogpiled and pinned Bradshaw.
Rating: DUD
Summary: Bradshaw may know how to kick ass, but his opposition is making a name for itself.
DeGeneration-X will be LIVE on PPV on 12/7. Order NOW!
In part two of a pre-recorded interview, Jeff Jarrett believes the WWF got him "at a bargain." We then see vintage footage of Jarrett from the USWA. Afterward, Jarrett wants to become WWF champion. When JR mentions Bret, Jarrett states he's never beaten Bret but feels he's superior. JR then asks for a prediction for the PPV main event, and Jarrett answers "I'll be surprised if Shawn doesn't win." Obviously, this was recorded prior to the PPV.
In a game of word-association, Jarrett refers to Bret as "dedicated," Nation of Domination "strength in numbers," Dude Love "respect," Randy Savage "hardest-working wrestler he's ever known," Road Warriors "raw ability," Eric Bischoff "right place, right time, right wallet," Hulk Hogan "charisma and intelligence = success," Shawn Michaels "phenomenal athlete," HHH "tag-along," Chyna "whew," and Michaels' attitude "venting frustration." Lawler finishes the segment by associating Jarrett with " star and future of the WWF." Time will tell.
At ringside, Cole interviews Butterbean. Suddenly, Mero and Sable interrupt him, and Mero questions his opponents (e.g. truck drivers, unemployed steel workers). He then threatens Butterbean if he does anything to Sable and calls Butterbean a "nobody." When Mero leaves, Butterbean calls him an "idiot." Name-calling, really?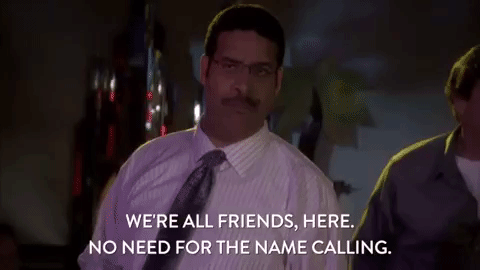 Match 5: Undertaker versus Kama (w/o the Nation of Domination)
Highlights:
Undertaker delivered a big boot, gave Kama a cross corner whip, and clotheslined him.
When he hit a leg drop, Undertaker got 2.
He then gave Kama another cross corner whip but ate a back elbow on his follow-through.
As Kama flurried him with punches and kicks, Undertaker responded with a chokeslam.
He then clotheslined Kama over the top rope to the floor, and the lights went out.
Rating: NONE
Under a red light, Kane and Bearer appear at the entrance, and Bearer threatens Undertaker with "suffering." Who is he, Pinhead? Regardless, Bearer challenges him one-on-one, but Undertaker "will never fight" Kane.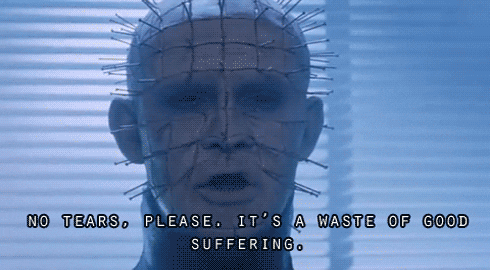 Prior to the main event, we revisit last week's episode when Shamrock made Michaels tap out, but Chyna's distraction coupled with Rude's interference led to a Pedigree by HHH.
Match 6: Ken Shamrock versus HHH (w/ DeGeneration X)
Highlights:
From the ramp, Rude made HHH's introduction, but Slaughter ejected the rest of DeGeneration-X.
While an appropriate "Where's McMahon" poster appeared, Shamrock caught up to a high-tailing HHH on the ramp and nailed him all the way back into the ring.
HHH rebounded with a facebuster and a DDT.
As a healthy "We Want Bret" chant emanated from the Ottawa faithful, HHH made Shamrock taste the steel railing. It must have tasted like the lamb shank redemption at Cheshire Cat Pub.
HHH then got in Slaughter's face while Rude re-emerged.
Following a commercial break, HHH put a knee into Shamrock's midsection.
He then delivered a knee drop for 2.
When he tossed Shamrock to the floor, HHH joined and rammed him shoulder-first into the steps.
Shamrock rebounded with a ten-punch count-along, but HHH countered with an inverted atomic drop.
After he hit a high knee, HHH got another 2.
Shamrock then countered a rear chin lock with an electric chair.
Simultaneously, JR wished Bret well in his future endeavors. Hmmm...I wonder if we'll ever see Bret again in the WWF.
Shamrock then delivered a flying back elbow while Lawler mentioned Bret's enormous salary as well as the nWo.
As he hit a spinning heel kick, Shamrock got 2.
He then gave HHH a cross corner whip followed by a sweet huracanrana.
When Rude got up on the apron, Slaughter grabbed him.
HHH then CLOCKED referee Mike Chioda, but Shamrock delivered a belly-to-belly suplex.
After Chyna came to ringside, Slaughter prohibited her from entering the ring.
In the ring, Shamrock applied an ankle lock, and HHH tapped out.
Michaels then stormed the ring and WHACKED Shamrock in the back with Rude's Haliburton.
As Chioda counted, RAW is WAR left the air.
Rating: *½
Summary: Fodder to fuel the upcoming Michaels-Shamrock and Slaughter-HHH matches at the next PPV.
Conclusion: As expected, Bret, Owen, Davey Boy Smith, and Jim Neidhart boycotted RAW. Unexpectedly, both Mick Foley and Barry Windham also boycotted this episode. Bret notified Foley not to ruin his wrestling career and to rejoin the WWF. What will happen with the rest of the wrestling brethren?
Can RAW is WAR finally overcome Nitro in the ratings?
TV Rating: 3.4
Who won? Nope, despite all of the controversy from the PPV, RAW is WAR lost by a full ratings point. I truly believe that the WWF will have to create a character and angle that will capture the wrestling audience's attention to steal viewers from Nitro. Until they do, WCW will maintain the #1 wrestling program on Monday nights.
Stay tuned for WCW Monday Nitro 11-17-97!
Comments? Suggestions? Send them to me at rsg@rockstargary.com and follow me on Twitter (@rockstargary202).
Custom Search