WELCOME TO ROCK STAR GARY REFLECTIONS!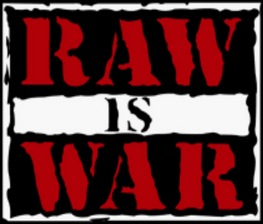 WWF RAW is WAR 10-27-97
Taped from Tulsa, OK
Airdate: October 27, 1997 (taped 10/21)
Attendance: 6,017 (sold out)
Hosted by Vince McMahon & Jim Ross
Can Shamrock become WWF champion by defeating Bret? Will Johnson beat Owen for the IC title? How will Austin be involved? Let's find out!
Opening montage.
To open the show, Vince interviews the Nation of Domination in the ring. As they make their entrance, we revisit last week's episode and the graffiti-laden locker room allegedly perpetrated by the Hart Foundation. Faarooq then questions Vince about racism in the WWF. Although Vince apologizes, Faarooq chastises him for furthering an anti-African-American agenda.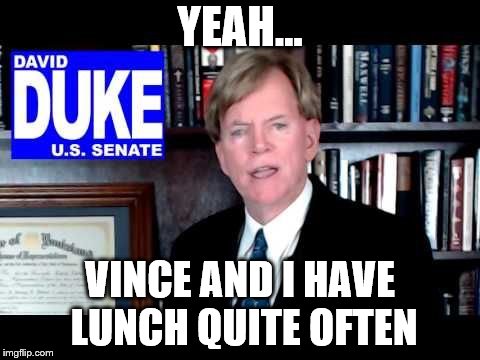 I don't think so, Senator.
Nevertheless, Rocky Maivia, sporting a new R t-shirt, cuts a promo on the Hart Foundation. While the Tulsa faithful chants "Rocky sucks," Faarooq challenges the Hart Foundation to a match next week. To answer the challenge, Bret and the Hart Foundation emerge at the top of the ramp. Bret accepts the challenge but mentions that Canada isn't a racist country. Next, he informs Faarooq that Degeneration-X instigated the turmoil here.
On cue, Shawn Michaels appears on the Titantron to offer his $.02 and refers to Bret as the "Grand Wizard." When HHH mentions that the Hart Foundation dropped the "N-word" last week, the NoD rushes up the ramp and brawls with the Hart Foundation. Apparently, Bret injures his ankle during the melee. I smell foreshadowing.
Match 1: HHH (w/ Degeneration-X) versus Goldust (w/ Marlena)
Highlights:
According to JR, Marlena will provide an exclusive interview about her 30-day tenure with "the late Brian PIllman" next week.
Michaels joined the broadcast table for this match.
When Goldust delivered a lariat, he gave HHH a cross corner whip that resulted in a Helmsley flip.
Another lariat by Goldust led to a ten-punch count-along and a Helmsley flop.
As Marlena distracted referee Tim White, Goldust took Helmsley on a trip DOWN SOUTH.
He then attempted a cross body block, but HHH evaded him. That sent Goldust over the top rope to the floor.
While Helmsley distracted White, Chyna clotheslined Goldust on the ramp. How dastardly!
She then slammed Goldust on the ramp, and I wonder where Jacqueline is right now.
Back in the ring, Helmsley mounted the top turnbuckle and hit an axe handle for 2.
He then delivered a high knee for another 2.
After he gave Goldust a face buster, HHH suplexed him and followed with a knee drop.
While the Tulsa faithful chanted "Gol-dust," their hero hit a double axe handle.
He then delivered an uppercut followed by a clothesline.
When he bulldogged HHH, Goldust got 2.
He then gave HHH a cross corner whip resulting in a Helmsley flip to the floor.
As Marlena slapped HHH repeatedly distracting White again, Chyna stole Marlena's purse and WALLOPED Goldust with it.
HHH then delivered a Pedigree and pinned Goldust.
As a result, HHH won.
Rating: **
Summary: Acceptable opener with enough chicanery to tell a decent story.
TV Rating: 2.6
After the match, Michaels stands on the broadcast table and tells McMahon to "suck it." I wonder how Milton-Bradley felt about that.
JIM CORNETTE'S SHOOT: This week, Cornette examines the word ICON and how often it's tossed around in professional wrestling. He then mimics Savage and runs down Michaels for being petulant. To put the cherry on top, Cornette dismisses the cage match at Halloween Havoc '97 as two aging wrestlers presenting a farce for the wrestling masses. He then puts over Undertaker, Ric Flair, and Steve Austin as true icons.
HOT TAKE; Of the three shoots thus far, this is Cornette's finest work. He not only disparages WCW but also criticizes Bret and Michaels as well.
Survivor Series '97 will be sponsored by Milton-Bradley's Karate Fighters.
Prior to the show going on the air, the WWF celebrated Oklahoma legends:
Jim Ross
"Cowboy" Bill Watts
Gerry & Jack Brisco
Danny Hodge
Prior to the next match, we once again revisit Summerslam '97 when Owen inadvertently yet severely injured Steve Austin with a piledriver. Also, Vince shills the November '97 issue of RAW Magazine.
Match 2 for the WWF Intercontinental title: Owen Hart (champion) versus Ahmed Johnson
Highlights:
Johnson backdropped Owen before clotheslining him over the top rope to the floor.
As he joined Owen on the floor, Johnson rammed him face-first into the steps.
He then slammed Owen on the floor, grabbed Owen's Canadian flag, and punted it.
When Johnson removed referee Mike Chioda from harm's way, Owen kicked Johnson somewhere in the DEEP South.
Suddenly, the NoD stood at the top of the ramp while Owen rammed Johnson shoulder-first into the steps.
Owen then sandwiched Johnson's previously injured hand between the steps. OUCH!
Following a commercial break, Johnson clotheslined Owen and delivered a scissors kick. According to Meltzer, Owen received a concussion from it.
He then gave Owen a softer than SOFT spinebuster. Yep, Johnson knew he was in trouble again.
Suddenly, Austin hit the ring and gave Johnson a Stone Cold Stunner.
Chioda then called for the bell disqualifying Owen.
As a result, Owen retained.
Rating: *
Summary: For understandable reasons, the Tulsa faithful's sole reaction was for Austin's involvement. HE IS OVER! Of course, the reasoning behind his attack was to preserve Owen's title reign for the PPV.
TV Rating: 2.2
After the match, Austin exits through the Tulsa faithful while the NoD stands at the top of the ramp.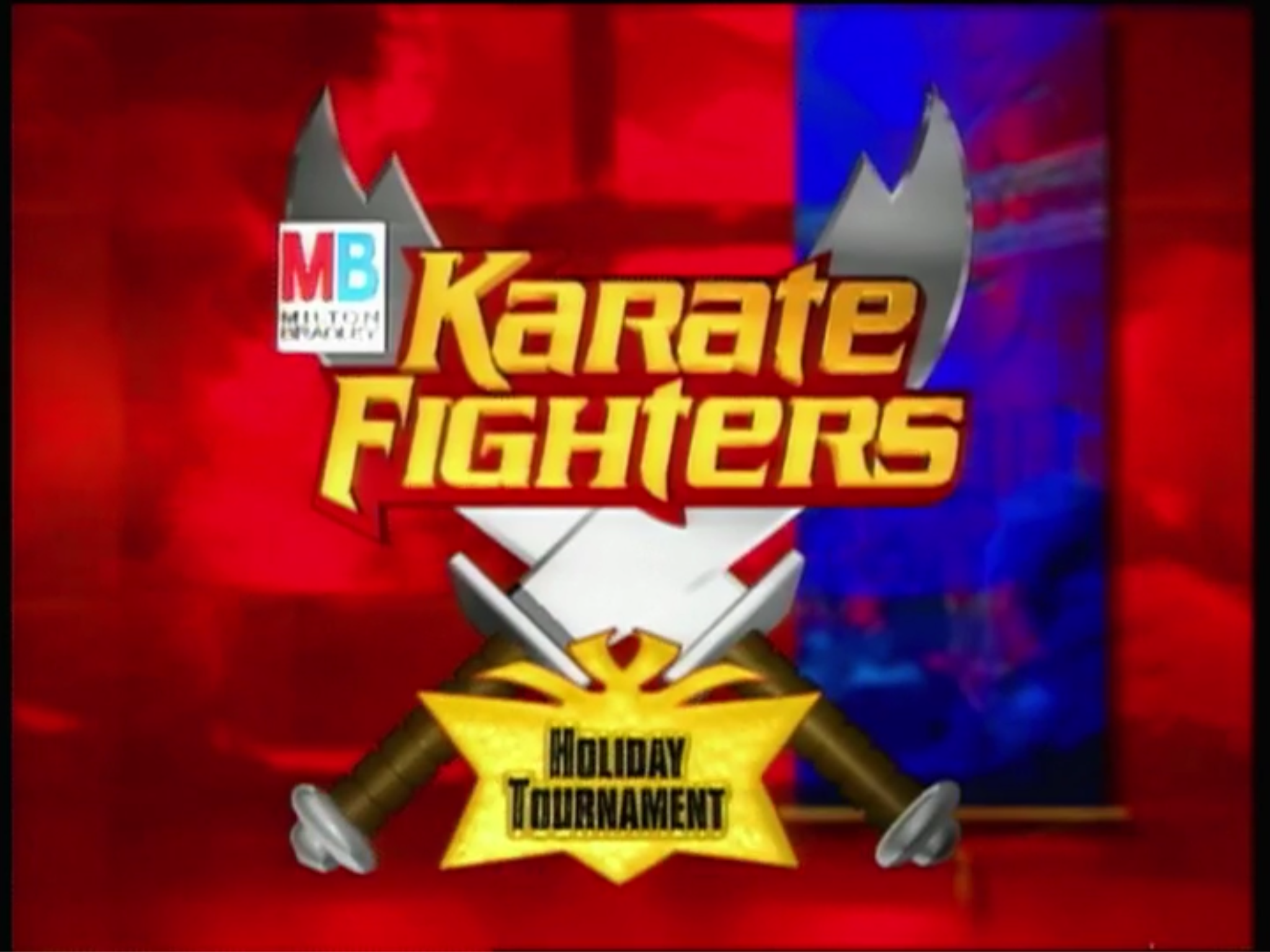 KARATE FIGHTERS HOLIDAY TOURNAMENT: Are you kidding me? Parody versions of both Vince and JR throw it right to the "arena." It's the battle of the Lawlers as Jerry faces Brian Christopher. Lawler wins and taunts his son about calling his mama. Here's the bracket: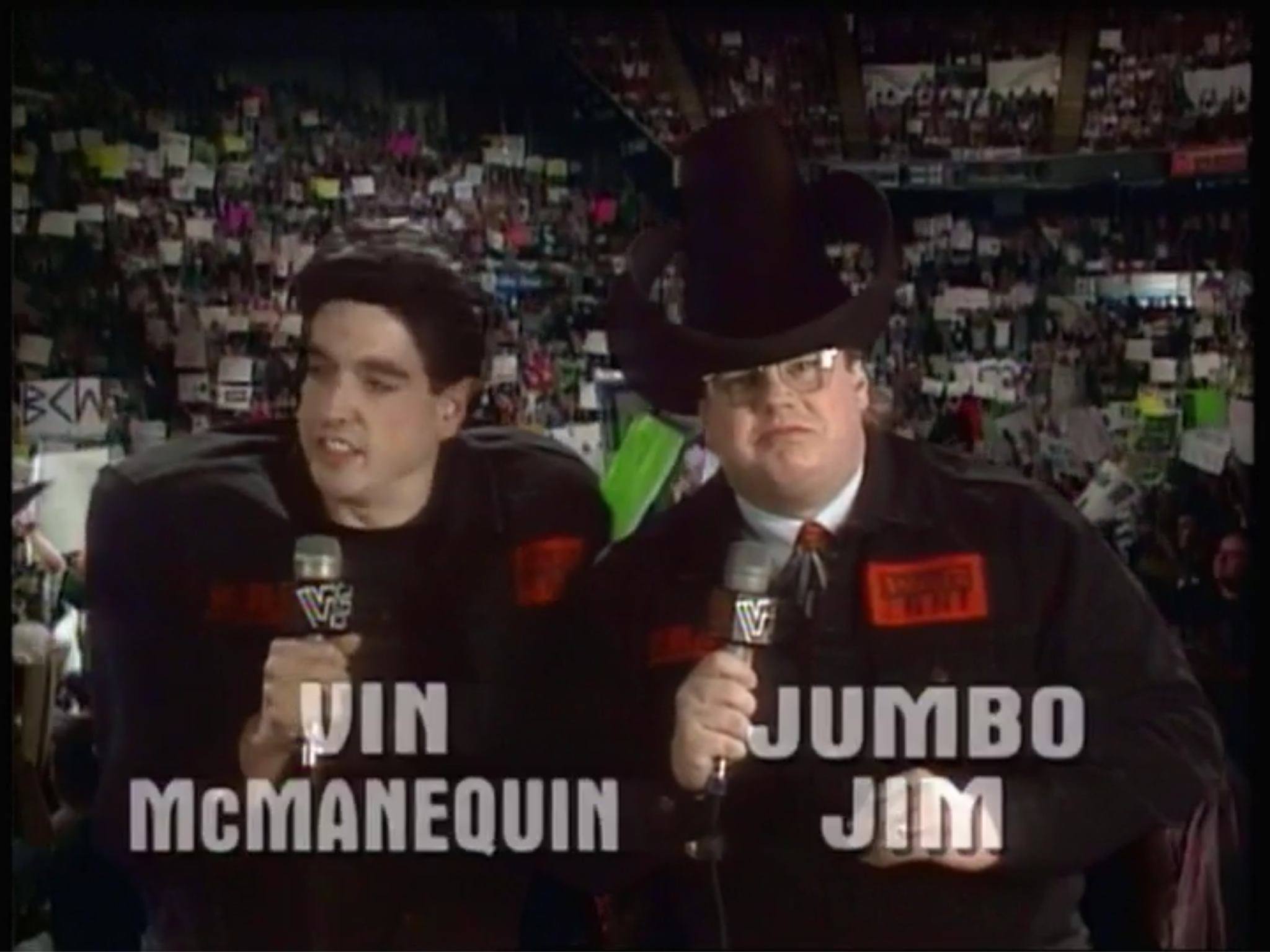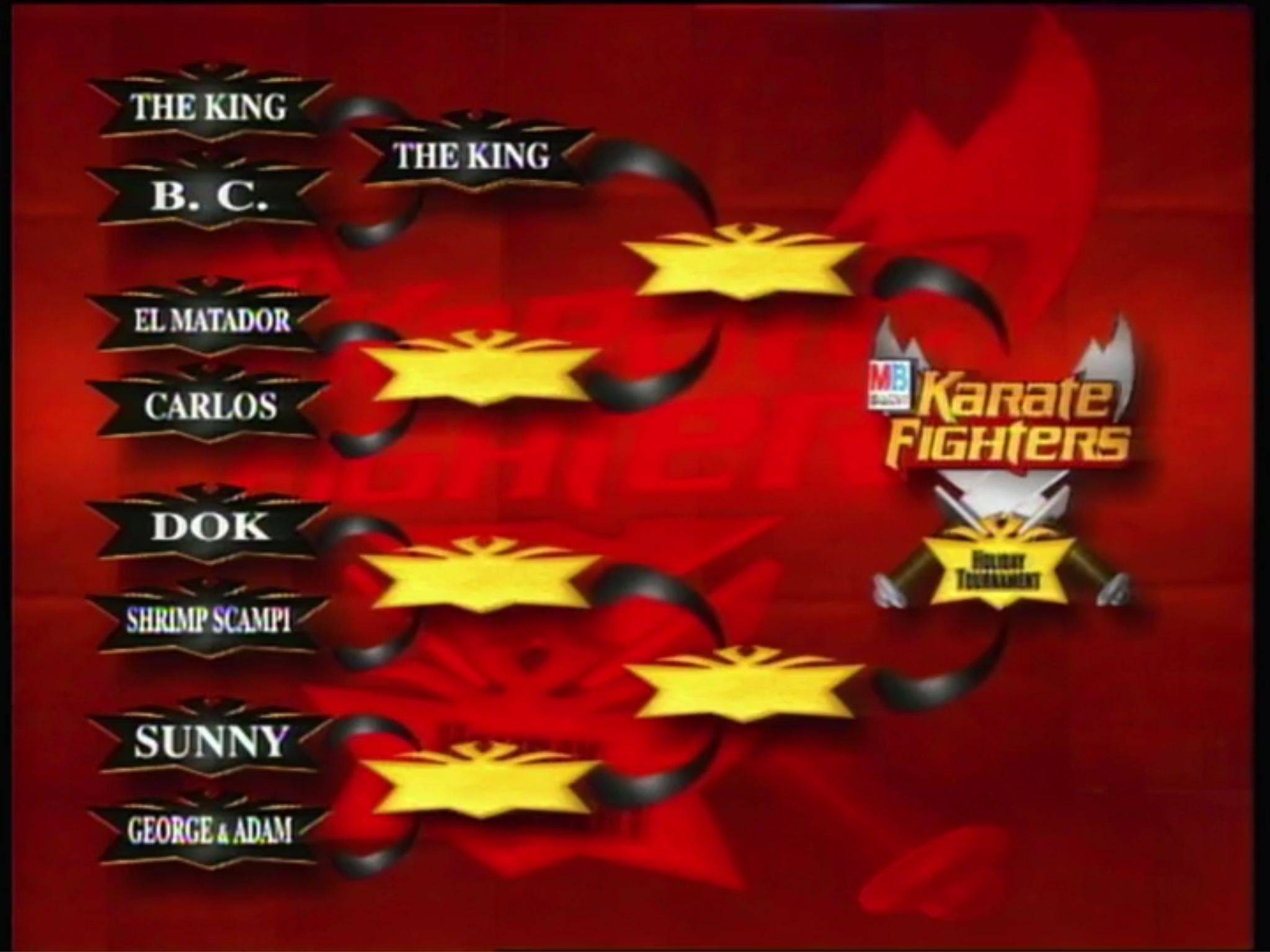 Methinks the garlic in the shrimp scampi may overpower Dok.
In the ring JR interviews Mankind while we revisit last week's episode when Kane destroyed Dude Love. Mankind then states that he'll pick up where Dude Love left off and make his "Uncle Paul's life a living hell." Upon comparing himself to a roadblock, Mankind challenges Kane. Why would he compare himself to a WCW jobber?
Abruptly, Commissioner Slaughter heads to the ring yet refuses to sanction a match between Mankind and Kane. Mankind doesn't handle Slaughter's ruling kindly and applies a Mandible claw to him. Officials hit the ring to stop Mankind's rampage.
Austin shills WWF action figures.
WAR ZONE!
Prior to the next match, we revisit the scrum between the NoD and Hart Foundation where Bret injured his ankle. Could it lead to the "World's Most Dangerous Man" becoming WWF champion?
Match 3 for the WWF title: Bret "Hitman" Hart (champion w/o the Hart Foundation) versus Ken Shamrock
Highlights:
Shamrock countered a hip toss with a takedown followed by an ankle lock.
Immediately, Bret grabbed the bottom rope to escape.
Vince then shilled Survivor Series Flashback which will air opposite Assault on Devil's Island tomorrow night. I guess turnabout is fair play.
When Shamrock landed a spinning thrust kick, Bret used referee Earl Hebner's distraction to clip Shamrock's knee. SNEAKY!
He then rammed Shamrock's left knee into the ring post before applying a ring post figure-four leg lock.
As he rammed Shamrock's knee into the ring post again, Bret delivered a DDT for 2.
He then hooked a spinning toe hold just before a commercial break.
Afterward, Bret attempted to ram Shamrock's knee into the ring post yet again but HIT THE POLE himself instead.
Shamrock then made Bret taste the steel railing. It must have tasted like the Manzo at Naples Flatbread.
When Shamrock rammed him hip-first into the steps, Bret tossed a chair into the ring.
Shamrock then prevented Bret from using it and CLOBBERED him.
As he gave Bret a huracanrana, Shamrock countered a side Russian leg sweep with a belly-to-belly suplex.
Do we have a new champion?
1-2-NO!
Bret then reversed a cross corner whip and clotheslined Shamrock.
While Shamrock countered a Sharpshooter into an ankle lock, he knocked down Hebner.
Unfortunately for Shamrock, he only received a false submission.
Bret then grabbed the chair and WALLOPED Shamrock's back with it.
After Bret applied a Sharpshooter, Michaels hit the ring and gave Bret Sweet Chin Music.
He then pummeled Bret until Shamrock arose and noticed the shenanigans.
When he delivered a belly-to-belly suplex to Michaels, Shamrock LOST HIS DAMN MIND on Michaels.
Officials then stormed the ring while Degeneration-X tended to Michaels.
All of a sudden, Bret and Michaels broke free and hammered one another.
During a pull-apart, Chyna shoved down Pat Patterson.
I guess we have a sports-entertainment finish.
Rating: **
Summary: Solid match where Bret carried Shamrock until the schmozz finish. The table is certainly set for the WWF title match at the PPV, but who knows how that situation will clear up.
TV Rating: 2.4
With Bret backstage, he cuts a promo on Michaels claiming 100% Canadian support at the PPV.
Prior to the next match, we revisit the boombox explosion against the Headbangers. I question whether or not the Headbangers are one-hit wonders.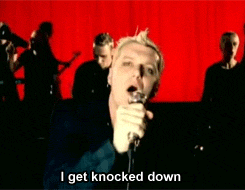 Match 4: The New Blackjacks versus "Road Dog" Jesse Jammes & "Bad Ass" Billy Gunn
Highlights:
Jammes dropkicked Bradshaw twice sending him to the floor.
As Windham tagged in, the New Blackjacks gave Jammes a double back elbow.
According to Vince, Bob Marella a.k.a. Gorilla Monsoon was in a Philadelphia hospital and "very, very ill."
Windham then distracted referee Tim White so that Bradshaw could give Jammes a cross corner whip and corner clothesline.
When Bradshaw came off the ropes, Gunn WHACKED him with a chair to the back. OUCH!
1-2-3.
Jammes and Gunn won.
Rating: DUD
Summary: Showcase match for Gunn and Jammes.
TV Rating: 2.3
After the match, the Godwinns hit the ring while Gunn and Jammes destroy the Blackjacks' hats. The Headbangers then storm the ring to chase Gunn and Jammes away.
RAW is WAR is sponsored by Milton-Bradley Karate Fighters and M&M's.
After Vince and JR announce a match between Mankind and Kane at the PPV, Bearer and Kane emerge to discuss said match. Bearer then dismisses Mankind as a challenge and speaks directly to the Undertaker. I would be remiss if I didn't mention that instead of being under normal ring lights, this interview was cast under a red light.
Promo #2 for WWF action figures airs.
From the locker room, Rude introduces Michaels who moons everyone in response to Bret. Hopefully, his schtick will become more amusing rather than sophomoric as he furthers his character.
Match 5: "Marvelous" Marc Mero (w/ Sable) versus Flash Funk
Highlights:
Funk leap-frogged and hip-tossed Mero before dropkicking him.
When Mero reversed a cross corner whip, he gave Funk a Samoan drop.
He then mounted the top turnbuckle, but Funk kicked the top rope to upset Mero's balance.
As Funk joined him, Mero shoved him down to the mat, mounted the top turnbuckle, and delivered a Merosault for 2.
He then gave Funk a knee lift, but Funk responded with a spinning heel kick for 2.
After Funk hit a belly-to-back suplex, he mounted the top turnbuckle and delivered a moonsault for another 2.
While referee Jack Doan signaled his count to the timekeeper, Mero sent a message down the ladder to Funk if you catch my drift.
He then hit a TKO and pinned Funk.
As a result, Mero won.
Rating: *
Summary: Showcase match for Mero.
In a pre-recorded interview, Jeff Jarrett states that Vince "put limitations" upon Jarrett's character. Next, he discusses during his departure with Vince that he "no longer runs (his) life." In WCW, Jarrett feels that he didn't receive any opportunity whatsoever. **cough**US title**cough** He then mentions Eric Bischoff's "clique" as the ones who "get the spotlight." Following that, he says that "true in-ring ability does not count in WCW." That was certainly true for the main event last night.
He continues by noting that WCW lacks excitement during its arena shows. "Their top six to eight wrestlers are all over their forties" quips Jarrett. To conclude the interview, he declares that "wrestling's a young man's game."
HOT TAKE: I've said it before, and I'll say it again. Pepsi takes shots at Coke for being #1 whereas Coke doesn't recognize them during their ads. The WWF doesn't need to take potshots at WCW to reclaim the #1 spot, it needs to improve its product.
Match 6 for the WWF tag team titles: Road Warriors (champions) versus Los Boricuas
Highlights:
Gunn and Jammes sat next to the broadcast table for this match.
As Los Boricuas made their entrance, a pre-recorded interview ran in split-screen.
Vega gave Animal a leg lariat while Gunn and Jammes grabbed the Road Warriors' shoulder pads.
When Animal powerslammed him, he dropkicked Vega.
Tags were exchanged on both sides while Hawk mounted the second turnbuckle and nailed Perez.
After he delivered a big boot, Hawk delivered a hangman's neckbreaker to Perez.
He then gave Perez a cross corner whip but came up empty on his follow-through.
As Vega tagged in, Gunn and Jammes posed in their new costumes.
Nonetheless, Perez tagged in, gave Hawk a cross corner whip, and followed with a corner clothesline.
When Vega tagged in, Hawk double-clotheslined Los Boricuas.
Hawk then reversed an Irish whip, and Jammes inadvertently tripped Perez coming off the ropes.
1-2-3.
Road Warriors retained.
Rating: DUD
Summary: Showcase match for the Road Warriors with some sports entertainment from Gunn and Jammes.
TV Rating: 1.7
After the match, Gunn and Jammes high-tailed it backstage with both the Road Warriors and Los Boricuas hot on their trail.
Back in the locker room, Johnson cuts an intense promo on Austin to close out the show.
Conclusion: Three, count 'em three, title matches and not a truly good one in the bunch. While Survivor Series '97 was properly shilled, this show lacked sizzle. If this is the way the WWF telecasts its taped versions of RAW is WAR, they'll be losing the ratings battle for a whole lot longer. Did they even come close this week?
Final TV Rating: 2.3
Who won? Nope, Nitro SLAUGHTERED them by over a point-and-a-half. Next week, Nitro hails from Philly while RAW is WAR emanates from Hershey, a mere ninety-five miles. While nothing's promised on Nitro, the light-heavyweight tournament begins on RAW is WAR.
IN OTHER NEWS THIS WEEK: ECW has a NEW World champion.
Stay tuned for WCW Monday Nitro 11-03-97!
Comments? Suggestions? Send them to me at rsg@rockstargary.com and follow me on Twitter (@rockstargary202).
Custom Search