WELCOME TO ROCK STAR GARY REFLECTIONS!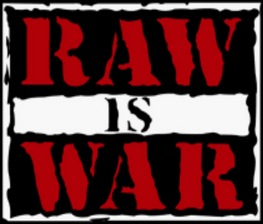 WWF RAW is WAR 10-6-97
Live from Kansas City, MO
Airdate: October 6, 1997
Attendance: 13,245 (11,484 paid)
Hosted by Vince McMahon, Jim Ross, & Jerry "The King" Lawler
It's the Brian Pillman memorial show. What will the WWF do to honor its fallen superstar? What else will transpire? Let's find out!
To open the program, Vince stands in the ring and requests a ten-bell salute to the fallen Brian Pillman. Minus Michaels and Helmsley, the WWF locker room stands in sorrow over itsheralded colleague. The Kansas City faithful then chant "Pill-man" as the show fades to black.
Opening montage.
In the ring, Michael Cole interviews Michaels and Helmsley with Chyna. To welcome Cole to the WWF, Chyna gives him a wedgie. Michaels then crows about his victory at the PPV last night while calling himself as "the icon that can still go." Upon referring to Helmsley as "Triple H," Michaels hands the microphone to him. Helmsley then touts Michaels and requests footage from last night's PPV shown, but, after a delay, the "Curtain Call" is shown. As Michaels teases Vince about breaking kayfabe, Vince sends the show to a commercial break.
Afterward, Michaels continues his soliloquy until the Hart Foundation emerges through the entrance. Bret then calls Michaels a "disgrace" and a "degenerate." Upon emphasizing Michaels and Helmsley's alleged bedroom habits, he informs Michaels that he won't be the "showstopper" until he dethrones the "Hitman."
Bret then mentions that he "ran (Diesel) and (Razor) out of town." When Bret challenges Helmsley to a match TONIGHT, Michaels and Helmsley feign surprise. Bret then states that come Survivor Series '97, he'll "kick (Michaels') scrawny little ass." In rebuttal, Michaels supplies him with the very first "suck it" along with calling Bret a "zero."
HOT TAKE: Obviously, Helmsley and Michaels are trying to portray cool heels. In doing so, it generates both positive and negative heat onto them while removing the heat from their opposition. Gee, that sounds exactly like the nWo, no? Considering every episode of RAW is WAR from this show until the PPV emanates on US soil, subtly making Bret a babyface will be difficult. Come the PPV, it won't be difficult whatsoever since it emanates in Montreal.
Prior to the opening match, stills from the PPV are shown as the Godwinns achieved tag team gold.
Match 1 (lumberjack/non-title): WWF tag team champions the Godwinns (w/ Uncle Cletus) versus the Headbangers
Highlights:
While the Kansas City faithful chanted "L-O-D," Mosh face-planted Phineas.
Thrasher tagged in, and the Headbangers double-suplexed Phineas.
When Henry tagged in, he gave Thrasher a big boot.
He then slammed Thrasher and tagged in Phineas.
As Mosh tagged in, he attempted the ten-punch count-along, but Phineas countered with Snake Eyes.
Henry tagged in and clotheslined Mosh for 2.
After the heels at ringside clobbered Mosh, Phineas tagged in and delivered a back elbow.
He then hit a knee drop for another 2.
When Mosh rebounded with a clothesline, he inadvertently sandwiched referee Tim White during an avalanche attempt.
The Road Warriors then entered the ring to attack the Godwinns.
As the rest of the lumberjacks joined the melee, Mosh hooked a roll-up on Phineas.
1-2-3.
The Headbangers won.
Rating: **1/2
Summary: The match was entertaining as the lumberjack stipulation drew heat from the Kansas City faithful. The feud between the Godwinns and the Road Warriors is certainly NOT finished.
TV Rating: 2.8
"Earlier today," Perez cuts a promo on Mero.
Match 2: Marc Mero (w/ Sable) versus Miguel Perez, Jr.
Highlights:
This was Mero's first televised match since 2/17, and he's sporting a boxer persona.
As Mero gave Perez a knee lift, he delivered an elbow drop.
He then gave Perez a cross corner whip but ate boot on his follow-through.
When Perez clotheslined him, he slammed Mero.
Perez then leg-dropped Mero, gave him a cross corner whip, and followed with a corner clothesline.
After Mero reversed an Irish whip, he hit a TKO (fireman's carry cutter).
1-2-3.
Mero won.
Rating: DUD
Summary: Showcase match for the returning Mero.
TV Rating: 2.7
JIM CORNETTE'S SHOOT: Cornette mentions WCW wrestlers Arn Anderson and "Nature Boy" Ric Flair along with current WWF superstar Mick Foley as "great talents." When he segues to the nWo, Cornette LAMBASTES Kevin Nash for having only six moves. He then turns the topic from Scott Hall to Sean Waltman. I believe this is the first time his real name gets mentioned on TV. Regardless, Cornette believes that the nWo guys think he's funny when he "gets drunk and throws up on himself."
As Cornette continues his rant by dropping Eric Bischoff's name, he simplifies Bischoff's job as "throws a billionaire's money around like water so that he can have guys he likes to hang out with." Cornette then pleads with other wrestling promoters to respect Arn, Flair, and Foley instead of guys whose job is "sucking up."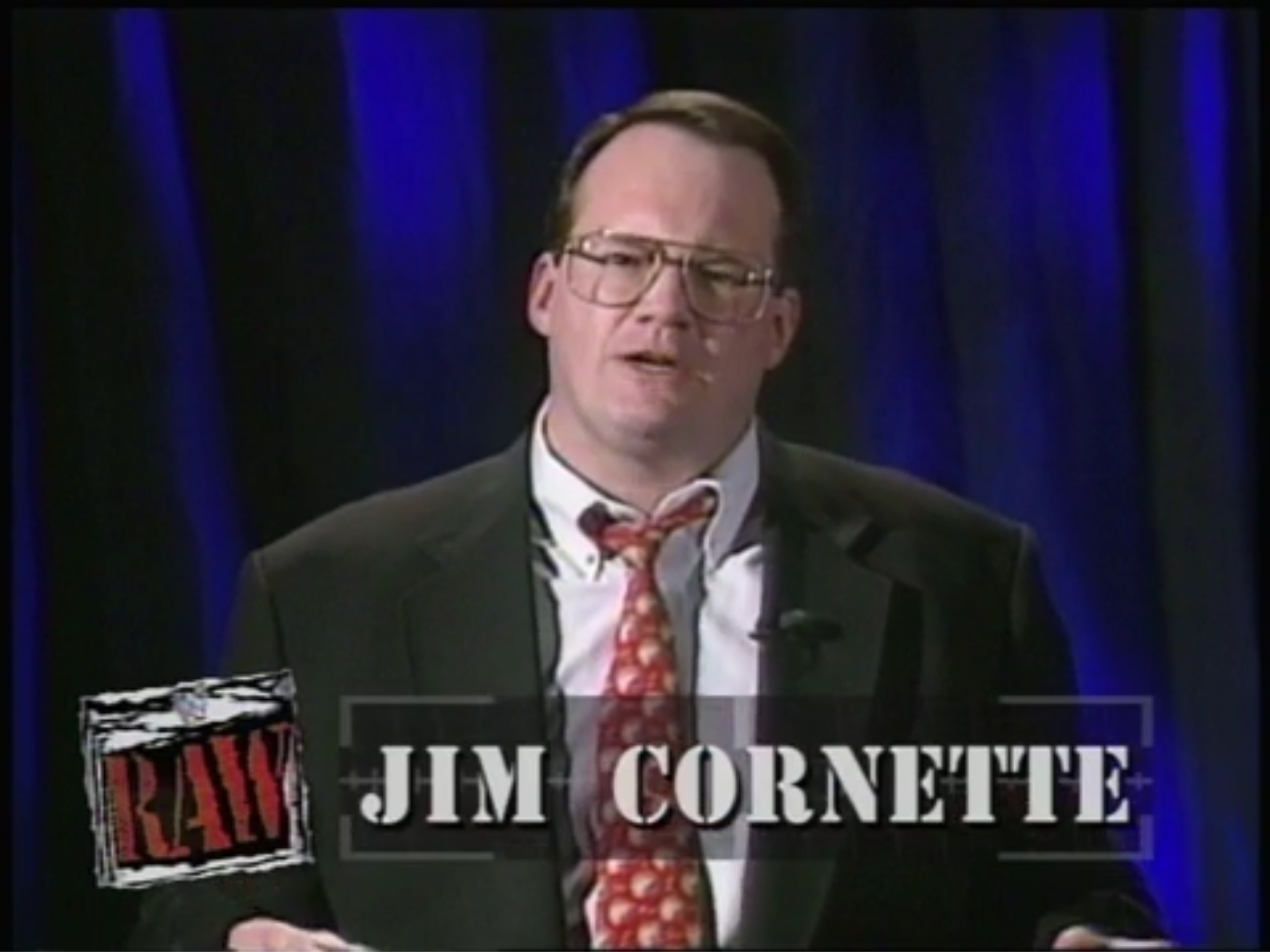 HOT TAKE: In order to become #1, you don't mention the competition. Do you see Coke besmirching Pepsi in its ads? No. Why? Because they have the lion's share of the market and don't need to recognize it. Although Cornette's viewpoints are revolutionary and break kayfabe six ways to Sunday, how does this actually help the WWF?
Match 3: The "British Bulldog" Davey Boy Smith (w/ the Hart Foundation) versus Rocky Maivia (w/ the Nation of Domination)
Highlights:
Maivia gave Smith a cross corner whip but ate a clothesline on his follow-through.
When Smith avoided a leap frog, he poked Maivia in the eye. I'm surprised Vince didn't reel off one of his "whattamaneuver" clichés after that one.
Maivia then put a knee into Smith's midsection while the Kansas City faithful chanted "Rocky sucks."
As Maivia slammed him, he delivered a People's Elbow to ZERO reaction for 2. That would change over time.
Smith then gave Maivia a delayed vertical suplex and a cross corner whip but ate boot on his follow-through.
After Maivia hooked la magistral cradle, he got another 2.
Smith then hit the running powerslam and pinned Maivia.
Rating: **
Summary: Decent showing by both wrestlers, and Smith going over continues Maivia's path of paying dues.
TV Rating: 2.6
After the match, Faarooq enters the ring and whips Owen with a belt. The Hart Foundation and NoD then brawl until officials separate them.
WAR ZONE!
Stills of the Hell in a Cell match are shown.
Next, stills of the final of the IC title tournament air.
Stone Cold Steve Austin then comes to the ring to be interviewed by Vince. As he explains that he can do whatever he wants at any time, he doesn't care if Vince is the owner of the WWF. Vince then presents a waiver to Austin who will sign it on one condition—an Intercontinental title match against Owen.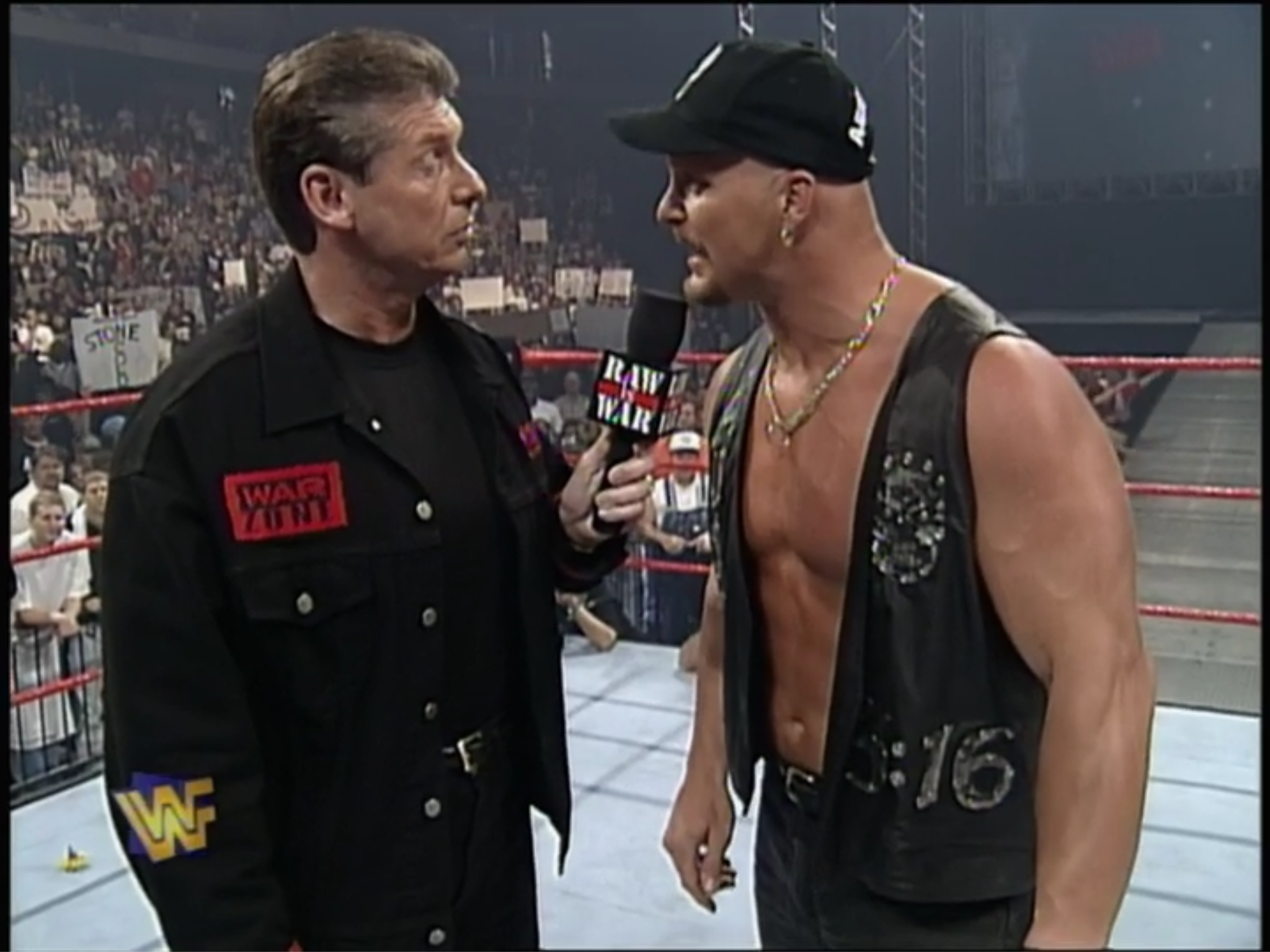 Since Vince doesn't have it in writing, Austin won't sign yet. Suddenly, Faarooq appears on the Titantron and runs down Austin. When Austin rebuts, he'll take all of the NoD on. To close out the segment, Austin steals Lawler's crown and punts it into the fifth row. HA!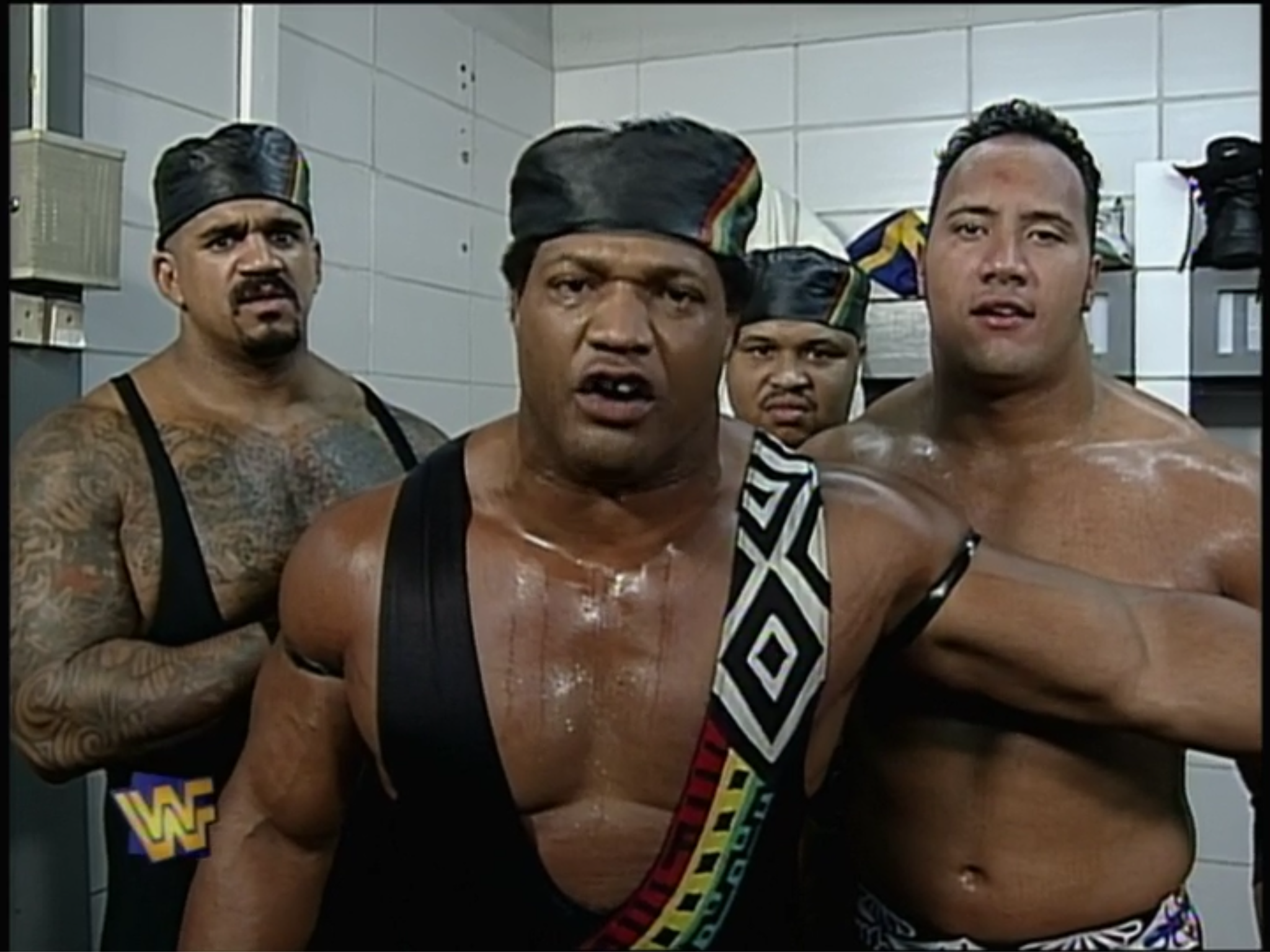 RAW is WAR is sponsored by the US Army and Snickers.
Prior to the next match, Owen grabs the microphone and truly wants to get his hands on Austin. I just wish Owen hadn't been in KC nineteen months after this.
Match 4 for the Intercontinental title: Owen Hart (champion) versus Road Warrior Hawk
Highlights:
While the Kansas City faithful chanted "L-O-D," Hawk military-press-slammed Owen.
He then delivered a hangman's neckbreaker for 2.
As he gave Owen a cross corner whip, Hawk followed with a corner clothesline.
He then gave Owen another cross corner whip but came up empty on his follow-through.
When Owen hit an enziguri, he slammed Hawk, mounted the second turnbuckle, and delivered an elbow smash for 2.
All of a sudden, the Godwinns en masse came to ringside.
Owen then gave Hawk a backbreaker followed by a gutwrench suplex for another 2.
After Owen gave him a cross corner whip, Hawk exploded with a clothesline.
Apparently, Owen's trick knee acted up so he hit a DDT.
As Hawk no-sold it and bounced off the ropes, Phineas nailed him with the slop bucket. How dastardly!
Owen then got 2.
When Animal joined the party, the Kansas City faithful ERUPTED.
Hawk then delivered a slam, mounted the top turnbuckle, and clotheslined Owen.
In the meantime, Uncle Cletus distracted referee Tim White.
Henry then BLASTED Hawk with a horseshoe, and Owen got the pin.
As a result, Owen retained.
Rating: ***
Summary: As short as this match was, each wrestler brought their arsenal with him.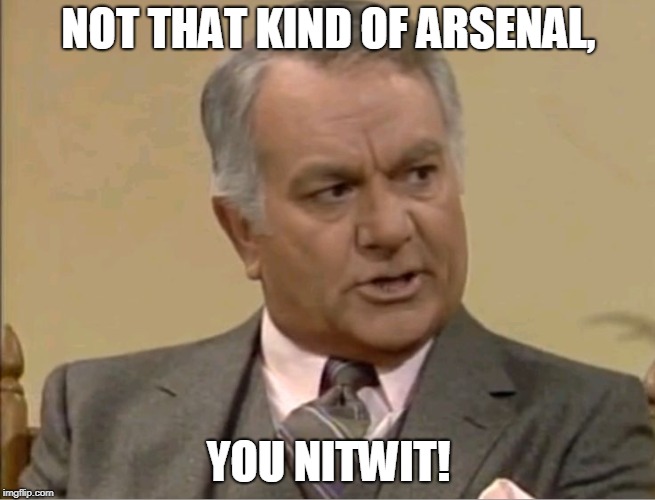 Vince then interviews Brian Pillman's widow—Melanie Pillman. She mentions Brian's heart being the cause of death which helps the WWF overcome the overdose speculation. She then warns about the dangers of painkillers and explains how difficult the news hit her adopted daughter Brittany. Although she's uncertain about her future, Melanie appreciates all of the support. She then wants Brian's legacy to be the "best father in the world." Vince then offers his condolences to close the segment.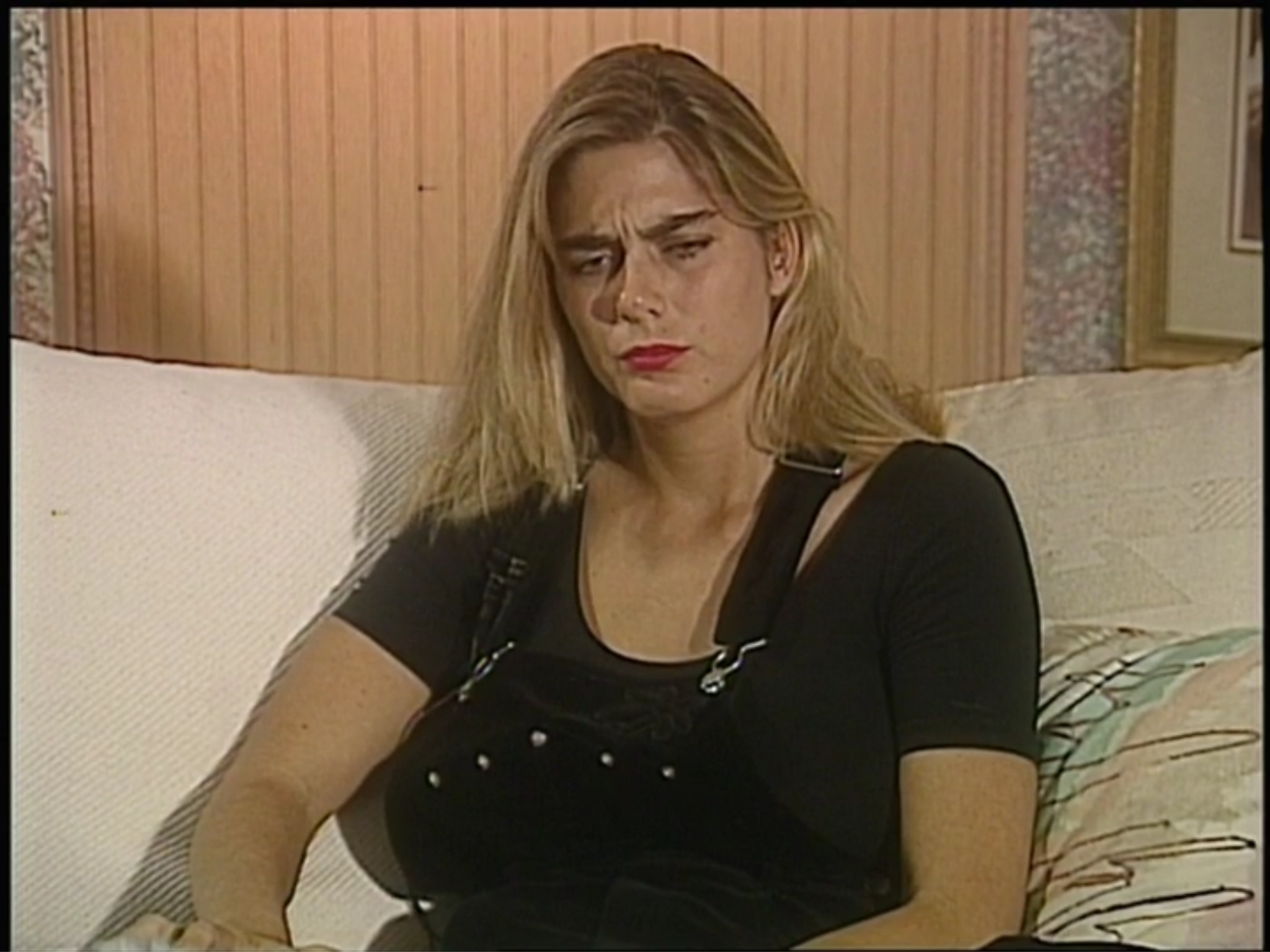 HOT TAKE: On one hand, investigative reporting by the WWF exonerates them (at least for the time being) of an overdose, accidental or otherwise. On the other hand, it's dirty pool to wheel out the widow after a completely unexpected loss. This just leaves a bad taste in my mouth.
Video airs highlighting Brian PIllman's life and career. RIP Brian Pillman 1962-1997.
Match 5: The Truth Commission versus the Hardy Boys
Highlights:
Before the Truth Commission made their entrance, Kane and Paul Bearer came to the ring.
As he entered the ring, Kane summoned fire from each of the four ring posts.
He then double-chokeslammed the Hardy Boys prior to depositing them outside the ring.
Rating: NONE
When Bearer grabs the microphone and introduces Kane, he warns Undertaker: "Welcome to your worst nightmare."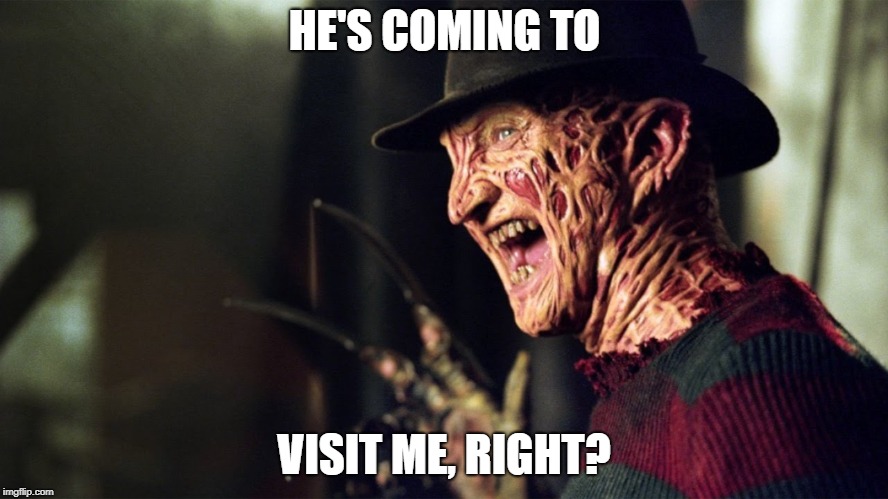 Match 6 (non-title): WWF champion Bret "Hitman" Hart versus HHH (w/ Chyna)
Highlights:
When Lawler name-drops WCW, Bret suplexed HHH.
He then gave HHH a cross corner whip followed by a side-Russian leg sweep.
As HHH gave Bret a cross corner whip, he ate a clothesline.
Bret then delivered a DDT for 2.
After Michaels came to ringside, he put a portion of the Canadian flag up his nose. Yuck!
HHH then hit a high knee for 2.
Preceding a commercial break, Owen and Neidhart emerged through the entrance.
Afterward, HHH gave Bret a knee drop followed by his own vertical suplex for another 2.
He then delivered an inverted atomic drop and hooked a sleeper.
When Bret countered with a belly-to-back suplex, he followed with his own inverted atomic drop.
He then clotheslined HHH and hit a backbreaker.
As Bret mounted the second turnbuckle, he leaped but ate boot.
While Ross referred to him as "too predictable," Bret reversed an Irish whip only to fall victim to a DDT. HHH then got 2.
HHH then gave Bret a back elbow, but Bret hooked a Sharpshooter.
After Chyna helped HHH make the ropes, Bret attempted to hook a ring post figure-four leg lock.
Unfortunately for Bret, Chyna CLOCKED him.
While Bret blocked another shot from Chyna, Michaels delivered Sweet Chin Music to him.
HHH won by countout.
Rating: **
Summary: Hot main event with the Hart Foundation versus the Michaels/HHH faction, but the match wasn't as worthwhile as the storyline.
Conclusion: Wow! The Helmsley-Michaels faction has certainly commandeered the booking of the high-profile programs lately. I wonder what that'll mean for WWF champion Bret Hart. Nevertheless, all signs point to a Bret-Michaels rematch at the PPV while turmoil between Austin and the NoD begins to boil. Next week's show is taped from Topeka, but only Austin's fate resides on the schedule. Can the misfits of the WWF cause enough of a stir to topple Nitro this week?
Final TV Rating: 3.1
Who won? Nope, Nitro won by a margin of 4.0 to 3.1. Who knows how next week will pan out, but It's fun watching it nonetheless, right?
Stay tuned for WCW Monday Nitro 10-13-97!
Comments? Suggestions? Send them to me at rsg@rockstargary.com and follow me on Twitter (@rockstargary202).
Custom Search