WELCOME TO ROCK STAR GARY REFLECTIONS!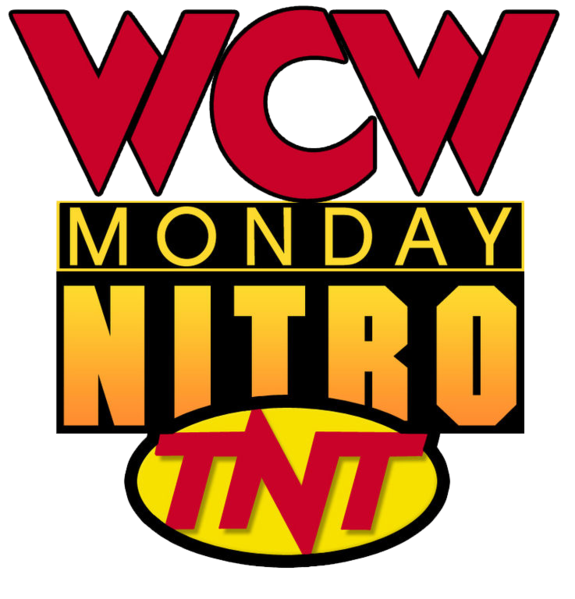 WCW Monday Nitro 10-6-97
Live from Minneapolis, MN
Airdate: October 6, 1997
Attendance: 14,357 (11,940 paid)
Hosted by Tony Schiavone, Larry Zbyszko, "Iron" Mike Tenay, & Bobby "The Brain" Heenan
While Benoit is in the main event, and Eddie defends the Cruiserweight title against Dragon, what else will WCW do to maintain its ratings dominance? Let's find out!
As the show begins, WCW offers its best wishes to the Pillman family in honor of Brian: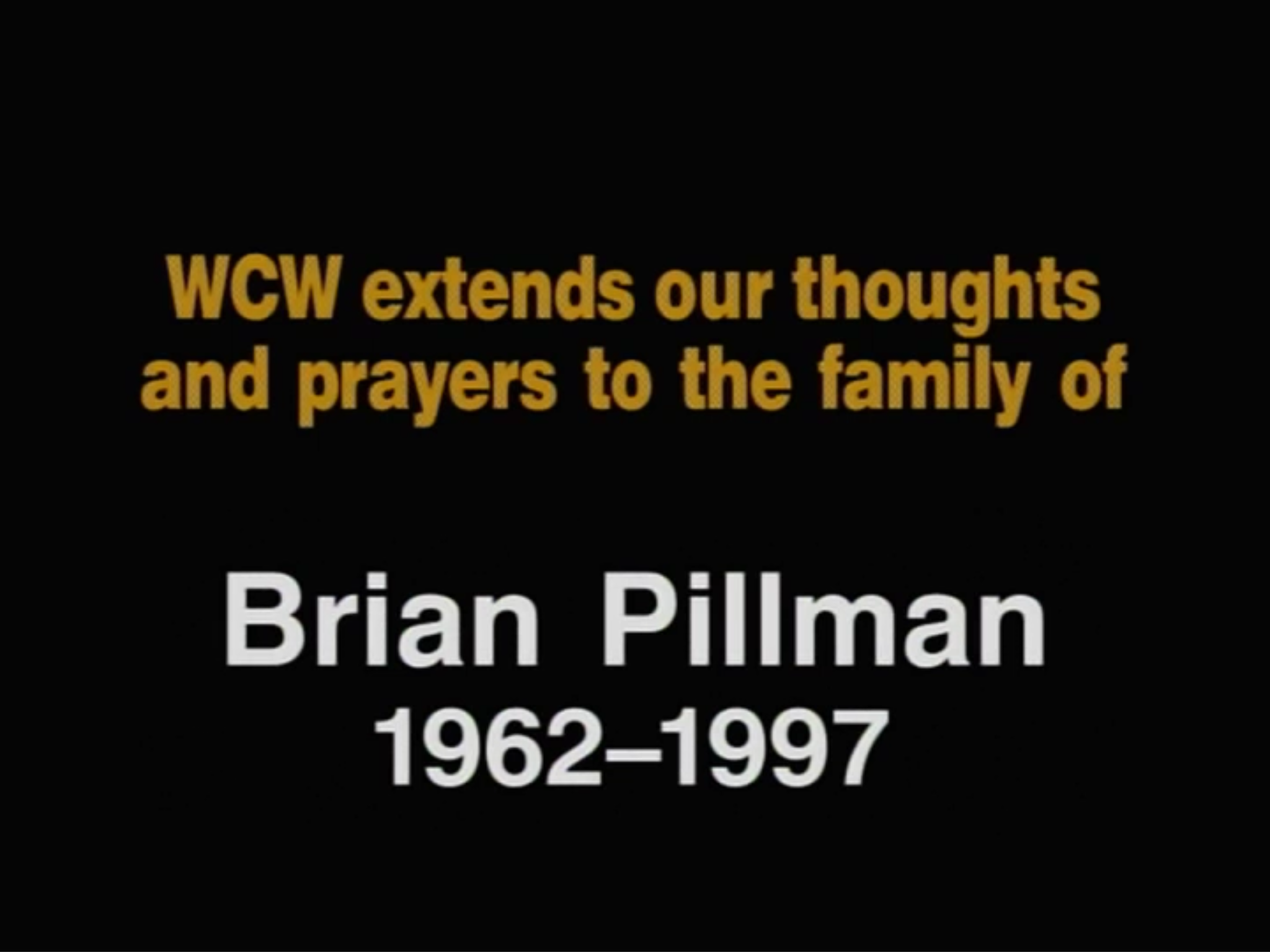 Opening montage.
Nitro Girls begin the show, and...Oh. My. God. As if to truly honor Pillman's unpredictability, Chae inadvertently has a wardrobe malfunction.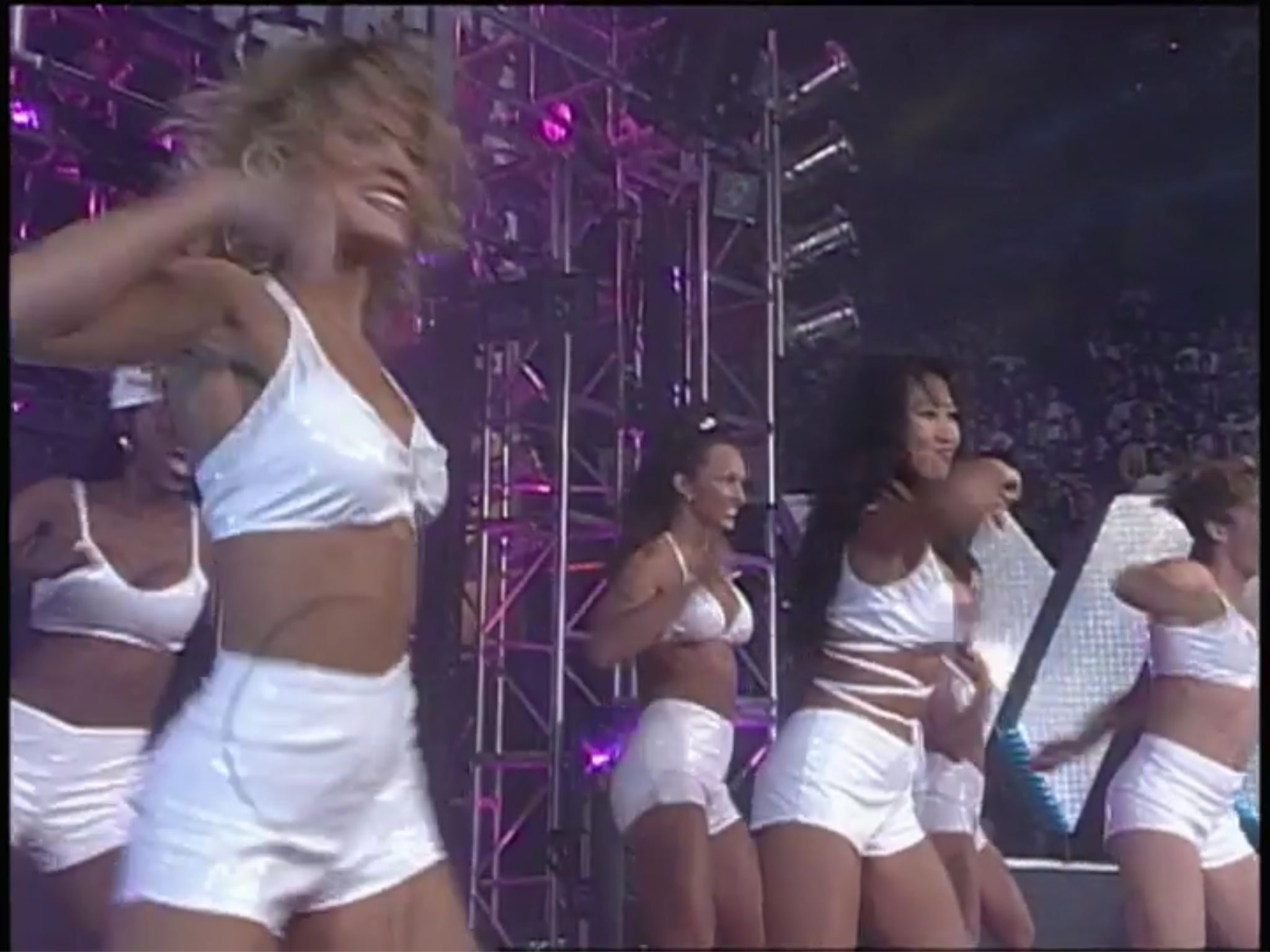 Eric Bischoff and Hollywood Hogan emerge through the entrance and head to the ring. After he cuts a promo on Sting, Hogan turns his attention to Piper.
Match 1: Booker T (w/ Jacquelyn) versus Jeff Jarrett (w/ Debra)
Highlights:
When Booker T leap-frogged him, Jarrett blocked a hip toss and gave him one of his own.
Booker T then gave Jarrett a cross corner whip followed by a hip toss.
As Jarrett missed a dropkick, Booker T didn't.
Jarrett then sought refuge outside the ring, pulled Booker T by the leg, and rammed it against the apron.
After he delivered a running guillotine, Jarrett gave Booker T a cross corner whip.
The Minneapolis faithful then LOUDLY chanted "Jarrett sucks" while Booker T hooked a sunset flip for 2.
Following a back elbow, Jarrett slammed Booker T.
Both wrestlers then missed an elbow drop, but Booker T erased his gaffe by performing the spinaroonie.
When he hit a Harlem sidekick, Booker T followed Jarrett to the floor and nailed him.
Following a commercial break, Jarrett mounted the top turnbuckle and gave Booker T a cross body block for 2.
He then clotheslined and dropkicked Booker T.
As Booker T rolled up Jarrett, he got 2.
Jarrett then delivered a short-arm clothesline, but Booker T responded with a forearm.
After he hit a leg lariat, Booker T slammed Jarrett.
He then gave Jarrett a scissors kick for another 2.
When Booker T clotheslined Jarrett over the top rope to the floor, Steve "Mongo" McMichael came to ringside.
He then argued with Debra until she slapped him.
In retaliation, Mongo nailed Jarrett.
Booker T then hooked another roll-up and pinned Jarrett.
Rating: **1/2
Summary: Good opener that put an exclamation point on the Jarrett-Mongo feud. This match marked Jarrett's last match in WCW until 1999.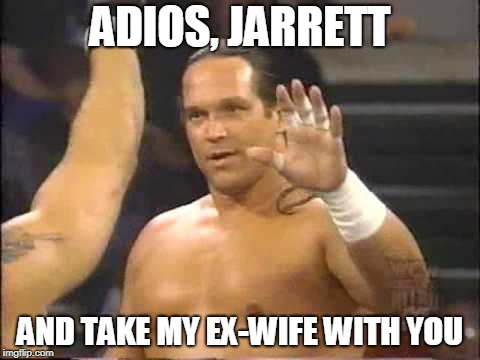 Castrol sponsors the replay.
Promo airs for Halloween Havoc '97. It will be LIVE on PPV on 10/26. Order NOW!
On WCW Saturday Night, Wrath faces Meng. Also, Scott Norton wrestles the "Total Package" Lex Luger.
Zbyszko then shills Ben-Gay while the Minneapolis faithful chants "Lar-ry."
Match 2: "Das Wunderkind" Alex Wright versus Billy Kidman
Highlights:
Wright tossed Kidman to the floor where Raven and Perry Saturn sat in the front row. Holy ECW defections, Batman!
As Kidman clotheslined him, he hip-tossed Wright.
He then dropkicked Wright to the floor and delivered a plancha. Woohoo!
Meanwhile, Mongo and Debra continued to argue backstage.
Kidman then reversed an Irish whip but fell victim to a guillotine on the top rope.
In split-screen, Jarrett tried to interrupt the domestic quarrel, and Debra slapped Mongo again.
Wright then slammed Kidman, mounted the top turnbuckle, and hit a flying stomp.
When he gave Kidman a cross corner whip, Wright followed with a back elbow.
He then delivered a snap suplex with a bridge for 2.
After Kidman hooked a sunset flip, he got 2.
Wright then clotheslined Kidman and attempted a German suplex.
To counter, Kidman used a jawbreaker.
Wright then reversed a cross corner whip but ate boot on his follow-through.
As Kidman mounted the second turnbuckle, he hit a missile dropkick.
He then gave Wright a cross corner whip followed by a lariat.
When Wright reversed an Irish whip, Kidman delivered a face crusher.
He then bulldogged Wright for 2.
After Kidman mounted the top turnbuckle, he missed a 450° splash.
Wright then secured a German suplex with a bridge and pinned Kidman.
Rating: **
Summary: Kidman took a chance, but it didn't pay off.
Nitro Girls dance in the ring wearing silver and black while Schiavone shills the Nitro Party contest.
Match 3: Ernest "The Cat" Miller versus Mortis (w/ James Vandenberg)
Highlights:
Miller leap-frogged and hip-tossed Mortis prior to delivering a crescent kick for 2.
When he slammed Mortis, Miller mounted the top turnbuckle, but Vandenberg crotched him behind referee Scott Dickinson's back. How dastardly!
Mortis then joined and botched a top rope Rocker Dropper. Actually, if Mortis had succeeded, Miller might be bunking with Charles Austin.
As Mortis tried to pin Miller with his feet on the ropes, Dickinson noticed his shenanigans and stopped the count.
Mortis then gave Miller a Spicolli driver for 2.
While Vandenberg distracted Dickinson, Mortis tossed Miller over the top rope to the floor. SNEAKY!
Mortis then distracted Dickinson so that Vandenberg could loafer Miller in the ribs. Devious!
After Miller returned to the apron, Mortis suplexed him back into the ring for another 2.
According to Schiavone, Jacqueline will challenge Disco Inferno for the TV title at Halloween Havoc '97.
Mortis then delivered an inverted side-Russian leg sweep but couldn't get 3.
When Miller attempted a sunset flip, Mortis provided him with a knuckle sandwich.
Mortis then slammed Miller, mounted the top turnbuckle, leaped, but there wasn't any water in the pool.
As Miller hit an enziguri, he followed with a springboard savate kick.
1-2-3.
Miller won.
Rating: *
Summary: This had prelim match written all over it. Miller needs a lot more seasoning while Mortis requires more training as a ring general. Seasoned popcorn, anyone?
After the match, Miller chases Vandenberg backstage.
THE FOLLOWING ANNOUNCEMENT HAS BEEN PAID FOR BY THE NEW WORLD ORDER:
Buy the shirt! Send it to Rock Star Gary. Make it an XL.
THE PRECEDING ANNOUNCEMENT HAS BEEN PAID FOR BY THE NEW WORLD ORDER.
We then revisit Nitro from two weeks ago when Garza upset Hall.
Prior to the next match, Hall conducts a survey. Unfortunately, Minneapolis is nWo country. Hall explains that Kevin Nash is injured and mentions his own "injury." Next, he besmirches Zbyszko and gives Luger a crotch chop.
HOUR #2!
Match 4: WCW World tag team champion Scott Hall (w/ Syxx) versus Hector Garza
Highlights:
Hall's ribs were taped to protect his "injury."
As Garza attempted a cross body block, Hall countered with a fallaway slam.
Hall then sandwiched referee Billy Silverman in the corner while Syxx gave Garza a Bronco buster.
When Hall delivered an Outsider Edge, he pinned Garza.
Rating: DUD
Summary: Showcase match for Hall.
TV Rating: 3.2
After the match, Hall dispatches Garza outside the ring. When Silverman raises Hall's hand in victory, Syxx provides Silverman with an enziguri. Nefarious! Hall then puts Silverman in the Torture Rack, drops him like a rag doll, and spray-paints "Z" on his back. I believe he's more concerned about Zbyszko's refereeing than wrestling Luger.
Video featuring Goldberg airs.
Nitro Girls dance at the entrance in black and silver.
Match 5 for the WCW World TV title: Disco Inferno (champion) versus Diamond Dallas Page (w/ Kimberly)
Highlights:
DDP attempted a Diamond Cutter prematurely, but Disco escaped and sought refuge outside the ring.
When DDP slammed him, Disco reversed an Irish whip but received a swinging neckbreaker.
Disco then sought refuge again so DDP gave him a baseball slide.
As he delivered a plancha, DDP gave Disco a cross corner whip.
The Minneapolis faithful then LOUDLY chanted "D-D-P" while their hero ate a back elbow on his follow-through.
After DDP hooked a backslide, he got 2.
Disco rebounded with his own swinging neckbreaker for 2.
When DDP pancaked him, he signaled for the Diamond Cutter.
He then lifted Disco into a fireman's carry and hit a Diamond Cutter.
Do we have a new champion?
Suddenly, "Macho Man" Randy Savage stormed the ring and nailed DDP.
Referee Nick Patrick then called for the bell disqualifying Disco.
As a result, Disco retained.
Rating: **
Summary: Not bad for a four-minute match where Disco ALMOST lost the title.
TV Rating: 3.7
After the match, Savage tosses DDP over the top rope to the floor. He then rams DDP shoulder-first into the steps. As he exposes the concrete floor, Savage attempts a piledriver, but "Rowdy" Roddy Piper arrives to prevent it from happening. Savage then shoves Piper but falls prey to a Diamond Cutter on the concrete floor. GET OUT THE SPATULA!
While Piper escorts DDP through the Minneapolis faithful, the nWo scream for an ambulance. In the meantime, Savage is OUT COLD. EMTs and Elizabeth come to the ring, and the nWo swears revenge against DDP and Piper. To finish the segment, the Minneapolis faithful sings the goodbye song.
In the ring, "Mean" Gene Okerlund hypes his hometown crowd and interviews Piper. We then revisit Slamboree '97 when Piper manhandled Hall en route to victory. Piper then declares that the WCW World tag team titles will be defended next week, or he will strip Hall and Nash. At the PPV, he states that the Savage/DDP match will be a last man standing match.
Abruptly, Hogan and Bischoff enter the ring, and a stare-down ensues. Hogan denigrates Piper's role as Chairman and vows to "end his career." With Bischoff's assistance, Hogan beats up Piper and rips his shirt off. Hogan then grabs Piper from behind so that Bischoff could land a thrust kick. Regrettably for Hogan, Bischoff kicks him when Piper ducks. Upon pounding Bischoff, Piper scraps with Hogan on the mat until the nWo pulls Hogan out of the ring. He then holds them off while wildly swinging the World title belt.
WCW Monday Nitro is sponsored by Wrigley's WinterFresh gum.
Nitro Girls dance in the ring while wearing gray and white. During their performance, Schiavone announces that if Mongo defeats Jarrett at the PPV, Debra must leave WCW. Well, SOMEONE was leaving WCW.
Video featuring WCW's luchadores airs.
Match 6 for the WCW Cruiserweight title: Eddie Guerrero (champion) versus Ultimo Dragon
Highlights:
According to Schiavone, in place of Savage, Hennig will face Benoit in the main event.
Dragon gave Eddie a flying headscissors but ate a back elbow.
As he delivered a belly-to-back suplex, Eddie received a tilt-a-whirl slam.
While the Minneapolis chanted "Eddie sucks," their nemesis clotheslined Dragon.
He then hit a brainbuster for 2.
When Eddie hooked an abdominal stretch, Dragon followed with a huracanrana.
Eddie then attempted a tilt-a-whirl backbreaker, but Dragon landed on his feet.
After Dragon gave Eddie his own tilt-a-whirl backbreaker, he unleashed a series of kicks.
Eddie then sought refuge outside the ring, but Dragon delivered a tope suicida. Woohoo!
Back in the ring, Dragon hit a release German suplex for 2.
Eddie then escaped a Ligerbomb, attempted one of his own, but found himself in the Dragon sleeper.
As Eddie made the ropes, Dragon placed him atop the top turnbuckle, joined, but Eddie shoved him down to the mat.
Eddie then gave Dragon a tornado DDT, mounted the top turnbuckle, and hit a frog splash from way downtown.
1-2-3.
Eddie retained.
Rating: ***
Summary: Counter-wrestling occupied the bulk of the match as each wrestler couldn't outsmart the other; however, Eddie got the last laugh.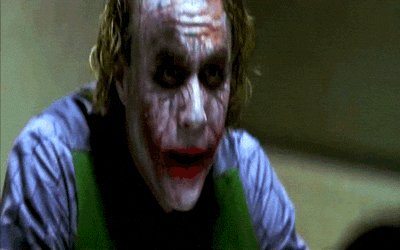 TV Rating: 3.7
Prior to the main event, we revisit WCW Saturday Night when the nWo interfered in a match between Benoit and Hennig (aired 10/4, taped 10/1).
Match 7 for the WCW US title: Curt Hennig (champion) versus the "Crippler" Chris Benoit
Highlights:
When Hennig made his entrance, Benoit attacked him in the aisle.
They entered the ring, and Benoit put a knee into Hennig's midsection.
As Benoit tried to hang Hennig out to dry, he misjudged the distance, and Hennig bounced off the ropes landing on the small of his back. OUCH!
Hennig then escaped to the apron, but Benoit nailed him causing Hennig to taste the steel railing. That was a kind tribute to Pillman, but I bet it tasted like the Walleye BLT at Hell's Kitchen.
After Benoit joined him, he rammed Hennig face-first into the steps.
Hennig then reversed a cross corner whip but ate boot on his follow-through.
When Benoit mounted the second turnbuckle, Hennig brought him down with a dragon screw leg whip.
He then gave Benoit a pair of knee crushers and rammed his knee into the ring post twice.
Following a commercial break, Hennig removed the pad from the top turnbuckle, but Benoit reversed a cross corner whip. That sent Hennig sternum-first into the exposed turnbuckle.
Benoit then delivered a German suplex, gave Hennig a cross corner whip, but came up empty on his follow-through. In essence, he inadvertently hit the exposed turnbuckle.
As Hennig hooked a Hennigplex, he pinned Benoit.
Hennig retained.
Rating: ***1/2
Summary: Hot main event where Hennig won in his hometown.
TV Rating: 3.7
After the match, Hennig CREAMS Benoit with the title belt, and the nWo hits the ring. All of a sudden, "Nature Boy" Ric Flair storms the ring, clears the nWo from it, and chases Hennig out of the Target Center. He then returns through the entrance to be interviewed by Okerlund.
Since Flair was in his old stomping grounds, he took the microphone to the ring. He then cuts a promo on Hennig and wants to face him at the PPV. Following his plan to destroy Hennig, Flair plots to topple Hogan.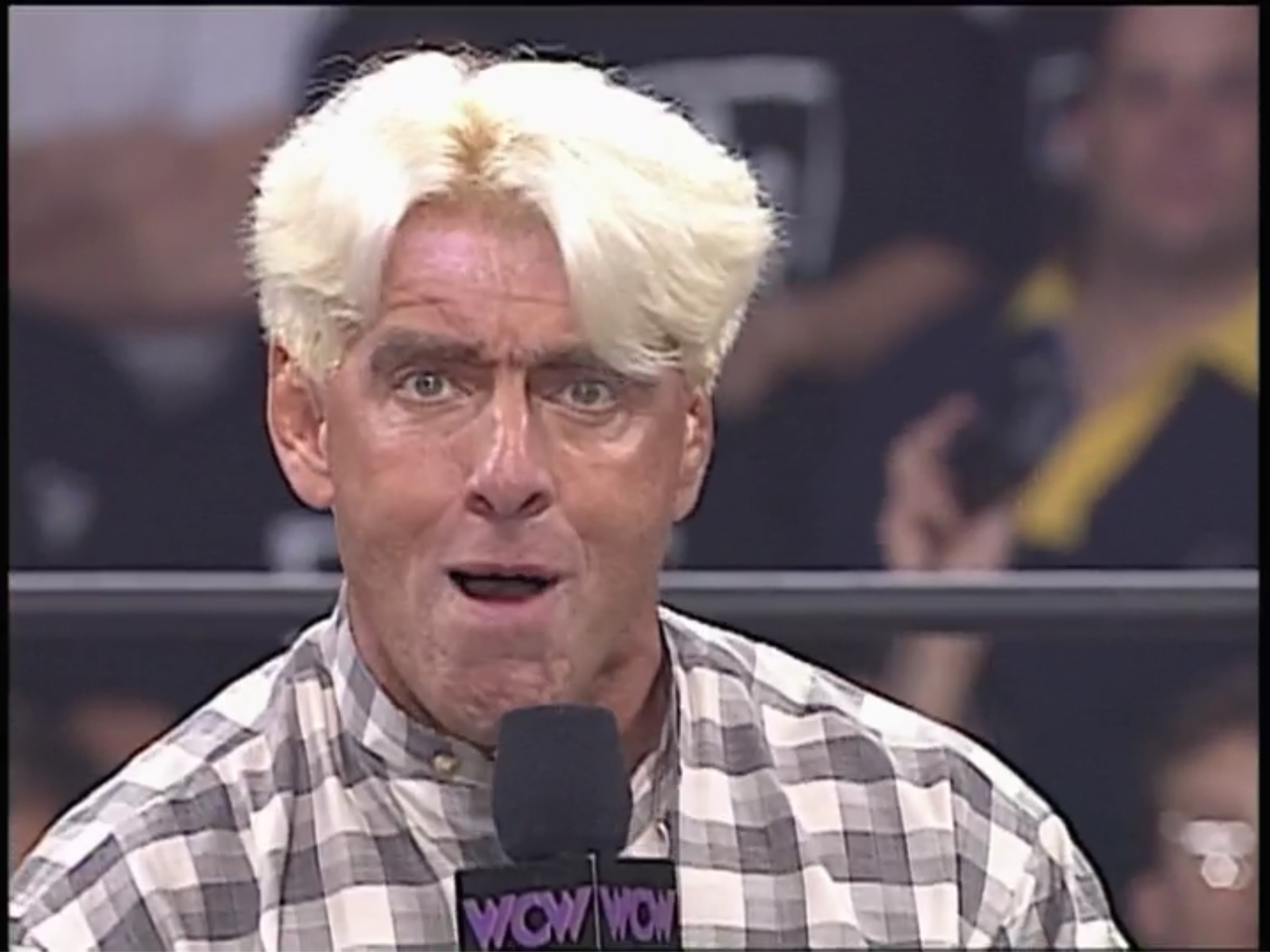 Conclusion: Great finish to a memorable show.My hat goes off to Hennig for that Pillman bump. While storylines for the PPV progressed, next week's show features a World tag team title match. Since Nash is injured, how will it play out? What's on RAW is WAR?
Final TV Rating: 4.0
Stay tuned for RAW Is WAR 10-6-97!
Comments? Suggestions? Send them to me at rsg@rockstargary.com and follow me on Twitter (@rockstargary202).
Custom Search