WELCOME TO ROCK STAR GARY REFLECTIONS!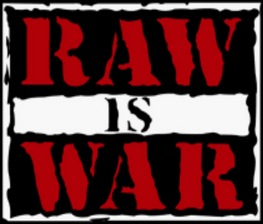 WWF RAW is WAR 9-22-97
Live from New York, NY
Airdate: September 22, 1997
Attendance: 14,615 (10,672 paid)
Hosted by Vince McMahon, Jim Ross, & Jerry "The King" Lawler
Believe it or not, RAW is WAR comes to Madison Square Garden for the very first time! Something absolutely phenomenal will take place, right? Let's find out!
***BREAKING NEWS*** WWF owner Vince McMahon sat down with Bret Hart in order to breach Hart's 20-year contract intentionally. While Vince claimed that he couldn't afford it, sources state that Vince wanted to take the WWF public in order to compete with WCW. In order to do so, investors would run screaming with Bret's elongated contract stuck on the books. More on this story as it develops.
Ross narrates a nostalgic look at past WWF events at Madison Square Garden.
Opening montage.
Match 1 for the WWF Intercontinental title (quarterfinal): Ahmed Johnson versus Rocky Maivia (w/ the Nation of Domination)
Highlights:
While the MSG faithful chanted "Rocky sucks," Commissioner Slaughter ejected the remaining members of the NoD.
According to Ross, due to injury, Shamrock had to withdraw from the tournament; thus, Faarooq advanced in his place. Um, ok...
Johnson powerslammed Maivia and clotheslined him over the top rope to the floor.
When he gave Maivia a cross corner whip, Johnson came up empty on his follow-through.
Maivia then delivered a hurricane DDT for 2.
As Captain Lou Albano meandered around the ring, Maivia sent Johnson flying over the top rope to the floor. In the process, Johnson injured his right hand on a loose nail in the Spanish broadcast table. OUCH!
Maivia then joined and rammed Johnson shoulder-first into the steps.
After he hooked la magistral cradle, Maivia only earned a 1-count.
Johnson rebounded with a spinebuster, and his injury appeared gruesome. Where's the duct tape?
When Maivia reversed an Irish whip, a mid-ring collision occurred.
Johnson then gave Maivia the Pearl River Plunge.
1-2-3.
Johnson advanced.
Rating: *½
Summary: The MSG faithful's disdain for Maivia was one of the highlights of the match. The other, unfortunately, was Johnson's hand injury.
Austin's music plays, and Austin stands among the MSG faithful. Who is he, DDP? Regardless, he vows to "whip somebody's ass."
SABLE'S SECRET MISSION; Sable destroys Howard Finkel in a game of laser tag.
Seated among the MSG faithful is legendary boxer Floyd Patterson.
We then revisit stills from the PPV two nights ago when Shawn Michaels STOLE the European title from Smith much to the chagrin of the Birmingham faithful. Someone notify the Birmingham police!
Since he wasn't here last week, Undertaker graces us with his presence in the ring. According to Vince, the winner of the Hell in a Cell match will earn a WWF title shot at Survivor Series '97. Undertaker cuts a promo on Michaels. Afterward, the NEW European champion, with the belt over his shoulder, rebuts from the ramp.
Michaels then touts his Grand Slam status and announces that he "won't lay down for anybody." Selfish prick. Regardless, Michaels is seeking a "garden party." Um...really? He might want to hit up East Greenwich Village. Nevertheless, he finishes his promo on Undertaker.
Prior to the next match, we revisit last week's episode when Faarooq inadvertently injured Shamrock with a spinebuster.
Match 2: Faarooq & Kama Mustafa (w/ the Nation of Domination) versus the Road Warriors
Highlights:
Sunny was the guest ring announcer for this match.
As Kama leap-frogged him, Animal low-bridged him sending Kama to the floor.
Animal then gave Kama a flying shoulder block followed by a powerslam.
When Faarooq tagged in, Ross shilled the six-man tag match between the NoD and Road Warriors/Shamrock at the PPV.
Hawk tagged in and clotheslined Faarooq,
After he gave Faarooq a cross corner whip, Hawk ate boot.
Faarooq then mounted the second turnbuckle and delivered a flying shoulder block.
As Hawk hit a fist drop, he got 2.
Kama tagged in and slammed Hawk.
When Faarooq tagged in, Hawk gave him a hangman's neckbreaker for 2.
The Road Warriors then dispatched Kama and delivered consecutive corner clotheslines to Faarooq.
Following that, they set up for the Doomsday Device, but D'Lo Brown and Maivia hit the ring to interfere.
The Road Warriors won by DQ.
Rating: ½*
Summary: Mere appetizer for the PPV.
After the match, the NoD quadruple-teams the Road Warriors until Johnson returns wearing a bandage on his injured hand. The NoD continues to pummel Johnson and the Road Warriors when officials hit the ring to break it up.
MSG MEMORY; "Superfly" Jimmy Snuka connects with a splash from the top of the cage back in 1983.
Match 3 for the WWF Intercontinental title (semifinal): Owen Hart versus the "Loose Cannon" Brian Pillman (w/ Marlena)
Highlights:
When Pillman made his entrance, he wore a sling on his left arm and Marlena on his right.
According to Vince, Goldust and Marlena will renew their vows on RAW is WAR on 10/6.
Pillman then detailed a sexual escapade with Marlena that allegedly left him with a broken arm.
While Pillman attempted to forfeit the match, Commissioner Slaughter intervened.
He then uncovered the ruse and threatened lifetime bans to both Owen and Pillman should the match not occur RIGHT NOW.
According to Ross, the final of the IC title tournament will happen at the PPV. Likewise, the winner of this match will advance to compete in that match.
As you'd expect, since both wrestlers were members of the Hart Foundation, they mockingly wrestled one another at 33 1/3 instead of 45 RPM.
During a commercials break, an ad for WWF trading cards aired. They were available through Stri-Dex.
Also, during the break, Owen took exception to Marlena's interference, and the brawl was ON.
Upon returning to live action, Pillman clotheslined Owen for 2.
He then gave Owen a jawbreaker while Ross shilled the One Night Only replay in Canada.
When both wrestlers attempted a cross body block, a mid-ring collision occurred.
Goldust then hit the ring and nailed Owen.
As a result, Owen won by DQ advancing to the final.
Rating: NONE
Summary: Mere exercise to get to the logical finish with Goldust.
After the match, Goldust tries to attack Pillman. Unfortunately for Goldust, Pillman hightails it with Marlena. Owen then grabs the microphone to gloat about his victory and dedicates the match to his "loving brother" Bret.
Suddenly, Austin interrupts and ambushes Owen. New York's finest immediately grab him, but Austin stands his ground. For some reason, Vince leaves the broadcast table and enters the ring. He then pleads with the police not to arrest him. Following that, he questions Austin about his behavior and tells him not to break the law.
When Vince advises Austin about his medical condition, he states the WWF will not allow him to compete against doctor's orders. He then informs Austin to "work within the system." In rebuttal, Austin offers the following:
"You know as well as I do that this is what I do for a living. This is all that I do, and can't nobody tell that I ain't the best in the damn world...Sit here and tell me to "work within the system." You ain't the one sitting on your ass at the house like I am. But, if that's what it takes, to make you or the World Wrestling Federation happy, I feel like Cool Hand Luke. I'll work within your stupid little system.
"I appreciate the fact that you and the World Wrestling Federation care. And I also appreciate the fact, hell, you can kiss my ass."
He then delivers the Stone Cold Stunner to Vince. In reality, it's the first time any wrestler lays a finger on him. While it may seem that Vince was just in harm's way, the angle makes sense because Austin has zero regard for authority, and Ross yells in anger about the WWF owner getting assaulted.
Nonetheless, New York's finest arrests Austin while the MSG faithful chant "Au-stin." Ross then states that Austin's "on his way to jail" and "fired." Considering the overwhelming positive reaction from the MSG faithful, I beg to differ.
A tribute airs for Dick "The Bulldog" Brower 1933-1997.
WAR ZONE!
We then revisit the Stunner heard 'round the world while Ross subtly mocks Schiavone.
Prior to the next match, Lawler interviews USA's Up All Night host Rhonda Shear.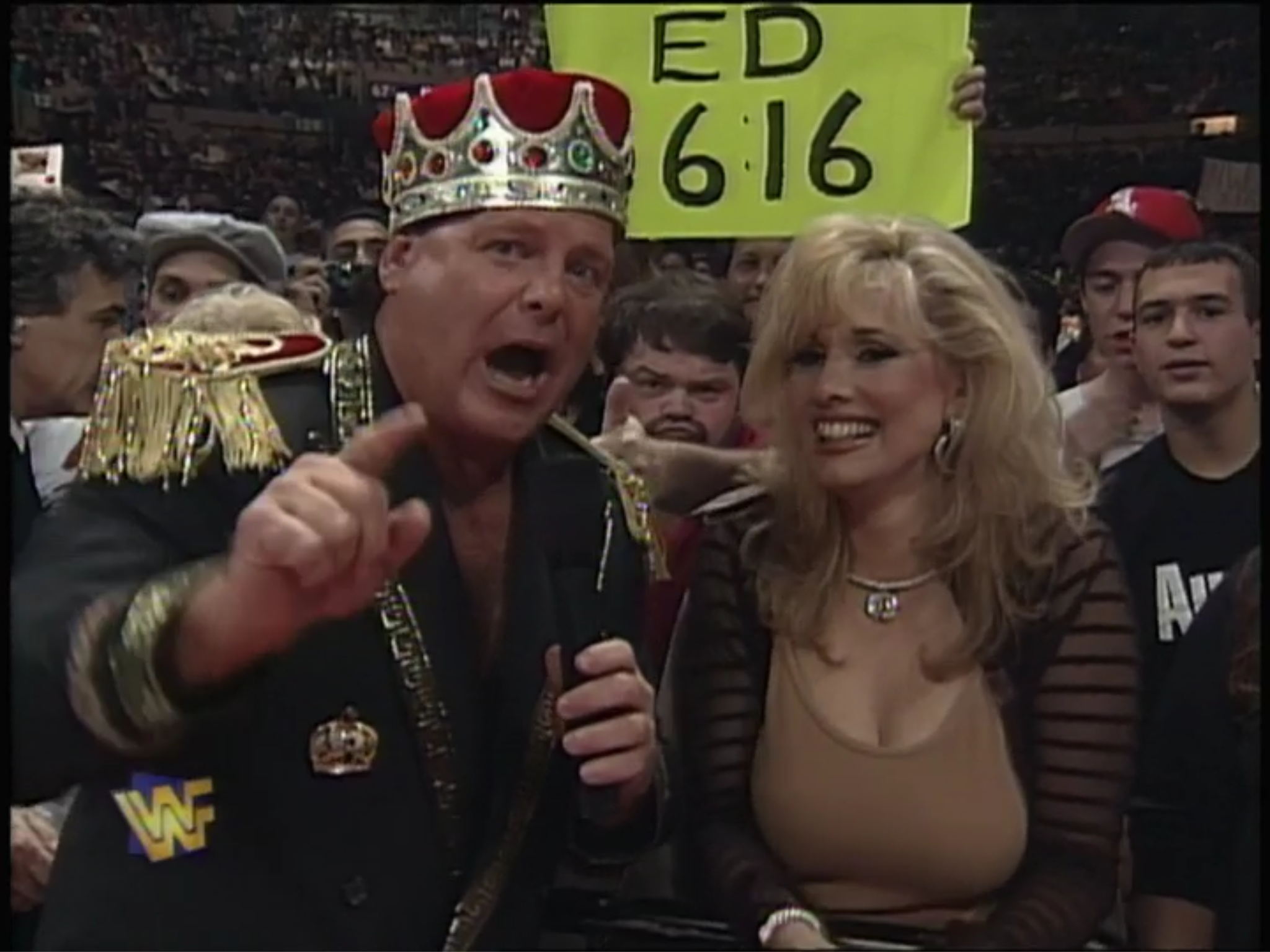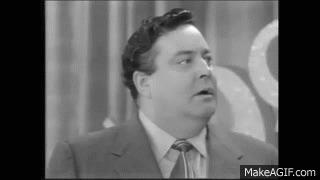 Match 4 (falls count anywhere): Hunter Hearst Helmsley (w/ Chyna) versus Dude Love
Highlights:
In lieu of making his entrance, Dude Love appeared on the Titantron to host the Love Shack instead.
He then introduced Mankind who would rather have someone even more sinister than him accept this match—Cactus Jack.
When Cactus joined the Love Shack, Helmsley had a conniption in the ring.
With plenty o' plunder, Cactus hit the ring as well as Helmsley with a trash can.
While the MSG faithful chanted "E-C-W," Cactus rammed Helmsley face-first into the steps.
He then exposed the concrete floor and delivered a swinging neckbreaker on it for 2. OUCH!
After the match moved into the ring, a Cactus clothesline sent both wrestlers reeling over the top rope to the floor.
Cactus then chased Helmsley around the ring until Chyna leveled him. SNEAKY!
As she clotheslined Cactus over the steel railing and into the front row, Helmsley and Cactus brawled their way backstage.
Helmsley then slammed Cactus on the tiled floor for 2.
When Helmsley falsely believed he got the victory, he walked through the curtain.
Referee Mike Chioda gave him the bad news, and Helmsley turned around only to eat fire extinguisher fumes courtesy of Cactus.
After Cactus rammed him back-first into the steel railing, he gave Helmsley a cross corner whip within the ring.
It resulted in a Helmsley flip to the floor where Cactus DROPPED THE BOMB on Helmsley with a trash can.
As Cactus attempted the Cactus elbow, Helmsley evaded him. That sent Cactus into the trash can on the floor. YEE-OUCH!
Chyna then rammed Cactus knees-first into the steps.
During the break, Helmsley CROWNED Cactus with a trash can.
Following the break, Helmsley WALLOPED Cactus with a mop handle.
He then guillotined Cactus with the top rope and jammed a steel chair into Cactus' ribs.
When Helmsley rammed him sternum-first into the ring post, Cactus' trick knee acted up. Helmsley could honestly provide voice lessons to the girls' choir afterward.
Cactus then delivered a sunset flip from the apron to the concrete floor for 2.
Next, he charged Helmsley who made Cactus taste the steel railing. It must have tasted like the Paestum sandwich at La Panineria Italia.
Cactus rebounded with a back drop on the ramp to Helmsley.
After Chyna CREAMED Cactus with a steel chair, Helmsley sacrificed her by sending both of them into the steps.
While Chyna was OUT COLD, Cactus nailed Helmsley who landed on the ramp for 2.
Helmsley then gave Cactus a belly-to-back suplex on the ramp for 2.
As Helmsley retrieved a plastic trash can from the stage, he SMASHED it on Cactus' head for another 2.
He then hammered Cactus with a snow shovel and rammed the back of Cactus' head into the metal stage.
When he assembled a wooden table upon the stage, Helmsley joined Cactus atop it.
He then attempted a Pedigree, but Cactus blocked it with a shot down Broadway.
Instead, Cactus piledrove him through the table on the stage.
1-2-3.
Cactus won.
Rating: ***½
Summary: Absolutely insane brawl with hellacious bumps by both wrestlers. This match remains a classic RAW moment to this day.
Can you say Survivor Series super supper sweepstakes? Evidently, many people tried but failed miserably.
MSG MEMORY: Andre the Giant slams Big John Studd to win the match and $15,000 at the inaugural WrestleMania.
We then revisit stills from One Night Only.
Michaels returns and enters the ring with a steel chair. As Michaels challenges him RIGHT NOW, Undertaker answers in person. Abruptly, Helmsley tries to attack but gets nailed. Michaels then destroys Undertaker with a chair, and he and Helmsley double-team him. "Ravishing" Rick Rude and Chyna join to quadruple-team Undertaker. Remarkably, Undertaker absorbs the punishment and chases them off with the chair.
In Your House XVIII: Bad Blood is sponsored by Sony Playstation.
Prior to the main event, Bret cuts a promo on both Undertaker and Michaels.
Match 5 (non-title): WWF champion Bret "Hitman" Hart versus Goldust
Highlights:
Is he just playing a bitter heel or thoroughly pissed about his contract status?
According to Ross, Goldust believed that ½ of him is missing; thus, ½ of Goldust's face isn't painted.
As if Bret were Pillman, Goldust pounded him into hamburger.
He then gave Bret a HARD cross corner whip injuring the back.
When he clotheslined Bret, Goldust got 2.
Shortly after, Bret worked on Goldust's left leg and hooked a ring post figure four leg lock.
Suddenly, Michaels emerged through the entrance to get a bird's eye view.
While the MSG faithful chastised Michaels about his alleged bedroom activities, Bret attempted a vertical suplex.
On the other hand, Goldust blocked it and delivered one of his own.
To prevent Bret from continuing to punish Goldust's left leg, Goldust booted him over the top rope to the floor.
He then joined and rammed Bret face-first into the steps.
As he gave Bret another cross corner whip, Goldust followed with a bulldog for 2.
Upon giving Bret a third cross corner whip, Goldust ate boot on his follow-through.
Bret then mounted the second turnbuckle and leaped.
When he blocked a boot shot on the way down, Bret hooked a Sharpshooter.
Goldust submitted so Bret won.
Rating: *
Summary: Neither wrestler was feeling it, and that's an awful thing to do in MSG. Regrettably, this would be Bret's last match as an active wrestler in MSG.
After the match, Bret won't release the hold so Michaels hits the ring and Bret. As Bret gets the upper hand on Michaels, Helmsley and Chyna join the melee. Owen sprints to the ring to help his brother while Smith limps to even the odds. Rude and Neidhart also enter the ring before Undertaker inserts himself to the mix. To close out the show, Undertaker double-chokeslams both Bret and Michaels.
Conclusion: While I would normally complain about only five matches within a 2-hour show, the Cactus-Helmsley match along with the Austin-Vince angle make this an historic and must-see episode. Can it propel the WWF into ratings victory?
TV Rating: 2.4
Who won? Nope, Nitro won again for the fifty-ninth straight week. Next week, Nitro invades a WWF stronghold in Worcester while RAW is WAR is taped from Albany. Who knows what'll happen?
Stay tuned for WCW Monday Nitro 09-29-97!
Comments? Suggestions? Send them to me at rsg@rockstargary.com and follow me on Twitter (@rockstargary202).
Custom Search