WELCOME TO ROCK STAR GARY REFLECTIONS!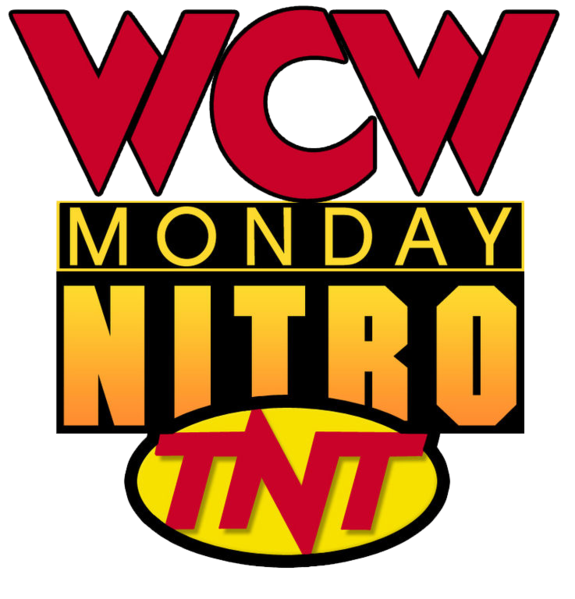 WCW Monday Nitro 9-15-97
Live from Charlotte, NC
Airdate: September 15, 1997
Attendance: 8,141 (6,808 paid)
Hosted by Tony Schiavone, Larry Zbyszko, "Iron" Mike Tenay, & Bobby "The Brain" Heenan
Can Mongo get revenge against Hennig for his betrayal last night? Will Regal regain the TV title? Do Mortis and Wrath stand a chance against the Outsiders? Let's find out!
The show opens with a comatose Ric Flair lying on a gurney ready for surgery. When the feed turns to the broadcast table at the Independence Arena, Schiavone credits Flair for his career, becomes despondent, and leaves. I don't blame you one bit, Tony. Zbyszko calls what happened last night an "abomination."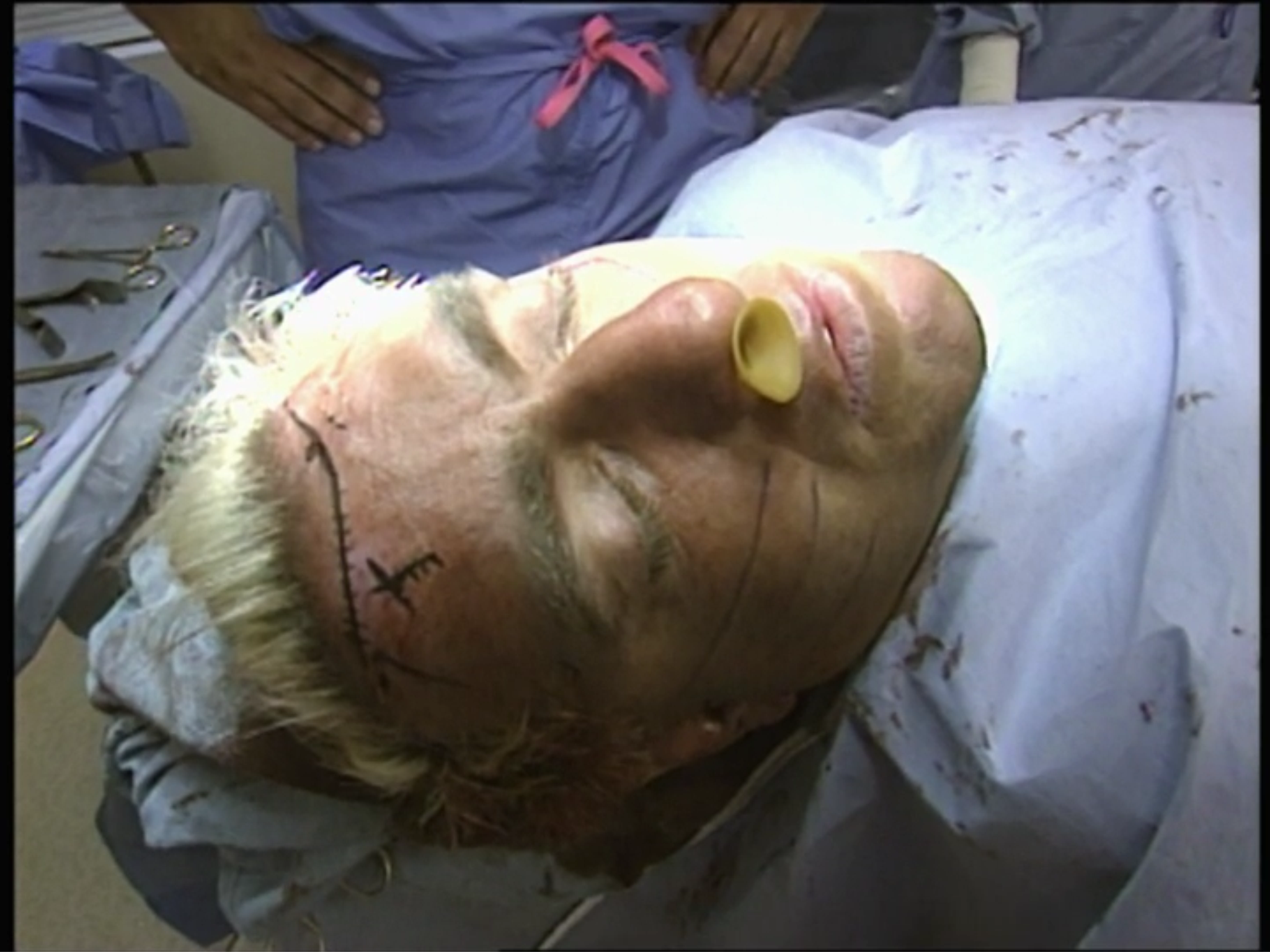 Next, stills from the WarGames match from last night are shown. We then witness the cage door-slamming on Flair's head again.
Match 1: Dean Malenko versus Disco Inferno
Highlights:
Due to his match last night against Jeff Jarrett, Malenko's left knee was wrapped.
Malenko clotheslined Disco and followed with a leg lariat.
When he attempted the Texas Cloverleaf, Disco raked the eyes to escape.
Disco then mounted the second turnbuckle but ate a shot to the midsection.
As Malenko gave Disco a cross corner whip, he followed with a corner clothesline.
He then gave Disco another cross corner whip but ate a back elbow on his follow-through.
Upon delivering a powerslam, Malenko got 2.
He then hooked a vertical suplex for another 2.
When Disco reversed a cross corner whip, Malenko floated to the apron.
He then mounted the top turnbuckle, but Disco caught him.
As he rammed Malenko's injured knee into the apron, the Charlotte faithful chanted "Disco sucks."
Malenko then hit a double underhook powerbomb and hooked the Texas Cloverleaf.
Since Disco submitted, Malenko won.
Rating: **
Summary: Decent opener as Malenko gets back on track after his loss last night.
Opening montage.
Match 2: Harlem Heat (w/ Jacqueline) versus Faces of Fear
Highlights:
Stevie Ray reversed a cross corner whip, caught Meng by the boot, and gave him a big boot.
As Barbarian came in, Stevie Ray slammed him.
Booker T tagged in, got reversed on an Irish whip, but delivered a flying forearm for 2.
When tags were exchanged on both sides, Faces of Fear supplied Stevie Ray with a double head butt for 2.
Raven was shown sitting in the front row.
After Meng tagged in, he gave Stevie Ray an inverted atomic drop while Barbarian delivered a Mafia kick.
Barbarian tagged in, gave Stevie Ray a cross corner whip, and followed with an avalanche.
As Meng tagged in, he attempted a suplex, but Stevie Ray blocked it.
He then delivered one of his own but couldn't tag out.
Instead, Meng slammed him and tagged in Barbarian.
When Faces of Fear stood in opposite corners, they missed a diving double head butt.
Hot tag Booker T.
All four wrestlers were in the ring, and Harlem Heat hit the Big Apple Blast.
As Meng applied the Tongan death grip, Booker T submitted.
Faces of Fear won.
Rating: **
Summary: Faces of Fear return to the win column while Harlem Heat's star begins to fade.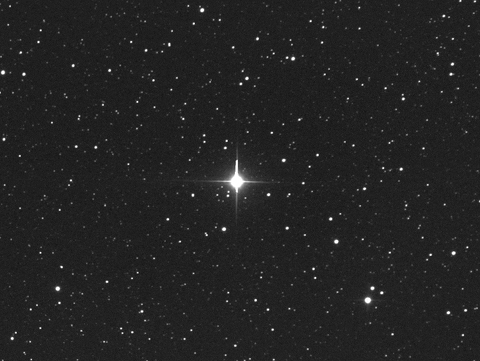 Nitro Girls dance in silver and white at the entrance while Tenay shills the Nitro Party contest.
At the entrance, "Mean" Gene Okerlund interviews DDP who challenges 'Macho Man" Randy Savage for a match at the PPV.
Match 3: Juventud Guerrera versus Rey Mysterio, Jr.
Highlights:
Mysterio gave Guerrera a flying headscissors, but Guerrera hung him out to dry.
When he attempted a dropkick, Guerrera hit nothing but air. Oops.
With Mysterio on the apron, Guerrera powerbombed him from the apron to the floor.
GET OUT THE SPATULA!
Somehow, Mysterio returned to the apron, but Guerrera suplexed him back into the ring.
He then delivered a springboard leg drop for 2.
As he flapjacked Mysterio, Guerrera gave him a cross corner whip.
Unfortunately for Guerrera, he came up empty on his follow-through.
Mysterio then mounted the top turnbuckle, but Guerrera caught him.
After Mysterio hit his own powerbomb, he got 2.
He then gave Guerrera a cross corner whip, placed him atop the top turnbuckle, and hammered him with the ten-punch count-along.
When he delivered a super huracanrana, Mysterio got another 2.
Guerrera came back with a unique face plant, gave Mysterio a cross corner whip, but came up empty on his follow-through again.
With Guerrera on the floor, Mysterio hit a somersault plancha. Woohoo!
From the apron, Guerrera attempted a springboard huracanrana, but Mysterio countered with another powerbomb.
He then delivered the West Coast Pop.
1-2-3.
Mysterio won.
Rating: ***
Summary: Great chemistry between these two translated into a good match enjoyed by the Charlotte faithful.
Match 4 for the WCW World TV title: "Das Wunderkind" Alex Wright (champion) versus Lord Steven Regal
Highlights:
Regal smacked the taste from Wright's mouth and pantomimed a flexed muscle. HA!
As the Charlotte faithful chanted "Re-gal," their hero monkey-flipped Wright.
Speaking of Wright, he showboated so Regal dropkicked him over the top rope to the floor.
Wright then delivered a springboard splash for a 1-count.
When he gave Regal a cross corner whip, Regal applied the brakes, and a head-on collision occurred.
Regal then attempted the Regal stretch, but Wright grabbed the bottom rope immediately.
After Wright hooked a sunset flip, Regal escaped and got a 2-count.
Wright then dropkicked him, and reversed a cross corner whip.
Since that resulted in a Regal flip, Wright hooked a German suplex.
1-2-3.
Wright retained.
Rating: **½
Summary: Regal had a chance, but Wright's on a roll.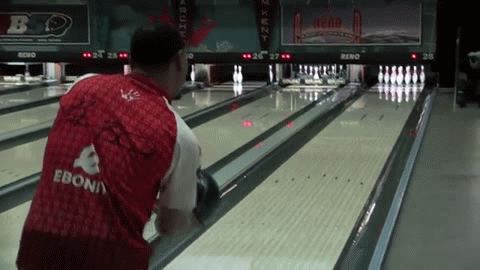 At the entrance, Okerlund interviews Ray Traylor. We then revisit the nWo spray-paint job on him from last week. During the interview, Traylor referred to Hennig as "Mr. Perfect." D'oh! Afterward, he's ready to take down the nWo brick-by-brick.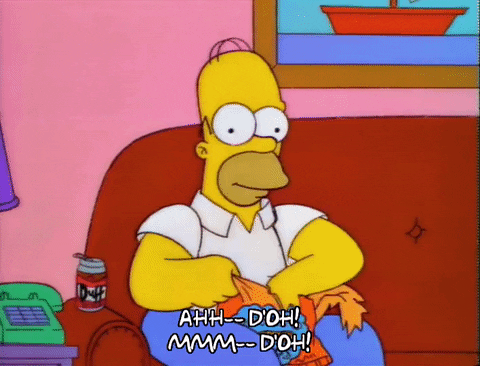 Match 5: K-Dogg versus Giant
Highlights:
Giant sauntered after K-Dogg outside the ring and head-butted him.
When Giant slammed him, K-Dogg mounted the top turnbuckle and leaped.
Giant then caught and chokeslammed him.
1-2-3.
Giant won.
Rating: *
Summary: Another victory for Giant over a member of the nWo.
HOUR #2!
Nitro Girls dance in the ring wearing black and silver. Wouldn't that make them the Coors Light Girls?
Match 6: Diamond Dallas Page versus "Dancin'" Stevie Richards
Highlights:
DDP gave him a gutwrench gutbuster, but Richards guillotined him with the top rope.
As he delivered a belly-to-back suplex, Richards got 2.
With DDP in the corner, Richards connected with a back elbow.
DDP came back with an inverted atomic drop and pancaked Richards.
From a fireman's carry, DDP hit the Diamond Cutter.
1-2-3.
DDP won.
Rating: *
Summary: Showcase match for DDP.
After the match, Raven enters the ring and slaps Richards like he stole Raven's lunch. He then kicks Richards to the floor before leaving through the Charlotte faithful.
Match 7 for the WCW World tag team titles: The Outsiders (champions w/ Syxx) versus Wrath & Mortis (w/ James Vandenberg)
Highlights:
While Wrath and Mortis made their entrance, Heenan mistakenly referred to Hennig as "Perfect."
Mortis countered a back drop by Hall with a Rocker Dropper.
When Hall reversed an Irish whip, Mortis attempted a cross body block.
As you'd expect, Hall caught and gave him a fallaway slam.
Mortis rebounded with a spinning heel kick and tagged in Wrath.
After Nash tagged in, Wrath reversed a cross corner whip and followed with a corner clothesline.
He then delivered a bicycle kick for 2.
When Mortis tagged in, he hit a side-Russian leg sweep on Nash.
He then mounted the second turnbuckle and gave Nash a guillotine leg drop for another 2.
As Syxx got up on the apron to distract referee Nick Patrick, Hall put a knee into Mortis coming off the ropes. SNEAKY!
Nash then delivered a big boot to Mortis.
Next, he attempted a jackknife powerbomb, but Wrath intervened.
Hall then clotheslined Wrath over the top rope to the floor.
After Nash hit a jackknife powerbomb, he pinned Mortis with one foot and a crotch chop.
The Outsiders retained.
Rating: **½
Summary: While I firmly believe that Wrath and Mortis are a mid-card tag team, they shouldn't have gotten squashed like this.
Eric Bischoff emerges through the entrance while a fan holds up a "RAW is taped" sign. I wonder if Bischoff will reveal its results. "Hollywood" Hogan along with the rest of the nWo emerge through the entrance. Hogan then grabs a fan's sign that reads "McMahon...bite me." Next, Bischoff introduces the newest member of the nWo—Curt Hennig--to Flair's music. Hennig emerges wearing Flair's robe to a chorus of boos.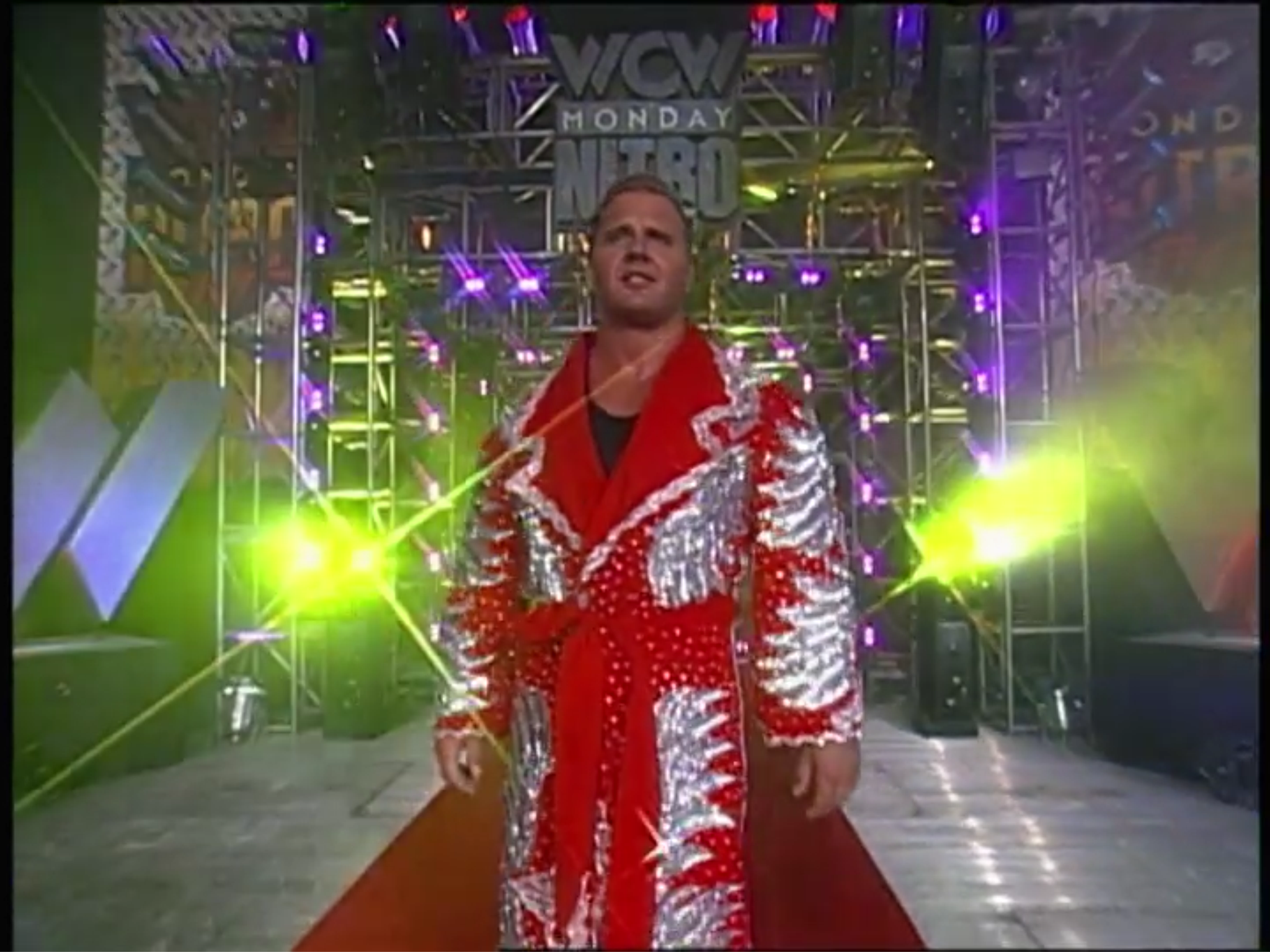 While the Charlotte faithful chant "We Want Flair," Bischoff congratulates Hennig who receives an expertly thrown beer to the head by a fan. Wow! Hennig then runs down Flair and reveals his nWo tank top. As he bestows Hogan with Flair's robe, Savage answers DDP's challenge with "it would be an honor."
Hogan then recalls Piper's days as the "head of...the WWF." While the Charlotte faithful LOUDLY chants "Hogan sucks," their subject of vitriol runs down Piper, and Hall performs his "down there" joke. To finish the segment, Hogan disparages Flair's robe in an obscene manner. Ick.
Video airs featuring Hogan versus Piper. Meanwhile, I go pop some popcorn.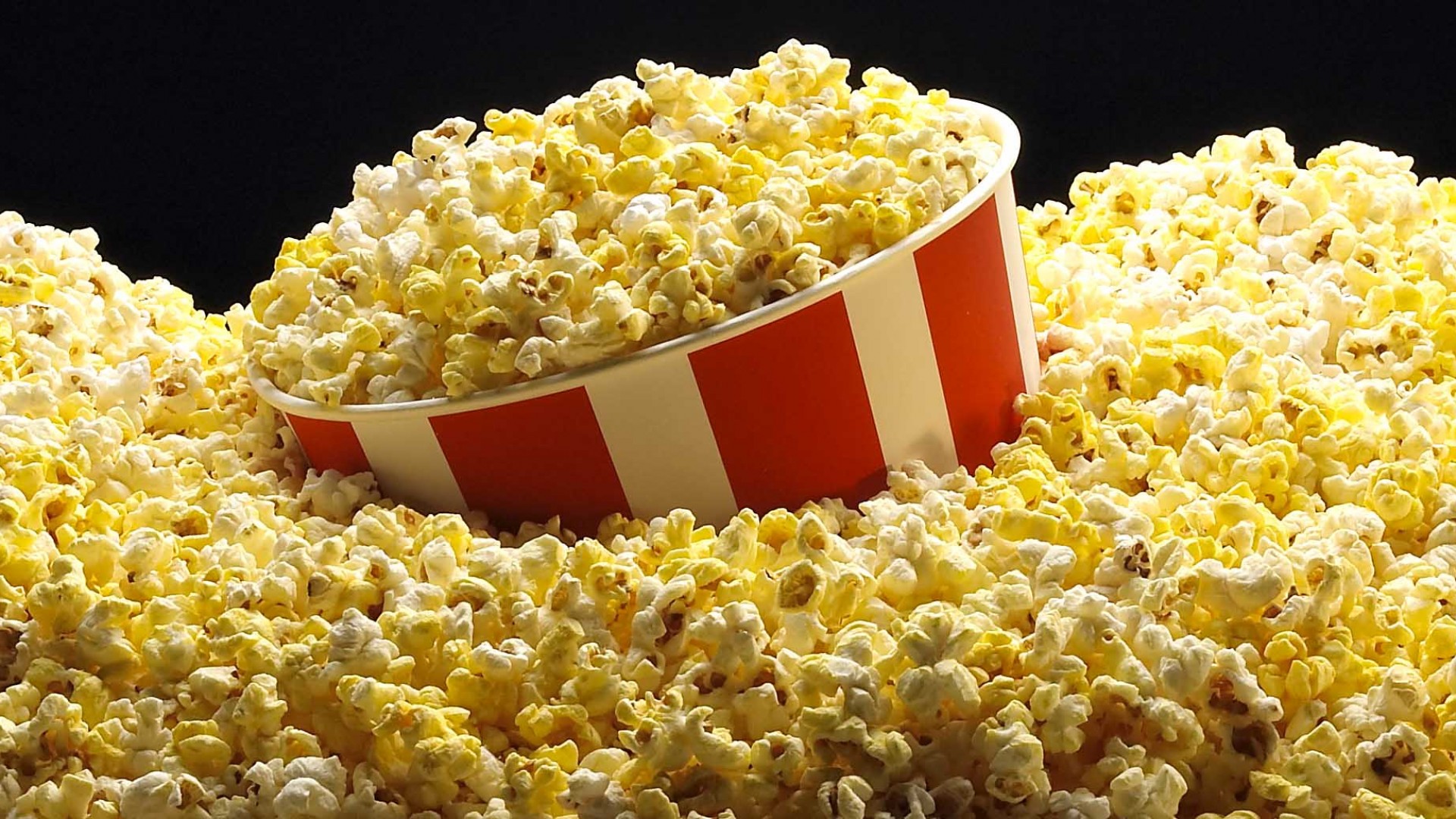 Match 8 for the WCW Cruiserweight title: Eddie Guerrero (champion) versus Ultimo Dragon
Highlights:
While the Charlotte faithful chanted "Eddie sucks," their nemesis gave Dragon an Anderson slam.
Eddie then delivered a slingshot senton to him before Dragon rebounded with a tilt-a-whirl backbreaker.
As Dragon reversed a cross corner whip, he performed a headstand on the top turnbuckle.
He then unleashed a series of kicks followed by a Ligerbomb for 2.
When he attempted a giant swing, Dragon dropped Eddie due to his injured right shoulder.
He then delivered a (botched?) flying headscissors for another 2.
After he gave Eddie a cross corner whip, Dragon came up empty o his follow-through.
He then escaped a suplex and hooked a sleeper.
As Dragon switched to the Dragon sleeper, Eddie kicked the injured shoulder to escape.
Dragon then attempted an Asai moonsault, but Eddie caught and gave him a shoulder breaker.
When he mounted the top turnbuckle, Eddie hit the frog splash.
1-2-3.
Eddie retained.
Rating: **½
Summary: Good match but far from what they actually can do. Hopefully, they will have a rematch when Dragon's 100% healthy.
In the aisle, the Nitro Girls dance in black and silver. So many Raiders jokes, so little time.
Match 7 for the WCW US title: Steve "Mongo" McMichael (champion) versus Curt Hennig
Highlights:
Buffer rumbled.
According to Tenay, Chris Benoit suffered a concussion at WarGames; thus, Mongo was left to his own devices.
When Mongo hit the ring, Hennig intercepted him.
He then rammed Mongo's left knee into the ring post and hooked a spinning toe hold.
While the Charlotte faithful chanted "Mon-go," their hero attempted the tombstone, but his left knee gave out.
Shortly after, Mongo tossed Hennig across the ring. In the process, Hennig got crotched on the ring post. OUCH!
Mongo then crotched him again to the delight of the Charlotte faithful.
As he gave Hennig an atomic drop, Mongo clotheslined him.
He then delivered an inverted atomic drop and clotheslined Hennig again.
Next, he gave Hennig the ten-turnbuckle count-along as Hennig hit all three plus the mat. HA!
Mongo then missed a three-point stance tackle allowing Hennig to hook the Hennigplex.
1-2-3.
WE HAVE A NEW CHAMPION!
Rating: **
Summary: To go along with his coronation into the nWo, Hennig also became champion.
Conclusion: Continuing my diatribe from the PPV, I still do not find jobbing/discrediting the hometown crowd's favorites into the ground. It's bad business, plain and simple. Although I know not every show can or should send the fans home happy, this show was overkill in the opposite direction.
Kudos to the Charlotte faithful for being a lively crowd because it enhanced the show tremendously. What's on RAW is WAR?
TV Rating: 3.9
IN OTHER NEWS THIS WEEK: Jack Adkisson, a.k.a. Fritz Von Erich, died at the age of 68 on 9/10/97 due to lung cancer. I believe both Dusty Rhodes and Dustin Runnels attended the services.
Stay tuned for RAW Is WAR 9-15-97!
Comments? Suggestions? Send them to me at rsg@rockstargary.com and follow me on Twitter (@rockstargary202).
Custom Search