WELCOME TO ROCK STAR GARY REFLECTIONS!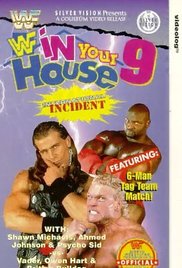 WWF In Your House IX: International Incident
Live from Vancouver, BC
Airdate: July 21, 1996
Attendance: 14,804 (11,955 paid)
Hosted by Vince McMahon, Jerry "The King" Lawler, and Jim Ross
In case you missed the Free for All, the WWF swerved us with Bradshaw versus Vega instead of Lothario versus Cornette which was promoted on RAW. I doubt the match rating would have been much different. Regardless, Bradshaw won this battle.
In lieu of a match, Lothario nails Cornette during an interview segment in the ring hosted by Jim Ross. Afterward, Vader enters the ring to scare the bejeezus out of Lothario. Suddenly, Michaels slides in to even the odds.
Prior to the first match, Vince interviews the Bodydonnas (sans Kloudy). If you read between Zip's botched lines, it would appear that Kloudy has been burnt off.
Match 1 (non-title): WWF tag team champions the Smoking Gunns (w/ Sunny) versus the Bodydonnas
Highlights:
Holy PG rating, Batman! Sunny is only wearing what appears to be a leather bra. Yowza!
Non-title on a PPV? I want my money back! Oh, wait, it's part of my subscription to the WWE Network. Never mind.
Bodydonnas began the match by double-backdropping Billy.
According to Vince, Roberts will be unable to compete tonight due to rib injuries.
After a cross-corner whip by Bart, Zip leapfrogged him.
A second leap frog followed by an arm drag kept Zip in control.
Skip tagged in, mounted the top turnbuckle, and delivered a double axe handle to Bart's shoulder.
Zip tagged back in, mounted the second turnbuckle, and gave Bart another double axe handle to his shoulder.
However, a short-arm clothesline by Bart turned the tide.
Moments later, Billy tried to slam Skip but received a flying headscissors instead.
Billy came back with a Rocker Dropper.
Cross-corner whip by Billy, but he came up empty on his follow-through.
During a rope sequence, Sunny collapsed.
Skip checked on her, but Sunny slapped the taste out of his mouth.
The Gunns then gave Skip a double clothesline. Hijinks at its finest, ladies and gentlemen.
Nevertheless, Billy then guillotined Skip on the apron.
Back in the ring, Billy got 1-2-NO!
Soon after, a HARD cross corner whip from Bart to Skip hurt Skip's back.
A second one had the same result.
A third one was reversed as Skip mounted the top turnbuckle only to fall prey to a powerslam from Bart.
As Zip distracted referee Harvey Wippleman, the Gunns double-teamed Skip incessantly.
Bart even guillotined Skip using the bottom rope via catapult.
According to Ross, the "Loose Cannon" Brian Pillman was "manning" the Superstar Line tonight. Call now and listen to the uncensored bantering of a lunatic! Kids, please get your parents' permission before calling.
Anyway, a rollup of Bart by Skip got 2.
Following that, Skip mounted the second turnbuckle and hit a flying body press.
Subsequently, Bart delivered a massive clothesline.
Billy tagged in, mounted the top turnbuckle, but received an inverted atomic drop.
Hot tag Zip.
After Zip tossed Billy outside the ring, Billy tripped him.
While Billy and Sunny distracted Wippleman, an attempted sidewalk slam by Bart was thwarted by a missile dropkick from Skip.
Zip landed atop Bart and got the pin.
Rating: ***
Summary: Good finish to a mediocre match. I bet Sunny's glad her gold wasn't on the line.
Back in the locker room, Mr. Perfect interviews Camp Cornette while Vader tosses his cookies furniture. According to Cornette, if his team doesn't win, then EVERYBODY gets a refund from him for buying the PPV. Woohoo! Show me the money!
Match 2: Mankind versus Jake "The Snake" Roberts Henry Godwinn (w/ Hillbilly Jim)
Highlights:
As Henry made his entrance, the overdubbed music also wiped out the commentary. D'oh!
Just as Henry yelled "Sooey" at the Vancouver faithful, Mankind attacked him from behind.
Powerslam by Henry was followed by a clothesline sending Mankind over the top rope to the floor.
After a double leg takedown by Henry, Mankind came back with a kick to the midsection.
Back elbow by Mankind was followed by a bulldog.
After an elbow drop by Mankind, he gave Henry a leg drop across the bottom rope.
Mankind then exposed the concrete and tossed Henry outside the ring.
Swinging neckbreaker on the CONCRETE floor by Mankind. OUCH!
After a brief comeback by Henry, Mankind reversed a cross-corner whip and nailed a clothesline.
Upon charging Henry, Mankind came up empty and hit his head on the ring post.
Next, Henry clotheslined Mankind but was tossed outside the ring.
From the apron, Mankind got caught and then tossed down on the CONCRETE floor. The bump had a striking resemblance to Foley's prior days in WCW performing the Nestea Plunge.
Back in the ring, Henry attempted a Slop Drop, but Mankind held the top rope.
Immediately, the mandible claw got the submission for Mankind.
Rating: *
Summary: Showcase of sick bumps by Foley kept this from hitting DUD.
Pillman is with the Bodydonnas on the WWF Superstar Line and comes AWFULLY close to crossing the line but doesn't. Your mileage may vary.
Before the next match, we get a glimpse of the reverse roll-up that included an inadvertent kick to the face by Mero splitting Austin's lip last month.
Match 3: Marc Mero (w/ Sable) versus Stone Cold Steve Austin
Highlights:
Ross' prognostication here about Austin's best days being in front of him was right on the money.
A cross body block by Mero got an early 2 count.
Backslide by Mero was countered by a knee to the midsection.
After a series of right hands, Austin exited the ring to regroup.
Meanwhile, Goldust's usher is typing on AOL while Marlena smoked her cigar. I wonder if it was a Partagas or Macanudo.
Regardless, as Austin sauntered after Sable, Mero leaped from the apron and gave Austin a double axe handle.
Following that, the same rollup that busted Austin's lip last month was tried by Mero but only got 2.
Austin faked another mouth injury only to poke Mero in the eye. SNEAKY!
Next, a rorearm to Mero's back sent him through the ropes down to the floor.
Outside the ring, Austin catapulted Mero into the ring post. OUCH!
While Lawler and Ross attempted to get Austin over as a ruthless heel, the crowd was firmly on his side.
With Mero draped on the apron, Austin leveled him sending him to the floor to eat the steel railing. It must have tasted appropriately like the sablefish from the Blue Water Café.
After Mero returned to the ring, Austin mounted the second turnbuckle and nailed an elbow smash for 2.
Back elbow by Austin, but he missed a running guillotine.
Mero then crotched Austin on the top rope.
Moments later, a flying headscissors by Mero almost killed both competitors but instead took them over the top rope to the floor.
In the meantime, Marlena and the usher came to the ring. The usher then gave Lawler a gold envelope.
Mero then gave Austin a somersault plancha from the apron to the floor.
On the other side of the ring, Mero delivered a moonsault from the apron to the floor as Austin landed in the aisle.
Quickly, Mero delivered a springboard splash and almost got 3.
Ten-punch count-along by Mero, and Mero attempted a huracanrana.
However, Austin caught and crotched him on the top rope.
After Austin talked smack to Sable, he tried the Stone Cold Stunner, but Mero held onto the top rope.
Springboard leg drop by Mero got 1-2-NO!
But, after a clip to the knee, Austin hit the Stunner and got the pin.
Rating: ***
Summary: Not as good as last month's match, but Austin's stock is rising as the crowd reaction for him has grown considerably.
As Sable enters the ring to check on her husband, an "nWo" sign was shown prominently. Now that's great selling by WCW if they can get their newest big thing on WWF PPV. As Mero leaves the ring, Bob Backlund "campaigns" in the stands. Hopefully, he finds some Washingtonians as the British Columbians cannot help his cause one iota.
Promo for tomorrow night's episode of RAW. Can the Smoking Gunns retain against the WWF champion and Intercontinental champion? Tune into my next reflection to find out!
Prior to the next match, we revisit IYH VIII when Mankind emerged from the casket to attack the Undertaker.
Match 4: Goldust (w/ Marlena) versus the Undertaker (w/ Paul Bearer)
Highlights:
The introductions for both competitors took FOREVER.
Before even locking up, Goldust used referee Jim Korderas as a human shield.
After Goldust dragged Undertaker outside the ring, he ate a chokeslam on the steel steps. Wow!
Undertaker then rammed Goldust-face-first into the steel steps.
Afterward, he threatened to drop the steel steps on top of Marlena and Goldust but reconsidered.
Back in the ring, a cross-corner whip by Undertaker was followed by a clothesline.
Next, a standing leg drop by Undertaker got 2.
Following that, Goldust gave Undertaker a cross-corner whip, but his uppercut was blocked.
As a "rest in peace" chant occurred, Undertaker gave Goldust his ropewalk shoulder smash.
After a slam, Undertaker missed an elbow drop.
Moments later, a clothesline by Goldust sent Undertaker over the top rope to the floor.
While outside the ring, Goldust rammed Undertaker face-first into the apron.
Undertaker came back by guillotining Goldust on the top rope.
Goldust then removed the top turnbuckle.
He then reversed a cross-corner whip directly into the exposed turnbuckle.
Outside the ring, Goldust rammed Undertaker face-first into the apron then dropped the steel steps onto his back. Unfortunately, the replay had the opposite view which showed the steps hitting the apron instead. Oops!
Big boot by Undertaker, but Goldust blocked a tombstone attempt.
Incredulously, Undertaker then hooked an inside cradle for 2.
Flying clothesline by Undertaker who then hit the tombstone for the pin. Or did he?
To quote Vince, "Wait a minute!" From under the ring, Mankind rose up through the mat to attack Undertaker and caused the DQ.
Rating: *1/2
Summary: ZERO chemistry between these two. Please don't let them ever wrestle one another again.
After the match, Mankind drags Undertaker under the ring. As Mankind rises to the mat, smoke emits through the hole in the ring. Has Mankind finished off Undertaker for good? Apparently, not as he comes through the ring on the other side then chases Mankind down the aisle. This feud is FAR from over.
During a promo spoofing the Olympics, Summerslam is coming August 18 only on PPV.
As we return to the broadcast table, a fan behind them puts a Burger King crown atop Lawler's head. HA! With a grin on his face, a security guard has to restrain the fans in that section from interfering with them.
Abruptly, in the bowels of the arena, Mankind and Undertaker continue to pummel one another.
We then revisit the events that led up to the main event including the Warrior's suspension.
Backstage, Dok Hendrix interviews Michaels, Johnson, and Sid. After Michaels babbled and Johnson garbled, Sid deciphered. Yikes!
As Michaels makes his entrance, the overwhelming amount of fans against the steel railing causes it to collapse as Lawler cackles.
Match 5 (six-man): Vader, Owen, & the "British Bulldog" Davey Boy Smith (w/ Jim Cornette) versus WWF champion the "Heartbreak Kid" Shawn Michaels, WWF Intercontinental champion Ahmed Johnson, & Ultimate Warrior Sycho Sid (w/ Jose Lothario)
Highlights:
Ross questioned Sid's loyalty, so you know he won't be turning heel tonight.
Standing choke by Vader of Michaels, but Michaels gave him a huracanrana shortly thereafter.
After a flying clothesline, Michaels delivered a cross body block that sent both competitors over the top rope to the floor.
When Michaels returned to the ring, he gave Vader a baseball slide.
He followed that with a plancha.
Michaels leaped from the apron, but Vader ducked sending Michaels chin-first into the steel railing. OUCH!
As Vader pummeled Michaels in the corner, the Vancouver faithful chanted for Sid.
Sid tagged in and the initial main event for Starrcade '93 took place here.
After clotheslining Vader, Sid delivered clotheslines to both Owen and Smith.
He then tossed both Smith and Owen over the top rope down to the floor. Did someone inform Sid that this ISN'T the Royal Rumble?
Nonetheless, he clotheslined Vader over the top rope to the floor.
Owen came in and received another clothesline.
German suplexes-a-plenty by Johnson to Owen. While not as crisp as Benoit's, I believe they're actually safer for both parties involved.
Johnson then attempted an elbow drop but missed.
Spinebuster by Johnson to Smith was followed by a Pearl River Plunge, but Vader made the save.
Afterward, a cross-corner whip by Vader led to an avalanche. One can actually hear Johnson getting SQUISHED.
Next, Vader attempted avalanche #2, but Johnson caught and slammed Vader. Wow!
1-2-NO!
Owen tagged in and gave Johnson a spinning heel kick.
Following that, Johnson reversed a cross-corner whip and then gave Owen a gorilla press slam.
Sid tagged back in and made Owen eat a big boot.
HARD cross-corner whip by Sid sent Owen back to his own corner.
Subsequently, Smith tagged in and gave Sid a delayed vertical suplex.
As Smith distracted Michaels, Johnson, and referee Earl Hebner, Vader delivered an elbow drop to the prone Sid.
1-2-NO!
HUGE kick-out by Sid.
Vader tagged back in and gave Sid a running body block.
Smith tagged in, but Sid no-sold his offense.
Michaels tagged in, mounted the top turnbuckle, and gave Smith a double axe handle.
That earned Michaels a 2 count.
Cross-corner whip by Michaels, but he came up empty on his follow-through.
Irish whip by Smith reversed by Michaels sent Smith directly into Vader knocking him to the floor. It also earned Michaels another 2 count thanks to a miscalculated save as Owen gave Smith an elbow drop instead of Michaels.
Upon tossing Owen over the top rope to the floor, Michaels earned another 2.
Haphazardly, Smith tagged Owen in so Michaels brought him in the hard way.
A series of Oklahoma rolls ended with a 2 count for Owen on Michaels.
Cross body block by Owen, but Michaels used momentum to land on top and get another 2 count.
Michaels then countered a vertical suplex with a victory roll that got 2.
Immediately, Owen countered and got 2 on Michaels.
Backslide by Michaels, but Owen countered and nailed Michaels with a clothesline.
1-2-NO!
Smith tagged back in and gave Michaels a back drop and a leg drop for 2.
Powerslam by Smith got another 2, but he missed an elbow drop.
Michaels ran into Owen's cast coming off the ropes then ate another clothesline by Smith.
Vader tagged in and gave Michaels a cross-corner whip that resulted in a Michaels flip to the floor.
Short-arm clothesline by Vader almost got 3.
While Vader had Michaels in a rest hold, an overzealous fan almost got into the ring.
After hitting Michaels with a running body block, Vader splashed him.
Before any count was made, Johnson clotheslined Vader.
Smith tagged in and prevented the hot tag.
Over-the-shoulder backbreaker by Smith was countered into a crucifix, but Smith countered that with a Samoan drop.
Cross-corner whip by Smith, but he came up empty on his follow-through.
Running powerslam by Smith, but Sid made the save with a leg drop.
Owen's distraction of Hebner caused a false tag to Johnson.
As Lothario got up on the apron, all three members of Camp Cornette nailed Michaels.
1-2-NO!
Owen tagged in, mounted the top turnbuckle, but miscalculated again as he nailed Smith with a missile dropkick instead of Michaels.
Hot tag Sid who chokeslammed Vader, Owen, and then Smith in succession.
Johnson tagged in and double-clotheslined Vader with Sid.
Michaels tagged back in, and with Sid's assistance, hit a Rocket Launcher on Vader for 1 thanks to a save by Smith.
As Cornette got up on the apron, Michaels intercepted him. However, Vader got the tennis racquet. However, he missed when he swung it at Michaels.
Michaels got ahold of it and WALLOPED Vader in the head with it.
1-2-NO! Vader kicked out.
As Michaels set up for his finisher, Cornette grabbed his foot.
While Lothario attacked Cornette, Vader nailed Michaels then set up for the Vader bomb.
Vader mounted the second turnbuckle, hit the Vader bomb, and got the pin.
Rating: ****
Summary: Hot main event that cemented Vader as the number one contender after pinning the WWF champion. Therefore, Cornette's promise could not be fulfilled as his team did not lose.
After the match, Sid gives Smith and Owen each a powerbomb. Before Vader could receive one, Smith and Owen pull him to safety. Out of nowhere, Michaels hits a tope onto Vader in the aisle. The tope alone adds an additional ½* to the match.
IN YOUR HOUSE EXTRA: Hendrix interviews WWF President Gorilla Monsoon and asks him about any particular matches signed for Summerslam. Monsoon informs us that Mankind and Undertaker will face one another in a boiler room. All of a sudden, Cornette (with Vader) interrupts the proceedings and requests a title match against Michaels for Vader. Will Monsoon make it happen? Tune into my next reflection to find out!
Conclusion: First, take a look at the buyrate. Ok, say it with me, SKIP THIS SHOW. It was completely inconsequential despite being a lucrative house in Vancouver. I hope the WWF sells something better at Summerslam or Eric Bischoff's dream of the WWF's demise may come to fruition.
Buyrate: 0.37 (Worst PPV rating in WWF history to this point)
Stay tuned for week 46 of the Monday Night War!
Comments? Suggestions? Send them to me at rsg@rockstargary.com and follow me on Twitter (@rockstargary202).
Custom Search