WELCOME TO ROCK STAR GARY REFLECTIONS!
>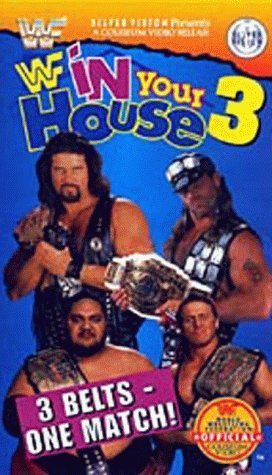 Live from Saginaw, MI
Airdate: September 24, 1995
Attendance: 6, 500 (5,146 paid)
Hosted by Vince McMahon, Jim Ross, and Jerry "The King" Lawler
The inclusion of Jim Ross to the commentary team was the work of new creative director "Cowboy" Bill Watts. Let's see how they fare together.
We see Savio Vega's debut at the first In Your House PPV on 5/14.
Match 1: Waylon Mercy versus Savio Vega
Highlights:
Caribbean legend Savio Vega was billed from the South Bronx. I wonder if he's a Yankees fan.
For those who are unaware Waylon Mercy was the latest character for Dan Spivey. Think Max Cady from the movie Cape Fear when you see Mercy.
Mercy missed an avalanche.
Clothesline by Mercy.
Mercy slammed Vega on the floor.
Neck vice by Mercy.
Stun gun by Mercy.
Dok Hendrix notified us that Owen Hart is not at the arena.
Sleeper by Mercy.
Vega countered with a belly-to-back suplex.
Mafia kick by Vega.
Standing leg lariat by Vega.
Brainbuster by Mercy only got 2.
Belly-to-back suplex by Mercy.
German suplex with a bridge got 2 for Vega.
Spinning heel kick by Vega got the pin.
Rating: *
Summary: Definite contrast of styles match here. After a European tour in October Spivey retired. Mercy killing, perhaps?
Dok Hendix locates WWF Commissioner Gorilla Monsoon in the heel locker room with Jim Cornette. Gorilla promises us that the main event will happen no matter what.
On Superstars (taped 8/29) Sycho Sid got slopped and destroyed the backstage area. Henry Godwinn received a powerbomb for his indiscretion.
Match 2: Sycho Sid (w/ Ted DiBiase) versus Henry O. Godwinn
Highlights:
While Godwinn and Sid stink up Saginaw JR coined the phrase "slobberknocker." Lawler teased him about it.
Godwinn suplexed Sid from the apron into the ring.
Behind referee Danny Davis' back. DiBiase put the loafers to Godwinn outside the ring.
Sid came off the apron with a double axe handle.
Make that 2.
Camel clutch by Sid.
Sid bored the crowd with another camel clutch.
Sid mounted the middle turnbuckle and BROKE HIS LEG ON THE WAY DOWN!
Oh, wait, that wasn't for another six years. My bad.
Instead he ate a shot to the bread basket while attempting a double axe handle.
Flying shoulder block by Godwinn.
Slop drop by Godwinn.
Behind Davis' back DiBiase tripped Godwinn coming off the ropes.
That led to Sid delivering a leg drop to the back of Godwinn's neck.
Powerbomb.
1-2-3.
Rating: *1/2
Summary: Sid's back work saved this from the depths of horrible matches.
After the match Bam Bam Bigelow attacks Sid. Kama then runs to the ring to attack Bigelow. Meanwhile Godwinn sneaks up from behind DiBiase, grabs his bucket from him, and slops him again! The scoundrel!
Back in the locker room Hendrix is still with Monsoon and Cornette. The Commissioner gives Cornette two options: (1) let Yokozuna fight by himself, or (2) find a one-time partner just for tonight. I don't like the smell of this.
On the 8/21 episode of RAW (taped 8/14) we see DBS nail Diesel in the back sending him down thanks to a clothesline by Mabel. Following that we see DBS giving Diesel his patented running powerslam.
Match 3: Bam Bam Bigelow versus "The British Bulldog" Davey Boy Smith (w/o Jim Cornette)
Highlights:
While this match has some mysterious clipping to it we see Cornette backstage trying to recruit Sid.
BBB missed an elbow drop.
He then missed a diving head butt.
Snap suplex by DBS.
DBS pulled the top rope sending BBB over the top to the floor.
BBB countered a suplex attempt by crotching DBS on the top rope. OUCH!
He then mounted the top turnbuckle and hit the head butt for 2.
DBS clipped the knee. Personal foul #0 Defense. 15 yards. First down.
Enziguri by BBB.
Single-leg crab by DBS.
DBS attempted a slam, but BBB fell on top.
DBS attempted a sunset flip only to get SQUISHED.
BBB mounted the top turnbuckle but missed on a dive.
DBS then mounted the top turnbuckle and hit a diving head butt.
After sending BBB into the corner on an Irish whip DBS delivered the powerslam for the pin.
Rating: **
Summary: This had RAW main event written all over it.
On the Superstar line we see Godwinn on one side and a still-slopped DiBiase on the other. What a trooper!
A plug for WrestleMania: The Special on FOX this Saturday at 11PM ET. I don't think the ratings for that went too well for the WWF.
Bob Backlund, campaigning for President of the United States (not the WWF) in 1996, comes to the ring carrying a dictionary. His abuse of million dollar words is put on display here. He then introduces Dean Douglas.
At Summerslam Douglas got his clock cleaned by Ramon after his critique. On Superstars Ramon interfered during Douglas' match-up against the 1-2-3 Kid. On RAW Douglas sought his revenge with a splash to the back of Ramon.
Match 4: Razor Ramon versus Dean Douglas (w/ Bob Backlund)
Highlights:
Douglas introduced his own opponent.
Ramon clotheslined Douglas over the top rope to the floor.
He then gave Douglas a hip toss over the top rope to the floor.
Backstage Cornette and Yokozuna attempted to recruit Mabel for the main event. Yikes!
Fallaway slam by Ramon.
Sunset flip by Douglas got 2.
Douglas sent Ramon over the top rope to the floor.
Springboard double axe handle from the ring to the floor by Douglas.
Douglas rammed Ramon back-first into the apron then slammed him.
A knee in the back by Douglas sent Ramon into the steps.
Douglas then rammed Ramon back-first into the ring post.
Douglas mounted the top turnbuckle and delivered a double axe handle.
Splash from the middle turnbuckle by Douglas.
Long boring rear chinlock by Douglas.
Electric chair by Ramon.
Discus punch by Ramon.
Douglas shoved Ramon into referee Tim White.
Flying forearm by Douglas.
Douglas attempted another splash from the middle turnbuckle but missed.
Razor's Edge.
The 1-2-3 Kid entered the ring and counted the pin while Backlund had White's attention.
The Kid and Ramon shoved one another until Ramon finally shoved the Kid out of the ring.
Douglas snuck up from behind and rolled up Ramon with a handful of tights for the pin.
Rating: **1/2
Summary: Awful finish. Douglas' aerial maneuvers were not crisp whatsoever. I understand the attempt to improve as a ring general, but forsaking quality for quantity usually doesn't reap benefits.
After the match Ramon tosses the Kid back into the ring. WWF officials separate the Clique members.
Promo for In Your House 4 from Winnipeg on 10/22.
Dok Hendrix shills Shawn Michaels' cap and glasses for $25! He then interviews the "Dudes with Attitudes." While wearing Shawn's hat Diesel smells a "rat."
On Superstars LaFitte stole Bret Hart's glasses and jacket.
Vince interviews Bret prior to his entrance.
Match 5: Bret "Hitman" Hart versus Jean-Pierre LaFitte
Highlights:
For those who are unaware LaFitte is Carl Ouellet, one-half of the Quebecers/Amazing French Canadians.
LaFitte wore Bret's jacket to the ring.
Tope suicida by Bret began the match. Wow!
Crucifix by Bret got 2.
After reversing a cross-corner whip Bret missed a shoulder block sending him into the ring post.
LaFitte made him take a second trip to the ring post shoulder-first.
Sternum-first bump to the turnbuckle by Bret.
Bret backdropped LaFitte over the top rope.
LaFitte landed on his feet and sent Bret shoulder-first into the steps.
"Spinebuster" (called by Ross) by LaFitte. Arn Anderson would be mortified seeing that.
Leg drop by LaFitte.
Sidewalk slam by LaFitte.
LaFitte mounted the top turnbuckle and delivered a diving leg drop.
He mounted the top turnbuckle again and missed the Cannonball.
Inverted atomic drop and clothesline by Bret.
Bret attempted the Sharpshooter, but LaFitte kicked Bret out of the ring.
He then tried the somersault plancha (called by Ross) but hit nothing but the ring mats. OUCH!
Bret then sent him into the steps.
Sternum-first bump in the corner by LaFitte.
Side Russian leg sweep by Bret.
Inside cradle by Bret only got 2.
Backbreaker.
Bret mounted the middle turnbuckle but ate boot on the way down.
Bret tried another crucifix but was countered into a Regal roll. His lordship would be proud.
LaFitte tried to pin Bret with his feet on the ropes but only got 2.
Dropkick by Bret.
Bulldog countered into a sternum-first bump in the corner.
LaFitte mounted the top turnbuckle but missed a splash.
Double clothesline put both men down.
While on his back Bret began applying the Sharpshooter.
LaFitte submitted.
Rating: ****
Summary: Creative match with great bumping and flying. This match should earn Bret a trip up the ladder toward the WWF title.
After the match Bret retrieves his jacket, so all is right with the world again.
Back in the locker room Dok Hendrix discovers that DBS will be Owen's replacement in the main event tonight. DBS does his best Stu Hart pose.
Former WWF Women's champion Alundra Blayze models the In Your House 3 t-shirt for only $20!
Match 6 (Triple-header—all WWF titles are on the line): WWF Champion Diesel and intercontinental champion Shawn Michaels versus WWF tag team champions Owen Hart and Yokozuna (w/ Jim Cornette and Mr. Fuji)
Highlights:
Holy hold off on the Snickers, Batman! Yokozuna looked as big as humanly possible here.
While DBS wore blue and red tights in his match against BBB he wore gold and red tights for this match.
Michaels clotheslined DBS over the top rope and skinned the cat back into the ring.
Michaels mocked Yokozuna. Since Yoko looked to be 3x Michaels' size I'd refrain from doing so if I were him.
Clothesline by Yokozuna to Michaels.
Clothesline by Yokozuna to Diesel.
Flying clothesline by Diesel.
Big boot by Diesel sent Yokozuna through the ropes to the floor.
DBS was unable to suplex Diesel on the first attempt but got him on the second try.
DBS attempted the running powerslam on Diesel but got thrown into the corner.
Diesel framed and hit an elbow on DBS In the corner.
After a cross-corner whip Diesel delivered a running clothesline.
Make that 2.
After a Diesel slam Michaels mounted Diesel's shoulders and splashed DBS.
DBS powerlifted Shawn and crotched him on the top rope.
Shawn flipped over the top turnbuckle after receiving a cross-corner whip.
Behind referee Earl Hebner's back DBS slammed Michaels on the floor.
Sunset flip by Michaels got 2.
Cross body block by Michaels got 2.
Nerve hold by Yokozuna.
Banzai drop by Yokozuna missed.
Hot tag Diesel.
Snake eyes by Diesel on DBS.
Running guillotine by Diesel.
Sidewalk slam by Diesel.
DBS was cross-corner whipped into Yokozuna who then fell on him.
Big boot by Diesel.
As Cornette got up on the apron Michaels nailed him.
Behind Hebner's back Yokozuna delivered a Samoan drop to Diesel.
Superkick by Michaels sent Yoko flying out of the ring.
Powerslam by DBS.
Michaels mounted the top turnbuckle and dropped an elbow to break up the pin.
Owen Hart ran in, mounted the top turnbuckle, but ate a right hand by Diesel to the midsection.
Jackknife powerbomb by Diesel to Owen.
1-2-3.
WE HAVE NEW CHAMPIONS!
Rating: ***
Summary: Something smells really fishy here, and I don't mean the Great Lakes perch at Spencer's Route 46.
Conclusion: The champions versus champions match-up garnered the WWF a decent buyrate that outperformed WCW's annual Fall Brawl. However, the main event had a screwy ending. I understand the inclusion of DBS in this match as he's being pushed for the WWF title as well as his inability to job here, but there had to be a better outcome than what transpired. I'm sure we'll learn more on RAW.
As far as match recommendations go I'd seek out the Hart-LaFitte match. The 2 hour B-show PPVs by the WWF aren't known for much, but this one wasn't terrible. Jim Ross' inclusion though minimal added good flavor to the show.
I would be remiss if I didn't mention the numerous not-so-subtle edits on this version from the WWE Network. They could at least apologize for having an incomplete copy of the show.
See you on the Monday Night War week 3!
Buyrate: 0.70
Comments? Suggestions? Send them to me at rsg@rockstargary.com and follow me on Twitter (@rockstargary202).
Custom Search