WELCOME TO ROCK STAR GARY REFLECTIONS!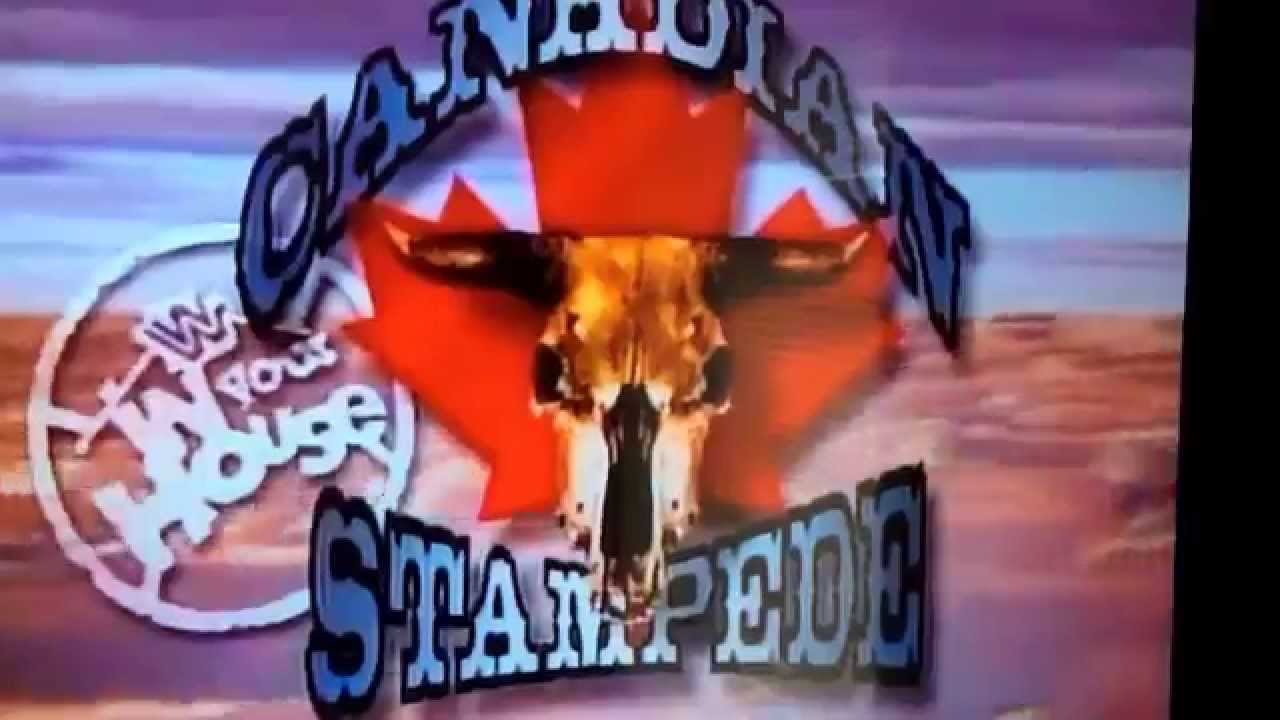 WWF In Your House XVI: Canadian Stampede
Live from Calgary, Alberta
Airdate: July 6, 1997
Attendance: 12.151 (10,974 paid)
Hosted by Vince McMahon, Jim Ross, & Jerry "The King" Lawler
With the show in western Canada, how will the Hart Foundation be treated? Scoundrels? Or heroes? Read on!
At the broadcast table, each commentator wears a cowboy hat. Check out Lawler's: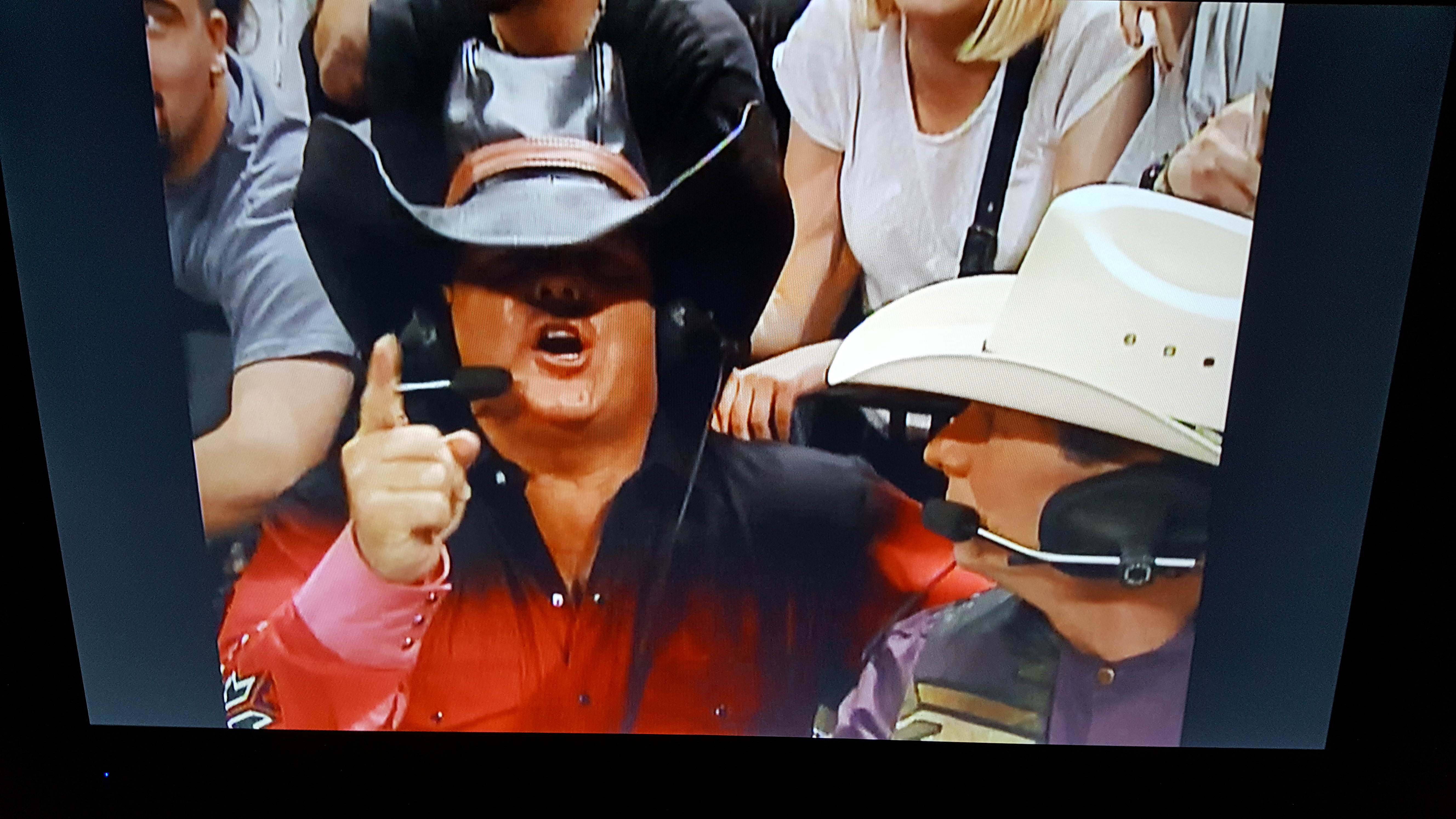 For those who care, the Godwinns defeated the New Blackjacks on the Free for All.
Prior to the opening match, we get a Dok Hendrix-narrated video promoting the happenings between Helmsley and Mankind.
Match 1: Hunter Hearst Helmsley (w/ Chyna) versus Mankind
Highlights:
Ring announcer Howard Finkel also wore a cowboy hat.
After Mankind gave Helmsley a cross corner whip, he delivered a bulldog.
He then slammed Helmsley and hit a leg drop.
As he gave Helmsley a double-arm DDT, Mankind mocked him.
Helmsley came back with a face crusher, but Mankind backdropped him over the top rope to the floor.
When Mankind moved to the apron, he delivered a Cactus elbow.
They returned to the ring until another cross corner whip by Mankind sent Helmsley over the top turnbuckle to the floor.
After Helmsley tried to escape up the ramp, Mankind caught and clotheslined him from behind.
He then suplexed Helmsley on the ramp. OUCH!
Upon returning to the apron, Helmsley re-entered via sunset flip, but Mankind countered with the Mandible claw.
Behind referee Jim Korderas' back, Chyna nailed Mankind. SNEAKY!
Mankind then sauntered after Chyna yet caught a flying Helmsley with a shot to the midsection. Imagine it like this.
As Helmsley reversed an Irish whip on the floor, Chyna hip-tossed Mankind knees-first into the steps.
She then distracted Korderas so that Helmsley could WALLOP Mankind with a chair.
Back in the ring, Helmsley gave Mankind a chop block.
He then continued to work on Mankind's leg while Mankind's leg buckled on a cross corner whip.
When Helmsley dropkicked Mankind's knee, he hooked a rope-assisted figure-four leg lock.
Once Korderas caught him, Helmsley reversed a cross corner whip and attempted the Pedigree.
Mankind countered, but Helmsley mule-kicked him back-first into the corner.
With Helmsley still down on the mat, Mankind inadvertently head-butted Helmsley down near Lethbridge.
After his knee stopped a ten-punch count-along, Mankind made Helmsley taste it.
He then gave Helmsley another cross corner whip resulting in a Helmsley flip.
With Helmsley tied to the Tree of Woe, Mankind delivered an elbow drop.
He then hit a piledriver for 2.
Next, he gave Helmsley a Cactus clothesline and grabbed a chair.
He then tried to nail Helmsley with it, but Chyna prevented him from doing so.
While Chyna distracted Korderas again, Helmsley HAMMERED Mankind's injured knee with the chair.
He then distracted Korderas so that Chyna could clothesline Mankind. Does he REALLY need all this interference to maintain his offensive onslaught?
As Helmsley mounted the top turnbuckle, Mankind upset his balance crotching him.
He then applied the Mandible claw until Chyna pulled him by the ankle.
When she crotched Mankind with the ring post, Helmsley made him taste the steel railing. It must have tasted like the Vegetarian's Nightmare at Trolley 5.
He then dumped Mankind over the steel railing into the Calgary faithful.
Meanwhile, Korderas counted both wrestlers out.
Rating: ***
Summary: I get the feeling that this feud is far from over.
After the match, Mankind hip-tosses Helmsley into the penalty box. They then brawl until officials separate them.
Next, a pre-recorded video airs with the Hart Foundation along with Diana Hart-Smith in a parade. Bret then signed autographs for his fans that stood a mile long. Hendrix, Goldust, and the Road Warriors then attended a White Hat ceremony while WWF superstars enjoyed a good game of tug-o'-war with fans. Hendrix closed the video with the Hart Foundation's "home-field advantage."
From the arena, Hendrix interviews Bret with the Hart Foundation until Austin interrupts. Acting as a babyface, Bret wants it 5-on-5 rather than 5-on-1.
Prior to the next match, Helmsley and Mankind continue to brawl on the floor of the Saddledome. Helmsley is BUSTED OPEN! While Mankind rams Helmsley into some equipment, they, along with some officials, head backstage.
Match 2: The Great Sasuke versus Taka Michinoku
Highlights:
You might remember these two from ECW's Barely Legal.
As the bell rang, a true blue smart mark held up a "this is workrate" sign. Back in 1997, 99% of the audience probably didn't understand that term.
Sasuke hit a spinning thrust kick during the feel-out process.
After Michinoku escaped a sleeper, Sasuke hit a STIFF kick that echoed throughout the Saddledome.
Sasuke then hooked a single-leg crab, but Michinoku made the ropes.
When Sasuke gave him a series of kicks, Michinoku blocked one and slapped Sasuke.
He then gave Sasuke a snap mare followed by a dropkick to the back of the head.
Next, he delivered a seated dropkick to whistles of appreciation by the Calgary faithful.
Sasuke then backdropped a charging Michinoku over the top rope to the floor.
As he mounted the top turnbuckle, Sasuke hit a missile dropkick to Michinoku on the floor.
Sasuke then unleashed a series of kicks in the corner followed by an enziguri causing Vince to want to stop the match.
When Michinoku caught Sasuke's leg, he delivered a dragon screw leg whip.
He then dropkicked Sasuke's knee causing Sasuke to seek refuge outside the ring.
Upon leaping to the top rope, Michinoku hit a tope. Woohoo!
Sasake then escaped a suplex back into the ring and attempted a German suplex.
However, Michinoku landed on his feet and gave Sasuke a huracanrana for 2. Double woohoo!
He then hooked la magistral cradle for another 2.
After Michinoku gave him a shoulder block, Sasuke hit a handspring elbow.
Michinoku then sought refuge outside the ring only to fall victim to an Asai moonsault by Sasuke.
Upon re-entering the ring, Michinoku delivered an overhead belly-to-belly suplex for 2.
He then gave Sasuke a cross corner whip followed by a high knee.
Afterward, he hit a springboard dropkick from the apron.
He then delivered the Michinoku driver but only got another 2.
As he mounted the top turnbuckle, Michinoku leaped but ate a dropkick.
Sasuke then hit another Asai moonsault this time inside the ring for 2.
When he powerbombed Michinoku, he delivered a Tiger suplex.
1-2-3.
Sasuke won.
Rating: ***1/2
Summary: The Calgary faithful had no clue how to react to this, but I thought it was a really good match where both competitors showcased themselves well.
In the parking lot, Mankind rams Helmsley face-first into a school bus. While Chyna holds Mankind, Helmsley pounds him. He then sends Mankind flying into a group of empty beer kegs. Despite officials' warnings, Helmsley drills Mankind with the handle of a shovel.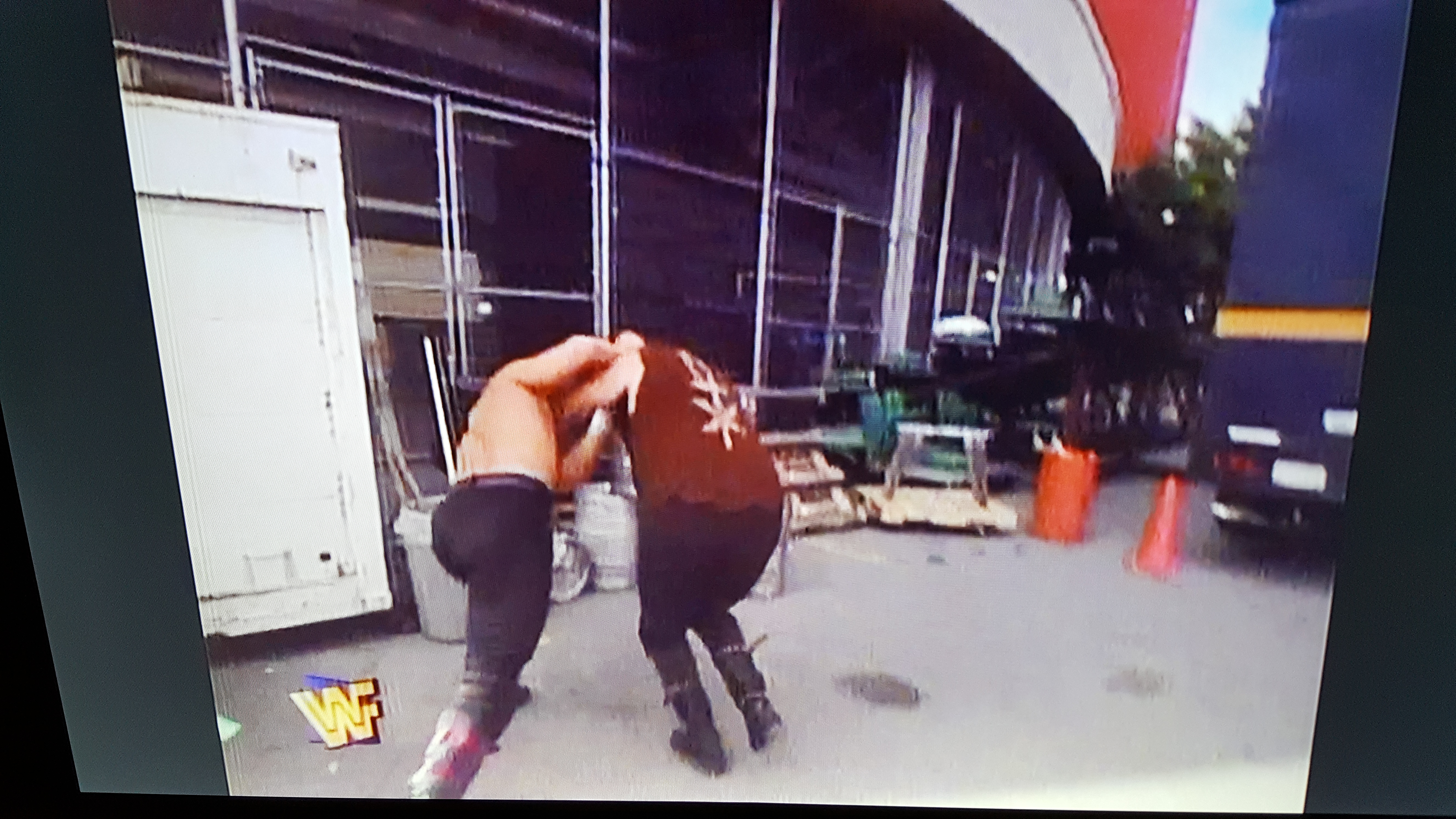 He then sets Mankind up atop some pallets, attempts a Pedigree, but receives a back drop instead. Although each wrestler is exhausted, Mankind rams Helmsley face-first into a truck. Officials then finally break up the melee. Add another ½* to their match for the elongated brawl.
We then revisit RAW is WAR from two weeks ago when Ahmed Johnson blew out his knee during a brawl with the DoA.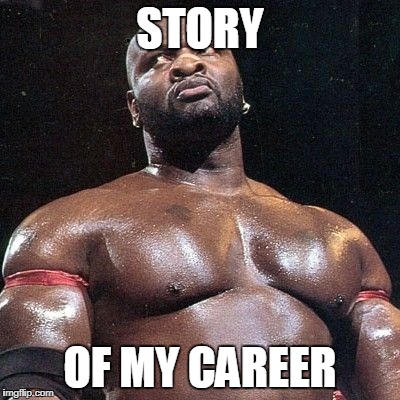 Backstage, Hendrix interviews Vader with Bearer. While Bearer calls Undertaker a "murderer" again, he touts his actions during their last PPV match. We then see the Undertaker-Vader match from Royal Rumble '97 when Bearer nailed Undertaker with the urn. Vader then pinned Undertaker upon hitting a Vader bomb.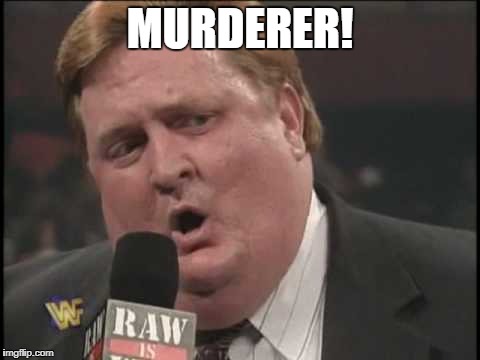 Match 3 for the WWF title: Undertaker (champion) versus Vader (w/ Paul Bearer)
Highlights:
Undertaker delivered a clothesline and a leg drop for 2.
Next, he gave Vader a cross corner whip followed by an avalanche for another 2.
He then hit the ropewalk shoulder smash but couldn't get 3.
As Undertaker gave Vader another cross corner whip, he ate a running body block on his follow-through.
Vader then missed a clothesline, but Undertaker came back with a flying clothesline for 2.
Upon giving Vader a big boot, Undertaker booted Vader over the top rope to the floor.
When Undertaker joined him outside the ring, Vader reversed an Irish whip sending Undertaker into the steps.
Vader then distracted referee Tim White so that Bearer could read Undertaker the riot act.
After Undertaker got up on the apron, he guillotined Vader using the top rope.
He then mounted the top turnbuckle and hit another flying clothesline for 2.
Afterward, an uppercut by Undertaker sent Vader over the top rope to the floor.
Undertaker than sauntered after Bearer until Vader nailed him from behind.
While Vader occupied White's attention again, Bearer hammered Undertaker with his loafer.
Vader then pummeled Undertaker and delivered a short-arm clothesline.
When he mounted the second turnbuckle, Vader hit his own flying clothesline for 2.
He then gave Undertaker a vertical suplex followed by a splash.
Do we have a new champion?
1-2-NO!
During a rest hold, the Calgary faithful became so boisterous that the hard camera shook.
Calm down, RSG, not that kind of shaking.
Meanwhile, Undertaker came back with a series of punches until Vader caught him with a clothesline.
Undertaker then made another comeback, attempted a chokeslam, but Vader literally kicked a FIELD GOAL to counter. YEE-OUCH!
After a tombstone reversal sequence, Undertaker got 2.
He then gave Vader a cross corner whip but ate a back elbow on his follow-through.
As Vader delivered another running body block, he mounted the second turnbuckle.
Undertaker then sat up and gave Vader an uppercut down Alberta Highway 2 SOUTH. To all of my Canadian readers, does this sign truly exist there?
Regardless, Undertaker then chokeslammed Vader from the second rope down to the mat for 2. Wow!
He then delivered a second chokeslam for another 2.
Finally, he hit the tombstone and pinned Vader.
Undertaker retained.
Rating: ***
Summary: Really good big-man match where each wrestler wasn't afraid to leave his feet.
Again, we see footage of fans of the Hart Foundation earlier this week. We then see the gang wars between the NoD, DoA, and Los Boricuas. After that, we see the Road Warriors doing what they do best—beat people up. Next, we segue to the Hart-Austin feud and the ending to last week's RAW is WAR.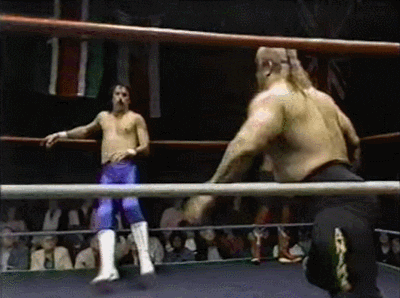 Backstage, Hendrix interviews Austin, Goldust, Shamrock, and the Road Warriors.
Farmer's Daughter then sings the Canadian national anthem. Afterward, Finkel introduces Alberta's premier Ralph Klein as well as Stu and Helen Hart. Numerous members of the Hart Family sit among them.
Match 4 (ten-man): WWF Intercontinental champion Owen Hart, WWF European champion the "British Bulldog" Davey Boy Smith, Jim "The Anvil" Neidhart, the "Loose Cannon" Brian Pillman, & Bret "Hitman" Hart versus Stone Cold Steve Austin, Ken Shamrock, Goldust, & the Road Warriors (w/o Marlena)
Highlights:
As Pillman made his entrance, the Calgary faithful rose to their feet to embrace his return. To say Pillman's reaction was elation would be an understatement.
Smith made his entrance with "Mrs. Calgary Stampede" Diana Hart-Smith.
When Bret made his entrance, the Calgary faithful came UNGLUED.
Bret then gave his souvenir sunglasses to his mom, Helen.
Next, Ross subtly referenced the camera crew for Wrestling with Shadows. I highly recommend this documentary although its timeline begins around this show and takes us through Survivor Series '97.
Bret and Austin began the match and brawled with one another.
While Bret stomped a mudhole in Austin, the Calgary faithful ate it up with a spoon.
Austin came back, and the Calgary faithful booed him out of the building.
Upon giving Bret a cross corner whip, Austin ate a clothesline.
Bret then gave Austin an inverted atomic drop and a second clothesline.
As Austin tried to catch his breath in the corner, he caught Bret with his trick knee. Clever!
He then applied the Million Dollar Dream, but Bret used momentum with the turnbuckles. Unlike Survivor Series '96, he only got 2.
When Austin attempted a running guillotine, Bret evaded him.
Neidhart tagged in, but Austin ducked a clothesline and hit a Thesz press.
After Shamrock tagged in, the "What's Kayfabe?" sign made its way opposite the hard camera. I smell smart mark shenanigans.
Shamrock then gave Neidhart a thrust kick and hooked the ankle lock.
Before Neidhart could submit, Pillman saved him.
Pillman tagged in, gave Shamrock a cross corner whip, and followed with a backbreaker.
As Pillman gave Shamrock a second cross corner whip, he ate a clothesline.
Shamrock then delivered a belly-to-belly suplex, but Pillman tagged out to Owen.
When Goldust tagged in, the rabid Calgary faithful chanted "O-wen."
Goldust then reversed a cross corner whip and backdropped Owen.
After Owen delivered an enziguri, he got 2.
While Goldust gave Owen the ten-punch count-along, the Calgary faithful chanted "Austin sucks."
Hawk tagged in and delivered a gutwrench suplex to Owen.
Following a leg drop, Hawk got 2.
Hawk then slammed Owen and hit a fist drop.
Upon mounting the top turnbuckle, Hawk delivered a splash for another 2.
As Hawk missed a dropkick, Owen hooked the Sharpshooter.
Animal then made the save, so Smith tagged in.
When Smith gave Hawk a delayed vertical suplex, he got 2.
He then delivered the running powerslam, but Goldust made the save.
After Animal and Bret tagged in respectively, Animal gave him a cross corner whip only to eat boot on his follow-through.
Goldust tagged in but lost a test of strength to Bret.
As Bret tied Goldust to the Tree of Woe, the hometown Harts quintuple-teamed Goldust to a raucous ovation.
Austin's team then rescued Goldust while Owen tagged in.
When Owen delivered a backbreaker, he gave Goldust a cross corner whip but came up empty on his follow-through.
Animal tagged in but ate a spinning heel kick from Owen.
After Owen mounted the top turnbuckle, he hit a missile dropkick.
Animal then reversed an Irish whip and countered a huracanrana with a powerbomb.
As Animal delivered a powerslam, the Road Warriors hit the Doomsday Device.
Fortunately for the Harts, Neidhart made the save.
With eight wrestlers in the ring, Austin dragged Owen to the corner and rammed his leg into the ring post.
He then grabbed a chair and WALLOPED Owen's leg with it. How dastardly!
Suddenly, Bruce Hart grabbed Austin from the front row, but Austin escaped unscathed.
Bret then stopped Austin's assault upon Owen's knee while Neidhart dragged Owen to the corner and tagged in.
While the "Austin sucks" chant continued, officials assisted Owen backstage.
Neidhart then reversed an Irish whip and maneuvered Austin into the Hart corner so that he could get quadruple-teamed.
After Austin fought his way out of danger, he brought Pillman in the hard way and made him the butt of the joke.
He then gave PIllman the Stone Cold Stunner, but Bret dragged him to the corner and rammed Austin's leg into the ring post.
When he retrieved a fire extinguisher from under the ring, Bret rammed it into Austin's leg.
He then hooked the ring post figure-four leg lock until Hawk made the save.
As Hawk tagged in, he slammed Smith, mounted the top turnbuckle, but Smith crotched him on the top rope. OUCH!
Smith then got 2 on Hawk.
After Neidhart tagged in, he and Smith double-clotheslined Hawk.
Meanwhile, officials assisted Austin backstage.
Shortly after, Bret tagged in, mounted the second turnbuckle, and he and Neidhart gave Animal a Demolition Decapitation for 2.
Shamrock tagged in, grabbed Bret by the leg, but ate a clothesline from an incoming Pillman.
When Shamrock reversed a cross corner whip, Bret took a sternum-first bump in the corner.
He then tossed Shamrock outside the ring where Pillman rammed Shamrock into the Spanish broadcast table.
Next, Pillman and Neidhart sent Hawk shoulder-first into the steps.
Inside the ring, Bret gave Shamrock a side-Russian leg sweep, but Goldust saved.
Smith tagged in and pummeled Shamrock to a big ovation.
As Shamrock came back with a blatant low blow, Goldust tagged in.
Goldust then delivered a bulldog to Smith while Ross mimicked Goldust's father.
Before Goldust could give Smith the Curtain Call, Pillman nailed him.
Goldust then mounted the top turnbuckle, but Smith crotched, joined, and superplexed him. Wow! Hawk then made the save.
Abruptly, Austin hobbled back to the ring and tagged in.
Bret tagged in and the war was on again.
While Austin gave him a cross corner whip, Bret took another sternum-first bump.
Austin then delivered a vertical suplex for 2.
After an Irish whip, Bret countered a back drop with a DDT.
He then gave Austin a backbreaker, mounted the second turnbuckle, and hit an elbow smash for 2.
As Bret hooked a sleeper, Austin countered with a jawbreaker for 2.
Bret then hooked the Sharpshooter, but Animal made another save.
When Austin applied a less-than-stellar Sharpshooter on Bret, Owen returned to the ring to make the save.
Owen tagged in, but Austin clotheslined him over the top rope to the floor.
He then made Owen taste the steel railing. It must have tasted like the Pitboss at the Palomino.
Afterward, Bruce tossed a concession at Austin who took exception.
Austin then grabbed Stu Hart, and Wayne Hart jumped the rail to brawl with him.
As Bret rolled Austin back into the ring, Owen rolled him up.
1-2-3.
The Harts won to a MONSTROUS reaction.
Rating: *****
Summary: What's not to love about this match? Everyone got their stuff in, the crowd was JACKED, and the Harts got to win in front of their family and fans. Superb match!
After the match, Shamrock makes Bruce taste the steel railing. Waiter, could you give the blond-curly-haired Hart more sliced brisket? Regardless, Bret makes Goldust taste it. Um, waiter, a catfish po boy for the golden wrestler, please? As the melee continues, more Harts and officials storm the ring to chase the American 'heels" away.
Austin then returns with a chair and CREAMS Neidhart with it. As the Hart Foundation demolishes him, officials return to break it up. While the Calgary faithful again chants "Austin sucks," security handcuffs Austin. To show his disdain for the Calgary faithful, Austin gives them a two-finger salute. Afterward, the entire Hart family floods the ring to celebrate the victory.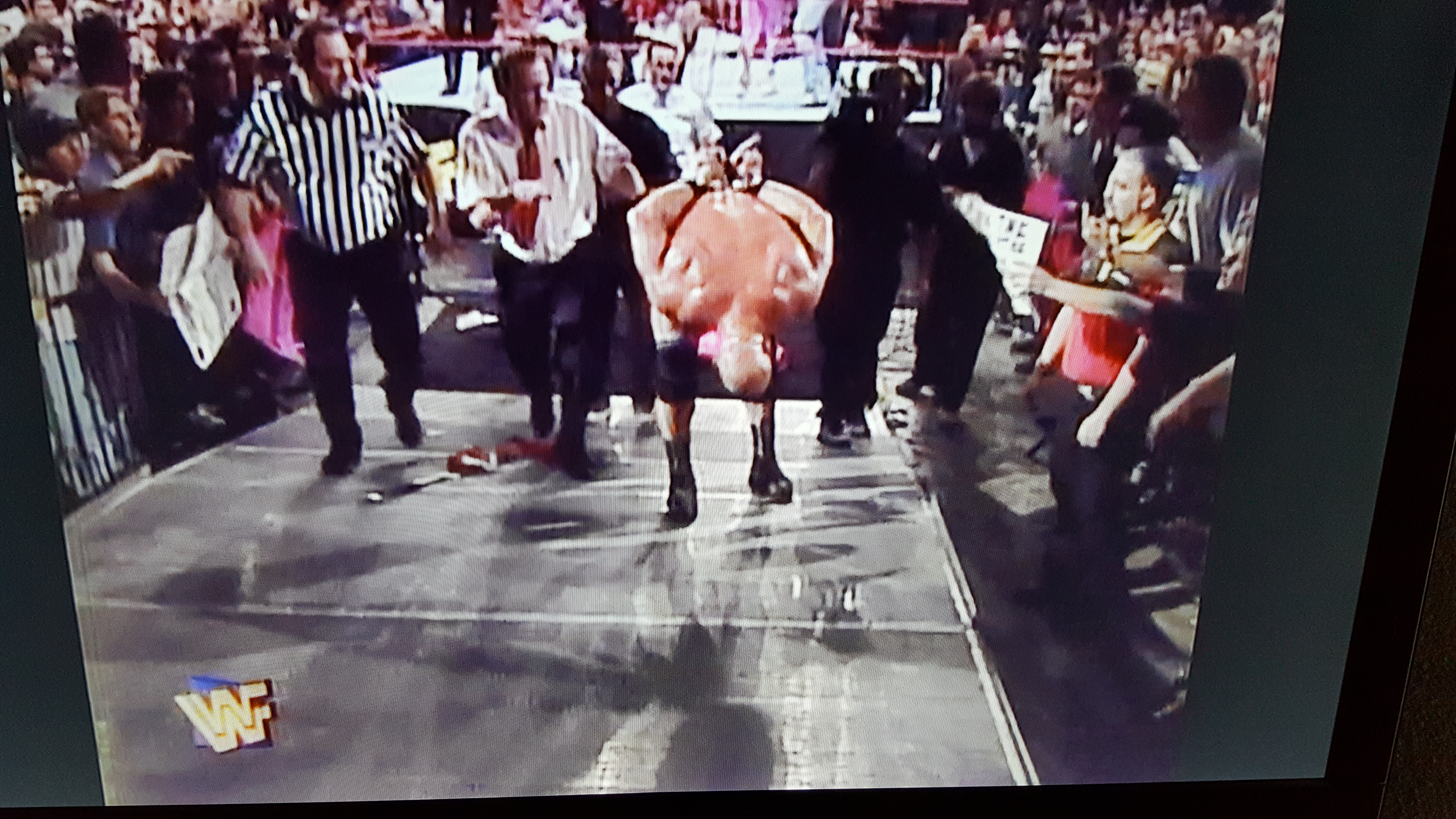 Conclusion: What an incredible show! Top to bottom, this show stands as the best WWF show thus far in 1997. Despite having only four matches, each match told a unique story that not only tantalized the Calgary faithful but also the viewer at home. I recommend this show as required viewing to any and all wrestling fans. You may even convert a non-believer with this show. I double-dog dare you to try.
Buyrate: 0.59
Stay tuned for WCW Monday Nitro 7-7-97!
Comments? Suggestions? Send them to me at rsg@rockstargary.com and follow me on Twitter (@rockstargary202).
Custom Search