WELCOME TO ROCK STAR GARY REFLECTIONS!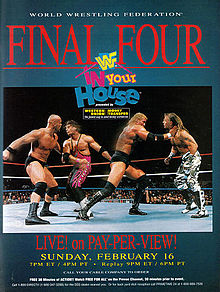 WWF In Your House XIII: Final Four
Live from Chattanooga, TN
Airdate: February 16, 1997
Attendance: 6,399
Hosted by Jim Ross & Jerry "The King" Lawler
With the WWF title hanging in the balance, who survives the Final Four? Read on!
Match 1: "Wildman" Marc Mero (w/ Sable) versus Leif Cassidy
Highlights:
As opposed to Mero's high-flying, high-risk offense, Ross described Lawler's offense as "ground chuck." HA!
When Cassidy sought refuge outside the ring, he pulled Mero out with him and rammed his knee into the apron.
He then attempted to ram Mero's knee into the ring post, but Sable put a stop to it.
While Cassidy turned his attention to Sable, Mero leaped from the apron and gave Cassidy a double axe handle.
Upon tossing Cassidy back into the ring, Mero delivered a springboard leg drop for 2.
Cassidy then reversed a cross-corner whip and dropkicked Mero in the knee. OUCH!
After a second dropkick, Cassidy applied a leg bar, but Mero wouldn't submit.
As Cassidy held Mero by his left leg, Mero delivered an enziguri.
Upon hooking an Oklahoma roll, Mero got 2.
Cassidy came back with a knee crusher followed by a figure four leg lock.
After Mero made the ropes, Cassidy confronted Sable.
When Sable replied with a slap, Cassidy grabbed her.
To save his wife, Mero hit a tope suicida. Woohoo!
Back in the ring, Mero face-planted Cassidy twice and delivered a Samoan drop.
Following that, he mounted the top turnbuckle and hit the Wild Thing.
1-2-3.
Mero won.
Rating: **
Summary: Despite the crickets in the audience for this match, this was a solid match. Cassidy's psychology couldn't beat Mero's high-flying maneuvers.
For those who care, Honkytonk Man made a quick cameo.
We then revisit Thursday RAW Thursday when Shawn Michaels surrendered the WWF title due to a **cough**knee injury**cough**. I think he's actually suffering from jobberitis.
Prior to the next match, Kevin Kelly interviews Sycho Sid backstage who's ready to regain the WWF title tomorrow night on RAW.
As Bart makes his entrance, we revisit RAW from four weeks ago as Faarooq beat him thanks to interference from the Nation of Domination. We then revisit RAW from two weeks ago as Crush beat Goldust thanks to more interference from the NoD.
Match 2: Faarooq, Crush, & Savio Vega (w/ the Nation of Domination) versus Flash Funk, Goldust, & Bart Gunn (w/ Marlena & the Funkettes)
Highlights:
The NoD made their entrance through the Chattanooga faithful. Unfortunately for them, they were not cool heels like the nWo.
Not THOSE kinds of heels.
Regardless, a six-way brawl began the match until the babyfaces cleared the ring.
As Funk mounted the top turnbuckle, he hit a tope onto the entire NoD.
Goldust then face-planted Faarooq and tagged in Funk.
As Funk attempted a leap frog, Faarooq countered with a spinebuster.
Vega tagged in but got reversed on a cross-corner whip.
Upon his follow-through, Funk hit a corner clothesline.
He then placed Vega atop the top turnbuckle, hit a superhuracanrana, and got 2.
After a dropkick, Funk delivered a Bart-assisted plancha onto the NoD. Woohoo!
Back in the ring, Vega gave Funk a back drop and tagged in Crush.
After a belly-to-belly suplex, Crush got 2.
Shortly after, Goldust distracted referee Jack Doan while Vega and Crush gave Funk a spike piledriver for another 2.
Faarooq tagged in, but Funk flipped out of a double clothesline and delivered one of his own.
Hot tag Bart.
After giving Faarooq a powerslam, Bart only got 2 thanks to a save by Vega.
All six men were in the ring.
As Bart escaped a Dominator, he mounted the top turnbuckle and hit a top rope bulldog on Faarooq.
While Doan returned Funk to the babyface corner, Crush delivered a leg drop to Bart.
1-2-3.
The NoD won.
Rating: *1/2
Summary: This was a popcorn match if there ever was one.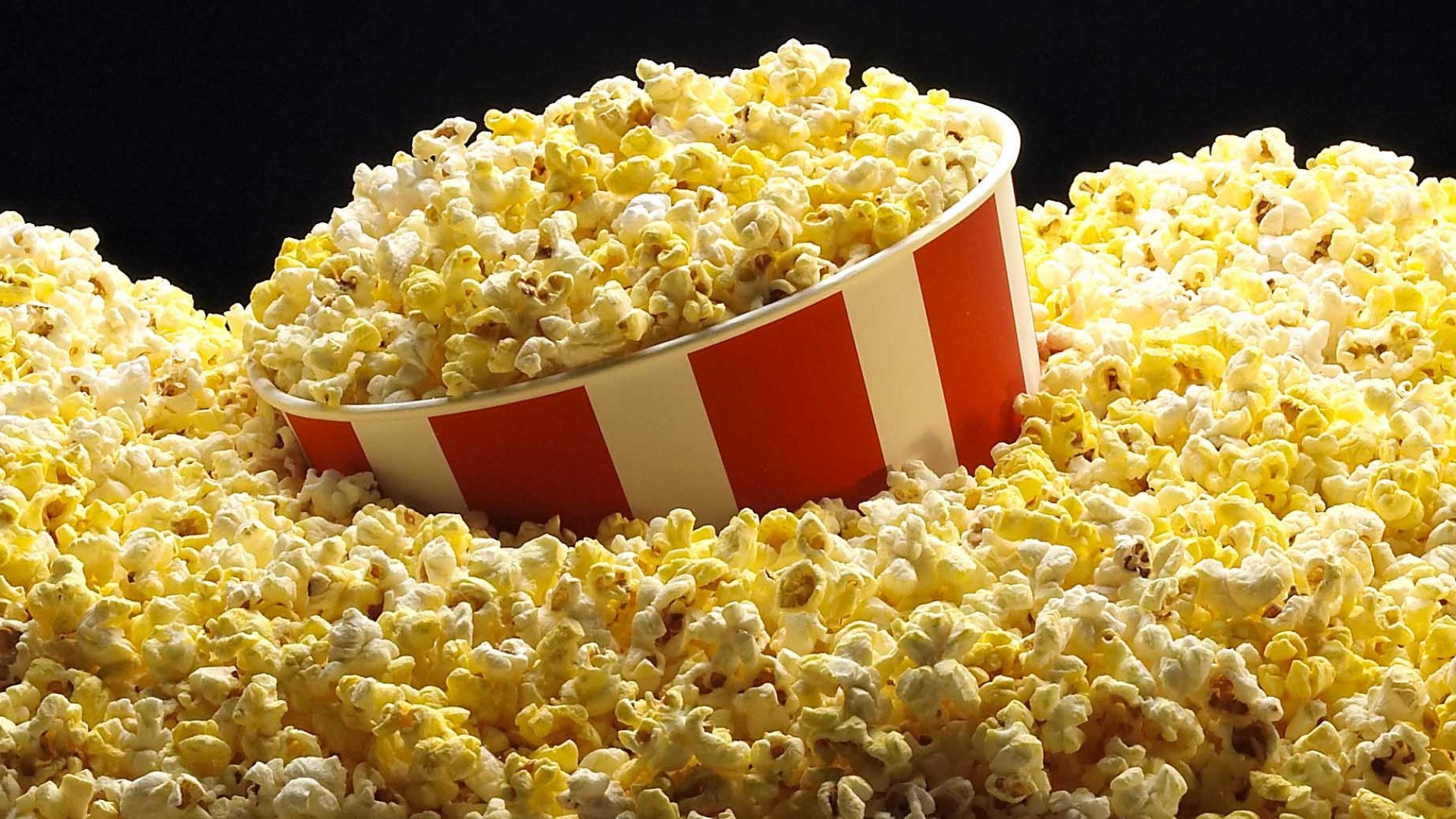 Back in the locker room, Dok Hendrix interviews Austin who claims a conspiracy against him.
We again revisit Thursday RAW Thursday when Maivia upset Helmsley to win the IC title.
Match 3 for the WWF Intercontinental title: Rocky Maivia (champion) versus Hunter Hearst Helmsley
Highlights:
Maivia countered a hip toss with one of his own and delivered a dropkick.
After Maivia reversed a cross-corner whip, he gave Helmsley a back drop.
On the other hand, Helmsley used momentum to send Maivia over the top rope to the floor.
Helmsley then gave him a baseball slide causing Maivia to taste the steel railing. It must have tasted like the Deep South Philly at the Honest Pint.
Next, Helmsley joined and slammed him on the floor.
He then guillotined Maivia using the bottom rope.
After a HARD cross-corner whip, Helmsley delivered a vertical suplex followed by a knee drop for 2.
Helmsley then hooked a rope-assisted rear chin lock until referee Earl Hebner caught him.
Afterward, Helmsley hit a high knee for another 2.
Maivia then hooked an inside cradle out of nowhere for 2.
As Helmsley came back with a backbreaker, he got 2.
While the Chattanooga faithful chanted "Rock-y," Maivia hit a cross body block for 2.
He then missed a dropkick.
When Helmsley missed a knee drop, Maivia reversed a cross-corner whip, caught Helmsley by the boot, but ate a clothesline.
Helmsley then mounted the top turnbuckle but ate a shot to the midsection.
Upon giving Helmsley an inverted atomic drop, Maivia gave him a cross-corner whip that resulted in a Helmsley flip.
After a powerslam, Maivia mounted the top turnbuckle, hit a flying body press, but only got 2.
Maivia then gave Helmsley the ten-punch count-along, but Helmsley countered with Snake Eyes for 2.
As only a rookie can, Maivia attempted a float-over DDT and PLANTED Helmsley on his head for 2. That did NOT look crisp.
Helmsley came back with a face buster and a standing neckbreaker as Goldust came to the ring.
While Helmsley was distracted, Maivia delivered a German suplex with a bridge.
1-2-3.
Maivia retained.
Rating: **
Summary: The distracted finish reared its ugly head for Helmsley. Similarly, that DDT looked NASTY.
After the match, Goldust taunts Helmsley as a tall brunette grabs Marlena from behind. While security hauls her off, Goldust assists his wife backstage.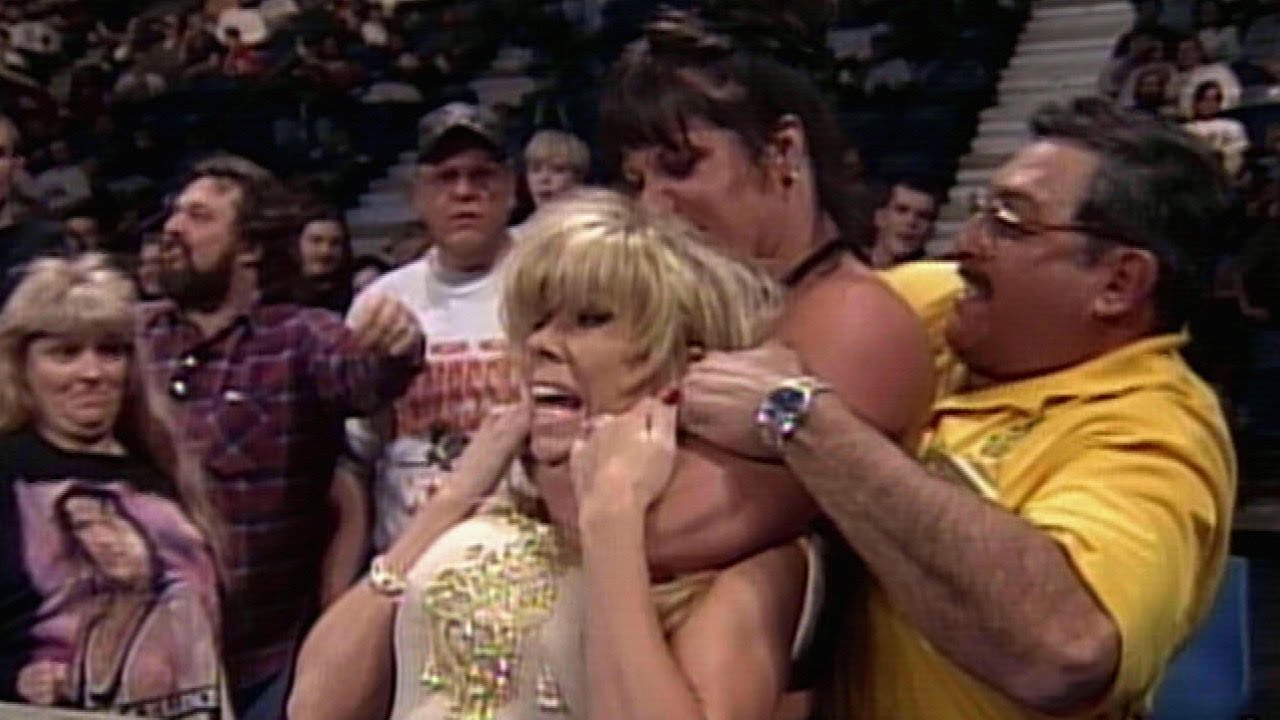 Promo for WrestleMania XIII available on Coliseum Video on May 6.
Backstage, Kelly interviews Vader with Bearer.
Prior to the next match, we revisit Royal Rumble when Owen eliminated Smith.
Match 4 for the WWF tag team titles: Owen Hart & the "British Bulldog" Davey Boy Smith (champions w/ Clarence Mason) versus Doug Furnas & Philip LaFon
Highlights:
After a leap frog, Furnas gave Owen a hip toss.
As LaFon tagged in, Owen reversed a cross-corner whip and gave him a monkey flip.
Smith tagged in but ate a knee to the midsection from LaFon.
As he hooked a sunset flip, LaFon got 2.
He then gave Smith a spinning heel kick for another 2.
While LaFon came off the ropes, Owen put a knee into his back. SNEAKY!
Furnas then distracted referee Jack Doan as the champs double-teamed LaFon in the heel corner.
Owen tagged in and gave LaFon a cross-corner whip.
As LaFon reversed it, Owen leaped to the second turnbuckle, hit a cross body block, but LaFon used momentum to land on top for 2.
After Owen delivered a gutwrench suplex, he got 2.
He then gave LaFon a backbreaker for another 2.
When Smith tagged in, he and Owen gave LaFon a double clothesline.
Owen then distracted Doan as LaFon hooked Smith with a sunset flip to earn a false pin.
As Smith came back with a clothesline, he tagged in Owen who unsuccessfully attempted a Sharpshooter.
Shortly after, Smith and Owen gave LaFon a Rockerplex for 2.
When LaFon hooked an inside cradle, Furnas distracted Doan.
That allowed Smith to put Owen on top.
As Doan returned Smith to his corner, Furnas put LaFon back on top for 2.
When Smith and Owen argued, LaFon gave them a double noggin knocker.
Owen then reversed an Irish whip, and Smith tripped LaFon coming off the ropes.
As Smith held LaFon, Owen attempted a spinning heel kick but hit Smith instead of LaFon.
That only got 2 as Smith put his foot on the bottom rope.
While Smith and Owen continued to argue, Smith clotheslined him. I smell a lover's quarrel.
Meanwhile, LaFon mounted the top rope, hit a splash, but only got 2 thanks to a save by Smith.
Furnas tagged in, delivered a dropkick, and got 2.
After an overhead belly-to-belly suplex, Furnas got another 2.
LaFon tagged in as he and Furnas gave Owen a double back drop and almost got 3.
As LaFon hooked a Northern Lights suplex, he earned yet another 2-count.
Furnas tagged in and gave Owen a huracanrana for 2.
All four men were in the ring.
As LaFon disposed of Smith, he gave Owen a savate kick followed by a DDT.
Furnas then delivered a leg drop but only got 2.
After an enziguri by Owen to Furnas, Smith dropkicked the incoming LaFon.
He then face-planted and clotheslined LaFon.
When LaFon attempted a crucifix pin, he only got 2 thanks to a save by Owen.
Again, all four wrestlers were in the ring.
LaFon and Furnas then whipped Owen and Smith into one another.
While Furnas dropkicked Owen, LaFon got another 2.
Upon whipping Smith into the corner, LaFon ate Snake Eyes.
As Smith prepared to deliver the running powerslam, Owen brought his Slammy into the ring and nailed LaFon with it.
Doan called for the bell disqualifying Smith and Owen.
The champs retained.
Rating: ***1/2
Summary: Fast-paced match with a crappy ending thanks to the disjointed relationship between Smith and Owen. Perhaps they need couples' therapy.
After the match, incredulous about Owen's antics, Smith intentionally drops his belt. He then broke Owen's Slammy! As Smith gets in Mason's face, Owen smooths things over despite Smith's reluctance.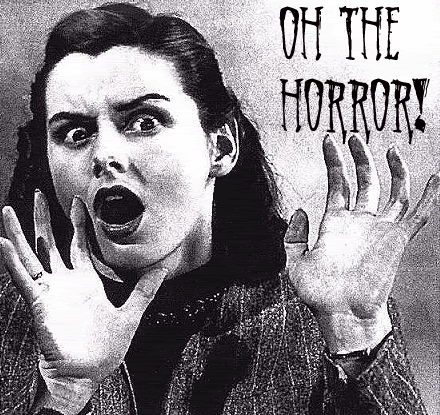 Backstage, Hendrix interviews Undertaker who cuts a decent promo.
We then revisit Royal Rumble as Bret eliminated Austin unbeknownst to the referees. In case you missed it, Austin returned to the ring and eliminated Vader, Undertaker, and Bret to win.
As Undertaker makes his entrance, Kelly interviews Bret.
Match 5 (final four): Undertaker versus Bret Hart versus Stone Cold Steve Austin versus Vader (w/ Paul Bearer)
Highlights:
Not only do pinfalls and submissions count but also eliminations over the top rope.
When Vader made his entrance, he punted the top step.
Austin then entered to ZERO pop but exchanged middle fingers with Vader.
As Vader reversed an Irish whip, Undertaker gave him a flying clothesline.
He then delivered a ropewalk shoulder smash to Austin.
Abruptly, Vader gave Undertaker a belly-to-belly suplex.
With both wrestlers outside the ring, Vader made Undertaker taste the steel railing. It must have tasted like the Downtowner at the Pickle Barrel Restaurant.
He then grabbed a chair and almost decapitated Undertaker with it as he HIT THE POLE instead.
As Bret took a sternum-first bump into the top turnbuckle courtesy of Austin, Undertaker kicked the chair SQUARE into Vader's face. OUCH!
Meanwhile, in the ring, Austin gave Bret a back elbow for 2.
Undertaker then whipped Vader shoulder-first into the steel steps.
While Bret gave Austin a backbreaker, Austin countered a sleeper with a jawbreaker for 2.
Undertaker then gave Vader a chokeslam as Austin delivered the Stone Cold Stunner for 2. However, Undertaker took the move like a swinging neckbreaker.
Vader was

BUSTED WIDE OPEN

as he gave Bret a running body block for 2.
While Austin gave Undertaker a swinging neckbreaker, he got another 2.
Vader then WALLOPED Bret with the steel chair outside the ring.
Outside the ring, Austin attempted a piledriver, but Undertaker backdropped him on the concrete floor.
Buzz off, HBK. Go find your smile.
After a clothesline from Bret to Vader, Undertaker suplexed Bret from the apron into the ring for 2.
Vader then tried to massacre Austin with the top step, but Austin escaped and rammed him face-first into the remaining steps.
As Austin picked up the top step, he tossed it at Vader.
Vader then guillotined Austin using the steel railing while Bret worked on Undertaker's knee.
When Austin reversed an Irish whip on the floor, Vader SQUISHED the timekeeper.
Austin then nailed Vader with the WWF title belt.
As you might expect, Vader's cut looked GRUESOME.
After a clothesline from Undertaker to Bret, Undertaker crotched Austin on the top turnbuckle.
Vader then took Bret down the aisle and made him taste the steel railing. Waiter, could you give the wrestler in pink and black an Immigrant sandwich please?
Next, he gave Bret a second helping. Add a fried moon pie to that order please, waiter.
Bret then reversed an Irish whip sending Vader over the steel railing.
In the ring, Undertaker got 2 on Austin.
While Bret and Vader fought from the crowd into the aisle, Vader rammed Bret face-first into the steps.
Although Undertaker got Austin over the top rope, Austin landed on the apron, mounted the top turnbuckle, and hit a clothesline for 2.
In the meantime, Sid watched the match on a monitor backstage.
Outside the ring, Vader hooked a Sharpshooter on Bret, but Austin broke it up.
He then rammed Bret face-first into the steps.
After Bret and Undertaker double-teamed Austin, Undertaker hit Vader RIGHT IN THE BLOODY EYE.
In the ring, Austin gave Vader a Thesz press, but Vader came back with a running body block.
Undertaker then gave Vader a cross-corner whip but ate a clothesline.
As Bret delivered a piledriver to Austin, he only got 2.
Vader then attempted the moonsault but missed.
Outside the ring, Undertaker and Vader took turns choking one another with camera cable.
In the ring, Vader got 2 on Undertaker.
Bret then mounted the second turnbuckle, hit an elbow smash, but only got 2 on Austin.
After a rollup, Austin got 2 on Bret.
Shortly after, Bret kicked a FIELD GOAL on Vader like fellow Canadian Mike Vanderjagt.
Austin then rammed Undertaker's leg into the ring post as Bret gave Vader a side Russian leg sweep for 2.
While Undertaker and Austin teased eliminations with one another, Undertaker gave Vader a short-arm clothesline for 2.
Bret then eliminated Austin before Vader clotheslined him.
After Undertaker gave Vader a cross-corner whip, he followed with an avalanche.
As Vader gave Undertaker a chop block, he reversed an Irish whip and gave Bret another running body block.
Off camera, Bearer nailed Undertaker with the urn. How dastardly!
In the ring, Vader delivered a vertical suplex to Bret, mounted the top turnbuckle, but got caught.
Bret then joined and gave Vader a top rope superplex. Wow!
As Bret hooked the Sharpshooter, Undertaker nailed him from behind.
Vader then gave Undertaker a powerslam as Austin returned to attack Bret.
Afterward, Austin made Bret HIT THE POLE!
Vader then attempted the Vader bomb, but Undertaker sat up and hit him down near Dalton, GA.
The impact of the shot sent Vader over the top rope to the floor eliminating him.
After Undertaker knocked Austin out of the ring, he gave Bret a chokeslam.
As he signaled for the Tombstone, Austin rescued Bret by pulling his legs.
When Austin distracted Undertaker, Bret rolled Undertaker up for 2.
Undertaker then nailed Austin sending him to the floor.
Immediately, Bret clotheslined Undertaker over the top rope eliminating him.
WE HAVE A NEW CHAMPION!
Rating: ****1/2
Summary: Excellent match that gave Bret his fourth WWF title.
After ad #2 for WrestleMania XIII on Coliseum Video airs, Sycho Sid interrupts Bret's celebration. They stand face-to-face as the PPV goes off the air.
Conclusion: Definitively, the last two matches made this show especially the main event. Since the main event is a must-see (although maybe not for the squeamish), gather your friends and check out this hidden gem on the WWE Network.
Buyrate: 0.50
Stay tuned for WCW Monday Nitro 2-17-97!
Comments? Suggestions? Send them to me at rsg@rockstargary.com and follow me on Twitter (@rockstargary202).
Custom Search