WELCOME TO ROCK STAR GARY REFLECTIONS!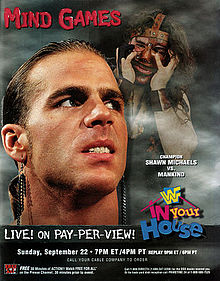 Live from Philadelphia, PA
Airdate: September 22, 1996
Attendance: 15,000 (11.969 paid)
Hosted by Vince McMahon, Jim Ross, and Mr. Perfect
For those who enjoy this sort of thing, here is the Free for All in its entirety.
Prior to the first match, Kevin Kelly interviews Vega who is fired up in both English and Spanish.
Match 1 (Caribbean strap): Savio Vega versus Justin "Hawk" Bradshaw (w/ Uncle Zebekiah)
Highlights:
At the onset, Bradshaw got the upper hand and whipped Vega with the strap.
He was then able to touch two corners before Vega stopped his progress.
Outside the ring, Bradshaw choked Vega using the strap and the ring post.
In the meantime, the Philly faithful chanted "E-C-W!"
While Bradshaw was distracted by referee Harvey Wippleman, Vega pulled him directly into the ring post twice. OUCH!
After Vega whipped Bradshaw with the strap, ECW's Sandman doused Vega in beer. Sandman then crushed the beer can on his forehead as Tommy Dreamer came into camera range.
Back in the ring, Bradshaw touched three corners before Vega gave him a belly-to-back suplex.
After whipping Bradshaw mercilessly, Vega touched three corners as Bradshaw pulled him stopping his momentum.
Vega then hit Bradshaw with a spinning heel kick and touched three corners again before Bradshaw yanked him away from the fourth.
Bradshaw then gave Vega the big boot.
Next, he delivered a lariat and touched a corner. Vega touched it right behind him.
As he touched a second corner, Vega matched him.
After both wrestlers touched the third corner, Vega pulled Bradshaw away from the fourth.
Bradshaw yanked on the strap enabling Vega to touch the fourth corner to win the match. Oops.
Rating: *
Summary: Terrible strap match. I realize they pulled the Intercontinental title final in order to save it for RAW, but couldn't they give us a better match than this? On second thought, I believe this match exists for ECW's sake.
Next, we get a video retrospective on the Cornette-Lothario feud.
Match 2: Jose Lothario versus Jim Cornette
Highlights:
Cornette came out to Vader's entrance music.
Backstage down the hallway, Razor and Diesel mugged Vega before running into the locker room.
Cornette got on the microphone and ran down Lothario.
As expected, Lothario came out to Michaels' music.
Popcorn, anyone?
Immediately, Lothario nailed Cornette as he came off the ropes.
Uppercut by Lothario got the pin.
Rating: DUD
Summary: Time-wasting junk. Can we have some real wrestling please?
On the WWF Superstar Line, both finalists for the Intercontinental title match tomorrow night are promoting their match. While Sable seconded Mero, Sunny stood by Faarooq. Mr. Perfect's chose Faarooq to win.
As Brian Pillman comes to the ring, we revisit Bret's labeling him as a "liar." He runs down Philadelphia calling it a "cesspool" then introduces Owen Hart. While Owen believes that Bret may be scared of both Pillman and himself, Bret's truly scared of Stone Cold Steve Austin who made his way to the ring. Austin then illuminates us by stating "if you put the letter S in front of hitman…my exact opinion of Bret Hart." This was the prototype for interviews Austin would use going forward.
Earlier today, Mark Henry took in the sites of Philadelphia minus the ECW Arena.
As Smith and Owen make their entrance, Dok Hendrix updates us on the condition of Cornette. In the meantime, Clarence Mason was selling Cornette on the idea of signing something that isn't made clear.
Match 3 for the WWF tag team titles: The Smoking Gunns (w/ Sunny) versus the "British Bulldog" Davey Boy Smith & Owen Hart (w/o Jim Cornette)
Highlights:
After the Gunns made their entrance, the Sunny poster was revealed as Owen and Smith doctored it giving her black hair, glasses, and a goatee. HA!
While Mason came to the ring, Skinny Billy rolled up Owen for 2. Since Billy had an ongoing hand issue, weightlifting had to take a back seat; thus, he lost a LOT of weight.
After giving Billy a hip toss and arm drag, Owen hit a cross body block for 1.
A subsequent leap frog by Billy was followed by an inside cradle by Owen for 2.
Bart then tagged in, slammed Owen, but missed an elbow drop.
According to Meltzer, as Smith was on the apron, he led the Philly faithful in a "Bart sucks Billy" chant. THAT'S hardcore!
Nonetheless, Smith tagged in and rolled up Bart for 2.
After a dropkick, Smith tagged in Owen who gave Bart a chop block. (whistle) Personal foul #0. Offense. 15 yards. Still first down.
Shortly after, Owen hooked a Boston crab, but Bart made the ropes.
Smith tagged back in and gave Bart a delayed vertical suplex followed by a leg drop for 2.
Owen came in illegally and gave Bart a spinning toe hold, but Bart countered with an inside cradle for 2.
Owen then delivered an enziguri for 2 thanks to a save by Billy.
As Mason distracted referee Mike Chioda, Billy put the cowboy boots to Smith outside the ring then rammed him shoulder-first into the steel steps.
Back in the ring, Billy tagged in and gave Smith a Bart-assisted flying right hand in the corner.
The Gunns then delivered the Sidewinder to Smith, but Mason got up on the apron to distract Chioda again.
In the meantime, Owen leaped from the top turnbuckle and nailed Billy.
Smith tried a cover but only got 2.
Bart tagged back in and slammed Smith.
Shortly after, Bart attempted Smith's running powerslam, but Smith escaped sending Bart directly into a Sunny-distracted Billy who responded with a shove.
Smith then delivered the running powerslam.
1-2-3.
WE HAVE NEW CHAMPIONS!
Rating: ***
Summary: It's time to split up the Gunns because they were not even close to being the better team here. With that being said, this was a fascinating heel versus heel dynamic match with the Philly faithful firmly in the challengers' corner.
After the match, Sunny gets on the microphone, calls the Gunns "no good cowboy-wannabees," and then fires them. Insert pink slip joke here.
In the "bowels" of the CoreStates Center, Kevin Kelly interviews Paul Bearer with Mankind. Someone turn on a light! This interview is barely visible on camera because it's too dark. Anyway, Mankind cuts a promo on Michaels and vows to win the title.
Earlier today on Superstars, Lawler spilled coffee on Henry who chased after him. During the Free for All, Lawler slapped Henry in the face. I don't like Lawler's chances here.
Match 4: Jerry "The King" Lawler versus "World's Strongest Man" Mark Henry
Highlights:
This was Mark Henry's WWE TV debut match.
To support Henry, the Philly faithful chanted "U-S-A!"
Lawler tried a slam, but Henry military-pressed Lawler then slammed him into the corner.
After failing twice to faze Henry with running shoulder blocks, Lawler attempted a third one, but Henry side-stepped him sending Lawler face-first into the steel railing. I hope it had Cheese Whiz on it at least.
Back in the ring, Lawler grabbed a foreign object from his tights and nailed Henry with it.
After a series of knees to the midsection, Henry applied an over-the-shoulder backbreaker and got the submission victory.
Rating: DUD
Summary: While Vince and Ross emphasized that Henry was still "in training," he needed a lot more time before being ready for the ring.
After the match, Leif Cassidy comes to the ring and attacks Henry from behind. When Henry turns around, he just shoves Cassidy completely out of the ring. Marty Jannetty runs out to defend his partner but suffers the same fate albeit under the bottom rope. Suddenly, some jobber named Helmsley attacks Henry but receives a military press and gets vaulted onto the Rockers.
Next month, the WWF invades Indianapolis on October 20 with In Your House XI: Buried Alive. In an unsanctioned match, Undertaker will face Mankind in a buried alive match.
Promo for the final curtain match airs as we revisit the wretched match at Beware of Dog II. During which, Mankind interfered to help Goldust win the casket match. After that, we revisit the god-awful match at International Incident where Mankind interfered by coming through the ring. Next, we revisit Summerslam where Paul Bearer turned his back on his protégé. To say I'm not looking forward to this match would be a tremendous understatement.
Match 5 (final curtain): Goldust (champion w/ Marlena) versus Undertaker
Highlights:
The only way to win this match was via pinfall.
Marlena…yummy!
At the onset, Undertaker gave Goldust a pair of cross-corner whips followed by a standing choke.
He then delivered a standing leg drop for 2.
After Goldust exited the ring to regroup, he guillotined Undertaker using the top rope.
While referee Tim White was occupied with Goldust, Marlena slapped the taste out of Undertaker's mouth.
Back in the ring, Goldust delivered a swinging neckbreaker.
Upon giving Goldust a big boot, Undertaker delivered a vertical suplex for 2
A subsequent hip toss by Undertaker preceded a ropewalk shoulder smash.
Next, Undertaker tossed Goldust over the top rope to the floor.
While on the floor, Goldust grabbed something from Marlena's purse. In the meantime, she distracted Undertaker who picked her up but put her back down. After all, he's not a SCOUNDREL!
Goldust returned and threw gold dust in Undertaker's face.
Shortly after, Goldust rammed Undertaker face-first into the Spanish announcer's table.
Back in the ring, Goldust delivered a clothesline and got 2.
Undertaker came back with a belly-to-back suplex.
As the Philly faithful chanted "rest in peace," Goldust gave Undertaker a hip toss for 2.
While Goldust diverted White's attention toward Marlena, he kicked a FIELD GOAL on Undertaker. YEE-OUCH!
A subsequent cross-corner whip by Goldust hurt Undertaker's back; however, Undertaker came back and annihilated Goldust in the corner.
After what appeared to be a miscommunication spot, Goldust delivered a powerslam for 2.
When Goldust missed a clothesline, Undertaker delivered his patented flying clothesline.
After giving Goldust a cross-corner whip, Undertaker ate knee on his follow-through.
Goldust then mounted the top turnbuckle but got caught and chokeslammed to the mat.
He then gave Goldust the tombstone.
1-2-3.
Rating: **1/2
Summary: That should put the nail in the coffin for Goldust's spot in the upper card. Since the buried alive match was advertised BEFOREHAND, it was obvious who was winning here.
Backstage, Kelly interviews Michaels who refers to Mankind as a "wacky cat."
Match 6 for the WWF title: The "Heartbreak Kid" Shawn Michaels (champion w/ Jose Lothario) versus Mankind (w/ Paul Bearer)
Highlights:
Druids brought a casket to the ring as Paul Bearer made his entrance sans Mankind.
Bearer then opened the casket, and Mankind popped out of it.
Mankind began the match with a back elbow followed by a back drop and a Cactus clothesline.
After that maneuver, "ECW" chants emanated from the Philly faithful.
Regardless, Mankind kicked Michaels sending him back-first into the steel railing then lifted up the mats.
Before he could complete that task, Michaels gave him a dropkick sending Mankind back-first on the concrete floor.
Michaels then mounted the second turnbuckle and hit a cross body block to Mankind on the floor.
He then came around to where Mankind was and shoved the back of his head onto the concrete floor. OUCH!
After tossing Mankind back in, Michaels mounted the top turnbuckle and hit a double axe handle.
A subsequent clothesline preceded a slam.
Again, Michaels mounted the top turnbuckle and hit the big elbow.
He then attempted Sweet Chin Music, but Mankind hightailed it out of the ring to escape.
Upon his return, Mankind reversed a cross-corner whip, but Michaels leaped to the second turnbuckle.
Mankind then locked Michaels in a leg scissors and attempted the Mandible Claw, but Michaels escaped.
Shortly after, Mankind tossed Michaels outside the ring then set up the Spanish table perpendicular to the ring.
Michaels leaped onto Mankind then rammed him face-first into the casket.
He then suplexed Mankind making Mankind's left knee hit the steel steps. OUCH!
When Mankind tried to re-enter the ring, Michaels gave him a chop block. (whistle) Personal foul. #1 Offense. 15 yards. Still first down.
With Mankind atop the casket, Michaels rammed Mankind's knee into it.
As Michaels held Mankind's leg, he delivered a dragon screw leg whip.
He then applied the figure-four leg lock, but a right hand by Mankind thwarted it.
Michaels then dropkicked Mankind's knee then used "one of my moves" (knee crusher) according to Mr. Perfect.
After a crucifix rollup by Michaels got 2, Michaels attempted a huracanrana, but Mankind countered with a stungun.
Mankind then crawled to the apron and asked Bearer for something. After Bearer handed him a plastic knife, Mankind used it to help the circulation of blood in his left knee. SMART!
Afterward, Mankind rammed Michaels face-first into the casket sending him to the floor.
When Michaels returned, Mankind mauled him in the corner then rammed his knee into Michaels' head.
He then gave Michaels a couple of face plants, but Michaels came back with a belly-to-back suplex.
As Mankind reversed a cross-corner whip, a Michaels' flip resulted.
With Michaels tied in the Tree of Woe, Mankind delivered an elbow drop to the face.
He then followed with a leg drop to the back of Michaels' neck.
A subsequent boot by Mankind sent Michaels over the top rope to the floor.
Mankind then charged Michaels on the floor but came up empty while hitting his knee on the steps.
Michaels then gave him a drop toehold sending Mankind face-first into the steps. OUCH!
He then tried to suplex Mankind back into the ring but received one landing on the apron.
Mankind again charged but ate the ring post instead. Does this man have a death curse?
After hitting Mankind with a flying back elbow, Michaels ate a back elbow himself.
He then delivered a powerslam for 2.
Next, he shoved Mankind who got his head caught in the ropes. Hey! He could lose an ear like that! Oh, wait, he already had.
While caught, Mankind applied the Mandible Claw, but Michaels escaped.
With Mankind on the floor, Michaels joined him but fell victim to the Mandible Claw again.
To counter, Michaels used momentum to throw Mankind into the steel railing.
He then grabbed a chair, but when Mankind tried to nail him, he hit the chair.
Michaels then hit Mankind in the injured left knee with the chair then the Mandible Claw hand. GENIUS!
Back in the ring, Michaels worked over Mankind's hand, but when he charged, Mankind backdropped him over the top rope to the floor.
With Michaels on the floor, Mankind delivered the Cactus elbow.
He then joined Michaels and gave him a swinging neckbreaker.
As Michaels tried to re-enter, Mankind gave him a leg drop.
Following that, he gave Michaels a double-arm DDT for 2.
A subsequent piledriver got another pair of 2 counts for Mankind.
He then hooked a rolling cradle but only got 2.
Frustrated, Mankind went outside the ring and tossed chairs back in.
He then opened the casket and poured Michaels into it.
Michaels came back with a flying forearm and nipped up.
After a slam, Michaels mounted the top turnbuckle, hit a flying body press, and got 2.
Again, he mounted the top turnbuckle but got caught and crotched. YEE-OUCH!
From the apron, Mankind tried to suplex Michaels, but Michaels landed on top of him as they CRASHED through the Spanish announce table. Wow!
Back in the ring, Mankind mounted the top turnbuckle with a chair, but Michaels gave him Sweet Chin Music using a second chair as a springboard sending him down to the apron.
Michaels then dragged Mankind back in to pin him, but Vader ran into the ring causing the DQ.
BOOOOOOOOOOOOOO!
Rating: ****1/2
Summary: What a shitty finish to an excellent match. This proved to me that Foley had what it took to be a main eventer in the WWF. Also, if you're going to name a show Mind Games, have the champion use a clever maneuver or tactic to pull out a victory. It wouldn't have killed Mankind's character if he attacked Michaels afterwards.
Nevertheless, after the match, Michaels hits Vader with a flying forearm sending him out of the ring. From behind, Bearer then nails Michaels with an urn shot to the head. Following that, Sid comes to the ring to brawl with Vader while Mankind wakes up and puts the Mandible Claw on Michaels. When he summons Bearer to open the casket, Bearer obliges, but Undertaker pops out! He then shoves Mankind by the throat over the top rope to the floor and saunters after him. Great post-match action!
Conclusion: This show should definitely be labeled as historical for the war that was the main event. Despite the tag title change, I believe this should be considered a one-match show. If you've never seen the Michaels-Mankind match, you owe it to yourself to do so ASAP.
See you for the Monday Night War week 53!
Buyrate: 0.48
Comments? Suggestions? Send them to me at rsg@rockstargary.com and follow me on Twitter (@rockstargary202).
Custom Search