WELCOME TO ROCK STAR GARY REFLECTIONS!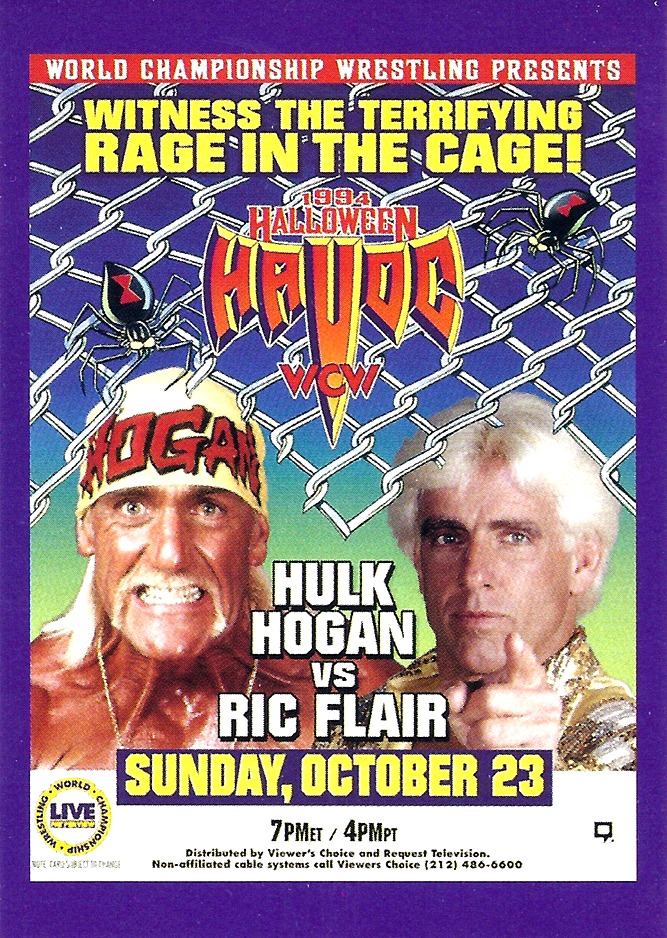 Live from Detroit, MI
Airdate: October 23, 1994
Attendance: 14,000 (8.595 paid, 3,000 no-shows)
Hosted by Tony Schiavone and Bobby "The Brain" Heenan
T. Graham Brown sings the National Anthem.
Interesting note: Tony and Bobby are stationed by the curtain rather than sitting at ringside. When WCW created Nitro the announcers would be stationed there.
Match 1 for the WCW World TV title: Johnny B. Badd (champion) versus The Honkytonk Man
Highlights:
OK, so I was wrong. Here's Johnny pulling the curtain again even with the TV title.
Actually the Honkytonk Man jerked the curtain.
Badd wore fangs and shot pyro from his arms at the entranceway.
Will WCW perform the same trick as last month by giving an ex-WWF wrestler a title in his first WCW PPV match?
Oh no! Badd messed up Honky's hair! Perhaps Honky will submit!
Sting, who is not scheduled to wrestle, was on the hotline during this match.
If you thought WCW waited until the Nitro era to talk about the main event during the preliminary bouts you would be incorrect as Tony and Bobby discussed the cage match at length.
Muhammad Ali sat in the front row.
Badd reversed a Shake, Rattle, and Roll attempt with a back drop.
Ring announcer Gary Michael Cappetta kept announcing the time left in the match. I don't like Honky's chances of stealing the gold here.
One minute left as Badd gave him a knee lift.
Badd missed the "kiss that don't miss" and received a belly-to-back suplex.
Both men brawled until the bell. Even an inside cradle at the bell couldn't save this dog.
Time-limit draw.
Badd retained his title.
Rating: *1/2
Summary: B-O-R-I-N-G. We all know the reason why Honky's here, but he could have at least shown up in the ring with some talent.
After the match Honky gave Badd an atomic drop, but Badd no-sold it. Badd threatened another "kiss that don't miss," but Honky high-tailed it.
We revisit the Clash where Hogan was attacked by a masked man and the crowd went crazy! We fast-forward to Main Event on 10/9 where there were TWO masked men! Courtesy of "amateur video" Ric Flair and Mr. T were seen together in Chicago outside Michael Jordan's restaurant.
Match 2 for the WCW World tag team titles: Stars and Stripes (champions) versus Pretty Wonderful
Highlights:
Wait a minute! Didn't Pretty Wonderful retain the belts at Fall Brawl? How did Stars and Stripes get the belts? Check this out from 9/25!
The Patriot came off the top rope with a left hand.
Roma came off the top rope with a right hand.
Top rope sunset flip by Bagwell got a 2 count.
Shaky-shaky elbow drop from Orndorff woke up the crowd.
Excellent elevation on a dropkick from Roma although it appeared to only glance Bagwell.
Even Orndorff broke out a dropkick for the big crowd. Amazing!
Bagwell blocked a vertical suplex and countered with one of his own.
He then countered a snap mare with a backslide.
Sleeper by Bagwell.
Roma broke it up, but the Patriot came in as all four men were in the ring.
Fisherman's suplex by Bagwell, but Roma gave him a top rope elbow drop.
Orndorff then pinned Bagwell for the win.
WE HAVE NEW CHAMPIONS!
Rating: ***1/2
Summary: Another great tag match between these guys.
Back in the dressing room "Mean" Gene Okerlund interviews Ric Flair and Sensuous Sherri. Flair cuts a fantastic promo on Hogan and the career versus career match.
According to Tony, Flair put his career on the line tonight courtesy of Evad Sullivan. Footage of Evad punching his brother Kevin on WCW Saturday Night (10/9/94) is shown. Later that night Kevin returned the favor during a match where Evad tagged with Hogan against Flair and the masked man.
Match 3: Kevin Sullivan versus Evad Sullivan
Highlights:
"I want to be a Hulkamaniac" brought out the #1 Hulkamaniac, Evad.
Dropkick by Kevin.
Guillotine by Kevin.
Double stomp by Kevin.
Make that 2.
Kevin climbed the top rope but was tossed down to the mat.
Big boot by Evad.
Kevin baited him with a Hogan bandana then nailed him.
They fight outside the ring.
Evad beats the count back in and won by countout.
Rating: ˝*
Summary: Only one word describes this match—NEXT!
We take a look back at the previous partnership between Arn Anderson and Dustin Rhodes followed by Anderson's heel turn at Bash at the Beach. The unique thing about it is that it was the last match that Jesse Ventura called for WCW.
Match 4: Arn Anderson (w/ Colonel Parker and Meng) versus "The Natural" Dustin Rhodes
Highlights:
Rhodes mounted the top turnbuckle but got caught.
Anderson superplex was blocked. Rhodes then gave him a top rope lariat.
Here's a good one. You know where the heel jumps from the middle turnbuckle only to eat boot. Here Anderson jumped but instead of eating the boot he caught it! Finally someone has learned that lesson.
Anderson attempted a figure-four leg lock, but Rhodes booted him between the ropes to the floor.
He then tried to nail Rhodes up against the ring post but only caught the post.
Rhodes attempted a cross body, but Anderson ducked. Rhodes sailed over the top rope and into the aisle. LeBron James wishes he got hang time like this.
Body scissors by Rhodes countered into a catapult guillotine by Anderson.
Double clothesline put both men down.
Lariat off the ropes by Rhodes.
DDT by Anderson blocked by Rhodes.
Stun gun by Rhodes. Hey! That's Austin's move! Gimmick infringement!
Piledriver by Anderson countered into a sunset flip by Anderson. He tried to pin him while holding the ropes, but referee Randy Anderson caught him. SNEAKY!
While distracted with the referee Rhodes rolled him up for the pin.
Rating: **1/2
Summary: The finish leaves something to be desired, but these guys did a decent job here.
After the match Anderson floors Rhodes with a left hand then plants him with a DDT as the crowd cheers him on.
Back in the dressing room Gene interviews Hulk Hogan with Jimmy Hart and Brother Bruti. Okerlund lists all the celebrities in attendance. Typical Hogan promo follows.
Yuck! We're force-fed the atrocity that was the US title match from Fall Brawl. Be right back as I grab the Pepto…
…
OK, I'm back but my stomach doesn't feel much better.
Match 5 for the WCW US title: "Hacksaw" Jim Duggan versus "Stunning" Steve Austin
Highlights:
Let's see if Austin can regain some credibility in this rematch.
Good pop for Duggan.
The Hogan impersonator had a ringside seat and held up a bandana with the stars and stripes.
Austin attacked immediately and was wearing US Champ on the back of his black trunks.
Sleeper by Duggan.
Atomic drop sent Austin through the ropes and to the floor.
Duggan woke up the crowd with a USA chant.
Austin came off the middle turnbuckle with a double axe handle.
Make that 2.
The third attempt, however, allowed Duggan to clothesline him.
Duggan did his trademark stomping while holding the top rope.
Trick knee by Austin put Duggan down.
Austin stomped a mud hole. Shades of Stone Cold?
Pointed elbow drop from the second rope by Austin.
Austin attempted a splash from the top rope but hit nothing but the mat.
Three point stance from Duggan…
…and Austin backdropped him over the top rope causing the DQ.
Boo! Duggan won.
Rating: *
Summary: Blech! Can someone please pass me some gum or a mint? I need to remove the taste from my mouth this match left behind.
After the match Austin made Duggan eat the steel railing. Perhaps it tasted like the filet mignon at Michael Symon's Roast. Back in the ring Duggan swung his 2x4 while Austin scampered outside the ring. At this point in Austin's career he should have asked for his release instead of what occurred the following year.
Gene plugs the hotline then introduces Sting. Adorned In a tuxedo (and a pair of Oakley sunglasses) Sting makes his way to ringside.
Footage of the matches between Vader and the Guardian Angel at Bash at the Beach and Fall Brawl are shown. Afterwards on WCW Saturday Night (9/24, taped 9/20) Vader and Harley Race double-team Angel including a Vader bomb and a moonsault. On the 10/15 episode of WCW Saturday Night (taped 10/4) Angel handcuffed Race to the top rope but was denied from hitting Race with a chair by WCW head of security Doug Dellinger.
Match 6: Vader (w/ Harley Race) versus the Guardian Angel
Highlights:
This match again? Hasn't Vader proven that he's beaten Traylor enough already?
Angel was escorted by other members of the Guardian Angels to the ring.
Sting sat next to Ali and whispered the Colonel's secret recipe to him.
Angel clotheslined Race before Vader entered the ring.
Trio of short-arm clotheslines by Vader, and a fourth one sent Angel over the top rope to the floor.
After a reversal of an Irish whip Angel made Vader eat the steel railing. Perhaps Vader was hungry for a Lafayette Coney dog. That or a Ford Expedition.
Angel then set his sights on Race. After tossing him into the ring he gave him a body slam.
After Vader re-entered the ring Angel slammed Vader on top of Race. SQUISH!
Avalanche by Angel.
Vertical suplex by Angel after blocking Vader's attempt.
Big boot by Angel does not take Vader off his feet.
From the second rope Vader leaped but got slammed by Angel.
Angel hit a head butt from the top rope.
Enziguri by Angel.
Another clothesline by Angel sent Vader to the floor.
A Vader clothesline caused pain to his own arm.
Vader bomb but Angel kicked out at 2.
Second Vader bomb attempt hit knees.
Splash by Angel got 2.
Dominator by Angel got 2. Over in ECW Ron Simmons was overheard exclaiming "Damn!"
Bossman slam but Race got on the apron causing Angel to chase him.
After Angel suplexed Race into the ring Vader splashed him and got the pin.
Rating: ***
Summary: This bout was better than it had any right to be. Vader and Traylor continue to impress me.
Backstage Jimmy Hart is speaking with Mike Tenay and Chris Cruise about TNA dominating the ratings over on Destination America Hulkamania in WCW. Gene then introduces the Hitman! Bret Hart signs with WCW! Now we can get a resolution to the Hogan-Hart issue from Summerslam '93! Oh, wait! It's Thomas "Hitman" Hearns who would knock me out for confusing him with the Calgarian. He mumbles a few words. Unfortunately it sounds like he's had too many hits to the head.
They show the meeting between the Rhodes and Nasty Boys again for War Games. However, after Fall Brawl ended, Colonel Parker's Stud Stable attacked the Nasty Boys in the locker room. To say seeing Brian Knobbs shirtless is disgusting would be an insult to the word disgusting. Back on WCW Saturday Night the Nasty Boys fought Buck and Funk setting up this match.
Match 7: Terry Funk and Bunkhouse Buck (w/ Colonel Parker and Meng) versus the Nasty Boys
Highlights:
As the Nasty Boys made their way to the ring Sags held a jack o'lantern on his shoulder.
Knobbs tossed Halloween masks into the crowd.
How many of you wish Cactus Jack was in this match instead of Buck?
Sags gave Funk the Pit Stop.
Outside the ring Funk gave himself several chair shots to the head.
Buck tried to choke Sags with a bull rope outside the ring.
After the lukewarm tag Knobbs went to town on both men until Buck tripped him coming off the ropes.
As Funk has Knobbs tied up Buck put on brass knuckles until referee Nick Patrick intervened.
With Patrick distracted by Buck, Meng got up on the apron to nail Knobbs but got Funk instead.
Sags then gave Funk a piledriver on the pumpkin!
Knobbs pinned him for the 1-2-3.
Rating: ˝*
Summary: Clever ending to a bad match. These teams did not mesh well whatsoever.
In the ring Gene introduces Bill Shaw who stands alongside former Detroit resident Eric Bischoff. They present Muhammad Ali with a plaque and a check honoring him for his charity work.
Match 8 for the WCW World title (steel cage): Hulk Hogan (champion w/ Jimmy Hart) versus "Nature Boy" Ric Flair (w/ Sensuous Sherri)
Highlights:
In case a steel cage wasn't enough of a gimmick for you each man put their career on the line here.
Mr. T was the special guest referee and wore a Red Wings jacket.
Good pop for Flair. Tremendous pop for Hogan. At one point I couldn't hear Buffer.
Hogan stood side-by-side with his impersonator on his way to the ring.
An extremely verbose Buffer rumbled.
Mr. T exercised his authority early in the match.
Flair attempted to ram Hogan into the cage but ate it instead…twice.
Flair attacked the (wrapped) knee.
He then made Hogan eat the cage.
Hogan oversold a knee drop to the head.
Hogan reversed an Irish cross-corner whip and clotheslined Flair.
Hogan speared Flair face-first into the cage.
Flair climbed the cage and delivered a double axe-handle.
Delayed vertical suplex by Flair.
Flair and Hogan climbed the cage then Hogan choked Flair on the metal bar causing Flair to come down the hard way.
Blind charge by Hogan ate boot.
Figure-four attempt countered into an inside cradle.
Hogan no-sold Flair's chops.
He then sent Flair into the cage again. No blade job however.
He then raked Flair's face against the cage.
Again Flair attempted to leave the cage but was caught and rammed head-first into the cage.
Flair returned to working on the knee.
Knee drop on the knee.
Flair ripped the dressing off the knee.
Figure-four by Flair.
Will Hogan submit?
NO!
Hogan reversed the hold.
He then came off the ropes and steamrolled over Mr. T.
Belly-to-back suplex by Flair.
Hogan kicked out and sent Flair atop Mr. T.
Flair then kicked Mr. T. while he was down.
Meanwhile Sherri climbed the cage.
Jimmy Hart climbed up after her and ripped her dress off! <cat whistle>
When Sherri jumped down she pushed Hart into the cameraman.
She climbed the cage again, but Sting pulled her down.
After he completed reading War and Peace cover-to-cover the masked man came out from under the ring and hit Sting in the back with a bat then nailed Hart.
As Hogan had Flair in a chokehold Sherri climbed the cage a third time.
She then leaped from the top of the cage and gave Hogan a double axe-handle. Superfly Sherri Martel?
As Hogan went after Sherri Flair clipped the knee.
The masked man climbed the cage.
Flair handcuffed Mr. T to the ropes.
Flair and Sherri then rammed Hogan straight into the pipe being held by the masked man.
Heenan proclaimed that "Hulkamania is dead."
Flair covered Hogan, but Mr. T was stuck in the corner.
As Flair gave Hogan another vertical suplex Sherri put the feet (not shoes) to Mr. T.
Hogan got up and gave Flair and Sherri a double clothesline.
He then slammed both of them.
Sherri attempted to climb out of the cage, but Hogan tossed her down to the mat.
Again Flair tried to escape, but Hogan met him on the top rope then rammed him face-first on the metal bar repeatedly.
Hogan gave Sherri the big boot.
Hulk-up time!
Big boot to Flair. Hogan then dragged Flair towards Mr. T.
Leg drop. Hogan then woke Mr. T up from his in-ring slumber.
1-2-3. Flair's career was over.
Rating: ***1/2
Summary: Over-booking aside this was an exciting match with a conclusive finish. Since there was no blood in War Games it was easier to understand why Flair didn't blade here. As a result of this match Hogan supplants Flair as the face of WCW in 1994.
After the match the cage is raised Hogan and Mr. T celebrate the victory. Outside the ring Ali hands Hogan the belt. Suddenly the masked man enters the ring. Before he can hit him with the pipe Hogan turns around and blocks it. Hogan then nails him. Who is the masked man? The hood comes off and it's…Brother Bruti…Hogan's best friend in the whole world! Hogan is in disbelief. Kevin Sullivan enters the ring as does John Tenta. Powerslam followed by a huge elbow drop by Tenta. He then gives Hogan a running seated senton (formerly the Earthquake splash).
Sting runs to the ring, nails Sullivan, then delivers a top rope clothesline to both Bruti and Tenta. Sullivan and his henchmen head for higher ground as Sting protects the Hulkster. Heenan refers to Bruti as "Brother Butcher." Hogan gets carried back to the dressing room. Heenan is extremely despondent over the ending of Flair's career.
Conclusion: Hindsight being 20/20 we know that Flair did not retire at this point in time. In fact he renegotiated his contract and returned in 1995. The point WCW was trying to make was that Hogan, not Flair, was the poster-boy for them.
Obviously we know what's next for Hogan. Ed Leslie turned heel and joined Kevin Sullivan's group (not yet named). The return of John Tenta (not yet named) adds another name to the list of wrestlers that Hogan has worked with in the past along with the Honkytonk Man and "Hacksaw" Jim Duggan. Could more prominent former WWF talent be far behind?
The cage match is symbolic of the way John Cena is currently booked. That is to say that he beats the odds over and over again like a superhero. While this worked extremely well for Hogan in the WWF I am uncertain the WCW faithful wholeheartedly believe in Hulkamania. Cheers could be overheard when Hogan was getting beaten down after the cage match. We'll see what happens from here.
According to Meltzer this was the final show on the initial contract Hogan signed with WCW. Obviously he signed a new one and will remain WCW World Champion. The buyrate for the show cemented Hogan as a money draw for WCW.
As far as the rest of the card is concerned the tag team title match as well as the Vader/Angel match stood out, but everything else was between mediocre and terrible. I hope this trend does not continue for WCW.
Here's some wrestling trivia: Prior to the beginning of this show Brian Armstrong (Road Dogg) wrestled and lost in a dark match to Booker T. Oh, you didn't know?
Will the Hulkster defend the title against Leslie at the Clash? See you then to find out!
Buyrate: 0.97
Comments? Suggestions? Send them to me at rsg@rockstargary.com and follow me on Twitter (@rockstargary202).
Custom Search