WELCOME TO ROCK STAR GARY REFLECTIONS!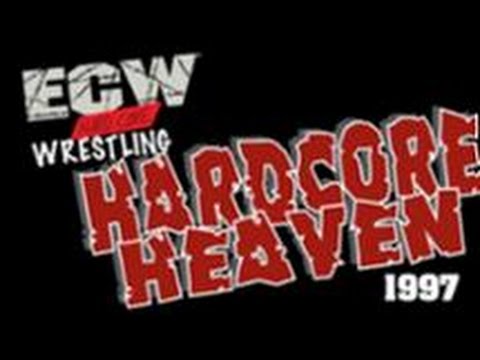 ECW Hardcore Heaven '97
Live from Fort Lauderdale, FL
Airdate: August 17, 1997
Attendance: 1,950
Hosted by Joey Styles
Who will win the three-way dance for the World title? Can Dreamer avenge being humiliated by Lawler? What else transpires? Let's find out! Also, as with all ECW material, this reflection is rated TV-MA.
Styles welcomes everyone to the show, but "Ravishing" Rick Rude interrupts him. When Rude steals the microphone from Styles, the Fort Lauderdale faithful chants "You sold out" at him. Styles then leaves the ring disgusted that Rude rented himself out to a "boy toy." After Rude performs his pre-match spiel, he introduces Chris Candido.
Immediately after Candido comes to the ring, ECW Commissioner Tod Gordon, along with some officials, decries that Rude isn't a licensed manager and must leave within ten seconds or Candido forfeits. Rude complains but ultimately complies with Gordon despite tossing in a "Fuck you, Gordon."
Opening montage.
Match 1 for the ECW World TV title: Taz (champion) versus "No Gimmicks Needed" Chris Candido
Highlights:
Taz captured the World TV title from Douglas at Wrestlepalooza '97 (aired 6/12, taped 6/7).
After a pair of clotheslines, Candido attempted a monkey flip, but Taz KICKED HIM IN THE JIMMY.
Hethen hit a pumphandle Taz-plex, but Candido sought refuge outside the ring.
As Taz hooked a Fujiwara arm bar, Candido snagged the bottom rope with his feet.
He then reversed an Irish whip and powerbombed Taz.
When Taz reversed a cross corner whip, Candido floated over but received a Northern Lights suplex with a bridge for 2.
Candido came back with an enziguri and a leg drop for a 1-count.
After he delivered a delayed vertical suplex, Candido followed with a pair of leg drops.
He then gave Taz a cross corner whip, but Taz vaulted him over the top rope to the concrete floor.
As Taz joined him, Candido sent him back-first into the steel railing.
He then hoisted Taz atop the top turnbuckle, joined, and hit a super huracanrana. Woohoo!
When he mounted the adjacent top turnbuckle, Candido delivered a diving head butt for 2.
Taz rebounded with a clothesline, ducked an enziguri, and hooked a bow-and-arrow.
After Candido escaped, he powerbombed Taz again for another 2.
He then gave Taz a cross corner whip resulting in a sternum-first bump.
As Candido attempted the Blonde Bombshell, Taz countered with an overhead belly-to-belly superplex. Wow!
Candido then leap-frogged him, but Taz responded with a release German suplex.
When Candido reversed an Irish whip, Taz delivered a T-bone suplex.
Candido then reversed a cross corner whip and powerslammed Taz.
After he placed Taz atop the top turnbuckle, Candido showboated.
That allowed Taz to hook the katahajime.
When Candido submitted, Taz retained.
Rating: ****
Summary: Good psychology by Candido was matched by Taz's judo and suplex variations. Great match, guys!
Styles then shills November to Remember '97 LIVE on PPV on 11/30. Order NOW! During some earlier footage, the Insane Clown Posse got destroyed by RVD. Sabu joined the fray, and the beatdown continued.
Match 2: Spike Dudley versus Bam Bam Bigelow
Highlights:
This was billed as a "revenge" match because Spike somehow beat Bigelow (aired 8/14, taped 8/9).
Immediately, Bigelow bealed Spike across the ring, gave him a cross corner whip, and followed with an avalanche.
Spike rebounded with the Acid Drop and a dropkick.
As he mounted the top turnbuckle, Spike attempted a flying headscissors, but Bigelow caught him.
He then powerbombed the bejeezus out of Spike.
GET OUT THE SPATULA!
When he gorilla-pressed Spike, Bigelow delivered Snake Eyes on the ring post.
Consequently, Spike fell down to the concrete floor and was

BUSTED OPEN

.
Bigelow then pressed Spike overhead again and tossed him into the crowd.
Instead of bodysurfing, Spike CRASHED into some chairs beyond the front row. OUCH!
To celebrate, Bigelow performed a cartwheel.
He then returned an extremely bloody Spike to the ring.
Upon hoisting Spike over his shoulder, Bigelow delivered a backbreaker drop. You don't see that every day.
He then mounted the top turnbuckle and hit a moonsault.
1-2-3.
Bigelow won.
Rating: *1/2
Summary: This was more or less a squash as Spike barely got any offense and was summarily pummeled.
After the match, Spike bleeds all over the place, and an EMT as well as an official assist him backstage.
We then revisit the 2-on-1 beatdown of the ICP when Sandman, whose back was apparently injured by Sabu, came to the ring with his customary kendo stick. As he swung the stick around, Sabu CREAMED him with a chair to the face. RVD then deliverED a Van Daminator while Sabu mounted the top turnbuckle. While leaping to the mat, Sabu SMASHED the chair in his face again. With the chair laid atop Sandman's face, RVD and Sabu leaped from opposite turnbuckles DEMOLISHING Sandman.
We then see Sandman wheeled into an ambulance, and it heads to the local hospital.
Match 3: "Mr. Monday Night" Rob Van Dam (w/ Bill Alfonso) versus Al Snow
Highlights:
According to ring announcer Bob Artese, this match will be contested under Monday Night wrestling rules. BOOOOOOOOOOOOOOOOO!
To spite the ECW faithful, RVD wore an airbrushed singlet with ECW, WWF, and WCW on it.
Similarly, Snow wore his Leif Cassidy singlet.
RVD unleashed a series of kicks, but Snow came back with a Snow-plex (wheelbarrow suplex).
As he gave RVD a cross corner whip, Snow ate boot on his follow-through.
RVD then backflipped from the top turnbuckle to the mat and monkey-flipped Snow.
When RVD showboated on the second turnbuckle, Snow dropkicked him over the top rope to the concrete floor.
Snow then hit a plancha, slammed RVD on the concrete floor, walked all the way up the ramp, and steamrolled him with a clothesline.
After Snow rammed him back-first into the steel railing, RVD made him HIT THE POLE.
He then missed a baseball slide, and Snow clotheslined him on the concrete floor.
As he rammed RVD back-first into the steel railing again, Snow ate boot on his follow-through.
RVD then mounted the steel railing and delivered a moonsault on the concrete floor.
When RVD returned to the ring, he gave Snow a somersault plancha. Wow!
He then mounted the top turnbuckle, but Snow crotched him.
After Snow joined him, he delivered a top rope superplex for 2. Amazing!
He then placed RVD atop the adjacent top turnbuckle, joined, but got nailed down to the mat.
As RVD mounted the top turnbuckle, he delivered a flying thrust kick.
He then gave Snow a standing moonsault for 2.
When RVD mounted the opposite top turnbuckle, he hit the ***** frog splash and got another 2.
Snow then reversed an Irish whip and countered a huracanrana with a face plant.
After he clotheslined RVD, Snow gave him a standing leg drop.
He then delivered his own standing moonsault followed by the Snow Plow for 2.
As RVD leaped to the top turnbuckle, Snow dropkicked down to the concrete floor again.
Snow then attempted a somersault plancha but mostly caught the timekeeper's table.
When he CROWNED RVD with a steel chair, Snow WHACKED him again repeatedly. So much for Monday Night rules.
He then went to the top of the ramp again but ate a chair shot on his follow-through.
After he crotched Snow on the steel railing, RVD hit a Van Daminator with assistance from Alfonso.
Back in the ring, RVD gave Snow a corkscrew leg drop, hooked a cradle without a bridge, and got 2.
Snow then delivered a DDT for 2.
As Alfonso tossed a chair into the ring, RVD hit another Van Daminator.
1-2-3.
RVD won.
Rating: ***1/2
Summary: Snow carried RVD to a really good match by matching RVD's high-flying with ring generalship.
From a helicopter, Lance Russell poorly narrates Sandman's commandeering of the ambulance in order to return to the arena. All Sandman needs now is face paint and a customary howl.
Pre-recorded promo by Lawler who name-drops Undertaker, Bret Hart, and Stone Cold Steve Austin in an effort to run down Dreamer.
Match 4 for the ECW World tag team title: The Dudley Boys (champions w/ Joel Gertner, Sign Guy Dudley, Big Dick Dudley, & Jenna Jameson) versus PG-13
Highlights:
According to Meltzer, since the Gangstas failed to appear, the World tag team titles were awarded to the Dudley Boys.
Although PG-13 was billed as the USWA tag team champions, they lost the titles to Flash Flanagan and Steven Dunn nine days prior to the show.
JC Ice grabbed the microphone and referred to Mama Dudley as a "ho." Yikes!
As JC Ice tagged in, PG-13 hit an inverted atomic drop/clothesline combo to D-Von for 2. Innovative!
During a criss-cross, JC Ice exited the ring making D-Von look foolish.
In the meantime, he applied a lip lock on Jameson.
Tags were exchanged on both sides while Wolfie D gave Bubba Ray a huracanrana.
After Bubba Ray reversed a cross corner whip, Wolfie D leaped to the second turnbuckle but came up empty on a cross body block.
JC Ice then distracted referee John Finegan while the Dudley Boys tried to break Wolfie D's arm. How dastardly!
When heel miscommunication between the Dudleys occurred, the Fort Lauderdale faithful chanted "You fucked up."
Sign Guy then distracted Finegan so that Big Dick could double-chokeslam PG-13.
As D-Von gave JC Ice a flying back elbow, Bubba Ray tagged in and delivered a diving head butt.
JC Ice then came off the ropes, but Jameson tripped him. She's hardcore!
After D-Von tagged in, he mounted the second turnbuckle and hit a guillotine leg drop.
He then gave JC Ice a sidewalk slam and tagged in Bubba Ray.
When Bubba Ray delivered a tilt-a-whirl powerslam, D-Von provided an elbow drop.
Bubba Ray then challenged him to hit him on the chin, but JC Ice took him on a trip down south on the Florida Turnpike.
As JC Ice gave D-Von a DDT, he made the hot tag.
Wolfie D then attempted a double noggin knocker, but the Dudley Boys no-sold it.
After he ducked a double clothesline, Wolfie D delivered a double dropkick.
He then gave D-Von a sit-out powerbomb for 2.
When Bubba Ray slammed Wolfie D, he mounted the top turnbuckle in PG-13's corner.
JC Ice then hooked Bubba Ray so that Wolfie D could join Bubba Ray and face plant him on the mat.
As JC Ice mounted the top turnbuckle, he delivered a flying forearm to D-Von.
The Dudley Boys then sought refuge outside the ring and caught JC Ice during a plancha attempt.
With the Dudley Boys occupied, Wolfie D hit a somersault tope taking everyone out.
Back in the ring, the Dudley Boys gave Wolfie D the Dudley Death Drop.
1-2-3.
The Dudley Boys retained.
Rating: **1/2
Summary: With the comedy bits, Jameson, and some good spots, this was an entertaining match.
More helicopter footage of the ambulance containing Sandman airs.
Prior to the next match, Lawler plugs the WWF PPV on 9/7. He then repeats the same promo from earlier.
Match 5: Tommy Dreamer (w/ Beulah) versus Jerry "The King" Lawler
Highlights:
Why in God's name was Lawler on an ECW PPV? Answer: this angle from Wrestlepalooza '97 (aired 6/12, taped 6/7).
Dreamer WALLOPED Lawler with a tin pie container sending him over the top rope to the concrete floor.
As he joined Lawler, Dreamer CREAMED him again with it.
Lawler was

BUSTED OPEN

!
When Dreamer nailed him with a full cup of beer, he crotched Lawler on the steel railing.
He then accepted weapons from the Fort Lauderdale faithful and smashed Lawler with them.
After they fought among the Fort Lauderdale faithful, Dreamer rammed Lawler back-first into the steel railing.
He then strangled Lawler with a leather belt while an "E-C-W" chant erupted.
As Dreamer grabs a steel chair, he mounted the top turnbuckle, but Lawler crotched him.
Lawler then erected the chair in the middle of the ring and launched Dreamer onto it. OUCH!
When Lawler rammed him face-first into the steel chair, he joined Dreamer outside the ring.
Next, he rammed Dreamer back-first into the steel railing and HAMMERED him with a steel chair.
He then crotched Dreamer on the steel railing and nailed him with the belt around his fist.
After Lawler dragged him with the throat around the neck, he made Dreamer taste the steel railing. It must have tasted like the Prohibition at Tap 42.
He then whipped Dreamer and tied him to the bottom rope.
As Lawler gave Dreamer a piledriver for 2, I can't believe it took this long for a wrestling maneuver to be introduced.
He then ripped Dreamer's shirt off and wiped himself off with it. Yuck!
When Dreamer no-sold Lawler's punches, he nailed Lawler.
Speaking of Lawler, he pulled his single strap down and performed a Lawler flop.
Afterward, Dreamer stood atop Lawler but got distracted by Jim Molineaux.
That allowed Lawler to nail Dreamer so far south that he could see Cuba.
Not THAT Cuba!
As he repeatedly knee-dropped Dreamer in the nether regions, Lawler and Dreamer sandwiched Molineaux in the corner.
Lawler then delivered a DDT to Molineaux, tried to crotch Dreamer with the ring post, but it backfired.
When Dreamer attempted to crotch Lawler with the ring post, the lights dimmed.
Suddenly, Rude re-emerged and SMEARED Dreamer with a metal trash can.
Dreamer was

BUSTED OPEN

.
After Lawler made a lateral press, he only got 2.
Dreamer then attempted a piledriver, but the lights dimmed again.
As the lights illuminated, Jake "The Snake" Roberts clotheslined Dreamer.
He then gave Dreamer a DDT much to the delight of the Fort Lauderdale faithful.
When Lawler offered a handshake, Roberts clotheslined him.
Lawler then grabbed the steel chair and tossed it in the ring.
After Dreamer attempted his own DDT, the lights dimmed yet again.
The lights illuminated again, and Sunny sprayed hairspray in Dreamer's eyes.
As Beulah grabbed Sunny, a catfight ensued. Me-ow!
Lawler then grabbed Beulah and attempted a piledriver.
When Dreamer aimed a chair at him, Lawler used Beulah as a decoy. The scoundrel!
Beulah then split Lawler's uprights, and Dreamer delivered a DDT.
1-2-3.
Dreamer won.
Rating: *
Summary: Typical ECW brawl that the Fort Lauderdale faithful enjoyed; otherwise, it was completely smoke-and-mirrors to hide the limitations of both wrestlers. At the very least, Lawler got his comeuppance for what he did to Dreamer.
Video airs featuring footage from The Night the Line was Crossed.
More aerial footage is shown as Sandman returns to the arena in an ambulance. When Fort Lauderdale's finest try to get him, Sandman WHACKS them with his kendo stick.
Match 6 for the ECW World title (three-way dance): Sabu (champion w/ Bill Alfonso) versus Terry Funk versus the "Franchise" Shane Douglas (w/ Francine)
Highlights:
Wait a minute! How did Sabu win the World title? Barbed wire, you say (aired 8/14, taped 8/9)?
Before the match began, Francine tried to pay off Funk with cash but got rebuffed.
Sabu and Douglas started the match while Funk rested outside the ring. Clever!
When they joined Funk on the floor, Douglas and Sabu rammed Funk back-first into the steel railing repeatedly.
Sabu then tossed a metal trash can in Funk's face.
To say the least, Funk was

BUSTED OPEN

.
As Douglas gave Funk another shot with the can, Sabu got 2.
Douglas then slammed Funk and suplexed Sabu atop him for another 2.
Upon hitting a leg drop, Douglas couldn't get 3 on Funk.
Sabu then delivered a slingshot leg drop for yet another 2.
When Douglas tossed him to the concrete floor, he gave Funk a double axe handle from the apron.
Sabu followed suit and got 2 on Funk.
As Funk attempted to slam Sabu, Douglas interfered and delivered an inverted atomic drop.
Sabu then hit a springboard clothesline, and Douglas got another 2 on Funk.
After Alfonso slid a chair into the ring, Sabu gave Funk Air Sabu.
Douglas then got 2 on Funk.
When Sabu delivered Air Sabu #2, he only got 2 thanks to a chair shot to the back from Douglas.
Sabu then gave Douglas a release German suplex and baseball-slid him to the concrete floor.
As Sabu threw Douglas over the steel railing, he nailed Funk with a chair and hit a triple jump tope. Wow!
Sabu then gave Funk a springboard cross body block for another 2.
Next, Sabu delivered an Asai moonsault to Funk on the concrete floor. Amazing! In the process, both wrestlers tasted the steel railing. It must have tasted like the Black'n'Voodoo Burger at the Shuck'n'Dive.
Douglas then hooked a delayed vertical suplex on Sabu for 2.
After Funk set up a pair of chairs in the ring, he gave Sabu a Douglas-assisted hangman's neckbreaker onto them for another 2.
Sabu then WAFFLED Douglas and Funk with the chair, yet Douglas dropkicked Funk's knee.
When Douglas focused on Funk's leg, Sabu dropkicked him.
Funk then supplied Douglas with a hangman's neckbreaker for 2.
As Funk piledrove Sabu, he got 2.
Douglas then tossed a section of steel railing into the ring, but Funk and Sabu sent him directly into it.
After Funk gave Douglas a cross corner whip, Sabu backdropped Douglas onto the steel railing for 2. Someone call a chiropractor!
He then draped the steel railing atop both Funk and Douglas and sandwiched Funk between it and Douglas for 2.
When Douglas hit a series of clotheslines to both wrestlers, he delivered consecutive belly-to-belly suplexes to them.
He then secured a sleeper on Sabu, and Funk did the same to Douglas--shades of The Night the Line was Crossed.
Following that, Sabu got 2 on Douglas.
He then hit a triple jump moonsault on Douglas for another 2.
As one of the chairs broke during another triple jump moonsault attempt, Sabu improvised with an Asai moonsault but missed.
With both Douglas and Funk down on the mat, Sabu gave them another triple jump moonsault for 2.
Alfonso then tossed a table into the ring, and Sabu placed Funk atop it.
Suddenly, Gordon ran into the ring and BLASTED Alfonso.
After Douglas placed Gordon atop the table, Sabu mounted the top turnbuckle with a chair.
He then jumped onto the chair and DESTROYED Gordon with a guillotine leg drop while putting him through the table. Innovative!
Hold the phone! Funk had also placed Alfonso on the table so he got SQUISHED too.
While ring crew members removed Gordon, Alfonso, and the broken table out of the ring, Sabu brought in a ladder from under the ring.
He then hammered both Douglas and Funk with it, set it up in the corner, and nailed referee John Finegan.
When Sabu mounted the top turnbuckle, Sandman emerged and launched Sabu down to the mat.
He then elbow- and ladder-dropped Sabu before hitting a somersault leg drop atop it.
As Douglas only got 2 on Sabu, the FLPD removed Sandman from the ring.
Douglas and Funk then pinned and eliminated Sabu.
While Sabu hit a triple jump tope onto the FLPD and Sandman, the Fort Lauderdale faithful ate it up with a spoon.
Afterward, the FLPD removed Sandman, and the ECW locker room emptied to watch the match up close and personal.
Funk then repeatedly rammed Douglas face-first on the apron until Francine stopped him.
When Funk sauntered after her, Douglas nailed him with a portion of broken table.
Funk then bounced a metal trash can off Douglas' skull and "knocked himself silly" according to Styles.
As Funk missed a chop, Douglas hooked belly-to-belly suplex #3 for 2.
He then piledrove Funk and set up a table outside the ring.
After Francine entered the ring, she slapped the taste out of Funk's mouth.
Surprisingly, Dory Funk, Jr. came into the ring to confront her.
Douglas tried to attack him, but Dory OBLITERATED him with a pair of European uppercuts.
When Funk rolled up Douglas, he got 2.
He then attempted the spinning toe hold, but Douglas escaped.
As Douglas gave Funk a belly-to-back suplex, both wrestlers fought on the apron.
They then spilled and FLATTENED a table on the concrete floor.
After they returned to the ring, Douglas got 2.
Douglas then hit belly-to-belly suplex #4 for another 2.
With the Fort Lauderdale faithful behind Funk, Douglas delivered belly-to-belly suplex #5 but couldn't get 3.
When Douglas made another attempt at a belly-to-belly suplex, Funk countered with an inside cradle.
Do we have a new champion?
1-2-NO!
Douglas then hit belly-to-belly suplex #6.
1-2-3.
WE HAVE A NEW CHAMPION!
Rating: ****
Summary: Combine Sabu's aerial skills, Douglas' tenacity, and Funk's craziness, and this was a fun ECW main event. Kudos, gentlemen!
After the match, Funk tries to get at Douglas, but Francine SMACKS Funk in the back with the belt. Next, Douglas whips him with the belt while the Fort Lauderdale faithful chant "BULL-SHIT." Suddenly, Gertner enters the ring, and the Dudley Boys follow. While the Dudley Boys beat down Funk, Gertner wants him to leave the Triple Threat and join the Dudley faction.
Next, Candido and Bigelow come to the ring to brawl with the Dudley Boys. The locker room then empties into the ring while Big Dick Dudley chokeslams Chris Chetti. As the Triple Threat heads backstage to celebrate, Tracy Smothers receives a chokeslam. Snow then gets a taste of what Big Dick Dudley has to offer, and Hack Myers and Thomas "Inch Worm" Rodman get double-chokeslammed. After Wild Bill takes a chokeslam, Ballz Mahoney and Axl Rotten hit the ring with chairs.
Big Dick Dudley then chokeslams Mahoney while Bubba Ray delivers a Bubba Cutter to Rotten. The Gangstas music hits, and New Jack along with Kronus storm the ring with weapons. After an initial surge, they fall victim to a double chokeslam by Big Dick Dudley. Perry Saturn enters the ring, smashes a crutch on Big Dick Dudley, and delivers consecutive Saturn Cutters to Big Dick and D-Von.
After Kronus slams Bubba Ray, Saturn, on one good leg, mounts the top turnbuckle, hits the big elbow, and appears to be injured. Kronus then mounts the same top turnbuckle and gives Big Dick Dudley a corkscrew moonsault. Chaos continues as Kronus slams D-Von, mounts the top turnbuckle yet again, and delivers a frog splash.
Kronus then gives Bubba Ray a somersault leg drop while the babyfaces corner Gertner. As he nails Gertner, New Jack waves everyone off to CROWN Gertner himself. From the top turnbuckle, Kronus hits a 450° splash on Gertner. For all intents and purposes, Gertner should be pushing up daisies. The show then goes off the air while the babyfaces stand among the Fort Lauderdale faithful to chant "E-C-W."
Conclusion: With the rather good World title change and the World TV title matches, this show deserves a recommendation. However, there are two caveats.
First, the lighting was HORRIBLE. Shadows were everywhere, and some maneuvers were blatantly missed by production. I realize that ECW doesn't have the production budget of WCW or WWF but asking wrestling fans to fork out $20 for a less-than-pleasing visual product is a lot. Second, the Fort Lauderdale faithful tried to be as good as if not better than the show itself. While I can appreciate an enthusiastic crowd, one that goes into business for itself is unwarranted and unnecessary.
Nevertheless, while I wouldn't hold this show up as highly as Barely Legal, I wouldn't discredit it either.
Buyrate: 0.21
Stay tuned for WCW Monday Nitro 8-18-97!
Comments? Suggestions? Send them to me at rsg@rockstargary.com and follow me on Twitter (@rockstargary202).
Custom Search