WELCOME TO ROCK STAR GARY REFLECTIONS!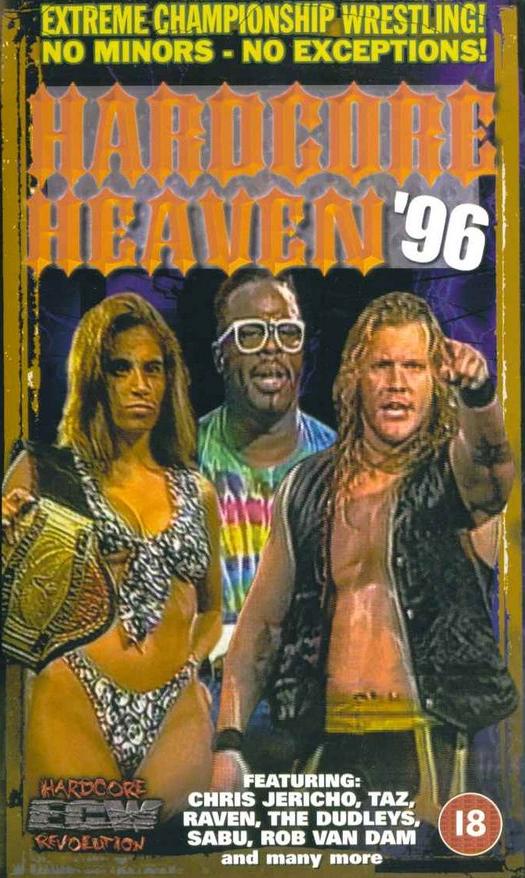 Live from Philadelphia, PA
Airdate: June 22, 1996
Attendance: 1,511 (sold out)
Hosted by Joey Styles
As the show begins, Joel Gertner tries to re-enact Michael Buffer's charisma and eats a Singapore cane shot from Sandman for doing so. Obviously, Sandman understands copyright/gimmick infringement. As the crowd roars, Sandman opens a beer, chugs some of it, and spits it on Gertner. He then nails him again with the cane. When the crowd chants "one more time," Sandman delivers. He then gets on the mic, and Missy Hyatt brings back Bob Artese. The Philly faithful rejoice. Before Artese can choose whether or not to end up like Gertner, Missy plants a big wet kiss on him. In the meantime, Gertner eats another cane shot. Now that's a unique way to amp up a crowd.
Match 1: The "Franchise" Shane Douglas versus Mikey Whipwreck
Highlights:
Former ECW World champions collide!
Back elbow by Douglas as he tried to turn Whipwreck into roadkill.
Whipwreck reversed a cross-corner whip and delivered a back drop.
He followed that up with a pair of dropkicks sending Douglas outside the ring to regroup.
Delayed vertical suplex put him back in control.
He followed that with a kick down in Southern Pennsylvania. OUCH!
Next, he crotched Whipwreck using the bottom rope.
Texas Cloverleaf by Douglas, but Whipwreck made the ropes. Sorry, but Douglas <> Malenko.
As Mikey reversed another cross-corner whip, Douglas gave Whipwreck a chop block. Joey's response: "Mongo who?"
Whipwreck used momentum and tossed Douglas outside the ring.
After tossing Douglas over the steel railing, Whipwreck re-entered the ring, mounted the top turnbuckle, and launched himself at Douglas. Who needs technically perfect moves, right?
Next, he made Douglas taste the steel railing. It must have tasted like the Arista at Paesano's.
On the floor, Whipwreck delivered a springboard elbow drop using the steel railing.
Springboard neck snap only got 2 due to Douglas' foot on the bottom rope.
Whipwreck missed a dropkick so Douglas hooked a figure-four leg lock.
An eye rake broke the hold.
After Douglas missed a dropkick, Whipwreck hit a deliberate head butt down in South Jersey.
He then hooked the figure-four leg lock on Douglas.
In lieu of escaping the hold, Douglas nailed referee Jim Molineaux.
Finally, Douglas made the ropes.
Cross-corner whip by Whipwreck, but Douglas' knee gave out.
Whipwreck mounted the top turnbuckle and hit a missile dropkick for 2.
Douglas reversed an Irish whip but ate a DDT for only 2.
Double reversal on an Irish whip led to a belly-to-belly suplex by Douglas.
1-2-3.
Rating: ***1/2
Summary: Great match proving that Whipwreck can hang with a wrestler like Douglas.
In the ring, Joey welcomes us to the show to a raucous crowd reaction. He then interviews Baron von Stevie, Bluedust, and Patricia. Wearing the traditional hood, Richards comes to the ring. The Blue Meanie dons the blond wig as Patricia smokes a cigarette. Joey's reaction to this: "If I wanted to go to the circus, I'd stay home in Stamford." Yowza! As Bluedust slithers in the ring, Richards hypes Raven's new valet. Subsequently, Bluedust hits on Joey then Richards applies the claw to him. Joey easily rebuffs the effort. This was pathetic.
Match 2: Buh Buh Ray & Big Dick Dudley (w/ Sign Guy Dudley) versus Little Guido & JT Smith (w/ Salvatore Bellomo)
Highlights:
For those unaware, Smith was still doing his Italian descent gimmick; thus, both he and Guido carried the Italian flag to the ring.
Smith then got on the mic and announced Sal Bellomo as a member of the Full Blooded Italians (FBI). Where's Paul Orndorff to give this guy a piledriver?
Before the match, Buh Buh got on the mic and chastised D-Von.
He then made a derogatory gesture while singing Frank Sinatra's "Fly Me to the Moon."
Amazingly, Buh Buh got his name right on one try. The Philly faithful applauded his effort.
Buh Buh slammed then splashed Guido three times.
After a cross-corner whip by Buh Buh, he delivered an avalanche to Guido.
Slingshot gourdbuster by Buh Buh to Guido.
A clothesline from Big Dick resulted in a 450° sell by Smith. Woohoo!
Buh Buh then smashed Smith with a chair to the back.
With the FBI out on the floor, Buh Buh dove at them but ended up eating the steel railing. It must have tasted like the Smokin' Hog at Deke's Bar-B-Que.
Buh Buh reversed an Irish whip and sent Guido into the steel railing.
After some chair shots, Buh Buh tossed Guido back into the ring.
Once Big Dick rammed Smith face-first into the ring post, Buh Buh took Hat Guy's hat and wore it.
Double clothesline by the FBI…no-sold by Big Dick.
Double chokeslam for the FBI by Big Dick.
He then military press slammed Guido through the timekeeper's table.
Bellomo delivered a pair of chair shots to the head of Big Dick, but they didn't faze him.
Big Dick picked up Bellomo and rammed him back-first into the steel railing.
As Guido held Buh Buh, Smith mounted the top turnbuckle and hit a sweet somersault leg drop.
D-Von hit the ring and annihilated the FBI.
The FBI won by DQ.
Rating: **1/2
Summary: While not worthwhile, this was certainly entertaining.
After the match, D-Von gets on the mic and reads the riot act to Buh Buh. To try and get some sense out of Buh Buh, D-Von gives him a chair shot to the head. As D-Von administers tough love to Buh Buh, Dances with Dudley eats a chair shot to the head for being impolite. Chubby Dudley eats one too. Finally, D-Von leaves and curses Big Dick out.
Match 3 (shoot fight): The "Human Suplex Machine" Taz (w/ Fonzie) versus Paul Varelans
Highlights:
For those unaware, Varelans was a professional MMA fighter. Please note the size difference: Taz is 5'9" while Varelans is 6'8".
Winner determined by knockout, submission, or inability to answer a ten count.
Quite a few members of the ECW roster were at ringside. Will Varelans shoot on Taz?
Arm bar takedown by Taz.
Single leg takedown by Taz.
Front chancery by Varelans took Taz down.
Double leg takedown by Taz countered into a fujiwara arm bar by Varelans.
A knee by Varelans took Taz down.
Suddenly, Saturn missile dropkicked Varelans in the back of the head behind referee Paul Richard's back.
Taz then delivered a T-bone Taz-plex to the dazed Varelans.
He then applied the katahajime for the submission.
Rating: NONE
Summary: An urban legend has it that Heyman sent Missy Hyatt to seduce Varelans into doing the job with the promise of sex or sexual favors. Hyatt supposedly rebuffed him afterwards.
After the match, as the crowd chants "BULLSHIT," Taz agrees with the crowd then disses them.
Match 4 for the ECW World title: Raven (champion w/ Stevie Richards & Nova) versus ????
Highlights:
Before the match, Richards revealed Peaches to be Raven's new valet. Peaches was actually Lori Fullington—Sandman's ex-wife.
Sandman and Missy hit the ring, but instead of being upset, Sandman runs Peaches down.
Lynyrd Skynyrd's "Freebird" played Terry "Bam Bam" Gordy to the ring.
Immediately, Gordy tossed Raven over the top rope to the concrete floor.
They're out in the front row where Gordy laid into Raven with some chair shots.
Raven was

BUSTED OPEN

!
In the bleachers, Gordy beat Raven up with a chair and a frying pan.
Back in the ring, Gordy delivered a clothesline.
After a cross-corner whip, Gordy delivered a series of clotheslines.
Richards came into the ring, tried a Stevie-kick, and got lost.
Raven nailed Gordy down near Delaware.
Richards gave Raven some barbed wire, but Raven missed.
Gordy applied the Asian spike.
Richards and Nova tried to get Gordy off Raven.
Dreamer came into the ring and gave them a DDT.
"Primetime" Brian Lee came into the ring and gave Dreamer the Primetime slam (chokeslam).
Powerbomb from Gordy to Lee.
Gordy then tied Raven up with the barbed wire.
Raven was a bloody mess.
Gordy nailed referee John Finnegan.
Stevie-kick and DDT saved the title for Raven.
Rating: **
Summary: The crowd loved Gordy and the surprise factor brought along with his appearance.
Afterwards, Lee fights with Gordy as Richards and Nova pummel Dreamer. All of a sudden, the Sandman hits the ring and swings a Singapore cane at anything that moves. As Raven leaves, Peaches brought her son Tyler to the ring. According to Raven, "(Tyler) worships me!" Beulah calls Peaches out, but Raven holds her back. Joey finishes the segment with "you don't mess with a man's family." True dat. Wait a minute! Bluedust comes to the ring, but Kimona nails him low then Beulah gives him a DDT. OK, THAT was funny.
Match 5 for the ECW World tag team titles: The Eliminators versus the Gangstas
Highlights:
Before Joey can even complete the thought of the final title shot for the Gangstas, the Gangsters of Paradise a.k.a. the Samoan Gangster Party attacked them from behind.
For those unfamiliar, the Gangsters of Paradise was comprised of "Sammy the Silk" (Samu Anoa'i) and his cousin "Big Matty Smalls" (Matt Anoa'i) a.k.a. Rosey.
Matty accidentally clotheslined Sammy so Mustafa rewarded him by making him taste the steel railing. It must have tasted like the St. Peters fish at Farmacia.
Since the Gangsters of Paradise couldn't get the job done properly, the Bruise Brothers hit the ring to demolish the Gangstas.
Meanwhile, the Eliminators were just hanging out in the ring.
New Jack was

BUSTED OPEN

and could barely stand up.
Saturn got on the microphone and called out the Bruise Brothers. I cannot and will not distinguish which Bruise Brother is Ron or Don.
After being reversed on an Irish whip, Saturn ducked a big boot and delivered a superkick.
Upon delivering a slam, Saturn mounted the top turnbuckle and delivered the big elbow.
After tossing his opponent outside the ring, Saturn gave him a plancha.
Kronus reversed a cross-corner whip then gave his opponent a handspring back elbow.
Outside the ring, Saturn was reversed on an Irish whip and sent back-first into the steel railing.
Kronus exited the ring and sent his opponent into the steel railing.
On the other side of the ring, Saturn was whipped into a propped-up table.
Shortly thereafter, Kronus ate said table.
Kronus was

BUSTED OPEN

!
He then went through the timekeeper's table.
Spinning crescent kick from Kronus in the front row.
"Any resemblance between this and a sanctioned wrestling match is purely coincidental." – Joey Styles, everybody.
Back in the ring, Saturn mounted the top turnbuckle but missed a moonsault.
He then ate a big boot.
Kronus then received a double big boot.
The Gangstas returned to the ring to wreak havoc.
New Jack put a plastic garbage can on Saturn's head then nailed him.
As New Jack was beating up Kronus outside the ring, Saturn rescued his partner using a steel chair.
After officials cleared both the Eliminators and Bruise Brothers from the ring, New Jack held up a black flag with a red

X

on it.
Rating: NONE
Summary: Garbage wrestling for the most part with lots of blood.
Match 6: The Gangsters of Paradise versus Axl Rotten & Hack Myers
Highlights:
A healthy "Who gives a fuck?" chant rang out from the Philly faithful.
Matty slammed Rotten but missed a clothesline.
Rotten hit his clothesline and got 2.
Myers attempted a double noggin knocker on the GoP, but ate a double head butt himself.
Both members of GoP mounted the second turnbuckles and hit simultaneous flying head butts.
The Gangstas hit the ring to attack the GoP.
The Eliminators followed right behind them.
As you can imagine, chaos ensued.
The Bruise Brothers joined in on the melee.
The locker room emptied to get this crap under control.
Rating: NONE
Summary: It was becoming a Samoan squash before the sports entertainment finish.
Match 7 for the ECW Television title: Pitbull #2 (champion w/ Francine) versus "Lionheart" Chris Jericho
Highlights:
Holy Ayatollah of Rock'n'Rollah, Batman! It's Chris Jericho!
Accompanying the champion, wait a minute! What happened to Francine? Here she looked like she'd been rode hard and put away wet. Yikes!
For those interested, #2 beat Shane Douglas for the TV title back on 6/1.
Jericho attempted a leap frog, but #2 put on the brakes.
He then hit #2 with a spin kick, but when he tried a spinning heel kick, #2 slammed him down hard.
After a slam, #2 got 2.
Gorilla press slam by #2 followed by a tombstone for 2.
Gorilla press slam numero dos preceded a pancake by #2.
Cross-corner whip by #2 led to a sternum-first bump by Jericho. Lesson #1 from Hart Dungeon 101.
#2 hoisted Jericho on his shoulders, but Jericho countered with a victory roll for 2. Gee, you think he took notes from KOTR '93?
Back elbow followed by a clothesline by Jericho. Unfortunately, he looked lost out there afterward.
Gorilla press slam numero tres attempted by #2, but Jericho countered into a headscissors.
With #2 on the apron, Jericho hit him with a springboard dropkick sending him into the steel railing.
Spinning heel kick #2 by Jericho sent #2 back outside the ring.
Springboard moonsault by Jericho finally took #2 off his feet on the floor.
#2 sent Jericho back-first into the steel railing then nailed him in the head with a steel chair.
Quickly, Jericho mounted the top turnbuckle and hit a missile dropkick that got 2.
Enziguri from Jericho resulted in a 360° sell by #2. Awesome!
Thesz press by Jericho countered into a stungun.
After placing Jericho in an over-the-shoulder backbreaker, #2 rammed him sternum-first into the top turnbuckle.
With Jericho perched up there, #2 gave him a fallaway superslam. Wow!
While both men were down on the mat, Shane Douglas came out and kissed Francine.
Francine responded with a slap to his face. Geez, at least buy her a cocktail first.
Douglas protected himself from a shot by #2 by putting Francine in front of him.
#2 then nailed Francine with a clothesline mistakenly.
Out of frustration, #2 guillotined Douglas on the steel railing.
Plancha by Jericho missed so he landed on Douglas.
#1 came to the ring wearing a sling on his right arm and checked on Francine.
Back in the ring, Jericho mounted the top turnbuckle, attempted a huracanrana, but received a powerbomb instead.
1-2-NO!
Samoan drop by Jericho.
Lionsault attempt by Jericho, but #2 caught him then attempted to tombstone him.
Jericho flipped over to try a tombstone, but #2 flipped over again sending Jericho down to the concrete floor.
Again Jericho mounted the top turnbuckle, came off, but received a powerslam.
As Douglas tried to steal the title belt only to be stopped by officials, #2 mounted the top turnbuckle.
Jericho caught him, yelled out "C'mon, baby," and hit a super huracanrana for the pin.
WE HAVE A NEW CHAMPION!
Rating: ***1/2
Summary: Great big man-little man match orchestrated by Jericho. I wonder what Douglas' involvement will cause.
After the match, officials keep Douglas from entering the ring as #2 shakes Jericho's hand and gives him the belt.
Match 8 (weapons): Tommy Dreamer (w/ Beulah McGillicutty & Kimona Wanaleia) versus "Primetime" Brian Lee
Highlights:
As Beulah and Kimona wheel out the shopping cart of weapons, Dreamer nails Lee from behind with a whiteboard.
Upon nailing Lee with a trashcan, he gave Lee a shot down in south Philly as well.
As Dreamer hit Lee in the back with a guitar, Joey's response was "Honkytonk who?" HA!
Lee came back with a series of weapon shots.
Outside the ring, he rammed Dreamer face-first into the timekeeper's table.
He then tossed Lee over the steel railing and motioned toward the parking lot.
Outside the building, Lee rammed Dreamer head-first into an 18-wheeler.
He then tossed him into a steel door.
After a second tossing, Joey noted that Dreamer was

BUSTED OPEN

!
Dreamer responded with a chair shot to the head.
Next, he rammed Lee into the steel door.
Vertical suplex on Swanson Street by Lee.
Dreamer tossed Lee into another steel door then dragged him to the truck for an 18-wheeler shot.
Cheese grater for Lee's fumunda cheese. YEE-OUCH!
Back in the building, Dreamer was a bloody mess.
Back in the ring, Dreamer nailed Lee with a steel mailbox.
He then destroyed a fiddle across Lee's back. I guess the Devil didn't go down to Georgia on this fateful night.
After Dreamer missed with a second guitar shot, Lee delivered the Primetime slam.
Lee then brought a cinder block in and placed it on Dreamer.
Beulah tried to stop him, but Lee grabbed her.
Before he could do anything, Kimona, with her back to the hard camera, removed her shirt for Lee.
When Lee turned around, Beulah nailed him with a frying pan then Dreamer immediately hit him with a STOP sign.
DDT by Dreamer on the STOP sign got the pin.
Rating: **1/2
Summary: Innovative use of sexual chemistry in a hardcore match here.
After the match, the Bruise Brothers hit the ring and ambush Dreamer. After a clip, Lee and the Bruise Brothers have Dreamer in the balcony. According to Joey, three tables are stacked up underneath them. Lee then gives Dreamer a Primetime slam through the three tables all the way down to the concrete floor. Oh. My. God. How did Dreamer not get seriously injured? According to Meltzer, he was only shaken up barely and received a few splinters. Whew! That move would receive numerous replays over the span of ECW's existence. Of course, the Philly faithful responded with a healthy "ECW" chant.
Match 9: Sabu versus Rob Van Dam
Highlights:
How can they top what just happened?
According to Meltzer, this match began five hours after the show started due to technical difficulties with audio and the ring. Hope they had plenty of caffeine to sell to the Philly faithful.
After a snap mare, Sabu gave RVD a springboard dropkick for 2.
From an Irish whip, the top rope suddenly broke. D'oh!
Sabu brought a chair into the ring and tossed it at RVD's head. OUCH!
Triple-jump moonsault (with broken ropes) by Sabu. Wow!
Outside the ring, Sabu crotched RVD on the steel railing then gave him a tope suicida.
In the bleachers, RVD gave Sabu a guillotine leg drop.
Back in the ring, RVD mounted the (broken) top turnbuckle and delivered a somersault chair shot.
Dropkick to the knee by Sabu followed by a chair-assisted Whisper in the Wind.
After giving Sabu a cross-corner whip, RVD delivered a monkey flip onto the chair for 2.
Standing moonsault by RVD got 2.
Springboard bulldog by Sabu got 2.
After RVD countered a belly-to-back suplex, both men spilled outside the ring.
With RVD sprawled across the second rope, Sabu gave him a springboard leg lariat for 2.
When Sabu brought another chair into the ring, RVD delivered a spin kick sending the chair into Sabu knocking him down to the concrete floor.
Somersault plancha by RVD as Joey noted the lack of blue mats in ECW.
After whipping Sabu into the steel railing, RVD came up empty on his follow through.
Sabu set up a chair, ran across it along with a table, and nailed RVD with a leg lariat.
Next, Sabu bridged a table between the ring and the steel railing then placed RVD atop it.
He then hit another tope into the front row as RVD had removed himself from the table.
Attempt #2 resulted in a springboard DDT through the table. Amazing!
When RVD slowly crawled back into the ring, Sabu covered for 2.
Triple jump moonsault attempt failed due to the broken ropes.
RVD then used the chair as a springboard to boot Sabu down to the concrete floor.
Upon placing a chair in a corner of steel railing, RVD suplexed Sabu onto it. OUCH!
Back in the ring, RVD scored a 2 count.
After blocking both a superplex and fisherman's buster, Sabu delivered a jumping DDT for one due to RVD's leg on the bottom rope.
Sabu mounted the top turnbuckle again, got caught, but received a top rope fisherman's buster for only 2.
Sabu blocked a fisherman's buster and delivered one of his own.
He then took a chair to the top turnbuckle and hit the atomic Arabian facebuster for the pin.
Rating: ****
Summary: Considering the broken ring ropes, this was a war of attrition.
After the match, Damage Control along with Paul Heyman enters the ring and place both men on stretchers. Joey fears for the end of both RVD's and Sabu's careers. As the crowd chants his name, Sabu hops off the stretcher. Ultimately, he leaves on it.
Conclusion: With a four-star main event along with two ***1/2 matches, this show definitely gets my recommendation. The bump by Dreamer, if you've never seen it, must be seen to be believed.
See you for WWF King of the Ring 1996!
Buyrate: N/A
Comments? Suggestions? Send them to me at rsg@rockstargary.com and follow me on Twitter (@rockstargary202).
Custom Search