WELCOME TO ROCK STAR GARY REFLECTIONS!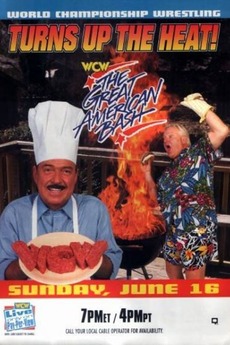 WCW Great American Bash '96
Live from Baltimore, MD
Airdate: June 16, 1996
Attendance: 9,000 (7,323 paid)
Hosted by Tony Schiavone and the "American Dream" Dusty Rhodes
Sgt. Craig "Pitbull" Pittman presents the colors while "The Star-Spangled Banner" plays.
Tony mentions the passing of "Captain Redneck" Dick Murdoch. He was 49.
Match 1: The Steiner Brothers versus Fire & Ice
Highlights:
Ice Train won a hip toss contest over Scott.
After a leap frog, Ice Train leveled Scott with a clothesline and got 2.
Scott gave Ice Train a hip toss then gave one to Norton.
After Scott clotheslined Ice Train, Rick sent Norton packing with one of his own.
Norton gave Rick a cross-corner whip but came up empty on his follow-through.
Immediately, Rick tried to roll him up but ate a clothesline instead.
Another cross-corner whip by Norton culminated with a Steinerline by Rick.
Belly-to-belly suplex by Rick got 2.
Dropkick by Scott preceded a Samoan drop by Norton.
Snap suplex by Ice Train to Scott was followed by a belly-to-belly suplex for 2.
Upon giving Scott a cross-corner whip, Ice Train delivered an avalanche.
Another cross-corner whip by Ice Train didn't have the same result as he ate boot on his follow-through.
Belly-to-belly suplex by Scott to Ice Train was followed by another clothesline.
T-bone suplex by Scott almost crippled Norton.
After Norton rolled out of the ring to regroup, Scott leaped from the apron and delivered a double axe handle to Norton's shoulder.
Scott then mounted the top turnbuckle but got caught by Norton and powerslammed for 2.
Short-arm clothesline by Norton set up a tag to Ice Train.
Shoulder block by Ice Train got 2.
Impressive reverse shoulder breaker by Norton, and he slapped on an arm bar trying to gain a submission.
Rick intervened, but Norton would not release the hold.
As Norton executed another reverse shoulder breaker, Scott tagged in Rick who clotheslined Norton out of his boots. Well, almost.
German suplex by Rick of Norton was quickly followed by a back drop of Ice Train.
After a powerbomb by Norton, Ice Train hit a splash from the second turnbuckle.
1-2-NO! Scott made the save.
Fire & Ice went for the Doomsday Device, but Scott knocked Ice Train off the top turnbuckle then kicked Norton in the midsection.
Rick delivered a DDT to Norton, but Ice Train returned to the second turnbuckle and hit Rick with a double axe handle.
Steinerizer on Norton almost got the pin. Ice Train made the save at the last possible second.
Frankensteiner almost crippled Norton again but got the pin.
Rating: ****
Summary: If you enjoy hard-hitting high-impact tag team wrestling, then this match is for you. A little bit of sloppiness kept this one from being spectacular, but it was excellent regardless.
In the locker room, "Mean" Gene Okerlund interviews the Taskmaster with Jimmy Hart. The Taskmaster emphatically calls Brian Pillman a "quitter."
Match 2 for the WCW US title: Konnan (champion) versus El Gato
Highlights:
So they put Pat Tanaka under a tiger mask and called him El Gato? Bartender, I'll have what the WCW booking committee is having.
After giving Konnan a couple of kicks, El Gato gave Konnan a dragon screw leg whip.
Did all the vociferous fans from the previous match go for popcorn? The crowd went SILENT.
Clothesline by Konnan resulted in a 360° sell by El Gato. Sweet!
After a pair of leap frogs, Konnan ate a standing thrust kick from El Gato.
Sit-out powerbomb by El Gato got 2.
El Gato and Konnan traded submission moves while the crowd either fell asleep or chanted "BORING."
After giving El Gato a cross-corner whip, Konnan planted him face-first on the mat.
Somersault clothesline by Konnan only got a one count.
El Gato tossed Konnan outside the ring, but Konnan landed on his feet. Shouldn't HE be El Gato?
El Gato followed up with a baseball slide but missed.
In lieu of El Gato sunset flipping back into the ring, Konnan used a sunset flip and powerbombed El Gato on the floor. Wow!
Jackknife cradle got the pin for Konnan.
Rating: **
Summary: Please give Konnan some real competition rather than Pat Tanaka in disguise. And get Wild Cat Willie to shoot some t-shirts into the stands to wake this crowd up!
Back in the locker room, Okerlund interviews Sting who clears up the difference between English gentlemen and American hooligans. Perhaps Okerlund's reference to Regal as "prissy" was taken a little too literally by our hero.
Match 3 for the Lord of the Ring: Diamond Dallas Page (LOTR) versus Marcus Bagwell
Highlights:
DDP got on the mic and butchered Hall of Fame shortstop Cal Ripken's name. Oops.
As Bagwell removed his jacket, DDP nailed him from behind and sent him over the top rope to the floor.
He then leaped from the apron and delivered a double axe handle to Bagwell's back.
Upon receiving a couple of forearm shots to the chest, Bagwell used momentum to send DDP over the top rope to the floor.
Bagwell reversed an Irish whip and sent DDP into the steel railing back-first.
A shot by Bagwell sent DDP over the steel railing into the front row. Tony's response? "Check his ticket stub!" HA!
Cross body block by Bagwell (say that five times fast) only got 2.
Flying forearm by Bagwell, but he didn't make a cover.
Another flying forearm by Bagwell sent DDP between the ropes and finally to the floor.
Bagwell followed with a plancha.
After giving DDP a shoulder to the midsection, Bagwell mounted the top turnbuckle.
DDP stumbled into the ropes making Bagwell lose his balance. OUCH!
As DDP tried to rip Bagwell's face apart, he yelled at the camera; "Look, mommy, no cavities!"
Pardon me for a moment. (cackling)
…
…
OK…That was pretty funny.
Backbreaker by DDP got 2.
Cradle suplex by DDP got another 2.
Abdominal stretch by DDP who hooked the top rope for leverage.
Referee Randy Anderson caught him, so Bagwell escaped with a hip toss.
Pancake by DDP got another 2.
Inverted atomic drop by Bagwell preceded a true atomic drop.
Clothesline and back elbow gave Bagwell an advantage.
He then gave DDP a slingshot clothesline for only 2.
Cross-corner whip by Bagwell, but he ate a back elbow on his follow-through.
DDP tried to pin him using the ropes but only got 2.
Flying headscissors by Bagwell who then attempted a fisherman's suplex.
DDP hooked the middle rope to block then hit the Diamond Cutter.
1-2-3.
Rating: **1/2
Summary: Definitely a mid-card match as both guys need to work on the crowd during the match.
Back in the locker room, Okerlund interviews the Giant with Jimmy Hart. Okerlund brings up a good question. What about your (Hart's) affiliation with Luger? Hart's "not worried about it." Meanwhile the Giant whispers his promo then scares the bejeezus out of me by raising the volume of his voice immediately. Please don't adjust your speakers.
Match 4 for the WCW Cruiserweight title: Dean Malenko (champion) versus Rey Mysterio, Jr.
Highlights:
Mike Tenay joined the broadcast table for this match.
Double kip-up resulted in a stalemate.
After ramming Malenko into the top turnbuckle, Mysterio delivered a springboard dropkick that sent Malenko from the apron to the floor.
According to Tenay, Mysterio was only 21 years old here.
Catapult by Malenko sent Mysterio over the top rope to the floor.
Anderson slam by Malenko kept him in control.
That was until Mysterio walked up the turnbuckles and dropkicked Malenko.
After receiving a cross-corner whip, Malenko clotheslined Mysterio causing a 360° sell. Incredible!
As Tony and Mike congratulate Eddie Guerrero for beating Jushin "Thunder" Liger in Japan on Thursday (6/12) in the Best of the Super Juniors (BOSJ) tournament, Malenko dropkicked Mysterio in the bad shoulder.
Belly-to-back suplex by Malenko got 2.
Overhead belly-to-belly suplex by Malenko got another 2 count.
Surfboard by Malenko was transitioned into a miniature-German suplex with a bridge that got 2.
Another belly-to-back suplex by Malenko got another 2 count.
Butterfly suplex by Malenko got 2.
Mysterio used Malenko's momentum to send him through the ropes, into the cameraman, and to the floor. WIPEOUT!
Springboard somersault plancha sent both men down the aisle. Ay, carramba!
Springboard dropkick by Mysterio got 2.
Pinfall reversal sequence worked in Mysterio's favor but only got 2.
West Coast Pop (not yet named) almost got 3.
Super huracanrana by Mysterio kept him in control.
He then reversed momentum on a body block and almost got 3 again.
Powerbomb by Malenko.
With his feet on the ropes in the corner, Malenko pinned Mysterio. Wow!
Rating: ****1/2
Summary: Encore! Encore! The submission-style stuff in the middle kept this match from being a classic, but it ain't too shabby regardless. I applaud WCW for giving Malenko a decent amount of time as champion since the title is fresh and new. While a victory by Mysterio would both make sense and perhaps pop the crowd, the worthiness of the title would be in question. Having said that, definitely check this one out.
Back in the locker room, Okerlund interviews Luger. The latter is focused while Okerlund is thirsty.
Match 5: John Tenta versus Bubba Rogers (w/ Jimmy Hart)
Highlights:
And now for something…completely…different.
The match began on the floor as Rogers rammed Tenta face-first into the apron.
He then tried to mount the top turnbuckle, but Tenta made him lose his balance and fall to the floor.
Tenta followed him and rammed him shoulder-first into the steel steps.
Pair of butt splashes in the corner by Tenta, but Rogers sneakily used a foreign object to take over.
Enziguri by Rogers knocked Tenta silly.
Rogers then gave him a running guillotine.
A Rogers uppercut only got 2 because Patrick saw Rogers' foot on the second rope.
Rogers reversed a cross-corner whip, tripped Tenta, then rammed his left leg into the ring post.
Tenta reversed a cross-corner whip but missed an avalanche.
Belly-to-back suplex by Rogers who then mounted the top turnbuckle.
Rogers got caught and powerslammed as Hart got up on the apron.
1-2-3.
Tenta won while Hart had his back turned.
Rating: *
Summary: Not as bad as I thought it would be.
After the match, Tenta grabs Hart, but Rogers comes in and runs into Hart mistakenly. Tenta then cuts Rogers' beard with the scissors that Hart had. According to Tenta, he's not finished.
Back in the locker room, wearing varsity jackets, the McMichaels (Steve and Debra) and the Greenes (Kevin and Tara) get interviewed by Okerlund. Savage comes in and uses some football references to psyche up his team.
Match 6 (falls count anywhere): The Taskmaster (w/ Jimmy Hart) versus the "Crippler" Chris Benoit
Highlights:
According to ring announcer Dave Penzer, this match will have two referees.
Like the previous match, this match began in the aisle.
Before they even got into the ring, the Taskmaster rammed Benoit head-first into the apron and then the steel steps.
In lieu of making Benoit taste the steel railing (and some great Baltimore cuisine), the Taskmaster tossed him into the crowd then took him up into the stands.
After ramming Benoit head-first into the concrete wall, Taskmaster rammed Benoit into the wall of the men's restroom.
While the Taskmaster rammed Benoit's head with a toilet stall door, Rhodes exclaimed: "Oh yeah, there are some boys taking some relief in there!" HA!
Double stomp by the Taskmaster "in the john, if you will."
As Taskmaster attempted to ram Benoit into a urinal, Tony shouted: "Head first to the commode!"
Hold on a second, please. (falls out of chair)
…
…
That was excellent humor, Tony.
Anyways, Benoit rammed the stall door into the Taskmaster.
Just as the Taskmaster regained the advantage, Rhodes notified us that "there's a lady in the man's bathroom!" Is the comedy supposed to be intentional here?
Before they exited the restroom, Taskmaster rammed Benoit head-first into the supply cabinet door. OUCH!
He then tossed rolls of paper towels at Benoit.
The bathroom trash can was rammed by the Taskmaster onto Benoit's back.
Tony then took a pot shot at Brian Pillman for making a better career decision signing with the WWF.
Benoit regained control and walloped the Taskmaster in the head with the trash can.
As soon as Tony mentioned someone taking a "tumble" down the stairs, Benoit followed suit.
When the Taskmaster met Benoit at his landing spot, he tossed Benoit further down the stairs.
He then made it personal by stomping Benoit south of the Everglades. YEE-OUCH!
When they returned to ringside, the Taskmaster crotched Benoit on the steel railing. Can someone please pass him an ice pack? That's gotta hurt!
Outside the ring, the Taskmaster rammed Benoit head-first into the steps again then threw a chair at him. Yikes!
As part of his comeback, Benoit returned the favor by crotching the Taskmaster on the steel railing. I need some aspirin just watching this.
After whipping the Taskmaster into the steel railing, Benoit tossed him into the front row.
He then grabbed a table from under the ring.
Next, he tossed the table into the Taskmaster's head.
Finally, they both were in the ring.
While there, the Taskmaster reversed an Irish whip sending Benoit into the table. However, he met the table head on during his follow-through.
Benoit then set up the table on the top turnbuckle.
The Taskmaster vaulted Benoit onto the table.
Benoit then delivered a superplex from the table down to the center of the ring. Wow!
1-2-3.
Rating: ****
Summary: This had ECW written all over it. Good brawl with a spectacular finish.
After the match, Benoit isn't finished with the Taskmaster. After Hart leaves the apron and runs down the aisle, Arn Anderson makes his way toward the ring. Hart is relieved. Arn throws Benoit off the Taskmaster much to Hart's delight. He instructs Benoit to hold on then goes to work on the Taskmaster himself. Woohoo! Get him, Arn! The crowd is electric as the Horsemen beat down the leader of the Dungeon of Doom. Speaking of that particular faction, they hit the ring as the Horsemen split. Wow! I think I'll add an extra star to that rating just for the aftermath.
Back in the locker room, Okerlund interviews Woman and Elizabeth. Arn and Benoit return from the ring as Arn cuts a fantastic promo. Benoit adds his $.02 while Woman pinches Okerlund. Flair and "Coach" Heenan finish the interview segment.
Match 7: Sting versus Lord Steven Regal (w/ Jeeves)
Highlights:
Tony referred to Sting as "the most popular man we have…in WCW." That HAD to infuriate Hogan. I wonder how he'll retaliate.
Cross-corner whip by Sting sent Regal over the top turnbuckle all the way down to the floor.
Sting followed him, whipped him into the steel railing, and gave him a back drop.
While Regal held onto a side headlock, Tony mentioned that Bruno Sammartino will be a special guest referee at upcoming WCW house shows including the Theater at Madison Square Garden. Get your tickets now! Oh, wait. Never mind.
Afterwards, Regal jumped out of the ring to argue with the Baltimore crowd about Maryland crab cakes. The exchange was NOT pretty.
When Regal offered a hand shake to iron out their differences, Sting responded with a pelvic thrust. Tsk, tsk, Sting. The parents of the little Stingers won't appreciate that.
Cobra clutch by Regal escaped by Sting who ate a back elbow.
Full nelson by Regal, but Sting broke it.
He then gave Regal a sunset flip and got 2.
Elbow drop by Regal only got 1.
Regal tied Sting up like a pretzel. If he had brought mustard, I believe Sting would have submitted.
After a cross-corner whip by Regal, Sting ate a European uppercut.
Dropkick by Regal got 2.
Sting countered a side headlock with a belly-to-back suplex.
Leg drop on the arm got 2 for Regal.
Double shoulder block put both men down on the mat.
Regal got up first, rubbed Sting's face into the mat, then tried to cause a cauliflower ear.
He then put his foot on the ropes while holding Sting in a half-nelson.
Sting reversed an Irish whip and hooked an abdominal stretch.
Shortly thereafter, Sting reversed a cross-corner whip. Regal tried a cross-body block, but Sting responded with a dropkick.
After a pair of clotheslines, Sting got 2.
He then mounted the top turnbuckle but got caught.
Sting climbed the turnbuckles and delivered a butterfly superplex. Sounded better than it looked.
That earned Regal a 2 count.
Regal stretch, but Regal released the hold out of frustration.
Back hand slap by Regal woke Sting up.
He then no-sold Regal's offense and pounded Regal down to the mat.
Stinger splash hit knees. Nice counter!
Back drop by Sting preceded a Scorpion death lock.
Sting won.
Rating: ****
Summary: While Regal brought the wrestling, Sting brought the excitement and stood toe-to-toe with him. Hopefully better things are on the horizon for Regal.
Promo for Bash at the Beach coming July 7. Hmmm…does something Earth-shattering happen at this show? Stay tuned.
Match 8: "Nature Boy" Ric Flair & the "Enforcer" Arn Anderson (w/ Woman, Elizabeth, & Bobby "The Brain" Heenan) versus Steve "Mongo" McMichael & "Mean" Kevin Greene (w/ Tara Greene, Debra McMichael, and "Macho Man" Randy Savage)
Highlights:
Buffer rumbled after calling this match "legends of the gridiron versus legends of the world of wrestling." Rhodes responded by noting Buffer's excellent fashion and hygiene.
During his introduction, Savage got a bigger pop than the "legends of the gridiron."
A staunch supporter of Savage wore some flashy Savage garb and cowboy hat in the front row.
According to Tony, "due to popular demand", Savage will be reinstated tomorrow on Nitro.
Don't blink, or you'll miss a big sign that read "Mongo Sucks." HA!
As you would expect, Arn gave Mongo a wrestling lesson at the onset.
Mistakenly, Arn tried a battle of three-point stances and lost to Mongo.
Another three-point stance battle was won by Arn using a drop toe hold. Clever!
After giving McMichael a cross-corner whip, Arn avoided eating boot on his follow-through.
However, McMichael mounted the second turnbuckle and gave Arn a flying shoulder block. Woman shrieked in terror.
After hitting McMichael, Arn nailed Greene. The latter hopped over the top rope, and the legends of the gridiron stomped Arn repeatedly.
Arn exited the ring to regroup only to get hammered by Savage.
Greene tagged in, pulled off his XXL t-shirt, and performed some burpees to intimidate Flair.
Flair conned Greene into a three-point stance and then stomped him. HA!
Upon shoving Flair, Greene hit exploding shoulder blocks to Flair then Arn.
Seeing Greene mock him, Flair threw a tantrum while walking down the aisle.
Savage grabbed him and made him taste the steel railing. It must have tasted like the Crab Happy Chesapeake Chicken Sammy at Miss Shirley's.
After Savage threw him back in the ring, Greene gave Flair a back drop.
Greene gave Flair a pair of flying clotheslines then tagged in Mongo.
Mongo no-sold Flair's flurry in the corner then delivered some of Flair's own medicine.
An eye poke and gouge enabled Flair to mount the top turnbuckle.
Unfortunately for Flair, he (sing it with me)…♬…came…down...the…haaaaaaard waaaaaaaaay…♬
Mongo then hooked the figure-four leg lock on Flair.
Arn tried to save Flair, but Greene gave him a flying shoulder block.
Greene then hooked him in a figure-four leg lock.
Woman raked Mongo's eyes to put a stop to all this nonsense.
We then get a standoff between Woman & Elizabeth versus Tara & Debra. While Rhodes begged for a catfight, Woman & Elizabeth shooed off the NFL wives' club.
Flair tossed Mongo outside the ring and distracted referee Randy Anderson.
Meanwhile Arn put the boots to Mongo until Savage came to Mongo's aid.
As Flair guillotined Mongo on the top rope, a healthy "Weasel" chant broke out.
When Flair distracted Anderson again, Heenan put the shoes to Mongo before Savage chased him off.
Mongo choked Flair bringing him to his knees. In the meantime, Arn got Anderson's attention. Flair then took the opportunity to show Mongo how far south Key West actually was.
Knee drop by Flair was followed by a stomp to the midsection by Arn.
Double suplex by the Horsemen to Mongo preceded a double choke.
Flair got 2, but Mongo kicked out with authority.
Flair whipped Mongo into the corner, but Mongo responded with a clothesline.
Mongo ducked a haymaker then gave Arn an atomic drop sending him into the oncoming Flair.
That resulted in a Flair flop.
Hot tag Greene.
He tackled Arn twice then slammed Flair.
There's a slam for Arn.
Powerslam by Greene of Flair, but he didn't make the cover.
Cross-corner whip by Greene resulted in a Flair flip.
Flair kept his feet on the apron but walked into a Mongo big boot.
Greene suplexed Flair back into the ring, but Arn chop-blocked him. (whistle) Personal foul #0. Defense. 15-yard penalty. First down.
While Savage and Mongo distracted Anderson, Arn rammed Greene's leg into the apron.
Arn tried to give Greene a spinning toe hold, but Greene kicked him into the corner.
Flair attempted a figure-four leg lock on Greene but was hooked into an inside cradle for 2.
Greene grabbed a side headlock, but Flair gave him a knee crusher to counter.
Figure-four leg lock successfully applied by Flair and assisted by Arn.
Savage stopped Arn from cheating and made him taste the steel railing. Waiter, please give the "Enforcer" a Miller Lite Mac Crabby.
Benoit came to ringside and nailed Savage from behind.
While Arn and Benoit double-teamed Savage and Flair still had Greene in a submission hold, Woman & Elizabeth brought out Debra dressed in an evening gown. Simultaneously, Elizabeth was carrying a Haliburton.
Debra showed Mongo the Haliburton. Mongo opened it to find a Horseman t-shirt and a boatload of $$$$!
As Greene reversed the hold and pleaded for Mongo's help, Mongo WALLOPED him with the Haliburton.
WE HAVE A HEEL TURN!
Flair made the cover.
1-2-3.
Rating: ***1/2
Summary: Who needs friends when there's plenty of money to go around? Great angle to set up the finish here. I believe we have a new FOURTH Horseman.
After the match, Savage attacks Flair, but Mongo pulls him off. The Horsemen quadruple-team Savage then Flair BONKS Savage with the Haliburton. Mongo then puts the Horsemen t-shirt on.
At the entrance, Eric Bischoff addresses the "interruptions" on Nitro. He then requests the presence of "Ramon" and "Diesel" without mentioning their names. Upon their arrival, Bischoff informs the 'intruders" that the war is on and will emanate at Bash at the Beach on 7/7. He then asks them if they work for the WWF. "Diesel" answers negatively as does "Ramon." Speaking of "Ramon," he asks who the three WCW competitors will be. "Is it the Nacho Man?" asks Ramon. "What about the immortal Huckster?" asks "Ramon."
Ramon continues: "You tell Billionaire Ted to break out the money and get anybody he can because the big man ("Diesel") and the medium-sized man (referring to himself) and our surprise buddy are going to carve…them…up."
Bischoff tries to talk to "Diesel," but "Ramon" again asks "Who are they?" Bischoff tells them to wait for Nitro tomorrow night to find out. "Ramon" gets angry and nails Bischoff in the midsection. "Diesel" turns him around and jackknife powerbombs him through a table! Holy announcer destructions, Batman! "Ramon" finishes the interview with "the real big boys…just left the building." Wow! What a statement! More on this later.
They bring out a stretcher for Bischoff. Meanwhile Tony leaves the broadcast location to check on him. A dejected Rhodes tries to segway to the main event and gives the wrong ring announcer's name. Oops.
Match 9 for the WCW World title: The Giant (champion w/ Jimmy Hart) versus the "Total Package" Lex Luger
Highlights:
Good luck following that last turn of events.
Prior to coming to the ring, Luger checked on Bischoff's condition.
Buffer rumbled.
Luger charged at the Giant but ate boot.
The Giant missed a clothesline, but a pair of clotheslines by Luger sent the Giant over the top rope to the floor.
The Giant pulled Luger out from under the bottom rope, military-pressed him, and tossed him through the ropes back into the ring. Impressive!
Luger mounted the second turnbuckle, tried to jump on the Giant's back, and fell.
He jumped again and hooked a sleeper.
Hart jumped on the apron and carefully prepared to nail Luger with the megaphone.
Suddenly, Sting hit the ring and stopped him.
He then chased Hart backstage.
The Giant put Luger on his shoulder and rammed him back-first into the top turnbuckle.
A hard cross-corner whip by the Giant hurt Luger's back further.
Standing choke in the corner by the Giant kept him in control.
After another cross-corner whip, the Giant gave Luger a backbreaker.
The Giant hooked an over-the-shoulder backbreaker then dropped Luger down to the mat.
Jawbreaker by Luger stopped the Giant's momentum.
He tried to slam the Giant, but the latter fell on top of Luger for 2.
Luger's foot was on the bottom rope.
The Giant put Luger across the top turnbuckle and nailed his back repeatedly.
From the apron, Luger leaped and mule-kicked the Giant.
With the Giant in the corner, Luger delivered a clothesline.
Another clothesline followed by two forearms couldn't take the Giant off his feet.
A chop block staggered him but didn't do the job either.
A second chop block put the Giant down to a knee.
After the Giant shoved Luger into a corner, he charged at him but came up empty on his follow-through.
With the Giant stuck on the top turnbuckle, Luger punted him.
Luger tried the Torture Rack, but he couldn't support the Giant's dead weight.
The Giant pulled down the strap, delivered the chokeslam, and got the pin.
The Giant retained.
Rating: *
Summary: Luger had a chance but failed yet again. I wish the Giant had tried something spectacular here, but it didn't happen.
Tony informs us that he'll have an update on Bischoff and Bash at the Beach tomorrow night on Nitro.
Conclusion: In spite of the main event, the "intruder" segment, the Horseman match, Sting-Regal, Benoit-Taskmaster, Malenko-Mysterio, and the opening tag match all delivered. This is an absolute can't-miss show for ANY wrestling fan.
Now let's address the elephant in the room. It was good work by Bischoff to ask Nash and Hall about their employment status. I'm certain Bischoff had already heard from WWF attorney Jerry McDevitt concerning copyright infringement. It was also good work by Bischoff to take that powerbomb from Nash. According to Bischoff during one of the Legends of Wrestling telecasts, he actually was hurt from the incident. We'll see what fallout from this show occurs on Nitro.
See you for week 41 of the Monday Night War!
Buyrate: 0.48
Comments? Suggestions? Send them to me at rsg@rockstargary.com and follow me on Twitter (@rockstargary202).
Custom Search