WELCOME TO ROCK STAR GARY REFLECTIONS!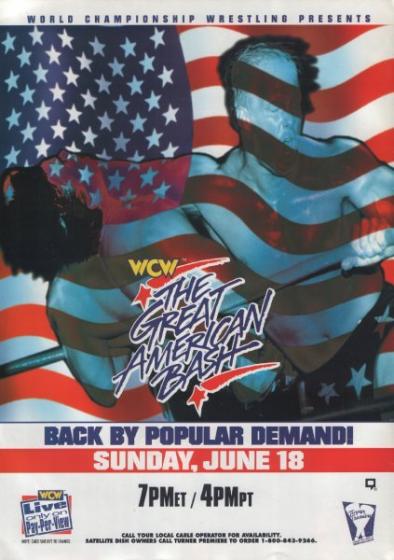 Live from Dayton, OH
Airdate: June 18, 1995
Attendance: 6,000 (5,218 paid)
Hosted by Tony Schiavone and Bobby "The Brain" Heenan
Match 1: "Flyin'" Brian Pillman versus "Das Wunderkind" Alex Wright
Highlights:
Holy personnel changes, Batman! Dave Penzer became the new ring announcer for WCW. As it turned out Gary Michael Cappetta's last show was Slamboree. According to his book Gary was offered to announce this show's main event because Michael Buffer couldn't make it. WCW gave him a smaller deal compared to Buffer's so Gary politely turned them down. Thanks for all the great memories, Gary. I can still recall seeing you at the Center Stage tapings on March 22, 1995 for my one and only WCW Saturday Night taping. I hope you're reading my reviews as I enjoy reading your book.
Anyways, back to ringside…
Whose bright idea was it to have babyface Alex Wright face Ohio native and current babyface Pillman here? I'll give you one guess who the crowd favored.
Cartwheel by Wright.
Flying headscissors by Pillman.
Dropkick by Pillman.
Running back flip off the top rope by Wright.
Dropkick and headscissors by Wright.
A fan in the front row had an Al Snow sign.
Enziguri missed by Wright.
Crossbow by Pillman.
Missed dropkick by Pillman countered into a Boston Crab.
Wright botched a surfboard.
Inside cradle by Wright.
Loud chop by Pillman woke up the crowd.
In an effort to escape a hammerlock Wright sent Pillman through the ropes to the floor.
Wright tried to be a sportsman and held the ropes open, but Pillman took him outside for a pounding.
Face plant by Wright but he missed a splash hitting knees.
Body scissors by Pillman.
Gutwrench rib breaker by Pillman.
Pillman attempted to suplex Wright back into the ring only to receive one sending him to the floor.
Baseball slide by Wright to a chorus of boos.
Plancha by Wright.
Missile dropkick by Wright.
Tope suicida by Pillman. Wow!
From the second turnbuckle Pillman attempted to splash Wright against the steel railing but ate it himself. Tasted like Skyline chili.
Wright mounted the top turnbuckle but missed a crossbody attempt.
Both men tried a dropkick simultaneously.
Wright countered a superplex attempt into a gourdbuster.
High cross body from the top rope almost got the pin for Wright.
After two failed Irish whips Wright mounted the second turnbuckle only to eat a dropkick from Pillman.
Pillman mounted the top turnbuckle, but Wright caught him and tossed him onto the top rope. OUCH!
German suplex with a bridge got 2 for Wright.
Sunset flip countered by Wright for the pin.
Rating: ****1/2
Summary: Outstanding match between these guys. The only blemish I saw was the surfboard attempt that Wright was unable to execute. I got my wish from Slamboree regarding a great match here in WCW.
After the match both men shake hands and embrace.
We recap DDP's arm wrestling success in WCW. If someone were to beat DDP then they win a date with the Diamond Doll (Kimberly Page). Van Hammer came close but lost due to interference by Max Muscle.
"Mean" Gene interviews Evad Sullivan who has Ralph the rabbit in his arms. If Evad loses then DDP gets Ralph.
Match 2 (Arm wrestling): Diamond Dallas Page (w/ the Diamond Doll and Max Muscle) versus Evad Sullivan
Highlights:
OK…this will be the polar opposite of the opening bout.
Tony mentioned DDP's win of $13 million.
Max Muscle subtly assisted DDP with leverage.
Evad won.
Rating: Don't even think about it.
Summary: Bathroom break "match" if there ever was one.
Afterwards Max and DDP shove one another before finally embracing. DDP then berates the Diamond Doll. Better days for DDP were certainly ahead.
At the entrance Gene interviews DDP who wants a "do-over."
Match 3: "Hacksaw" Jim Duggan versus Sgt. Craig "Pit bull" Pittman
Highlights:
Marcus Bagwell was supposed to challenge Pittman here, but calf implant removal surgery (seriously?) caused him to miss this show.
The Hogan impersonator held up a "Gomer" sign for the Marine sergeant.
Pittman was the first of 5 wrestlers pulling double-duty.
Hip toss by Duggan.
Pittman attempted a flying clothesline off the ropes but actually vaulted himself over the top rope to the floor.
After tearing off Duggan's right knee pad he rammed Duggan's knee into the ring post.
Make that twice.
After turning Duggan over on his front he rammed the left knee into the ring post.
Spinning toe hold by Pittman.
Clothesline by Duggan.
Three-point clothesline by Duggan.
Fujiwara arm bar aka "Code Red" by Pittman.
Duggan made the ropes.
Pittman wouldn't release the hold so referee Nick Patrick disqualified him.
Rating: *1/2
Summary: Trying to wrestle Jim Duggan is like trying to wrestle a grizzly bear. You might get him down, but you cannot make it look good.
After the match Duggan retrieved his 2x4 in order to thwart any further attack by the Marine.
Gene interviews the Blue Bloods. Earl Robert ("Bobby") Eaton looks vastly different than his days in the Midnight Express.
Earlier on the Main Event Colonel Parker negotiated a match with Sister Sherri between his men and Harlem Heat. He then planted a big kiss on her. In response Sherri walloped him.
Match 4: Harlem Heat (w/ Sister Sherri) versus "Dirty" Dick Slater and Bunkhouse Buck (w/ Colonel Parker)
Highlights:
Both teams had enhancement matches on the Main Event earlier. Harlem Heat beat the Fantastics who were subbing for the Rock'n'Roll Express.
Stevie Ray gave Slater a slam then Buck received one from him too.
Leg lariat by Booker T to Buck.
Dropkick by Booker T sent Slater from the apron to the floor.
Bicycle kick by Booker T to Buck.
Dropkick by Booker T to Buck.
Missed elbow drop by Booker T converted into a spinaroonie and a flying forearm.
After Buck tossed Stevie Ray outside the ring Slater rammed him into the ring post.
Stevie Ray ducked a double-clothesline then clotheslined both men on the rebound off the ropes.
Dropkick by Booker T to Slater.
Flying forearm by Booker T to Buck.
Booker T hooked an inside cradle on Buck.
Colonel Parker turned Buck over to put him on top.
Sherri then ran into the ring and turned Booker over.
Booker T got the pin.
Rating: *1/2
Summary: This was certainly not one of Harlem Heat's better matches.
On the Main Event WCW Commissioner Nick Bockwinkel was being interviewed by Eric Bischoff until Vader violently interrupted. He shoved Bockwinkel down until Hogan retaliated.
At the announcing position Bockwinkel decrees that at Bash at the Beach that Vader will meet Hulk Hogan in a steel cage!
Backstage Gene interviews "Nature Boy" Ric Flair. During this promo he wants to ruin Randy and Angelo's Father's Day. He also mentions "(taking) your wife in 1992."
Match 5 for the WCW World TV title: "The Enforcer" Arn Anderson (champion) versus the Renegade (w/ Jimmy Hart)
Highlights:
The consummate veteran pulled the wool over the rookie's eyes by allowing him to turn his back…and then wallop him.
Renegade no-sold a clothesline in the corner by Arn.
He then clotheslined Arn over the top rope to the floor.
Abdominal stretch by Arn countered by Renegade.
Enziguri by Arn…no-sold by Renegade.
Blind charge by Renegade caused him to eat a back elbow.
Sleeper by Arn shot off into a sleeper by Renegade.
Arn countered with a belly-to-belly suplex.
Spinebuster!
The crowd chanted for the DDT. Methinks the fan favorite is not Dayton's favorite.
Atomic drop by Renegade. Arn's momentum sent him into the corner then back out where he rammed heads with Renegade.
Arn attempted to mount the top turnbuckle but was thwarted.
Samoan drop by Renegade.
He then mounted the top turnbuckle and hit the top rope splash for the pin!
WE HAVE A NEW CHAMPION!
Rating: *1/2
Summary: Well, if Renegade wanted to emulate the Ultimate Warrior so much being walked through a match step-by-step made perfect sense. Poor Arn.
I would be remiss if I didn't acknowledge that this was the high point of Renegade's career. Unfortunately Rick Wilson was pushed too hard and too fast by WCW. Once his initial push stalled he never recovered. In fact he committed suicide at the young age of 33 in 1999. RIP Rick.
After the match fireworks explode as Tony cannot believe the upset. Meanwhile a huge man is shown in the front row (Paul Wight/Big Show).
Video package on the Nasty Boys/Blue Bloods feud. Afterwards Gene interviews the Nasty Boys. While I get the idea of gimmicks referring to Bobby Eaton as "English" is the biggest stretch I've seen in pro wrestling.
Match 6 for the WCW World Tag Team titles: the Nasty Boys (champions) versus the Blue Bloods
Highlights:
The match started on the floor.
Knobbs made Eaton eat the steel railing. While it may have tasted like the prime rib at the Oakwood Club for his lordship it probably tasted like the sliders at the nearby White Castle for Eaton.
Sags whipped Regal with his coat.
He then rammed Regal's back into the railing.
Knobbs made Regal take a visit to Pity City. Ew.
Regal's facial expressions were absolutely priceless.
Irish-whip assisted corner splash to Eaton.
Eaton then paid a visit to Pity City. Was there a special this evening?
After Regal was sent outside the ring Knobbs gave him an elbow drop.
Head butt to the abdomen from Sags to Regal on the floor.
Atomic drop from Knobs to Eaton on a chair in the entranceway.
Pumphandle slam by Sags to Regal.
Knobbs tried to clothesline Eaton, but Eaton ducked. Knobbs then flew over the top rope to the floor.
Running elbow drop from the apron to the floor by Regal.
Powerslam by Sags.
Behind referee Randy Anderson's back Regal tossed Sags over the top rope.
Eaton clipped Sags' knee.
Regal missed a somersault senton.
Hot tag Knobbs.
Powerslam from Knobbs to Regal.
Sister Sherri and Stevie Ray made their way to the ring.
As Stevie and Sherri preoccupied Anderson's attention Booker T snuck in with a Harlem Hangover to Knobbs.
As Eaton was setting himself up on the top turnbuckle for the Alabama Jam Booker T exited the ring over the top rope causing Eaton to fall down to the mat.
Sags then mounted the top turnbuckle and delivered a flying forearm to Eaton.
Knobbs made the cover and got the win.
Rating: **1/2
Summary: Regal and Eaton are not the perfect opponents for the Nasty Boys.
Video recap of the US title tournament. Wait a minute! I thought Vader was the titleholder. Back on 3/25 (Bockwinkel stripped Vader of the US title due to his and Flair's demolition of Evad Sullivan on 3/18 (taped 3/7). Here are the match-ups:
Sting versus Arn Anderson
Johnny B. Badd versus Paul Orndorff
Meng versus Marcus Bagwell
Brian Pillman versus Bunkhouse Buck
Jim Duggan versus Steve Austin
Randy Savage versus Butcher
Big Bubba versus Alex Wright
The Patriot versus Ric Flair
Quarterfinal: Sting versus Orndorff
Quarterfinal: Meng versus Pillman
Quarterfinal: Austin versus Savage
Quarterfinal: Wright versus Flair
Semifinal: Sting versus Meng
Semifinal: Savage versus Flair
Flair and Savage fought to a double-countout; therefore, the semi-final match between Sting and Meng became the final.
Backstage Gene interviews Colonel Parker with Meng.
Video package on Bash at the Beach on July 16.
Backstage Gene interviews Sting.
Match 7 for the vacant WCW US title: Sting versus Meng (w/ Colonel Parker)
Meng dominated the opening moments of the match.
Dropkick by Sting.
After a second dropkick Sting attempted a cross body block but missed sending himself over the top rope to the floor.
Outside the ring Meng whipped Sting into the steel railing.
Sit-out powerbomb by Meng.
Shoulderbreaker by Meng.
After Meng tossed Sting outside the ring Parker got a few kicks to Sting's mid-section.
Meng thwarted a sunset flip attempt with a shot to the throat.
After failing to pull Meng over on a backslide attempt Sting flipped over him.
Back elbow from Sting from the middle turnbuckle.
Diving head butt from the middle turnbuckle by Meng.
Sting reversed momentum on a belly-to-back suplex attempt by Meng and got a 2 count.
A pair of clotheslines by Sting no-sold by Meng.
Flying clothesline by Sting sent Meng down to the mat.
Inverted atomic drop by Sting.
Another flying clothesline by Sting sent both men flying over the top rope to the floor.
With Meng incapacitated on the floor Sting attacked Colonel Parker.
Meng went after Sting but hit the ring post with his head after Sting ducked.
Flying fist drop by Sting.
Scorpion death lock by Sting.
MENG POWERED OUT!
Clip of the knee by Sting. Personal foul #1 Defense. 15 yards. First down.
Top rope flying clothesline by Sting.
Top rope splash by Sting only got 2.
Jumping DDT by Sting got the pin.
WE HAVE A NEW CHAMPION!
Rating: ***
Summary: Sting pulled out all his tricks to beat the tough Tongan. Unfortunately Meng on offense was neither strategic nor entertaining.
Billy Ray Helms won the WCW look-a-like contest. He resembled Big Bubba Rogers.
Video package on the Savage-Flair feud.
Backstage Gene interviews Savage. He congratulates the Renegade then proceeds to talk at a very low level.
Match 8: "Nature Boy" Ric Flair versus "Macho Man" Randy Savage (w/ Angelo Poffo)
Highlights:
No Buffer = no rumbling. Great job by Penzer in his PPV debut.
Back elbow by Savage.
Make that 2.
Clothesline by Savage sent Flair over the top rope to the floor.
Savage then mounted the top turnbuckle and delivered a double axe handle.
Back body drop by Savage to Flair on the floor.
Flair rammed Savage's shoulder into the ring post.
He then made Savage eat the steel railing. Tasted like the Steak Maui at J Alexander's.
Flair came off the apron with a double axe handle.
Running knee drop by Flair.
Flair took a powder, but Savage followed and ambushed him.
Flair attempted to climb the top turnbuckle but was tossed down.
Flair flip to the floor.
He tried to attack Poffo, but Savage made the save.
Knee crusher on the steel railing. Very unique.
Flair mounted the middle turnbuckle in order to stretch Savage's knee.
Figure four leg lock by Flair.
Flair used the ropes for leverage.
Savage reversed the hold.
Again Flair mounted the top turnbuckle but missed.
Another Flair Flip, but Flair got his balance. He then ran up to the top turnbuckle then ate a right hand to the mid-section.
Top rope elbow by Savage. He appears to be busted open hardway.
Instead of pinning Flair Savage picked him up at 2.
Savage then went under the ring to retrieve a ring bell; however, Anderson took it away.
So Savage mounted the top turnbuckle again, and attempted a double axe handle to Flair on the floor. He missed and hit the steel railing extremely hard. OUCH!
With Savage subdued on the floor Flair went after Poffo again.
Instead Poffo choked Flair with his cane.
A back elbow by Flair ended that threat.
Having nabbed the cane from Poffo, Flair walloped Savage when he returned to the ring.
Savage was out. 1-2-3. Flair won.
Rating: *****
Summary: Wow! What an intense brawl by two wrestlers who know every which way to beat one another. Get all this! Oh, and this feud isn't over by a long shot.
Conclusion: Holy summer spectaculars, Batman! Two excellent matches and one good match make for a great show. There may have been a few bad matches in the middle of the show, but the opener, the semi-main, and the main event more than made up for it. Grab some cold ones, call your friends, and watch this show!
See you at Bash at the Beach!
Buyrate: 0.51
Comments? Suggestions? Send them to me at rsg@rockstargary.com and follow me on Twitter (@rockstargary202).
Custom Search